My Honest Review of The Unico Hotel in the Riviera Maya (2021)
---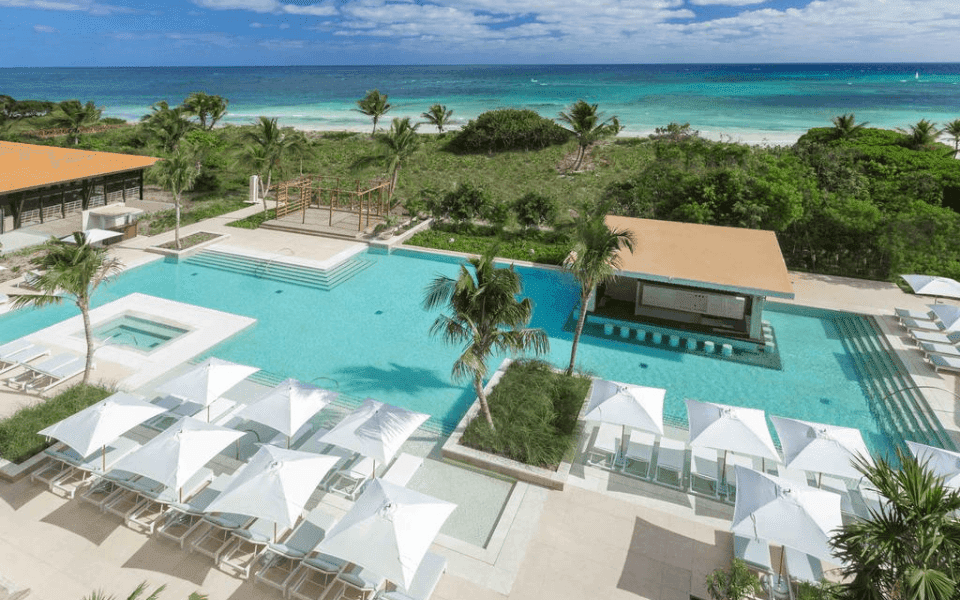 The Unico Riviera Maya is a 5* adult-only resort that beautifully marries up a peaceful Caribbean waterfront with 3 pools and 5 mouth-watering restaurants that will take you on a globetrotting adventure around the world.
During my visit to this new(ish) hotel,  highlights for me included the gin bar (obv), a state-of-the-art spa, and above all else the inescapable cultural immersion this resort provides (more on that later).
In terms of fancy decor, this hotel has certainly upped the ante striving to redefine the concept of what "all-inclusive" really means…or what it SHOULD mean.
Find out exactly what I thought here in my "honest review of The Unico Hotel, Riviera Maya".
---
1. Location
Sandwiched between Xpu-Ha and Akumal, the Unico Adult-Only Resort is in a stunning location!
This place allows you to reap all the benefits of a secluded and tranquil stay, yet still, be in a prime position to enjoy the very best of the Riviera Maya.
What I LOVE about this hotel for guests is how close it is to Xel-Ha – an absolute must-do tour for all snorkel and wildlife lovers.
The stretch of beach on which the resort is perched neatly on has a special sort of vibe…

It's a midway point between Playa del Carmen and (the largely untouched area of) Tulum.
So, naturally, the beaches have that rugged tropical look that we've all come to desire from our beach vacations.
The Unico Resort is around a 1 hr 15 mins drive from Cancun International Airport.
Sure, it's a longer trip than if you were staying in Cancun or Playa,  but it's absolutely worth those extra miles.
In my opinion the further south of Cancun airport, the better. 🙂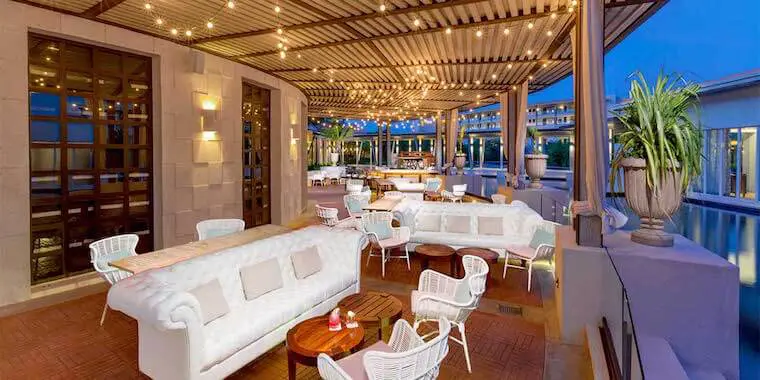 The fact that  UNICO 20°87° but the latitude and longitude just shows how proud they are of the location.
These coordinates are representative, not only of UNICO 20°87°'s devotion to its location but also its ambition to immerse guests in the region's beauty and culture.
Through a staff of local experts, guides, artisans, and specialists, UNICO 20°87° is able to showcase the true heart of the Riviera Maya.
2. Style
Straight off the bat, this hotel FEELS like a boutique hotel!
It certainly looks like it too.
There's a fair few of what I would describe as 'generic' resorts in Cancun and the Riviera Maya, and they can feel somewhat 'samey' after a while.
The Unico is an all-inclusive that comes with no compromises…especially on style.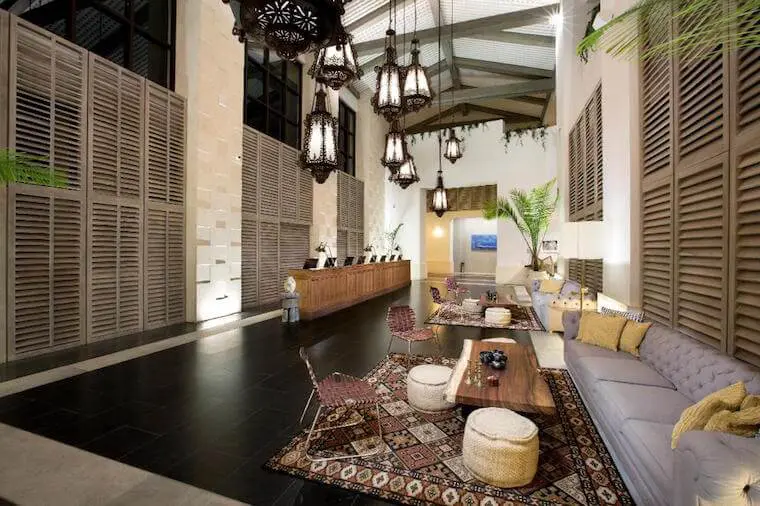 Think hipster chic meets upscale living.
Huge hats off to the interior designer(s) of this project because they left no stoned unturned.
Every tiny detail from the furnishings down to glassware was purposefully chosen to compliment the room and style of the hotel.
All you have to do is take a glance at a few of the pictures in this blog or take a virtual tour to see what I mean.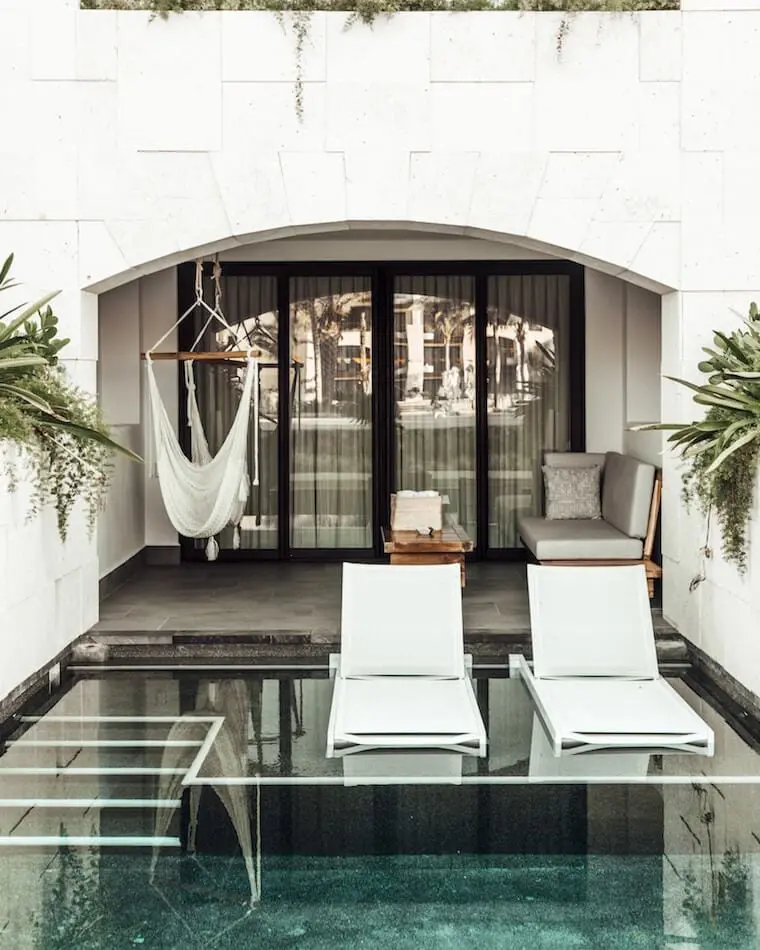 When it comes to interior design in the Riviera Maya The Unico Hotel has set the bar for contemporary luxury.
You definitely won't be in short supply of Instaworthy backdrops, that's for sure.
The decor pays homage to Mexican patterns and design and could be defined as "relaxed luxury".
3. Beach
The Riviera Maya region over the last few years has been subject to some seaweed.
So, naturally, a lot of the questions I get about a resort include the beach and seaweed.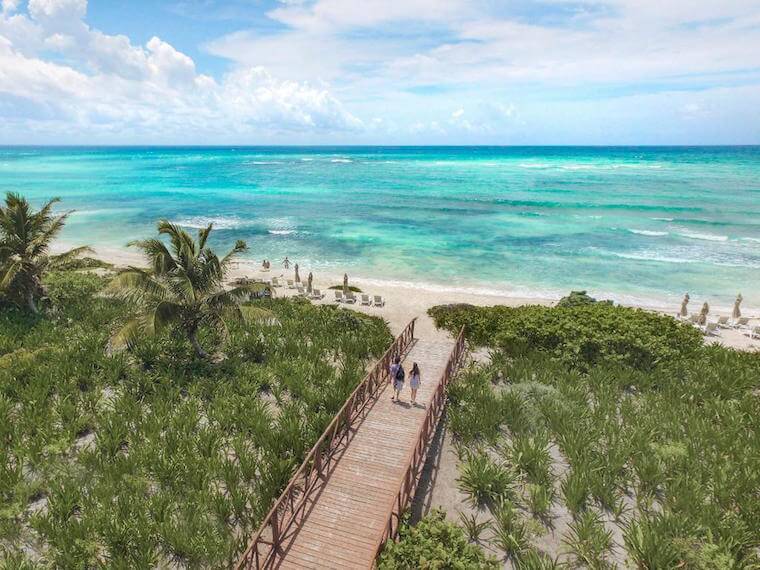 The Unico is well prepared to deal with seaweed if and when it occurs…
Whitney, one of our wedding coords recently stayed here and she said she was impressed by how well they kept on top of it; making sure the beaches were spotless every day.
She said, "the beach was always clean and the deck chairs were neatly presented".
One thing that did surprise me about the beach at this hotel on my visit was how basic the beach beds are compared to the rest of the decor in the hotel.
…It's almost like they maxed out their budget LOL.
I expected cabanas and hammocks (beach snob) but there are none to be found which is a little disappointing…
However, hopefully, they have added some since my last visit.
That said, there were plenty of beds and they were comfortable and cushioned enough for me to have my usual siesta.
Upon entering the sea you may encounter a few small rocks but nothing major.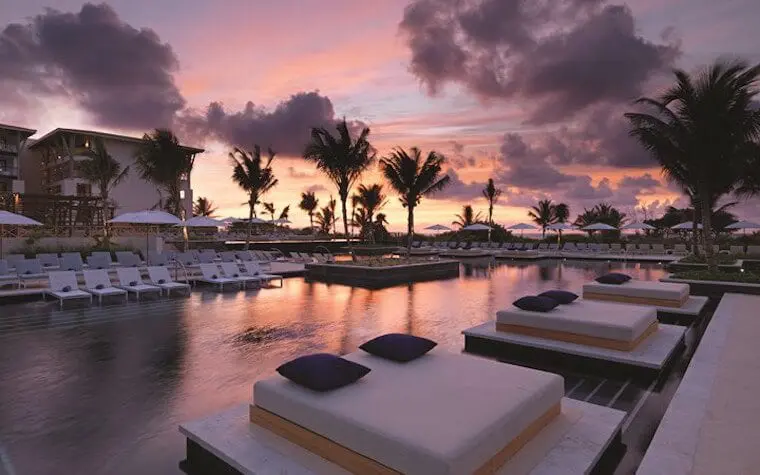 Separating the resort from the beach is a small bed of jungle connected by a quaint little wooden bridge…walking across it for the first time may just take your breath away. 😉
The best part? There is free kayaking and snorkeling at this resort. Yay!
4. Rooms
The rooms have a rustic-meets-modern kinda vibe! 
I LOVE the wooden four-poster bed frames with the modern low hanging light shades.
Lots of local Mexican materials have been used to fabricate objects around all of the rooms which I thought was a nice touch.
I was told that local artisans helped to bring the decor to life at this hotel.
Have you ever woken up from a night's sleep where you say to yourself, "I cannot remember the last time you actually slept like that?"
Well, this was one of those stays. Two words…total bliss.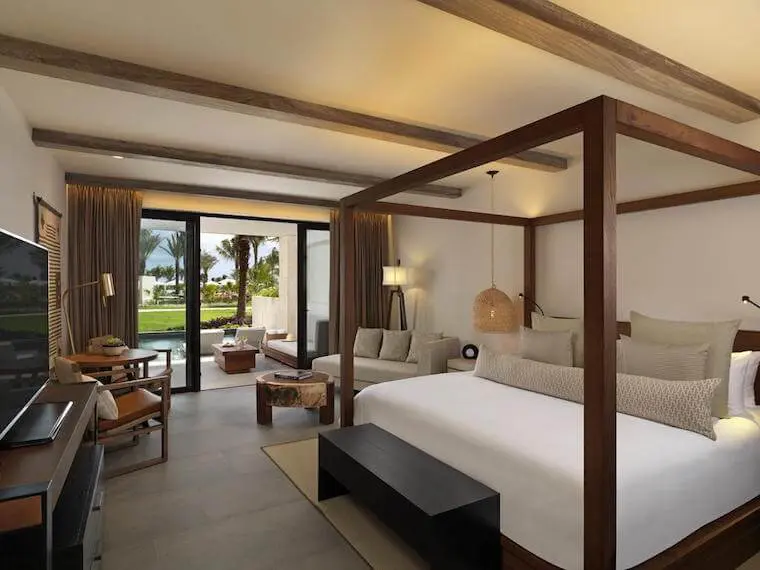 The comfort level of the mattress was on a scale of what a cloud would probably feel like in heaven, (and I am really bed-fussy)…
They even have a pillow menu!
Every suite at the Unico comes with a terrace, tropical or pool view, an outdoor hydro spa tub, and a personal host to assist with your everyday needs.
In my case, I took full advantage of the 24-hr room service.
I mean who wouldn't want to feel extravagant relaxing in a jacuzzi with a view while having champagne and deserts dropped off?
You'll also have a fully stocked mini-bar of your preference.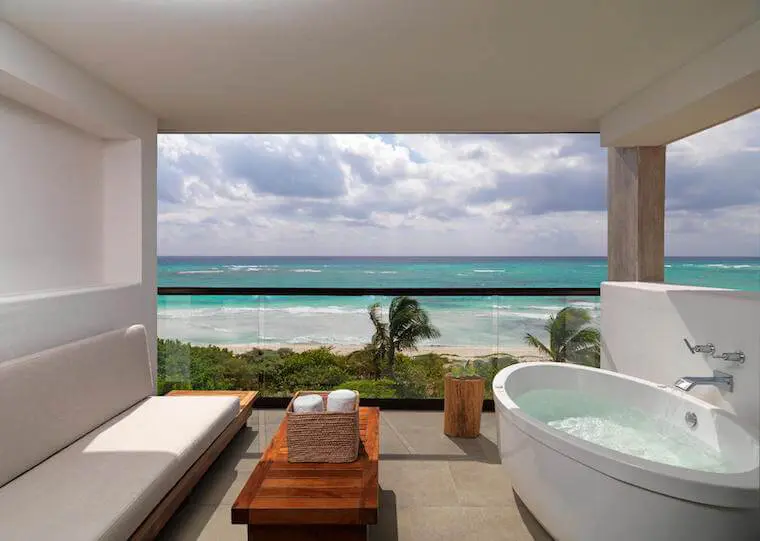 Plus, conveniently located USB charging stations, a 55-inch flat-screen tv, high-speed wifi, rainfall shower, single-hand shower and so much more!
Would I stay in one of these rooms again? Well, that would be a silly question – YES!
Although it is a little more expensive than what I would usually like to pay, you definitely get more than what you pay for at this resort.
5. Activities & Nightlife
While the service, food, and decor of this hotel are definitely its strong points…I feel like activities and nightlife are where the hotel fell a little short.
Since COVID-19, the pools close at 7 pm and because of the rules on social distancing, there isn't much to do in the evening right now.
That said,  it could all change very soon.
And my guess is that you're just looking to get out of the chaos of your home country at this point and just have some downtime.
If you are looking to party this is probably not the right hotel for you.
However, as things get slowly better I've been told you should expect:
Live music and entertainment
Cooking classes
Our travel liaisons at PlayaDelCarmen.Com will be able to confirm exactly what activities will be available to you during your preferred dates upon making your inquiry with us to book this hotel. 🙂
Find out by emailing us at customercare@playadelcarmen.com
6. Food and Drink
The Unico has taken the concept of all-inclusive dining to a whole new multi-sensory level.
Usually, at big all-inclusive, the average number of restaurants falls around 7-10.
The Unico has chosen to part with tradition and instead focus on the quality of quantity with just 5 restaurants.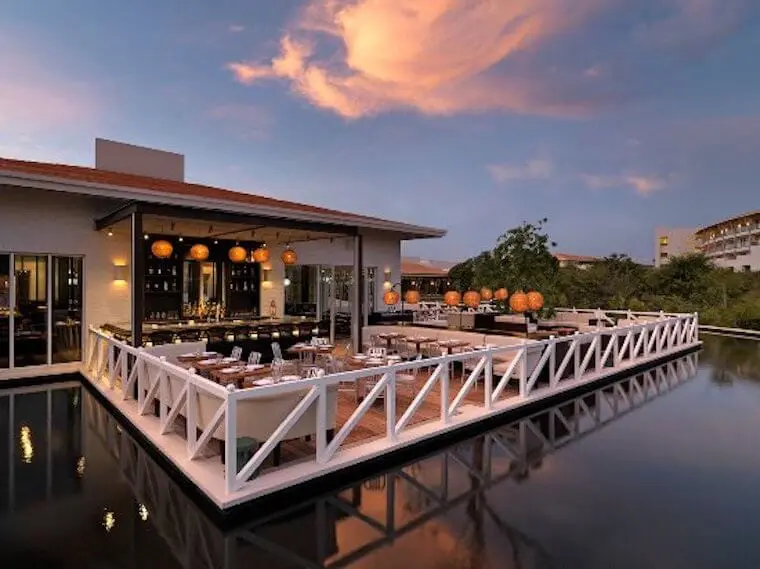 Locally-sourced ingredients are a staple at every restaurant and bar and you'll find everything from elevated fine dining to a casual beachside buffet.
Uniquely,  at the restaurant Cueva Siete the hotel has implemented a rotating chef program to better connect with the culinary innovation of modern Mexican cuisine.
Eateries include:
Mi Carisa (Italian)
Cueva Siete (Mayan Mexican)
Mura House (Japanese)
20, 87 (Morning Buffet)
Cafe Inez (European Cafe Culture)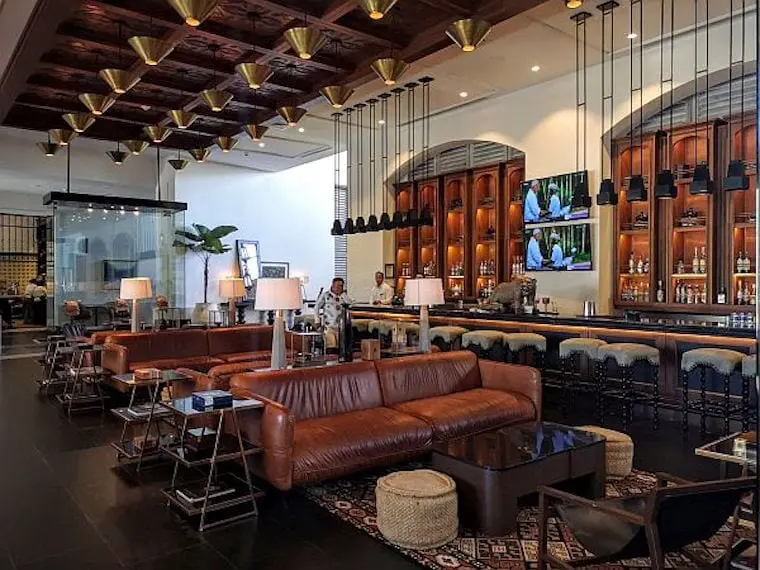 The food, drink, and service when I was here were SPOT ON!
I never had to turn to get the server's attention once, the waiters worked really hard keeping me topped up and I never had an empty cup, which of course, is the quickest way to my heart at any hotel.
7. Spa
I didn't use the spa on my visit but I was able to take a look around.
One word… WOW.
This full-service spa caters to the body, mind, and spirit through a range of luxury spa treatments, Unico's very own signature treatments, and locally-inspired beauty rituals.
You'll also find a fully-equipped hydrotherapy facility and a wide variety of natural ingredients to help create an immersively relaxing environment.
It's open daily from 9:00 am to 7:00 pm
Hydrotherapy circuit from 8:00 am to 6:00 pm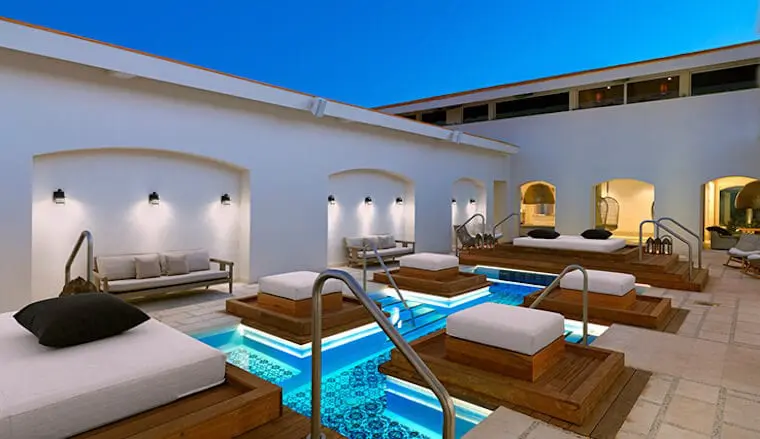 Please note you must arrive 1 hour before your appointment if you are planning to use hydrotherapy, or 20 minutes earlier for your checking in process.
8. Weddings
The Unico boasts some incredible wedding packages and for the purpose of this blog, I chose one of my favorites just to show what bang you would get for your buck.
The Riviera Maya Experience Package = $5,800 USD (includes 32 guests)
While the picturesque beaches of Riviera Maya provide a dreamy backdrop for your day, this package takes care of the thoughtful details that truly make it your own – from your décor and wedding registry down to your wedding cake and bouquet.
Ceremony location
Ceremony decor
Ceremony seating for 32 guests
One bouquet and one matching boutonniere OR two bouquets OR two boutonnieres*
Non-denominational minister to perform symbolic or vow renewal ceremony**
Audio system for ceremony
2 tier wedding cake for 32 guests
Sparkling wine toast for 32 guests after the ceremony
Unpacking service for the couple, including preparation of wedding day attire (dress and suite pressing)
Event Consultant and Onsite Wedding Coordinator
Honeymoon wishes wedding website and registry
UNICO 20°87 Honeymoon Experience
Two bouquets or two boutonnieres option available for same-sex weddings
Additional cost applies for civil ceremonies.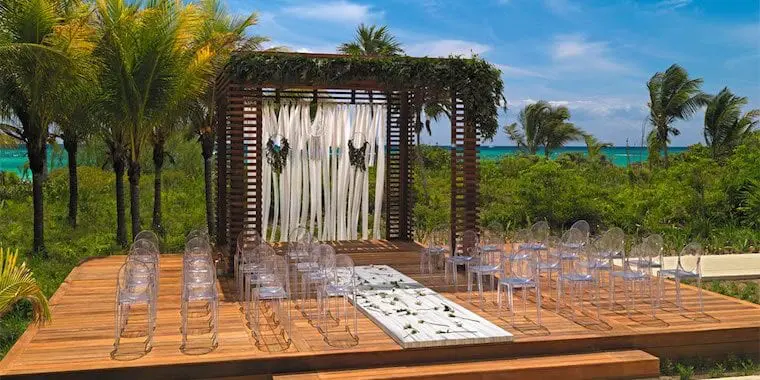 Helping couples bring their wedding vision to life is what we do best at PlayaDelCarmen.Com
We understand that planning anything away from home especially in uncertain times can be a little daunting.
That's why our wedding coords will be with you every step of the way.
Call our destination wedding experts at 888-537-9797, weddings@playadelcarmen.com to start planning your wedding at the Unico resort today.
9. Gym
The hotel's holistic fitness program is designed to adapt to your personalized routine. They even offer personal training sessions, meditation and yoga, beachfront classes, and it boasts a state-of-the-art gym.
Gym hours of operation:
Daily: From 6:00 am to 7:00 pm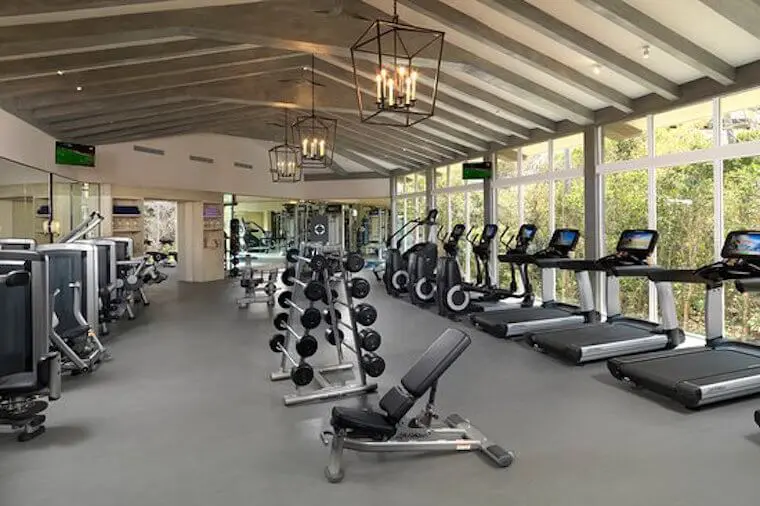 Classes include: 
Spinning
Hiit classes
Functional training
Yoga
10. Corporate Meetings & Golf
You can also create one-of-a-kind meeting experiences at the Unico with a variety of spaces from indoor breakouts, to outdoor lawns—able to accommodate any sort of meeting or event.
All arrangements are completed with aid of a dedicated team to help craft specially designed food menus, custom entertainment, and even a curated cocktail program.
Golf
For a 25% service fee, you can take your stay to the next level with unlimited golf and stunning views just off the property with an 18-hole course designed by Robert von Hagge.
Access to golf carts, food & beverages, lockers & showers is all included as part of your stay.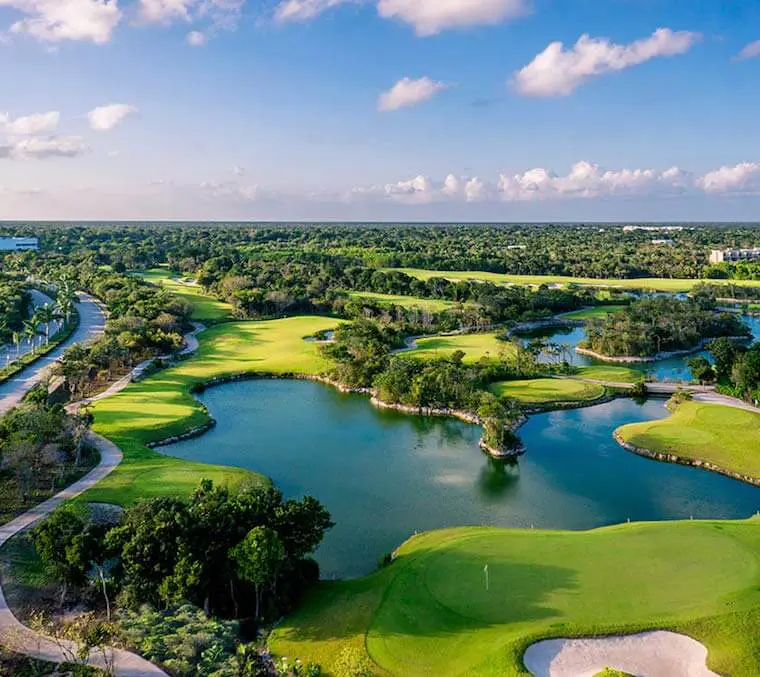 Take advantage of the private classes with the pros or take a stroll and swing on our 7,136 yards of golf course located in the ideal area of Quintana Roo.
The course features stunning natural beauty surrounded by exotic wildlife and ancient Mayan ruins.
Save On The Unico 20, 82
As a local agency based in Playa, we offer exclusive rates at this hotel!
Discuss your next vacay with one of our expert travel consultants here at PlayaDelCarmen.com.
We know these hotels like the back of our hand and will only ever provide you with honest and unbias advice.
Give us a call on our toll-free number 888-537-9797
Or
Alternatively, contact us via email at customercare@playadelcarmen.com
Have you stayed at this hotel before?
Don't forget to leave your thoughts in the comments section, we would love to hear from you. 🙂 Tell us what you thought of the Unico Resort in the Riviera Maya.
Paradise awaits…
Additional Resources You May Find Useful
My UNICO 20°N 87°W, Riviera Maya Review
Location

Style

Food & Drink

Rooms

Activities

Beach

Weddings

Golf

Meetings

Gym

Spa
Summary
The Unico Riviera Maya is a 5* adult-only resort that beautifully marries up a peaceful Caribbean waterfront with 3 pools and 5 mouth-watering restaurants that will take you on a globetrotting adventure around the world.
During my visit to this new(ish) hotel,  highlights for me included the gin bar (obv), a state-of-the-art spa, and above all else the inescapable cultural immersion this resort provides (more on that later).
In terms of fancy decor, this hotel has certainly upped the ante striving to redefine the concept of what "all-inclusive" really means…or what it SHOULD mean.
---
Trending Now