S.O.S. el Arca: The Playa del Carmen Dog Shelter That Helps Us Humans
---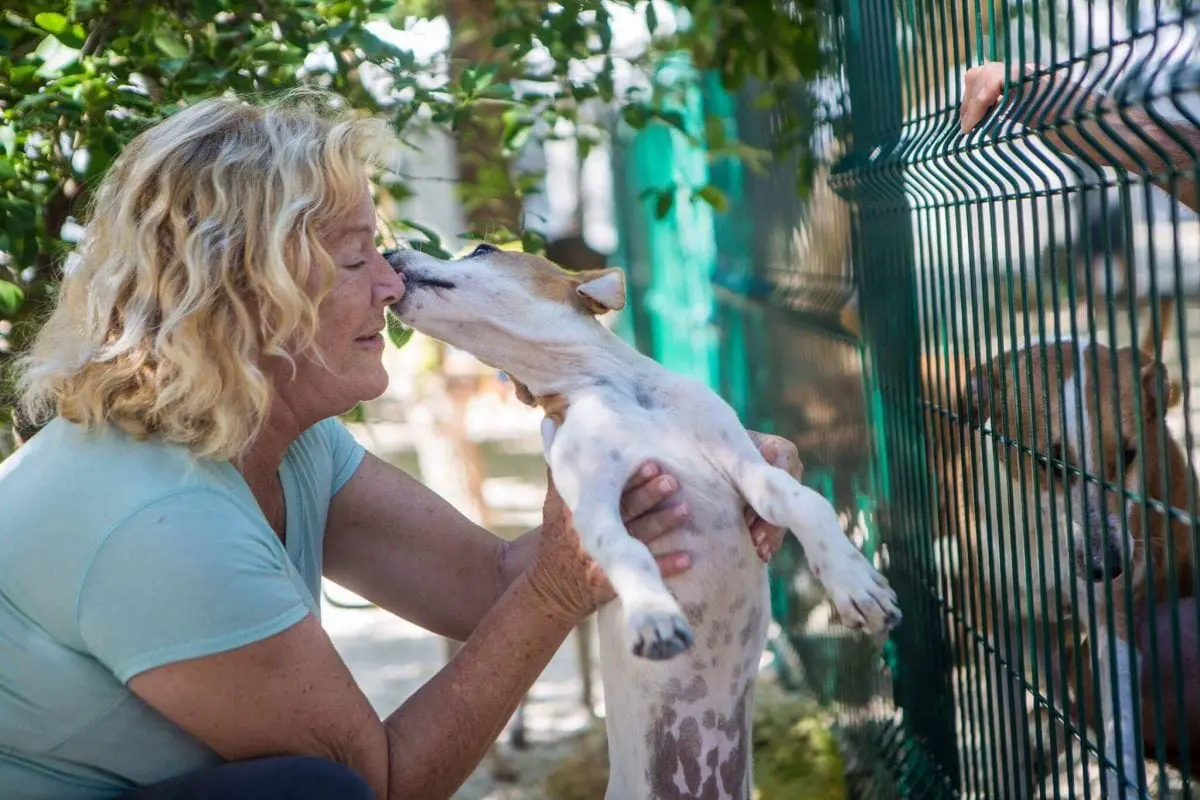 S.O.S. el Arca (The Arc) is a local animal rescue in Playa del Carmen. Recently, the dog shelter began operations at new, much larger facility. PlayaDelCarmen.com sat down with the shelter's founder and dogmother extraordinaire, Sylvie Goetz, to talk about the shelter's humble beginnings and big plans for the future.
The Horrors of the Dog Pound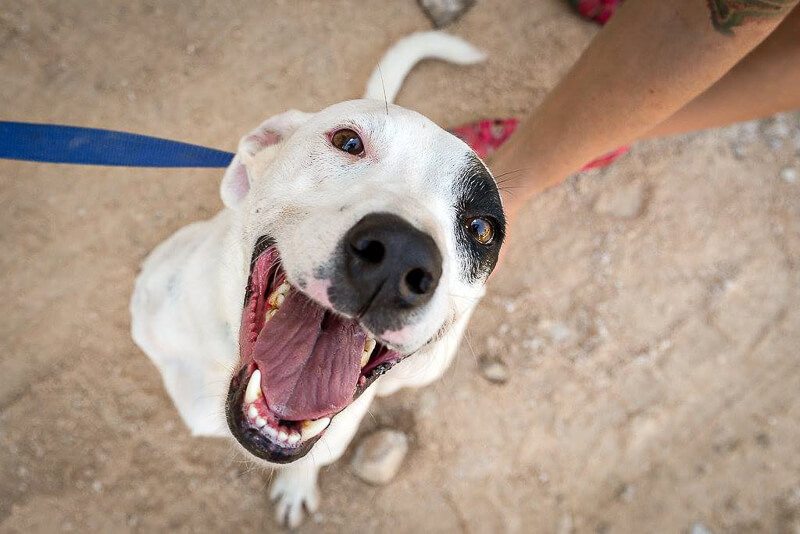 "If you pick up a starving dog and make him prosperous he will not bite you.
This is the principal difference between a dog and man."
― Mark Twain
Not too long ago, Sylvie Goetz was not so different than you and I.
Having moved to Playa del Carmen now twenty years ago,  the French-born entrepreneur had a pretty normal life.
One day, however, her fate would change, and with it that of thousands of fortunate canines in Playa del Carmen.
The dog of one of her employee's got killed by a car. The man's little boy was distraught, a feeling which he passed on to his caring father.
"Doña Sylvie," the father asked, using the polite form of Mrs. in Spanish, "What can I do?"
Sylvie knew that Playa del Carmen had a dog pound, but she had never been.
"There were up to 12 dogs in one cage in their poo and their pee," she relates.
"They had no food. They were just letting them starve because it was cheaper to kill them than to maintain them."
Referring to the pound as the "Auschwitz of dogs," Sylvie tells us how she adopted three of the dogs but left devastated by what she had seen.
Two died on the way to the vet.
Following a sleepless weekend, she returned to the pound on Monday with a bag of food and some bowls.
Only by offering to pay the two guards 50 pesos each was she able to feed the dogs, many of which could no longer even stand.
"I will come every day, and every day I will give you 50 pesos each, but you let me give them food and you help me."
---
The Birth of S.O.S. el Arca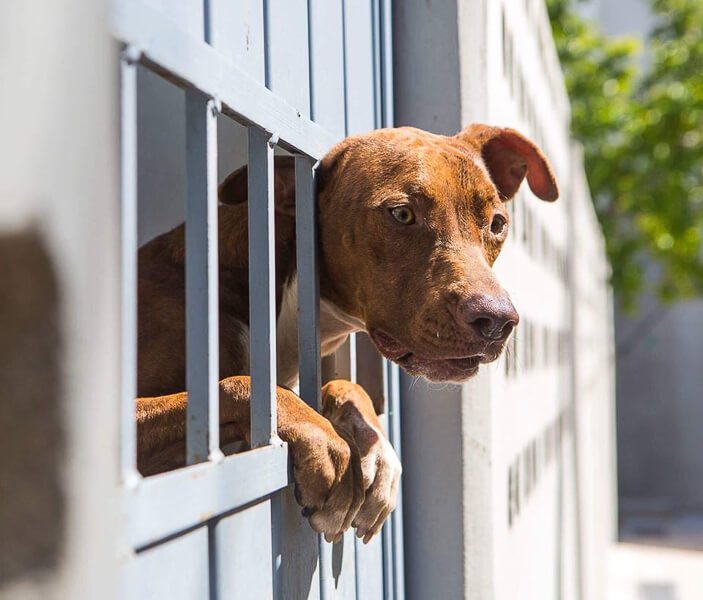 "A dog…is a bond between strangers."
― John Steinbeck
"I never thought I would do something like that when I arrived here, but I always loved dogs," explains Sylvie as she looks back on how it all started.
The horrors of the dog pound moved her to do much more than sacrifice her time and money to taking food to the dog pound once a day.
Rather than leave them there to their mortal fate, Sylvie decided to go one step further.
"I adopted dogs every day and took them home until I had 32 dogs at my house."
But she knew that she could not continue taking in more and more dogs.
"It's getting crazy, I can't do this," she realized.
Together with a sympathetic neighbor, the two pooled their money together and rented a house.
"My neighbor and I decided to start an association where we would rent a house to let the dogs inside and find them homes."
The normal challenges of housing, feed, and providing medical care to so many dogs aside, things went well for the newfound animal rescue.
Until, that is, the owner of the house informed them they would have to vacate as he needed the house for his son returning home from college.
With 70 dogs and nowhere to go, things looked bleak.
---
A Second Chance for S.O.S. el Arca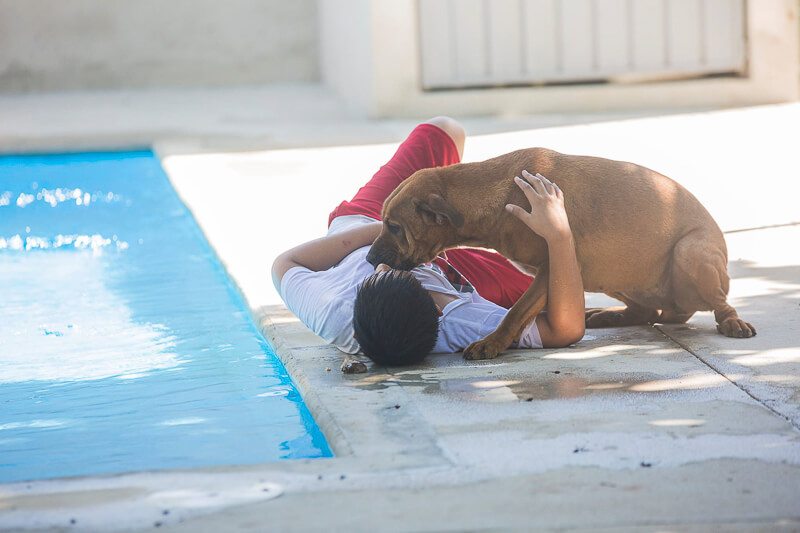 "Charity is the bone shared with the dog, when you are just as hungry as the dog."
—Jack London
Luckily, Sylvie's husband found a new spot where they could build the new refuge.
However, the terrain was full of trash and had never been built on.
They would have to start from scratch.
That fateful day that the dogs moved to their new home, Sylvie refused to leave them alone.
"The first night I slept with the dogs there because they were used to being in a house," she reminisces.
"When we arrived we put plastic up in case of rain. But the dogs were desperate, so I stayed with them that night on the floor."
Little by little, Sylvie and her crew built floors, ceilings, and fences.
While a huge improvement over nothing, the shelter suffered due to insects, rodents, and the elements.
In fact, the shelter's terrain had a downward slope, meaning the land would easily flood during some of the flash floods so typical of a tropical environment.
However, in spite of all the difficulties, and the occasional evacuation due to flooding, the dogs constantly received food, shelter, medical treatment, and above all, love.
"We saved over 1,500 dogs at that place," says Sylvie modestly.
"The dogs were happy. They were walked, bathed, and played with daily, so the dogs have never really suffered."
"We have been suffering more than them," she added.
---
Humans Helping Humans Helping Dogs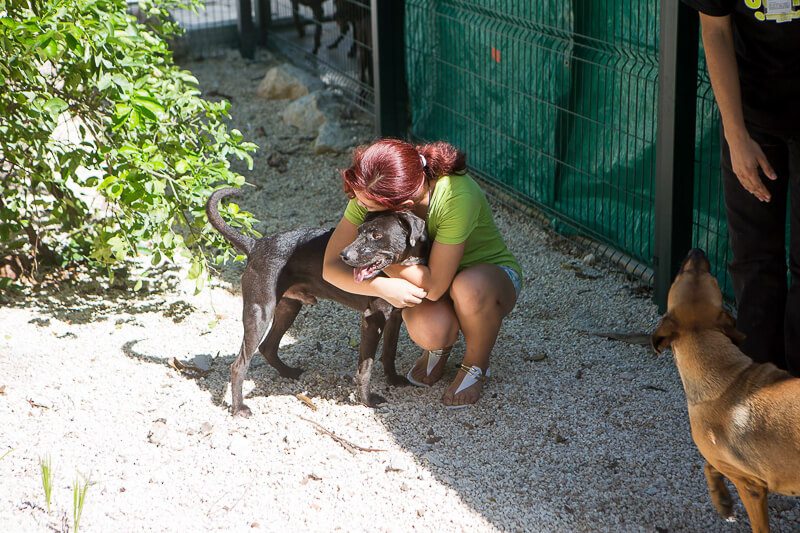 "If there are no dogs in Heaven, then when I die I want to go where they went."
― Will Rogers
The good work of S.O.S. el Arca has not gone unnoticed.
The shelter counts on a network of volunteers who do everything from donate time, money, and food to taking dogs on the 5th Avenue walks, playing with them at the shelter, and providing them with their weekly baths.
And while the contribution of each and every person is as worthy as the other, some are in conditions to offer a little bit more.
One day, Sylvie got a phone call from a distraught woman who happened to be in Playa del Carmen on vacation.
She had been feeding a stray dog at her hotel when workers from the pound came and took the dog away.
Having fallen in love with her canine friend, she pleaded with Sylvie to save him from the ghastly fate that surely awaited him.
As she has done so many times over the last six years, Sylvie responded by picking the dog up from the pound and taking it to the shelter.
Thankful for the favor, the tourist turned savior went to S.O.S. el Arca to express her gratitude face-to-face.
"She came with a huge bag of dog food to say thank you, and then she saw the shelter and she started to cry," explains Sylvie.
The woman couldn't believe what she saw, telling Sylvie "It's not possible that you are here."
"You should have something nice. This is horrible."
To which Sylvie responded, "Yes, it would be nice if we have something else, but we don't."
---
A New Home for S.O.S. el Arca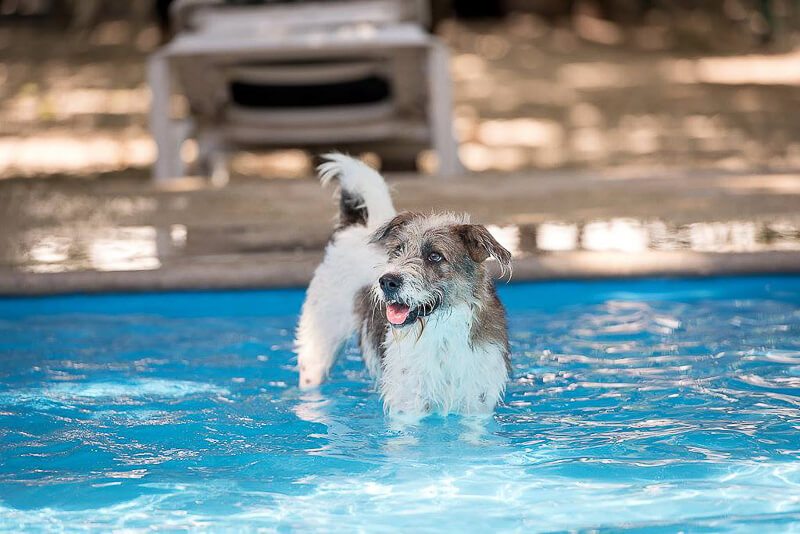 "Dogs do speak, but only to those who know how to listen."
― Orhan Pamuk, My Name is Red
A few months later and everything had been arranged.
The land had been purchased, signatures collected to get the permission of the neighbors as well local authorities, and the plans were underway for the construction of the new shelter.
The woman whose plans for Playa del Carmen had been to only spend some time in this magical town overlooking the Caribbean Sea, had her life transformed by her newfound furry friend and his brush with an almost certain death at the dog pound.
Her destiny now intertwined with Sylvie's, and that of the shelter, she and her father decided it wasn't enough to just donate the land.
In order to avoid the same type of problems that plagued the staff and dogs at the previous shelter it was necessary to also ensure that the dogs had proper accommodations for an enterprise as large and dedicated as this one.
Fast forward to today, and the "miracle" as Sylvie calls it is coming close to completion.
The beautiful and spacious new shelter has three play areas, a swimming pool, and over 20 pens that have both shaded and sunny areas as well as old beach loungers for beds.
A staff of 12 join together with a host of volunteers to keep operations going for the over 200 dogs who have found their temporary or permanent home here.
The shelter is both a testament to the commitment of S.O.S. el Arca to providing a loving refuge for the dogs as well as a living tribute to the numerous sacrifices made by Sylvie and her team over the last six years.
Of course, Sylvie sees it from a more nuanced perspective:
"Dogs are angels to us humans. God has put them here to help us, not for us to help them."
---
How the Dogs Can Help You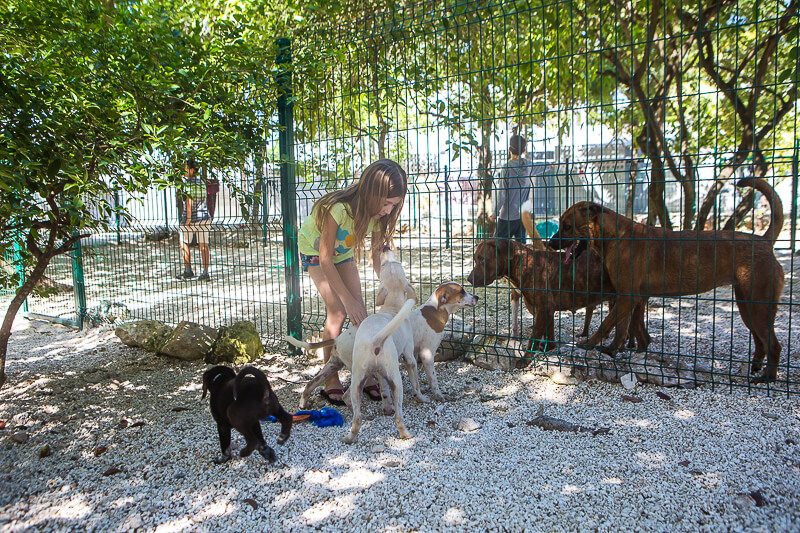 "Dogs love their friends and bite their enemies, quite unlike people, who are incapable of pure love and always have to mix love and hate."
—Sigmund Freud
The new shelter is still receiving some finishing touches before receiving the official and dignified inauguration that it deserves.
A clinic is being built for sterilizations and medical treatment, and an area set up to assist children and the elderly with specific physical or emotional challenges through interaction with the dogs.
In addition, plans are also underway to create a series of mobile clinics that can be set up in the areas where there are more abandoned dogs on the streets.
But in the meantime, the dogs still require love and attention.
In fact, just in terms of food, the shelter is going through an astounding 4,850 pounds of dog food a month, and that's without mentioning all of the other costs such as utility bills, vaccinations, equipment, etc.
In other words, help is always welcome and necessary, even if the true benefactors are us humans thanks to the generosity and unconditional love of the dogs.
First and foremost, S.O.S. el Arca needs donations to keep up all of their hard work.
Sylvie puts it like this:
"Money is the biggest problem. Food is okay. We mostly always get food. I think probably about two or three times in the last six years we went a day without food and then I went and bought it," she explains.
"But money is the biggest problem because with money you can buy the medicine, you can pay the vet, you pay the people who are working here."
"We have 12 full-time employees."
"There's a lot of work here, and I when we open the clinic we will need vets, vet assistants, medicine, etc."
But there are many other ways to help as well.
---
5 Ways to Show Your Support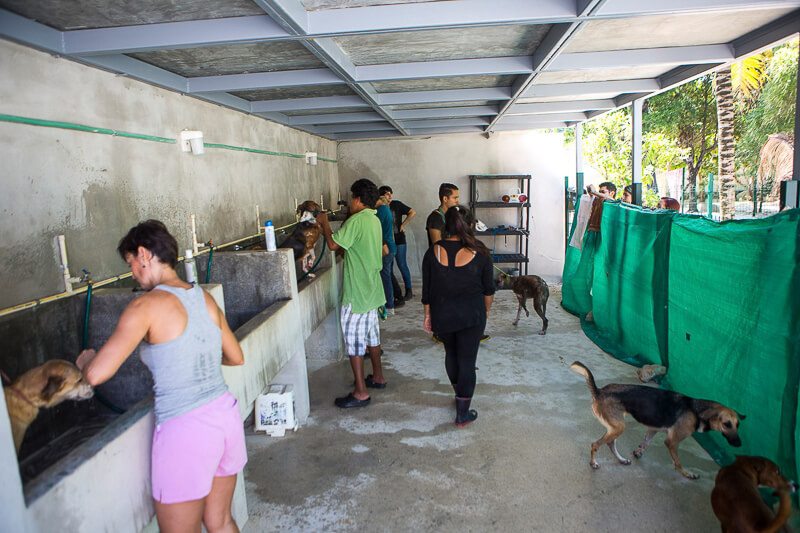 If for whatever reason you can't or prefer not to donate money, there are still a myriad of other ways in which you can help.
Here are five ideas:
#1 Adopt A Dog
The best way to support the shelter and its work is by adopting a dog and giving it a loving home. The good thing is that this is true both for locals as well as for those of you who just come here on vacation. The dogs have all their paperwork ready so that they can fly back home with you as soon as the next day, pending airline approval and the payment of some minimal fees.
#2 5th Avenue Dog Walk
Each night, S.O.S. el Arca takes a group of dogs and stands outside of Quinta Alegria shopping mall to raise awareness and collect donations. They can always use some help with the logistics, and it's a good way to spend two hours amongst furry creatures, fellow dog lovers, and the potential new caretakers of their soon to be best friends.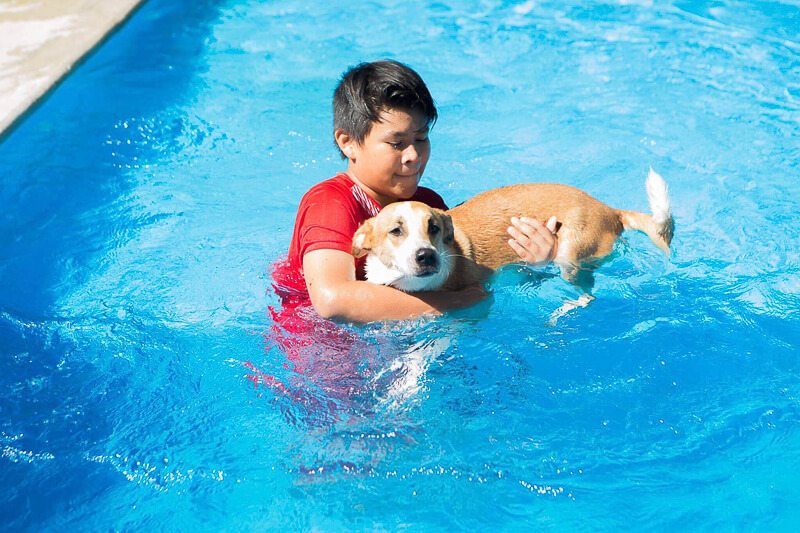 #3 Visit the Shelter & Show Some Love
The fortunate dogs at S.O.S. el Arca have lots of great space to run and play. But without human interaction, that often translates into standing around and sniffing everything and everyone around. You can brighten up their day, and yours as well, by spending a couple of hours simply having a ball. Or throwing one.
#4 Give a Dog a Bath
Each Saturday is bath day at S.O.S. el Arca. With over 200 dogs at the shelter, there's more than enough soap suds to go around for both the staff and the ever growing army of volunteers who want to help the shelter help us by helping them, a relationship which we get much more out of than they do. Just don't forget to wash behind the ears.
#5 Stop by with a Bag of Food
If time is of the essence but you still want to show your support, consider picking up a bag of dog food at the grocery store (or a big bag at Sam's) and swing by the shelter to drop it off. Nothing complicated, just a quick hello, wag of the tale, and here's some grub.
---
How to Contact S.O.S. el Arca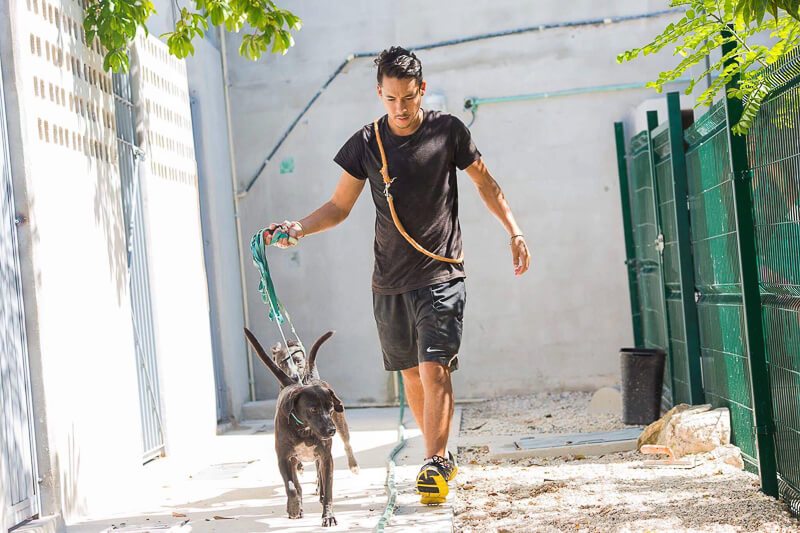 S.O.S. el Arca is located just west of the federal highway on 3rd Street South and 85th Street.
Their opening hours are 7:00 a.m. to 7:00 p.m. Monday through Sunday.
You can find more information about the dog shelter on the S.O.S. el Arca website as well as on their Facebook page.
You'll also be able to find detailed information about what dogs are currently available for adoption.
  Would you like to learn more about this or any other topic in Playa del Carmen or help planning your next trip?
Let us know in the comment section or contact our dog-friendly travel specialists toll-free at 888-537-9797!
Photo Credit: All images provided by S.O.S. el Arca
---
Trending Now
You may also like