My Xoximilco Review: A Floating Fiesta with Tequila & Mariachis
---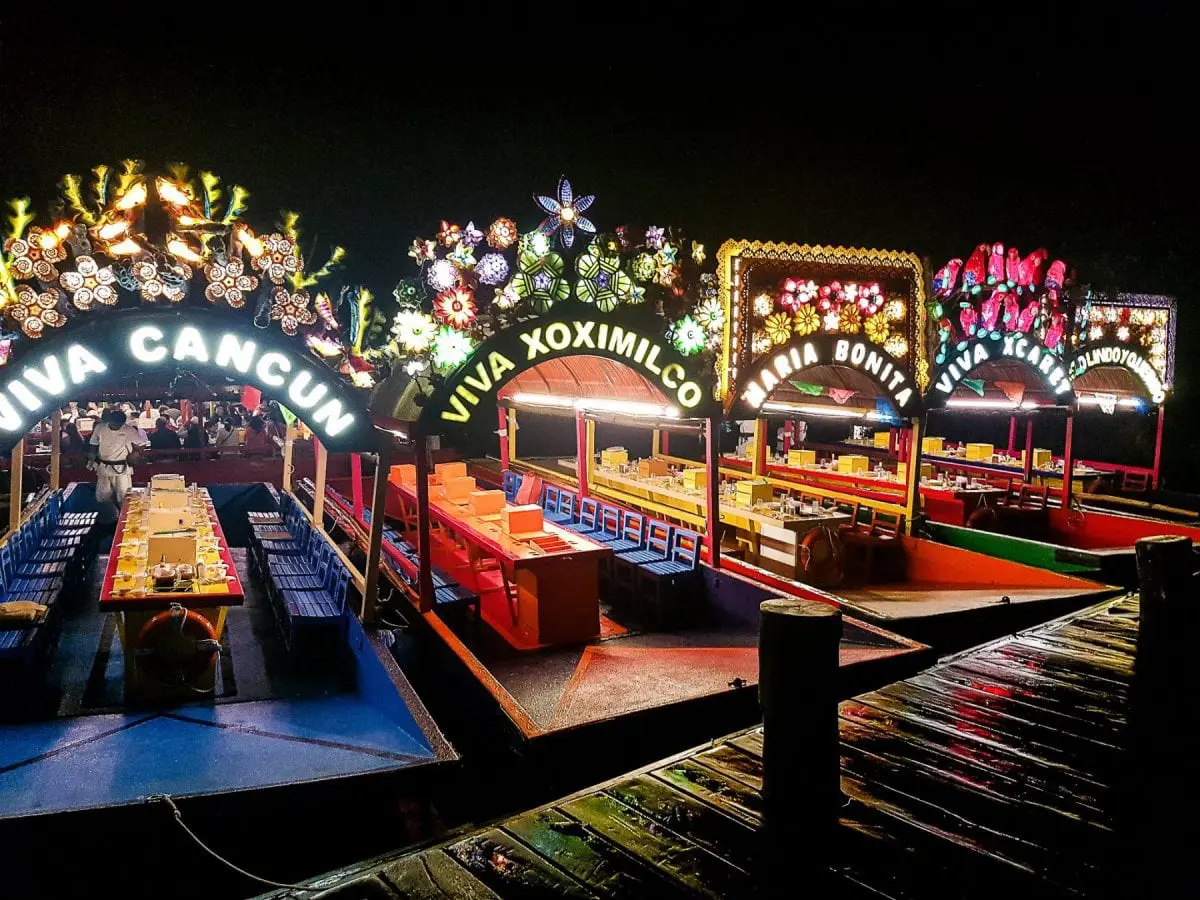 The PlayadelCarmen.com travel team recently celebrated an early, tequila-filled Christmas on a floating dinner cruise down jungle-lined channels. The result is this Xoximilco review.
Warning: Some names have been changed to protect the innocent 😉
The cool December rain had been falling hard off and on throughout the day.
Bouts of tropical rain appeared suddenly, drenching the earth before making way for partly cloudy blue skies and the warm rays of the sun.
The rain god Chac either ignored or didn't receive our hopes for a star-filled sky with the brilliant moonlight shining down on the Riviera Maya jungle.
But tonight was our night.
We're a dispersed bunch and hardly ever get to all be together in one place, much less experience one of our special Playa del Carmen tours as a team.
Finally complete and all together, the PlayaDelCarmen.com travel guru crew made a date to experience the Xoximilco Dinner Cruise.
Xoximilco is run by the talented people at Grupo Xcaret, owners and operators of Xcaret Park, Xplor, Xel-Ha, Xenses and Xenotes. As such, professionalism, attention to detail, and quality are always guaranteed.
So refusing to let a little rain damper our spirits or our adventure, we headed off to Xoximilco Cancun for a journey down jungle-lined channels.
Xoximilco Review
Xoximilco is about a 45-minute drive north of Playa del Carmen, and just 19 minutes south of Cancun International Airport.
Because of the rain, however, it took us a little bit longer and we arrived later than we had intended.
As such, we did miss out on some of the welcoming segment at Xoximilco, which includes games, musicians playing old tequila bottles, and lots of decoration to look at or include in a selfie as well as some delicious traditional Mexican snacks.
Upon arrival, Chac had us miss the traditional photo op at the entrance to the park, so we made our way straight to the check-in.
Quick, professional, and hassle-free.
All Aboard for the Xoximilco Tour!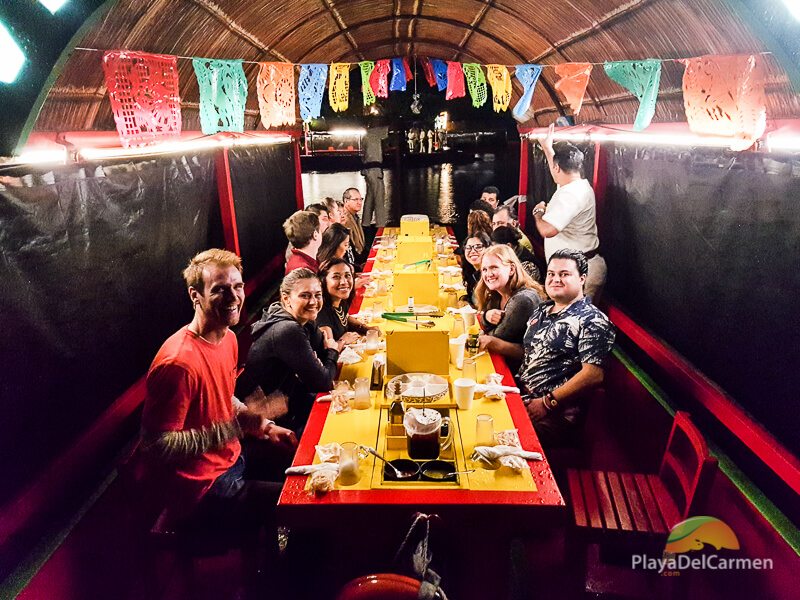 In the meantime, the bountiful Xoximilco crew begins calling out the trajineras a.k.a. boats, most of which are named after the 32 states of Mexico.
As with everything Xcaret gets its hands on, the park is beautifully decorated, which makes waiting for the bell to ring announcing that your boat is ready to part such a great experience.
The trajineras are similar in concept to the wooden gondolas of Venice and are styled after their counterparts in Mexico City in a place of the same name but with a different spelling: Xochimilco.
Our trajinera? Viva Xcaret.
Once we received the call, we made our way across the rain-soaked wooden pier and got aboard our 20-seater, tequila-laden trajinera.
May the Fiesta Begin!
The Xoximilco Dinner Cruise lasts about three hours and takes you through the winding channels of the park.
During that time, a guide is there the entire time to get you singing and dancing.
I'll admit that I like to sing and dance as much as anybody, but I times I found the entertainment to be too over the top Coco Bongo-esque on a boat.
At times, I felt like Spider Man would appear from nowhere and start dancing with a drag queen Madonna who rises up from the water.
Maybe it was all that tequila I had been drinking.
In any case, trajinera stations are set up at strategic points along the way where a diverse array of highly talented musicians play regional folklore.
To be honest, this is my favorite part of the entire tour.
These aren't just some random musicians chosen to dress up from a certain region and memorize a few songs.
No, señor.
These musicians, like many of the people who call Playa del Carmen and Cancun their home, emigrated here in search of a way to make a decent living while using their honed skills.
They deserve the applause. Especially our hero, Mr. Moustache Man.
Traditional Mexican Cuisine
Have you ever heard of chapulines?
I bet most of you would be disgusted by the idea and wouldn't even try them.
You'd be missing out.
Chapulines are small grasshoppers, slightly roasted and covered in salt, lime, and a touch of chili powder.
And that is just part of the entrées. Each course is served up in a sample platter.
The appetizers, which include the grasshoppers as well as ceviche, guacamole, refried beans, Oaxaca cheese, and huitlacoche (WEE-tlah-koe-che; a delicacy derived from corn fungus), are shared.
Then, everyone gets a plate of typical Mexican desserts which can either then be washed down with even more tequila or some fresh, hot chocolate.
An Honest Opinion of Xoximilco
Xoximilco is a place you go to have a good time.
The song, dance, music, and friendly people are contagious.
So, too, are tequila and laughing.
My Honest Feedback
The decorations are, as always with Grupo Xcaret, impeccable.
The quality of the food is better than you would expect, however, it's not somewhere to go and get full.
The drinks are sub-par, which for the price is something I think could be improved upon. The tequila is a poor quality José Cuervo and they only have Corona beer. For us drinkers who appreciate quality tequila and good beer, that disappoints.
Much like the decorations, the service at Xoximilco is world-class, and the talented crew could staff any park in the world and keep people happy.
My only real complaint was the over-the-top entertainment, perhaps it was just our guide. It is a fine line between animating a crowd to drink, have fun and even dance on a boat.
I know I couldn't do it.
But perhaps a little more class would do both the quality of the Xoximilco experience and the rich and wonderful Mexican culture more justice.
Xoximilco Prices & Details
Xoximilco Cancun is open from Monday through Saturday from 7:15 p.m. until 12:00 a.m.
However, the parks opens at 7:45 p.m. from September through March.
The dinner cruise lasts approximately three hours and costs $119 USD per adult and $59.50 USD for kids.
Pick-up times vary according to the location of your hotel. For more information, contact our Playa del Carmen travel specialists.
Xoximilco is an all-ages excursion, however, please note that it is more of a fiesta-like environment for grown-ups who like tequila.
Oh, and one last piece of advice: bring some biodegradable bug spray. Yes, mosquitos abound.
Apparently, the combination of fresh meat and water is just too much for those bloodsuckers to resist.
Ready to book your Xoximilco tour?
Our travel consultants at PlayaDelCarmen.com have been there and done that.
Save 10%. Contact us today toll-free at 888-537-9797 or book Xoximilco online!
---
Trending Now
You may also like