My Honest Review of Dreams Riviera Cancun Weddings 2020
---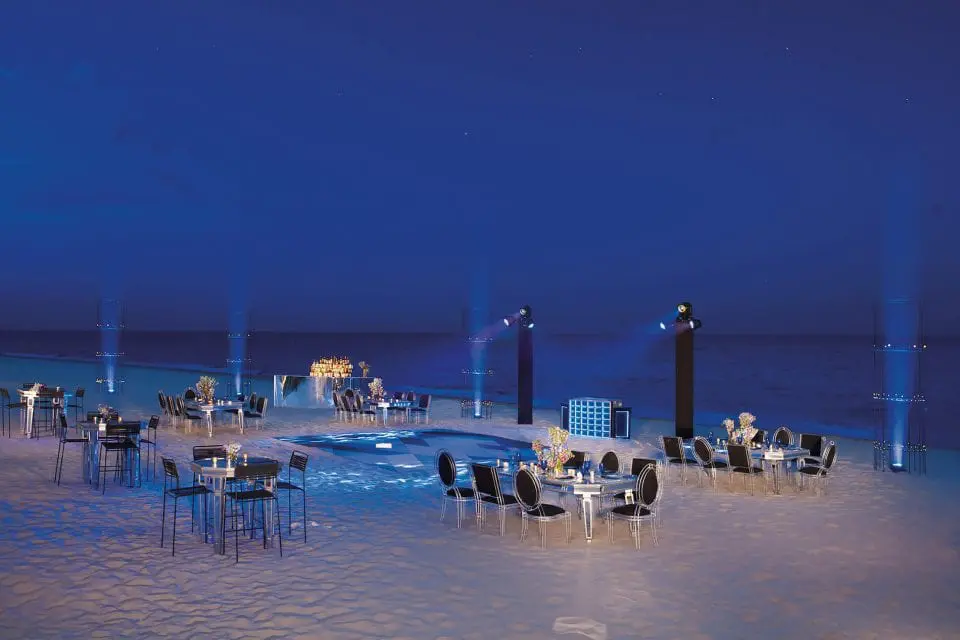 Are you thinking about booking your destination wedding at the Dreams Riviera Cancun resort in Mexico?
Get your full, in-depth look at what to expect right here!
I teamed up with our team of dedicated Wedding Coordinators at PlayaDelCarmen.Com to bring YOU the inside scoop on all things wedding related at this hotel!
Our team has planned their fair share of occasions here and know the juicy deets better than anyone…
Ready to dive in?
Weddings at Dreams Riviera Cancun
---
1. Hotel Overview
A popular client favorite for weddings! But why?
Dreams Riviera Cancun is, of course, part of "Dreams" resorts – hailed online for their spectacular excellence when it comes to hosting all kinds of events.
Located on the outskirts of Puerto Morelos just a short drive south of Cancun's International Airport this resort offers a secluded vibe while maintaining a prime position to enjoy all of the region's top attractions.
Client favorites include the elegant accommodations, gourmet food, and world-class spa!
A stay here means you can enjoy the AM Resorts "unlimited luxury concept", meaning unlimited top-shelf spirits, unlimited a la carte dining 24-hour room service, and more.
Plus, guests of all ages will have no trouble staying entertained.  The resort boasts an array of activities including, sports, games, kids club, and nightly entertainment, etc.
As for weddings, AM Resorts our one of our preferred partners when it comes to organizing your dream day, simply because they're a pleasure to work with.
The attention to detail,  level of service, and communication are always above and beyond what is expected!
Trust us, we work with a lot of hotels and unfortunately, that can't be said for all of them…Hotel Xcaret we are looking at you!
Average Price Per Person, Per Night
$230 per person per night
$170 in the lowest season – Sept, Oct
Max room occupancy is 4 (3 adults 1 kid, or 2 adults 2 kids)
This is a medium-sized resort with 486 rooms
Get a quote from our Wedding Coordinators and expert Travel Liaisons today.
2. Wedding Package Options
Okay, now let's get down to discussing the juicy details…
The purpose of this blog is to show you how much bang you get for your buck and what's included…
All the resorts in the region have a variety of different packages to choose from in order to meet customer wants and needs.
Oftentimes, they are broken down into 4-5 core packages with lots of additional add-on options to make it easy for you to customize your day.
Below, we've chosen one of our personal favorite packages to show so you can start to get a better idea of what to expect…
***PLEASE NOTE PRICES ARE SUBJECT TO CHANGE***
Dreams Ultimate Wedding Package
$3799 USD for up to 20 guests
All-Inclusive Package Inclusions:
Service of judge or minister
Semi-private rehearsal dinner for ten max
Wedding organization and personal touch of an on-site coordinator
Preparation and ironing of couple's wedding day attire
Complimentary room for one member of the wedding couple the night before the wedding
Bouquet and boutonniere for the wedding couple
Two boutonnieres and two corsages for the wedding party
Sound system with speaker and microphone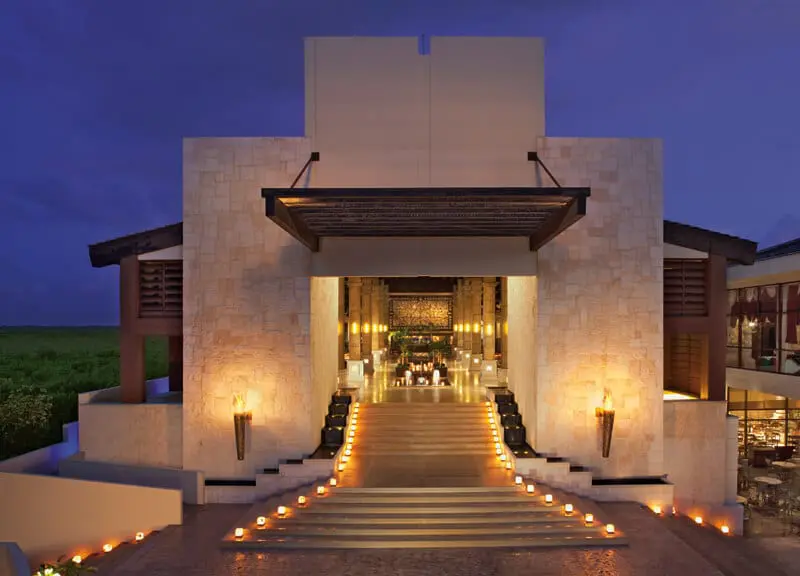 Hairstyling and makeup application for one member of the wedding couple for day of the ceremony
Ceremony decor (20 chairs with white covers, ceremonial table, and aisle runner)
Wedding cake and sparkling wine for up to 20 guests
One natural floral centerpiece for ceremonial table
Live Mexican music trio (one set, during cocktail hour)
Special turndown service night of the wedding
15% discount on all spa treatments (Spa boutique purchases not included)
Newlywed Package
Welcome letter
Fresh fruit
Bottle of sparkling wine
Breakfast in bed with mimosas (reservations must be in advance with concierge)
Late checkout for the couple
50 full-color photos and wedding album
Video of the ceremony (30 minutes)
Choice of one couples spa treatment
Free anniversary nights
Extra Wedding Costs to consider
DJ & Dance floor
Lighting
Decor tweaks
Floral Tweaks
Outside Vendor Fees
Wedding Favors
Perks When You Book a Dreams Riviera Cancun Wedding
Romantic beach dinners
Spa treatments and discounts
3. Ceremony & Reception Venues
The Dreams Riviera Cancun Resort has 5 stunning wedding venues to choose from…
Take a look at each of them below… remember each of the different locations can be decorated to your own tastes. 😉
Grand Lobby Staircase – 250 guests max
Wedding Gazebo – 150 guests max
 Oceana Rooftop – 150 guests max
Beach– 100 guests max
Ceiba Tree – 60 guests max
1. Grand Lobby Staircase
The not-so-obvious and underrated location…
When I first toured the hotel I didn't even realize this was a venue for weddings but when I saw the pictures of it all done up my jaw-dropped.
It's simply stunning and utterly unique.
The top of the staircase looks into the lobby – which by the way, is one of my favorite lobbies in the Riviera Maya – it oozes Zen.
I do believe the wedding team can somewhat privatize this location, but I should note it is not completely private, so if privacy what you're looking for then this venue may not be the one for you.
2. Wedding Gazebo
Oh, there's no doubt that this location is completely stunning.
It overlooks the ocean from a height so there is a cool Caribbean breeze blowing through which is desirable on a hot afternoon.
However, although very beautiful,  this location would not be my first choice it's far too busy for me and located very close to the main pool.
I'm not about kids screaming while I'm committing myself to another man for the rest of my life. Ha!
3. Oceana Rooftop
This is my personal favorite location at this hotel.
I am a sucker for a sky terrace, what I love about this one is that you aren't too high up so you are still level with the ocean which always looks stunning on photographs.
If you're looking for privacy, great views, and a little bit of a breeze then this is a venue for you!
4. Beach
Of course, there's always the classic beach wedding.
The beach here is lovely and soft however it's a little narrow in parts.
That said, the beach setups at this resort are particularly stunning – you can have something simple and elegant or lavish and luxury the choice is yours!
5. Ceiba Tree
The Ceiba tree was the most sacred tree for the ancient Maya it was the symbol of the universe.
It signified a route of communication between the three levels of earth and is still worshipped by many to this day.
At this resort, it offers a unique and culturally significant venue.
4. Gay Weddings At Dreams Riviera Cancun
You may be wondering "can you have a Same-Sex Wedding at Dreams Riviera Cancun?"
Yes, you can have a same-sex wedding at the Dreams Riviera Cancun.
This resort actually made our list of top hotels to host your gay wedding! It gets the PlayaDelCarmen.Com stamp of approval from us. Love is love!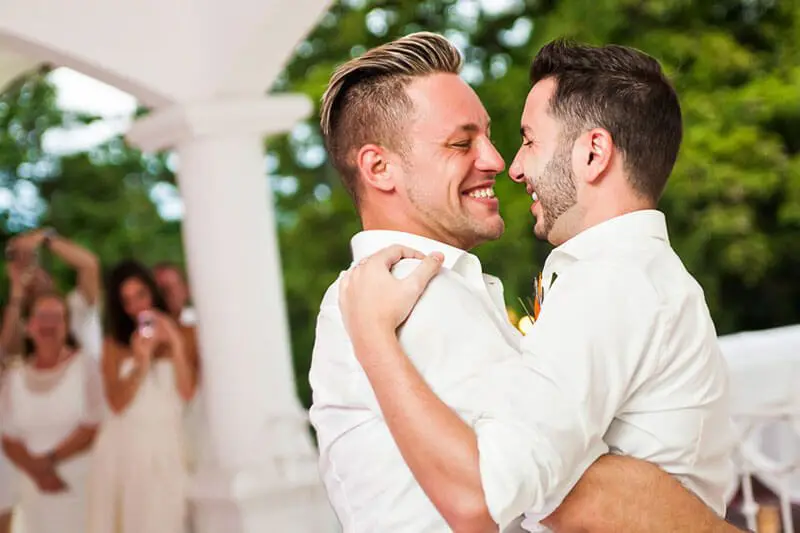 Other articles you may find useful on this subject include: 
5. Rooms at Dreams Riviera Cancun
 Rooms at this resort are all a unique octagonal-shape to ensure every room has fabulous views of the gardens and oceans.
If you're a sucker for ocean view or swim-up suites this hotel is not in short supply. 😉
My favorite thing about the swim-up suites at Dreams Riviera Cancun is that they are 100% exclusive to your room. 
Most other hotels that feature this room category in the Riviera Maya have 'mini-rivers' that flow around the outside of the hotel rooms, and while they are lavish, they aren't quite private as you're essentially sharing the swim-up the person next door.
Well, not at this hotel! Your room will have it's very own mini plunge pool. 
I viewed one of the oceanfront president suits while I was here and it was utterly breathtaking.
This room category comes with a huge bed, large bathroom, and even a living area…not to mention a large oceanfront balcony with a triangular hot tub!
Of course, all of the 486 suites offer one king bed or two double beds, 24-hour room service, in-room Jacuzzis, and a private furnished balcony or terrace.
For bigger families who would prefer to have connecting rooms this resort can guarantee the rooms in advance (not common in the Riviera Maya)  all you have to do is pay a small deposit of around 50 USD in advance.
I should note that during my visit the hotel has begun renovation of the rooms.
We saw both the old and the new, and WOW the new ones are simply to die for, elegantly modern complemented by blue hues and wooden finishings.
6. Beach
The was everything you would hope and dream for from a tropical Caribbean vacation.
There was no seaweed during my visit and I was happy to see that the width of the beach had stayed intact since the last time I was there.
7. Food & Drink
The music to my ears at this resort was that the a la carte options are available without any reservations!
That's pretty unheard of in these parts, and it absolutely does my head in because I'm really not all that organized, I'm more of a moment-to-moment kind of gyal.
I like the freedom of choosing where to go instantaneously and not having to stick to a schedule on vacay!
The hotel had 9 restaurants and 6 bars available:
French
Italian
Mexican
Asian
Seafood
Plus, the World Cafe buffet serves up delicious options for breakfast, lunch, and dinner.
If you got peckish while lazing by the pool there was even the barefoot pool-side grill for informal daytime snacks.
And if you're a sweet tooth like me the  'The Deli Cafe' is the perfect place to pick up premium coffees and snacks.
For people who suffer from gluten intolerance or are Celiac, fear not, Dreams Riviera Cancun has got you covered. They offer delicious gluten-free options in all of their restaurants.
There's also waiter service by the pool and beach plus 24-hour room service to indulge whenever you please.
My favorite restaurant had to be the Seafood one by the beach.
It's a semi-open setting a nice breeze and great views of the beach and pool.
I'd recommend the Agauachile and the Seared Salmon with lemon and garlic sauce!
8. Activities & Entertainment
If you're traveling with kids pools and activities can make or break a vacation.
Heck, even as an adult I'm a sucker for great activities, I mean, they are part of what we pay good money for, right?
Dreams Riviera Cancun has multiple pools, a kids club, and activities specifically for teens.
There's fun for the whole family whether it's kayaking, snorkeling, or enjoying an introductory dive class.
Golf lovers can also rejoice!
Of course, with any 4/5 star all-inclusive hotel there will be nightly entertainment for guests to enjoy.
Dreams Riviera Cancun showcases different acts, musical performances, and games to bring everyone together so they can have fun and get involved.
Nightlife
However, if you did want to venture out you can travel north to reach Cancun or south to reach Playa del Carmen. Either choice will take you between 20-30 min via taxi.
Cancun is a big bustling city and better for big clubs and heavy nights out if that's your style.
If you prefer something a little more laid back but still want to enjoy bars and live music I'd say Playa del Carmen is more for you.
9. What Brides Said…
What a great experience our family and friends shared! The entire staff was always professional and friendly, from Enrique at the bar to Marissa my wedding coordinator. Every person there was amazing. My wedding was everything and more! – Felicia B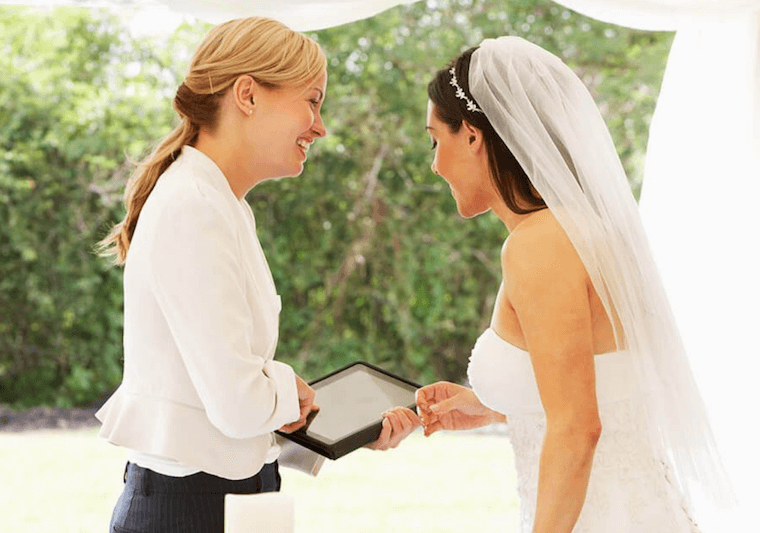 I barely have words to describe our trip to Dreams Riviera Cancun Resort & Spa. From arrival to departure, we were treated like royalty. The staff always had smiles on their faces, whether it be Clever at the lobby bar or our wonderful maid service as you pass them in the walkways. Gershon, the concierge, personally greeted us every time we passed him and always made sure we were taken care of. Paulina and her wedding team truly gave us a ceremony and experience we couldn't have imagined – it was everything we wanted, plus more. The entire staff at Dreams never let stress about anything, whether it was our next drink, meal or wedding ceremony. This was a trip of a lifetime – we are still getting thank yous from our guests telling us that this was one of the best vacations they have taken and one of the best weddings they have been to. We owe it all to Dreams and their amazing staff and resort (the rooms were some of the best we have stayed in in our Mexico vacations!). From the bottom of our hearts, thank you! – Molly & Mike
10. Pros & Cons
Things we LOVE:
Dreams Resorts are part of AMResorts

 

– we love working with these guys it's always high-level service, easy and effective. For example, they have been great through the whole COVID pandemic enabling the bride to quickly and easily simply move the date of their wedding and not lose any money, plus their new safety protocols are the best I have seen.
The hotel isn't overwhelmingly big, it's the perfect size in my opinion.
Great range of wedding packages to choose from.
Stunning bridal suite for you and your bridesmaids to get ready in before the ceremony!
Things we don't love as much:
The beach is a little narrow in parts so if you have your heart set on wide powdery soft sand this may not be the resort for you.
Preferred Club guests still incur some extra charges for premium liquor/services.
11. Additional Resources You May Find Useful
It doesn't end here.
Our blog is filled with tons of fun articles to help you plan the wedding of your dreams…
Here are some great starting points for you:
Enjoy! If you don't find what you're looking for please email me at sarah@playadelcarmen.com I'll be happy to help.
12. Get Married in Paradise
The first step to planning a faultless and unforgettable wedding is finding the perfect wedding coordinator for you.
Get in touch with our experienced team of wedding planners today for FREE!
Our dedicated wedding team is made up of experienced wedding planners from around the world. So, don't worry I can almost guarantee we speak your language.
This is what we do best! We've planned 100s of spectacular events in the region. As locals, we are unbias and know the lay of the land better than anyone.
We'll be with you every step of the way.
Call us toll-free 888-537-9797.
Or
Contact us via email at weddings@playadelcarmen.com
Dreams Riviera Cancun Weddings
Wedding Packages

Wedding Venues

Wedding Team at the hotel

Rooms

Beach

Service

Food & Drink

Activities

Location
---
Trending Now