Dreams Jade Weddings | My Honest Review – What to Expect 2023
---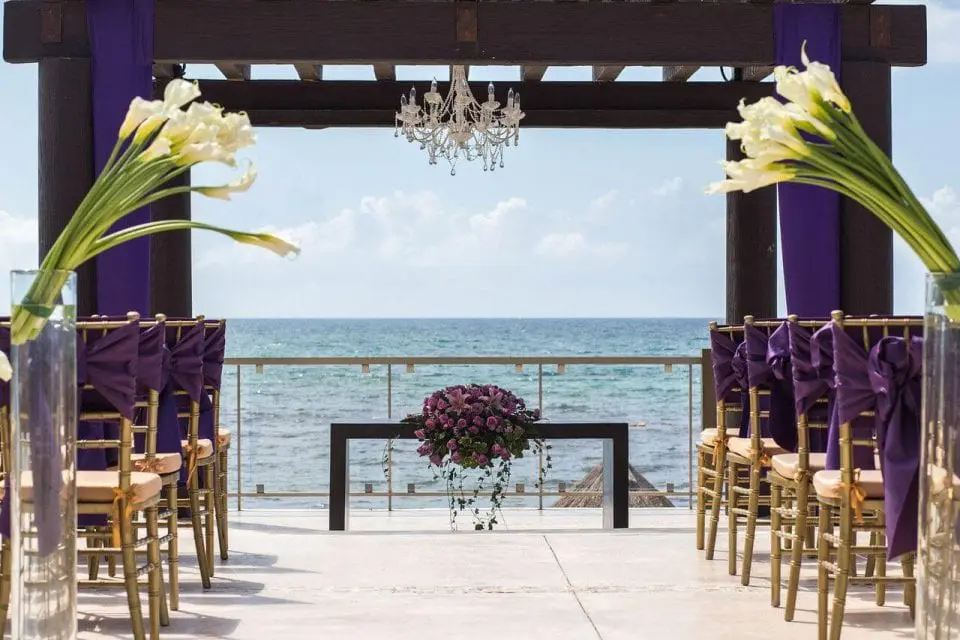 Introducing…an honest review of Dreams Jade Weddings in Puerto Morelos. 
Choosing your wedding resort is exciting, but also daunting as hell if you've never stayed at the hotel before.
How can you know EXACTLY what to expect?
That's where I come in.
I've been doing this 3 years now and I've made it my mission to know the hotels first-hand so I can keep wedding couples like you in the loop…
Good or bad…I leave no stone unturned.
If you're ready, let's find out if the Dreams Jade is the right resort for you…
Dreams Jade Wedding Review (Puerto Morelos)
---
1. Hotel Overview
This resort is located in Cancun's little-known neighboring town, Puerto Morelos.
Once a sleepy fishing village this hidden gem has since blossomed into a relaxing haven where you can find a little bit of shopping and a lot of beautiful beaches.
It's the perfect location if you want to be removed from the hustle and bustle of bigger cities such as Cancun and Playa del Carmen but still want to be in a prime location to enjoy all the best highlights this stunning region has to offer.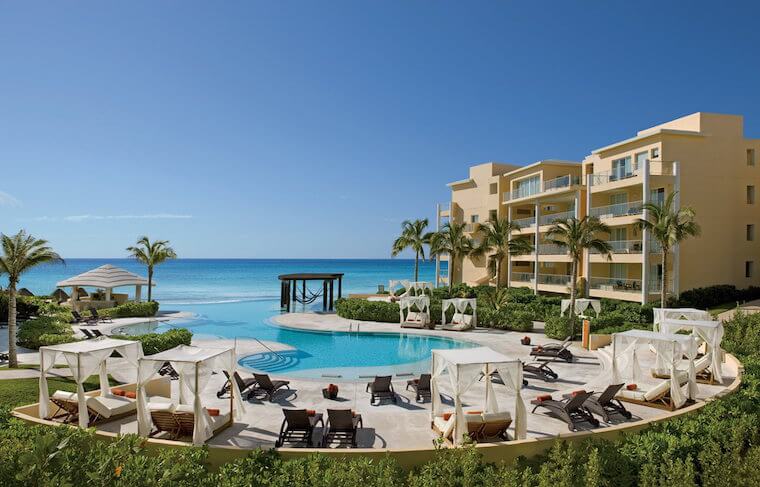 Rooms: 550
Family Friendly: Yes
Pet-Friendly: Yes. Even your pet pooch can attend the event up to 10kg or (22lbs). Guests with pets are allocated to specific room categories subject to availability and additional fees do apply.
Room Service: 24-hour room and concierge service.
Wi-Fi: Free
Restaurants: 8 restaurants. Buffet options and gourmet a la carte restaurants.
Bars: 6 bars and lounges.
Cafe: Coco Cafe
Nightclub: No, however, there is 'Scores', a laid-back casual hangout with flat-panel TVs, pool tables, and a DJ. Guests must be 18+ to access Scores in the evening.
Spa: Yes, world-class spa.
Beauty Salon: Yes, with plenty of salon treatments to choose from.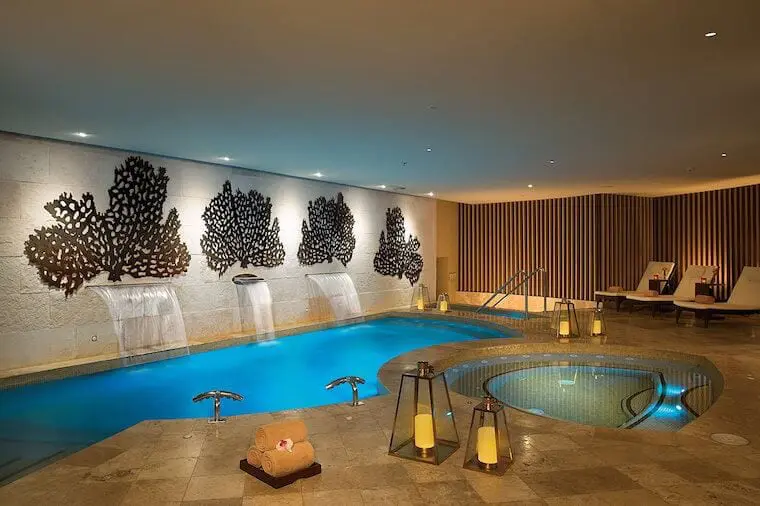 Fitness Center: Yes, open daily from 6 a.m. – 8 p.m. Keep those fitness goals alive.
Pools: three heated swimming pools featuring breathtaking views.
Water Sports: no–motorized water sports, but there is kayaks, snorkel, water, and beach aerobics, water volleyball
Average Price Per Person, Per Night
$170 per person per night
$150 in the lowest season – Sept, Oct
Max room occupancy is 4 (3 adults 1 kid, or 2 adults 2 kids)
This is a medium-sized resort with 550 rooms
Get a quote from our Wedding Coordinators and expert Travel Liaisons today.
2. Wedding Package Options
***PLEASE NOTE PRICES ARE SUBJECT TO CHANGE***
'Now to Eternity Package'
$3399 for 2023 and 2024 ($3199, August, September, October)
Includes: 25 guests, extra guests are $125 per person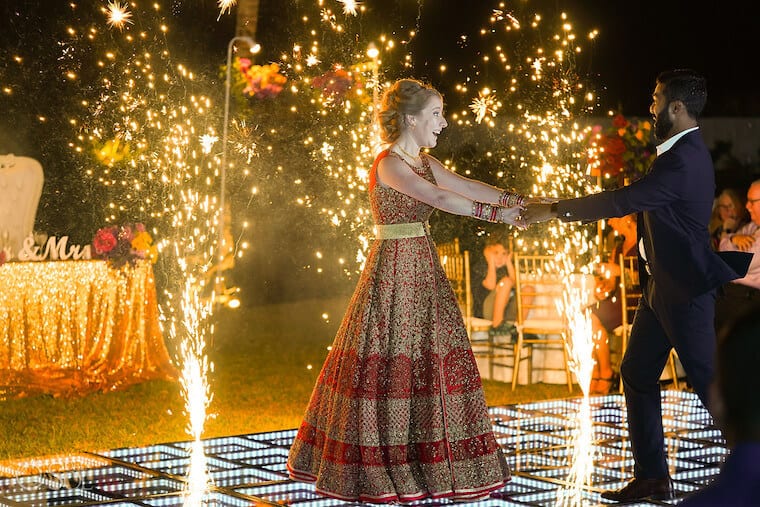 Wedding Day Inclusions:
Service of a judge or minister
Dedicated on-site wedding coordinator 
Preparation and ironing of couple's wedding day attire
Complimentary room upgrade for wedding couple (based on availability)
Bouquet(s) and boutonniere(s) for wedding couple
One corsage and one boutonniere for the wedding party
Sound system with speaker and microphones
Hairstyling and makeup application for one member of the wedding couple for day of the ceremony
Wedding cake and sparkling wine (up to 25 guests)
Private cocktail hour with hors d'oeuvres (Silver menu, up to 25 guests)
Private dinner reception (silver menu, up to 25 guests)
One natural floral centerpiece for the reception table
24 full-color photos
Other Romance Inclusions:
Couples massage spa treatment (50 minutes)
Breakfast in bed with mimosas (reservations must be made in advance with concierge)
Romantic turndown service night of the ceremony with rose petal drawn Jacuzzi bath, a bottle of sparkling wine and chocolate-covered strawberries
20% off spa treatments (Spa boutique purchases not included)
Late checkout for the couple (based on availability and upon request)
Free anniversary nights (stay a minimum of five paid nights over first anniversary date and receive two additional nights free, or stay four paid nights over the first-anniversary date and receive one additional night free)
Extra Wedding Costs to consider
Photography and Videography
DJ & Dance floor
Lighting
Decor tweaks
Floral Tweaks
Outside Vendor Fees
Wedding Favors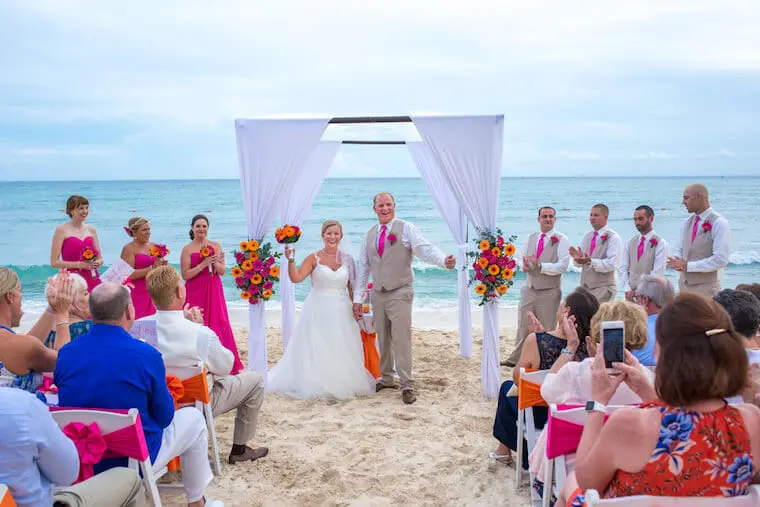 Perks When You Book Dreams Jade Weddings
Very low initial deposit for the room block (great for big groups)
If you book up to 75 room nights you'll receive $1000 USD credit towards the wedding couple's flight.
Every 5th, 6th or 7th room free (depending on the season)
Upgraded transfers for the wedding couple
3. Ceremony & Reception Venues
The Dreams Jade resort has 6 stunning venue and reception options to choose from:
1. El Patio Deck– 200 guests max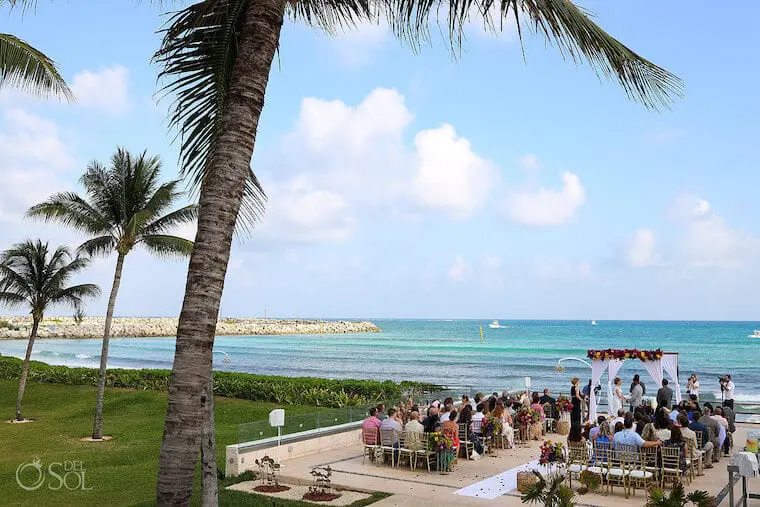 2. Garden– 200 guests max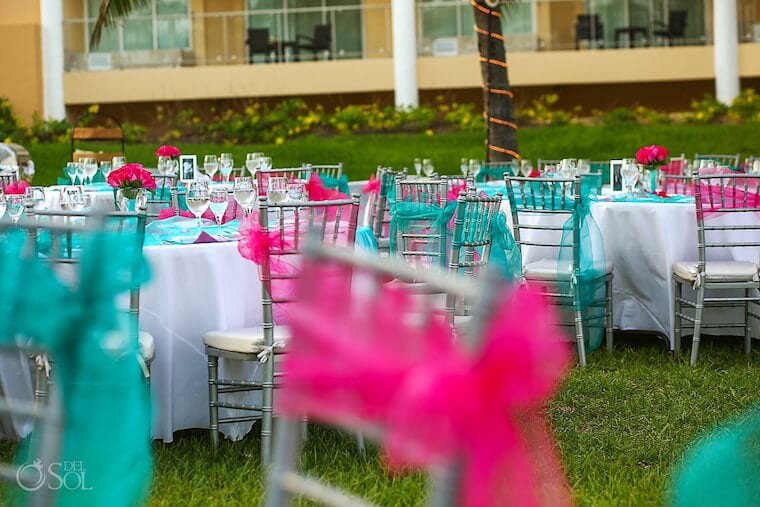 3. Beach – 150 guests max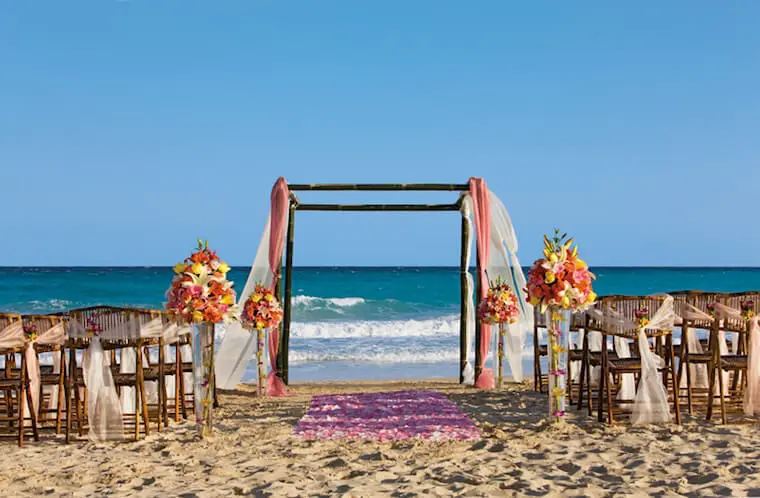 4. Seaside – 120 guests max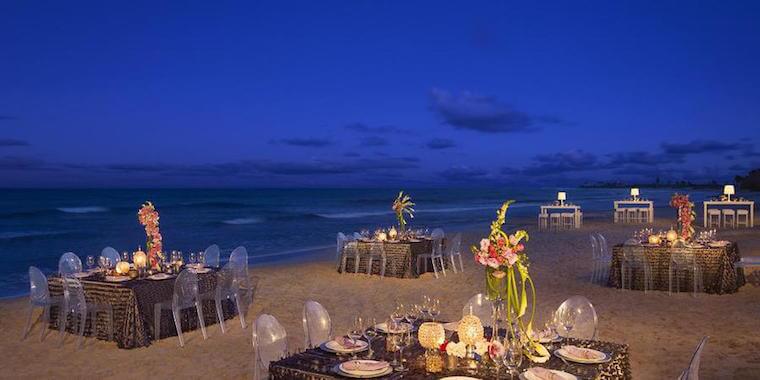 5. Pergola – 120 guests max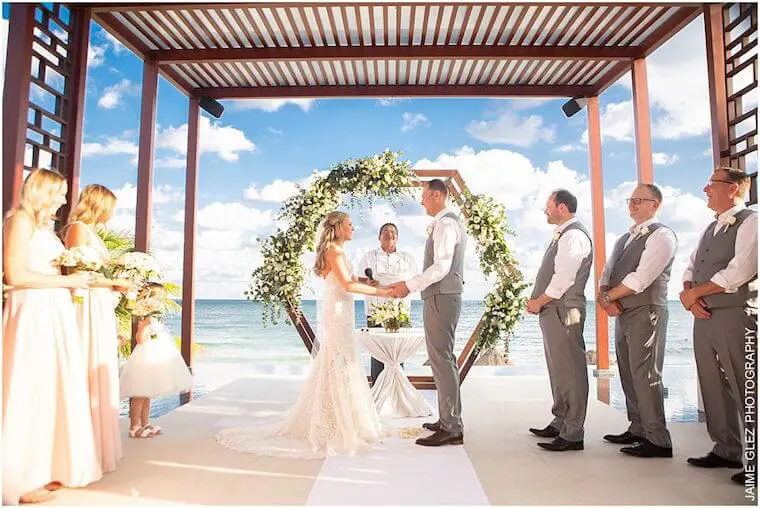 6. Fountain – 60 guests max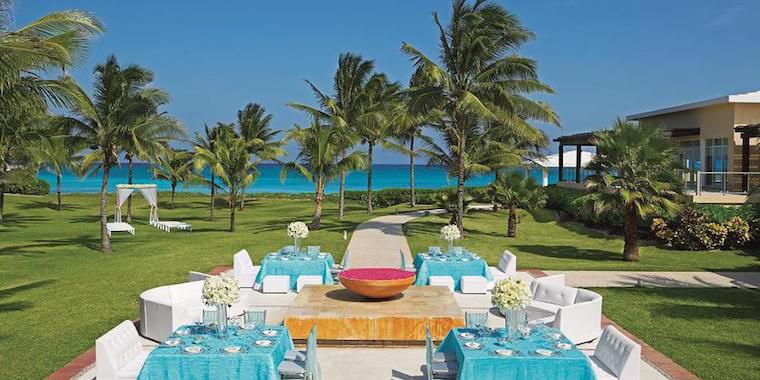 4. Gay Weddings At Dreams Jade
You may be wondering "can you have a Same-Sex Wedding at Dreams Jade?"
Yes, you can have a same-sex wedding at the Dreams Jade.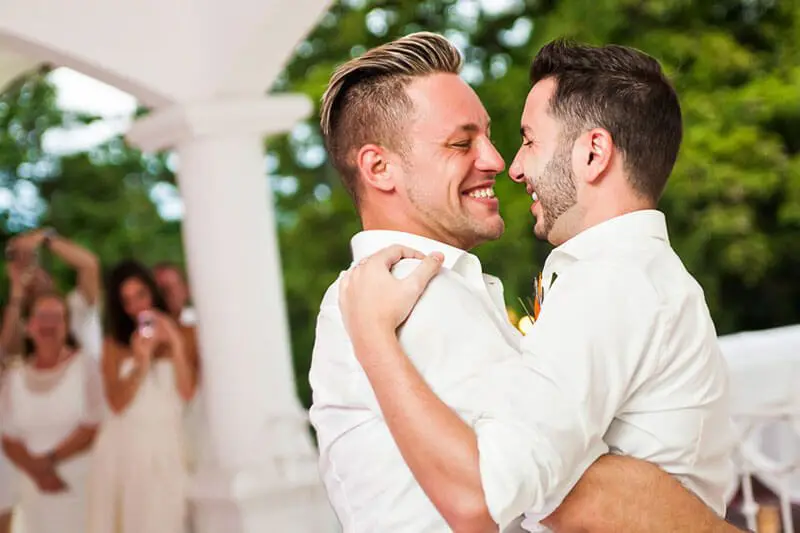 However, same-sex Catholic ceremonies are not permitted.
Other articles you may find useful on this subject include: 
5. Rooms at Dreams Jade Resort
Live the suite life at Dreams Jade!
Each room and the decor is inspired by the turquoise sea and Puerto Morelos' mesmerizing sunsets.
ALL suites are non-smoking, use proximity keys, and have 24-hour room service.
The rooms at Dreams Jade resort are divided into two sections…
On one side you will find the regular rooms and the other side you will find the preferred club rooms.
Like with most resorts you get the view you pay for.
Room categories at Dreams Jade include: 
Junior Suites
Family Suites
Preferred clubs suits
Tropical view = jungle view (trees, gardens, and mangroves)
Oceanfront rooms are located at the end of the U-shaped building and of course, feature stunning full oceanfront views.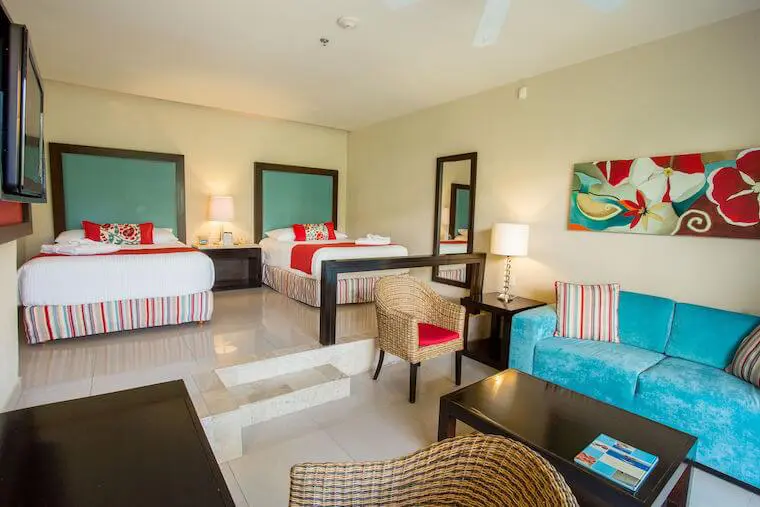 In the preferred section, you can expect much larger rooms with separate living areas.
When you book preferred, you do get a few extra perks for the extra money such as:
Preferred club lounge for check-in, check-out, hors d'oeuvres, premium liquor
Preferred club pool exclusive to guests 18+
Upgraded amenities in the room
They come with all the amenities you'd expect of a 4-star hotel including LCD tv, spacious bathroom with whirlpool and rain showers, a furnished balcony or terrace.
6. Beach
The beach here in Puerto Morelos is beautiful –  you can walk for miles!
However, it is narrow is some areas but the sand is white, soft, and powdery.  Cool off under the palapas for some shade with a cocktail in-hand.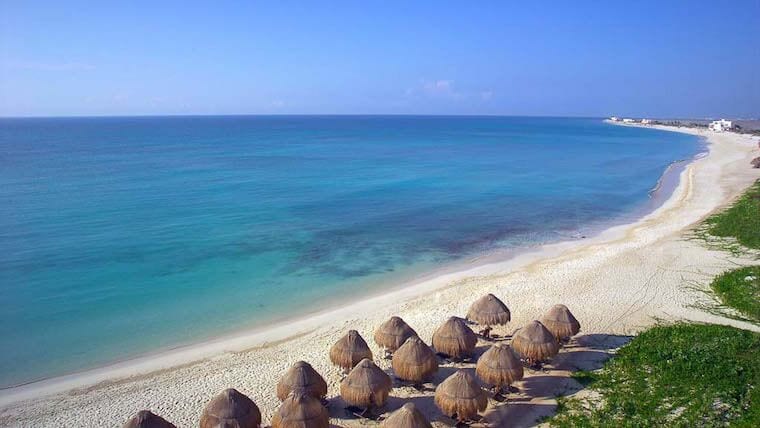 If you love swimming in the sea it can be a little rocky on entry, so consider bringing water shoes with you to avoid any unexpected cuts or scratches.
7. Food & Drink
Dreams Jade has 7 a la carte restaurants to make your mouth water.
My recommendation: be sure to check out the upscale adults-only Cin Cin.
And if like me, you can't live without coffee check out the Coco Cafe for some rich flavors and aromas to excite the senses.
There are 6 bars and lounges available so you will never go thirsty and the best part is there is a swim-up bar in each pool.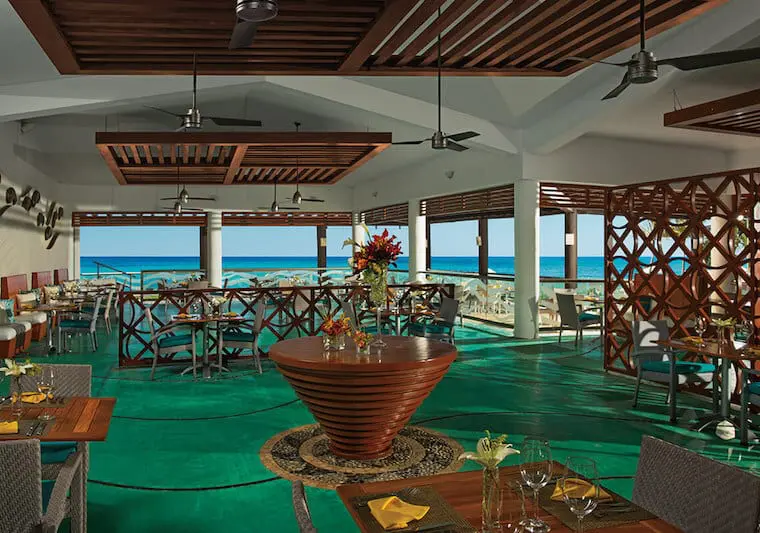 If you're into sports 'The Time Out' outdoor lounge is the perfect place for a cocktail with a sea view while you keep up to date with the score on the big screen.
If you live for the party this hotel may not be for you. It's definitely more suited to relaxed vacationers, however, if you did want a blow out you are not far from Cancun or Playa del Carmen.
Onsite Scores is the only after-hours hotspot for dancing and drinks.
8. Activities & Entertainment
At this hotel, there is a wide array of activities and entertainment sure to keep guests of all ages entertained.
The kids club is available for children ages 4-12 and is open through until 10 pm.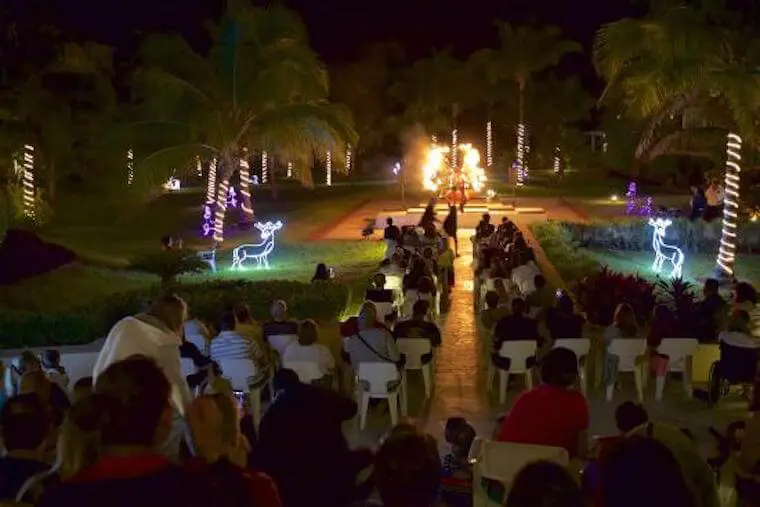 There are even indoor AND outdoor activities including a camping night so you can take some well deserved 'me' time while your kids are safe and entertained!
Other activities include: 
Nightly shows
Tequila tasting
Turtle release program
Kayaking
Snorkeling
Diving adventures
9. What Brides Said…
My husband and I had a small destination wedding on March 18th amidst the corona craziness. I have to say the resort did a great job of making us and our guests feel comfortable, there were sanitizing stations at every food and beverage area as well as main public areas like reception, etc.

In terms of the resort itself, it was fabulous. This was our second time at Dreams Jade (the first time was seven years earlier) and it did not disappoint. The beach/grounds are beautiful, the facilities are clean, and the staff is great!

The buffet had a great breakfast, we ate there every day with our server Eduardo – he was a ray of sunshine first thing in the morning and we ate lunch almost every day at Castaways with Edwin who was an absolutely fantastic server. Both waiters' kind and personable service made us want to go back to the resort soon.

We stayed in the preferred section as the bride and groom and appreciated having an adult-only pool. The main pool was only loud for about an hour a day, but having the preferred section was wonderful.

There were plenty of chairs on the beach and we never had to hunt for shade.

The restaurants for dinner were excellent. The food and service were great.

As for the wedding – we had a very small wedding on the beach and dinner at the French restaurant. Jaqueline took care of everything. She was wonderful.

I had my nails and makeup done by Fanny in the spa – I would highly recommend her. I was very nervous about getting my makeup done without a trial run, but Fanny was great. She listened to want I wanted, my makeup was simple (not too heavy) and done with professional quality. I would request Fanny if you are getting your make up done at the spa. – Gillian K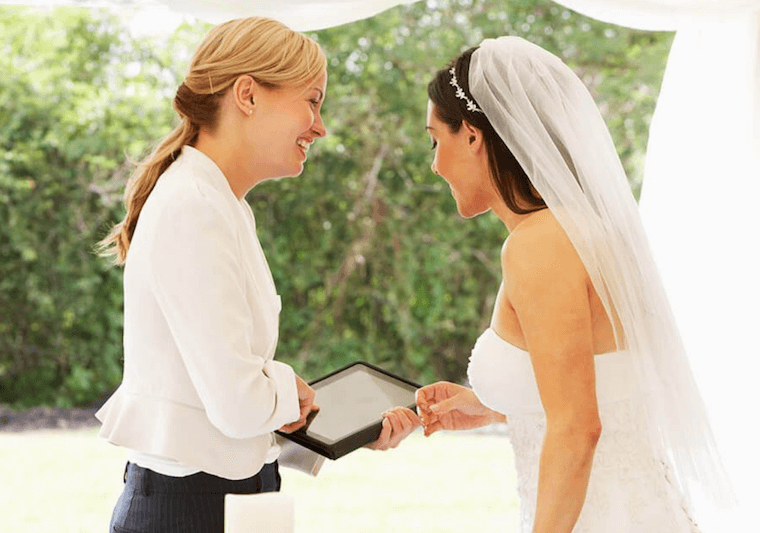 Went for a friends wedding. The hotel was amazing – food options were great, location, staff, rooms are spacious. I would go back in a minute. As a group we did an excursion outside the hotel and was so much fun. – sandyzinkowski
10. Pros & Cons
Things we LOVE:
Dreams Jade is part of AmResorts

 

– we love working with these guys it's always high-level service, easy and effective. For example, they have been great through the whole COVID pandemic enabling the bride to quickly and easily simply move the date of their wedding and not lose any money.
The hotel isn't overwhelmingly big, it's the perfect size in my opinion.
ALL of the wedding venues at this resort have stunning ocean views.
There are great room perks available when booking in groups.
Junior suites are VERY spacious.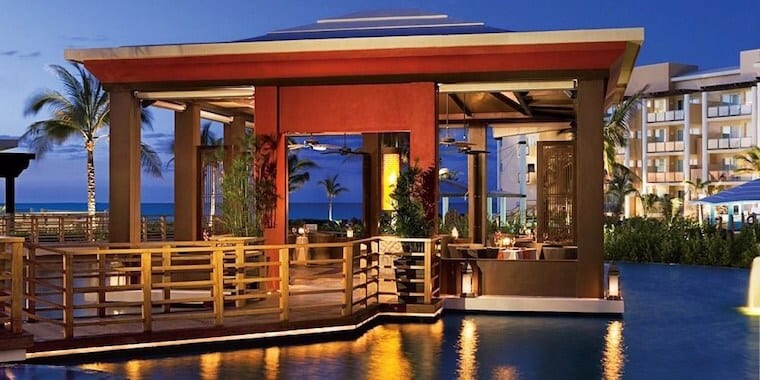 Things we don't love as much:
The beach is a little rocky in parts so if you have your heart set on powdery soft sands this may not be the resort for you. We'd recommend water shoes if you love swimming in the ocean.
The adults-only pool is reserved for Preferred Club guests.
Dreams Jade has the tendency to try and sell timeshares to its guests.
11. Additional Resources You May Find Useful
That's not all…
I'm dedicated to bringing you updated and regular wedding content.
On the wedding section of this blog you will find everything you need to know from packages, reviews, to even what sort of dress to wear to keep you cool.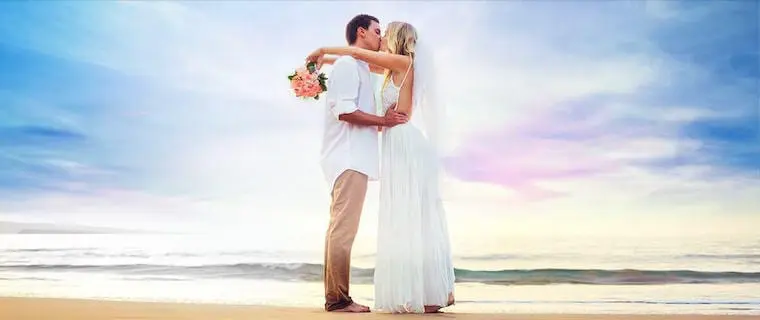 Enjoy! If you don't find what you're looking for please email me at sarah@playadelcarmen.com I'll be happy to help.
12. Get Married in Paradise
The first step to planning a faultless and unforgettable wedding is finding the perfect wedding coordinator for you.
Get in touch with our experienced team of wedding planners today for FREE!
Our dedicated wedding team is made up of experienced wedding planners from around the world. So, don't worry I can almost guarantee we speak your language.
This is what we do best! We've planned 100s of spectacular events in the region. As locals, we are unbias and know the lay of the land better than anyone.
We'll be with you every step of the way.
Call us toll-free 888-537-9797.
Or
Contact us via email at weddings@playadelcarmen.com
Now Jade Wedding Review
Packages

Venues

Food & Drink

Wedding Team

Decor & Design

Food & Drink

Activities

Rooms

Beach

Location
What I LOVE about this hotel:
Dreams Jade is part of AmResorts

 

– we love working with these guys it's always high-level service, easy and effective. For example, they have been great through the whole COVID pandemic enabling the bride to quickly and easily simply move the date of their wedding and not lose any money.
The hotel isn't overwhelmingly big, it's the perfect size in my opinion.
ALL of the wedding venues at this resort have stunning ocean views.
There are great room perks available when booking in groups.
Junior suites are VERY spacious.
---
Trending Now