10 Best Church Wedding Venues in Cancun & the Riviera Maya
---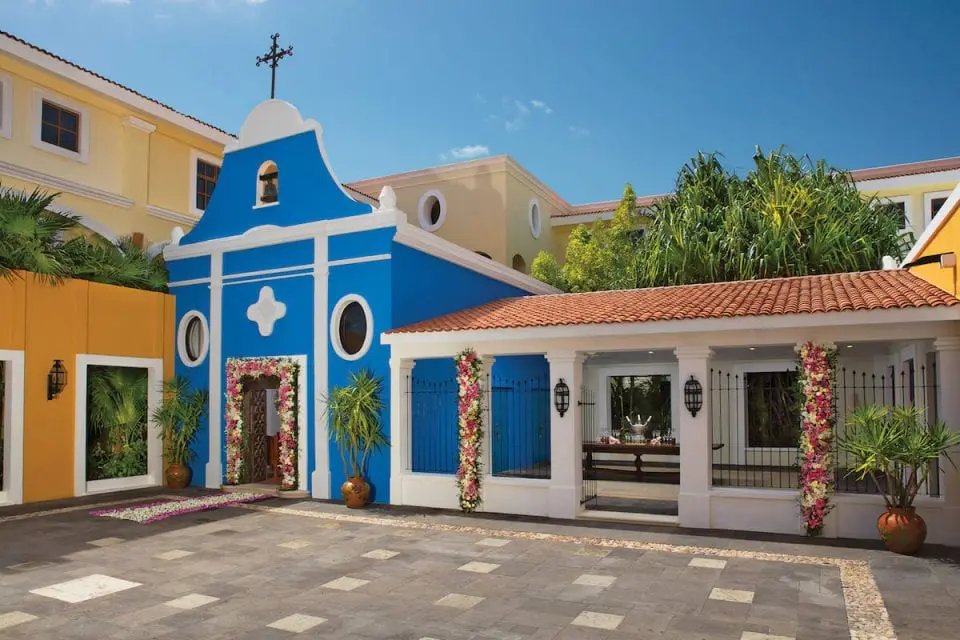 Behold, the 10 most stunning church wedding venues in the Riviera Maya!
Whether you are Catholic, Protestant, Orthodox, or Coptic, you'll find the perfect location to tie the knot here.
…Just because you want a destination wedding in Mexico doesn't mean you have to skimp on the traditions you hold close to your heart.
We're here to help you plan the perfect event from start to finish.
Without further ado…
Best Church Wedding Venues in The Riviera Maya
---
1. Dream Tulum Chapel
This blue colonial-style chapel is perfect for small to medium-sized wedding groups.
It has a max capacity of 40 people, is air-conditioned, and has recently been refurbished to include an annex that provides overflow seating for the ceremony or a shaded cocktail hour venue area.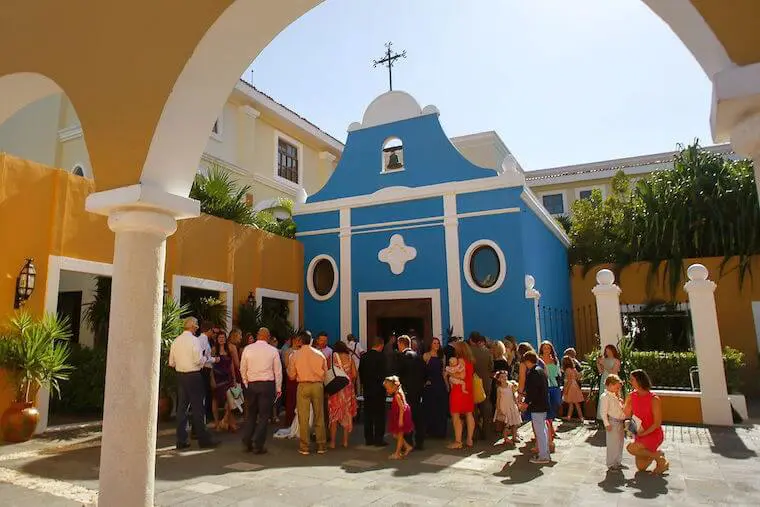 In total, this 5* kid-friendly resort has 7 other stunning wedding venue options to choose from.
So, you will be spoilt for choice when it comes to picking the locations for your reception and cocktail hour.
Dreams Resorts are renowned for hosting some of the most stunning destination weddings this region has to offer.
With an array of different wedding packages available, you're guaranteed to find something for all budgets.
Plus, the packages can be personalized to suit your tastes so you can make it your own.
The resort perfectly blends modern decor with more colorful and colonial-style architecture.
It boasts a AAA Four Diamond Award,  432 guest rooms and 44 acres of lush gardens.
 Enjoy all the advantages of an all-inclusive without the hotel feeling overwhelmingly big.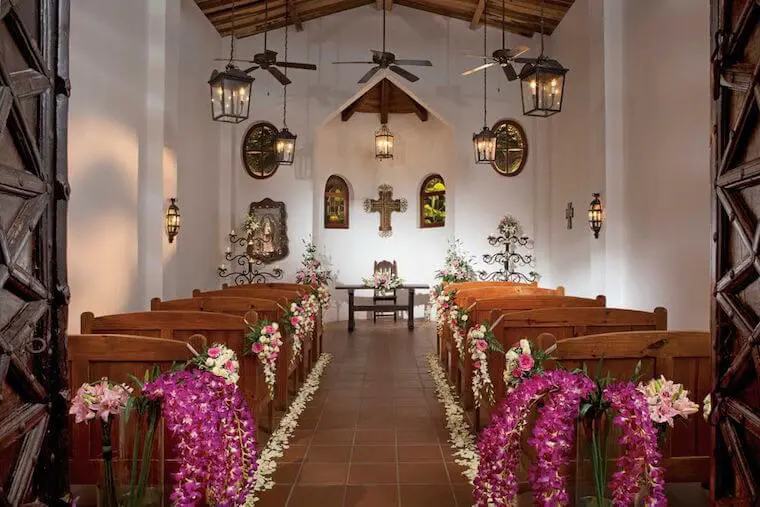 The good news? Guests without children are guaranteed some grown-up time at this hotel thanks to the adult-only section offering some child-free respite.
You'll be sure to tantalize your tastebuds at one of the resorts many kitchens…
…We can personally vouch for this hotel's amazing food and wine selection.
Their extensive wine cellar and on-site sommeliers will assist in choosing your perfect vintage for your special day.
2. Grand Palladium Riviera Maya Chapel
Grand Palladium's (Riviera Maya) Catholic Chapel is a beautiful sunny yellow color adorned with iron lanterns on the outside.
It's the epitome of colonial charm!
Named Nuestra de las Nieves this chapel is perfect for couples looking for the ultimate destination wedding without sacrificing the religious element of the ceremony.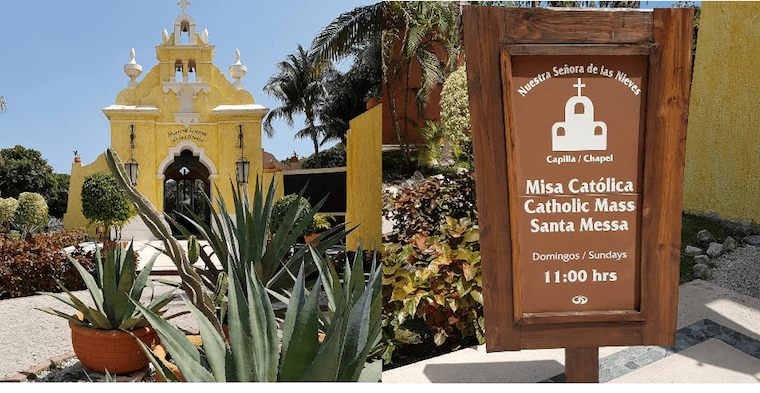 The Grand Palladium in the Riviera Maya has a wonderful range of packages to choose from that our wedding team would be happy to discuss with you in more detail to ensure you make the right choice for you.
Packages are affordable, yet they don't compromise on quality.
Not only that but there is a wide range of optional additional extras to give you the freedom to make your event your own!
Apparently, word travels fast because between the months of April-July this place is usually sold out.
So, my advice to you, if you are interested in this hotel, would be to plan and book your wedding ahead of time.
It's a 5* hotel that offers accommodations for guests with or without children.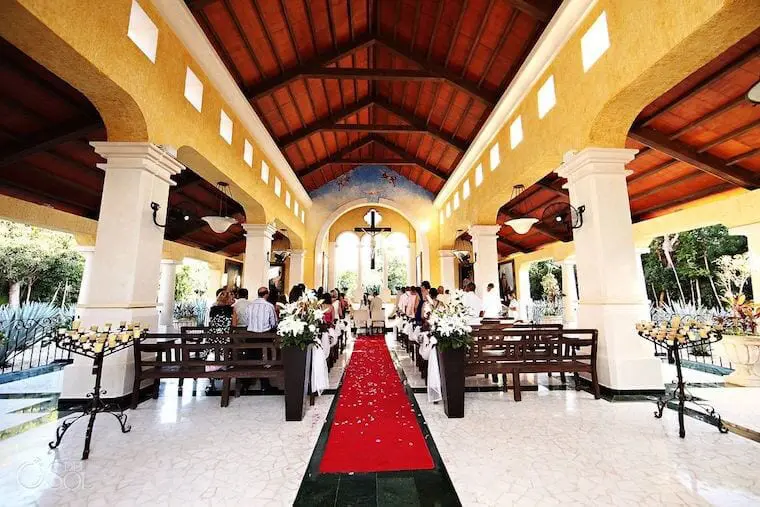 The 413 rooms include a private balcony or terrace that overlooks the ocean or the lush tropical garden views, a daily stocked minibar (don't mind if I do 😉 ), and a coffee/tea maker.
Couples can even take advantage of the Romance villa suites that have been specifically designed for intimacy and personalized service.
I mean…If you can't indulge on your wedding night, then when can you!?
You can read my full wedding review on Grand Palladium Riviera Maya including packages and locations here.
3. Xcaret Park Chapels
At Xcaret Park, there is not one but two beautiful chapels to choose from, these include:
Capilla de Guadalupe
St. Francis of Assisi Chapel
Capilla de Guadalupe
If you want to create a fusion between your own religion and the culture of the Mayans, then this is it!
This awe-inspiring chapel located in Xcaret park is the perfect location for larger wedding groups as it can house over 100 guests.
The layout of this chapel is what makes it so unique… The altar is positioned above a sacred cenote at the base of a Ceiba tree AKA the tree of life.
For the Mayans, this tree was a connection to the heavens.
Cenotes were also and still are, considered by many to be the portal to the underworld and a source of channeling the gods.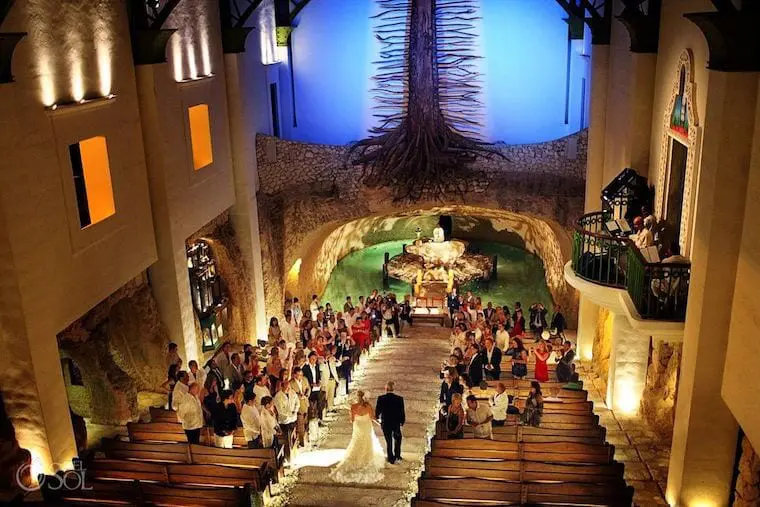 The stone stairs that lead to the cenote are the perfect walkway to meet your groom, providing the perfect lighting to create a magical ambiance no one will ever forget.
In the chapel pews, you'll see guests already in attendance, including former president Porfirio Diaz and other important people from Mexico's history.
St. Francis of Assisi Chapel
The second onsite religious wedding venue is the St. Francis of Assisi Chapel.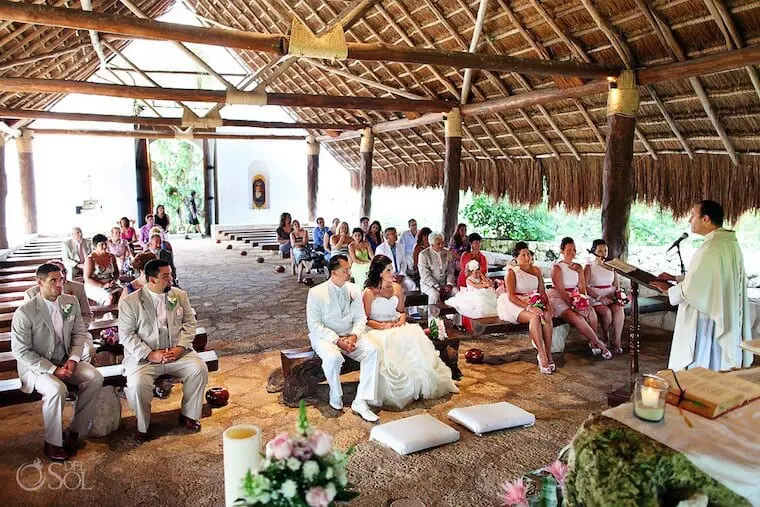 This open-air location suits minimalist and nature lovers alike. It's made completely out of natural materials such as stone and wood.
Please note that both of these chapels are found inside of Xcaret Park and NOT the Occidental or Xcaret hotel.
4. Now Saphire Chapel
Now Saphire offers one of the newest chapels in the region!
They added this location in 2019 due to popular demand.
It means that those seeking a religious ceremony can have everything in the same location and keep costs down.
This particular chapel is located near the beach, set back from the quaint walkways that are featured throughout the resort.
It's an open-style Palapa chapel surround by lush jungle palms – making it a semi-private location.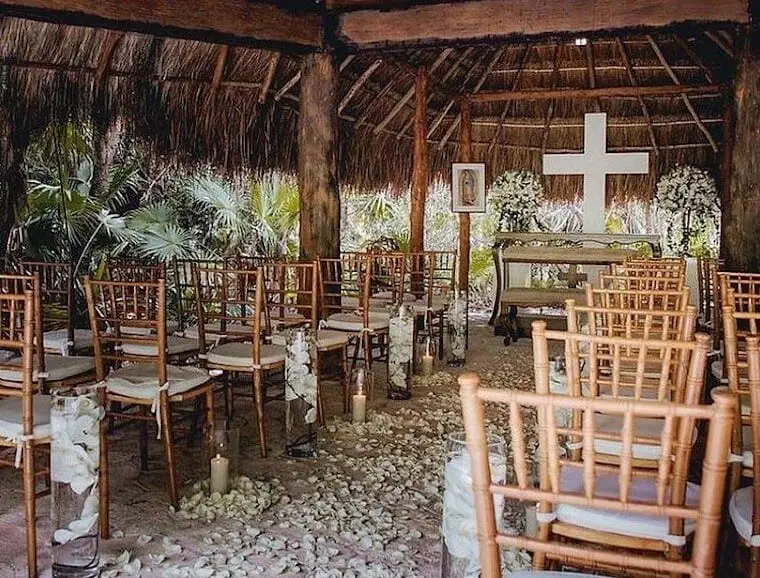 There are 3 low wide steps into the chapel and this location can accommodate just over 40 guests comfortably.
However, more chairs can be added on the patio outside if you have a larger group.
We love working with this hotel because of its incredible on-site wedding team!
The resort itself is positioned perfectly just 30 minutes from Cancun's International Airport yet it feels like it's in a world of its own.
Puerto Morelos is a quaint fishing town far removed from the hustle and bustle of bigger cities such as Playa del Carmen and Cancun, this destination offers a more relaxed and authentic Caribbean vibe.
Now Sapphire is also a AAA Four Diamond award-winning hotel so you're guaranteed high quality in all aspects.
Renovated in 2012 all 488 suites boast modern contemporary decor.
On top of the 8 dining options, onsite nightclub and 5 bars and lounges guests at this hotel can also enjoy Now Jade, Now Emerald, and Dreams Resorts and Spas.
If you've got some golfers in your wedding group they can enjoy complimentary green fees at the nearby Gran Coyote and El Chameleon golf course. Win!
5. Grand Velas Chapel
With marble flooring, air-conditioning, elegant interior, and floor-to-ceiling windows that overlook the lush Mayan jungle,  this chapel has it all.
No one wants to be feeling the heat on their wedding day and this indoor option provides a perfect refuge from the sun while still retaining it's Mexican Caribbean charm.
Named the Virgen De Guadalupe this chapel can accommodate up to 143 guests.
If you want your wedding and stay to be grand then look no further than the Grand Velas Resort in the Riviera Maya…the resort sprawls over 80 acres of lush jungle and powdery white sands.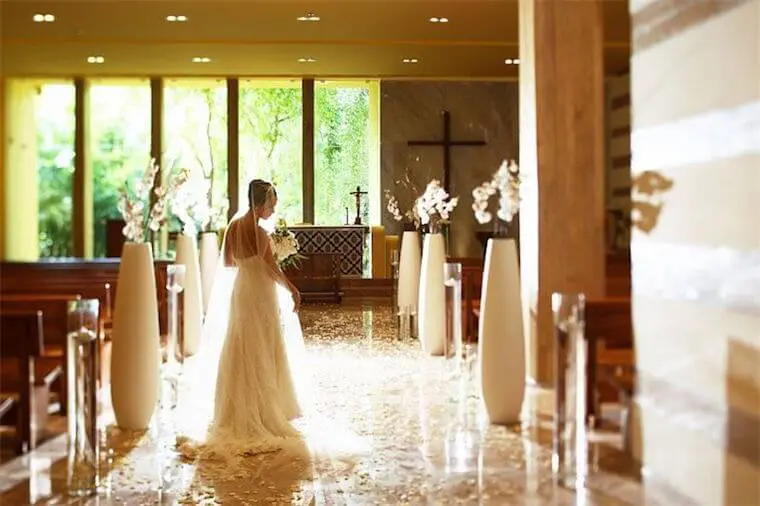 The beach is particularly dreamy,  and best of all it's private!
Onsite there are 539 large luxury suites that all come with private terraces and views of the jungle or ocean.
The hotel is just a 10-minute taxi drive from downtown Playa del Carmen and its famous 5th Avenue so if you do choose this hotel be sure to visit this charming coastal town and the endless array of shopping malls, exciting bars with live music, and restaurants it offers.
You will be glad you did!
6. El Pueblito Mayakoba Chapel
El Pueblito can be accessed from all 4 of Mayakoba's stunning luxury hotels which include Banyan Tree, Andaz, Fairmont, and Rosewood.
The ceremony can be held in the chapel or outside in the main plaza.
It's a sophisticated venue for a traditional wedding ceremony…The luxurious golden interior provides an intimate atmosphere but is large enough to seat 104 guests.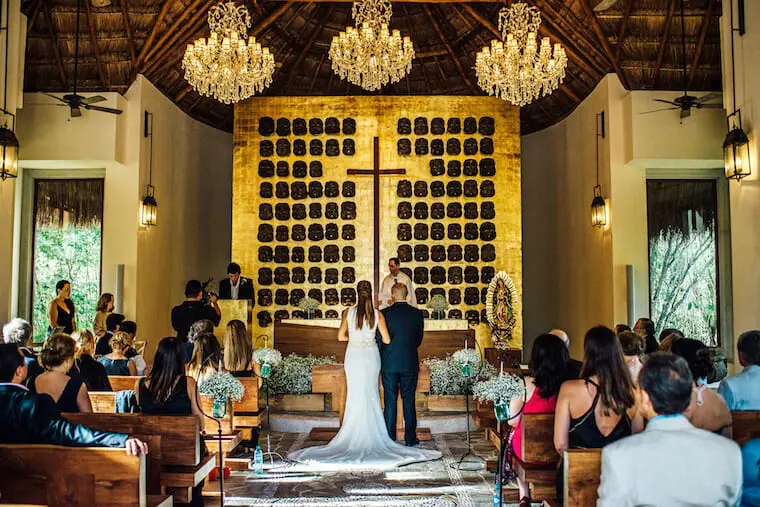 The main plaza of El Pueblito has more than 1,000 square feet of usable space and is an incredible venue for wedding ceremonies and destination wedding receptions and would also be an amazing venue for a rehearsal dinner.
Mayakoba resorts have a reputation in the region of being the best luxury on offer, so of course, the prices do reflect this.
However, if you have the cash to splash it really is a no brainer. You will not regret choosing any of these hotel for your stay.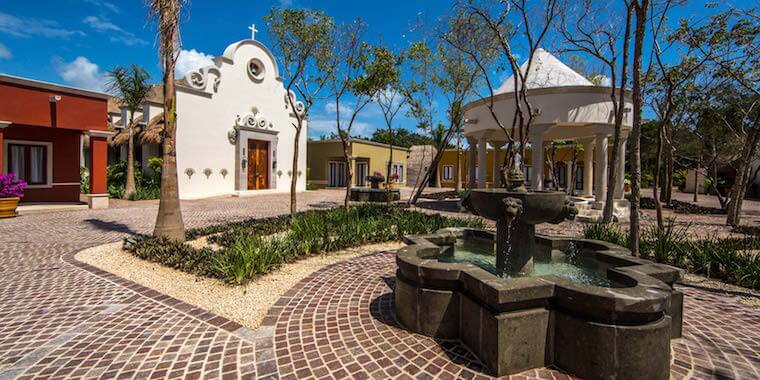 Talk to one of our Expert Wedding Coordinator or Travel Liaisons at PlayaDelCarmen.com to figure out which one of the Mayakoba hotels is the right one for you and your group. We're here to help and offer honest and unbias advice.
Start planning the perfect day in paradise!
7. Grand Sirenis Chapel
Often the biggest draws of choosing to have your wedding in Mexican paradise is, of course, the weather, the beach, and the tropical scenery.
So, who says you have to compromise on all of that when you have your heart set on a chapel or church ceremony?
Not the Grand Sirenis…
This fabulous resort has a spectacular palapa SEASIDE chapel. Does it get any better than that? I think not.
This option means you get a beautiful chapel that features views of the Caribbean Sea and a breathtaking ocean breeze.
It's an elegant, natural and unique venue for ocean-minded couples.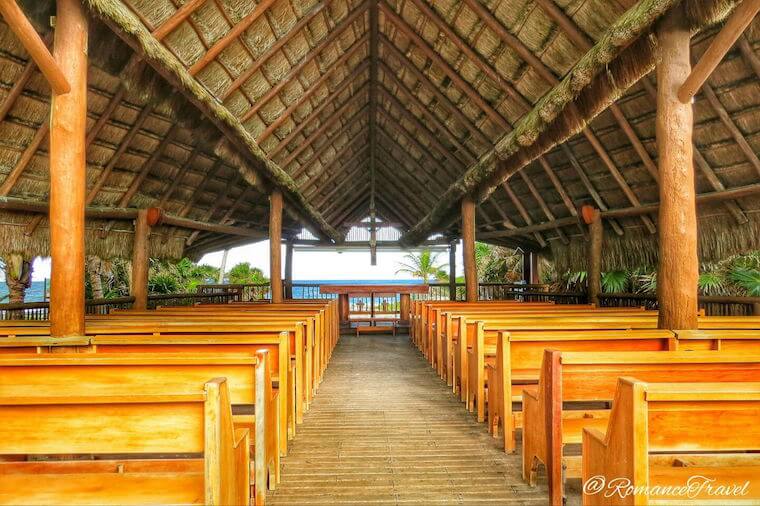 The church here is in a great location and even has steps down onto the beach for those beautiful post-ceremony wedding photographs.
With a reception palapa and on-site disco, the Grand Sirenis is well equipped for the perfect after-party so get ready to celebrate in style!
This 5* family-friendly resort is perched neatly on a beautiful stretch of beach, this resort boasts an authentic and perfectly conserved Mayan ruin within a heart-shaped inlet; one of the most beautiful spots for snorkel lovers.
With 3 spacious pools, a separate pool for children, a lazy river, open-air lounges, 2 main buffet restaurants, 8 thematic restaurants, 11 bars, including 2 pool bars, health bar, coffee shop, disco and even a theatre for the evening shows, there's no better stay if most of your wedding group has children.
When you stay at Grand Sirenis Riviera Maya All Inclusive in Akumal, you'll be on the waterfront and close to Yal-Ku Lagoon and Akumal Beach.
8. Hard Rock Riviera Maya Chapel
Introducing another chapel option for ocean-lovers at the rockin' Hard Rock Riviera Maya Hotel.
This beautiful gazebo-style chapel features 360 glass windows which allow for breathtaking panoramic views.
Brides and grooms can exchange vows in this religious setting with a modern and natural twist.
The Hard Rock Hotel is made for events.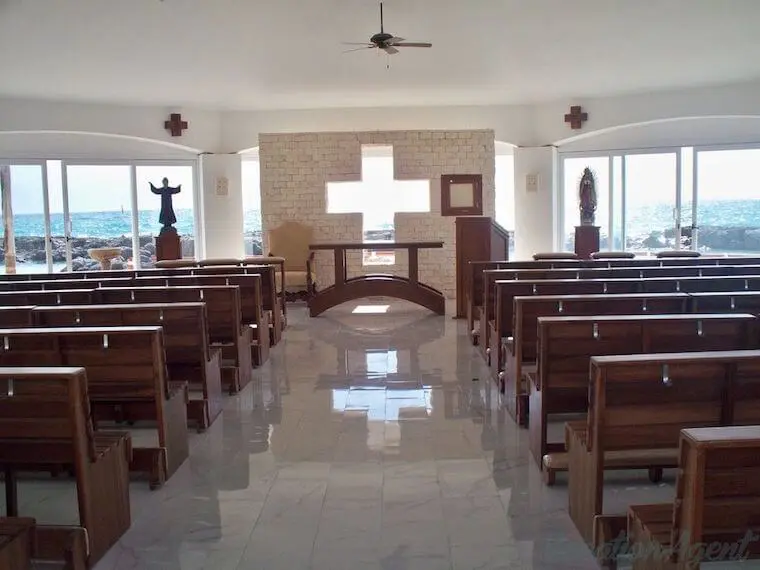 They regularly host concerts and festivals so as you can imagine they are well equipped with all the right tech and teams to get the job done.
The hotel offers almost 90,000 sq. ft. available area for events, for a maximum of 3,830 people!!
Oceanfront terraces are available for smaller, elegant social events or weddings.
The conference rooms are all equipped with state-of-the-art audio-visual features, individual climate, and lighting control and all the necessary hook-ups for video, photo, data for your event.
There is an array of exciting wedding packages to choose from at this hotel and you can discuss the best one for you with one of our expert wedding specialists for this hotel at PlayaDelCarmen.Com 
As for room categories? There are plenty to choose from so your guests are guaranteed to find something for them.
 Special ones for families even come equipped with games and even a special mini-bar for kids. Fancy!
The bride and groom should consider the Rock Royalty Deluxe which offers a personal assistant (butler), and the room price includes complementary services like couples' massage, shoeshine, and more…
Your ultimate guide to weddings at the Hard Rock Riviera Maya Hotel.
9. Hyatt Zilara Cancun Chapel
Do you want to stay in close proximity to Cancun's Hotel Zone?
The stunning Our Lady of Guadalupe Chapel is part of the Real Resorts in Cancun and is open to guests of the Hyatt Zilara and Panama Jack…Both sterling accommodation options for you and your guests.
We like this chapel because it is elevated above the beach boasting some pretty impressive views that are sure to wow all of your guests.
The glass walls allow brilliant natural light to shine in while the air conditioning keeps you cool – every bride's dream.
Our Lady of Guadalupe Cancun weddings are chic yet traditional.
It's no wonder this location is one of the most popular sites for Catholic destination weddings in Cancun.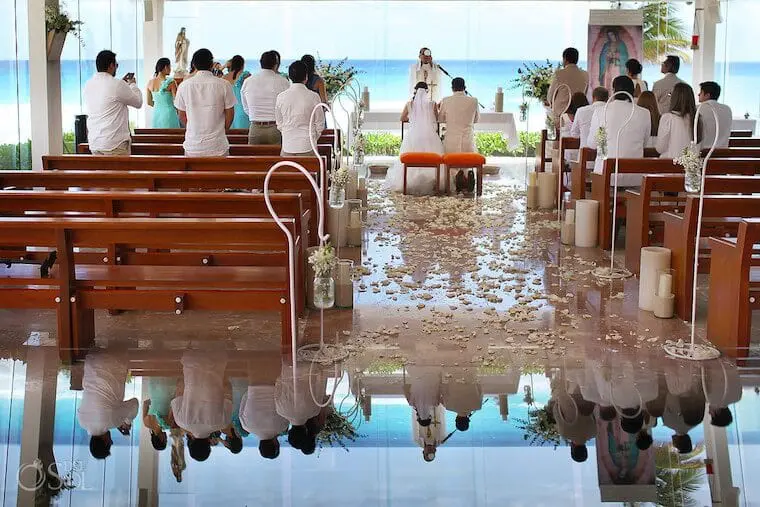 It's a great option for those visitors who prefer to stay in the busier and bigger cities.
You'll put yourself in a prime position to enjoy all of the region's top attractions plus you'll get to enjoy some of the best beaches this part of the Caribbean Ocean has to offer.
The Hyatt Zilara Cancun is a 5* all-inclusive adults-only hotel that offers a number of extraordinary venues for your wedding from beaches to ballrooms…
The 310 luxury all-inclusive suites all have contemporary décor and breathtaking ocean, pool, and resort views. There is also Hyatt Premium Suites, including Swim-Up, Luxury Suites, and Presidential Suites available.
10. Iberostar Paraiso Maya Chapel
Iberostar is renowned worldwide for its world-class service and affordable accommodation options.
The Iberostar Paraiso Maya certainly lives up to the name.
This cute on-site chapel is called "Our Lady of Paradise"…
With lots of light pouring in through the big windows the hues of copper and orange give this chapel a very warm and welcoming ambiance.
This 4* family-friendly hotel features exciting features such as a winding lazy river, wave pool, and splash park so it is the perfect option if the majority of your group has children.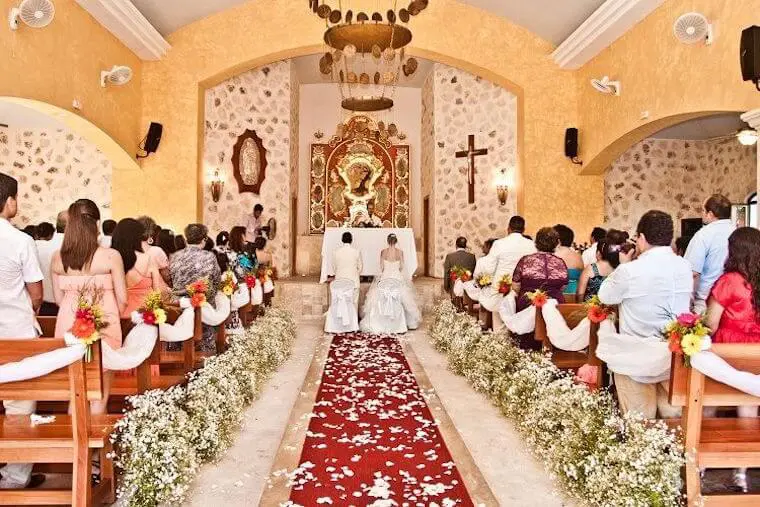 Situated in Playa Paraíso, between the well-known Caribbean resort towns of Cancun and Playa del Carmen, Iberostar Selection Paraiso Maya is a haven for all-inclusivity.
Guests can relax and recharge in comfortable accommodations, which range from junior suites with relaxing Jacuzzi's to modern and spacious Family Suites, sure to suit all travelers.
The cuisine alone will take you on a trip around the world and includes Japanese, gourmet Mexican, French and steakhouse fare as well as convenient 24-hour room service.
In the evening, the entire family can watch exciting live entertainment or adults can enjoy drinks and dancing at the disco.
11. Additional Resources You May Find Useful
Our PlayaDelCarmen.Com blog is brimming with juicy tidbits of info you will find useful when it comes to planning your destination wedding in paradise.
You'll find everything from packages and prices to the nitty-gritty paperwork involved.
Here are the top 3 places to start when planning your religious ceremony…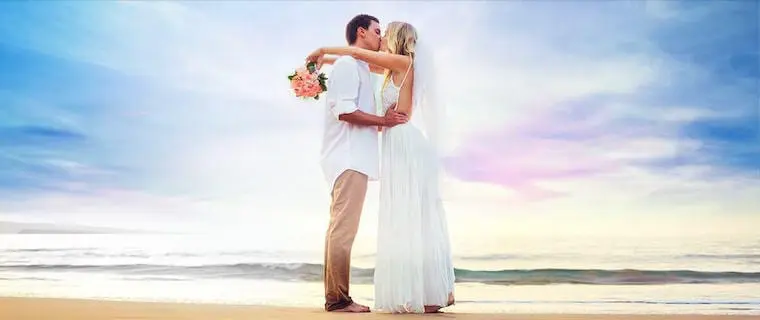 Remember – if you have any questions whatsoever be sure to leave them down in the comments section below I'll get back to you ASAP.
If you want to get the ball rolling you can start planning by contacting us today.
The best part? We even offer payment plan options here at PlayaDelCarmen.Com so you can stagger the finance aspect of your wedding in paradise more comfortably.
12. Get Married in Paradise
The first step to planning a faultless and unforgettable wedding is finding the perfect wedding coordinator for you.
Get in touch with our experienced team of wedding planners today for FREE!
Our dedicated wedding team is made up of experienced wedding planners from around the world. So, don't worry I can almost guarantee we speak your language.
This is what we do best! We've planned 100s of spectacular events in the region. As locals, we are unbias and know the lay of the land better than anyone.
We'll be with you every step of the way.
Call us toll-free 888-537-9797.
Or
Contact us via email at weddings@playadelcarmen.com
---
Trending Now