Eat, Drink & Party! New Year's Eve in Playa del Carmen 2023-2024
---
The biggest night of the year is fast approaching…New Year's Eve!
Celebrate in the sun.
Thousands of people choose to come to Playa del Carmen every year during this time. Why? Because it's a hotspot for great nightlife and things to do; whether you are old, young, traveling with a family or single, you're guaranteed to have a good time. 
Plus, waking up in paradise on New Year Day sets the tone for the rest of the year.
If you're wondering where to go or what to do you've come to the right place.
New Year's Eve in Playa del Carmen: Where to Celebrate?
So what's the scoop?
First of all, note that we will update this article accordingly as more events are posted and confirmed.
While we expect some more announcements in the coming weeks, 4 events for this year's celebrations have been confirmed.
NYE 2019-2020 events.
NYE Yacht Party

Cirque Du Soleil Special New Year's Show
Coco Bongo New Year's Party
The Thompson Hotel NYE Celebrations
1. NYE Yacht Party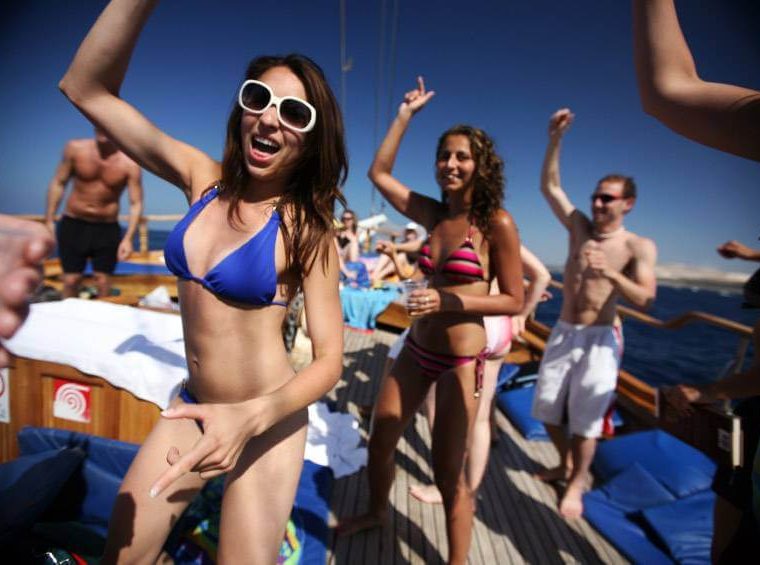 How fun does this sound?
Especially if everybody is wearing life jackets as a sort of anti-drunkard-at-sea prophylactics.
While the mere mortals are partying down on land, you and yours could be aboard a mighty fine yacht while you sail the Caribbean.
Yes, say goodbye to 2017 with sea legs while you dance, eat, drink, and be incredibly merry aboard a luxurious sailing vessel just for adults.
The cost of this seafaring year-end journey is $129 USD if purchased prior to December 1st, and $149 USD thereafter.
Here are all the details:
– Maximum 55 guests aboard a 72′ power yacht
– 4-hour tour
– Delicious hors d'oeuvres and canapés
– Unlimted open bar
– A glass of champagne at midnight
– Free WiFi to transmit live to those less fortunate
– Transportation to and from Playa del Carmen
The tour begins at 9:00 p.m. and returns at 1:00 a.m.
Reserve your New Year's yachting adventure by calling our talented travel specialists toll-free at 888-537-9797 or sending a message on how to get in touch with you via our contact page.
2. Cirque Du Soleil Special New Year's Extravaganza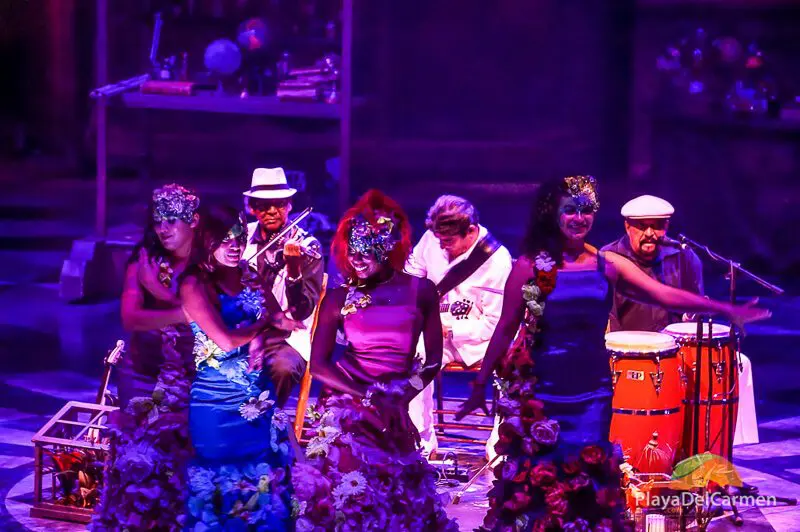 Looking for some acrobatic ideas to ring in the new year?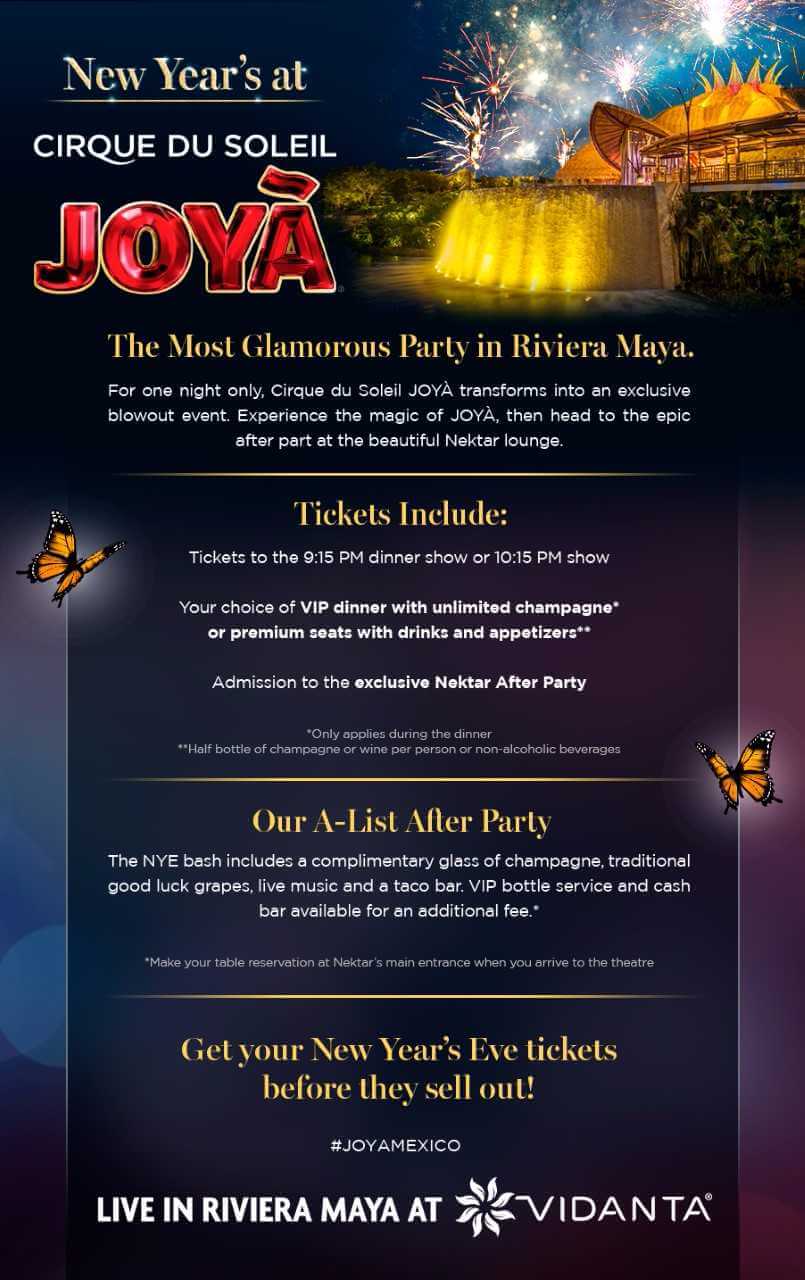 Cirque Du Soleil Riviera Maya may be just the right choice for you.
Their stunning theater, the only Cirque Du Soleil theater in Latin America, will host a special night of joyous fun accompanied by an incredible dinner and some delicious champagne.
We're not sure exactly what they have in store for you, but we do know that they put on a highly entertaining and visually pleasing show.
To get a better idea of what Cirque Du Soleil Riviera Maya is like, be sure to check out our blog post on Cirque's Joya show in pictures.
3. Coco Bongo New Year's Party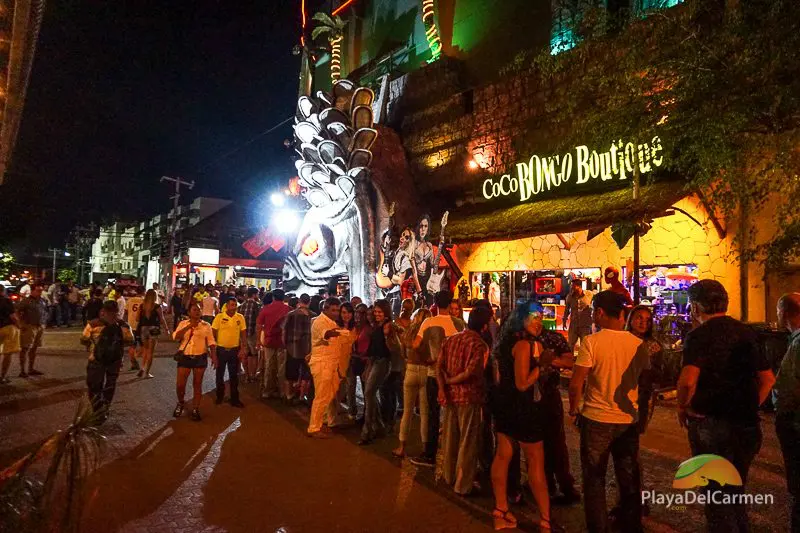 Coco Bongo will be putting on the same show, as usual, to close out 2017, but instead of the regular liquours of dubious origin, this one promises to be a premium affair. If you call Captain Morgan rum premium, that is. At least there's likely to be more balloons and sweaty hugs to go around for all until 4 a.m.
Regular entrance fee- $150 USD
Entrance fee + Express Pass – $190 USD
4. The Thompson Hotel New Years Celebrations 2017
For the third year in a row, The Thompson Hotel is going in hard for the New Years Eve celebrations for 2017!
The countdown will begin up to on their famous rooftop party pool which overlooks the 5th avenue. With a lineup including Fetty Wap, it's set to be the Riviera Maya's party of the year!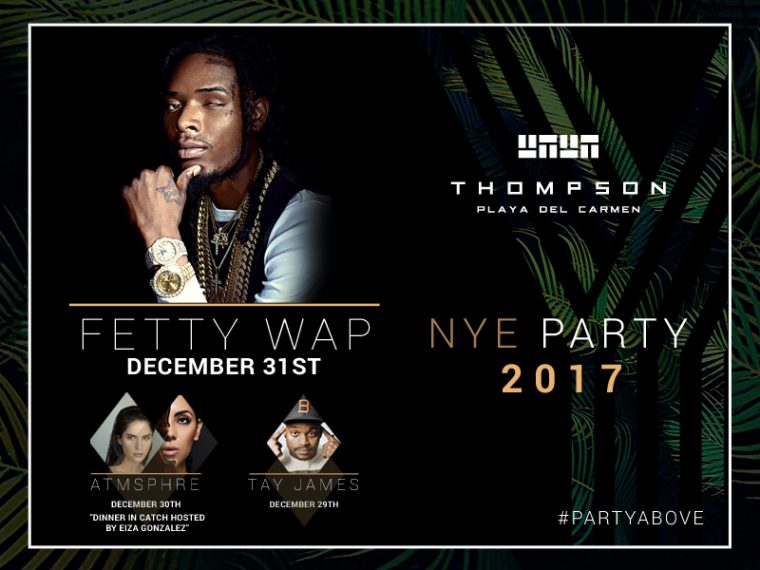 Thompson Playa del Carmen will be ringing in 2020 like no other from the hottest rooftop in Playa with not just one but THREE nights of pumping beats, flowing drinks and celebration.
All access. All weekend. All night long.
Tickets are available to purchase on the 29th, 30th, 31st with an option to add on dinner on the final night.
For more info head to their website, and be sure to check out the video on there, It's AWESOME!
If you are thinking about staying at this hotel over the festive period don't hesitate to get in touch to see how much money we could save you.
Call us today at our toll-free number +1 888-537-9797 or alternatively, you can email us at customercare@playadelcarmen.com
More on New Year's Eve Events in Playa del Carmen
As I mentioned above, until now there is still not much information available about any specific activities either in Playa del Carmen or Cancun and Tulum.
If we do come upon something fun and exciting, we will be sure to update this post with the relevant information.
Of course, every bar, restaurant, and beach club will be throwing down the gauntlet (and raising the price of admission) to get you to boogie down on New Years at their establishment.
In other words, the ever-festive Playa del Carmen will once again rise to the level of party-induced bliss to remind us just how true the old saying really is:
Life is better at the beach
Below you'll find:
What to expect for New Year's Eve in Playa del Carmen
New Year's Eve Food
Where to Eat in Playa del Carmen
New Year's Eve Traditions
New Year's Eve Events in Playa del Carmen
New Year's Day in Playa del Carmen
What to Expect for New Year's Eve in Playa del Carmen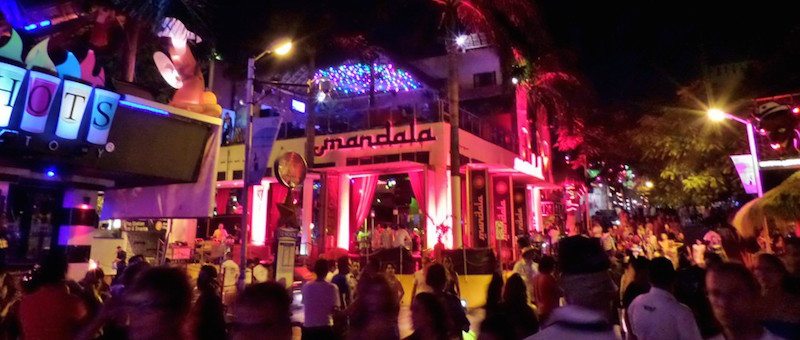 First and foremost, expect the streets of downtown Playa del Carmen to be packed with the inebriated masses, especially up and down the twenty blocks of 5th Avenue.
The normally lively downtown area comes even more alive with every bar and restaurant trying to win your attention and tourist dollars with special meals and events.
Of course, the nightclubs will be packed as well.
If you do plan to visit us during New Year's Eve, you should start looking now for a Playa del Carmen hotel or vacation rental, as this is the highest of the high seasons.
New Year's Eve Food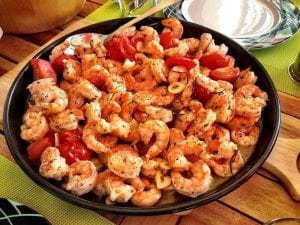 Anyone who reads this blog knows this: I love food.
Eating and drinking are sacred to me.
I love savoring the delicious mix of flavors and spices of any cuisine, but the Mexican kitchen stands apart for its complexity.
The most accurate and loving tribute I've heard to describe this came from Chef Rick Bayless, who said in an interview with PlayaDelCarmen.com:
"It's like listening to the most phenomenal symphony you have ever heard, where everything is perfectly balanced, not one instrument, or flavor in this case, sings above anything else. To me that's what Mexico is so well known for is the depth and richness of complexity, and then these bright, bold flavors that are all above liveliness and I would say that sort of a real freshness; there's a real freshness about so much of the food here."
During the holiday season, several dishes stand out both for their flavors as well as for their being so ingrained into the cultural culinary tradition of Christmas and New Year's Eve.
Here are a few gastronomic staples you should definitely try out:
Bacalao
This salted codfish dish is made in Vizcaina style. Like much of Mexico, it is the product of the fusion of Spanish and local cultures. Having removed the salt and soaked the codfish overnight, the fish is served up in a delicious stew comprising roasted tomatoes, garlic, potatoes, green olives and guero chile peppers.
Romeritos
Similar to rosemary in appearance, romerito is a plant species with a taste more kin to spinach. The romeritos are generally served in a black mole sauce containing potatoes, peas, green beans, and cubed nopal.
Pozole
A year-round dish that is often a staple of the holiday season dining room table. Pozole, a.k.a. hominy soup is a tasty red or green broth with either chicken, pork or both, served with a healthy portion of hominy and garnished with diced raw onions, sliced radish, shredded lettuce, oregano, and lime juice.
Ponche
You will want to wash it down with something and although Playa del Carmen has a tropical climate, this hearty fruit punch drink will hit the spot as you warm up to celebrate those last hours, minutes, and seconds of 2016.
Where to Eat on New Year's Eve in Playa del Carmen
We still don't know the treats that await us on this special day, but I'm going to go out on a limb and suggest where to go for a good, Mexican-style meal on New Year's Eve.
The following restaurants have all confirmed they will have special menus for the 31st.
All offer quality Mexican cuisine.
Once they publish their menus, will add the information to this article as well as how to R.S.V.P.
Plank Gourmet Grill & Patio Bar
Plank is one of my favorite Playa del Carmen restaurants. I like this place so much I even interviewed the executive chef and co-owner, Juan Diego Solombrino. Plank impresses, and the fact that they will be doing two sittings for New Year's Eve can only mean that I need to somehow prepare room to eat twice. The food here is incredible and this is a great option for a more upscale goodbye to 2016.
La Perla Pixan
La Perla Pixan is unique to Playa del Carmen, and it's a gem to boot. The incredible cuisine, infused with pre-Hispanic ingredients, is bolstered in its flavor by the incredible ambiance and live music. And, of course, the mezcal.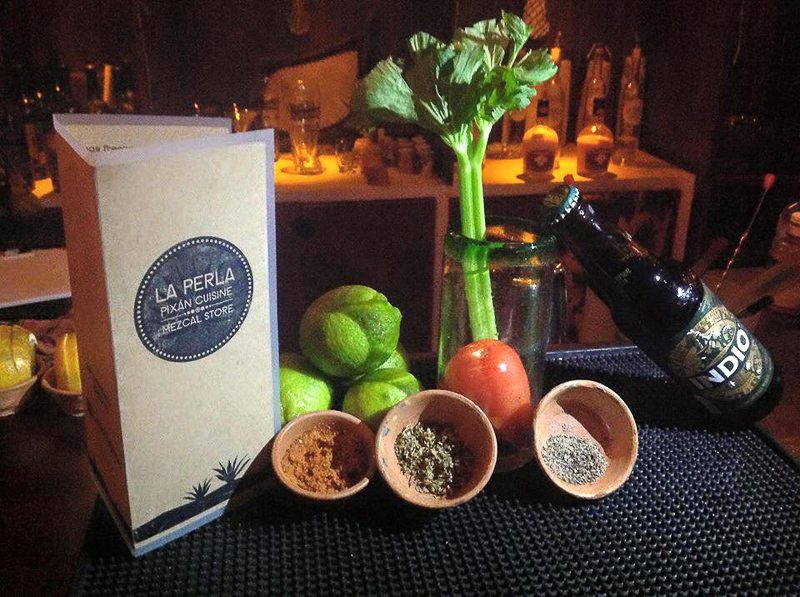 Axiote
Chef Xavier Perez Stone is the seasoner-in-chief behind this amazing restaurant in Playa del Carmen. The winner of Iron Chef Canada in 2014, Chef Xavier is an expert at taking traditional Mexican dishes and mixing them with contemporary techniques and ingredients to create true culinary masterpieces.
Catch Restaurant at Thompson Hotel Playa del Carmen
Executive Chef Pedro Abascal has played a major role in elevating the quality of the Playa del Carmen food scene. Overseeing restaurants Catch, Cinco and C Grill, the latter at Thompson Beach House, Chef Pedro has taken the sophistication and elegance of the Thompson hotels and translated that same vibe into a gastronomic experience of the highest level. Add to that the stunning views from the Thompson rooftop restaurant and pool bar, and you have perhaps the most savory scenic site in Playa to ring in the new year.
Frida Kahlo
True to the restaurant's iconic namesake, the Frida Kahlo restaurant takes the art and aesthetics of Mexico and instills them in every aspect of the dining experience. Fresh, hip, colorful, and romantic, Frida Kahlo awakens your senses with their creative gastronomic tributes to one of Mexico's most illustrious and beloved daughters.
La Casa del Agua
La Casa del Agua is a chic 5th Avenue restaurant that fusions European cuisine with touches of contemporary Mexican gastronomy. Plus they have an extensive wine list, which is always a plus in my book. For New Year's Eve, La Casa del Agua will be having two sittings, one at 6:00 p.m. and one that starts at 9:00 p.m. Stay tuned for all the delicious details.
New Year's Eve Traditions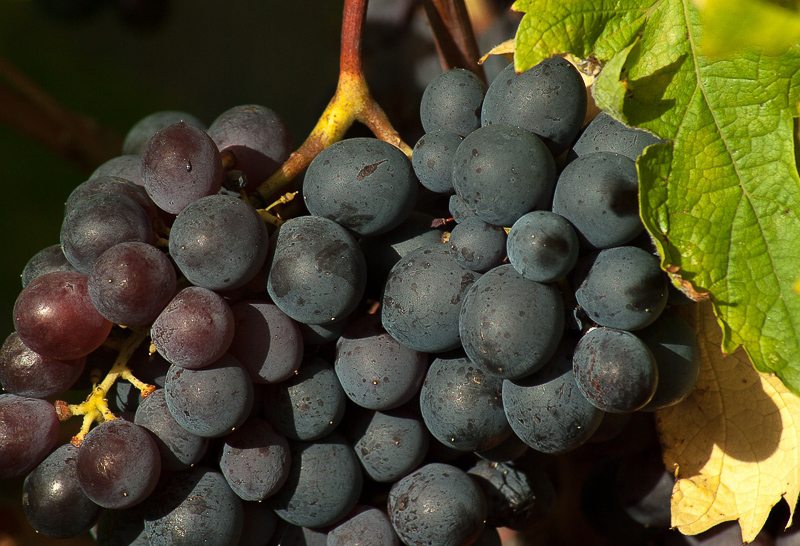 Mexico is a country full of rich and fascinating traditions.
Having you take a bite out of the birthday cake before serving it is just one of them.
But there are those specific to News Year's Eve as well.
As can be imagined, most involve luck.
Here's what to look out for or, better yet, do yourself (especially the last one):
Grapes
Start off 2017 with 12 delicious, seedless grapes. One for each month of the year. Eat them slowly, one by one. Savor their flavor and either make a wish with each green or purple delight. However, beware of sour grapes as they are rumored to represent sour months. But fret not, that frown can be turned upside down with the next point.
Suitcases
Empty your suitcase or oversized backpack and either take it for a walk around the block or put it in the middle of the room and do a little travel ritual as you circle those bearers of travel goodness that will accompany you back to Playa del Carmen in 2017 so as to ward off the effects of any sour grapes; or simply make those sweet ones oh so sweeter.
Cleaning
Whoever said cleanliness is akin to godliness drank too much kool-aid, but it can still bring you good luck on the 31st. Clean your hotel room, take a refreshing bath (or spa treatment), cleanse your spirit in the blue hues of the Caribbean. Whatever you do, clean something. And take a broom and sweep 2016 through the door. You'll be happy and lucky you did.
Throw a bucket of water out the window
This is another tried but true testament to the culture of luck-induced New Year's Eve traditions. Take a bucket, fill it up with water, open the window, look out to make sure know one is going to get splashed, and out she goes. Just go sparse on the H20; it's not how much that counts but the good intentions.
Underwear
Yes, the underwear you choose to wear could totally influence your fate in 2017. In other words, choose wisely. Red is for love and passion, green for wealth and well-being, yellow for happiness, white for hope and peace, and purple because that's just how you roll.
New Year's Day in Playa del Carmen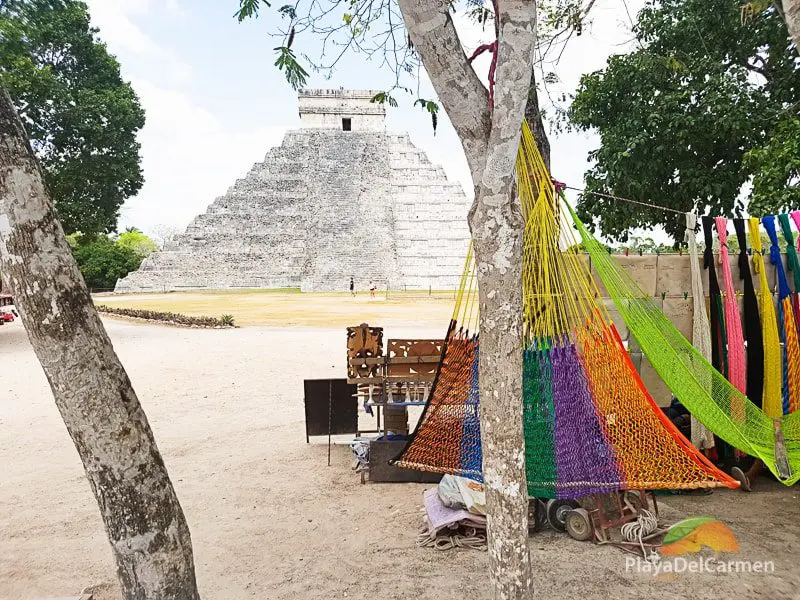 The day after.
It sounds and most likely will feel like a horrific Hollywood movie where aliens have come and destroyed the world.
Your head pounding, the world spinning, you lay back on your pillow, wondering if this is perhaps what the ancient Maya truly meant by their end of the world prophecy.
But, alas, a couple of Bloody Marys later and you've revived, ready to take on 2017 with the energy of the seven seas.
But most everything is closed.
So what to do if you don't want to spend a day at the beach taking in the New Year's rays?
Start off the year by visiting an archaeological site, which does happen to be open, or head off to a freshwater cenote and continue the process of rejuvenation you started when you threw off those from 2017.
Need some more tips?
Have faith in our über-friendly travel specialists who will make sure you are well pampered no matter what year it is.
Call them today toll-free at 888-537-9797!
---
Trending Now
You may also like