La Cueva del Chango Review – Superb Mexican Food in Playa del Carmen
---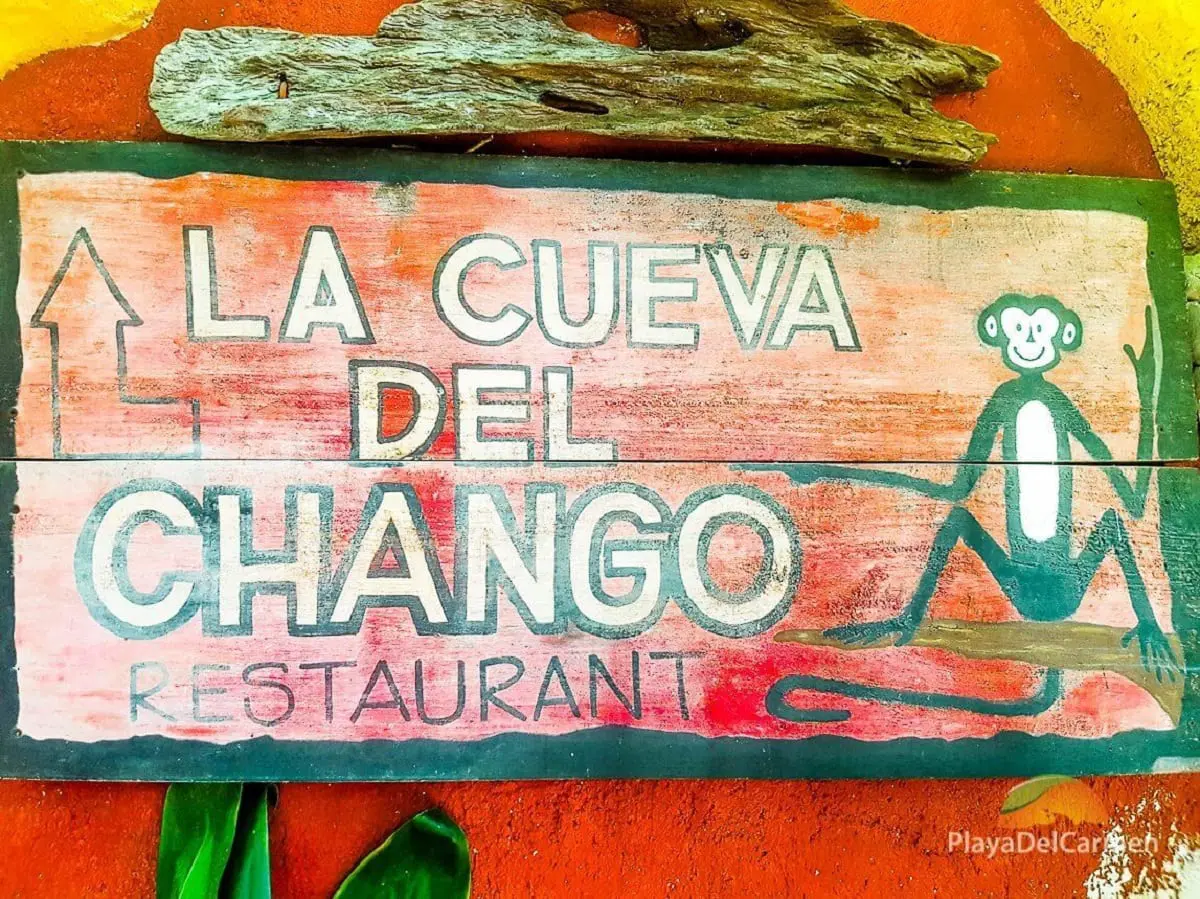 Last week was good to me.
Anytime I get to try a new place for the first time I feel a sort of inner bliss.
In reality, it's probably just the overweight glutton in me getting excited about all the awesome food in Playa del Carmen.
Or maybe it's the excitement of the unknown culinary journeys that yet await and the glow that it provokes in my Buddha-like stomach.
However the case may be, last week I had some incredible Mexican food at La Cueva del Chango.
Here are my thoughts on this long-time Playa del Carmen favorite.
La Cueva del Chango Review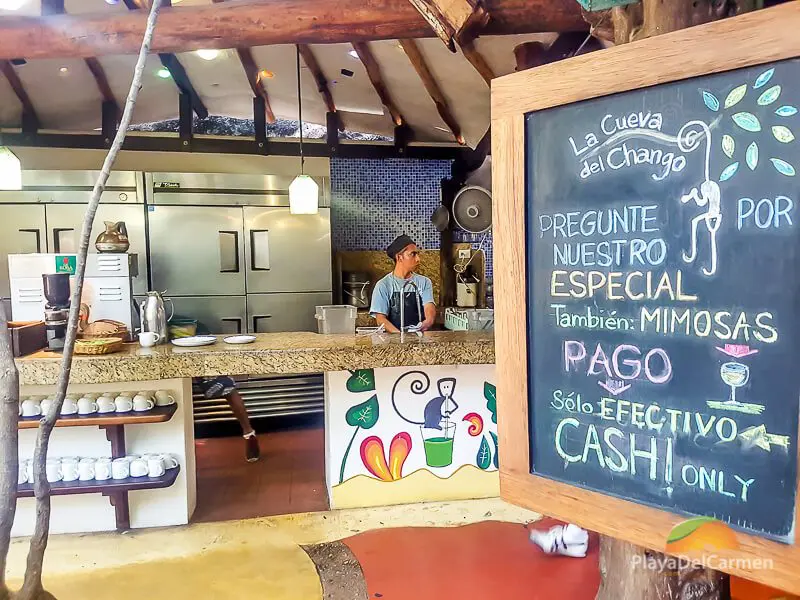 La Cueva del Chango is as inviting of a restaurant as you'll find in Playa del Carmen.
Located on the gorgeous 38th Street between 5th Avenue and the beach, this awesome and well-established Mexican restaurant is a garden oasis.
Once you walk in you're immediately enveloped in the special atmosphere that is La Cueva del Chango.
In the interior of the oval restaurant with thatched roof (palapa), you'll find several tables generously spaced throughout the dining area.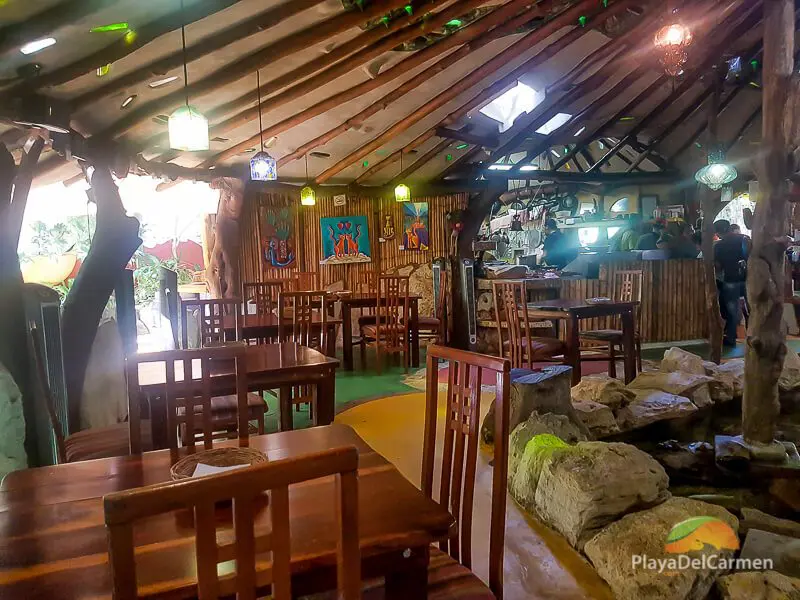 The dark wood finishes, low lighting, colorful wall paintings, and rustic feel add flavor to the experience long before the first bite.
Outside is a seating area with several tables set within the exuberant patio garden.
The large trees and numerous plants set the scene for a great breakfast atmosphere, an ideal spot to escape the midday heat for lunch, or a nice romantic, candlelit dinner in the evening.
Old School Playa del Carmen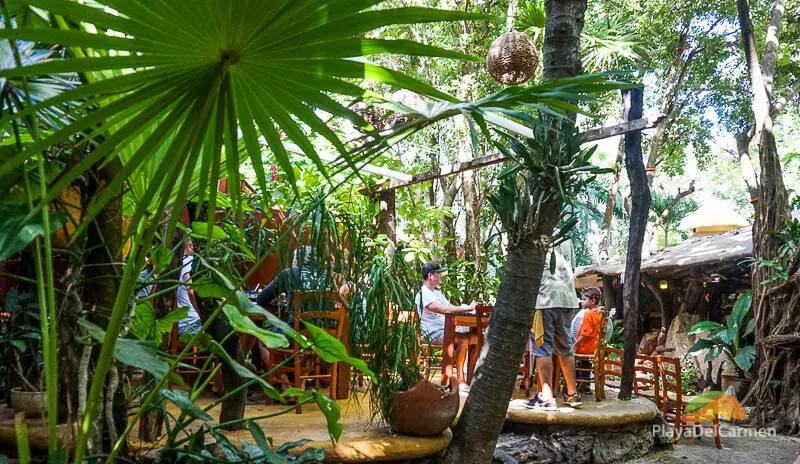 La Cueva del Chango has been around long before the growth of Playa del Carmen had yet to become what it is today.
In fact, the humble beginnings of this restaurant date back eighteen years.
Back then, the name La Cueva del Chango, which translates as Monkey's Cave, made sense.
5th Avenue as the hip strip that it is today didn't even reach this far.
In fact, it was still a dirt road until about eight years ago.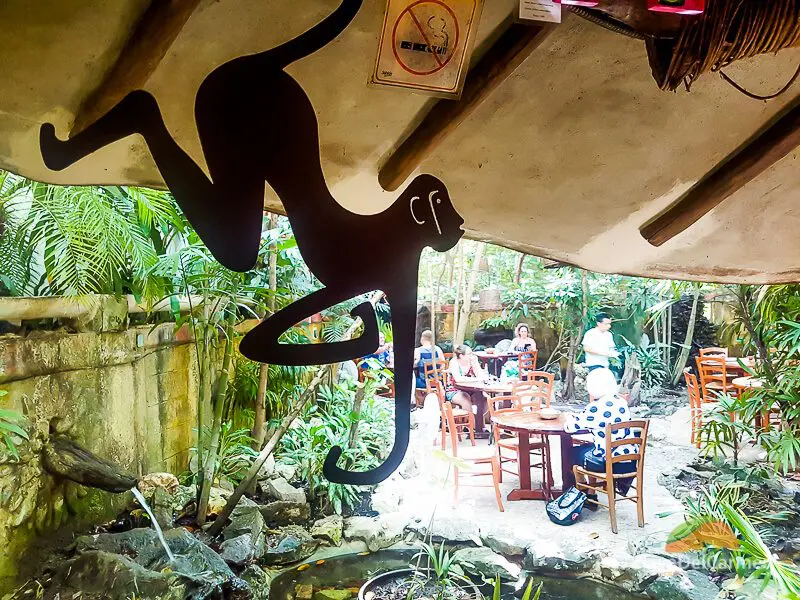 With the arrival of La Quinta, the monkeys who inhabited the trees above the underground cave-like cenotes, disappeared.
Likewise, the restaurant, which started out as a nursery and small café, continued to expand.
Today, it is one of the more popular restaurants in Playa del Carmen.
The Food at La Cueva del Chango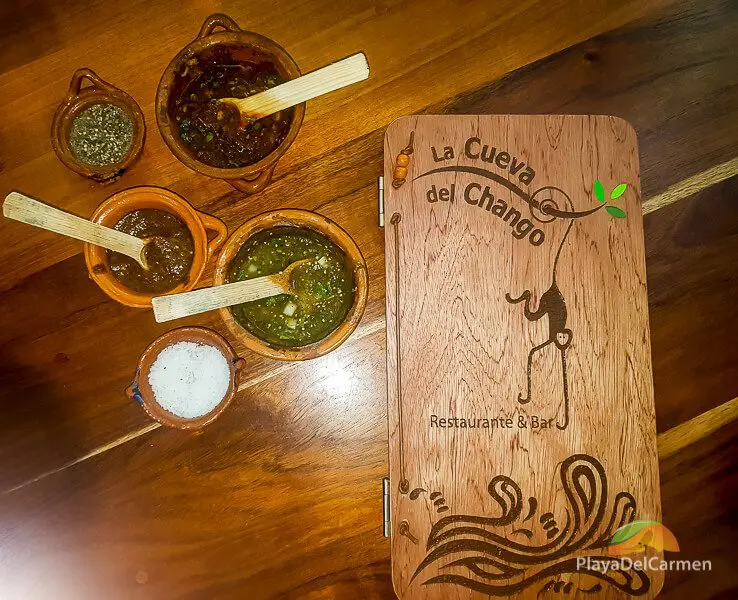 I recently sat down for lunch at La Cueva del Chango with one of the owners, Pedro Gomez, for a chat and a bite to eat.
Pedro and his business partner have led the growth of the restaurant for the last 16 years.
In a town with so much competition and so many places that come and go, that's no easy task.
In part, it's because the food quality at La Cueva del Chango is always superb.
"We use the freshest ingredients possible so that it's always quality Mexican food made fresh."
"We don't use canned foods, there's no buffet, and we don't prepare meals in advance. Everything is done in the moment."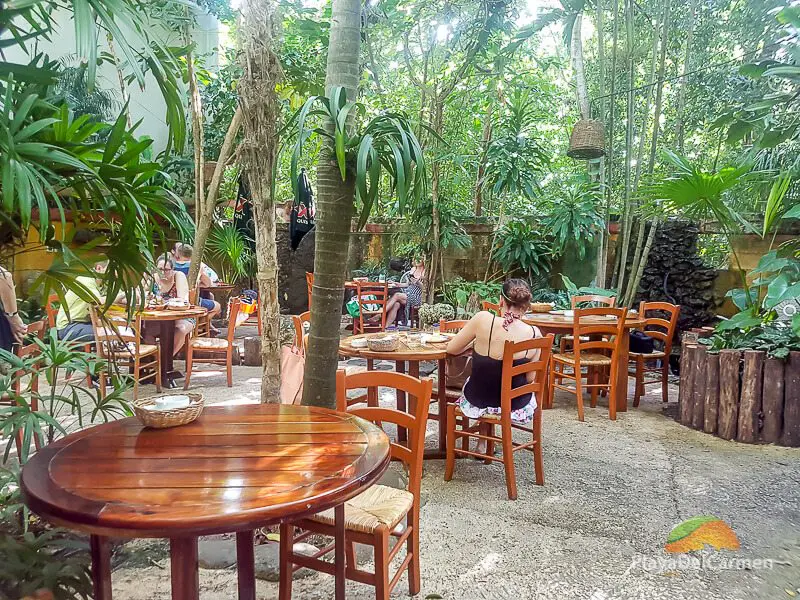 When asked about the challenges of maintaining a successful business for so long, Pedro doesn't hesitate.
"Our philosophy has always been to avoid cutting costs just to save money," explains Pedro.
"On the contrary," he continues.
"And we're here at the restaurant every day looking after our business, year-round."
"That has helped a lot, because the people see us, they recognize us, and they recommend us as well."
My Lunch: Red Snapper with Garlic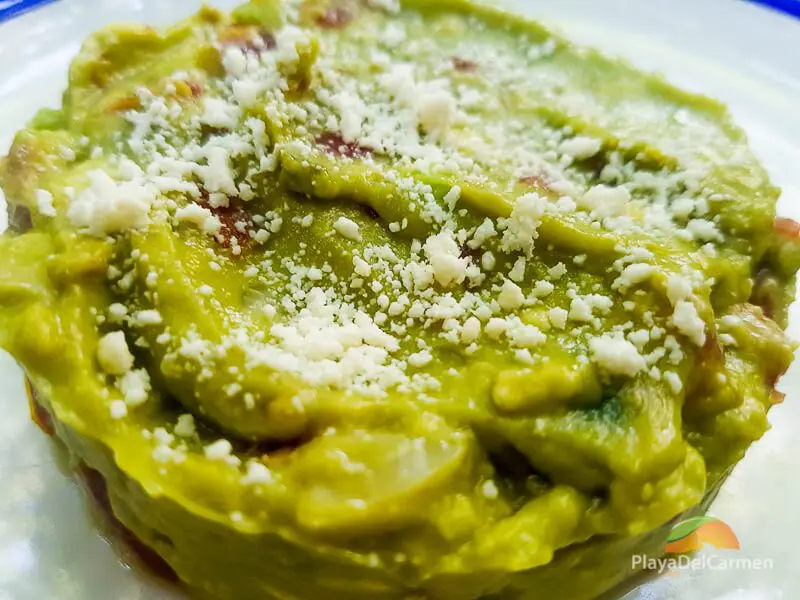 For starters, I was served up a guacamole appetizer with tortilla chips and the house salsas.
The guacamole was excellent, but what I most liked were the salsas.
Fresh, flavorful, and depending on which one you choose, spicy.
Next up: filete de pescaso al mojo de ajo.
Translation: Fish fillet with garlic.
I love both fresh fish and garlic, so this is always a good choice for me.
However, as easy as it sounds, many restaurants often get it wrong.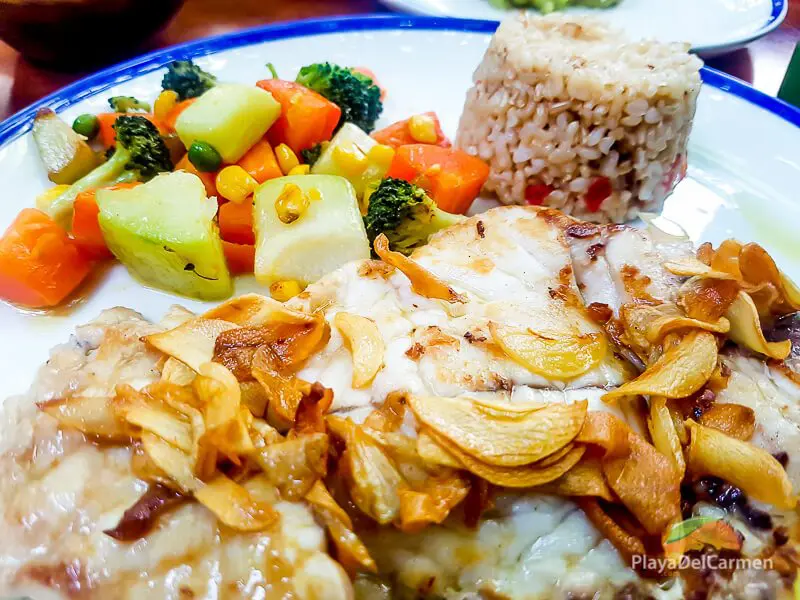 When they do, it's usually because they overcook the fish or use a fillet that is not as fresh as it should be.
I'm happy to say that wasn't the case at La Cueva del Chango.
The fresh red snapper was cooked to the point of al dente, leaving the fillet slightly firm as it should be.
Rather than cover the fish in gobs of garlic, La Cueva del Chango sautées the fish in large slices.
Freshly sauteed vegetables and a portion of brown rice accompanied my delicious fillet.
Surprisingly, I almost loved the brown rice, which I normally don't like so much, as much as I did my fish.
Final Thoughts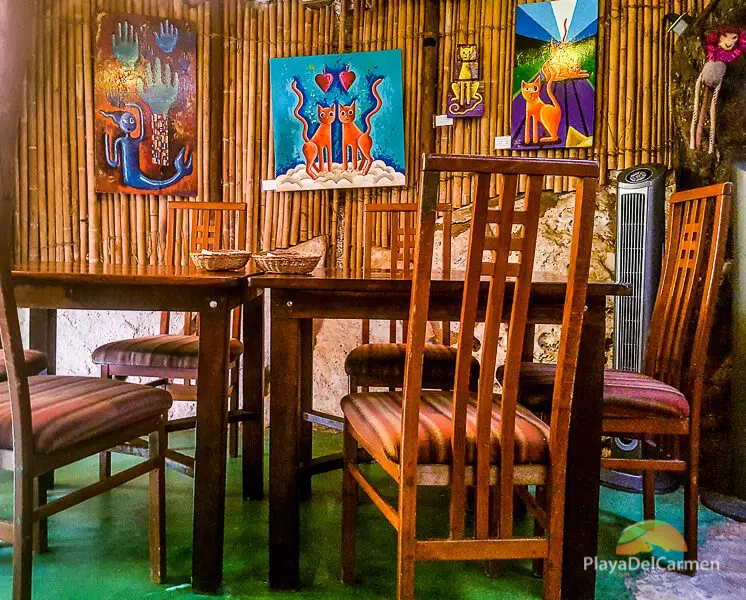 Besides of course the white sand beaches and blue hues of the Caribbean Sea, one of the big attractions for people coming to Playa del Carmen is to try authentic Mexican food.
Although it's hard to believe, it can sometimes be difficult to find a great Playa del Carmen restaurant that has quality Mexican food.
Don't get me wrong.
There are tons of great restaurants, food stands, and even food trucks in Playa serving up some incredible cuisine from Mexico and all over the world.
However, Mexican restaurants dedicated to serving up quality regional dishes using fresh ingredients, and handmade tortillas are fewer and further between.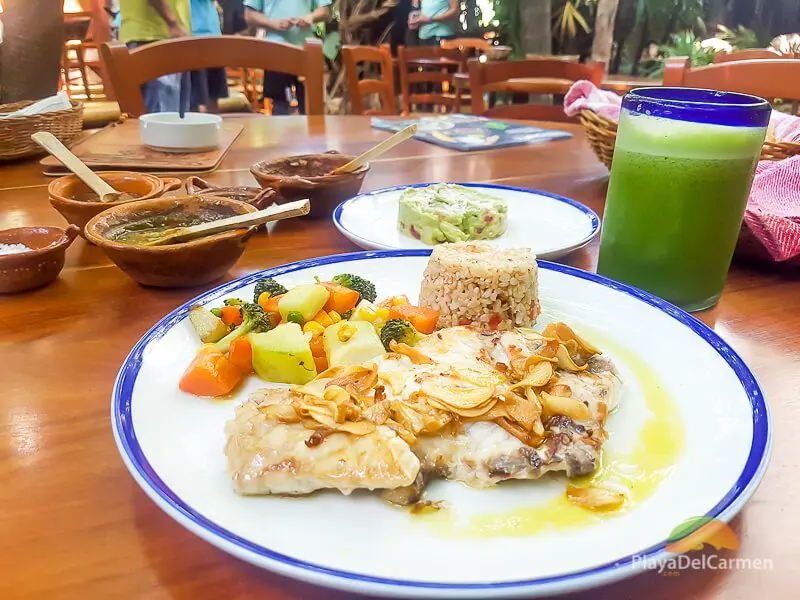 At La Cueva del Chango, where the fare is mostly from the region of Central Mexico, you'll find exactly that.
For a restaurant of its level on 5th Avenue, prices are reasonable especially when considering that everything is made fresh.
Between the ambiance, the service, which is more attentive than I've found at most other restaurants, and the food, La Cueva del Chango is definitely a place I recommend to eat a delicious, freshly made Mexican meal.
La Cueva del Chango is open daily from 8:00 a.m. until 10:30 p.m. (until 2:00 p.m. on Sundays) and is located on 38th Street between 5th Avenue and the beach.
For other great places to eat in Playa del Carmen, be sure to check out my 10 restaurants off-the-beaten-path as well the top places to go for breakfast in Playa.
Hungry for some awesome Playa del Carmen goodness?
Our travel consultants at PlayaDelCarmen.com can cook you up some travel specials you can't refuse!
Call them today toll-free at 888-537-9797!
---
Trending Now
You may also like