Spectacular Mexico at Xcaret: This is How Mexico Feels
---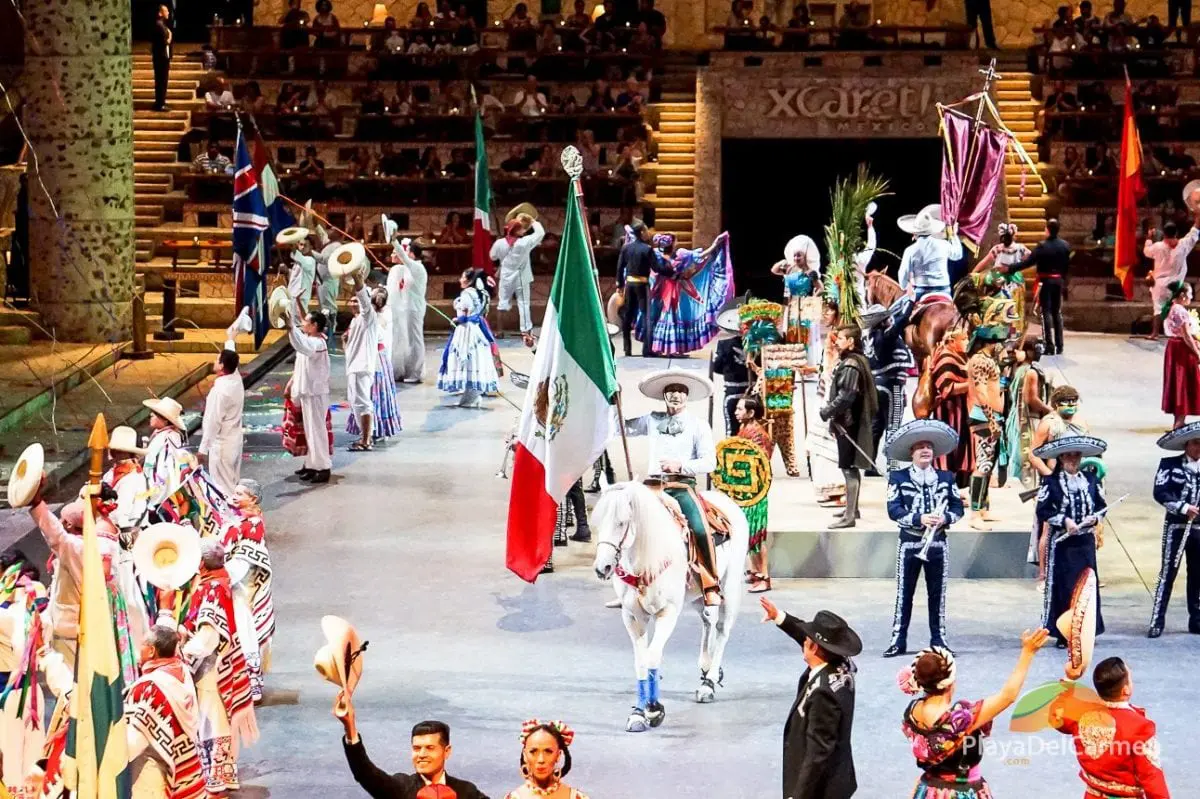 Like a longing stare made in Sonora
Dressed with the sea of Cozumel
With the color of the sun throughout the whole body
This is how you carry Mexico in your skin
(José Manuel Fernández Espinosa)
This weekend I had the opportunity to visit Spectacular Mexico at Xcaret.
I actually went to see Xcaret Park's latest attraction: El Mundo de los Niños (Kid's World).
Unfortunately, external events led to the cancellation of the press conference so for now I'll just write about México Espectacular, or Spectacular Mexico.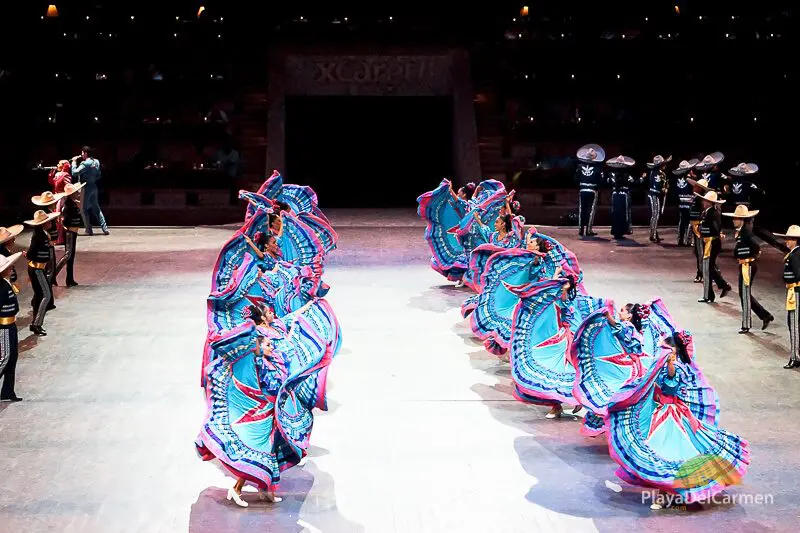 The show is one of the few Playa del Carmen activities available at night for the entire family.
For about 2.5 hours, guests of the Spectacular Mexico show are treated to a beautiful and moving musical journey through Mexico backed by amazing singers and dancers in the stunning Grand Tlachco Theater.
Here are my thoughts about this wonderful attraction of Playa del Carmen nightlife.
This Is How Mexico Feels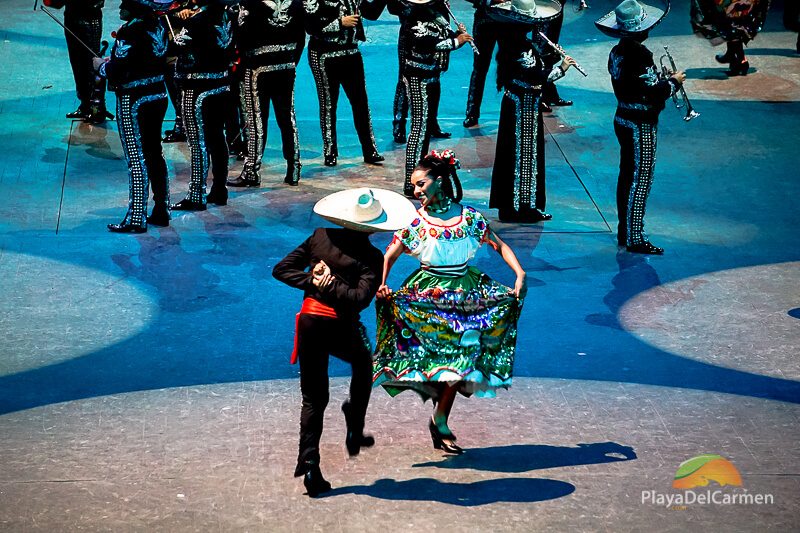 I am constantly mesmerized by how colorful, happy, and beautiful Mexico is.
Each state of the Republic, and there are 32 of them, represent a treasure trove of unique cultures and traditions that never cease to amaze.
From the desert coastlines of Baja California to the mountains of Central Mexico, from the tequila-producing region of Jalisco to the beautiful complexity of Oaxaca and the rich and stunning past and present of the Yucatan Peninsula, Mexico is always giving us yet more reasons to fall in love.
I am honored every time I get the opportunity to experience the numerous expressions of this country's rich past and complex present.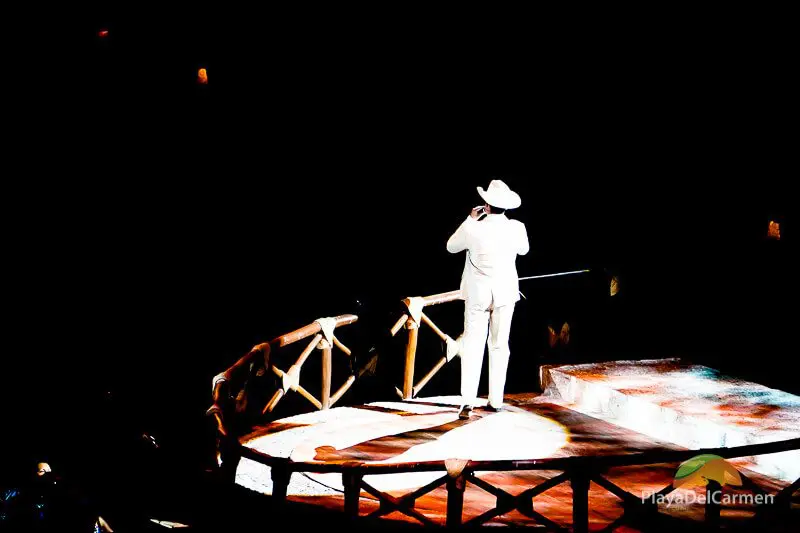 Whether through cuisine, music, art, design or even Mexican humor, I am consistently left as fascinated as I am enchanted.
However, it's Mexican folklore that always seems to get under my skin and leave that knot in my throat.
Few have expressed this feeling better than José Manuel Fernández Espinosa , who in his song Mexico en la piel (Mexico in the Skin) wrote:
This is how Mexico feels, this is how you feel Mexico
Like lips upon your skin
That's how Mexico envelopes you
This is how Mexico tastes
And this is how you carry Mexico in your skin*
*Note: In Mexico, llevar algo en la piel means that you have it in your blood; something that is a part of you and your identity.
Mexico Spectacular at Xcaret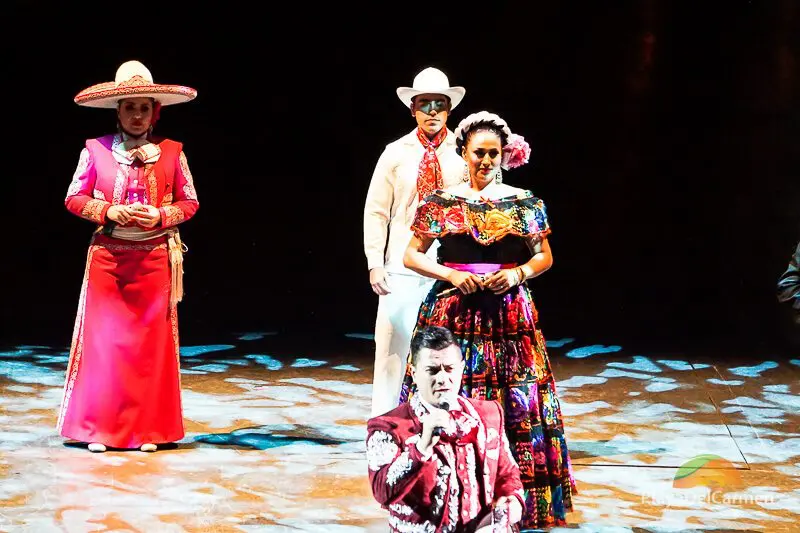 Before attending this moving tribute to Mexican folklore, I would have thought that spectacular to be too strong a word to describe an evening show at a theme park.
I was wrong.
Mexico Spectacular tells the tale of Mexico through song and dance.
And while it is a very water-downed and almost Disney-like version of the country's fascinating yet turbulent history, more than anything it stands out as a tribute to the beauty and creativity of Mexico's people.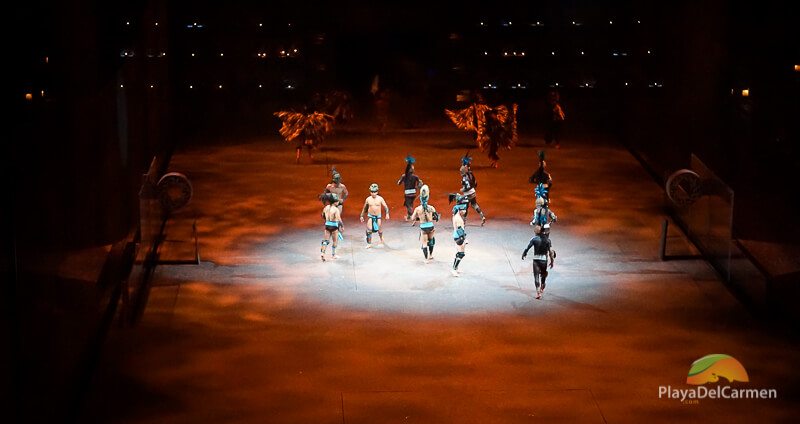 The show takes guests on a journey through time and space, beginning with the ancient Maya.
Suddenly, their world and cosmovision is violently interrupted by the arrival of the Spaniards, who after defeating the local indigenous peoples erected their crosses atop the native temples and monuments.
In the end, however, a new identity is forged; one that combines the idiosyncracies of the cultures and whose ultimate and most visible manifestation is the Virgin of Guadalupe.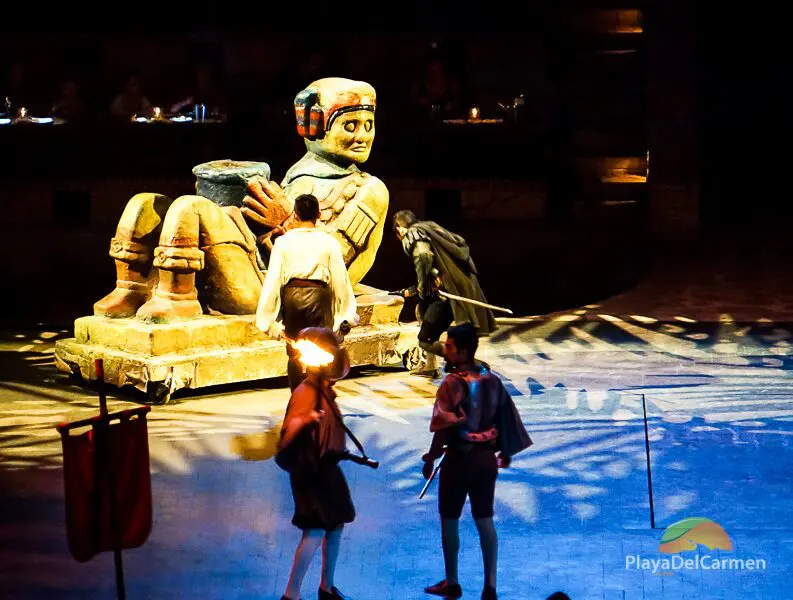 Following intermission, the show continues with the typical songs and dances from throughout Mexico.
Over 300 professional dancers, musicians, and singers performed each piece to perfection, and by the end of the show the entire audience could feel Mexico under their skin.
Mexico Today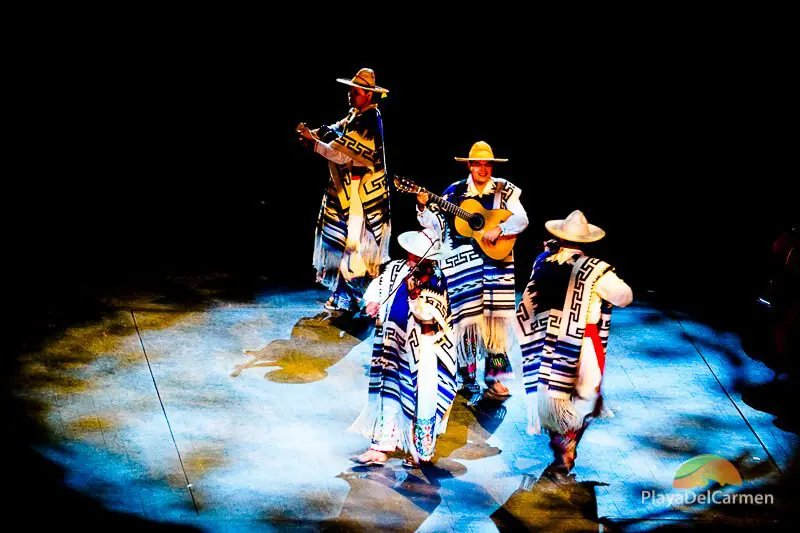 To be honest, there's no way I could neither witness nor write about Mexico Spectacular at Xcaret without experiencing it in the context of the latest world news.
The show embraces the rich cultural differences and traditions that make this country what it is today.
Diversity and acceptance make for a better world.
Watching Mexico Spectacular made me realize just how vital this is to us all and our well-being.
Mexico in the Skin
Mexicans are known for their hospitality, and it's genuine.
The people here are as proud as they are friendly and generous.
That's just one reason why the Mexican Caribbean is such a popular vacation spot worldwide.
I felt that it was exactly that which was being celebrated at Xcaret, and to thundering applause.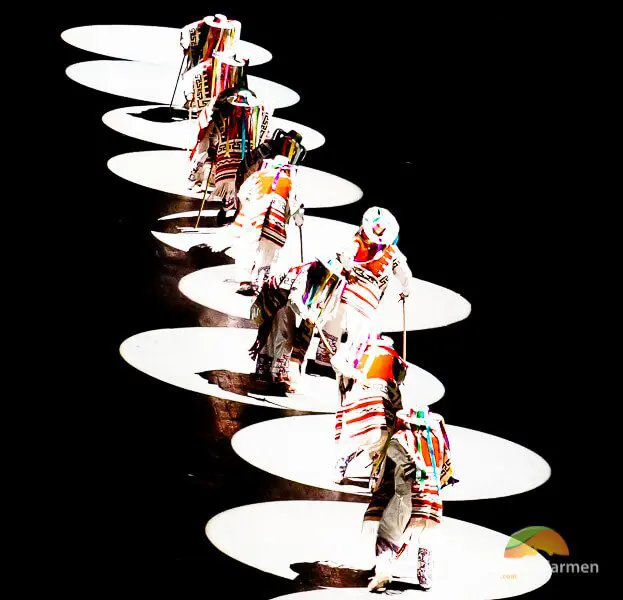 By the end of the Mexico Spectacular show, and the incredible rendition of Mexico in the Skin, I had never felt so honored and proud to be living in this great country full of beautiful, hard-working, and noble people.
In fact, it gave new personal meaning to the words of the late Chavela Vargas, who in spite of having been born in Costa Rica, is considered to be one of Mexico's greatest folk singers:
"Los mexicanos nacemos donde se nos da la rechingada gana."
In other words:
"Us Mexicans are born wherever the hell we want."
Thank you, Chavela, and thank you Xcaret.
I definitely felt Mexico in my skin, and I feel honored to call this amazing country my home.
Xcaret at Night Prices & Details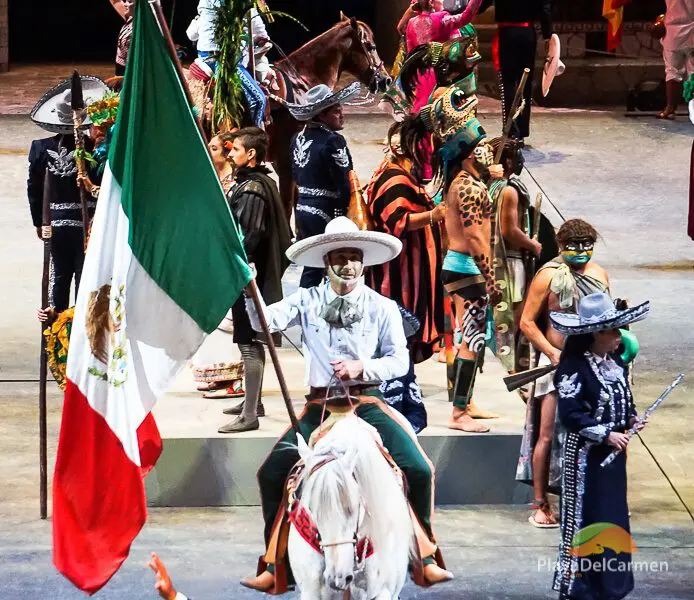 The Mexico Spectacular show begins at 7:00 p.m. and ends at 9:30 p.m.
While it makes for an extremely long day, your best bet is to spend the entire day at Xcaret.
It is possible to just attend the show for $99 USD with round-trip transportation to and from Playa del Carmen.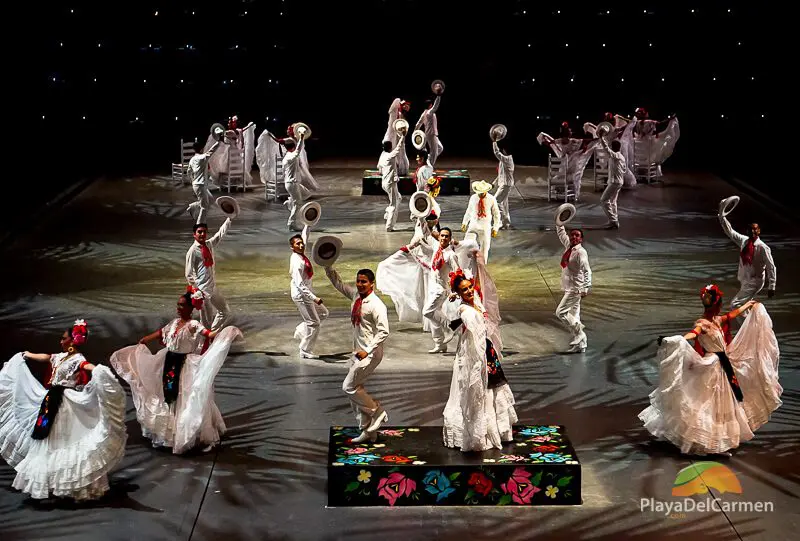 The cost includes entrance to the park from 4:00 p.m. until 9:30 p.m. and for an additional $18 USD you can purchase "Xcaret Xclusivo" and get preferential seating, snacks, and sparkling wine.
However, with the Xcaret Plus entrance with transportation from Playa del Carmen for $149 USD ($159 USD from the Riviera Maya) you can enjoy the park during the entire day and enjoy one meal at a buffet restaurant as well as the Spectacular Mexico show.
You can book your Xcaret tour here.
For more information on the park itself and our travel guru suggestions, check out our top 5 tips for Xcaret.
¡Viva Mexico!
Looking to soak up some sun with a dose of authentic hospitality?
Our travel specialists are local experts who love to share the beauty of this country.
Call them today toll-free at 888-537-9797!
---
Trending Now
You may also like