Inti Beach Club – Where Ohmmm & Yummm Meet the Caribbean Sea
---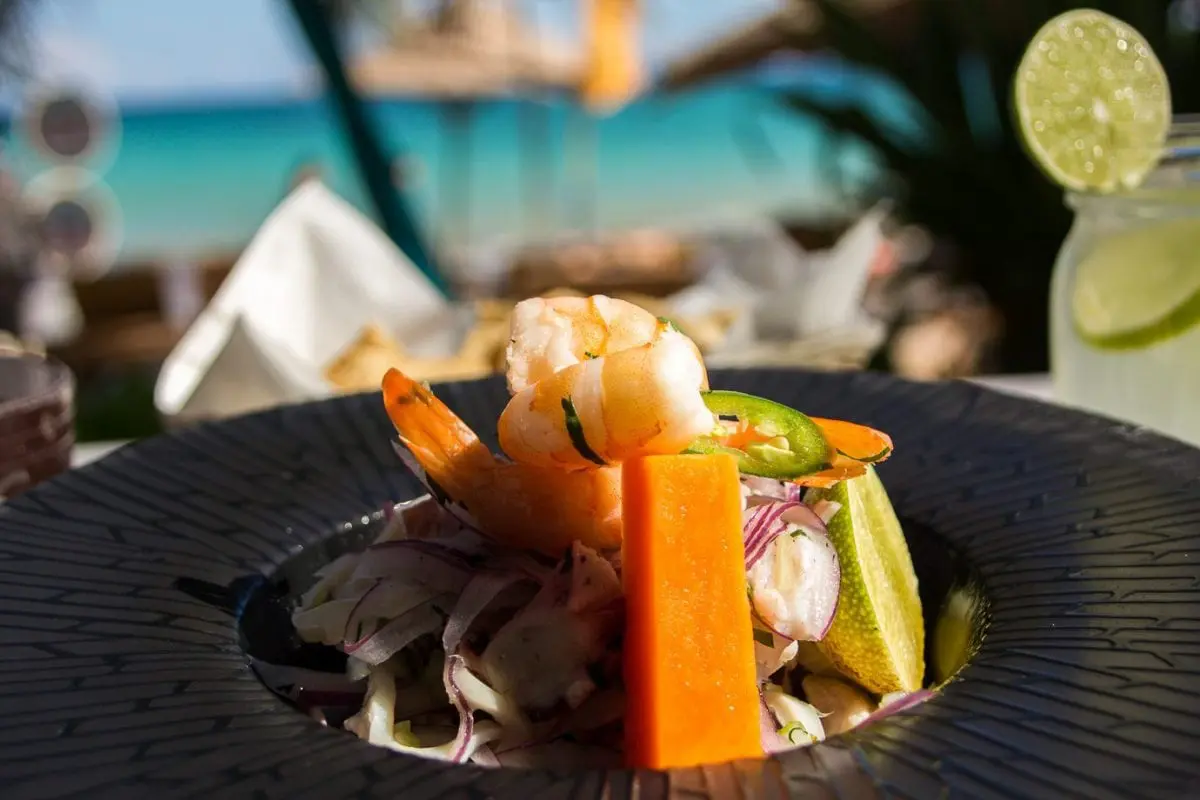 There are more than a dozen beach clubs to choose from in Playa del Carmen.
However, the majority of them have one thing in common: loud music and partying.
Enter Inti Beach Club.
Once strictly a holistic center on the beach, the chic and comfortable space now fusions the ohm of yoga and wellness with the yum of beachfront dining and delicious cocktails.
It's now one of my all-time favorite Playa del Carmen beach clubs.
Here's what you'll find.
What Makes Inti Beach Club Special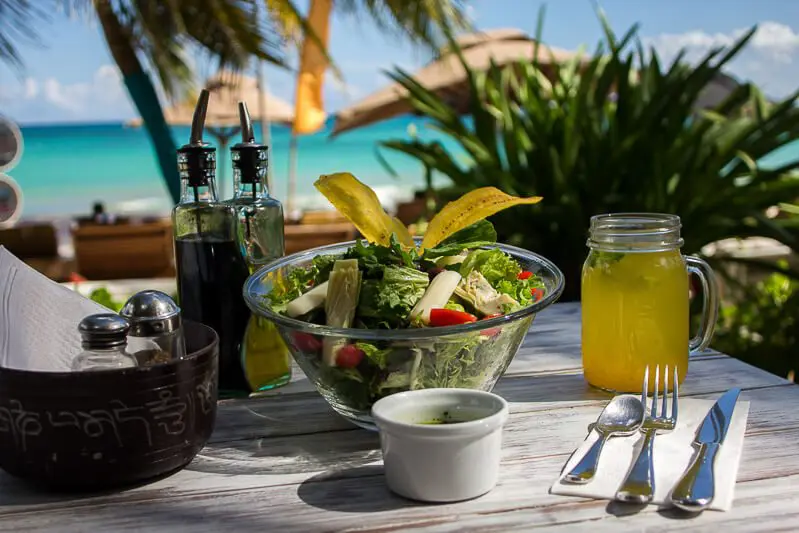 I'll admit I was a bit surprised by Inti Beach Club.
I don't often visit this stretch of beach for some reason, and when I do my eyes are generally so mesmerized by the colors of the Caribbean Sea that I properly fail to take into account my surroundings.
In doing so, I literally overlooked Inti Beach Club.
I had seen the sign, and I had also noticed that they offer beach massages.
But that's it.
Then, I paid a visit to Inti Beach Club the other day and was astounded by what I hadn't seen in all its splendor before.
See, Inti Beach Club is not just a holisitic center for people looking to align their chakras and open their minds and spirits to a free-flowing communication with the universe.
It's now a chic beach club that remains refreshingly low-key and comfortable for those who really want to just chill out and relax at the beach sans the techno music.
The Food at Inti Beach Club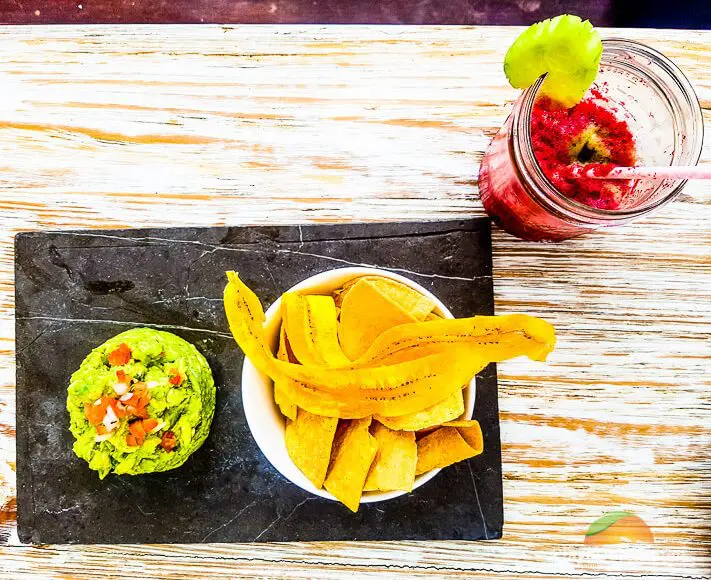 Not only is this space unique to Playa, so too is its food.
Boasting some delicious South American influences from Peru and Brazil, Inti Beach Club adds flavors and dishes which are not typically found in Playa del Carmen or the Riviera Maya.
I can't speak for everything on the menu, which all looked awesome, but I can attest to the food we tried while we were there.
I started out with a freshly made juice made up of apples, red beets, ginger, cucumber, and lime juice.
It was not only utterly refreshing but about as close as I had come to a holistic experience in quite some time.
Then, out came the appetizer: fresh-made guacamole served with tortilla chips and fried plantains.
Unfortunately, as abundant as plantains are in this region of Mexico, few places actually use them for cooking when they're green.
Anyone who has ever visited Cuba, Colombia or other parts of the Caribbean knows that fried green plantains rock.
These were fried and served in long thin slices and proved to be an excellent compliment to the delicious and naturally creamy guacamole.
The Main Dishes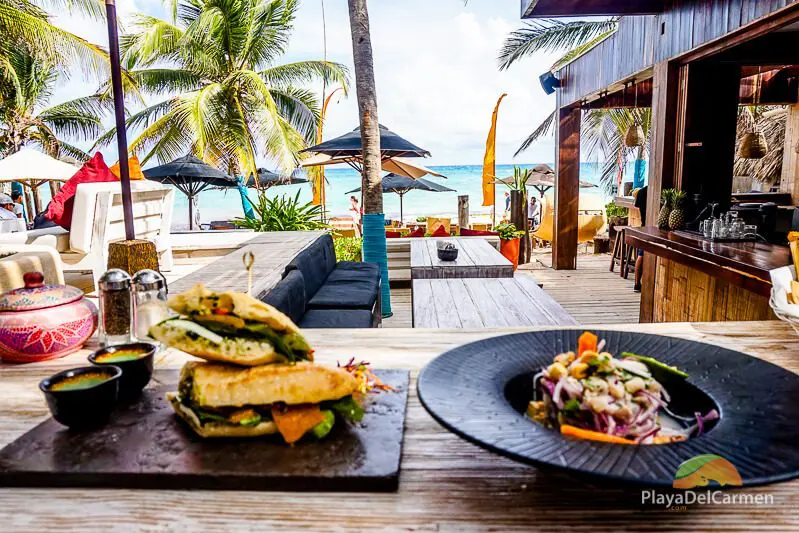 Finally, it was time for the entrées: a Mediterranean-style baguette and a fresh ceviche made up of the catch of the day.
The baguette was delicious and well-served.
The crunchy on the outside soft in the inside baguette was filled with smooth goat cheese, delicious strips of red and yellow bell peppers, arugula, spinach, sun-dried tomatoes, and a delicious sauce.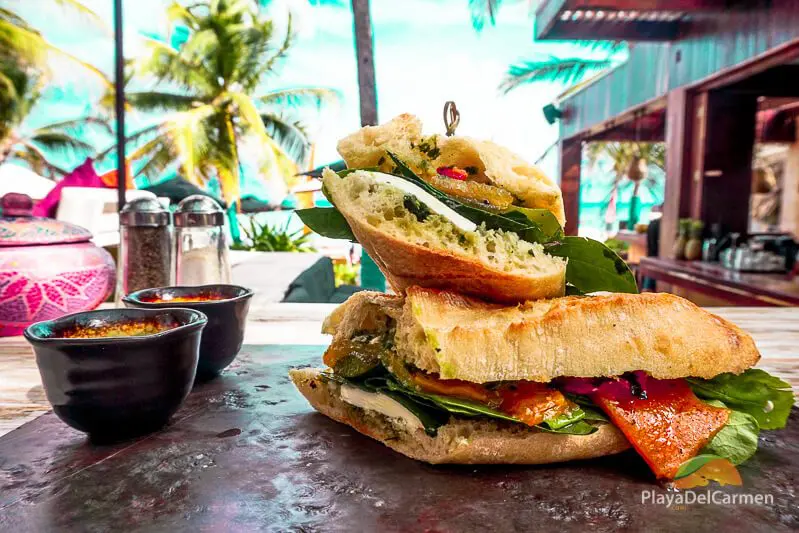 It was good and felt even healthy, which is not always something I can claim when I eat.
But my favorite turned out to be the ceviche, made Peruvian-style and served with toasted large corn kernels.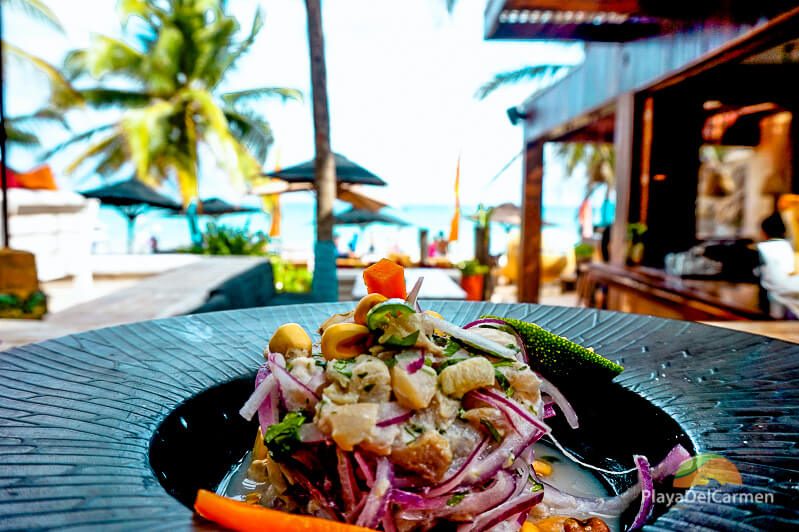 Both meals were light and refreshing, which made the yum seem not too hard on the ohm part of the experience.
As a savory accompaniment, I washed it all down with the house cocktail: a fantastic passion fruit Caipirinha.
Inti Holistic Center Activities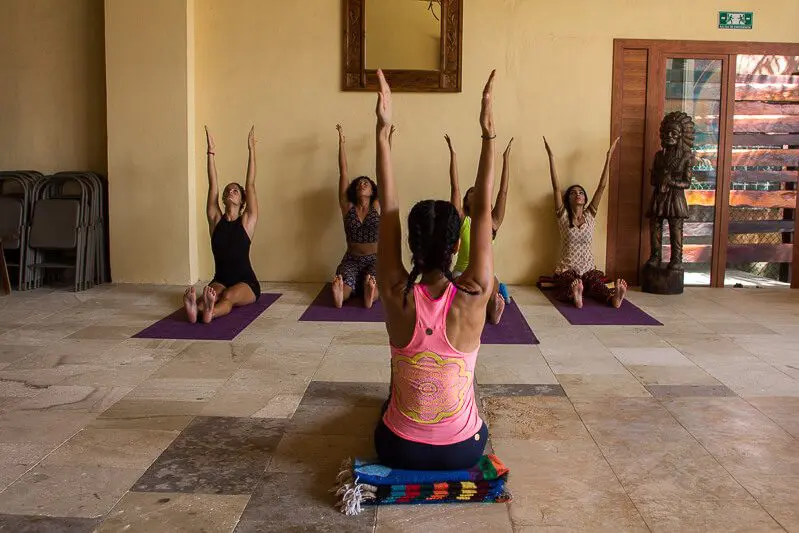 But the good vibes don't just end with the spectacular view and the delicious food.
Inti Beach Club also offers a variety of activities to make this holistic haven the perfect balance of beach club and wellness center.
Throughout the day, guests of Inti can partake in diverse yoga classes just steps away from the Caribbean Sea.
Likewise, the Aloha Paddle Club operates out of Inti Beach, with Stand-Up Paddleboards available to rent for both locals and visitors alike.
Moreover, Inti Beach has just become the place par excellence to see a movie under the stars.
Organized by the awesome folks at El Cine Club, you can sit out on the deck of Inti Beach Club and see an array of some of the top independent flicks around.
In fact, there will be a showing on March 18th of the fantastic Colombian flick Embrace of the Serpent, which won several international awards and was nominated for the Oscar's in the category of Best Foreign Language Film.
In addition, for those looking to truly wind down and relax while at the beach, the certified masseuses of Inti offer a diverse array of massages overlooking the Caribbean Sea.
Inti Beach Club Prices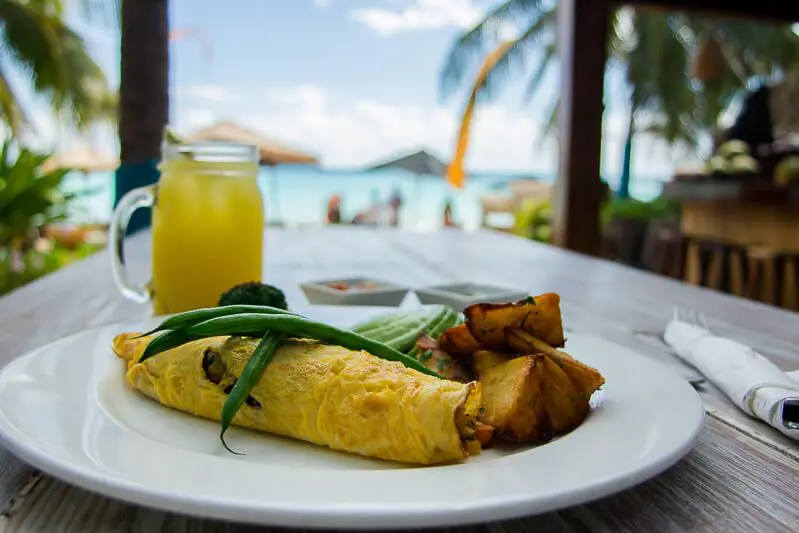 Prices at Inti Beach Club are on par with other similar establishments on the beach.
Location is key here, which means you should expect to pay a little bit more for the food and services.
That said, however, taking into consideration the service, quality of the ingredients, view, and atmosphere, this place represents a good deal for those looking to spend a relaxing day at the beach.
Appetizers run anywhere from $90 to $235 MXN. Expect to spend about $120 MXN per plate for breakfast, with lunch dishes running anywhere between $130 and $300 pesos ($450 MXN for a fried whole fish for two).
As for drinks, cocktails average about $120 MXN a pop, a glass of house wine $100 MXN, and beers starting at $40 pesos.
Note that there is a minimum consumption fee for the area of the beach beds and loungers. The fee oscillates between $300 and $500 pesos, depending on the season.
Inti Beach Club Opening Hours & Location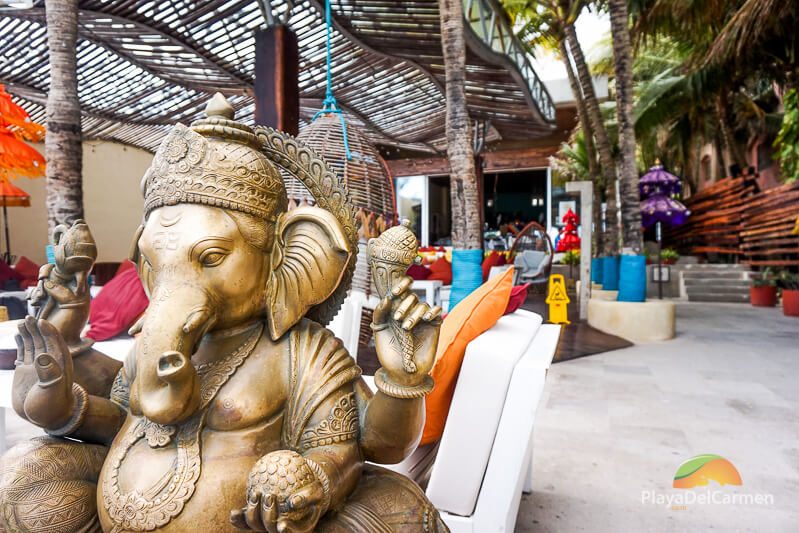 Currently, Inti Beach Club is open daily from 9:00 a.m. until 6:00 p.m.
However, plans are underway for the end of this month to remain open until approximately 11:00 p.m., which will make a great addition to Playa del Carmen restaurant scene.
To get here, just walk down to the beach and head north from 4th Street or south from 6th Street.
Just be sure to don't make the same mistake I made.
Instead, concentrate your energies on finding this holistic haven and let all your worries wash away as you relax, unwind, and enjoy a beautiful day on a Playa del Carmen beach.
Ohmmm…
Looking to discover your inner-Zen in Playa del Carmen?
Our travel specialists will keep your finances in balance with great travel deals!
Call them today toll-free at 888-537-9797!
---
Trending Now
You may also like