Weddings at Palmaia – The House of AïA | Our Honest Review 2023
---
Been looking into weddings at Palmaia – The House of AïA for your wedding and need some honest insight?
Look no further.
Our award-winning PlayaDelCarmen.Com wedding team is here to help.
Discover the nitty-gritty when it comes to all-inclusive packages and hotel amenities.
Let's dive right in.
Weddings at Palmaia – The House of AïA | Your Ultimate Guide
---
1. Hotel Overview
★★★★★ | Adults-only/Family Friendly | Riviera Maya
Searching for a destination wedding resort that has a wellness vibe?
Palmaia – The House of AïA is exactly that.
It's an award-winning progressive Wellness & Spa Resort.
You and your wedding guests get to relax in a secluded sanctuary where health and well-being are considered in every aspect of design, cuisine, accommodation, and activities.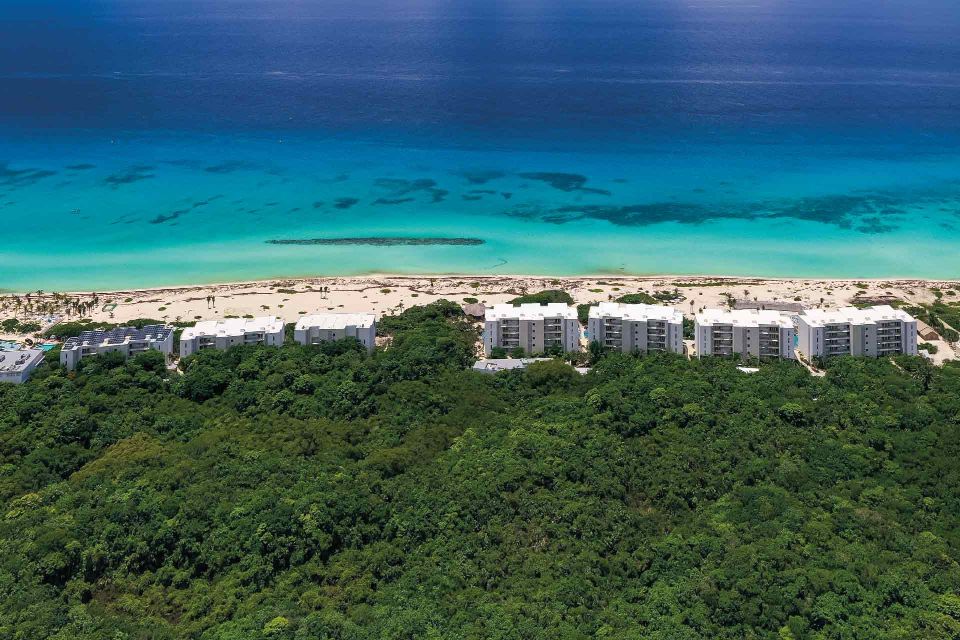 That's not all…
Palmaia – The House of AïA has all the attention to detail and contemporary amenities you would expect from a five-star resort.
It's the perfect place to host a wedding that combines caring for your health and the planet with experiencing full-on luxury.
You get to relax in a jungle-inspired environment that has stunning views of the Caribbean Sea, accommodation with private terraces, and incredible infinity pools.
How amazing is that? 😍
I'm especially a fan of the Palmaia – The House of AïA vision.
A big part of this is protecting the future of the planet.
This includes:
Plant-based first cuisine
Zero use of plastic bottles
Architecture and design that safeguards the surrounding natural environment
Use of 50% less energy than a traditional resort
If you're a fan of this vegan-friendly, sustainable approach you may also want to take a look at this recent blog post of mine:
The Best Vegan-Friendly Resorts in Cancun & The Riviera Maya
Another aspect of the resort's vision that makes it stand out is its principles which are:
Natural Inclusion
Balance
Self-expression
Non-violence
Participation
Absolute Respect
It genuinely is a haven where you feel safe, valued, and relaxed.
Is Palmaia – The House of AïA all-inclusive?
The resort gives you a luxury all-inclusive experience with a sustainable and healthy ethos.
This includes:
Healings and Rituals such as the Architects of Life Program and the Rituals of Sound Series
À la Carte dining
24-hour Room Service
Eolo Beach Club & Bar
Atlas Club Lounge
Premium drinks
Concierge Services
Kids Center and activities
Jungle Gym & Fitness Center
Bike Sharing Service
Wi-Fi
You can also choose to pay an additional fee for on-demand services including Atlantis Spa in the Jungle and Avalon Beauty Salon.
How far is Palmaia – The House of AïA from the airport?
The resort is around 62 minutes by road from Cancun International.
We can arrange your transfers for you as part of planning your wedding.
So, you can just sit back, relax, and watch the landscape go by as you make your way to the resort.
We can also arrange flights for you and your guests if you're traveling from the US or Canada.
2. Wedding Package Options
Choose to host your wedding at Palmaia – The House of AïA and you get a bespoke event that's personal to you.
The experts at the resort are there to make your wedding truly special.
You decide  what each moment of your wedding will look like by choosing from a list of a la carte services including:
Various ceremonies and rituals such as Mayan, Hindu, and spiritual
Plant-based food and drink
A variety of ceremony set-up and decor options
Music and entertainment choices
Beauty salon services
Photographic and video services
Amenities you can expect for weddings at Palmaia – The House of AïA include:
Dressing areas for the wedding couple
Ceremony arch
Dance floor
Tables and chairs for the ceremony and reception with upgrades available
Linens, tableware, and glassware
Setting up and cleaning up of the venue
Wedding coordinator on the day
Champagne toast
Looking for a simple way of arranging your wedding?
You can book an all-inclusive wedding package at the resort.
Packages cost from around $9,500- $14,500 for 30 guests.
They include features such as:
Welcome event for the wedding party
Semi-private rehearsal dinner
Ceremony set-up
Bouquet and boutonniere for the bride and groom
Symbolic ceremony
Wedding cake
Three-hour reception dinner
3. Ceremony & Reception Venues
The gorgeous Caribbean backdrops at the resort are so romantic as you can see…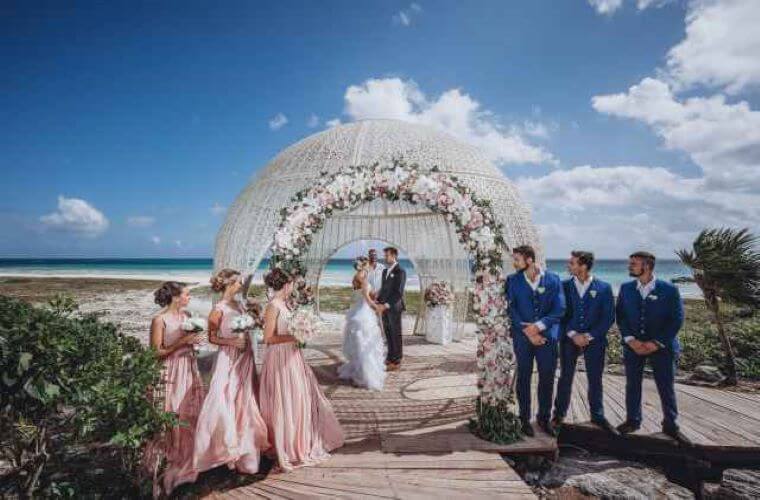 And each venue features exquisite decor to help make your wedding a memorable experience.
None of the venues has a very large capacity.
But, they are perfectly suited to intimate wedding celebrations where the beauty of the Caribbean is all around you.
The four exquisite venues you can choose from are:
Beach Gazebo
Hidden Bay
Palm Bay
Rustic Casita
Each venue has a maximum capacity of 80 guests.
4. Gay Weddings At Palmaia – The House of AïA
The PlayaDelCarmen.Com is passionate about helping all couples arrange the wedding of their dreams.
So, we love planning destination weddings for same-sex couples.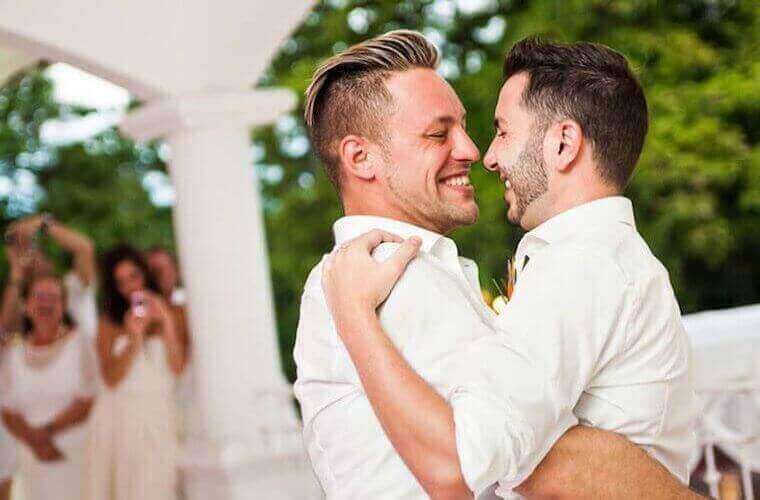 Most of the time, couples prefer to hold a symbolic ceremony in Mexico and leave all the legal wedding plans and paperwork to be done at home.
However, it's possible to have a legal same-sex wedding in Mexico.
Just a little extra planning and paperwork are needed.
Give us a call on 888-537-9797 if you would like any more info about this.
We'd love to help with your wedding plans.
5. Room Types
Searching for a luxury wedding resort that's free from animal cruelty?
You've found it at Palmaia – The House of AïA.
Every room at the resort is free from animal products and products that have been tested on animals.
So, there is no leather in the accommodation and there are no feathers in any of the bedding.
Each suite features a private terrace as well as contemporary furnishings and a luxury tub or shower.
You can choose to stay in the adults-only section or the family section of the resort where suites are designed with close attention to their required use.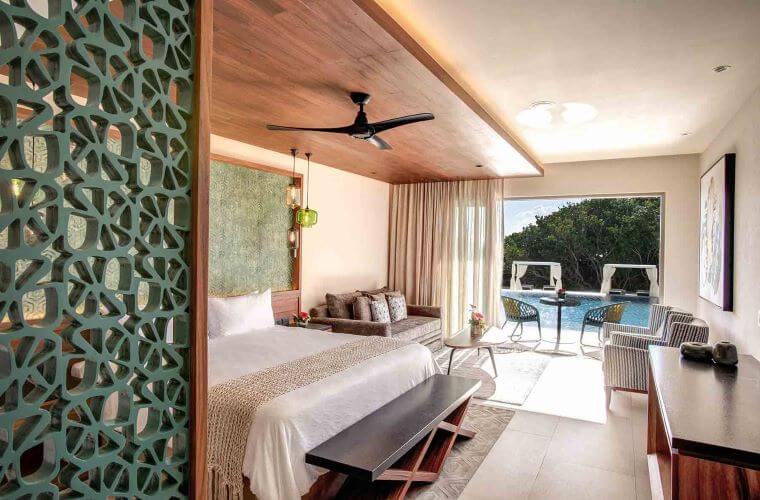 There are 60 luxury suites in the adults-only section which is located at the south end of the resort.
They're available in five different categories including Swim-Out Suites and Ocean-Front Suites.
You also get to use an adults-only infinity pool where you can sip cocktails at the swim-up bar.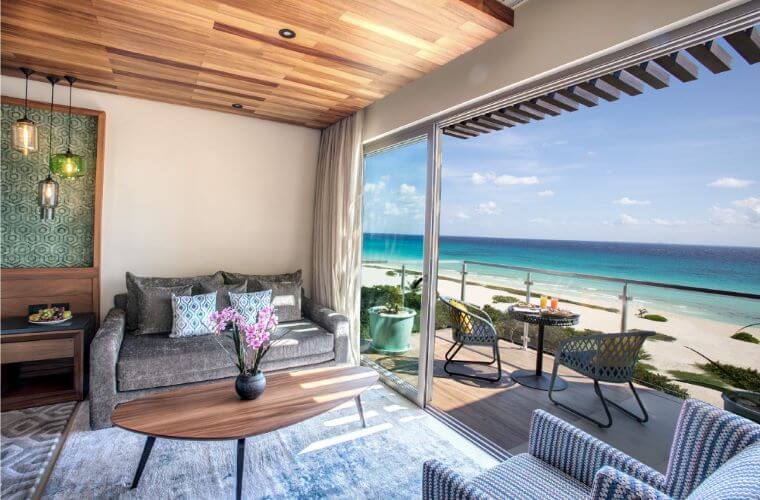 Have wedding guests who are traveling with children?
The Family Section of the resort is designed to help families keep connected during their stay.
These 90 suites are located throughout the center of the resort close to the Kid's Mini Aqua Park and Su Casa Restaurant.
They are available in three categories:
Swim Out Family Master Suites
Ocean Front Family Master Suites
Ocean Front Family King Suites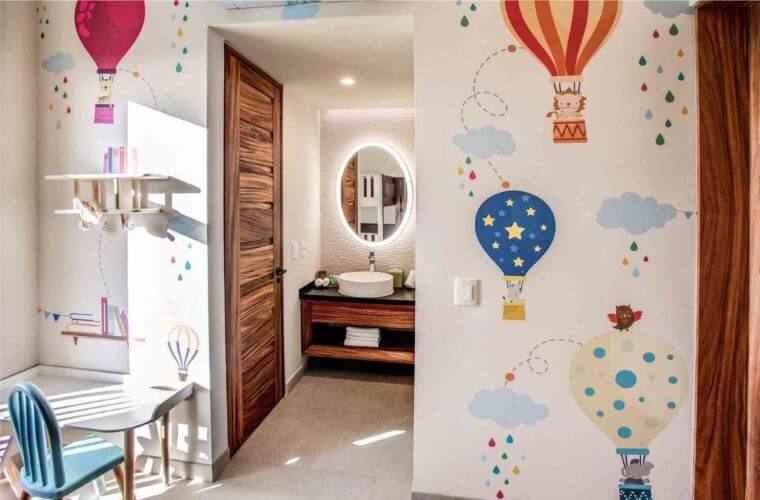 How many rooms are there at Palmaia – The House of AïA?
There are 234 suites at the resort.
Each one is designed with your comfort and the protection of the planet in mind.
How much does it cost to stay at Palmaia – The House of AïA?
Accommodation at the resort costs around $550-$700 per night on average.
The actual cost of your accommodation depends on which suite you choose and when you stay.
We'll help you get the best deals for you and your wedding guests.
6. Beach
The resort has a stunning location on a white sand beach.
The sand is smooth and soft and the water is clear.
It's the perfect place to take a stroll with your partner or simply sit and watch the sun go down.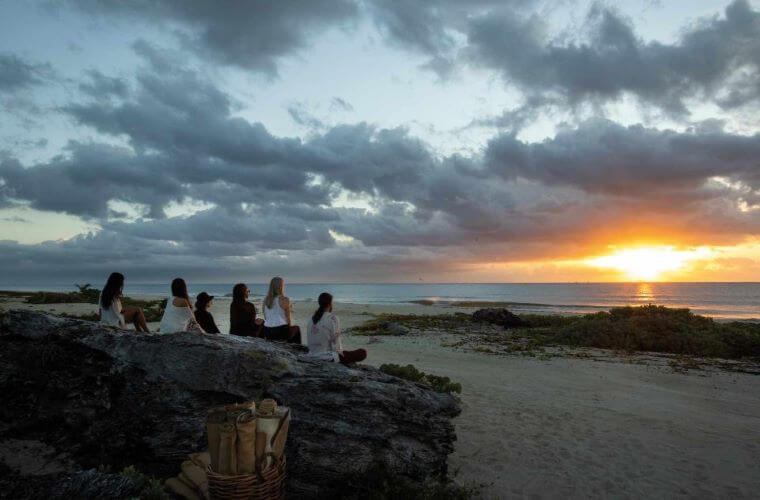 You can also take part in yoga and meditation sessions to keep you centered and help calm any pre-wedding nerves.
The service on the beach is excellent and the sand is kept clean by the resort team.
There's also plenty of room available and the cabanas are well spaced out.
So, it never feels overcrowded and uncomfortable.
7. Food & Drink
The chefs at Palmaia – The House of AïA prepare exquisite plant-based cuisine.
There are also non-vegan taste sensations on the resort's menus.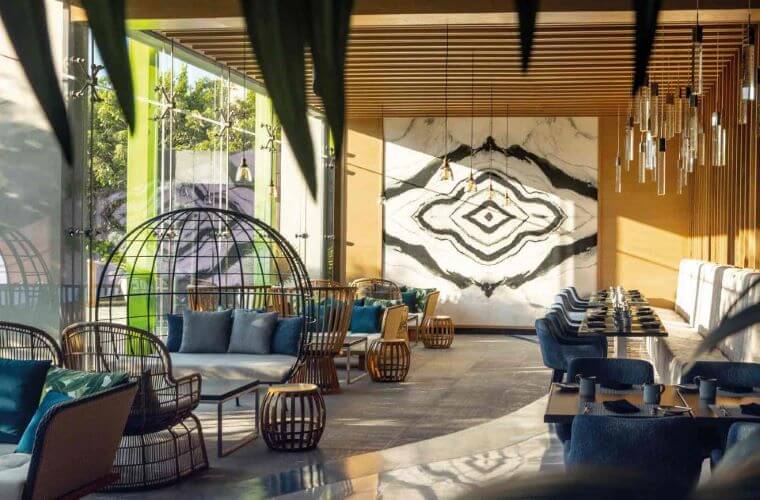 Meals at all of the eateries are fresh and thoughtfully prepared.
There are four restaurants to choose from:
LEK features traditional Mexican flavors elevated to the level of top international haute cuisine and enhanced with herbs and spices cultivated in the resort's greenhouse.
Su Casa has a laid-back Caribbean beach vibe and a menu that includes vegan, meat, and fish dishes.
Ume is an Asian-themed eatery where Thai cuisine is fused with other exotic flavors.
Mar de Olivo brings you Mediterranean cuisine with a difference that's influenced by traditions of the past.
You can also pay a visit to Charly's Vegan Tacos Pop-Up Food Truck.
This is a must if you love traditional Mexican street food and want to try a healthier alternative.
Socializing at Palmaia – The House of AïA is not just about dining, there are plenty of great drinking options too.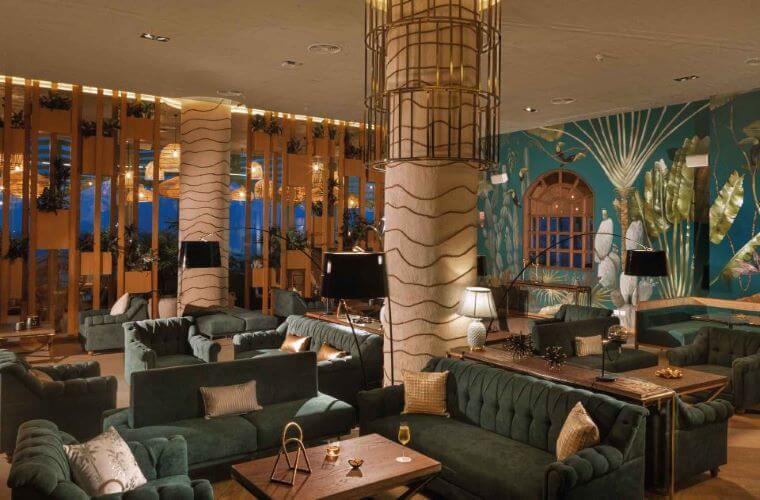 You can pay a visit to the Eolo Beach club and enjoy some beats.
Or, why not savor the exclusive ambiance of the Atlas Club.
There's also a vegan juice bar where you and your bridal party can enjoy some delicious concoctions.
And, you can spend time relaxing at one of the pool bars while sipping on a fresh fruit cocktail.
8. Activities & Entertainment
The activities at Palmaia – The House of AïA are designed to combine mind, body, and nature.
You can also have a lot of fun, relax, and learn a new skill.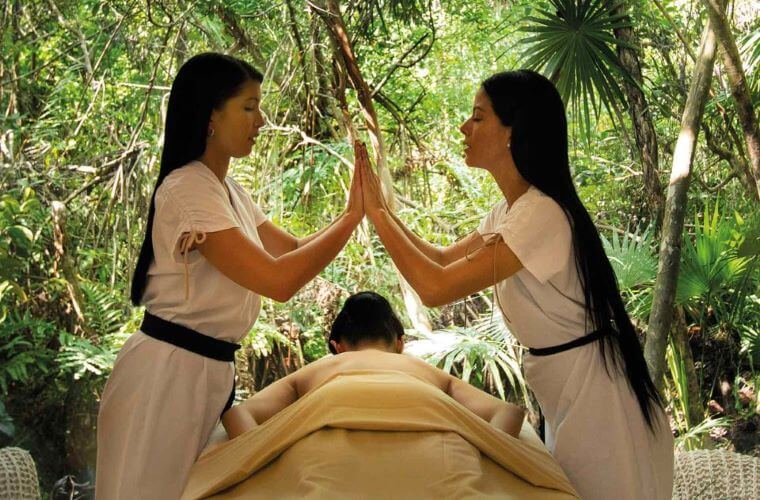 Classes at the resort that are focussed on the mind include:
Meditation
Mind Control
Gravity Control
Mantras
Natural Art
There are also classes focussed on movement including:
Tai Chi
Therapeutic Yoga
Hatha Yoga
Ancestral Dance
Vinyasa Yoga
You also have the opportunity to take part in rituals that aim to bring your mind and heart closer to nature such as Tibetan Bowls, Gong Bath, Awakening Rituals, and Ritual of Transmutation.
Other, on-demand activities and amenities are available at an additional cost including:
Purification of the Soul
Transpersonal Astrology
Tarot
Soul Reading
Temazcalli Ceremony
Personal Trainer
Are there any activities outside of Palmaia – The House of AïA?
The vibe inside the resort is so positive and relaxing you may want to spend all your time there.
But, I'd always recommend that you and your wedding party spend some time exploring outside the resort.
It's such a gorgeous part of the world, it would be a shame to miss out.
The local team at PlayaDelCarmen.Com knows the area well.
This makes us perfectly placed to recommend and arrange activities and tours for you.
There's something for everyone.
You may want to have a Catamaya Catamaran adventure that includes sailing and snorkeling.
Or, you may prefer to explore Tulum on a full-day tour with a tour of the ruins and time at a cenote included.
I love the Chichen Itza Tour.
It's such a magical place to visit and you get the insights of an expert guide.
Have a read of my review to find out more about this tour.
My HONEST Review of The Chichen Itza Day Trip Tour (2021) – Is it Worth the Journey?
9. What Brides and Grooms Said…
A bit of a departure from the words of brides and grooms for this one.
Instead, let's see what a wedding guest has to say and get some insights from a bride-to-be who was so impressed she's thinking of hosting her wedding at the resort.
"Amazing wedding spot. The whole staff was absolutely incredible. Went for my cousin's wedding and the views and culture were really amazing. Big shout out to Ricky, Tony, and the entire staff. Thank you so much and 100 % recommend." – Max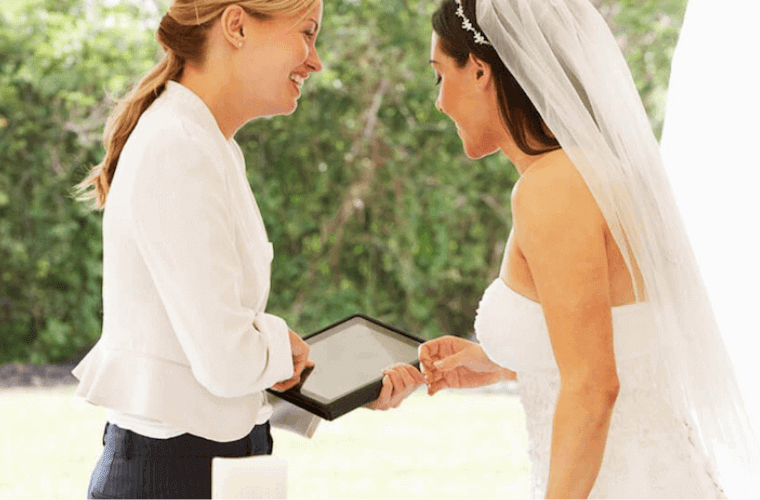 "This was the most incredible resort. The hosts were phenomenal, the plant-based menu was incredible and decadent, and the atmosphere is everything. There is an overwhelming sense of calm and appreciation. My fiancé and I are actually considering having our wedding here!" – ReillyM
10. Why We Like It
At PlayaDelCarmen.Com we love bringing couples' wedding dreams to life.
So, we only recommend resorts and wedding packages that we have experience of and love.
When it comes to weddings at Palmaia – The House of AïA, we're especially fans of:
An ethos that's about health, well-being, and protecting the planet.
Accommodation Sections for families and adults-only.
Impressive plant-based menu.
Bespoke weddings to make the experience personal to you and your partner.
You may be concerned that non-vegan wedding guests will feel left out but this isn't the case.
The resort has a totally inclusive vibe and non-vegan dining choices are available.
And, you may find that everyone loves the delicious plant-based dishes, as well as the mind and body, focused activities available.
11. Additional Resources You May Find Useful
12. Start Planning Your Dream Day
Love the sound of a wedding at Palmaia – The House of AïA?
That's excellent news.
The team at PlayaDelCarmen.Com would love to help you organize your celebrations.
We're based locally so we have the contacts and knowledge needed to get you the best deals.
Just give us a call on 888-537-9797 or complete the contact form on our website.
Alternatively, send an email to:weddings@playadelcarmen.com 
And, we'll make sure you get the destination wedding you're dreaming of.
Have questions about weddings at El Dorado Maroma?
Just pop something in the comments and I'll get on it.
I can't wait to read your questions and thoughts.
---
Trending Now
You may also like