Grand Riviera Princess Weddings | Our Honest Review (2022)
---
Are you considering Grand Riviera Princess as the perfect wedding location?
Our team of expert coordinators at PlayaDelCarmen.Com plan weddings at this resort regularly.
There's no better place to get your inside scoop.
This 5* resort is all-inclusive, family-friendly, and enjoys one of the best beach locations in the Riviera Maya.
…Making it a hot choice for couples seeking a tropical beach destination wedding. 
In this blog get the DL on all there is to know about choosing to say your "I dos" here.
Your Grand Riviera Princess Wedding
---
1. Hotel Overview
Do you dream of a tranquil and stunning destination wedding that is not too far away from dynamic bars and restaurants?
You have found the place to realize your dreams at Grand Riviera Princess Resort.
This five-star hotel is 10-minutes from Playa del Carmen but is surrounded by an oasis of peace.
Picture lush tropical gardens next to pristine white sands.
If you want to feel like royalty on your big day, a Grand Riviera Princess Wedding is where it's at.
You even get to take the Avenue of the Gods from the hotel to the beach.
The Mayan deities line your path as you head for the crystal clear waters.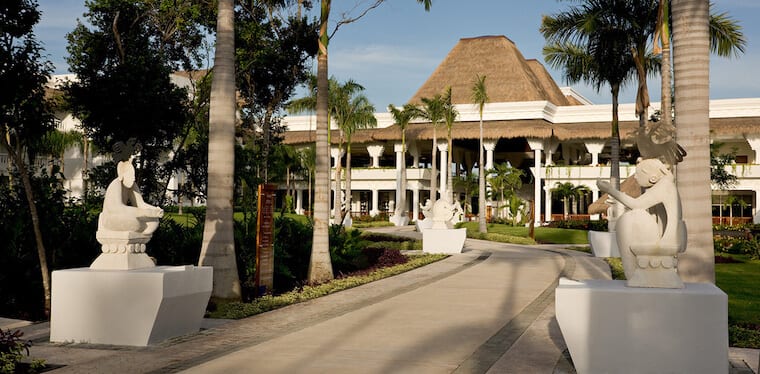 This paradise is just 40 minutes from the airport and has 674 elegant rooms to choose from.
You can opt to add extra luxury to your destination wedding by choosing a Platinum Suite or a Laguna Villa Suite.
The ultimate in spoiling yourself!
If you're looking for a family-friendly destination wedding, this is the place.
There's a mini-club for the youngest guests and water sports and tennis courts for older kids and teenagers.
While the kids are enjoying themselves, the adults can relax with a drink at one of the nine bars.
Or, relax with a session at the spa.
Average Price Per Person, Per Night
      The average cost of a room per night per person is $158 to $374.

      Maximum room occupancy is five.

      There are 674 rooms, all suites, ranging from junior suites to family suites.
Many rooms feature a balcony or a hot tub.
Swimout suites at this hotel even give you private access to the pool.
This resort featured in my list of top ten hotels with sublime swim-up suites.
2. Wedding Package Options
Do you want a magical destination wedding that you can customize with a-la-carte services?
Grand Riviera Princess Resort gives you precisely this.
Choose from set wedding packages with ceremonies and receptions taking place in striking locations, including the beach, poolside, and a dedicated wedding gazebo.
Then, add the individual touches you want.
Each inspirational package gives you the personal experience that your wedding should be.
How Much Do Wedding Packages at Grand Riviera Princess Resort cost?
***PLEASE NOTE PRICES ARE SUBJECT TO CHANGE SLIGHTLY YEAR ON YEAR***
Prices packages for 2022/2023 range from $300 for a JUST FOR TWO experience to £12,500 for the new HIBISCUS package.
If you're happy sharing your love as a couple privately, JUST FOR TWO is perfect.
For a more grand affair, you have plenty of options. 
From their affordable entry-level package, there is plenty of incredible add-on packages to allow you to customize your day to your tastes.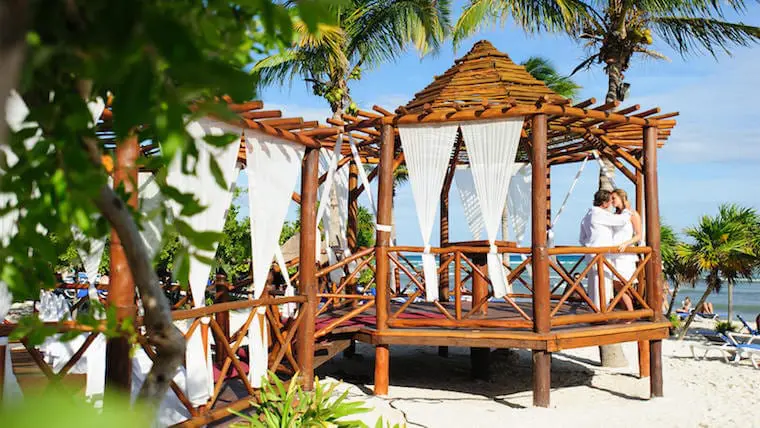 For an occasion when you can celebrate with others, packages start at entry-level rates.
INFINITY PACKAGE
$880 – 20 guests
This Includes:
Symbolic/non-denominational ceremony.

Symbolic marriage certificate.

Tropical flowers for the Bride.

Tropical flower boutonniere for the Groom.

 Simple decorations for the venue.

Chairs for the ceremony.

Recorded music for the ceremony.

Semi-private dinner for 20 guests.
Special Amenities For The Newlyweds
Wedding breakfast

the morning after the wedding.

Bathrobes

in your room.

Romance Honeymoon amenities

including a king-size bed and fruit plate and floral decoration in the room.

Late checkout

subject to availability.
Grand Riviera Princess Wedding Packages are available for ceremonies, including South Asian Weddings and vow renewal.
Optional Add-Ons and Upgrades
Every wedding package at the resort includes a private venue for the ceremony and can be upgraded to a premium setting for a set fee.
You can be sure of dedicated service as the resort limits the number of weddings each day so that every occasion is special.
Customizing your package for an extra fee allows you to choose additional a-la-carte services and amenities.
3. Ceremony & Reception Venues
 There are five captivating venues for your wedding at this resort, including:
      

Beach

      

Wedding gazebo

      

Poolside

      

Restaurant

      

Lounge
1. Beach
Beach wedding ceremonies are popular in this resort for obvious reasons.
Look at those incredible white sands and crystal clear waters.
You can imagine the gentle breeze around you as you share this special moment with your partner and guests.
It's a special place to exchange vows.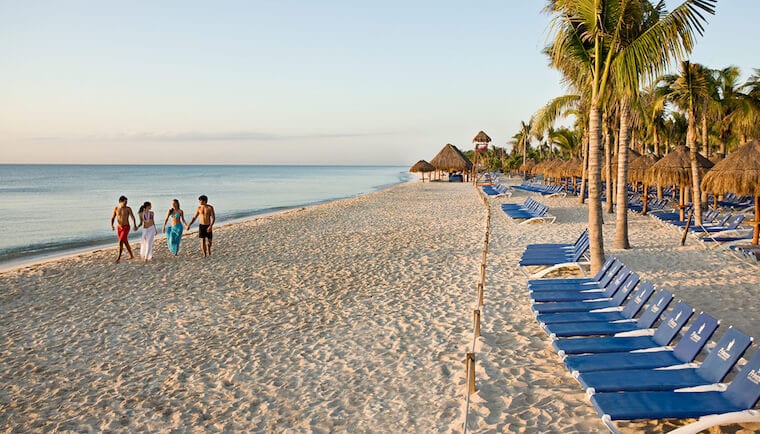 Ideal for:
Intimate weddings for just the two of you.

A natural ceremony that brings you close to nature.
 2. Wedding Gazebo
Do you love the idea of saying "I do" to the sound of the Caribbean Sea gently lapping against the shore?
The exquisite wedding gazebo at the resort is a superb space to make this happen.
The wooden structure is natural and romantic.
It also gives you much-welcome shade without losing any of the glorious light from the sun.
Ideal for:
A ceremony that captures the beauty of the Caribbean.

Exchanging vows in a picturesque setting with shade.
 3. Poolside
Relax by one of the resort's swimming pools while you celebrate and make sure that everyone has an amazing time.
You can have a small reception or simply sip cocktails with your guests.
Raise a glass to spend a happy life with your partner.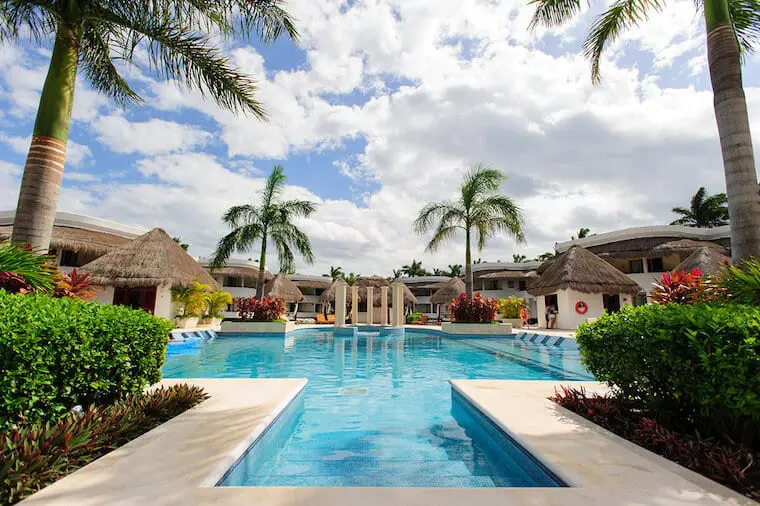 Ideal for:
A reception with a small number of guests after the ceremony.

Cocktails for the bridal party on the evening before you exchange vows.
4.  Restaurant
Are you inviting friends and family to your destination wedding?
You can include everyone in making incredible memories at one of the dedicated resort restaurants.
I personally love the dedication to refinement and mouth-watering menus that you get from this option.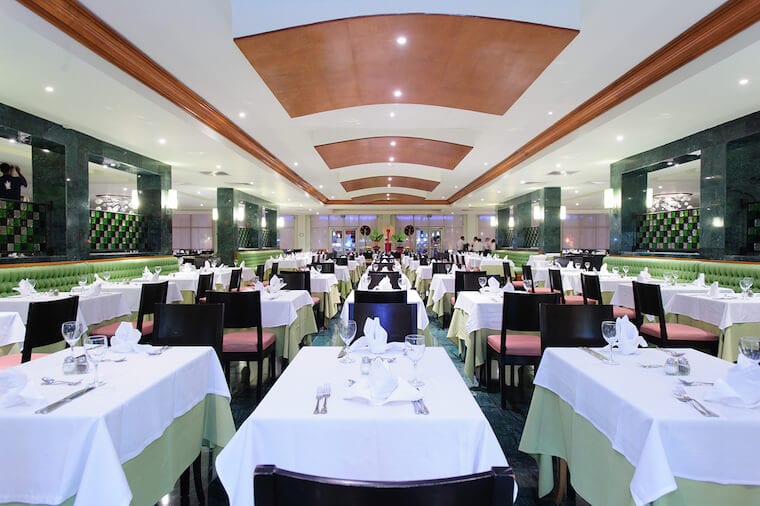 Ideal for:
Gathering all of your guests so that everyone can be part of your wedding event.

A stylish reception with extra refinement.
5. Lounge
After a ceremony on the beach, celebrating with a private dinner is the perfect end to a unique day.
The lounges at the resort are beautifully decorated.
You also get personalized service so you can relax and enjoy the experience.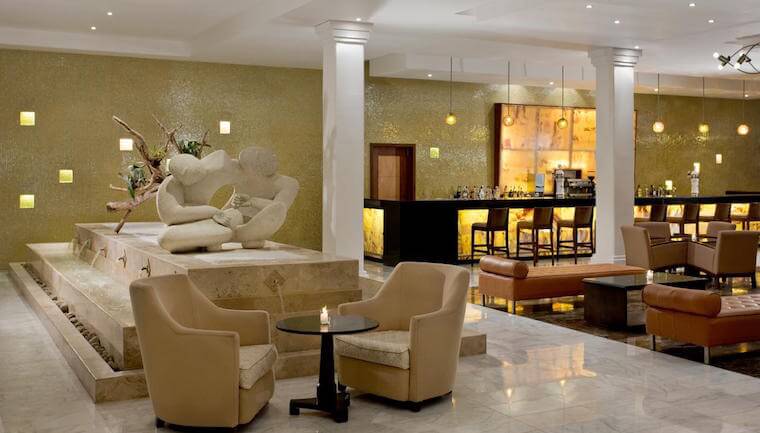 Ideal for:
A personalized reception with the special touches you would expect.

Celebrations centred on exquisite cuisine and refined surroundings.
4. Gay Weddings At Sandos Eco Caracol
Love is love here at PlayaDelCarmen.Com.
If you're hoping to plan an LGBT wedding here in Mexico, you're in luck the Grand Riviera Princess Gay and LGTB friendly!
Many gay and LGTB couples come to Mexico to get married in paradise. I mean, why wouldn't you, right?
For destination weddings in Mexico there a few different options and approaches to choose from.
The most popular is to have a symbolic ceremony and get legally married back home.
However, a legal marriage can be arranged too with a little extra planning and help from your expert coordinator.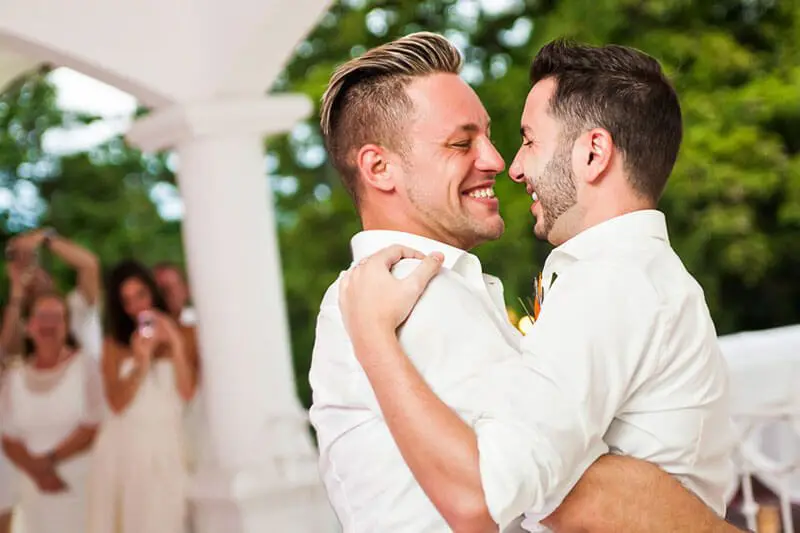 It involves medical tests, paperwork, and additional fees.
I should note not all hotels in the state actually advertise this type of wedding, but the Grand Riviera Princess do and would be delighted to host your gay wedding.
Something to be aware of: Marriage can be legalized here in Mexico but your state home may not class it as legal if they don't allow gay marriage yet.
Other articles you may find useful on this subject include: 
5. Room Types at Grand Riviera Princess
There are 674 rooms at the Grand Riviera Princess Resort, all fully equipped and designed to provide an exceptional stay.
You don't need to worry about having to choose the right room on your own; that's what we're here for.
One thing is certain; there is an ideal room waiting for you.
The accommodation includes:
Suites with

hot tubs

or

balconies/terraces

for

guests travelling with or without children

.

Family club suites for

guests who have children with them

.

Luxury Platinum Suites with an

exclusive beachfront location

and drinks butler service that just has to be the choice for the wedding couple.
I've put together a summary of what you can expect from the different room options to get you started.
Here are the basics of what is waiting for you at this hotel: 
1. Junior Suite
Ideal affordable accommodation option for couples or families. Maximum occupancy is four (three adults and one child or two adults and two children).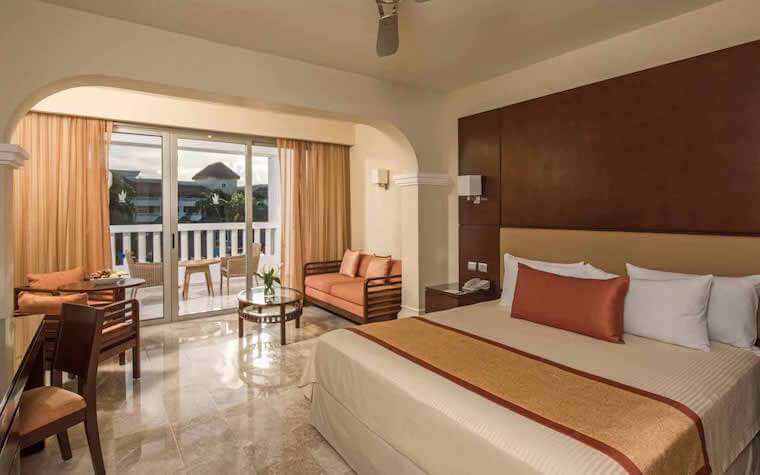 These suites all have a king bed or two double beds and a sofa, a balcony or terrace, full air conditioning, and a ceiling fan.
2. Junior Suite Deluxe
Your guests can book accommodation with an extra bit of luxury with this suite that has all the amenities of a Junior Suite plus its own hot tub.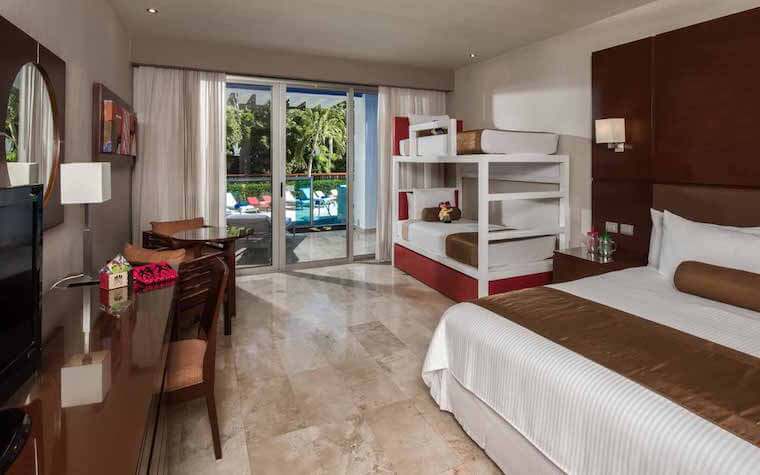 Maximum occupancy is the same as for the Junior Suite (Three adults and one child or two adults and two children).
3. Laguna Villa Suite
People travelling without kids can surround themselves with luxury in these 18+ only suites for a maximum of two people.
Room features include a hot tub and aromatherapy on request.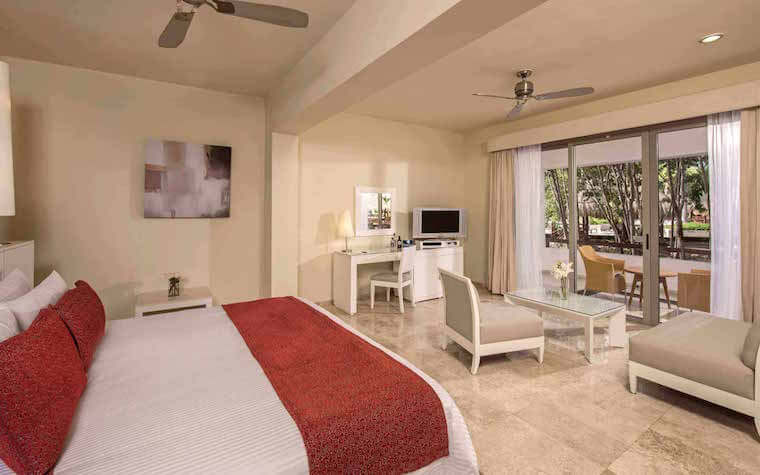 Guests also get a free one-day spa package and access to the exclusive Platinum Lounge and benefits such as a reserved area on the beach and a private pool.
4. Platinum Suite
These suites have the same luxuriant interiors as the Laguna Villa option, with a maximum occupancy of three adults and one child or two adults and two children.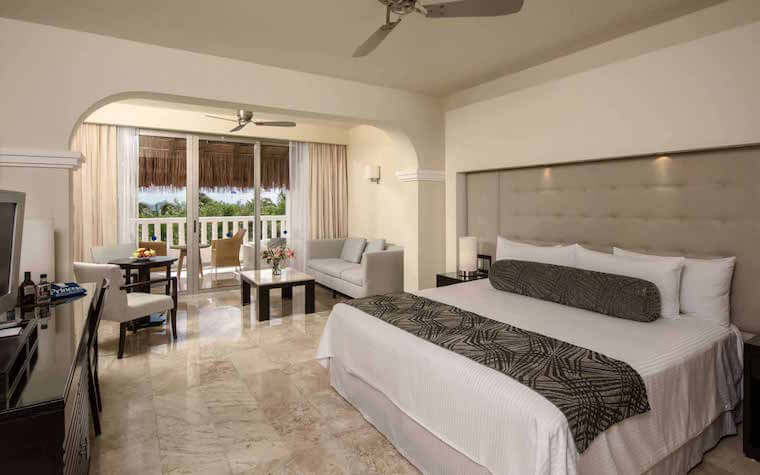 Unique advantages of this accommodation include one special dinner and discounts on spa treatments and water sports.
5. Family Club Deluxe
These rooms are designed for adults travelling with children.
Any young guests at your wedding will love this accommodation because it includes access to Family Club benefits like an entertainment program for children and a teen disco once a week.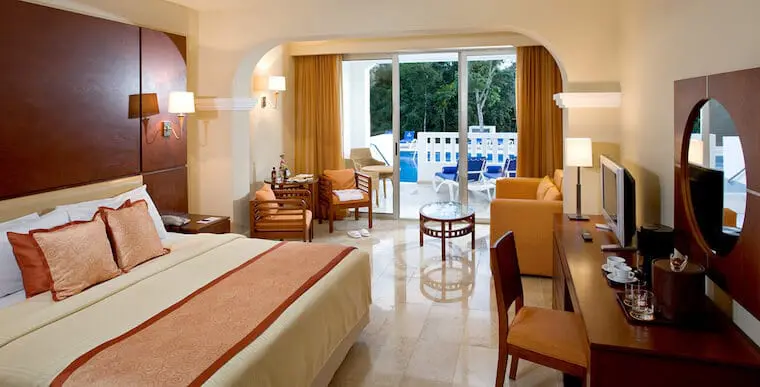 Maximum occupancy is five (two adults and three children or three adults and two children).
6. Family Club Deluxe Jr.
Last but not least, an extra-special fun family experience awaits guests in this accommodation.
There are the same sleeping options (one king-size bed and three single bunk beds or two double beds and a sofa bed) and Family Club benefits as in the Family Club Deluxe option.
But, guests also have private pool swim-out access.
6. Beach
The Grand Riviera Princess Resort couldn't be closer to the beach.
The location beside the white sands and turquoise waters is perfect.
Even if you don't stay in one of the beachside luxury suites, you can be strolling along the sands in minutes by either walking through the lush grounds or using one of the regular shuttle services.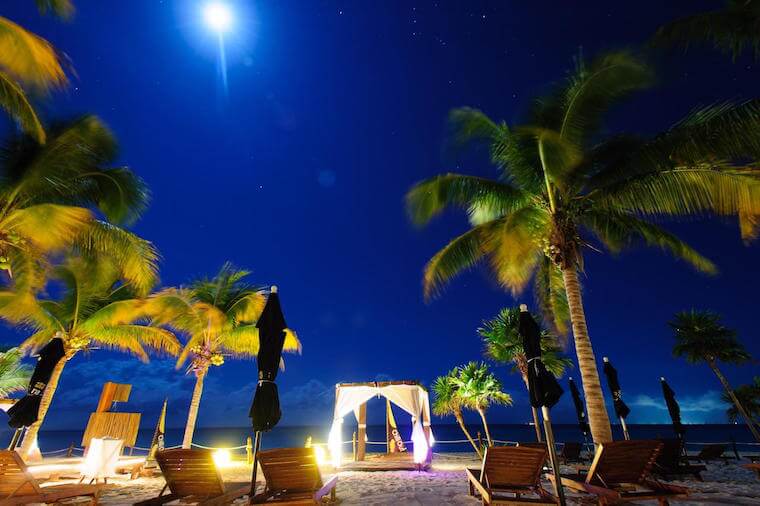 The sand is pristine and provides a naturally beautiful backdrop for exchanging vows or taking a pre-wedding walk at sunset with your partner.
7. Food & Drink
International cuisine is on the menu at the resort. You can travel from Mexico to Switzerland with your taste buds and stop off at several countries in-between.
There are twelve places to eat; some are in the Grand Riviera Princess and some in its Grand Sunset Princess sister property.
All-inclusive meals at the International Buffet restaurants are great for family dining, especially with the pretty relaxed dress code.
Just don't turn up in your swimsuit, and make sure any men in the party wear a shirt with sleeves.
While I'm on the subject of dress code, always check before you arrive.
Eating at non-buffet restaurants like the "Hacienda" for Mexican food and "Las Olas" for seafood means dressing "smart casual."
You can take your food choices up a notch if you're a Platinum Club Guest.
Make a reservation for an International Gourmet meal at "Le Fleur."
8. Activities & Entertainment
 Aside from the excitement of celebrating your wedding, there's no way you or your guests will be bored at the Grand Riviera Princess.
You can keep active with sports, including beach volleyball, tennis, basketball, and soccer. Water-based activities include kayaking and water polo.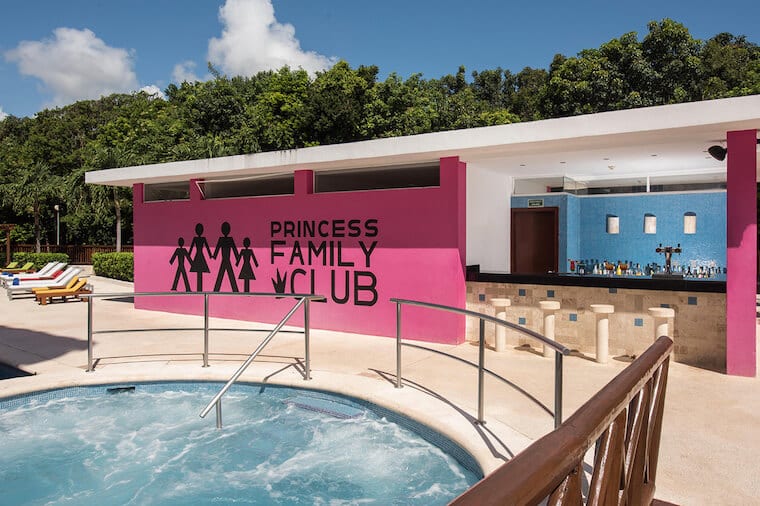 Kids in your party will love the games room with video games to play as well as table soccer and air hockey.
After all the strenuous activity, there's a chance to relax and enjoy a show at the Princess Theater or listen to some live music.
9. What Brides Said…
"The suites themselves are very spacious (a little cramped if it's 2 adults & 2 children), and spotlessly clean. The maid did a wonderful job and had usually cleaned our room by 11am each day. The beds are huge and very comfortable. The bathroom has a huge walk in shower and his/hers sinks which was very nice. We were in room 2134 which looked onto the gardens and was nice & quiet. All our guests were placed close by which was also good." – Susan Mc

"The hotel was absolutely beautiful, with hard workers everywhere you looked. It really was an amazing sight." – Dee

"I would highly recommend getting married in this resort or just go there for some R&R. As for the wedding, the resort is very accommodating. The gazebo on the beach is gorgeous and the flower arrangements and chairs beautiful. They are very well organized." – Lola
10. Why We Like It
Our team at PlayaDelCarmen.Com doesn't sell or recommend any resort that we don't completely LOVE ourselves.
We want your special day to be absolutely perfect for you, so we give you the honest advice and support you need.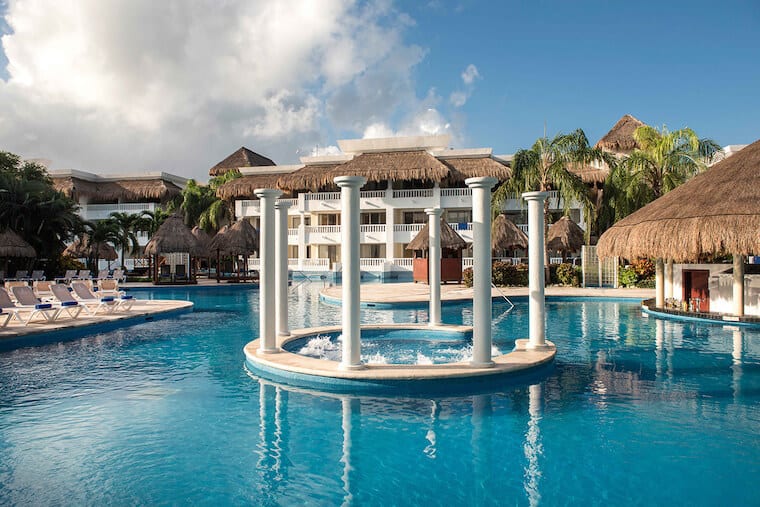 Looking at what the Grand Riviera Princess Resort has to offer, our highlights include:
The

beautifully built wedding gazebo

on the beach. Being immersed in natural scenery when you say "I do" is an experience with the wow factor.

The

family-friendly activities

on-site including discos, a Teen club lounge with video games and refreshments, and evening activities to keep the young members of your party entertained while the adults relax.

 

Platinum Club facilities

including access to a private pool and a reserved space on the beach.

The Mexican-Inspired and integrated decor.
Areas for improvement: 
More wedding venue options
11. Additional Resources You May Find Useful
I'm dedicated to making your wedding in Mexico a memorable and magical event.
There are numerous posts in the wedding section of our blog.
You can find advice about everything from marrying in Mexico on a budget to choosing a luxury wedding package that suits your individual style.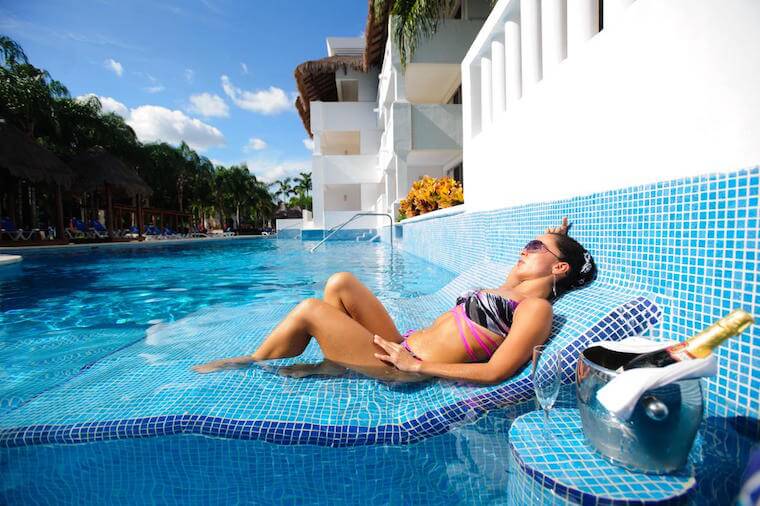 If there's anything you think should be there, and it's not, give me a heads up. Leave your suggestions in the comments section.
To make it easier for you, here are some posts to get you started with some inspiration for your big day.
Make a start with these posts and if you have any questions, just pop them in the comments section. I'll get back to you ASAP.
Most importantly, have FUN with finding your perfect destination wedding.
12. Get Married in Paradise
Want to take the first step to your dream wedding in paradise?
Find a coordinator who has all the expert knowledge you need at PlayaDelCarmen.Com.
Speak to our experienced team of wedding planners FREE.
We are an international team so you can almost guarantee to talk with someone who speaks your language.
As a local business, we live and work in Cancun and the Riviera Maya priding ourselves on providing you with an honest and unbias opinion.
Because ultimately, it doesn't matter which hotel you book with use, we want you to have the best time possible making memories that last a lifetime.
Call us toll-free 888-537-9797.
Or
Contact us via email at weddings@playadelcarmen.com
My Honest Review of Grand Riviera Princess Weddings
Hotel Overview

Wedding Packages

Wedding Locations/Venues

Food & Drink

Activities

Location

Rooms

Pools

Spa

Gym

Beach
Summary
An attractive layout of lagoon-style pools, charming gardens, and a gorgeous beach create the perfect setting for a Grand Riviera Princess wedding. For me, the lack of other wedding venue options is made up for in the Mexican-inspired decor that is incorporated throughout the resort. This place has stayed true to its roots, which we love!  If you've got your heart set on a beachfront gazebo and need a great resort with affordable prices and luxury amenities, this is it!
---
Trending Now