10 Sublime Swim-Up Suites For A More Private Pool Experience
---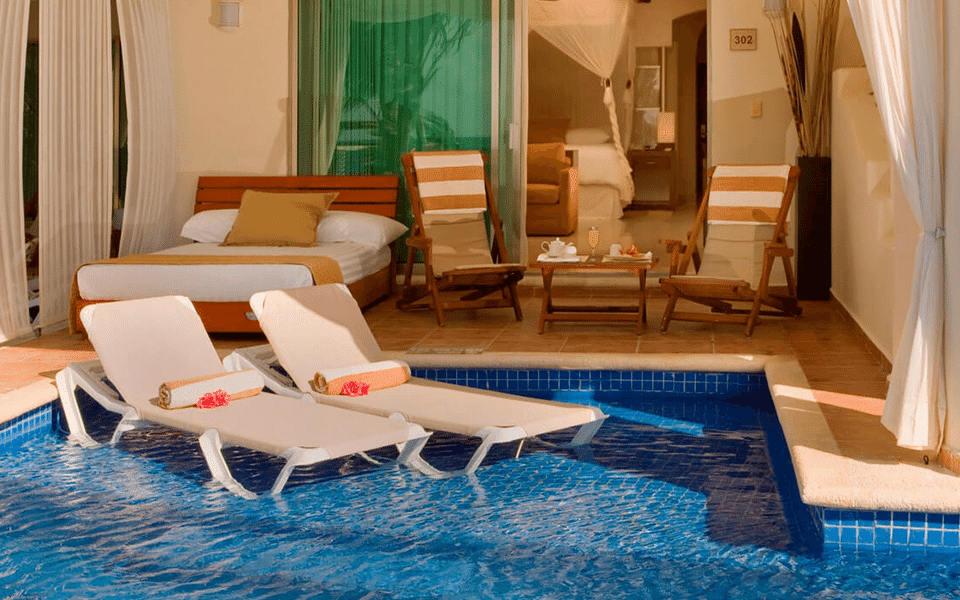 If your idea of happiness if lazing away the day in a hotel pool, you can't do much better than staying in a swim-up suite.
It's the epitome of luxury and relaxation.
Picture this….
You've had a long day in the sun enjoying one of the many spectacular tours the Riviera Maya has to offer. You return to your hotel, grab a bite to eat, and head back to your hotel room.
What's the perfect way to invigorate your soul again?
By dipping yourself into the cool and sublime water right outside your back door, of course.
Swim-up suites are the latest craze in this part of paradise, and frankly, we can't get enough of them. There's something pretty cool about being able to swim up to your room.
Not only do they feel exclusive they are the perfect refreshing necessity while on a tropical vacation.
Below I've listed my top 10 favorite hotels in the Riviera Maya that feature stunning swim-up suites. Enjoy!
1. Paradisus
The Paradisus in Playa del Carmen is a luxury playground that caters to both adults and children. As the name suggests, this place is paradise and was designed with the everyone in mind.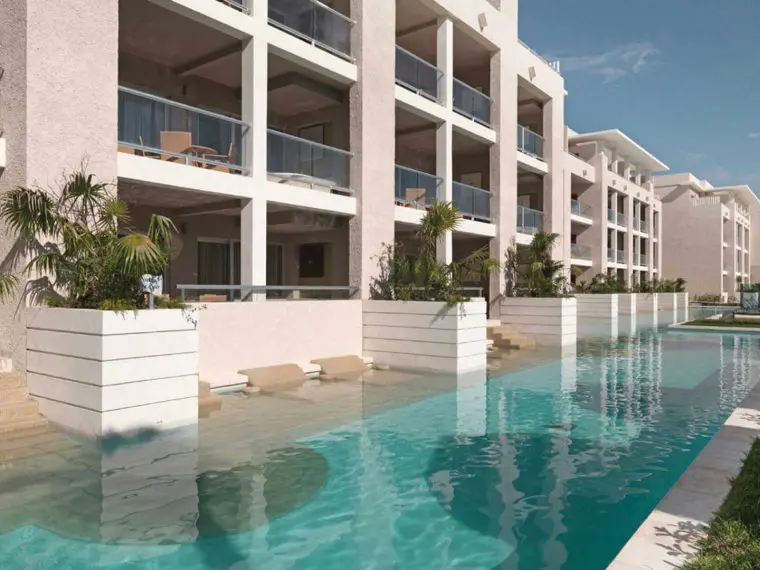 Whether you want a family-friendly hotel or an intimate adults-only getaway, look no further.
Undoubtedly, one of the most popular hotels in the area, this resort has something for everyone.
Although the swim-up suits aren't technically exclusive there is something completely magical about being able to swim on back to your room. They look particularly stunning when they are lit up at night.
The Paradisus is made up of two hotels.
The adults-only section which is called La Perla
and
The family-friendly section La Esmeralda.
2. Grand Riviera Princess
The swim-up suites at the Grand Riviera Princess are not exclusive but offer direct access to the pool.
I mean, come on, who wants to walk anywhere in the tropics?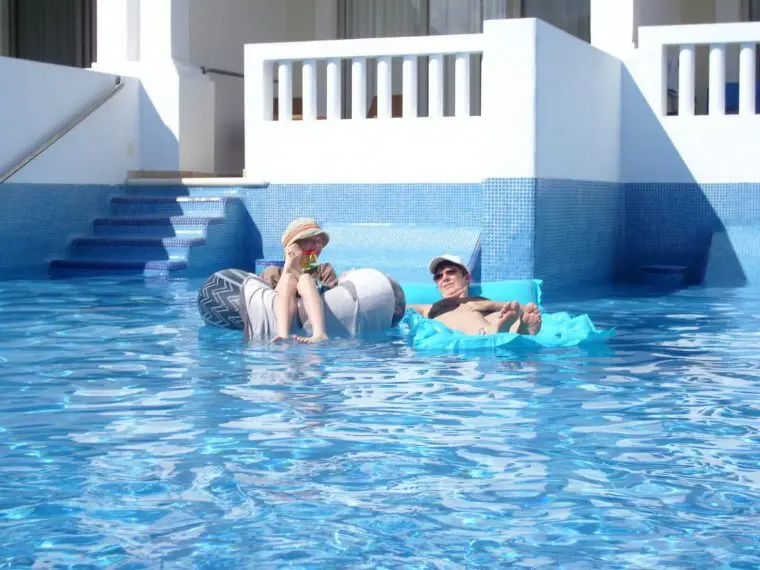 On this grand complex, you can swim your way around the hotel if you wanted too.
The pool is long and windy, better yet why don't you pack a fun and inexpensive Lilo and float your way around the resort.
Does it get any more relaxing than that? I don't think so.
If you want to reach the peak of relaxation we suggest making your way over to the swim-up bar and enjoy your favorite drink while basking in the glorious Caribbean sun.
 3. Platinum Yucatan Princess
The Platinum Yucatan Princess All Suites & Spa Resort Adults Only is a 5-star all-inclusive hotel in the Riviera Maya,  overlooking the crystal-clear waters of the Caribbean.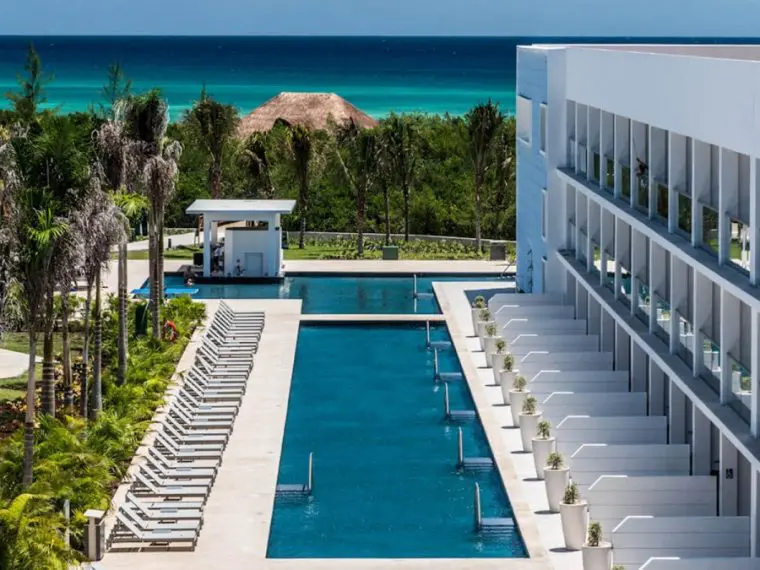 In total, there are 472 rooms, superbly designed for the ultimate comfort and relaxation experience. Although the swim-up suits don't technically provide direct access they are just footsteps away from your room and have a gorgeous feeling of exclusivity to them.
This ultra chic hotel is perfect for a romantic getaway.
4.  Secret Akumal
Located on one of the most beautiful beaches in the area it doesn't get any more lavish than Secrets Akumal.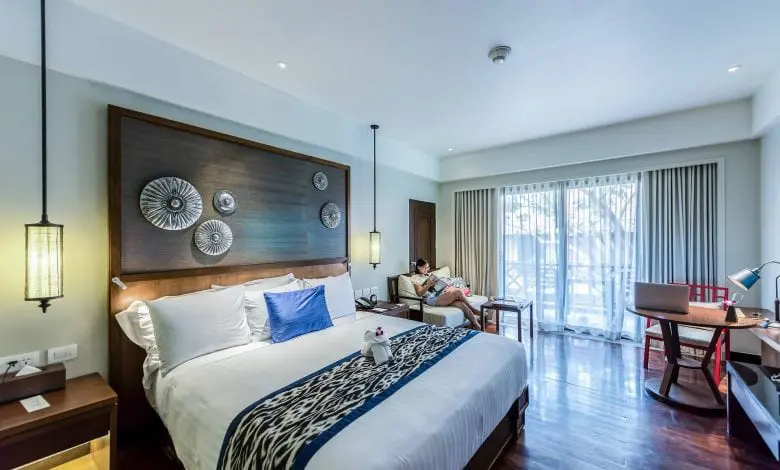 Each of the 434 guest suites comes with a furnished balcony or terrace, one king bed or two double beds, and a double Jacuzzi. In addition, you have a mini-bar, 24-hour room service, an iPod docking station and free wireless Internet through the hotel's unlimited connectivity program.
The swim-up terraces provide direct access to the pool where you can enjoy a casual swim, or just tip your feet in to cool off when the sun gets a little too hot.
5. The Royalton Riviera Cancun.
The Royalton has an adults-only boutique section and a family-friendly area with unique activities for kids – this luxury hotel is sure to impress all guests of all ages.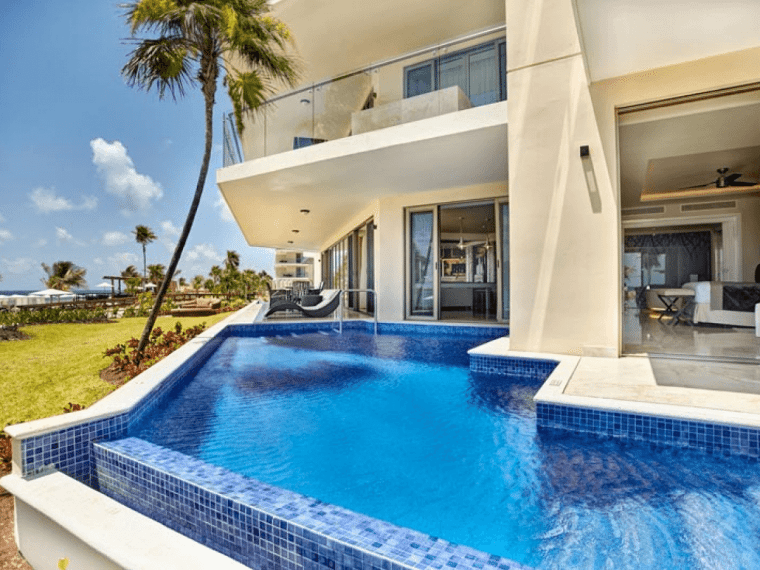 This hotel boasts an extremely desirable location. If you are hoping to stay here then you have chosen wisely because it is close to everything and you will be able to experience the very best of the Riviera Maya as well as Cancun.
The swim-up suites at this hotel are amazing. I couldn't think of a better way to relax on vacation than cooling off in here.
6. El Dorado Royal
Gourmet cuisine, a lavish spa, and lush accommodations set the stage for a first-class vacation at El Dorado Royal.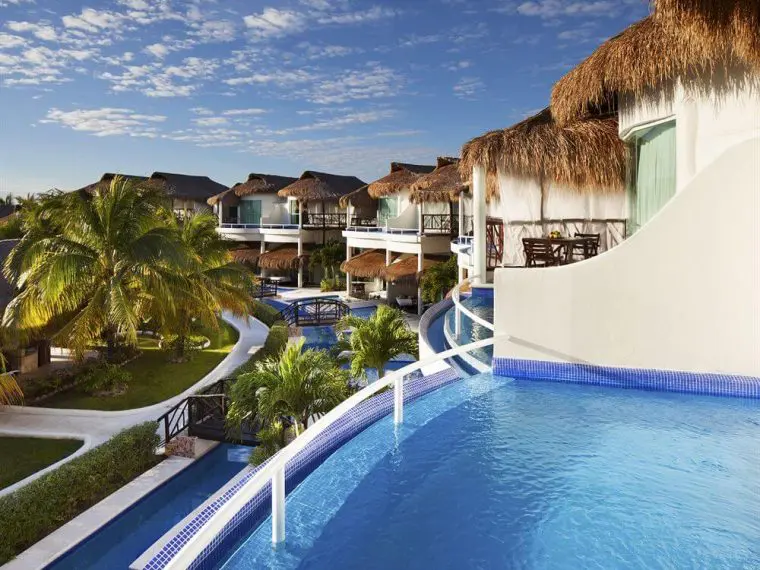 There is a range of swim-up suits at this luxurious hotel.
Downstairs the swim-ups have jetties that allow you to swim up to the main pool.
Upstairs many of the room features unique terraces with a small and exclusive pool. Perfect for couples.
El Dorado was voted as one of the 100 best hotels in the world by Conde Nast Traveler and recognized as an AAA Four Diamond Resort.
7. Dreams Tulum
Dreams Tulum is one of my favorite hotels in the area.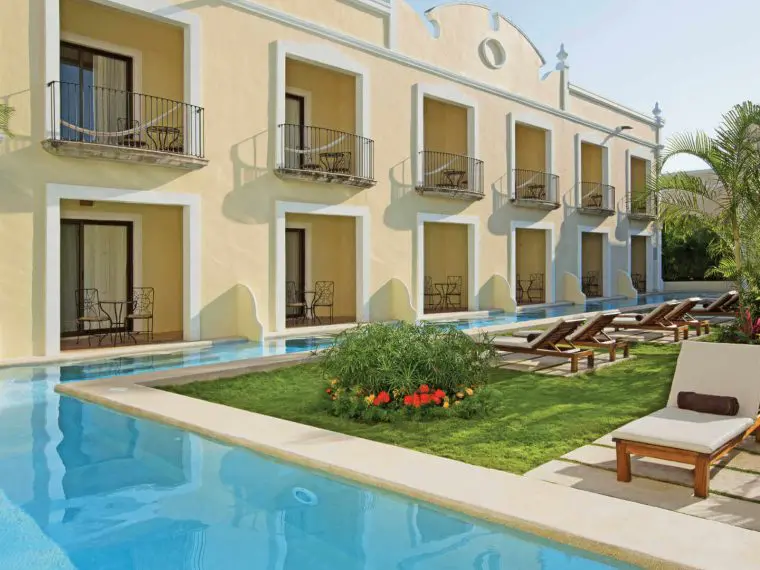 Not only do you have your own private terrace you have a swim-up pool right on your doorstep with just the right amount of exclusivity.
The hotel itself strives to maintain a modern but tropical feel. The beach in this area in sublime with white sand and crystal clear waters, 50 shades of blue.
If you are thinking about staying here I would highly recommend taking a visit to their amazing jungle spa. You won't regret it.
8. Azul Beach
The whole family will be entertained, indulged and pampered at Azul Beach, a family-friendly boutique resort.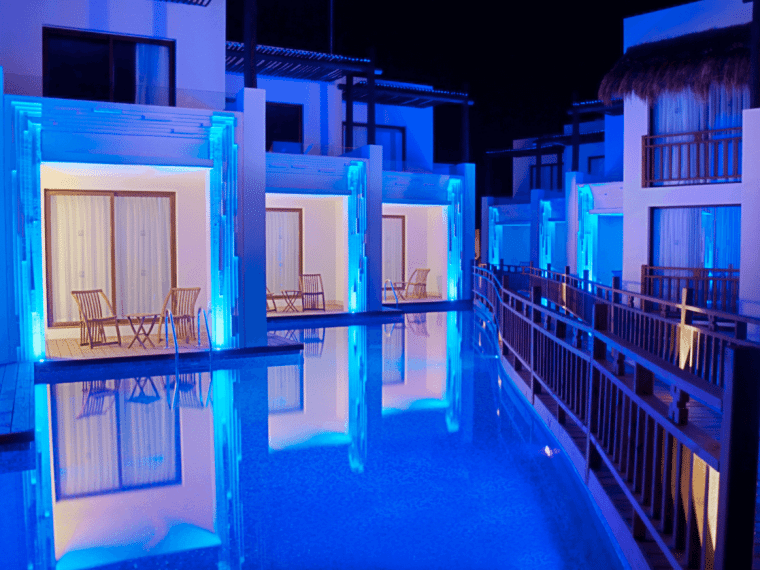 Can you imagine coming back to your room after a delicious dinner and sitting on the terrace to enjoy a drink with your loved one?
Just think how magical that would be.
The swim-up suites at Azul Beach hotel particularly look stunning at night when they are all lit up like this. There is nothing stopping you from taking a late-night swim either.
Foodies will love this hotel as they boast impressive restaurants with delicious menu options.
9. Secrets Maroma
There is no end in sight to the luxurious amenities and accommodations that Secrets Maroma Beach has to offer.
This hotel also offers a privileged position among the coastline, situated on a stretch of beach regularly voted as one of the world's best.
Picture yourself laying on that lounger dipping your feet into the water every so often to cool off. Secrets Maroma is the ultimate relaxation destination. At this gorgeous hotel, you're sure to rekindle the flame that brought you both together in the first place.
Ideally located just 30 minutes south of Cancun airport.
10. El Dorado Seaside Suites
El Dorado Seaside Suites are perfect if you want a room overlooking the almight blue ocean.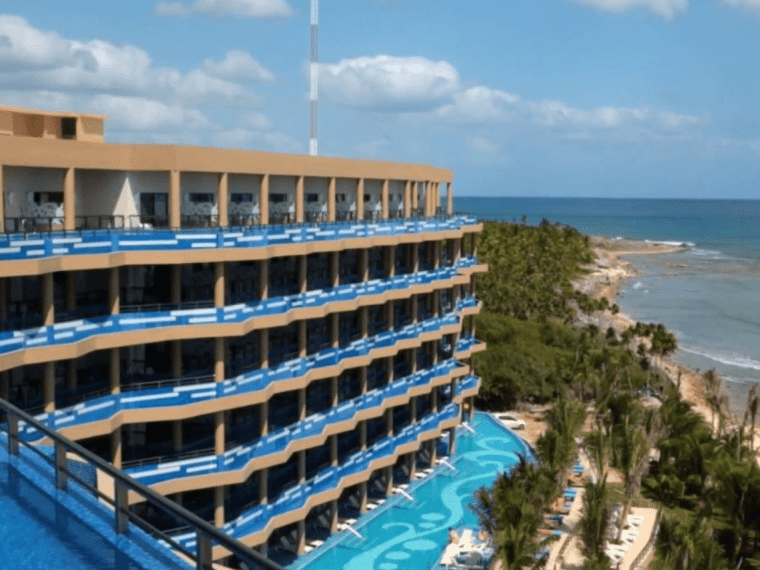 This adults-only boutique hotel offers the ultimate romantic getaway for couples, honeymooners and wedding parties.
The spectacular beaches of the Riviera Maya are the backdrop to enjoy the24-hour in-room dining, beach beds, indoor jacuzzis, and gourmet cuisine.
Located about 90 minutes south of the Cancun International Airport, the resort is about 20 minutes from the world-renowned ruins of Tulum.
Additional Resources You May Find Useful
Ready to Relax?
Don't just choose any hotel.
Get help organizing your romantic getaway.
Our team of expert vacation planners are based in the region and visit these hotels regularly.
You'll get the best deals and expert advice 😉
Call 888-537-9797
Or
Email us as at customercare@playadelcarmen.com
Don't forget to leave your thoughts in the comments section we would love to hear from you.
---
Trending Now