15 Most Fun Activities in Cancun | The Ultimate Checklist (2023)
---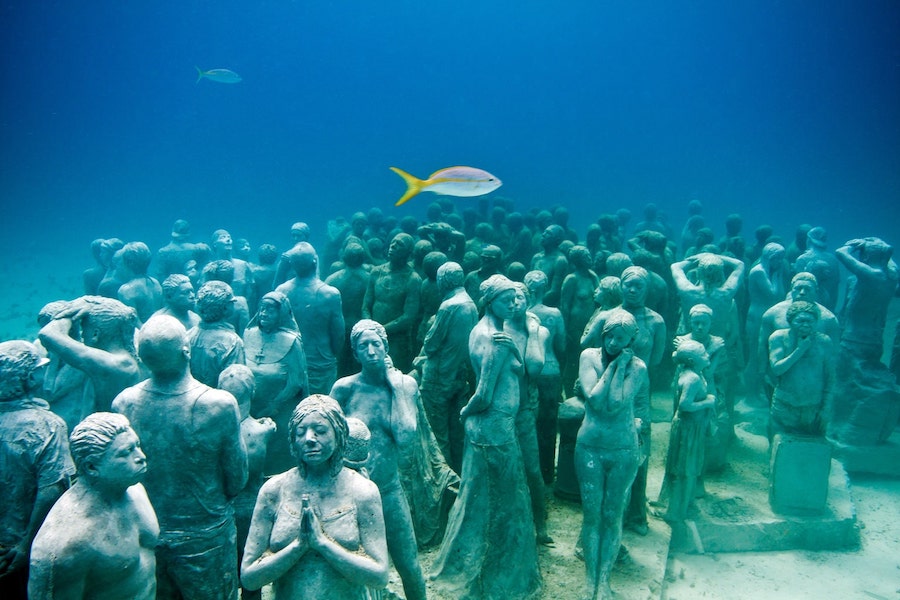 Heading off on vacation and want to know the most fun activities in Cancun?
I've got you covered.
The team at PlayaDelCarmen.Com is based just down the coast from the buzz of Cancun.
And we know exactly what this vacation hotspot has to offer.
I'm here to share our insights with you.
And show you the fun activities in Cancun that will add extra magic to your stay.
There's something for everyone, from shopping to scuba diving, and historic sites to kid-friendly adventures.
Ready to start exploring?
Let's go…
The Most Fun Activities for Your Vacation in Cancun
---
1. Experience the Hotel Zone Vibe
The Hotel Zone or "Zona Hotelera" has a vibrant buzz all of its own.
As the name suggests, the narrow 14 miles long island is home to an array of luxury hotels.
You also get amazing shopping, dining, and entertainment opportunities.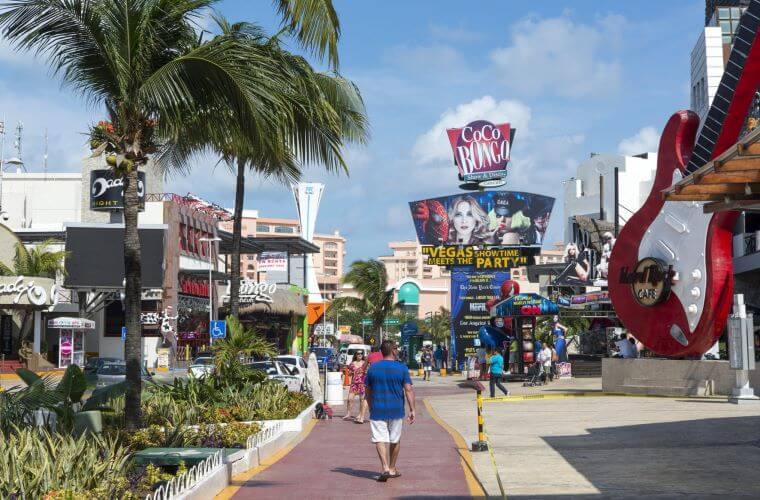 On one side of the Hotel Zone is Laguna Nichupté, a vast expanse of water.
To the other side of the stretch of restaurants, malls, watersports venues, and golf courses are some beautiful white-sand beaches.
It's the perfect place to spend time relaxing, partying, or enjoying some water-based adventures.
2. Take a Swim in a Cenote
Cenotes are natural sinkholes that occur when the limestone surface collapses.
When this happens, part of the underground river system in the area is unveiled.
There are thousands of these cenotes close to Cancun and they give you the perfect opportunity to swim, snorkel, or scuba dive.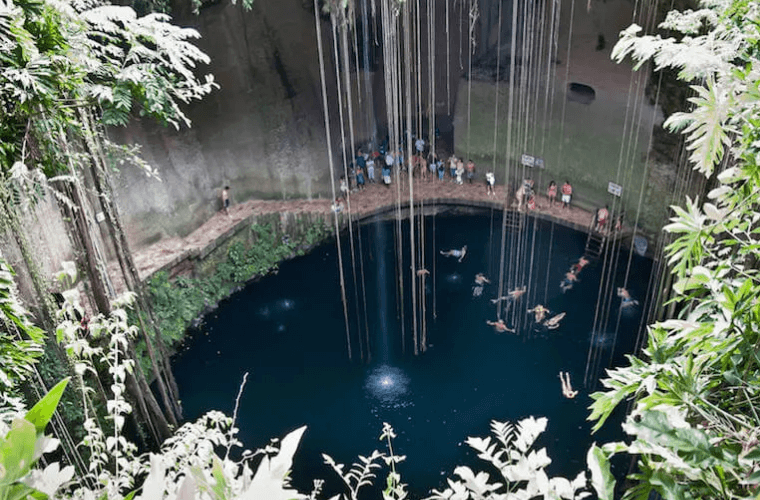 Members of our team have personal experience of how amazing a visit to a cenote can be.
So, we'd definitely recommend it as one of the most fun activities in Cancun.
Try an underground cenote tour for an adventure you'll never forget.
You visit an ancient underwater world and the sight of incredible rock formations is breathtaking.
3. Check Out the Underwater Museum
The Museo Subacuático de Arte (MUSA) is one of the coolest and quirkiest sights to see in Cancun.
It's also slightly creepy in a magical other-worldly way.
This underwater sculpture garden is spectacular.
You can combine scuba diving and snorkeling to get up close to the myriad of statues on display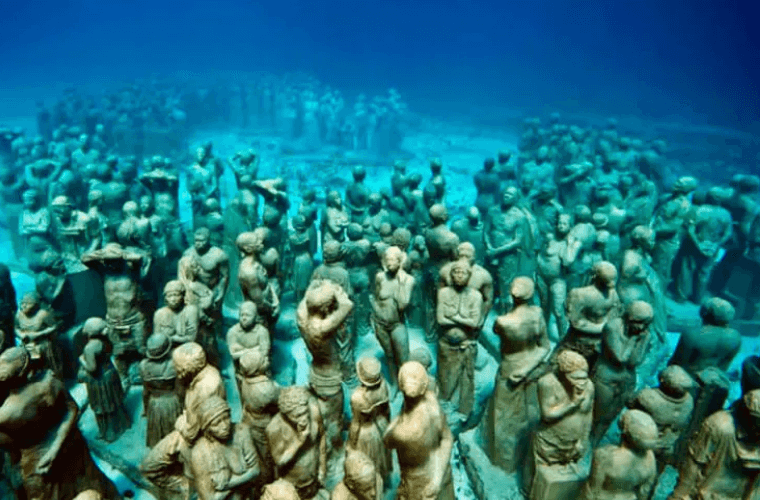 For more info about this fun activity in Cancun take a look at my blog post,
"Discover the Creepy Underwater World That Lurks Beneath the Waters of Isla Mujeres"
4. Embrace the Magic of Chichen Itza
Looking for fun Cancun activities that combine history and beauty.
I'd recommend a trip to Chichen Itza.
This UNESCO world heritage site is super impressive.
The site dates from the 5th century although many of the structures are from the 9th through 12th centuries.
There are several must-see features when you visit including El Caracol ancient observatory, El Castillo (the Temple of Kukulkan), and the Sacred Cenote.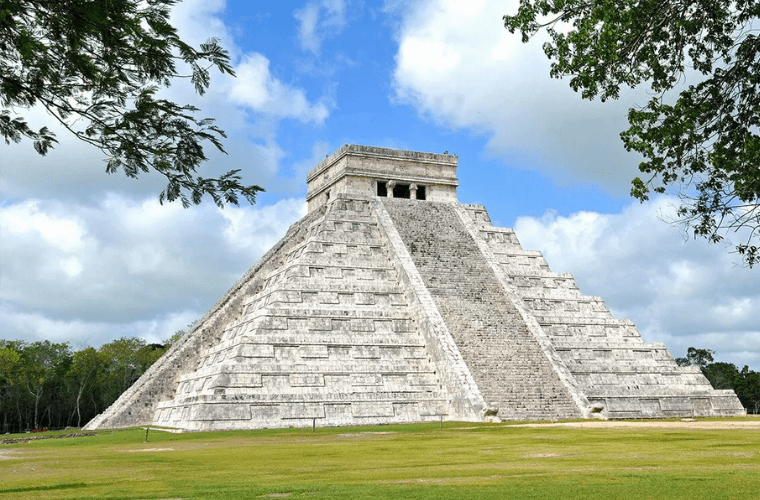 Chichen Itza is within easy reach of Cancun if you take an organized tour.
Take a Chichen Itza Tour and you get the help of an expert guide at the site.
Plus…
The trip includes a visit to a cenote where you can relax with a swim and combine two great activities in one trip.
5. Immerse Yourself in History at Cancun Mayan Museum
Looking for the most fun activities in Cancun for kids?
A visit to the Cancun Mayan Museum is a great choice.
It's a family-friendly venue that introduces you to the archeology of Quintana Roo and the history of the Mayan civilization.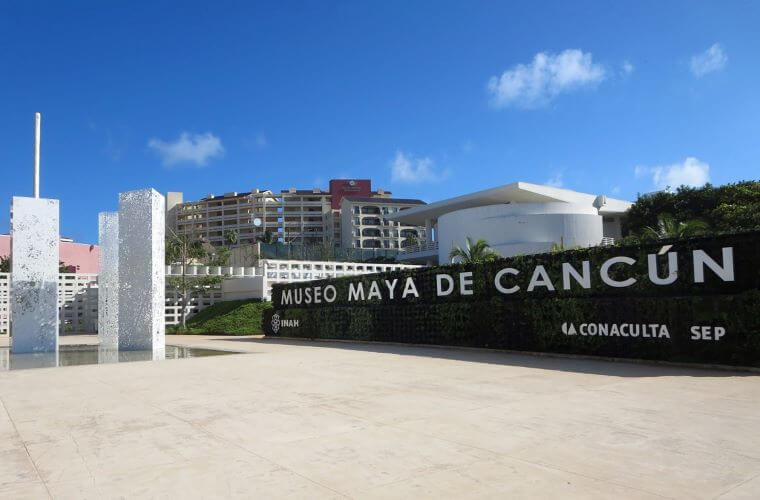 There's also a store and cafeteria at the museum.
So, you can spend several hours of fun here.
6. Shop for Souvenirs at Mercado 28
Want to take back some local souvenirs from your Cancun trip?
Mercado 28 is a fun place to buy them.
This flea market in downtown Cancun is a bright and bustling place that's full of activity.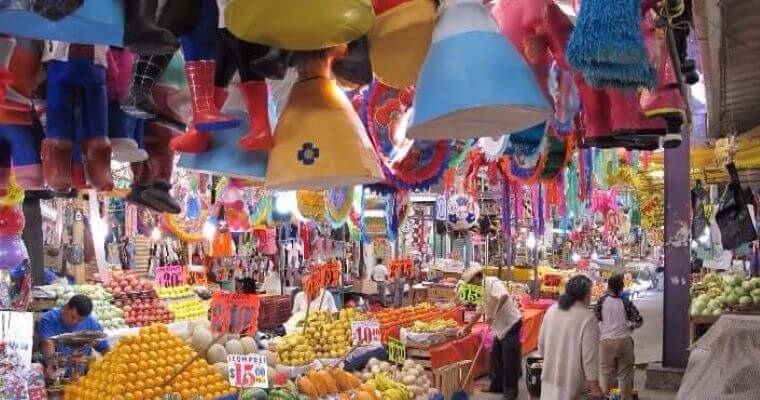 Spend time browsing more than 600 vendors and restaurants and find everything from leather goods to handcrafted gifts and tourist souvenirs.
Heads up…
The vendors can be pushy so be prepared to haggle your way to a good deal.
7. Watch the Sun Rise at the Beach
No trip to Cancun is complete without spending some time on one of the stunning local beaches.
Why not head to the largest of these beaches, Playa Delfines, to watch the sunrise on a new day of vacation adventures?
This is a public beach where there are plenty of umbrellas to rent and thatched palapas to give you some shade once the sun becomes stronger.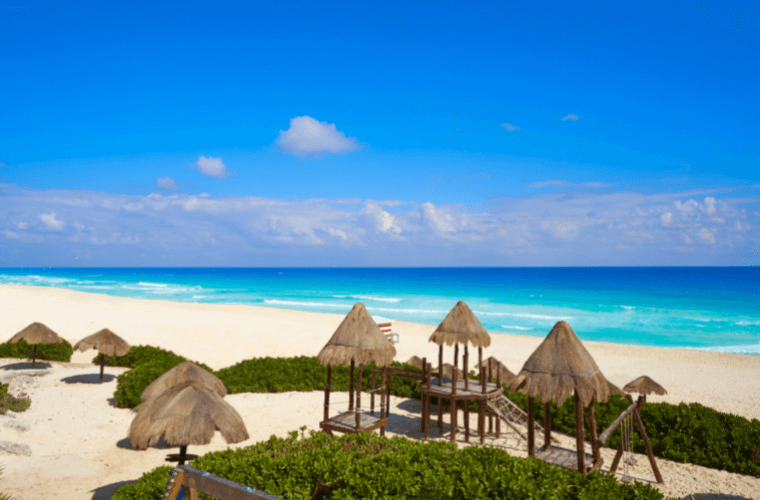 For smaller waves where swimming for all the family is possible, try Playa Tortugas.
Quick tip…
This beach does get pretty crowded at popular times.
The two other beaches in Cancun are Chac Mool Beach, that's good for water sports, and Playa Forum, that's situated behind the nightclub Coco Bongo and has a vibrant atmosphere.
8. Party at Coco Bongo
Talking of Coco Bongo…
This party place is the next on my list of fun activities in Cancun.
Everything from the huge video screen to the latest audio and video entertainment is designed to make sure you have a fabulous time.
This is one of the most unforgettable party venues I've ever visited.
DJs live bands, flying acrobats, soap bubbles, balloons…
You get the picture.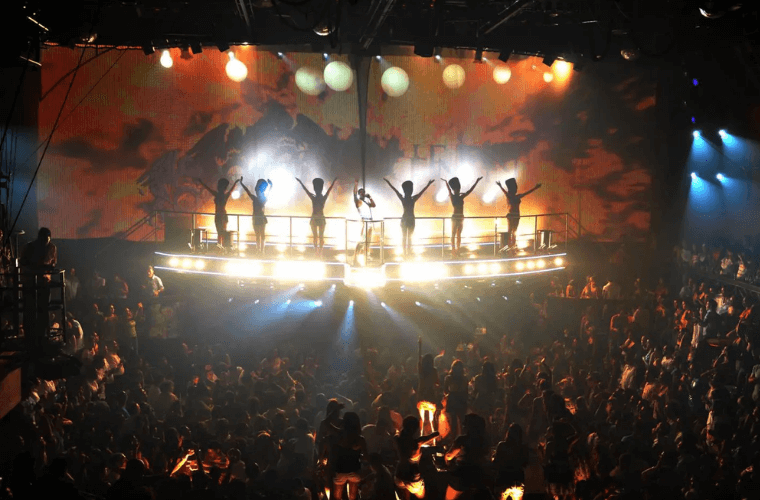 For more insight into the Coco Bongo experience, read my blog post.
"5 Things You Need to Know About the Coco Bongo Show (2023)"
9. Raise Your Adrenaline Levels with Jungle Adventures
If your idea of fun is sky-high adrenaline levels, I'd highly recommend you head to the jungle when you visit Cancun.
You can drive off-track in a buggy.
It's such a fun experience, the perfect combo of excitement and sampling the local culture.
We'll book a Jungle Buggy Adventure for you, and we'll make sure you get the best deal possible.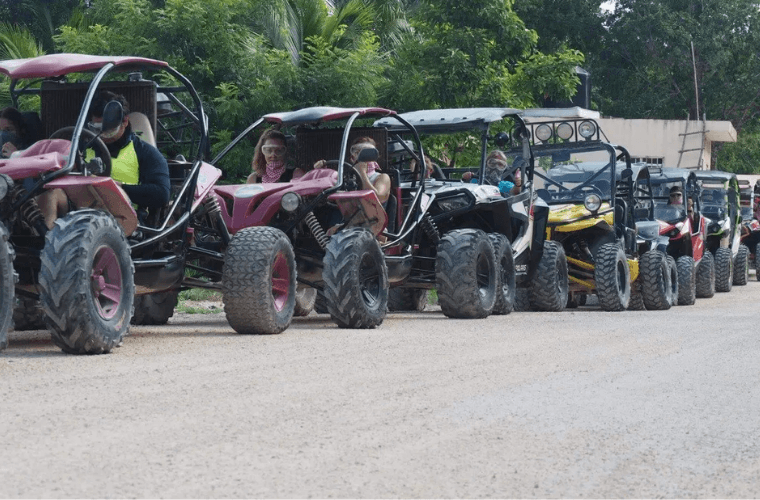 Driving a buggy isn't the only way to get your adrenaline pumping during your Cancun vacation.
You can also try zip lining at one of the adventure parks like Selvatica and Xplor.
10. Have a Scuba Diving Adventure
If you love watersports, Cancun is paradise.
There are many different water sports activities in the area.
Scuba diving is one of my favorites.
You can take lessons or develop skills you already have.
And, there's so much natural beauty to see.
The city is situated close to the Mesoamerican Barrier Reef, the second largest reef on the planet.
It's home to dolphins, tropical fish, lobsters, eels, and eagle rays.
Seeing all of these species in their natural environment is just magical.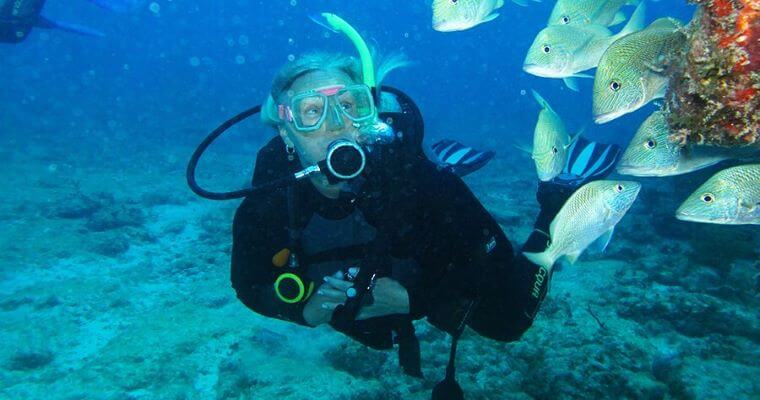 Other sites that are popular with new and experienced scuba divers in the area include local cenotes, Isla Mujeres, and MUSA.
11. Go Sailing
Who wouldn't love the opportunity to explore the Caribbean Sea on a yacht or catamaran?
It's such a relaxing, fun, and magical experience.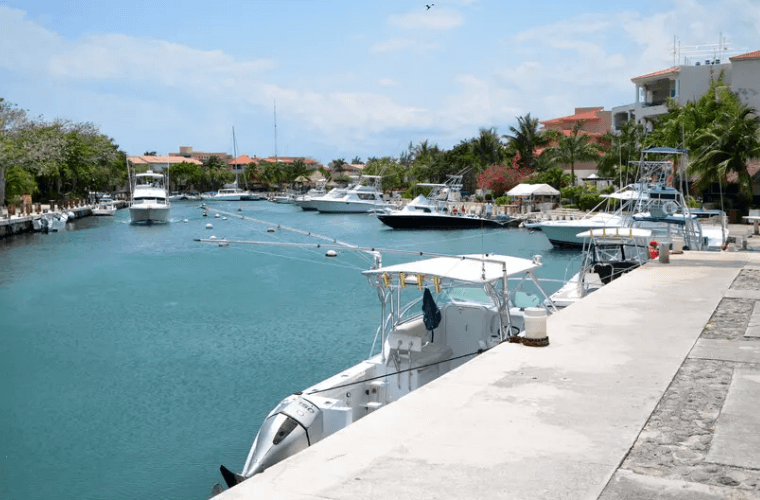 For a sailing adventure with added sparkle check out this Catamaya Catamaran tour.
This is a four-hour tour aboard a luxury catamaran.
Aside from sailing aboard this impressive craft, the tour also involves snorkelling the reef and enjoying a steak or grilled marinated fish fillet.
12. Get to Know the Whale Sharks
Endangered whale sharks are huge and exquisite creatures.
They're the largest fish in the world.
And, you can get close to them by booking a diving trip.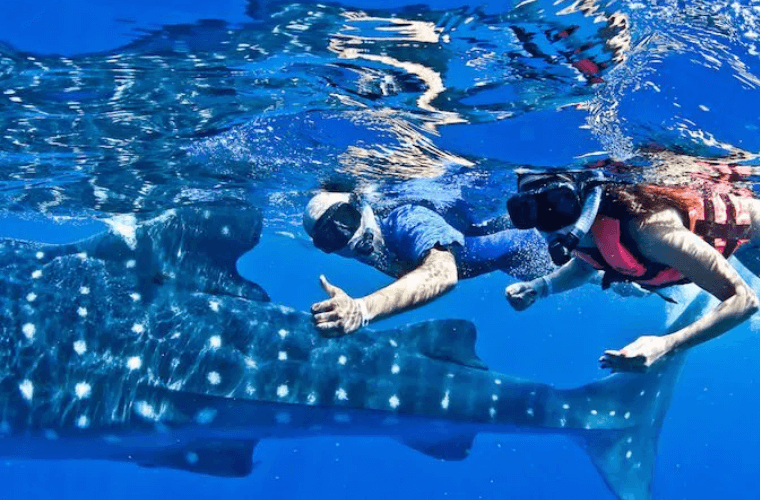 This is one of those activities that many people only get to do once in a lifetime.
So, you should definitely put it on your Mexico bucket list.
We'll arrange for you to swim with whale sharks.
Quick tip…
Whale shark season is from June to September so you need to visit at this time of year if you want to participate in this activity.
13. See the Beauty of Isla Mujeres
Looking for a laid-back escape from the bustle of Cancun?
Isla Mujeres is it.
The island is a major destination for travellers but it retains its relaxed vibe.
You have the chance to spend time on the main beach, Playa Norte.
It's a beautiful space with stunning Caribbean views.
Isla Mujeres isn't just about chilling on the beach either.
There's an array of eateries and vendors on Hidalgo Street.
Plus…
You can visit Ixchel's Temple ruins or opt for something more adventurous like ziplining or kayaking.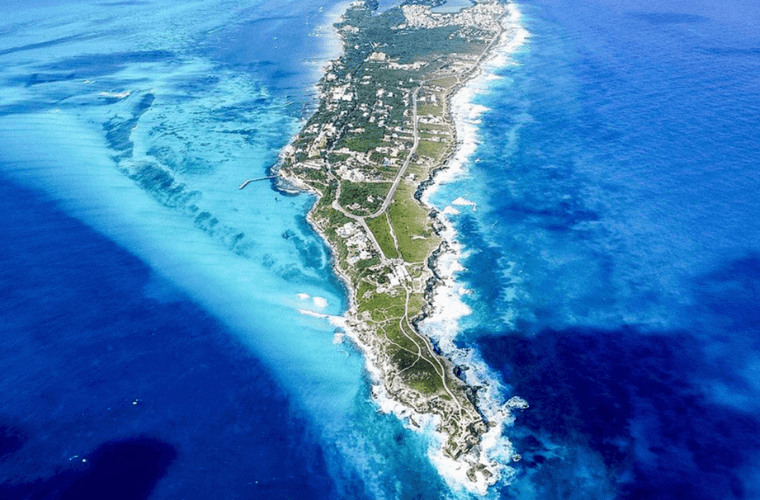 For an extended fun day of activities, book a Paradise Islands Tour.
This tour combines a visit to Isla Mujeres with time spent on Isla Contoy.
I've already introduced you to the attractions of Isla Mujeres and Isla Contoy is just as special.
The trip includes an ecological tour of the island where you can see hundreds of species of birds as well as other wildlife.
You also have the opportunity to snorkel the reef as part of the trip.
14. Pay a Thrilling Visit to Xavage Park
For me, an amazing vacation has to include some high-energy and high-adrenaline activities.
So, Xavage thrill park is one of my favorite places in Cancun.
There's a challenging Ropes Course and great kayaking opportunities.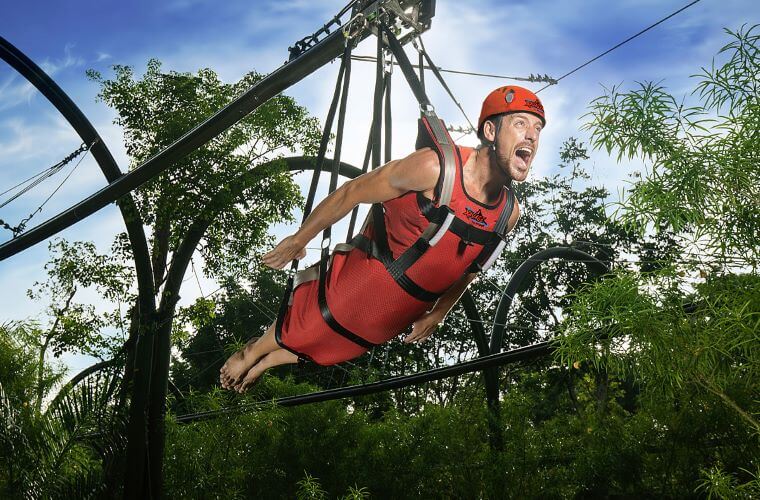 Plus…
You can spend time ziplining, rafting, and jet boating.
What's not to love ❤?
15. Embrace Your Inner Pirate on the Captain Hook Adventure
Ready to embrace the pirate inside you?
The Captain Hook Adventure gives you the chance to do just that.
From the minute you step aboard El Bucanero or El Galleon the excitement is all around you.
There are swashbuckling games, pirate antics, and a ship-to-ship battle to enjoy.
Plus…
You get to dine on steak, lobster, or chicken.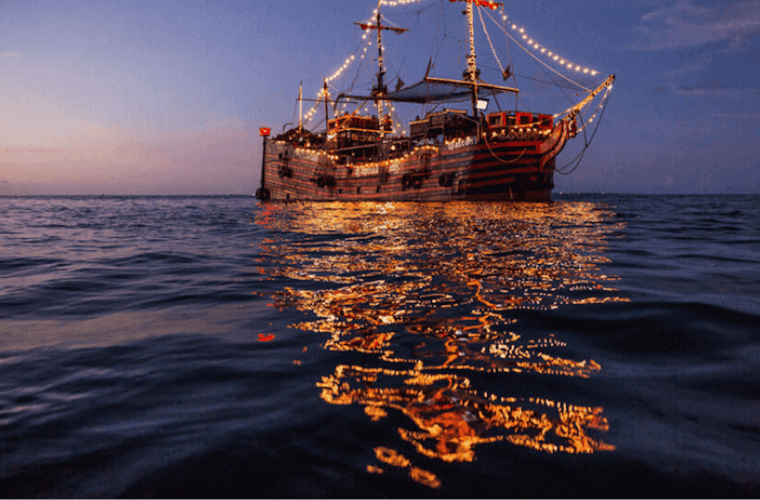 There's so much to enjoy on this adventure, and it's one of the fun activities in Cancun that's ideal for all the family.
We'll book the Captain Hook Adventure for you and make sure you get the best bang for your buck with great discounts.
Ready to Book Fun Activities in Cancun?
Love the sound of the fun Cancun activities on our list?
That's brilliant news.
We'll book tours and activities for you, and we'll get you some great discounts that are often as much as 15-20%.
Want some more inspiration or have any questions?
No problem.
Our friendly and expert team is happy to recommend the best activities for you and your family.
Call us at 888-537-9797 to book fun tours in Cancun or talk about tours that would be good for you.
Other Blog Posts You May Like
---
Trending Now