Learn to Cook Mexican Food at the El Pueblito Cooking School Mayakoba
---
"If you really want to make a friend, go to someone's house and eat with him… the people who give you their food give you their heart." – Cesar Chavez
Fewer things in life are more sacred to me than a good meal.
The colors, aromas, preparation, presentation, and then that first bite…
I recently had the fortune to learn how to prepare two different regional dishes and a sauce at El Pueblito Cooking School at Mayakoba in Playa del Carmen.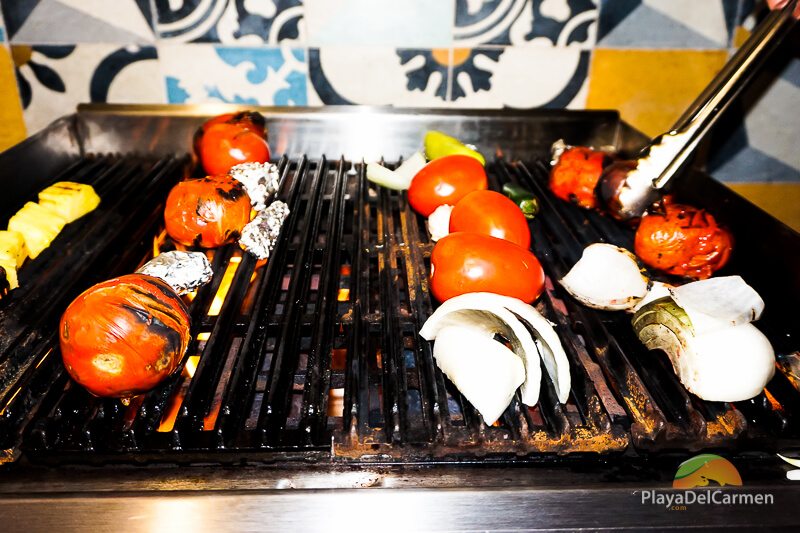 Under the direction of Chef Karla Enciso, the school allows guests of the Mayakoba eco-resort properties as well as visitors and locals to learn how to cook up some authentic Mexican goodness.
Great God oh mighty, I'm in love.
Here's why.
I Love to Eat
Food. Food. Food.
It seems that's all I ever talk about.
And I don't just eat food; I can even cook it too.
In fact, an Argentinean poet once endowed me with the title of the Che Guevara of the kitchen.
But with all the recipes I've learned to prepare from around the world, and in spite of having lived in Mexico for many years now, there's one cuisine I have yet to tackle: Mexican food.
Mea culpa.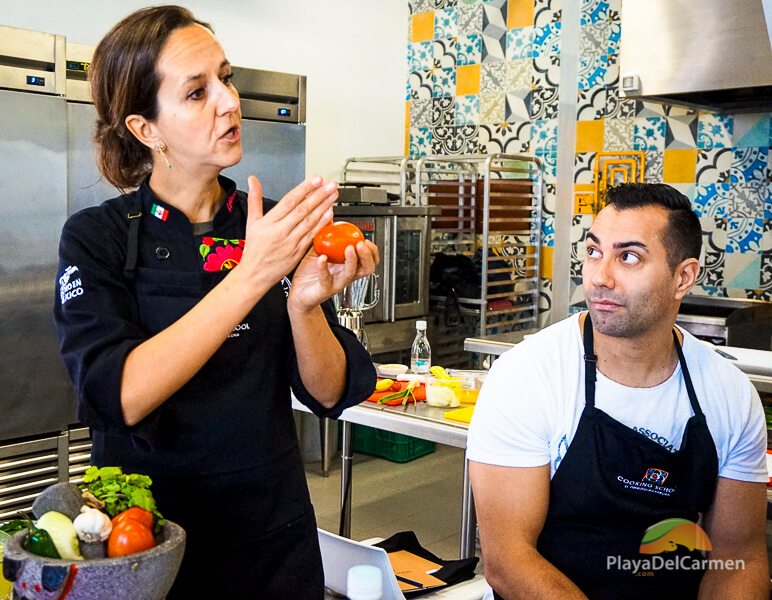 That's why I felt so lucky when I got invited by Chef Karla Enciso to attend one of her classes at El Pueblito Cooking School.
Chef Karla not only opened her kitchen and her heart, she also taught us how to prepare two regional dishes: Tikin-Xic (pronounced Tea-keen-CHEEK) and Brazo de Reina (Brah-ZO de Ray-NAH) as well as a traditional molcajete sauce (Molka-hey-tey).
Wonderful company, great food, and an experience definitely worth repeating.
Here are some brief descriptions of what we learned.
For Starters: Brazo de Reina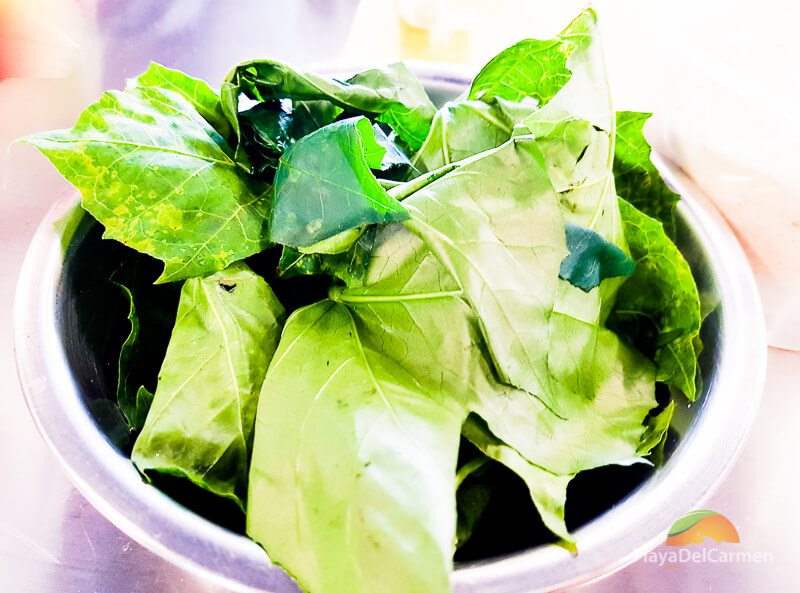 The closest way to describe a brazo de reina is as a tamal (singular of tamales).
Like most of the dishes you will eat in Mexico, the brazo de reina is a regional fare particular to the Yucatan Peninsula.
While the recipe is fairly easy to follow, that should not be confused with a simple taste.
The flavors combine perfectly to offer up a hearty meal with a big taste.
The first step is to prepare the nixtamalized corn dough.
While the dough is sitting, you can begin to prepare the rest of the ingredients.
To begin, take a handful of chaya leaves and place them in boiling water for two to three minutes. Remove and drain. Chop finely and set aside.
Boil several eggs then remove the shell and slice them.
Once both the dough and the chopped chaya are ready, knead together until the leaves are well integrated. Add a dash of water if the dough is overly dry.
Now, flatten lemon-sized balls of dough like a tortilla and place a generous portion of ground pumpkin seeds topped with slices of egg in the center.
Finally, fold in the edges to close the tamal in a rectangular shape and wrap in banana leaves.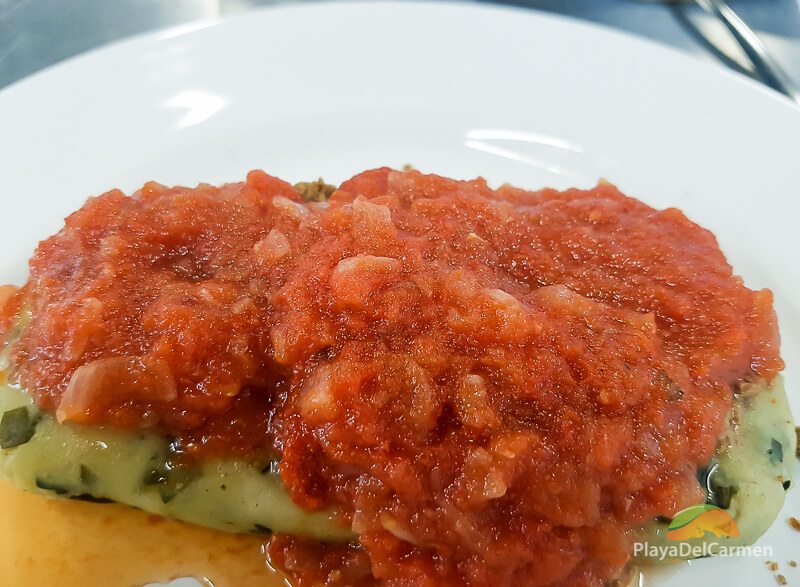 Place in a steam and cook for 1 to 1.5 hours.
In the meantime, prepare a red sauce to cover the tamales by sauteéing diced onions until golden brown then covering with pureed tomatoes, salt, and onion. Add one whole, uncut habanero pepper (as a whole it will just add some flavor, not make it spicy) and let simmer on low heat for 30 to 40 minutes.
Once everything has been cooked, remove the tamales from the banana leaves and place individually on a plate. Cover in the red sauce and serve.
Next Up: Molcajete Sauce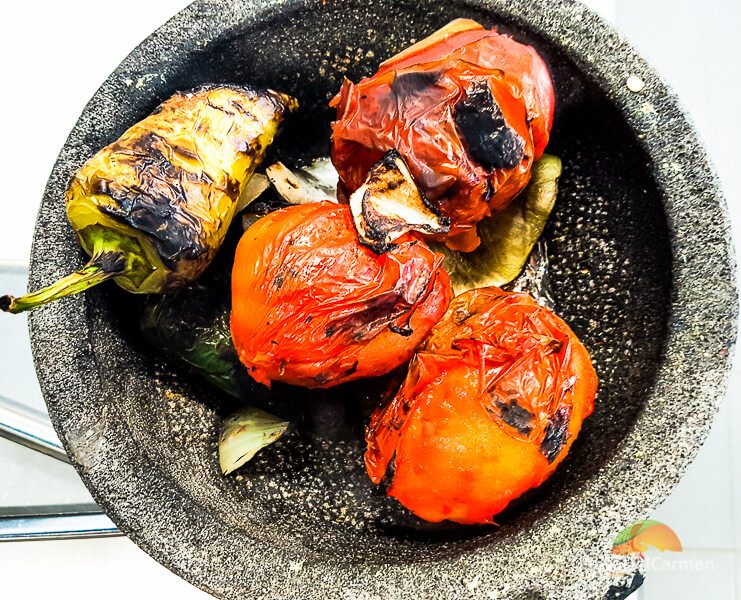 What this sauce lacks in degree of difficulty it makes up for with its outstanding flavor.
Want to impress friends and family with the best dipping sauce to go with that bag of tortilla chips?
Read on.
To make this sauce you're going to need a stone molcajete, which is basically the Mexican version of a mortar and pestle.
You can find these at most large Mexican stores in your hometown. If not, you now have yet another excuse to plan that Playa del Carmen vacation.
Once you have your molcajete, take three to four tomatoes, a quartered onion, four to five garlic cloves, one or two chili peppers (choose the peppers based on your level of spiciness) and grill them until almost blackened.
In the event you don't have access to a grill, baste them in olive oil and roast them in the oven.
Then, cut everything into manageable pieces and place in the molcajete (remember to remove the seeds from the chili peppers if you don't want it too spicy).
Start off by grinding together sea salt and the chili peppers until perfectly blended, then add in all other ingredients and continue mixing until reaching the desired consistency.
Set aside.
The Main Dish: Tikin-Xic Fish
Although I always struggle to define a favorite regional dish, Tikin-Xic is always up there.
Meaning dry fish in Mayan, this delicious dish is all about the marinade.
The traditional recipe calls for a whole marinated fish split in the middle and covered in onion rings.
The fish is then cooked over a charcoal grill.
It's delicious.
But one of the things that eating such an amazing experience is due in large part to the creativity of each chef.
In this case, Chef Karla presented a creole version of Tikin-Xic that can easily be made at home.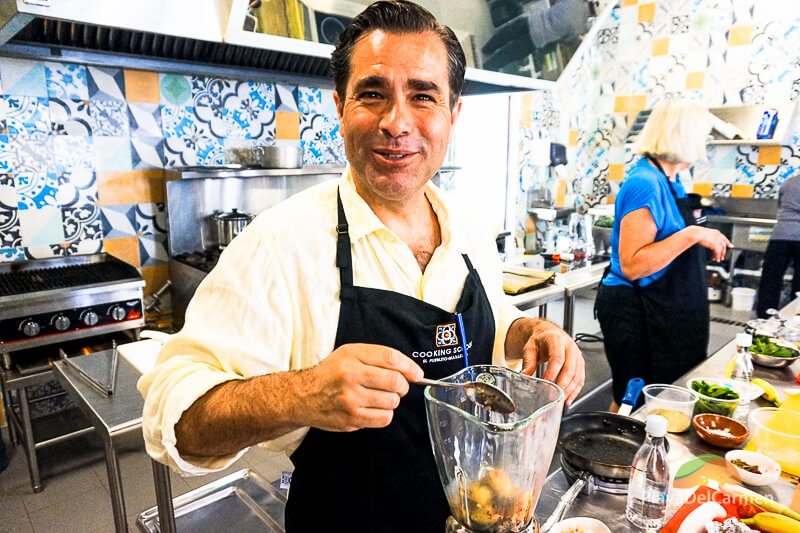 Rather than a whole fish, we used generous fillets of grouper fish.
The first step in preparation is making the marinade.
Sautée diced onions, oregano, salt, and allspice until the onion is golden brown. Add cubes of pineapple and continue sautéeing until the pineapple also takes on a gold brown color.
Set aside and let cool.
Now, place all the ingredients in a blender and add bitter orange juice, white vinegar, achiote paste, cloves, garlic, and recaudo blanco (a vegetable stock typical to the Yucatan Peninsula) and mix them together.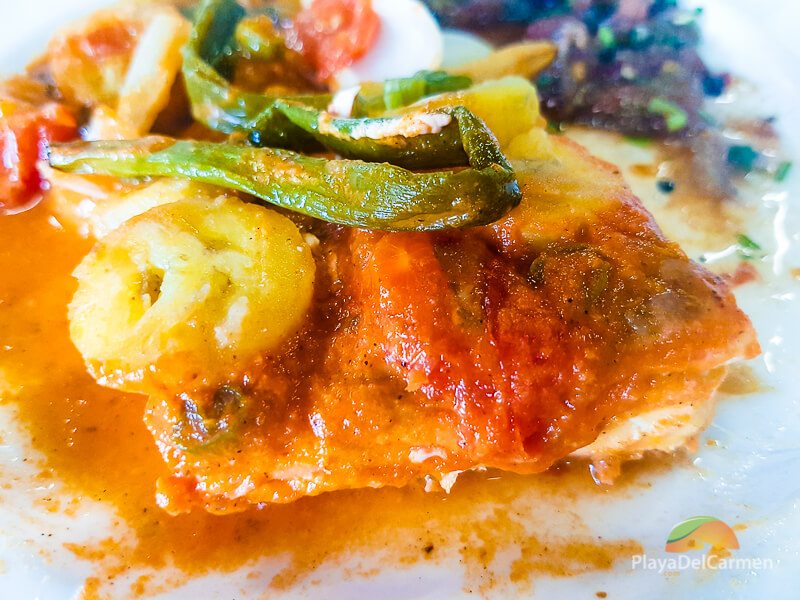 Place the fish fillet in banana leaves, cover with the marinade sauce and cover with slices of Cambray onions, cherry tomatoes, and slices of dominico bananas.
Wrap the banana leaves, cover in aluminum foil, and refrigerate for at least five hours.
Finally, pre-heat the oven to 300° C before cooking the fish for five to ten minutes.
El Pueblito Cooking School
El Pueblito Cooking School offers a great opportunity for visitors and locals like me to learn how to make authentic Mexican food.
Personally, it took away some of my hesitation.
I know how complex Mexican cuisine can be (and my ignorance thereof).
Even as a hobby cook whose not afraid to get in the kitchen and put something together, Mexican food intimidates me.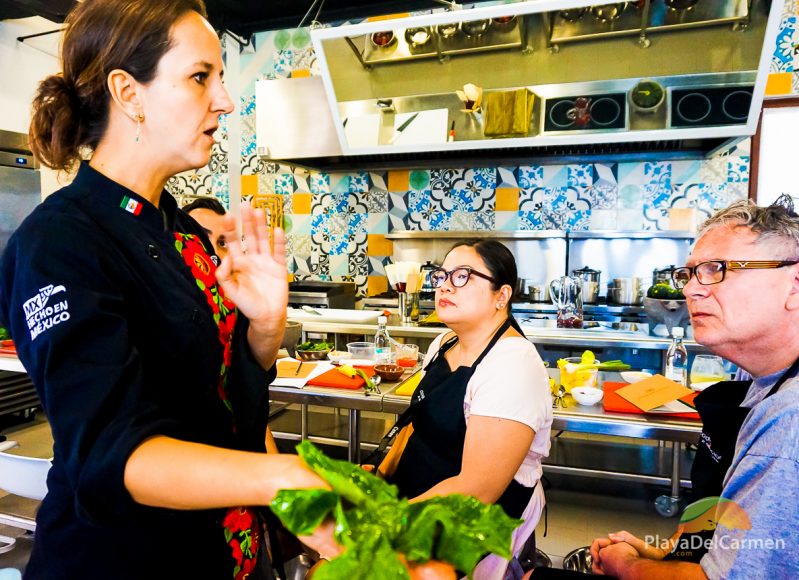 Chef Karla taught me how to make two of my favorite regional dishes, and gave me the confidence to know that I can do so.
She is patient, knowledgeable, friendly, and above all passionate about her profession.
There are 12 spaces available for each class, and this time we had a full house.
With different recipes and so many things to prepare, it did feel chaotic at times, but like any great chef, Karla kept things under control and remained calm at all times.
Another plus was the presence of Tequila Patron, who set up a cocktail stand right outside the kitchen and ensured a steady supply of delicious tequila-induced cocktails.
Cooking School Prices & Schedule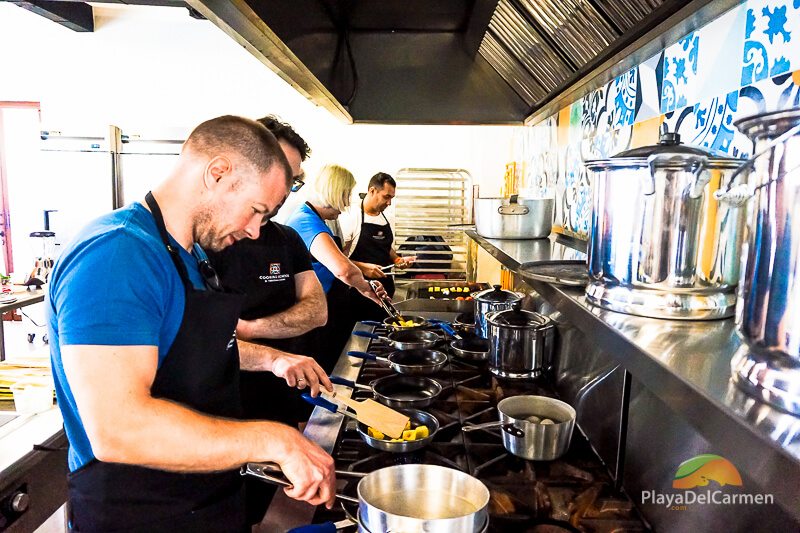 Classes are held daily from Tuesday through Saturday from 11:00 a.m. until 2:00 p.m.
The cost is $35 USD per person, and locals with an official ID receive a 20% discount.
The price includes all utensils, materials, food and of course the delicious cocktails prepared for you by the sponsors, Tequila Patron.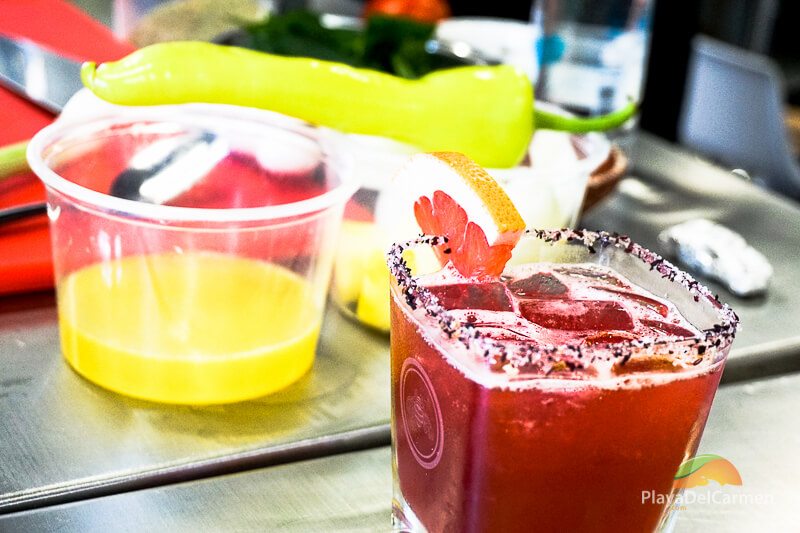 Consult the El Pueblito Cooking School website for a full list of upcoming classes.
Reservations can be made by sending a message via Facebook.
Ready to begin your culinary exploration of Mexico?
Our travel specialists can cook you up the best vacation deals around!
Call them today toll-free at 888-537-9797!
---
Trending Now
You may also like