My Honest Review of Grand Palladium Weddings Riviera Maya
---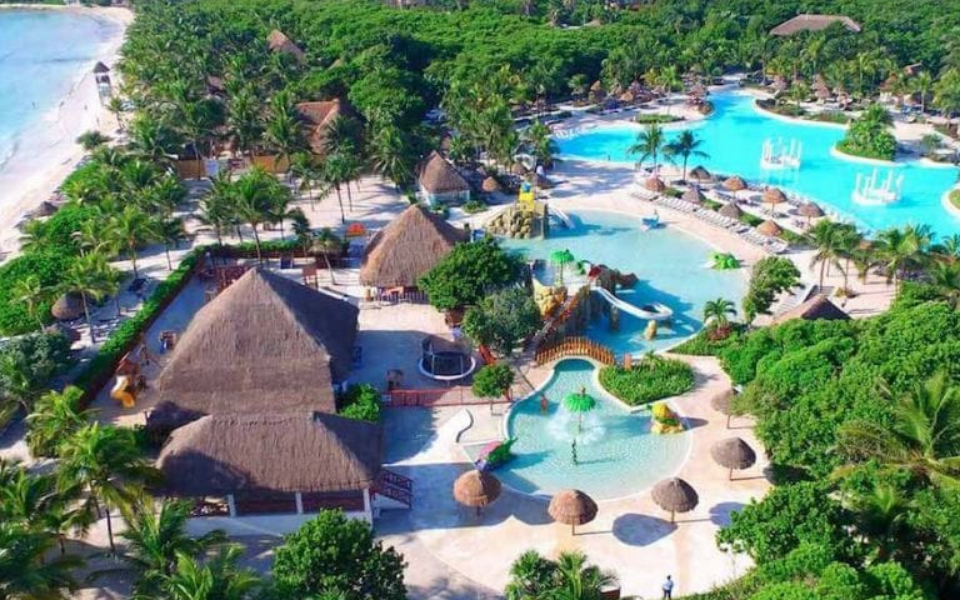 Introducing…an honest review of Grand Palladium Colonial Weddings in the Riviera Maya.
Are you planning a destination wedding in Mexico and wondering exactly what you can expect from the hotels?
You're in luck!
As the official site for PlayaDelCarmen.com our dedicated wedding team has helped plan 100s of spectacular weddings in the region and know the resorts better than anyone.
Read what the couples who came before you have to say about us here.
My job? To review the resorts, wedding packages, and level of service as if I were the bride myself!
Let's get started…
Grand Palladium Colonial Wedding Review (Riviera Maya)
---
1. Hotel Overview
Okay, so let's just get one thing straight before we begin…
You may have heard of Grand Palladium before?
They are a celebrated brand that has 5* resorts in some of the world's most idyllic places including Spain, Mexico, the Dominican Republic, Jamaica, and Brazil.
There's actually two Grand Palladium's in this region, one in north Cancun, and one right here in the Riviera Maya. 
So, just to make sure you're in the right place…
I'll be talking specifically about the Grand Palladium Colonial  5* family-friendly resort & spa found in the heart of the Riviera Maya…
Located on a multi-complex a stay at this hotel means you're guaranteed lots of bang for your buck.
Why?  Because when you stay at one of the resorts on this site you get to play at the 3 others for free!
It's a large complex that's why we usually recommend it to couples with an active wedding group as it can involve a lot of walking.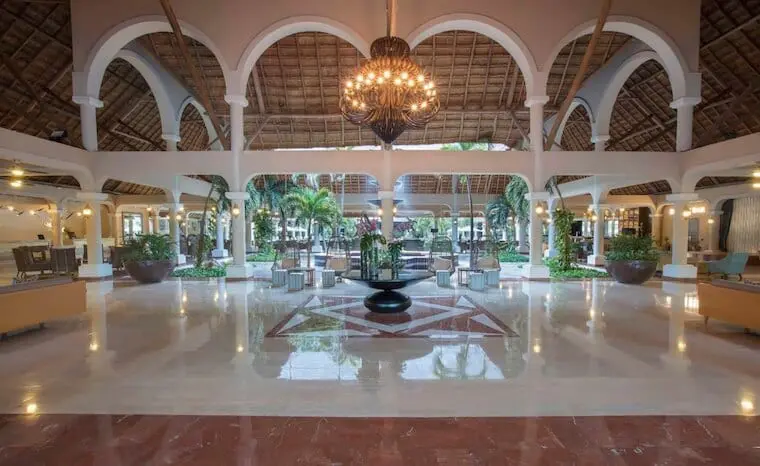 However, if some of your wedding guests struggle with mobility there is a shuttle service available to help them get around more easily.
There are also no elevators available at this resort, so keep first floor rooms in mind for guests that have a hard time taking the stairs.
For the fit and able there's certainly no shortage of pools, parties, and activities to keep everyone entertained.
The 413 rooms at this hotel include a private balcony or terrace that overlooks the ocean or the lush tropical garden views, a daily stocked minibar (don't mind if I do 😉 ), and a coffee/tea maker.
Couples can even take advantage of the Romance villa suites that have been specifically designed for intimacy and personalized service.
I mean…If you can't indulge on your wedding night, then when can you!?
Get a quote from our Wedding Coordinators and expert Travel Liaisons today.
Average Price Per Person, Per Night
$110 – $200 per person per night
$110 in the lowest season – Sept, Oct
Max room occupancy is 4
This is a medium-sized resort with 413 rooms
2. Wedding Package Options
***PLEASE NOTE PRICES ARE SUBJECT TO CHANGE***
Now, here's what you came for… 😉
The Grand Palladium have a wonderful range of packages to choose from that our wedding team would be happy to discuss with you in more detail to ensure you make the right choice for you.
For the purpose of this blog, I've hand-selected one of my favorites to show the kind of things you can expect.
What do I love about weddings at this hotel? Packages are affordable, and they don't compromise on quality.
Not only that but there is a wide range of optional additional-extras to give you the freedom to make your event your own!
Apparently word travels fast because between the months of April-July this place is usually sold out.
So, my advice to you, if you are interested in this hotel, would be to plan and book your wedding ahead of time.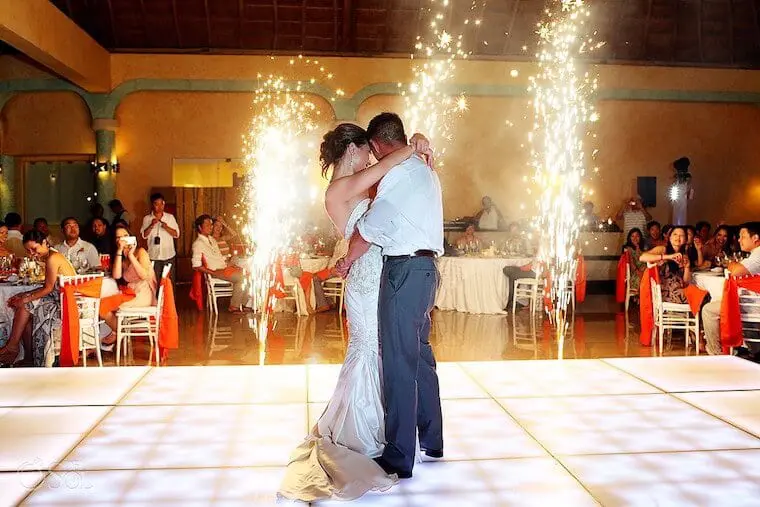 Our Wedding Coordinators at PlayaDelCarmen.com will be with you every step of the way to take the stress out of planning and to make this an enjoyable event for everyone.
How Much Do Wedding Packages Cost at The Grand Palladium Colonial?
Wedding Packages at this hotel start at around $2690. 
The 'Evermore' Package starts at $2690 and includes:
Wedding Amenities
Includes up to 25 people and every additional guest is charged at a rate of $20 USD
Ceremony Decors
Signing Table Accent
Personal Flowers for The Couple
White Folding Chairs
Chair Scarfs (in a color of your choice)
2 Tier Wedding Cake
To host the wedding the resort requires 80% of the guests to stay at the hotel.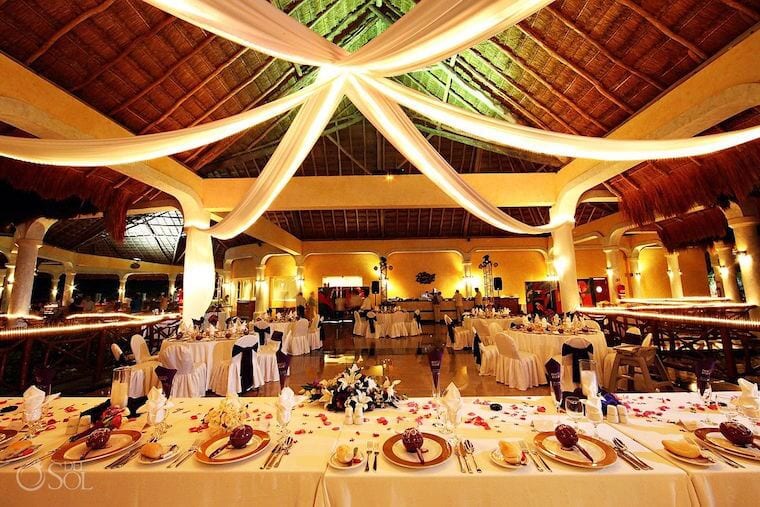 Additional Extras might include things like:
'The Night Before Experience' – $350USD
If you're like most couples, you might not want to stay with your spouse-to-be the night before the wedding (for good luck and all).
This Karen Bussen experience includes an extra room for the Groom to spend the night, and to get ready on the wedding day.
Includes Groom's Day Snacks and beer. For the Bride's Squad, Champagne, Wedding Day Snacks, and in-room amenities to pamper you, such as a garment rack for dresses and extra towels.
'Twilight Photoshoot' –  $550 USD
Get some additional unique wedding shots under the moonlight with your new husband/wife.
'Groom's Lounge'
  –
$ 230 USD
Raise your glasses and toast to your bride-to-be with your best mates during a guys-only party.
Includes tasty tapas, cigars, and drinks. (Service for 10 people, additional people can be added for $24 USD per person).
There's a long list of exciting extras to choose from.
When you reach out to us to inquire about having us help you plan your wedding we'll send over everything you need in visual pdf formats via email so you can get a complete rundown of exactly what is on offer with prices.
From there, you simply tell us how you envision your wedding and we make the magic happen!
We understand that getting your group aligned and in sync about how you want the day to unfold can be the biggest challenge.
Luckily for you, that's what we, at PlayaDelCarmen.Com, do best – we'll take care of everything from group room bookings, payments, transport, tours, and more.
3. Ceremony & Reception Venues
For your Grand Palladium Wedding there are 4 beautiful venues to choose from on-site.
Beach Gazebo – 100 guests max
 Beach Pergola – 100 guests max
Catholic Chapel – 80 guests max
Garden Gazebo – 80 guests max
Here are some visuals…
1. Beach Gazebo
The ocean, and lush jungle green all in one shot?
It doesn't get better than a beach Gazebo this size of paradise.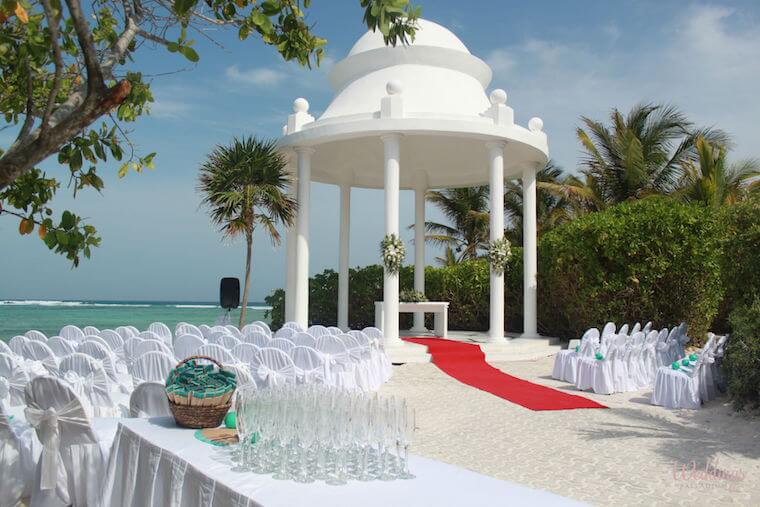 Perfect for large or small weddings this venue is extremely versatile.
Ideal for: ceremony, reception, cocktail hour
Maximum capacity: 100 people
Ground: solid concrete
Semi-Private 
2. Beach Pergola
"By the sea is where I pledge my life to thee"…just some vow inspiration for you there. 😉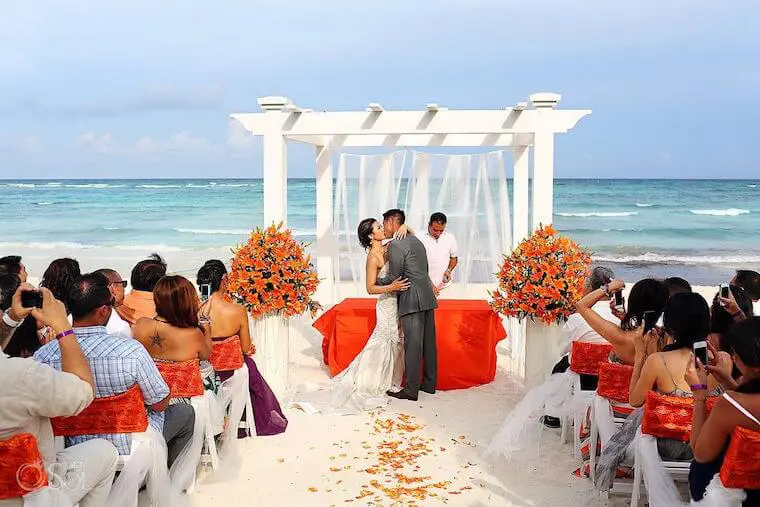 There is no better venue for ocean-minded couples. You're guaranteed a gentle breeze and a breathtaking backdrop for the photographs.
Ideal for: ceremony
Maximum capacity: 100 people
Ground: Sand
Not private 
3. Catholic Chapel
If you've got your heart set on a chapel wedding in paradise then I can hands down say this is my favorite chapel I've set thus far in the entire region…I mean, just look at it,  beautifully designed with cool interiors to accommodate up to 80 guests!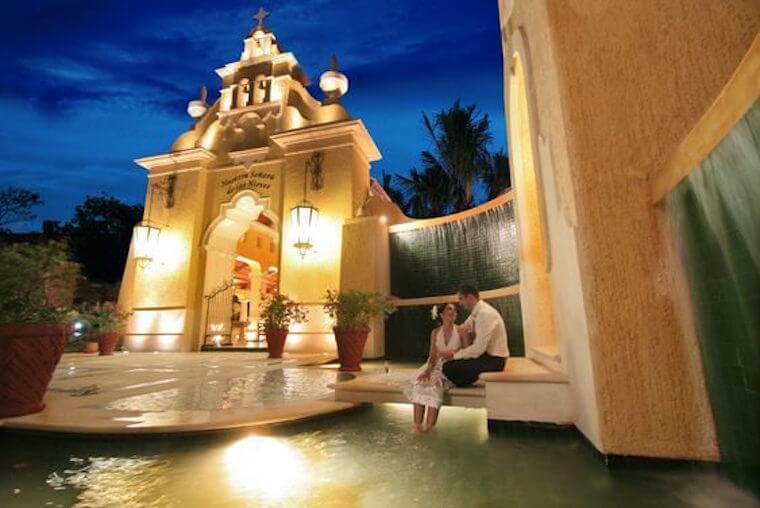 Take a peek inside too…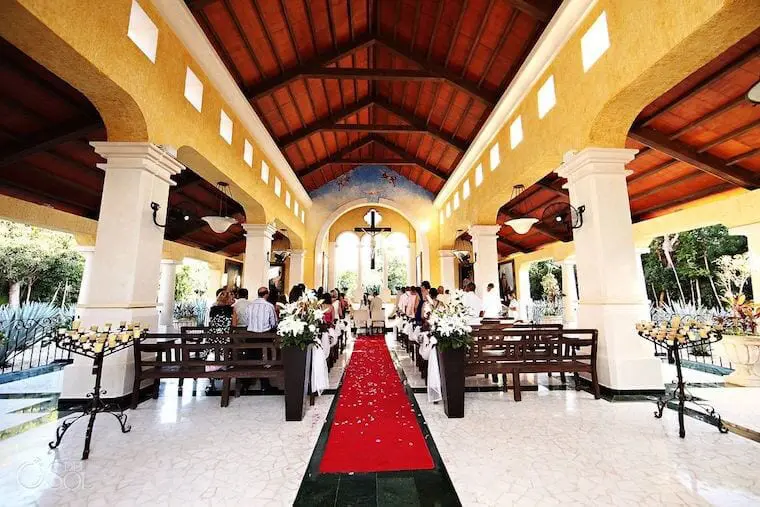 Ideal for: ceremony
Maximum capacity: 80 people
Ground: Solid tiles
Completely private
4. Garden Gazebo
Love the deep green hues of the Mexican Caribe? Weddings in the garden gazebo look absolutely stunning with bright pops of color for decoration.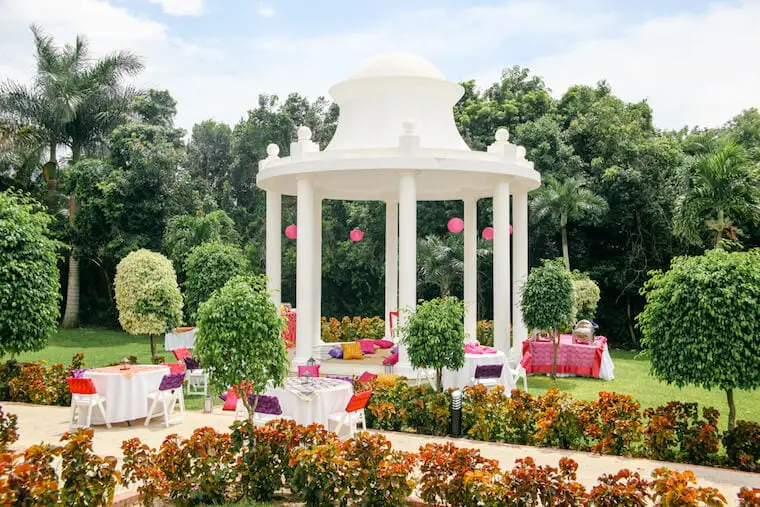 This semi-private location is the perfect place to have your ceremony.
Ideal for: ceremony, cocktail hour
Maximum capacity: 80 people
Ground: Solid tiles & Grass
Semi-Private
4. Gay Weddings At The Paradisus
The Grand Palladium Colonial would be proud to host your gay wedding.
Fun Fact: One of the wedding department at his hotel is gay and they decided to have their wedding here!
When people choose to get married here in Mexico, the most common option is to have a symbolic ceremony and legally do the paperwork back home.
However, a legal marriage can also be arranged here in Mexico if you wish with the added help of one of our expert coordinators.
It just involves a little extra paperwork and planning.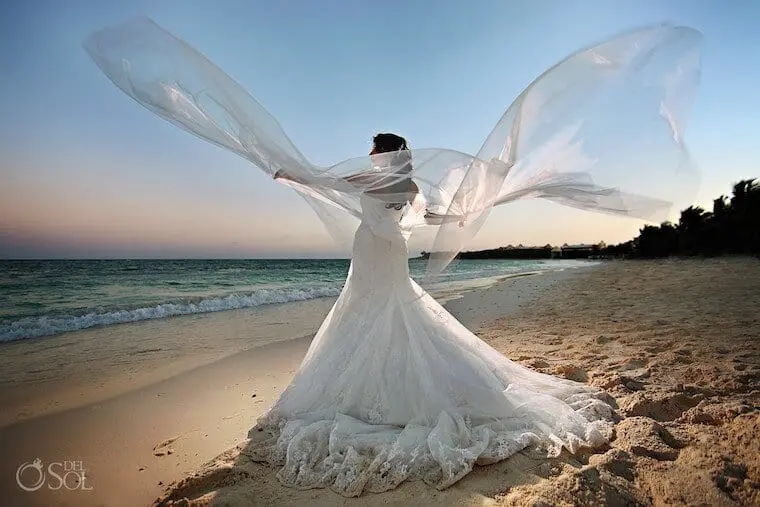 Something to be aware of: The marriage can be legalized here in Mexico but your state home may not class it as legal if they don't allow gay marriage yet.
Other articles you may find useful on this subject include: 
5. Rooms at The Grand Palladium Colonial
There are multiple room categories to choose from for your Grand Palladium Colonial Wedding Group:
Deluxe
Junior Suites
Romance Villa Suite
Connecting Suite
You're guaranteed to find something for all of your guests based on their budget.
The most popular option at this resort for families is the Junior Suites as they can accommodate up to 2 adults and 6 children thanks to the sofa beds!
For the bride and groom the romantic Romance Villa Suites' are the ideal accommodation for a relaxing vacation a few meters from the sea or the main pool.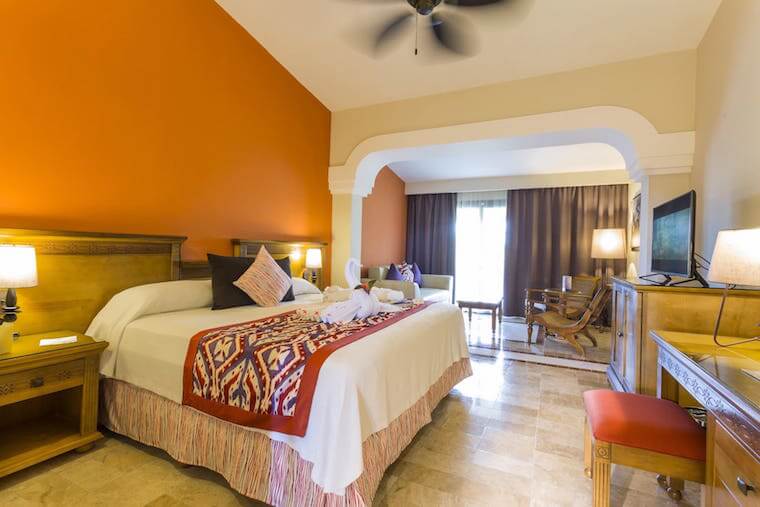 They have a comfortable terrace with hammock and our outdoor Mayan shower. Undoubtedly the best accommodation for enjoying yourself Palladium.
If you are a family of 5+ with mix of younger and older kids you'll be pleased to know there are connecting rooms available, because we all know how much teenagers love their own space.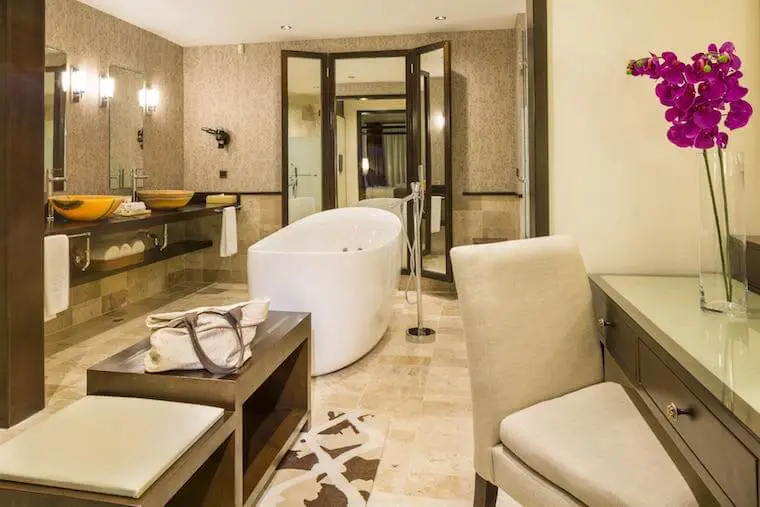 All of the suites have room service from 11 am – 11 pm every day, so if you too tired from a day of jam-packed fun you won't go hungry.
6. Beach
Overall this is one of the nicer beaches in the region. Xpu-Ha is loved for its untamed and natural landscape.
The TRS section of the beach is a little rocky so you may want to pack some water shoes, other than that,  it's mostly soft sand and absolutely beautiful.
It's everything you'd wish for on a vacation in the sun, there's no better place to top up your tan!
Beach butlers will also be on hand throughout the day to top up your drink and cater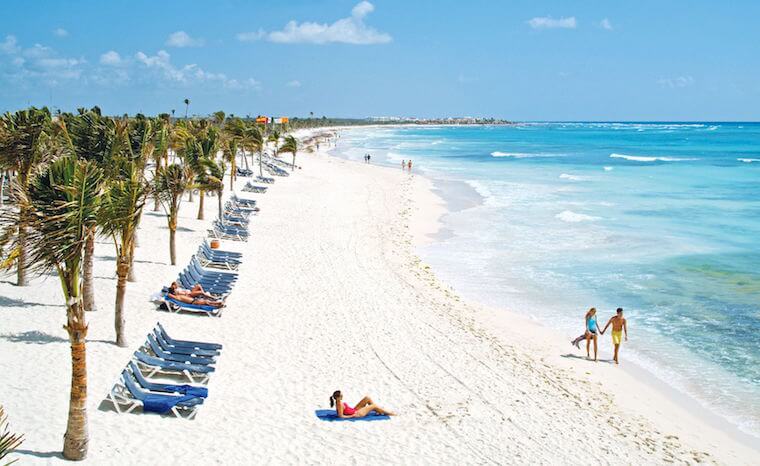 It's nice and large which is always a win in this region as many of the beaches have become quite narrow.
There's also a good number of loungers but you may struggle to find shade if you don't get there early.
7. Food & Drink
If it's gastronomy you love, the Grand Palladium Riviera Maya offers an endless array of options and menus.
During your stay, you can enjoy different show cooking restaurants for each meal (breakfast, lunch, and dinner) and for dinner, you can enjoy up to 9 different à la carte restaurants with a variety of cuisines that will take you from Italy, passing through Mexico, then to Brazil and finally finishing with the best Steak House of the United States.
There's a wide variety to satisfy every palate, impeccable service, and the best atmosphere that will make your stay a dream come true.
Grand Palladium Colonial Resort & Spa also offers gluten-free menus and a special program for people with allergies and intolerances. Information and hours subject to changes, please check with us first.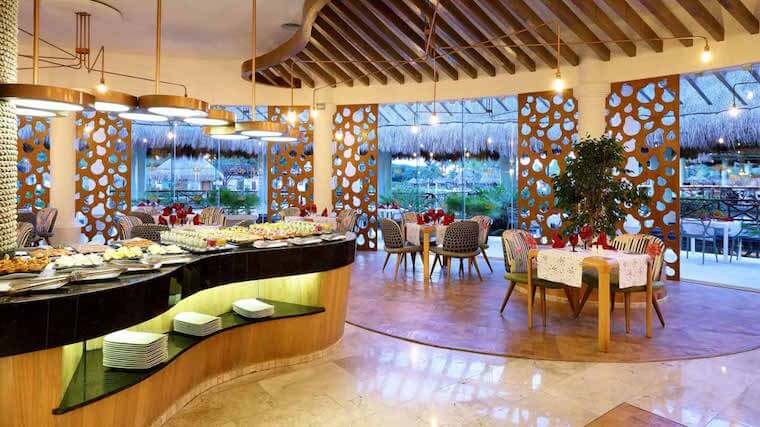 For gentlemen, shirts or T-shirts with sleeves and long pants or formal Bermuda are required in all a la carte restaurants.
Guests staying at the Grand Palladium Colonial Resort & Spa enjoy free access to all the bars and restaurants in the complex, except those located at TRS Yucatan Hotel.
Restaurants include: 
Tikal
La Dalia
La Laguna
La Hacienda
El Gran Azul
8. Activities & Entertainment
At this hotel enjoy a complete, daily program of sports activities and entertainment on the beach and at the pool.
There's an children's animation to keep the little ones entertained throughout the day and shows and/or mini-disco at night.
For adults you'll have the pleasure of live music at the various lobbies.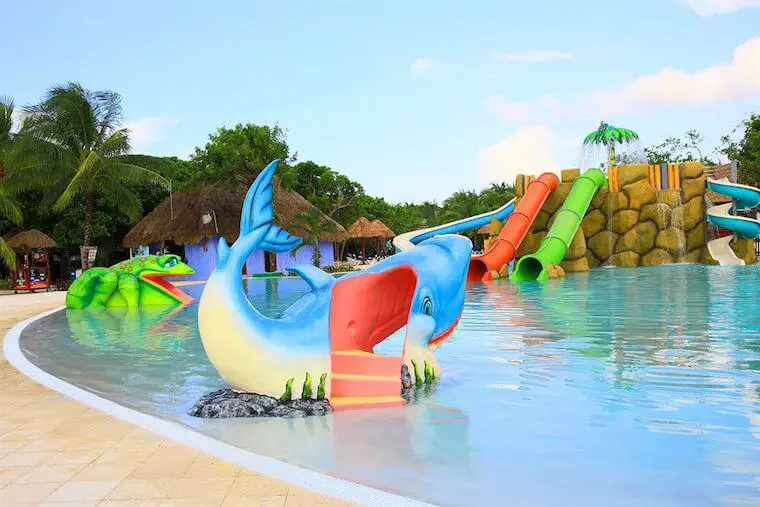 Some of the entertainment activities include:
salsa and merengue classes
Olympics on the beach
Spanish lessons
gregorio gregorito game
quizzes
beach ball
PlayStation
pool
mini-golf
ping-pong
basketball
and tennis tournaments
sand castle competition
treasure hunt
horseshoes
Mexican games
beer drinking contest
kayak race
frisbee games
and karaoke
For an additional charge you can even perfect your water sports such as scuba and diving, deep-sea fishing.
On-site facilities also include a fully-equipped gym, aerobics, water-polo, tennis courts, paddle courts, basketball courts, even a soccer field.  The list goes on!
9. What Brides Said…
"Love this resort and will definitely be booking another vacation here. We had come here last year to see the resort to plan for our wedding. This year the weather was better and the water was so much cleaner. This is for sure a 'going to return' type of place, I will be back." – 036JgS

"We attended the Grand Palladium White Sands for a family wedding. The property is very big however we were able to navigate it easily walking, or using the shuttle if desired. The beach was picturesque. The pools were clean with lots of beach beds. We did not have to reserve them in the morning, there were lots to chose from which was a huge perk! The wedding planner Randy and resort did an amazing job on the wedding set up and allowed for a smooth transition from ceremony to reception. The food was absolutely amazing and fresh through the whole week at the buffets and al a carts. Probably the highlight of this great resort was the extremely helpful staff. They were friendly, always smiling, and never pushy. It seemed that the staff went over and above what you would expect for 5 star service. Highly recommend!" – Lauren Mc

Excellent staff service and quality of facilities and dining establishments. Wonderful family 

wedding

on the beach. Beautiful surroundings. Would recommend to others for similar occasions or vacations.

–

RPinchin

"We have had an outstanding week in this most beautiful resort. If I had to say one not positive thing it would be that the beach is very full of rock and coral. Bring water shoes. Absolutely glorious resort. The wedding was just beautiful. Would love to return again and again." – Barb B
10. Why We Like It
The reason why this hotel is so popular for weddings is that there is something for everyone.
The beach is to do die for, there's 4 all equally stunning wedding locations, and it boasts affordable wedding packages for groups of all sizes and budgets.
The Romance Villas make for the perfect stay for the bride and groom, and there's plenty of activities for your guests to enjoy without even going off the ground if their budget is tight.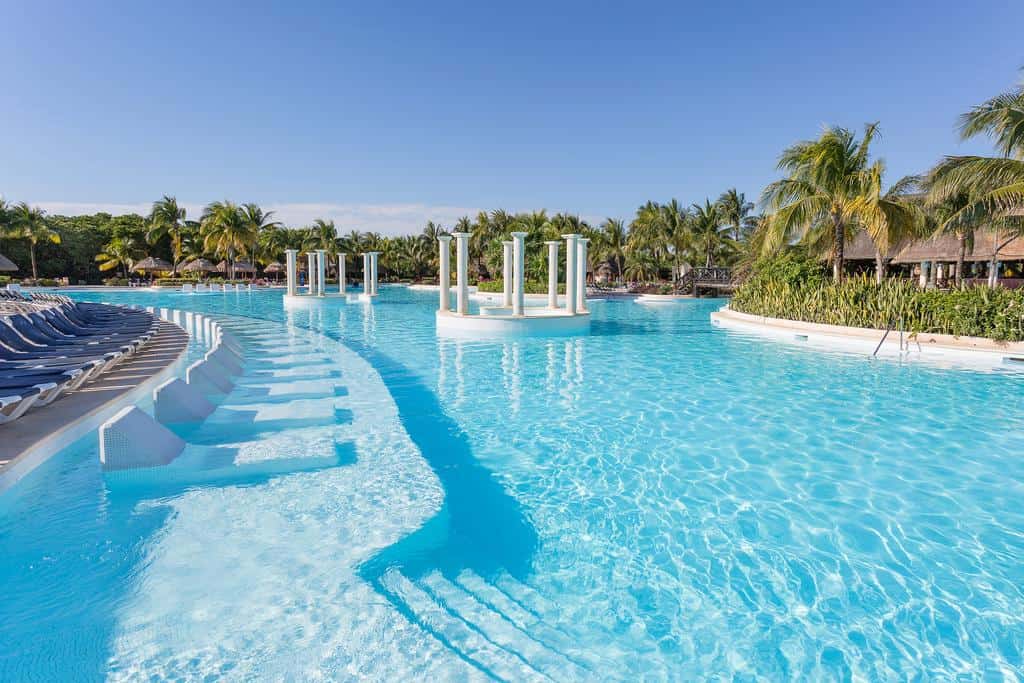 It's all-inclusive luxury at its finest.
Our client reviews for this hotel speak for themselves.
For me and the wedding team, the highlights of this hotel include:
the stunning beach gazebo
additional extra choices
Close proximity to Akumal 
11. Additional Resources You May Find Useful
I'm dedicated to you to bringing you honest and insightful information on all things wedding related here in Mexico.
I update the wedding section of our blog weekly and it is simply brimming with posts you will find useful… everything from different packages and inclusions, to what dress you should wear to stay cool.
For your ease of access here are just a few more I think you may find useful while getting inspiration and clarity on your vision for the big day!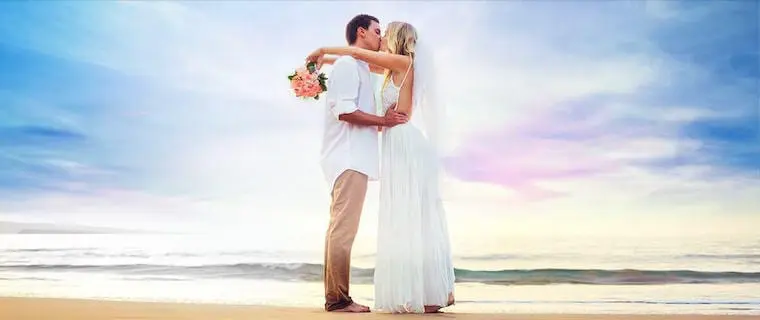 Start here and if you don't find what you're looking for there's much much more to go off, just use the search bar or ask me down in the comments section below, I'd be happy to point you in the right direction.
12. Get Married in Paradise
The first step to planning a faultless and unforgettable wedding is finding the perfect wedding coordinator for you.
Get in touch with our experienced team of wedding planners today for FREE!
Our dedicated wedding team is made up of experienced wedding planners from around the world. So, don't worry I can almost guarantee we speak your language.
This is what we do best! We've planned 100s of spectacular events in the region. As locals, we are unbias and know the lay of the land better than anyone.
We'll be with you every step of the way.
Call us toll-free 888-537-9797.
Or
Contact us via email at weddings@playadelcarmen.com
Grand Palladium Colonial Review
Overview

Wedding Packages

Wedding Venues

Rooms

Food & Drink

Activities & Entertainment

Beach
Summary
Overall this hotel is a great option for medium to large wedding groups. There's enough to do on the complex to keep everyone entertained and to make sure everyone is having an amazing time. The affordable wedding options present options to plan an event as lavish or as simple and elegant as you'd like. This hotel is very popular with our clients. Contact us for a quote.
---
Trending Now