My Honest Review of The Dreams Riviera Cancun Resort (2023)
---
I visited 3 resorts this week!
First up for review is…(drum roll, please) the Dreams Riviera Cancun.
This 4-star, affordable, family-friendly all-inclusive hotel is part of 'AM Resorts – a collection of luxury resort destinations.
'Dreams' pride themselves on creating vacations 'beyond your wildest dreams'.
So, naturally, I was keen to find out "does it really live up to expectations?"
Is Dreams Riviera Cancun really is worth your hard-earned dollars?
Get all the answers below…
My Review of The Dreams Riviera Cancun includes:
---
1. Location
The closest town to Dreams Riviera Cancun is Puerto Morelos.
"Where!?!" I hear you say…;)
Yep, most people have never even heard of this place in the Riviera Maya but, boy oh boy, does it deserve your attention.
For a full guide on Puerto Morelos and what to expect read all about it here. 
This little-known gem was once an old fishing town and consequently, it's still permeated by an old-world ambiance.
If you enjoy charming towns that feel like traveling back in time you have to visit at least once – plus the beach is great (more on that later)!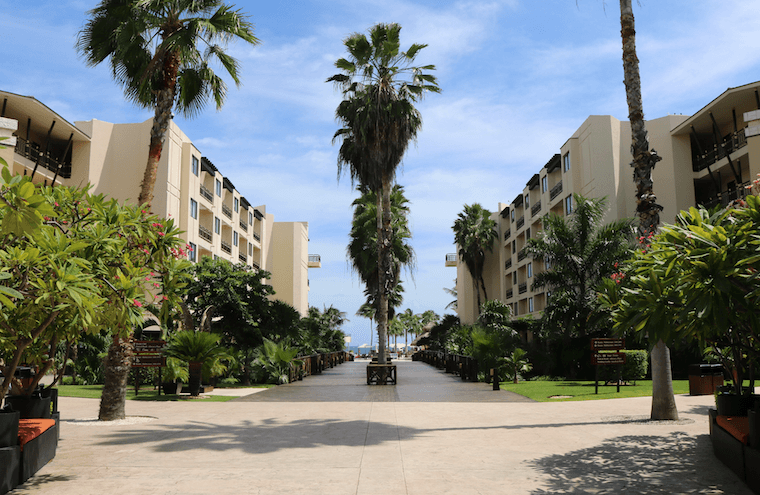 What I like about the location of this hotel is that it is removed from the hustle and bustle and can be found (almost) exactly halfway between Cancun and Playa del Carmen.
If you're looking for a day out while you're here my suggestion would be to get a taxi down to Playa and stroll the wonders of 5th Avenue or as it's locally known Quinta Avenida.
2. Decor and Layout
The first thing that will strike you about this hotel is the lobby!
From the minute you step foot inside the hotel the first word that comes to mind is 'wow'!
Whoever designed the place really went to town on the expression 'first impressions are everything.
The lobby has got an Asian vibe to it (think Vietnam or Cambodia), with a trickling waterway running through it and each side connected by dark wooden bridges.
As your eyes reach the end of the room where the lobby meets the limestone steps into the resort you are greeted with a magnificent view of the ocean glimmering all shades of blue.
I instantly wanted to throw on my bikini and cool off.
You'll be pleased to know that unlike some hotels in the region this hotel isn't an eyesore.
No skyscrapers here! All of the buildings are the perfect height and in harmony with the natural surroundings.
As I roamed around the place I noticed that no detail had been overlooked.
Even the wooden staircases that had been bound together neatly with straw had a very jungle-like feel to them.
To break things up the resort is separated into two main buildings of accommodation that are an exact mirror of each other.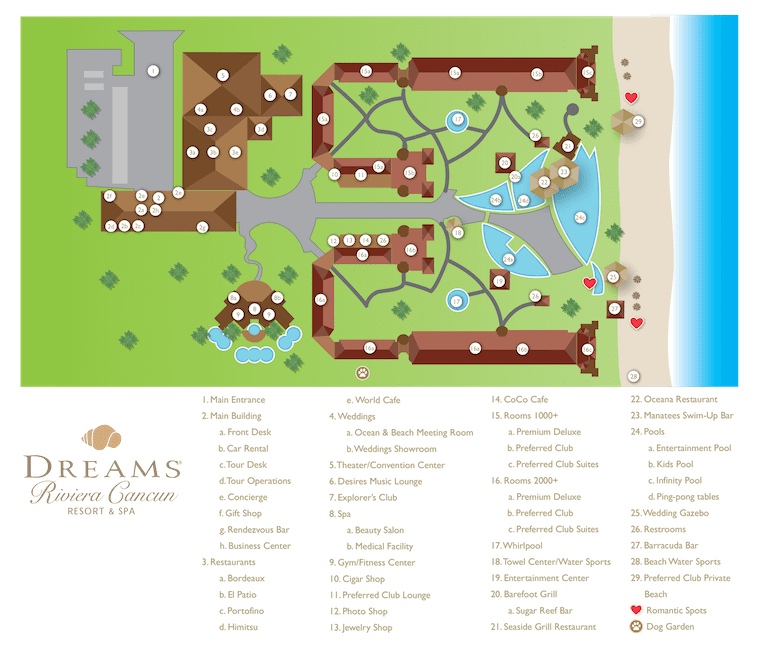 The restaurants really impressed me at this place, each of them had its own very distinct decor and theme.
At the time of my visit, one of them was set up for a wedding and the table decorations were just stunning!
I would never have thought to put those colors together but it worked beautifully!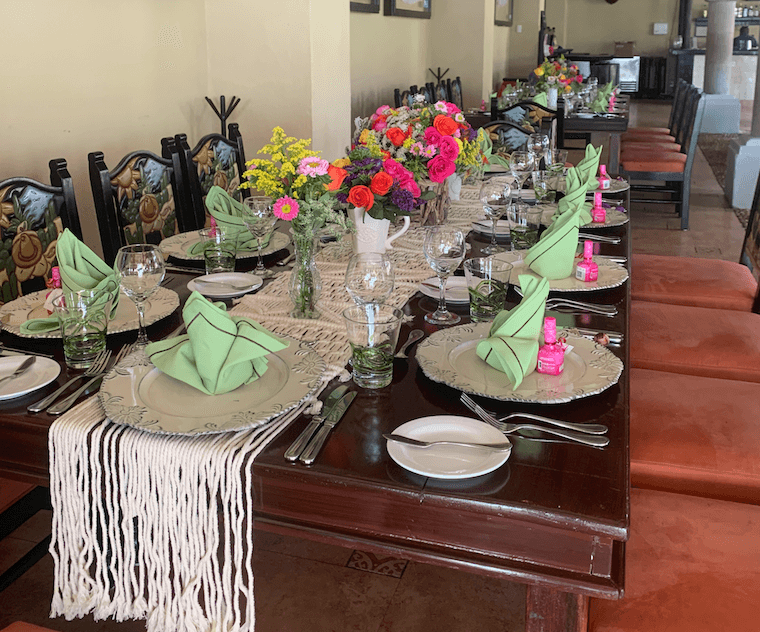 Rooms
If you're a sucker for ocean view or swim-up suites this hotel is not in short supply. 😉
My favorite thing about the swim-up suites at Dreams Riviera Cancun is that they are absolutely private!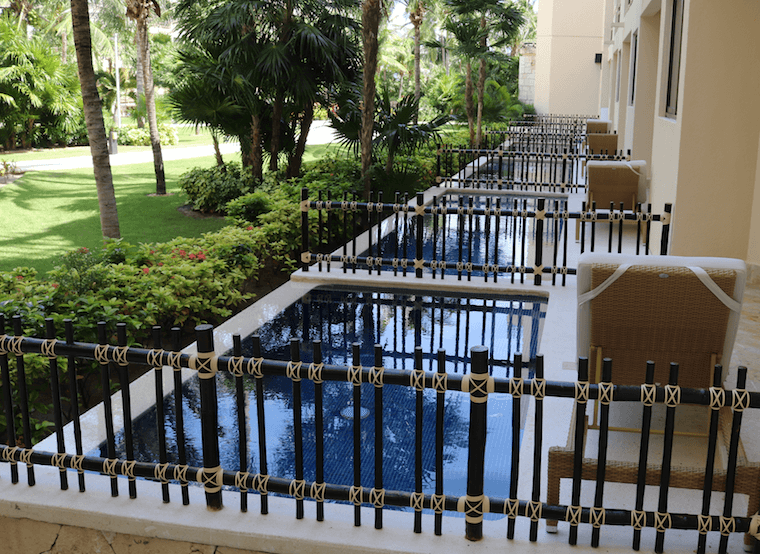 Most other hotels that feature this room category in the Riviera Maya have 'mini-rivers' that flow around the outside of the hotel rooms, and while they are lavish, they aren't quite private as you're essentially sharing the swim-up with the person next door.
Well, not at this hotel! Your room will have its very own mini plunge pool. 
I viewed one of the oceanfront president suits while I was here and it was utterly breathtaking.
This room category comes with a huge bed, large bathroom, and even a living area…not to mention a large oceanfront balcony with a triangular hot tub!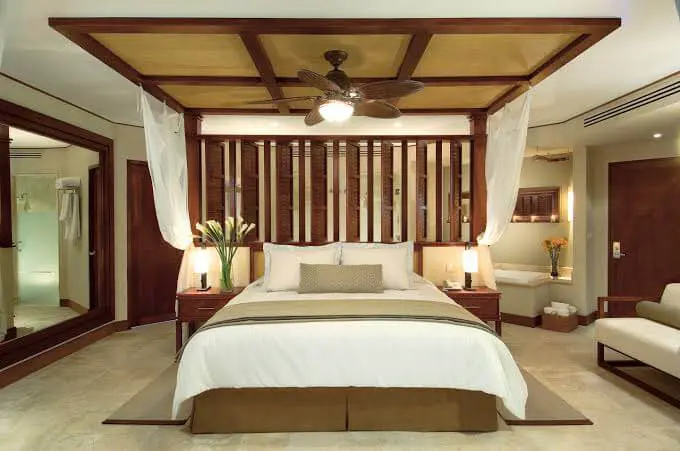 Of course, all of the 486 suites offer one king bed or two double beds, 24-hour room service, in-room Jacuzzis, and a private furnished balcony or terrace.
For bigger families who would prefer to have connecting rooms this resort can guarantee the rooms in advance (not common in the Riviera Maya)  all you have to do is pay a small deposit of around 50 USD in advance.
I should note that during my visit the hotel has begun renovation of the rooms.
We saw both the old and the new, and WOW the new ones are simply to die for, elegantly modern complemented by blue hues and wooden finishings.
To ensure you get one of the newly renovated rooms at this hotel contact our travel liaisons at PlayaDelCarmen.Com to assist you with your booking.
Beach
Ahh, the dreaded conversation of the beach…
If you've done any homework whatsoever on your trip you'll know that the Riviera Maya for the past year or so has really struggled with the natural occurrence of seaweed.
Not ideal, as you can imagine but we're always honest and upfront with our customer here at PlayaDelCarmen.Com.
No surprises.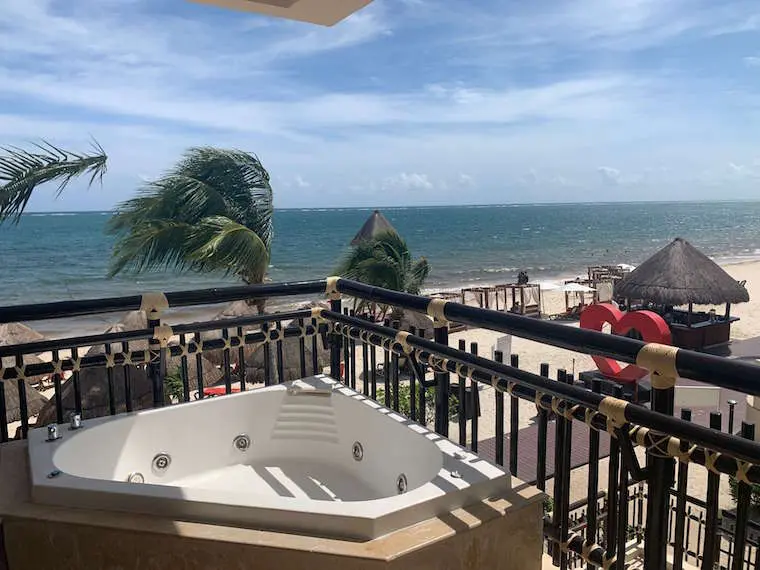 I breathed a huge sigh of relief when I saw the beach at Dreams Riviera Cancun.
It was everything you would hope and dream for from a tropical Caribbean vacation.
There was no seaweed during my visit and I was happy to see that the width of the beach had stayed intact.
I've noticed that since returning to Playa many of the beaches have dramatically receded in width.
Not this one!
It was as wide as I remembered dotted with gorgeous palm trees swaying in the wind.
Food & Drink
Mmm, my favorite part of any trip!
Food LOL!
The music to my ears at this resort was that the a la carte options are available without any reservations!
That's pretty unheard of in these parts, and it absolutely does my head in because I'm really not all that organized, I'm more of a moment-to-moment kind of gyal.
I like the freedom of choosing where to go instantaneously and not having to stick to a schedule on vacay!
The hotel had 9 restaurants and 6 bars available:
French
Italian
Mexican
Asian
Seafood
Plus, the World Cafe buffet serves up delicious options for breakfast, lunch, and dinner.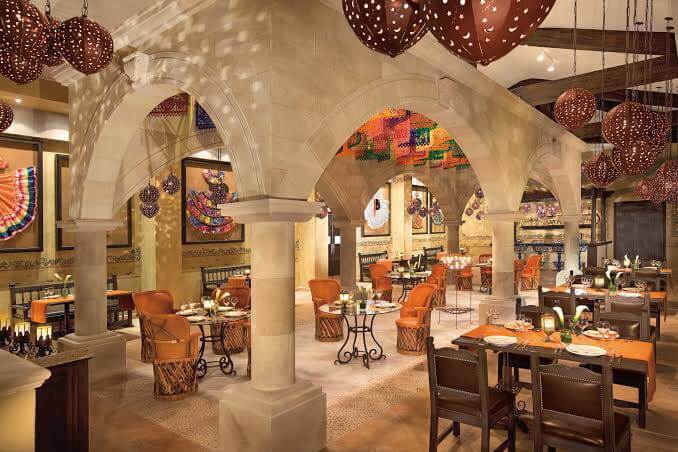 If you got peckish while lazing by the pool there was even the barefoot pool-side grill for informal daytime snacks.
And if you're a sweet tooth like me the  'The Deli Cafe' is the perfect place to pick up premium coffees and snacks.
For people who suffer from gluten intolerance or are Celiac, fear not, Dreams Riviera Cancun has got you covered. They offer delicious gluten-free options in all of their restaurants.
There's also waiter service by the pool and beach plus 24-hour room service to indulge whenever you please.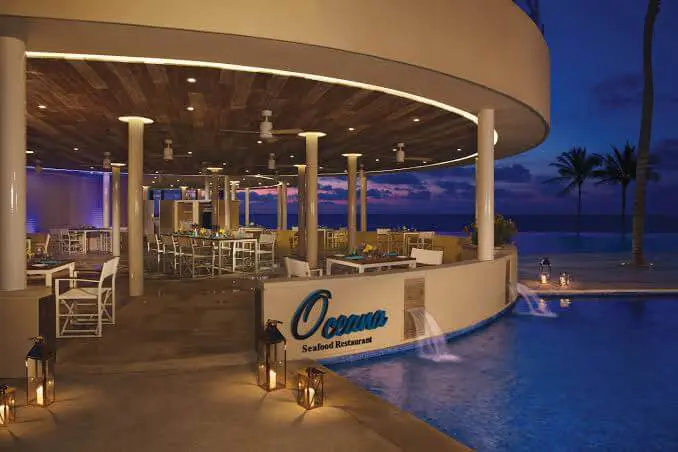 My favorite restaurant had to be the Seafood one by the beach.
It's a semi-open setting a nice breeze and great views of the beach and pool.
I'd recommend the Agauachile and the Seared Salmon with lemon and garlic sauce!
Pools & Activities
If you're traveling with kids pools and activities can make or break a vacation.
Heck, even as an adult I'm a sucker for great activities, I mean, they are part of what we pay good money for, right?
Dreams Riviera Cancun has multiple pools, a kids club, and activities specifically for teens.
There's fun for the whole family whether it's kayaking, snorkeling, or enjoying an introductory dive class.
Golf lovers can also rejoice!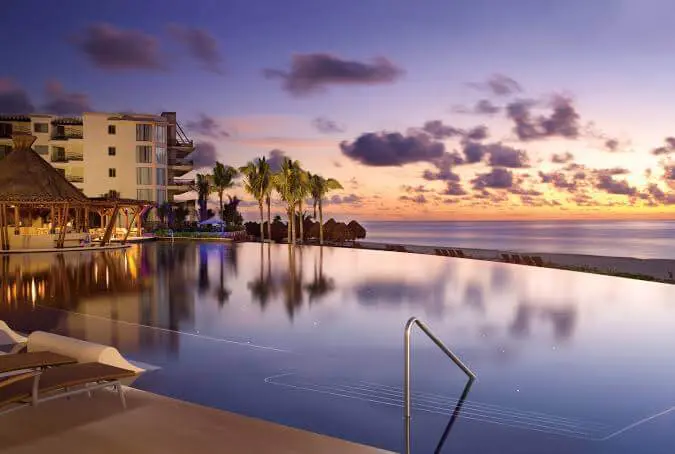 A stay at this hotel means you can make the most of preferential rates and green fees at the Grand Coral Riviera Maya Golf Club.
There's even free WiFi throughout the entire hotel during your stay.
Nightlife
Of course, with any 4/5 star all-inclusive hotel there will be nightly entertainment for guests to enjoy.
Dreams Riviera Cancun showcases different acts, musical performances, and games to bring everyone together so they can have fun and get involved.
However, if you did want to venture out you can travel north to reach Cancun or south to reach Playa del Carmen. Either choice will take you between 20-30 min via taxi.
Cancun is a big bustling city and better for big clubs and heavy nights out if that's your style.
If you prefer something a little more laid back but still want to enjoy bars and live music I'd say Playa del Carmen is more for you.
Spa
Is there anything more rejuvenating and relaxing than a hotel spa day?
I think not.
Rekindle the love with a relaxing couples massage or reinvigorate your spirit with a pampering treatment.
The Spa area of this hotel is tucked neatly away to the right of the lobby and is its own sort of mini-complex encompassed by lush fauna.
The moment I stepped inside I instantly felt Zen, the aromas that were diffusing in the air and the different daily flavored waters to quench my thirst in the heat were extremely inviting.
I wish I had been here with my other half because the couple's treatment rooms were out of this world.
The walls were all glass but made private by the jungle that surrounded them and they included a huge bathtub for the pair of you to soak in once your treatments were complete.
The staff mentioned that there were packages available that meant you could complement your soak with champagne and chocolate-covered strawberries!
The dream!
The location of the Spa meant that it was in keeping with the ambiance and no noise from the pool or beach could be heard.
It was a tranquil and relaxing setting.
Weddings
If you're thinking about having a destination wedding in the Riviera Maya 'Dreams' hotels are known for their epic occasions and events.
They have definitely earned a good name for themselves. We get great feedback from our clients all the time.
At this resort, my 4 favorite locations include:
The Gazebo – although this is positioned a little too close to the pool for my liking, however, it does guarantee great views and shade.
The Lobby Entrance – is pictured below.
The Sky Terrace – overlooks the ocean and can accommodate a large number of people.
The Beach – pristine white sands and a turquoise ocean backdrop.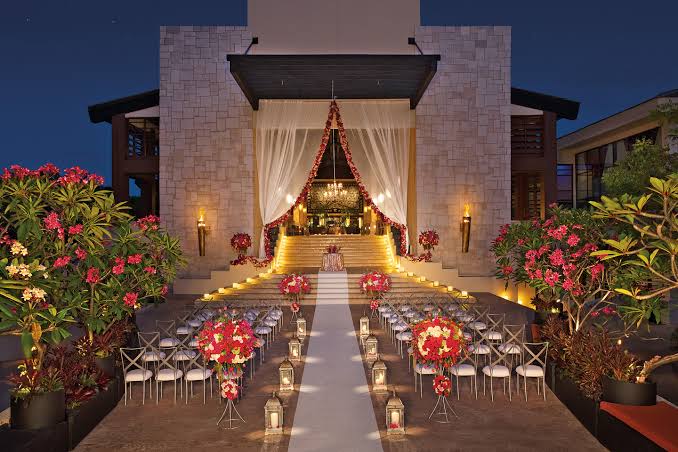 I visited the on-site wedding teams that help us to coordinate while we were here, they have a beautiful office open to guests of the hotel and visitors that showcases different decorations and is the centerpiece for your dream day.
The team here was super helpful in answering our questions.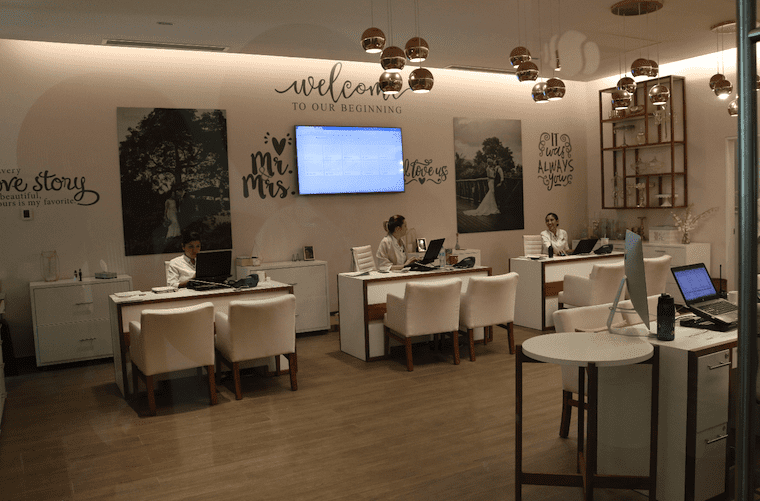 However, if you're keen to have your wedding here my advice would be to book way in advance. This hotel had 1 Saturday left for 202o!
It's clear weddings here are in high demand, and for a good reason. The hotel had gained a massive thumbs up from me so far.
If you are interested contact our wedding team today at wedding@playadelcarmen.com.
We plan 100s of events in the region each year and we will ensure you get all the best perks and discounts available to you, as well as ensuring that all of your group are well looked after too.
I think that's everything, I'll be sure to drop back in if I have anything else to add but for now, it's time to wrap this up. I hope you enjoyed it. Don't forget to leave your thoughts in the comment section below, I would love to hear from you.
10. Save On This Hotel
If you would like to discuss this hotel further with one of our expert travel consultants here at PlayaDelCarmen.com be sure to give us a call on our toll-free number +1 888-537-9797
Or
Alternatively, contact us via email at customercare@playadelcarmen.com
Have you stayed at this hotel before? Don't forget to leave your thoughts in the comments section, we would love to hear from you.
Additional Resources You May Find Useful
My Honest Review of the Dreams Riviera Cancun
Location

Decor & Layout

Rooms

Beach

Food & Drink

Pools & Activities

Nightlife

Spa

Weddings
---
Trending Now