Day of the Dead Makeup Tutorial – Step by Step
---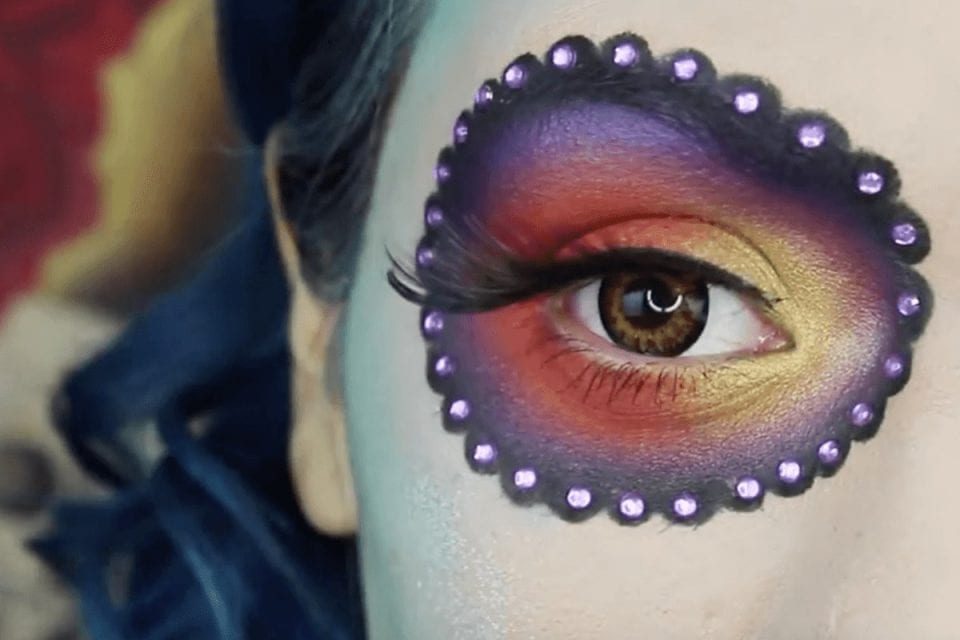 The Day of the Dead is fast approaching!
What is it?
It's not just an underrated George Romero film: in fact, it's one of the world's most popular holidays. Throughout Mexico, Central America, and parts of the United States.
When is it?
People observe the Day of the Dead on November 1 and 2 as a way of honoring their ancestors, embracing the cycle of life, and having awesome graveyard picnic parties.
Among the most beautiful and recognizable Day of the Dead symbols is the Calavera, or decorative skull.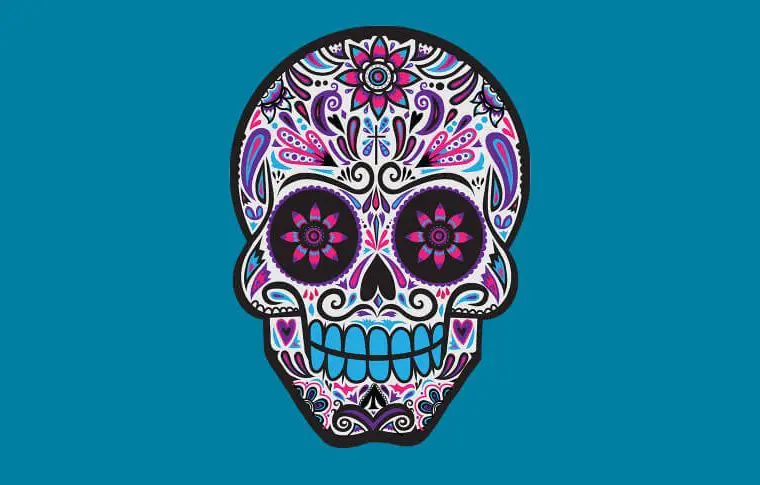 If you happen to be in Playa del Carmen around the end of October early November then why not celebrate with us!
Heck, even if you're not here this makeup tutorial is the perfect Halloween costume. You don't have to buy anything new, and best of all it looks simply stunning.
So, this Day of the Dead or Dia de los Muertos, as we call it en la neighborhood turn yourself into a skeletal masterpiece.
We can show you how in this super easy and fun makeup tutorial.
Don't forget to share your own recreations with us in the comments section, we would love to see them!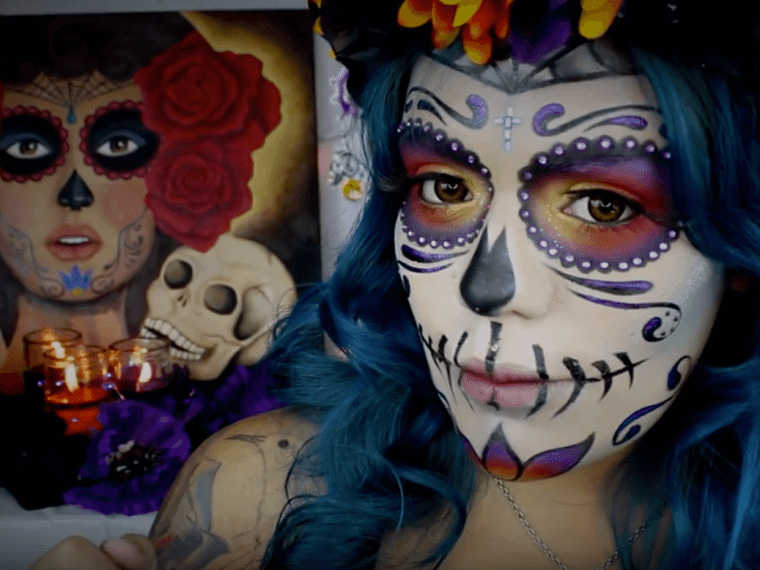 Step 1: Primer
Time to prime your face! You can't paint a masterpiece without a perfect base.
Massage an even amount of primer all over your face in circular motions.
Step 2: Conceal Your Brows
If you want this look to be flawless then you need to conceal your brows before you get started with the details.
Using a spoolie brush and some eyebrow gel flatten down your eyebrow hair as best you can. Then go in with a pigmented concealer and pack on the product till you can no longer see your brows.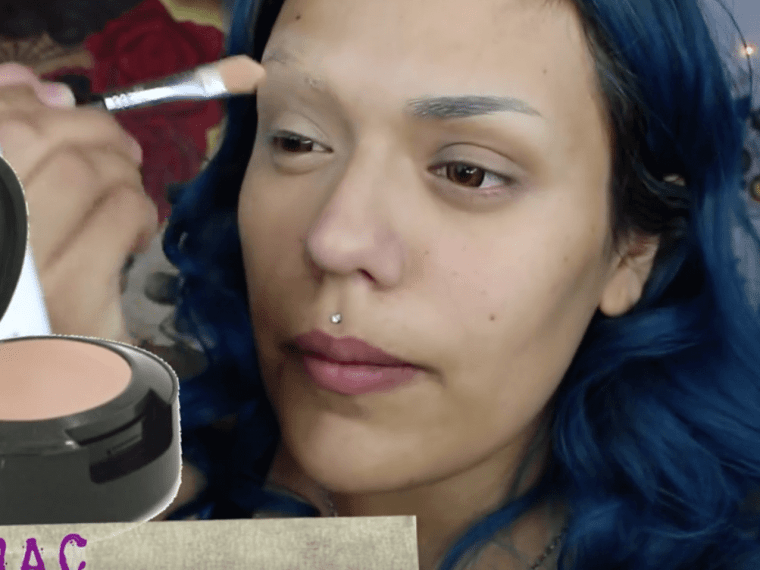 Ta-dah! Now you have the perfect canvas to get started.
Step 3: Outline Your Eye Socket
Using a pencil eyeliner, lightly outline a circular shape like this around the outside of your eye.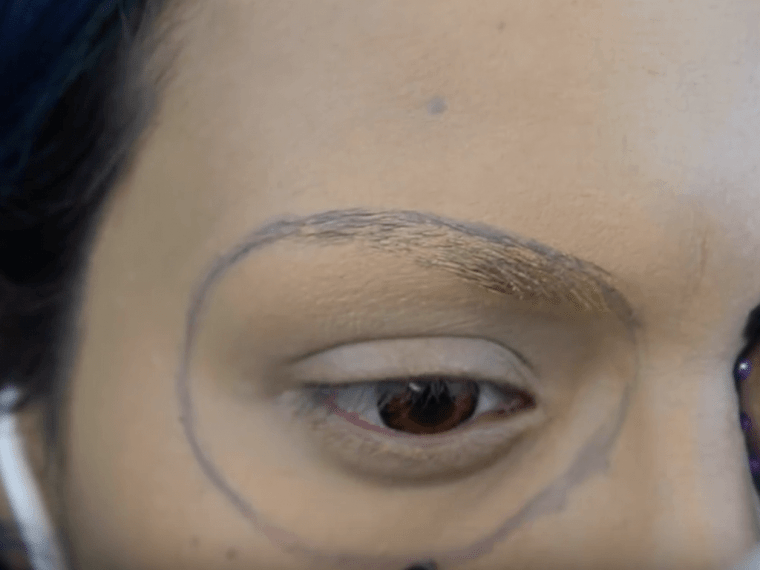 Don't worry if you mess it up the first time, just take your time, and don't draw the line on too heavy.
Step 4: Add Some Color
Time to add some color to really make your eyes POP!
I'd suggest using contrasting colors.  Here Lola Love beauty has used a shimmery gold color, paired with a bright red/orange, and purple.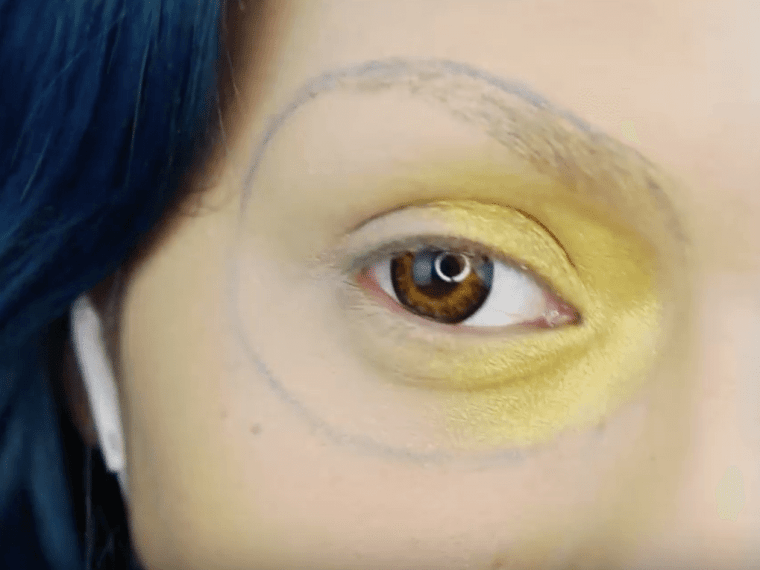 First, blend your the lightest color into the inner corner of your eye.
Step 5: Add Your Second Color
Second, add a contrasting color to the center of your lid so it looks something a little like this.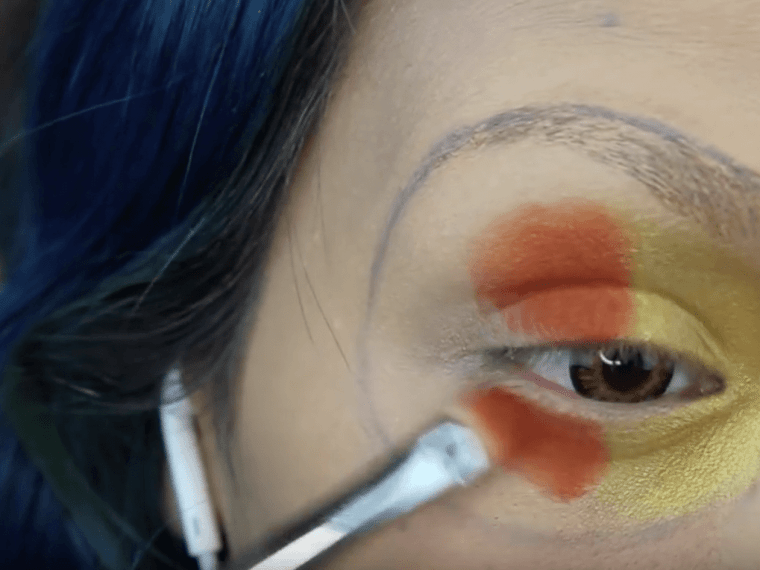 Pack the product on with a dense makeup brush and be sure to spread it underneath your lower lash line.
Step 6: Blend And Outline
Third, pack your final color onto the line you drew around your eye. Once you're happy with it, use a fluffy eyebrow brush and blend, blend, blend.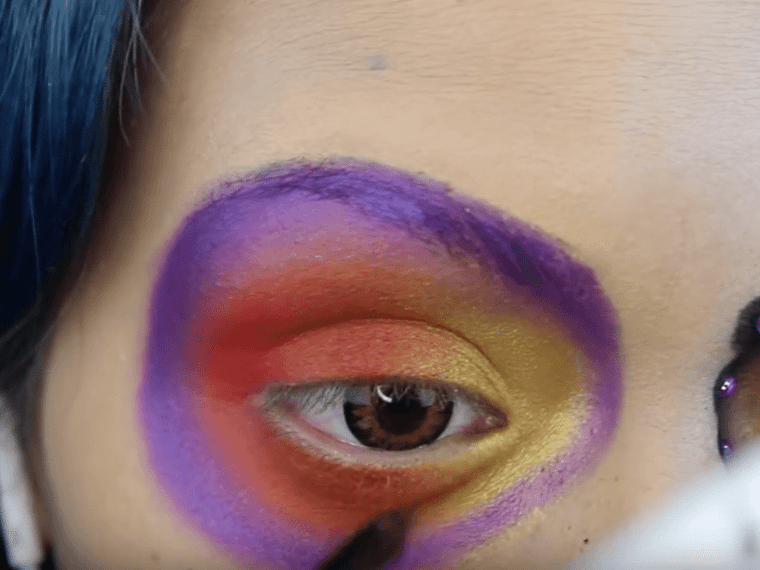 Step 7: Use Concealer To Neaten Up The Edges
Wow! Now it's really starting to take shape. Don't worry if it looks a little messy, using your concealer and an angled makeup brush, tidy up the edges until it looks neat.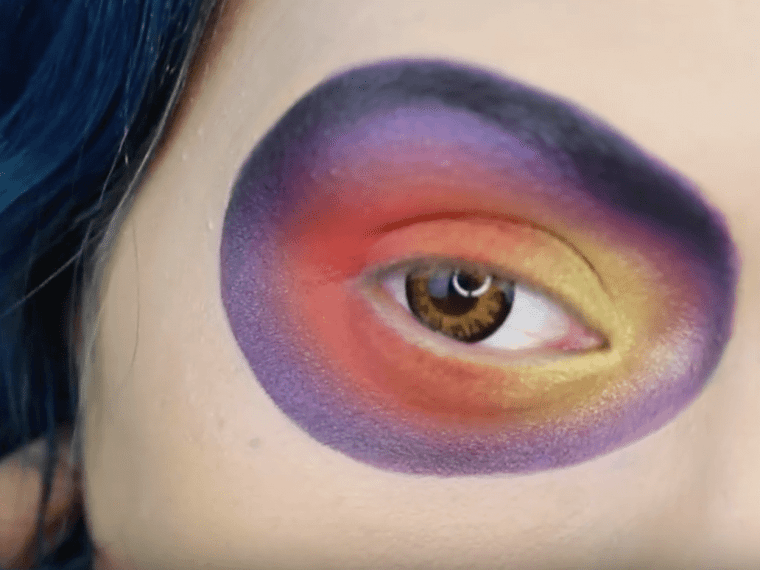 Voila!
Step 8: Cheekbones!
Time to accentuate those cheekbones and bring out your inner gothica.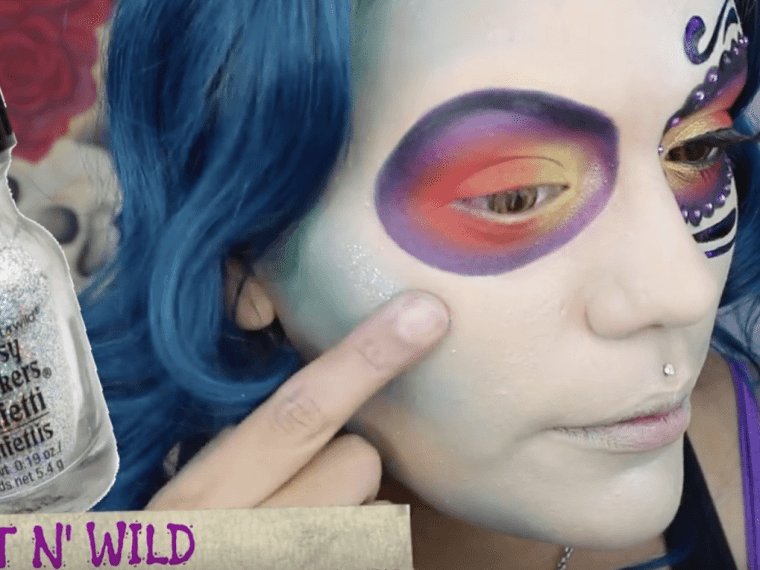 Again, using a contrasting color such as green or blue, blend in your cheekbones. Aim for your ear to the corner of your mouth. For a little extra pizzaz top it off with some glitter. Once that's done, blend the same color around all the edges of your face including your neck, jaw, and forehead.
Step 9: Details!
Using a makeup brush similar to this, add some dark circular dots around the outer circle of the eye socket you just drew.
Take your time to get it just perfect, there's no rush.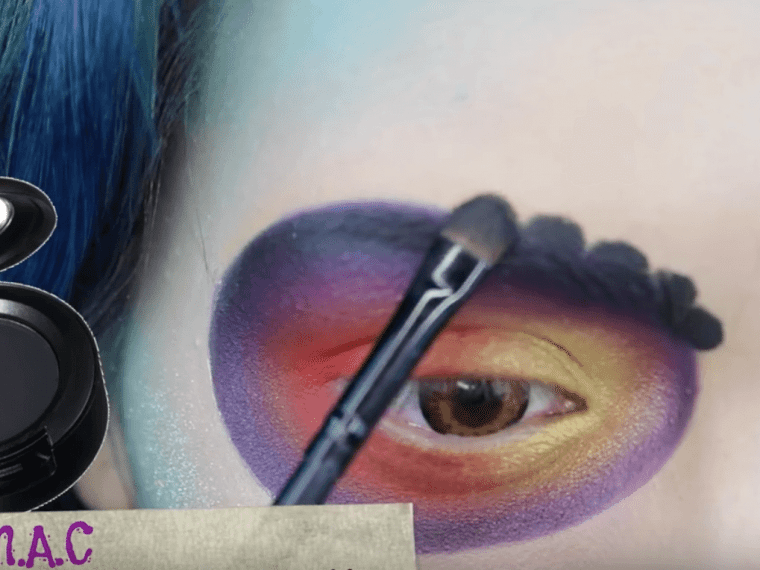 Step 10: Use Eyelash Glue To Add Some Sparkle
This is my favorite part. Using eyelash glue carefully dot on a small blob into the center of each circle around your eye, like this…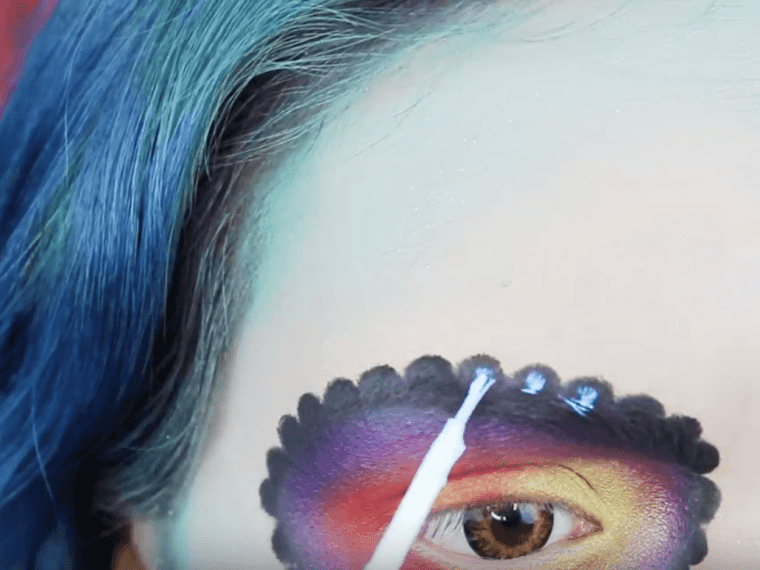 Be careful not to add too much.
Step 11: Using Tweezers Apply Some Gemstones
You can find these gemstones at any nail parlor. Normally they are used to add decoration to a manicure, but today you can use them to add some sparkle to your face.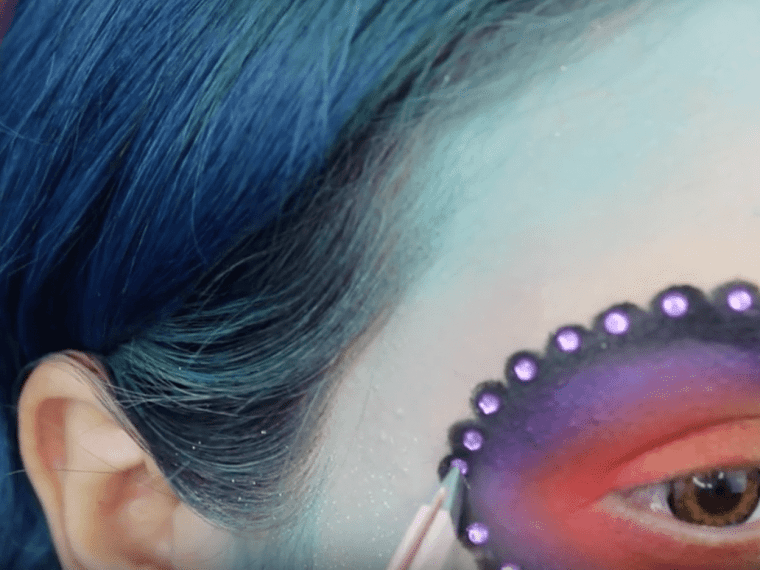 It can be a little fiddly so don't get frustrated, just take your time and use tweezers to position them perfectly.
Step 12: Mascara
Lengthen those lashes and add your favorite mascara!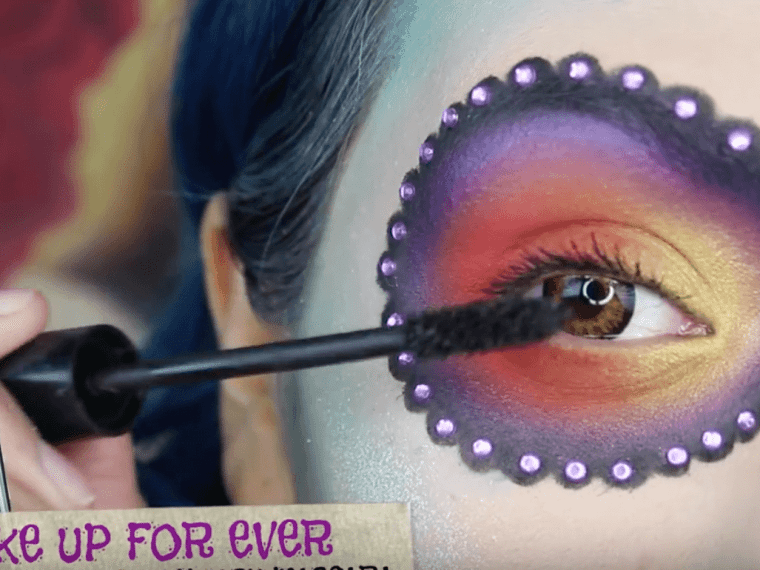 Step 13: Add Lashes
I love nothing more than I good set of lashes to really make your eyes pop. This step really takes the look to the next level.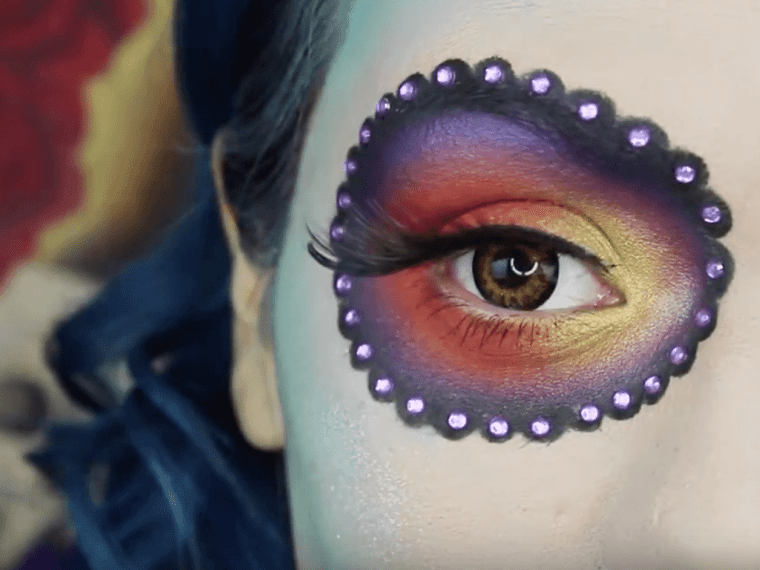 Looking good!
Step 14: Line Your Lower Lash Line
Add even more drama to the eyes and carefully line the bottom lash line with a black liner.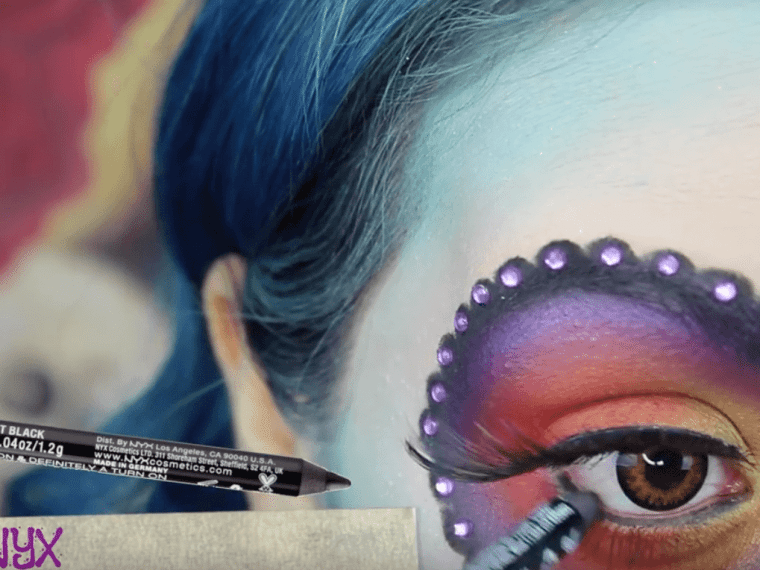 If you wear contacts you can leave this step out.
Step 15: Add Some Swirly Details
Above each of the eye sockets, you've drawn add some swirly brows to really define your face.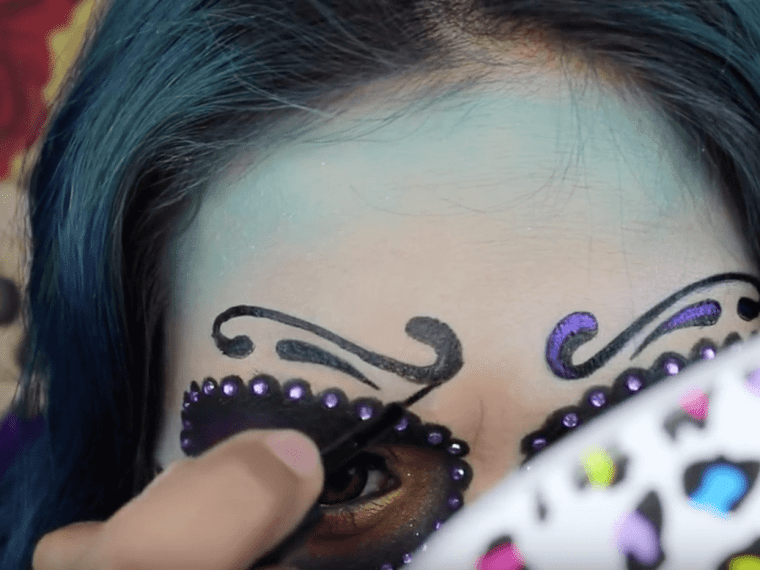 Mix it up a little, add a matte and a shimmery color.
Step 16: Undereye Details
Similarly, add some extra details under the eye. Teardrop shapes and swirls look incredible with this look.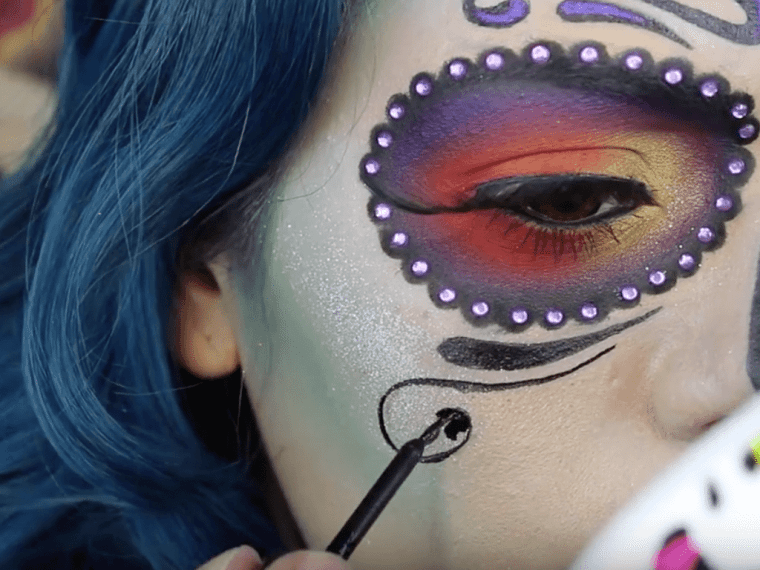 If you don't feel comfortable going in with a liquid liner you can always draft them on with a pencil first to avoid any mistakes.
Step 17: The Skeletal Nose
Draw a teardrop shape onto the end of your nose to create the illusion of a black void.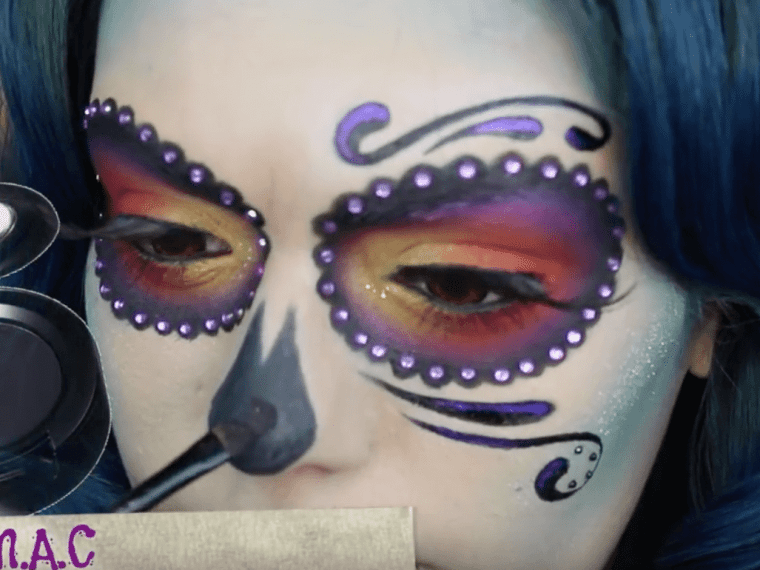 Almost finished!
Step 18: Finishing Details
Flesh out your forehead with a cobweb shaped design. Remember to draft it on first with a pencil liner to avoid any major mistakes.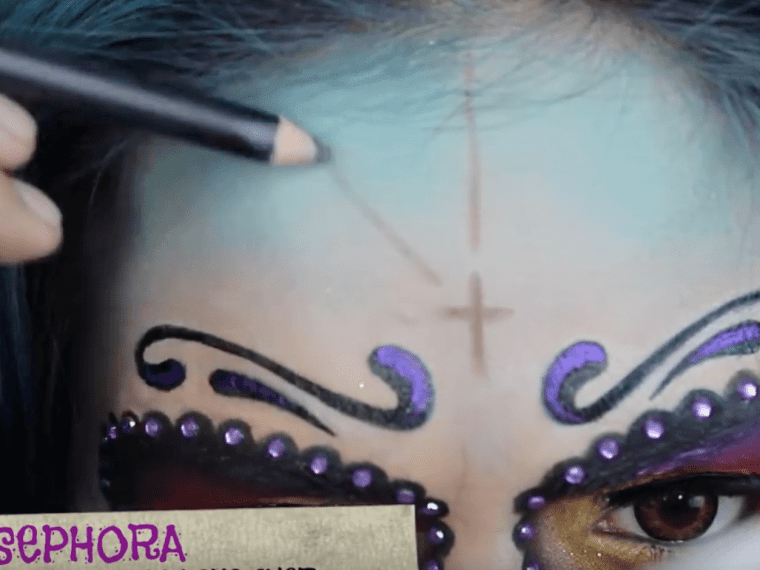 Step 19: Blend
Go over your design with a liquid liner and carefully blend with a makeup brush to add some depth to your face.
Add a tiny cross between the center of your brows, and use some eyelash glue to stick some gems on for more sparkle.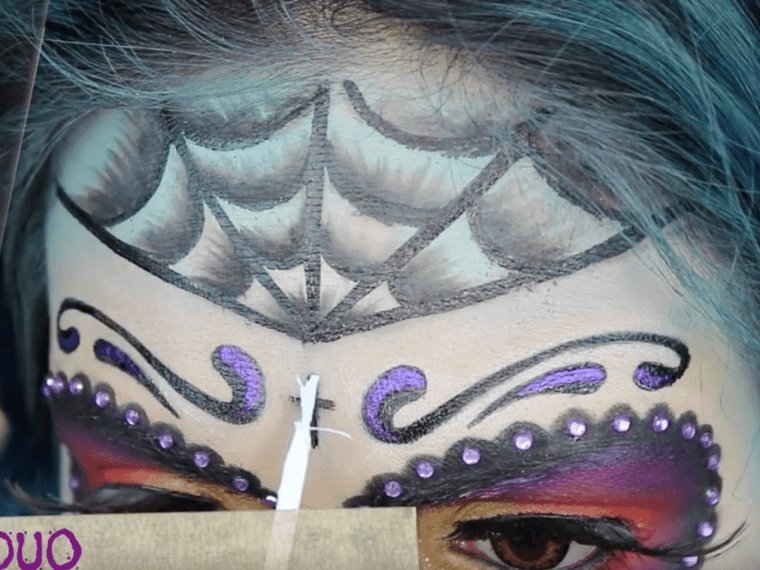 The end result should look something a little like this…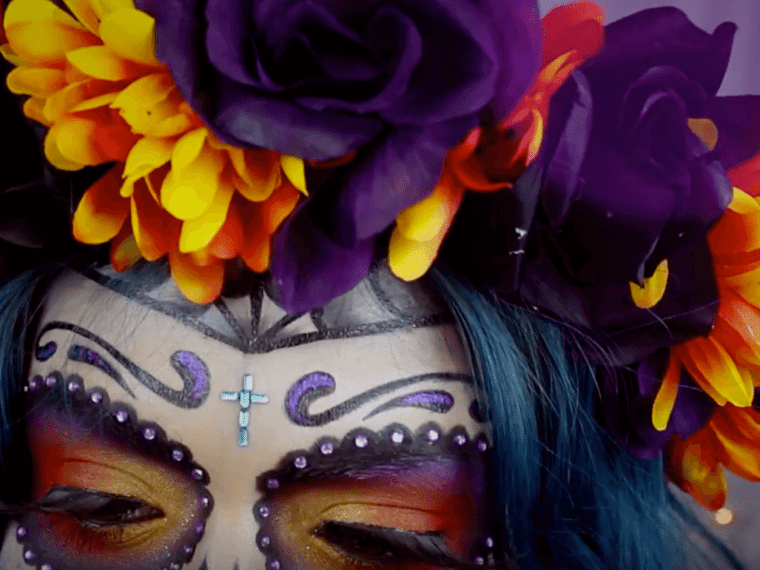 Step 20: Time For Lips
Using a dark red/purple color add some color to the center of your lips. Don't worry about filling it out to the edges, as this will only add to the look of being 'dead'.
Step 21: Lip Details
Add some stitches for extra drama!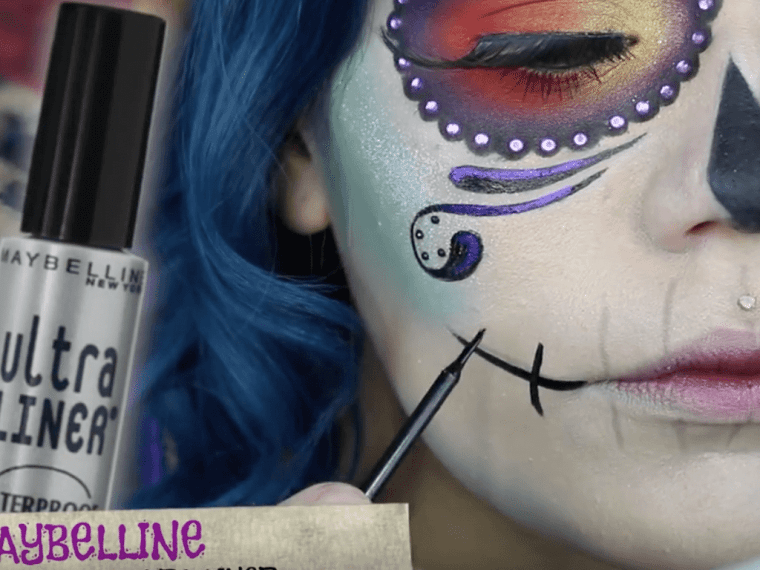 Remember to use your pencil liner first to craft a design you're happy with before going in with the liquid liner.
Step 21: Chin Details
Finally, complete the look with a design on your chin.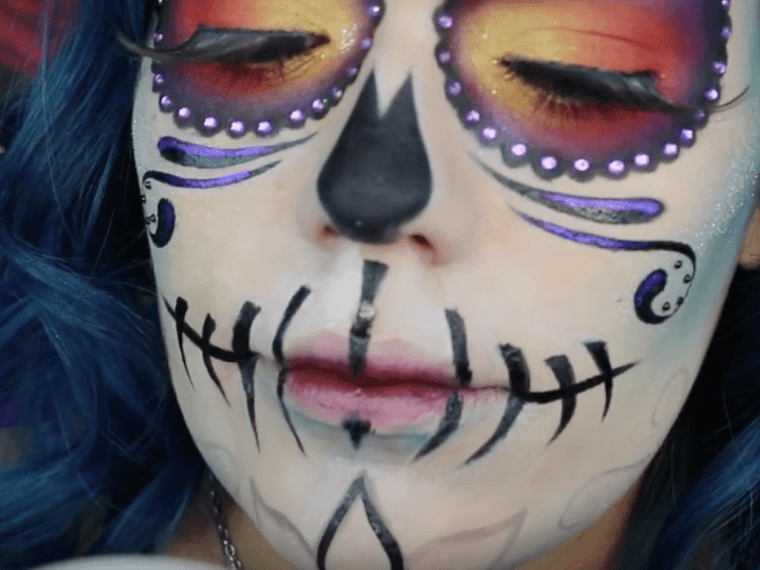 Flesh it out with some color, it looks amazing if you go for the same colors you used on your eyes.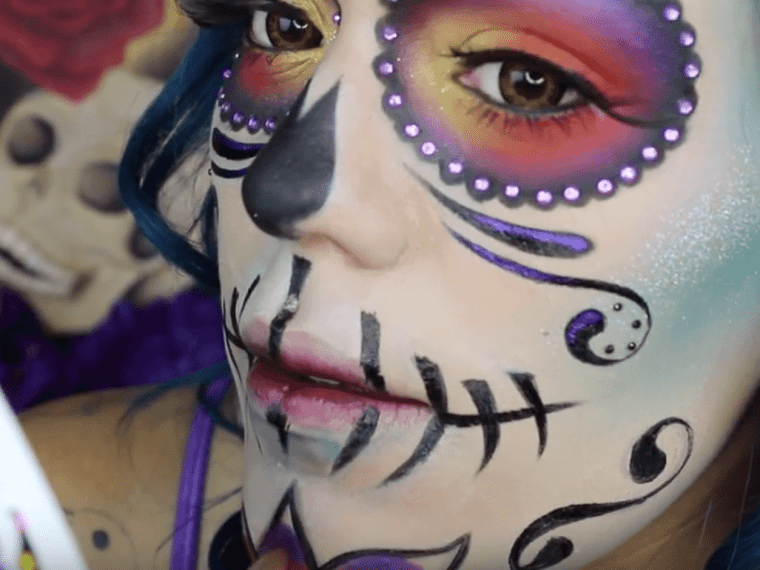 Extra swirls either side will complete this stunning Day of the Dead look.
Ta-dah…
Happy Celebrating!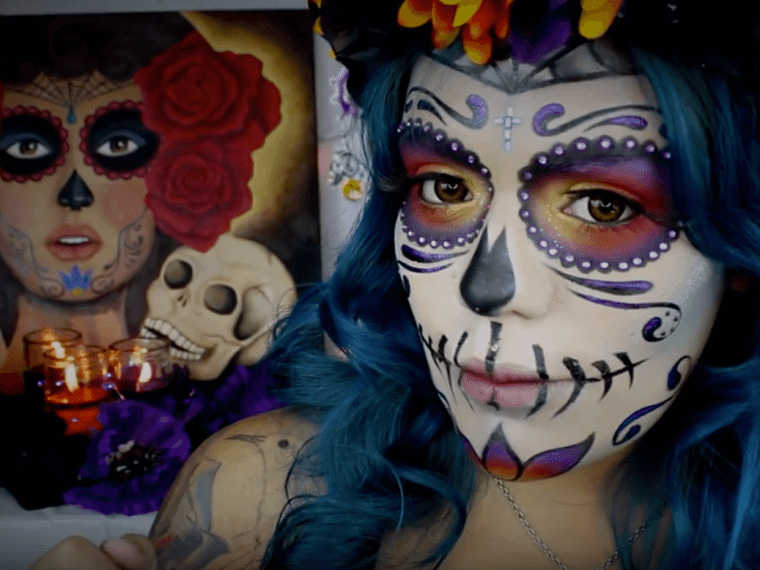 Simply stunning.
Watch the full tutorial here:
If you liked this post be sure to SHARE it with friends and family on Facebook.
Feel free to leave your thoughts in the comments section, we would love to hear from you.
If you have any questions for our team at PlayaDelCarmen.Com then feel free to give us a call on our toll-free number +1 888-537-9797
---
Trending Now
You may also like