Weddings at The Paradisus Playa del Carmen | My Honest Review (2023)
---
Are you wondering if a Paradisus wedding is the right choice for you?
You're not the only one!  Did you know this resort is the most Googled hotel in Playa del Carmen?

Word travels fast ;D!
Our team at PlayaDelCarmen.Com has planned 100s of weddings in the Riviera Maya.
Get the inside scoop on Paradisus weddings here and decide for yourself if it's worth the hype.
Remember – our wedding team will be here to answer all of your questions, they have first-hand experience working with this hotel,  so don't forget to leave your comments down below when you're done reading.
Your Paradisus Wedding (Playa del Carmen)
---
1. Hotel Overview
Just as the name suggests, this resort is your own slice of Paradise perched neatly upon the Caribbean shores in Playa del Carmen.
The resort is a stone's throw away from the heart of the action downtown and is comprised of both an adults-only section and a kid-friendly section.
Perfect for wedding guests with, and without, children!
It boasts spacious suites, scenic views, and luxurious modern decor that is to die for. If you're into interior design, trust me, you will love it here. 😉
We had our Christmas party for PlayaDelCarmen.Com at this resort, and let me tell you, the staff make you feel like royalty from the moment you arrive.
I didn't want to leave!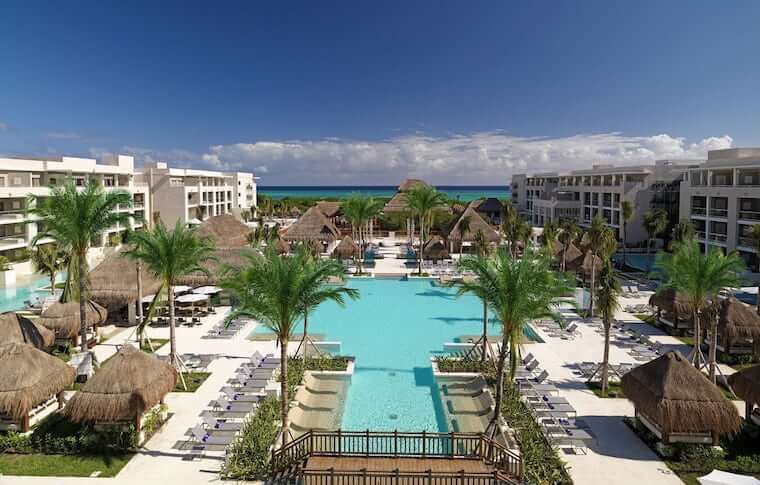 Both sections of the hotel are 5* all-inclusive and the hotel is one of the newer complexes in the area opening to the public 8 years ago.
There are over 10 restaurants in each section of the hotel and 24-hour room service – what's not to love about that?
This particular hotel is also famed for its extensive Yhi Spa a massive 20,00 square feet in size!
There's even a fitness center on-site and the option to have your own Royal Butler Service.
For kids,  it's never a dull day at The Paradisus – there's an endless array of Kids Clubs and Activities to partake in.
Average Price Per Person, Per Night
$155 – $200 per person per night in DBL occupancy
$147 in the lowest season – Sept, Oct
Max room occupancy is 3.
This is a large resort.
Read my full in-depth review of the Paradisus here.
2. Wedding Package Options
At the Paradisus, there is a range of incredibly different packages to suit groups and budgets of all sizes.
Our experienced wedding coordinators can guide you through the entire process helping you make the right decisions for you.
I should note South Asian wedding packages are also available at this hotel.
How Much Do Wedding Packages Cost at The Paradisus?
***PLEASE NOTE PRICES ARE SUBJECT TO CHANGE SLIGHTLY YEAR ON YEAR***
Prices packages for 2023 range from $1840 – $14, 310 USD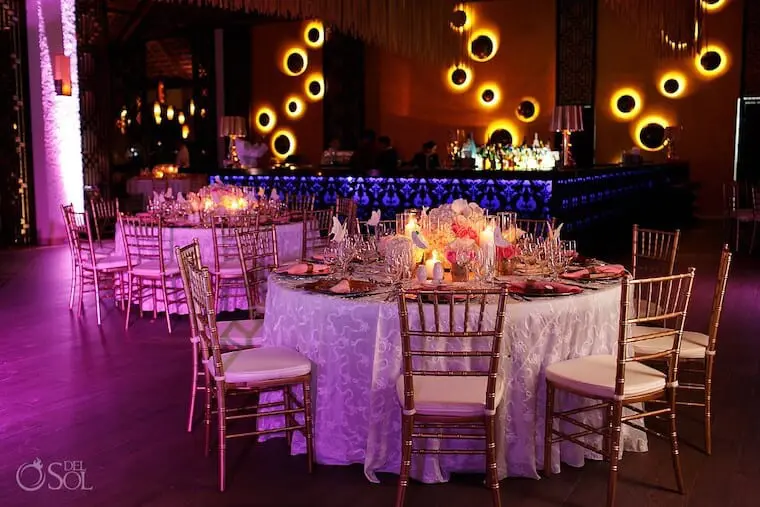 Entry Level Package
$1840 – 10 Guests 
This includes:
Late checkout for the couple
10% spa discount for the couple
1 Bouquet and 1 Boutonniere
Recorded music during the ceremony
Ceremony decor
Symbolic ceremony
Paradisus Playa Del Carmen La Perla wedding cake
Sparkling wine toast
1-hour cocktail reception
Bottle of sparkling wine for the couple
Wedding gift for the couple
Optional Add-Ons & Benefits
Upgraded packages are available at varying levels and include additional services and decor options. Custom packages, additional guests, and add-ons are available for an additional cost for any Paradisus Playa Del Carmen La Perla wedding.
For tailor-made weddings pre-wedding package inclusions include:
All White BBQ & Open Bar Party to Welcome your VIP Guests (3-hour private event)
YHI Spa massage certificates (total of 6 certificates, for 25-minutes each)
15% discount on YHI Spa services for the wedding couple (not applicable towards spa products)
Complimentary room upgrade to the next category (subject to availability and confirmed upon arrival)
Wedding night in-room setup with chilled sparkling wine, Petite Fours, petals on the bed and scented bubble bath
Late check-out on the day of departure, until 4 pm (subject to availability and confirmed at the resort)
Unforgettable Gift
Complimentary Anniversary Nights
3. Ceremony & Reception Venues
At the Paradisus there are 5 incredible venue options for you to choose from:
Cypress Ballroom – 800 guests max
Beach La Esmeralda (kid-friendly area) – 160 guests max
Gazebo La Esmeralda (kid-friendly area) – 160 guests max
Gabi Bridge – 150 guests max
Gazebo – 100 guests max (adults only)
The resort can host up to 2 weddings per day at 3 pm and 6 pm, with limitations depending on the time of year.
1. Cypress Ballroom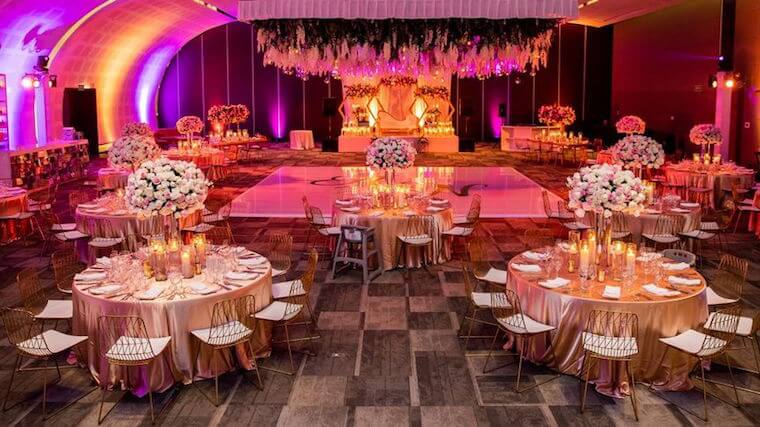 Ideal for: ceremony, reception
Maximum capacity: 800 people
Ground: solid tiles
Completely private
2. The Beach La Esmeralda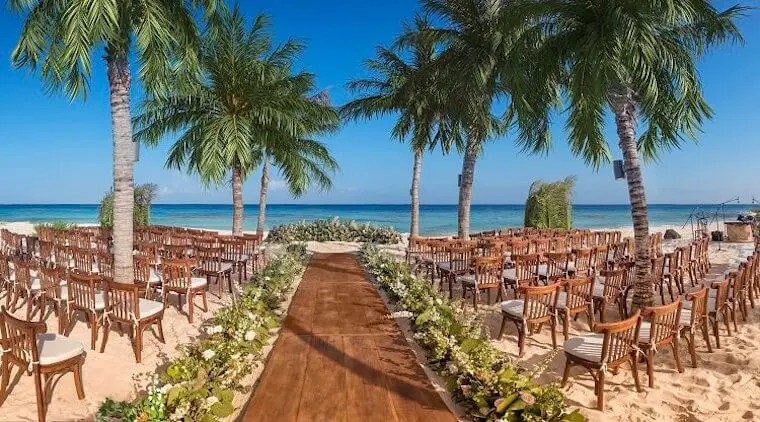 Ideal for: ceremony
Maximum capacity: 160 people
Ground: sand
Not private
3. Beach Gazebo La Esmeralda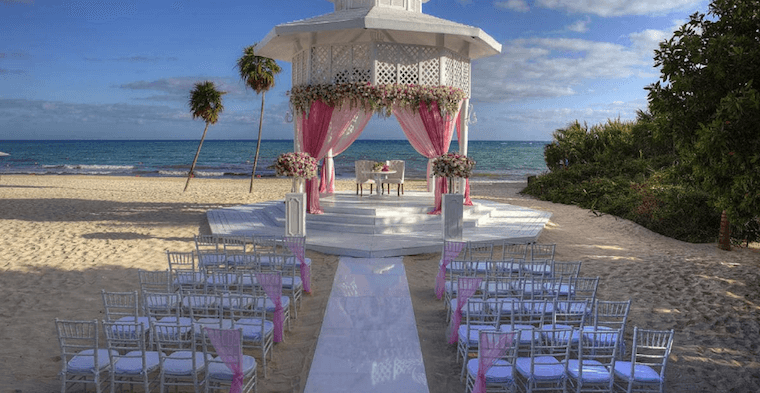 Ideal for: ceremony, cocktail hour
Maximum capacity: 160 guests
Ground: hard floor and sand on the beach
Not private
4. Gabi Bridge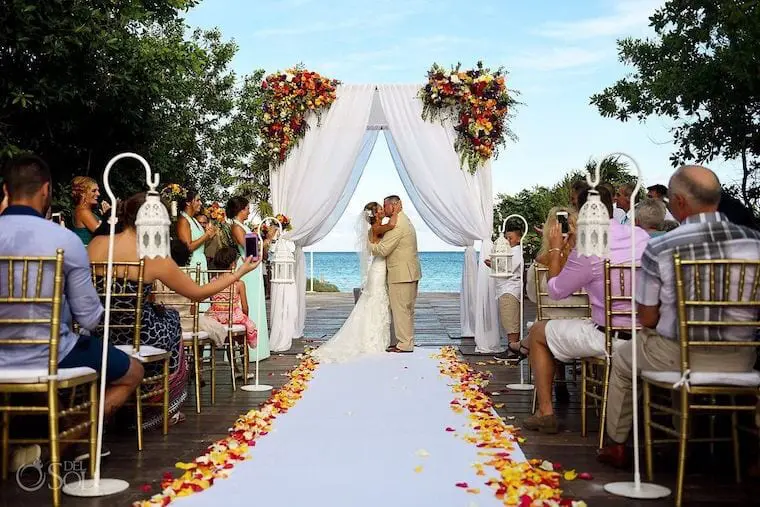 Ideal for: ceremony
Maximum capacity: 150 guests
Ground: hard wooden floorboards
Semi-private
5. Gazebo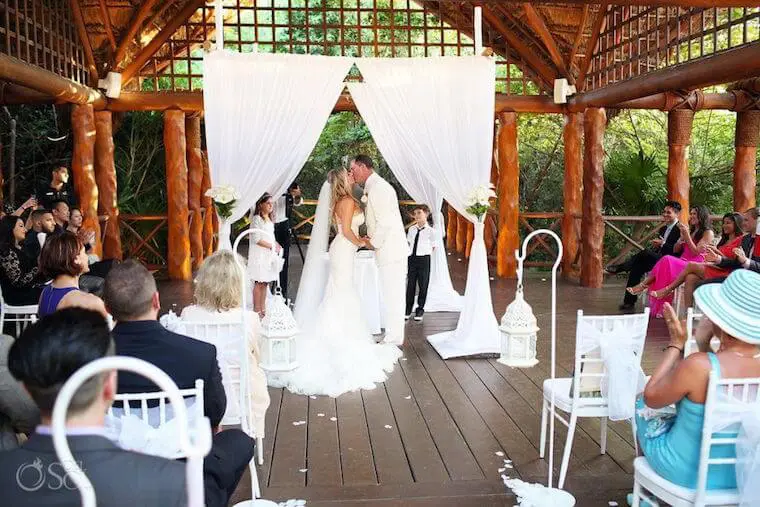 Ideal for: ceremony, cocktail hour
Maximum capacity: 100 guests
Ground: hard wooden floorboards
Private
Tip From A Coordinator:
For a unique Paradisus Playa Del Carmen wedding reception consider cocktails on one of the terraces.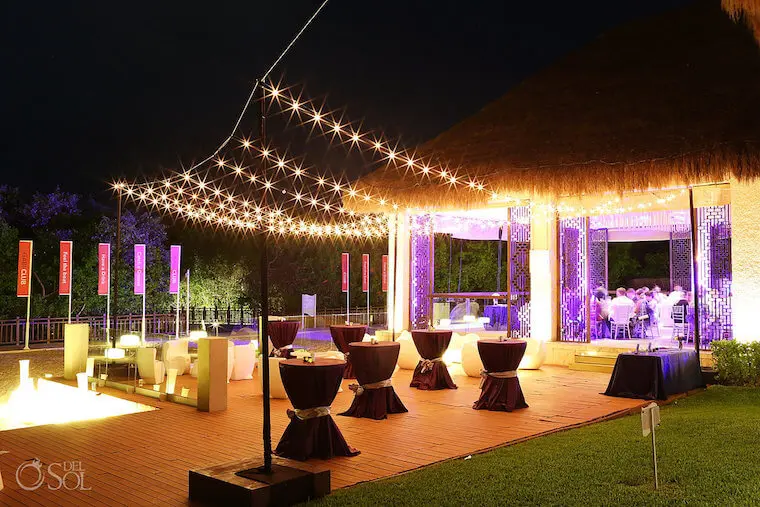 4. Gay Weddings At The Paradisus
The Paradisus would be proud to host your gay wedding.
Not only that but they also accommodate South Asian style weddings too.
When people choose to get married here in Mexico, the most common option is to have a symbolic ceremony and legally do the paperwork back home.
However, a legal marriage can also be arranged here in Mexico if you wish with the added help of one of our expert coordinators.
It just involves a little extra paperwork and planning.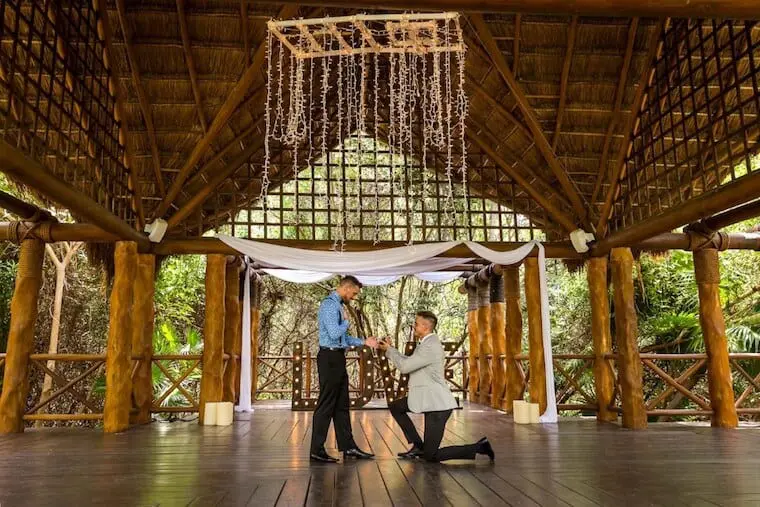 Something to be aware of: The marriage can be legalized here in Mexico but your state home may not class it as legal if they don't allow gay marriage yet.
Other articles you may find useful on this subject include: 
5. Rooms at The Paradisus
As I previously mentioned the hotel is split up into two sections:
Family-friendly
Adult-Only
La Perla (Adults-Only)
Rooms at this property are an oasis for the senses!
They are bright, airy, and spacious… just what you need while residing in the tropics.
With expansive glass doors, deep soak tubs, and rainwater showers the rooms here ooze luxury.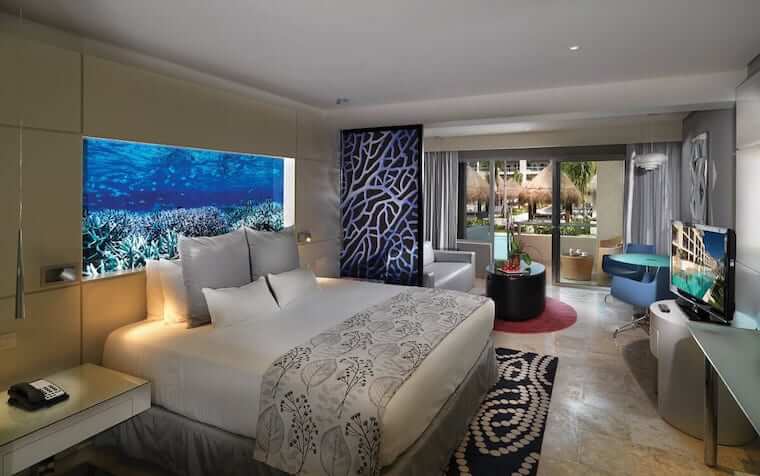 They feature two double beds or one king bed and come with all the amenities you'd expect from a 5-star hotel including 24-hour room service, free WiFi, and a separate living room area with sofa and private terrace.
But that's just the basics!
Why not push the boat out and upgrade this suite to a partial ocean view or one of the swim-up suites, where you have direct access to the pool from your room.
If you are traveling as a group there are even two-bedroom suites available a whopping 1539 square feet in size and have a living room and kitchen area along with two private terraces with their own Jacuzzi tubs.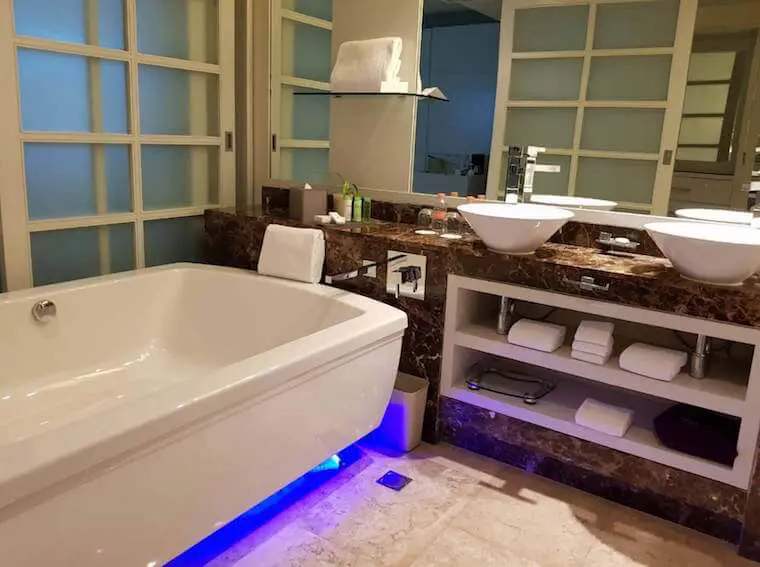 Paradisus La Esmeralda (Kid-Friendly)
…And just because you have children doesn't mean you are any less deserving of luxury.
The good news?
Your rooms are just as fancy as the ones in the adults-only section.
What's more is if you choose to have the Family Concierge Service I mentioned earlier it includes child-sized amenities in the suite too, things such as video game units on request and a kid's beach gift on arrival.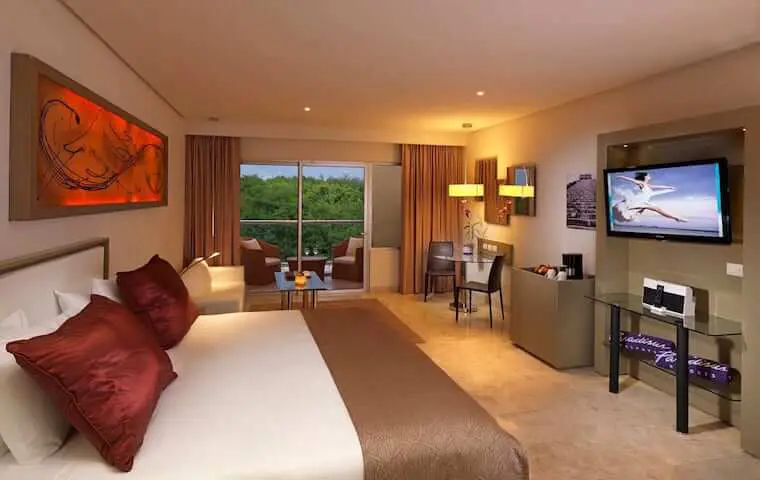 Because let's be honest every kid deserves a spade and bucket on vacation!
Not only that but these services ensure personalized attention with private check-in and check out, a private Family Concierge pool and private beach area, as well as preferential reservation in the a la carte restaurants.
6. Beach
The beach at the Paradisus on a beautiful day is simply stunning!
Crystal blue waters and powdery white sands what is not to love?
However, due to its location so close to downtown, it's good to note that this beach isn't private.
I've never seen it overcrowded by any means but you do see the odd passerby taking their daily strolls up and down the coastline.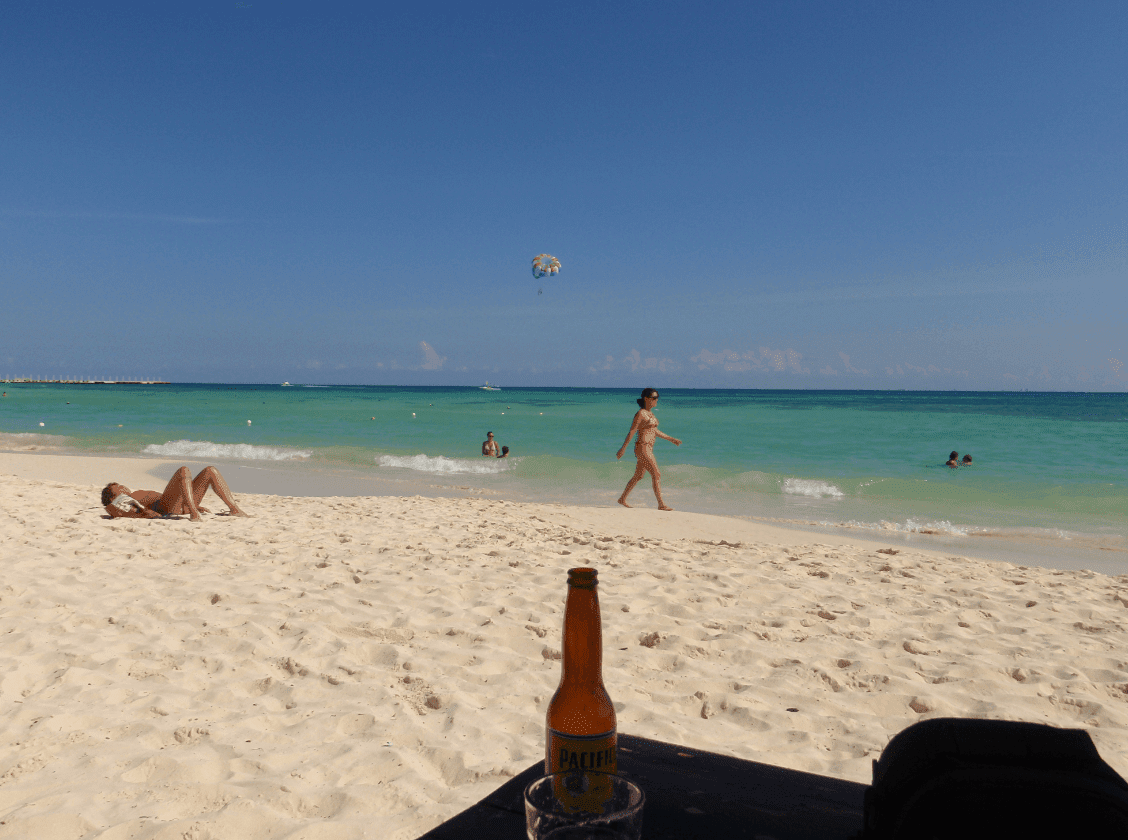 It's quite wide in parts which is refreshing to see because some areas of the Yucatan Coast have unfortunately become extremely narrow.
7. Food & Drink
If you're a foodie you are in luck! Mexico, in general, is just bursting with flavor.
In addition to the adult-only restaurants and bars, you have the privilege of also making use of the option at the neighboring La Esmeralda resort.
Top shelf liquor and tropical cocktails at the numerous bars also await you.
Choose the rooftop ambiance at Gabi Club, tequila lovers will appreciate the Blue Agave which specializes in tequila and mezcal. The chic red lounge is available for after-dinner drinks and the sophisticated South Avenue bar has an extensive array of well-crafted drinks.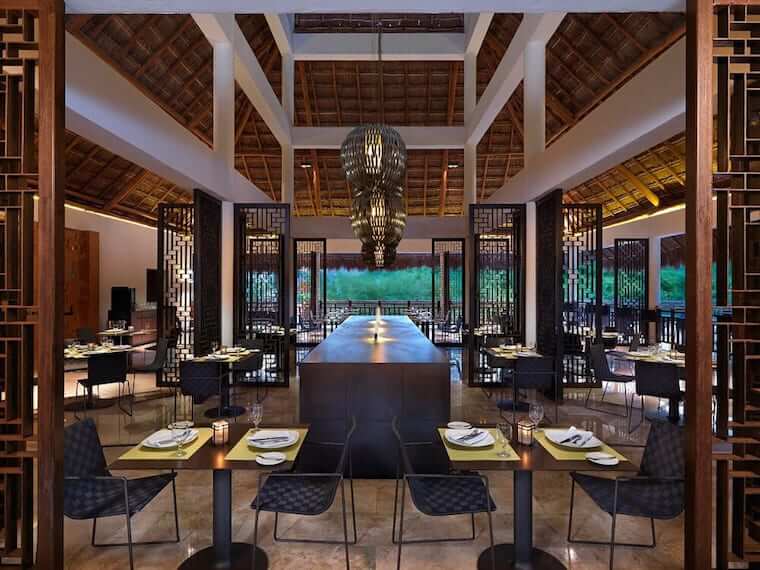 Restaurants include:
Latin Fusion (adults-only)
International
Mediterranean
Signature Martin Berasategui (adults-only)
Asian Fusion
Buffet (Adults-Only)
Mexican
Tapas
In addition to the family-friendly restaurants and bars, adults will also have access to the other dining options available at the neighboring Paradisus La Perla.
Restaurants include:
International
Mediterranean
Asian Fusion
Buffet
Mexican
Tapas
International
Latin Fusion (adults only)
Signature Martin Berasategui (adults only)
Please be aware a resort casual or resort elegant dress code may apply at certain restaurants.
Even though this hotel is more than enough to suffice in terms of food when staying 1-2 weeks I would highly recommend getting outside the walls of your hotel and exploring all that Playa has to offer.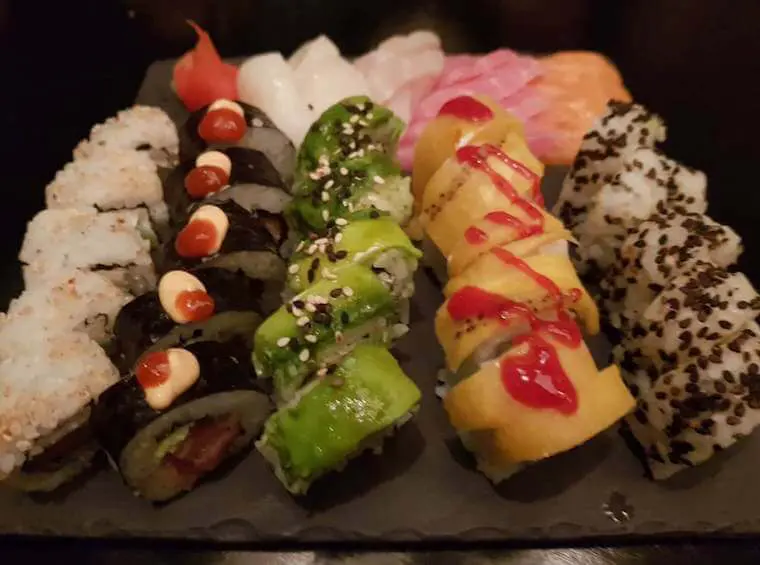 Check out my list of the best places to eat in Playa del Carmen (but be warned this article comes with seriously mouth-watering content, you're welcome ;)) Food in this part of the world is so cheap and so tasty it would be a real shame if you missed out!
Live a little.
8. Activities & Entertainment
The Paradisus boasts a large range of leisure, entertainment, cultural and sports programs.
It's never a dull day at this hotel.
You can be as active and as involved as you want at both of the hotels.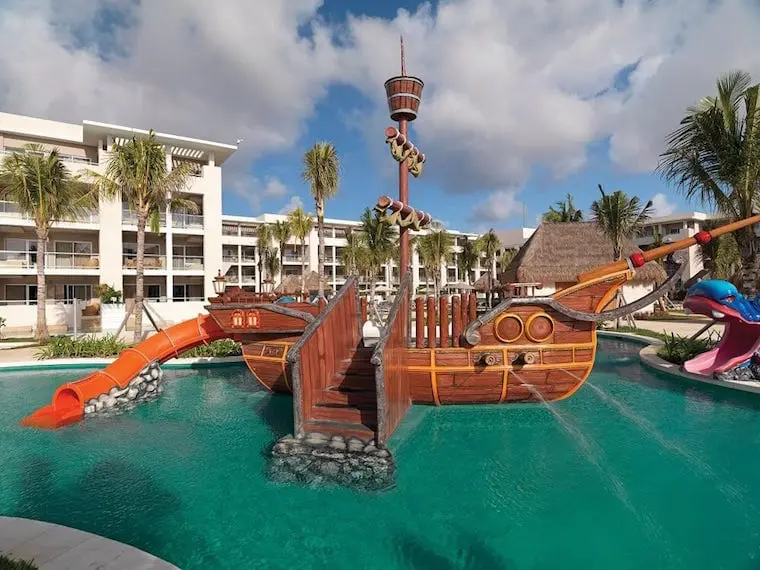 But just to give you an idea here are some of the activities you can expect to see…
Tennis
Aqua Aerobics, water volleyball
Stretching & Pilates
Fitness Center
Spinning
Snorkeling
Meditation
Tango lessons
Wine & Tequila Tasting
Evening entertainment including live music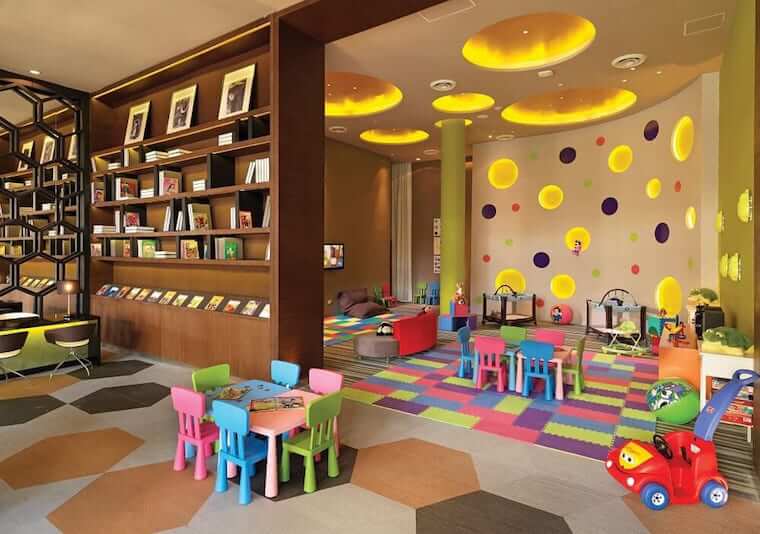 9. What Brides Said…
"A group of 88 of our closest family and friends traveled here to celebrate our wedding. I was nervous about the whole destination wedding idea but the romance team made everything easy and fun to plan. They do a great job with communication and sending you info by email." – Xiomara

"A couple weeks ago we had our wedding take place at paradisus playa del Carmen. Our event planner Jaime was incredible!!! We emailed back and forth making every detail and change to plans come together seamlessly. He was the perfect person to work with and made all my dreams come to life." – Gina P

"We had a destination wedding at this resort this summer. We stayed a few winters ago (2018) to decide if this is where we wanted to get married, and fell in love with the resort! We stayed on the adults only side and had a fabulous time! The bartenders were amazing, the beach bar is the cutest ever and we had amazing dinners each night!" – Jamie Lynn

"The short version is that I would HIGHLY recommend the hotel and the wedding services provided.

Leading up to the wedding, I was a bit overwhelmed with the endless amounts of options and packages for food, decor, etc, but in the end everything was absolutely wonderful. They were extremely flexible with special requests, super easy to communicate with, and seriously executed everything flawlessly." – Michelle

"We Stayed at Paradisus La Esmeralda for a wedding. It was the perfect resort for our family and for the larger group of wedding guests (Adults-only on the Perla side)." – Trail463
10. Why We Like It
We love this hotel so much we decided to have our Christmas Party here and it did not disappoint! We hope to be back there the same time next year – it was amazing!
Our regular site inspections allow us to keep close tabs on all of the hotels in the region to ensure the standards meet our own. The Paradisus have never to this day let us down.
Our client reviews for this hotel speak for themselves.
For me and the wedding team, the highlights of this hotel include:
Quality of the food & drink
Two stunning gazebo wedding locations
Gorgeous swim-up bar and terrace
Mariachi music options
The experienced wedding team at this hotel (super easy and flexible to work with)
11. Additional Resources You May Find Useful
I'm dedicated to you to bringing you honest and insightful information on all things wedding related here in Mexico.
I update the wedding section of our blog weekly and it is simply brimming with posts you will find useful… everything from different packages and inclusions, to what dress you should wear to stay cool.
For your ease of access here are just a few more I think you may find useful while getting inspiration and clarity on your vision for the big day!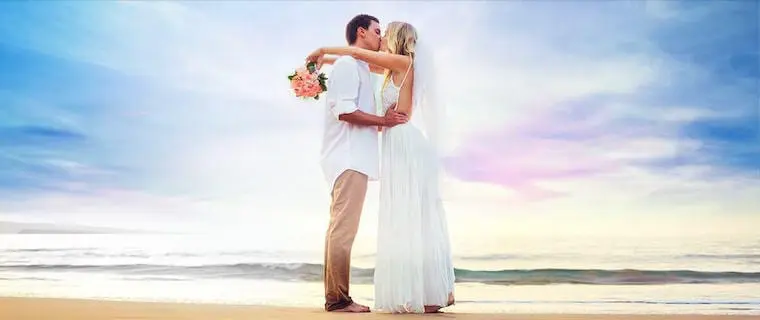 Start here and if you don't find what you're looking for there's much much more to go off, just use the search bar or ask me down in the comments section below, I'd be happy to point you in the right direction.
12. Get Married in Paradise
The first step to planning a faultless and unforgettable wedding is finding the perfect wedding coordinator for you.
Get in touch with our experienced team of wedding planners today for FREE!
Our dedicated wedding team is made up of experienced wedding planners from around the world. So, don't worry I can almost guarantee we speak your language.
This is what we do best! We've planned 100s of spectacular events in the region. As locals, we are unbias and know the lay of the land better than anyone.
We'll be with you every step of the way.
Call us toll-free 888-537-9797.
Or
Contact us via email at weddings@playadelcarmen.com
The Paradisus Playa Del Carmen Wedding Review
Wedding Venues

Wedding Packages

Wedding Team

Hotel Overview

Food & Drink

Beach

Rooms

Activities & Entertainment

Service
Summary
This is hands-down one of the favorite hotels our coordinators love to work with. The Paradisus Playa del Carmen has a track record of hosting unforgettably spectacular events. Couple world-class service with chic interiors choosing to have your wedding here will set you up for a successful marriage. Start as you mean to go on.
---
Trending Now