Average Cost of a Cancun Destination Wedding | 2023 Prices
---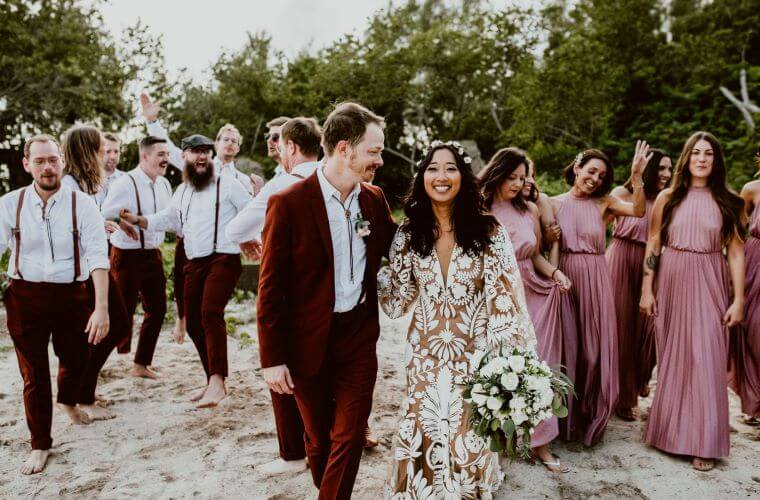 You're dreaming of a destination wedding in Cancun and want to know the cost?
You're in the right place!
We've planned 100's of weddings in Cancun…
so, our wedding team is now on your team, feeding you everything you want to know about weddings in Cancun. 👏
You'll discover exactly what you and your guests should budget for.
Without further ado…
What Is The Average Price For A Destination Wedding in Cancun?
Plus, get our wedding insider insights into the best all-inclusive packages and resorts.
The Average Cost of a Wedding in Cancun:
Planning your destination wedding in Cancun and want to know how far your budget will go?
Well…
The average cost of a wedding in Cancun is $5,000 – $7,000.
This is based on costs at a 4.5★ all-inclusive resort.
You can pay anything from as little as $500 to elope. You can also spend $15,000+ for a wedding with 100+ guests.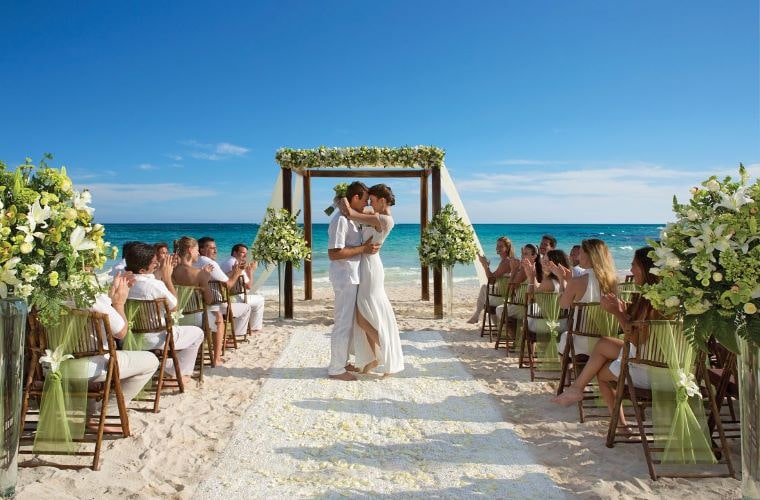 Breaking this down in more detail, here are some approximate costs based on the size of the wedding.
$5,000 for a wedding with 30 guests
$7,000 for a wedding with 60 guests
$10,000 for a wedding with 100 guests
$15,000 for a wedding with 200 guests
Are destination weddings more expensive?
Keeping it real, your budget is always a vital part of your wedding planning.
The great news is that the cost of a wedding in Cancun compares very favorably with the expense of a wedding at home.
These are the figures…
Wedding in Cancun (average cost $5,000-$7,000) vs traditional wedding in the USA (average cost $22,500*).
That's a BIG saving AND you get to celebrate your love against the stunning Caribbean backdrop.
What's not to love? 😍
*Figure for an average wedding in 2021 according to WeddingWire.
That's only the start.
All-inclusive wedding packages don't just give you great value.
You get a romantic experience you'll never forget.
What's Included in an All-Inclusive Wedding Package?
Thinking of choosing an all-inclusive wedding package at a Cancun resort?
I hear you.
They take all the stress out of your planning and you get everything you need for a truly special celebration.
Wedding packages are slightly different depending on which resort you choose and what type of wedding you want.
Generally, you can expect inclusions such as:
Symbolic ceremony
Bouquet for bride and boutonniere for the groom
Ceremony location
Sparkling wine for the toast
Wedding cake
Decor for the ceremony
Sound system
You can upgrade your wedding package to include:
Private cocktail hour
Private buffet dinner
Open bar
DJ
Live music
Upgrade to a super luxurious suite
Premium drinks
Romantic candlelit dinner on the beach
Wondering whether choosing a $10,000 rather than a $5,000 wedding is the way to go?
Our experienced wedding team will talk you through what to expect from different packages and help you decide on the best one for you.
That's not all…
You can personalize your package with extras such as flowers, photography, decor, and furniture.
Or, you can decide on a bespoke wedding experience at a luxury Cancun resort.
Call us at 888-537-9797, and we'll help you plan your wedding the way you want it.
Plus…
We'll put our contacts and local knowledge to use, getting you the best deals on your wedding and accommodation.
Cost Breakdown for Your Wedding in Cancun
So, you've seen the average cost of a wedding in Cancun and what to expect from a wedding package.
Now, let's get into the details, starting with a question we get asked all the time at PlayaDelCarmen.Com…
How much is a wedding at an all-inclusive resort?
There are some amazingly beautiful all-inclusive resorts in the Cancun area.
The views and amenities are stunning as you can see…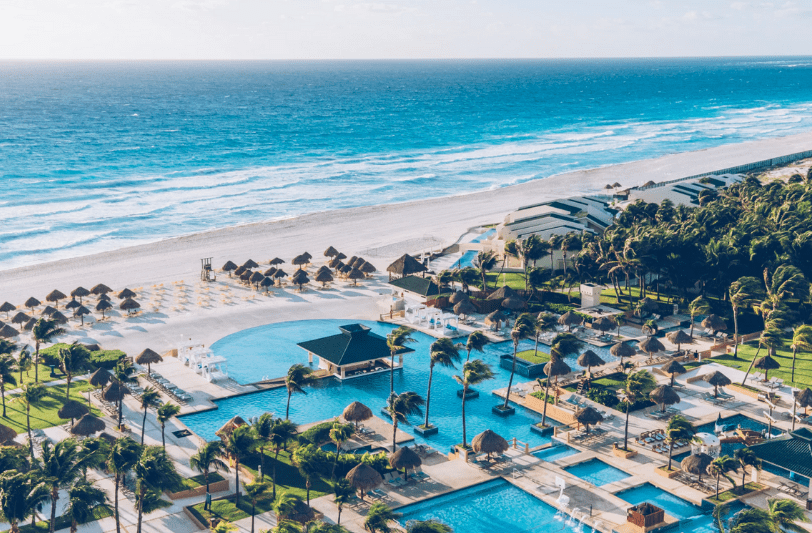 The best news is that getting married at one of these resorts is more affordable than you might expect.
Here's a simple breakdown of the costs you can expect if you choose to get married in Cancun.
$6,000 on average for an all-inclusive wedding package (5-7 nights)
$250-$450 per person for a flight from the US
$100 for airport transfers.
$50 for gratuities
$500-$3,000 for wedding day extras
The pricing for your wedding will not be exactly the same as this as costs vary depending on things such as the number of guests, the time of year, and how many extras you choose.
But, this does show you that you don't need to spend a fortune to have a romantic Caribbean wedding that you'll never forget.
You may also want to have a read of my blog post to check out the most affordable resorts for your wedding.
"10 Most Affordable Resorts For Your Wedding in Mexico (2023)"
Types of Wedding Ceremonies Available
The type of ceremony you choose can have a big impact on the cost breakdown for your wedding.
For example, there's a BIG difference between the cost of a legal ceremony and the cost of a symbolic ceremony.
There are some very good reasons for this extra expense for legal ceremonies:
Couples have to arrive several days before the day of the ceremony to finalize the paperwork so extra nights at the resort have to be paid for.
Bloodwork has to be completed.
The cost of a judge and courthouse fees has to be met.
Translation of the wedding certificate may be needed in order for the marriage to be legal.
So, you may prefer to sort all the legal stuff out at home and stick to a symbolic ceremony at the resort.
But, if you'd rather marry legally in Mexico that's no problem.
This applies to all weddings including same-sex ceremonies.
It just requires some extra paperwork and planning.
And we're happy to help you plan.
Whatever type of wedding you're thinking of the PlayaDelCarmen.Com team has you covered.
Many resorts have chapels for Catholic weddings and Indian Weddings are also very popular.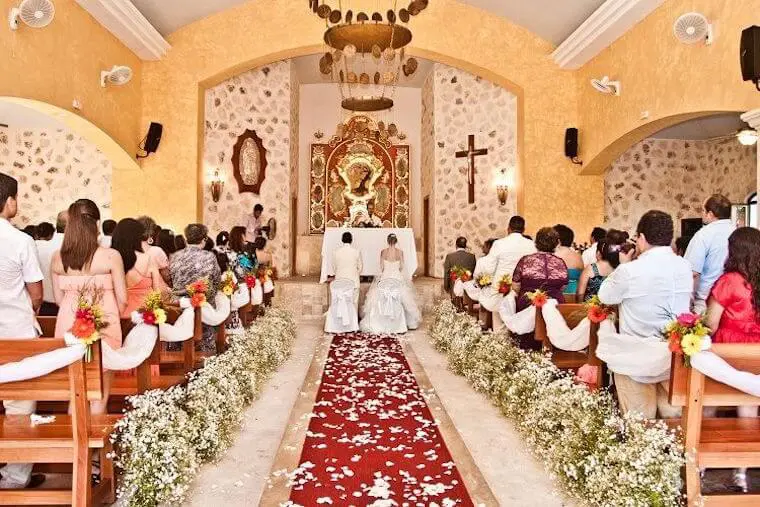 Have a look at my blog post for more inspiration.
"10 Best Resorts for Indian Weddings in Mexico (2023)"
Heads up…
Indian weddings are usually more expensive as they tend to involve 3-4 days of celebrations.
I've almost finished breaking down the cost of a Cancun wedding for you.
There's one more question that has an effect on cost…
What is the best month to get married in Cancun?
I'll start by saying that sunshine is pretty much all year-round in Cancun.
Check out this chart for more Cancun weather info.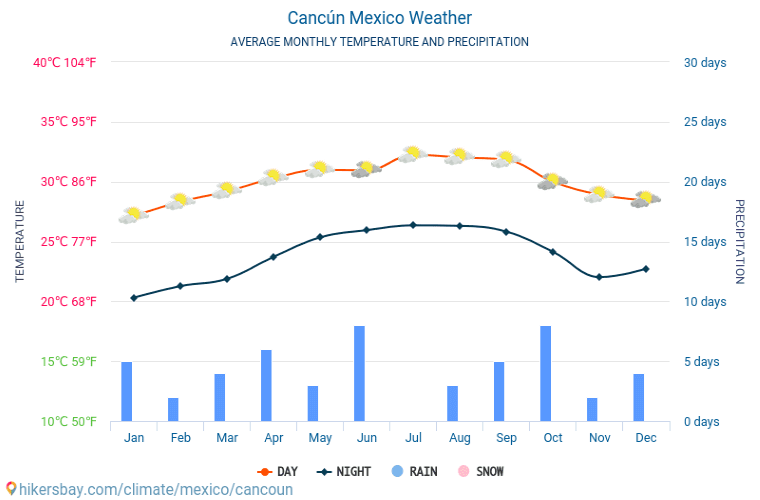 Given that the weather is always decent, most couples choose a time when weddings, flights, and accommodation are affordable.
So, the most popular month is May.
Choose to book your wedding at this time and you can get affordable flights, packages, and hotels as well as weather that's great but not too hot.
Plus…
If you're unlucky enough to have rain on your wedding day, the resort will have a backup plan and move your celebration to a stunning indoor space.
Worries about rain on your wedding day in Cancun? Learn more. 
Your Cost Breakdown for Guests
Concerned about how much your guests will spend on attending your Cancun wedding?
I get that.
You want your friends and family to be there but you don't want them to spend too much money.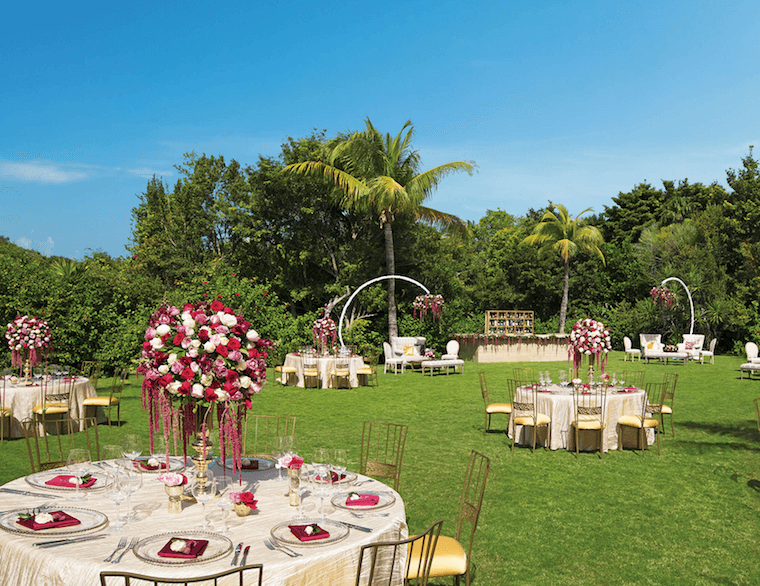 I have excellent news.
They don't have to pay anything to attend your ceremony and reception if they're staying at the same resort.
They get to celebrate with you for FREE.
If they decide to stay at a different resort, they'll need to buy a "wedding day pass" which costs around $50 – $100 per person.
Heads up…
Normally, around 80% of your guests will be expected to stay at the resort where your wedding is taking place.
No matter which accommodation they choose, your wedding guests will have to pay for it.
Then, there's the cost of flights, airport transfers, and gratuities to consider.
Here's a breakdown of average costs for guests at a Cancun wedding.
$250-$450 per person for a flight from the US
$100-$250 per person per night (4★ resort)
$100 for airport transfers
$50 for gratuities
So, that's a cost of around $700-$1,350 for a guest to join you for three nights in Cancun.
Plus, extras for any trips or activities outside of the resort.
If you're having a wedding with a lot of guests you should check out this blog post for more info.
"10 Best Wedding Resorts for 200+ Guests in Mexico (2023)"
How Much Does Wedding Photography Cost?
If you're traveling to paradise for your wedding, you want to capture the event in beautiful professional photos right?
I hear you.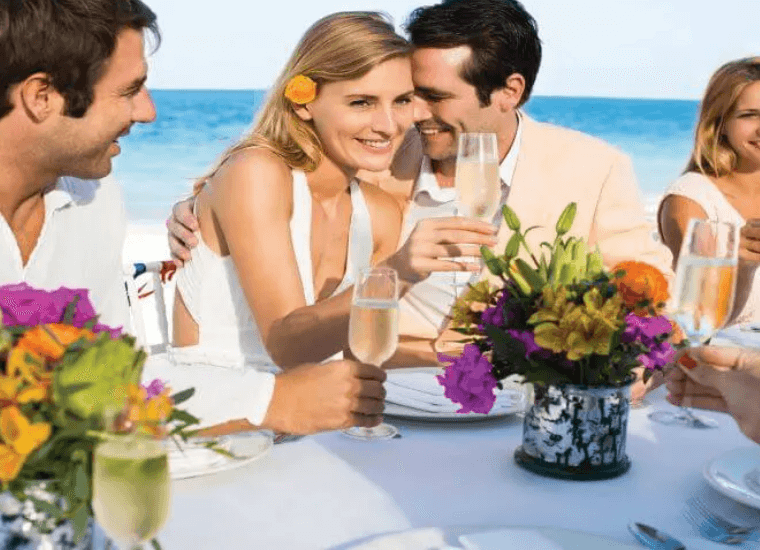 Most all-inclusive resorts have preferred photographers for you to hire.
You can expect to pay around $750-$3500+ for a wedding photography package if it's not included in the wedding package you choose.
If you want to use your own local photographer, the cost will be around $500-$4,000 plus an outside vendor fee payable to the resort of around $400-$1,000 per vendor.
The more expensive packages include extras such as:
Drones
Videography
Photo booths
Elaborate "trash the dress" shots
You only have one opportunity to get images and/or video of your special day so it's worth investing extra dollars and going all-out.
Perks and Discounts Available to You
We love getting the best perks and discounts for our guests.
There are some great deals to be had that can get you extra luxury or $ discounts.
Booking rooms for 30+ guests can get you a room upgrade or even a FREE wedding package.
Some resorts also give you discounted anniversary packages if you book your wedding with them.
Our team will help you discover the perks that benefit you the most.
For example, if you make a block accommodation booking at a Karisma hotel, you can get preferential rates.
And, the rooms and suites are super impressive as you can see…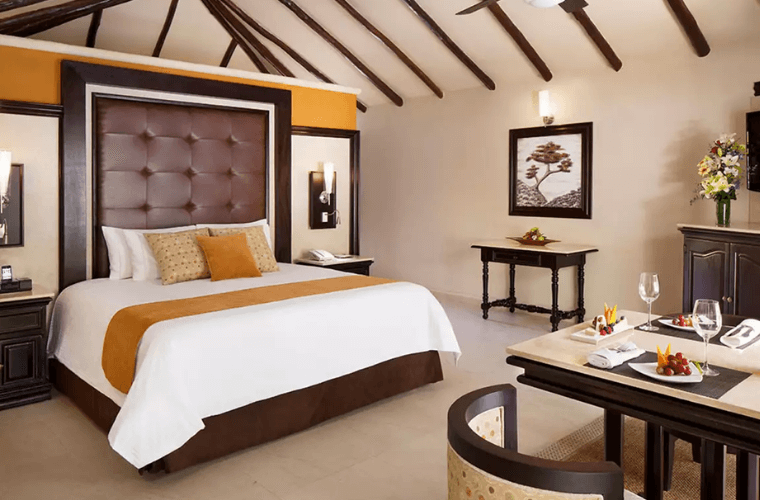 That's just one perk of choosing this resort group.
Take a few minutes to read my blog post and you'll discover more.
"10 Irresistible Perks of Booking Your Wedding at A Karisma Hotel"
Get Help Planning Your Destination Wedding?
As you can see, there's a lot to consider when it comes to the cost of your wedding in Cancun.
And that's only the beginning.
You also need to think about things such as resort amenities, activities, and what wedding features are most important to you and your partner.
Need help with all of this?
No problem.
Call us on  888-537-9797 or send an email to weddings@playadelcarmen.com.
We're local to the resorts in Cancun and we'll put our experience and insights to use making your wedding dreams a reality.
We're excited to be part of your wedding story.
Have questions about the prices for weddings in Cancun or any other destination wedding queries? 
Just pop something in the comments and I'll get on it ASAP.
---
Trending Now
You may also like