Calles Corazon Project Seeks to Transform Playa del Carmen Through Art
---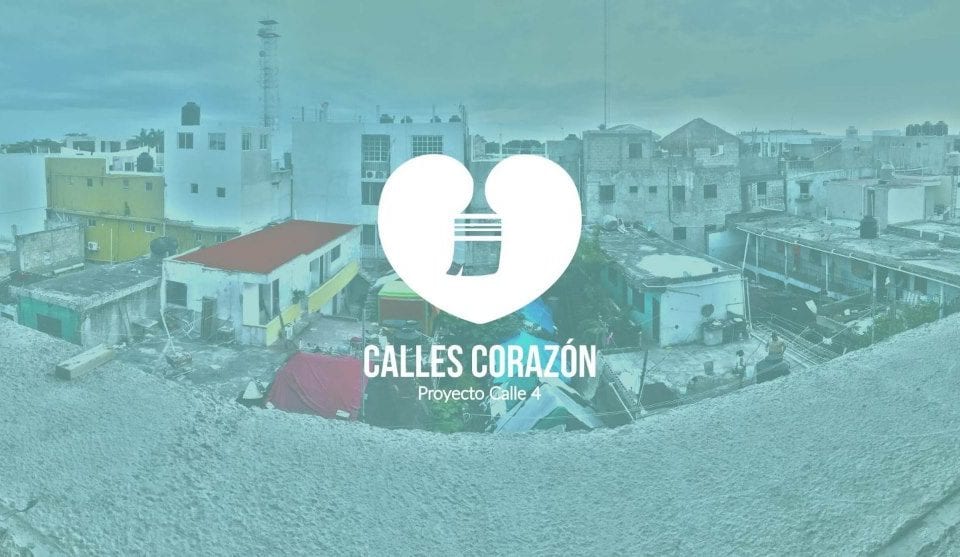 Calles Corazon, Streets of Heart, is a new project that looks to transform Playa del Carmen's urban landscape through street art.
From June 1st through June 10th, this ambitious and colorful project will set their brushes to painting and sprucing up the area of 4th Street Bis between 25th and 30th Avenues through wall murals.
The initiative is being nurtured by a group of Playa del Carmen-based producers and cultural promoters comprised of Insomniak Art, Tobogan Plataforma and RFLCT,  together with the local government and two private initiatives: La Fishería Playa del Carmen and Ícono Playa.
Here is more about the project in their own words.
Calles Corazon – Streets of Heart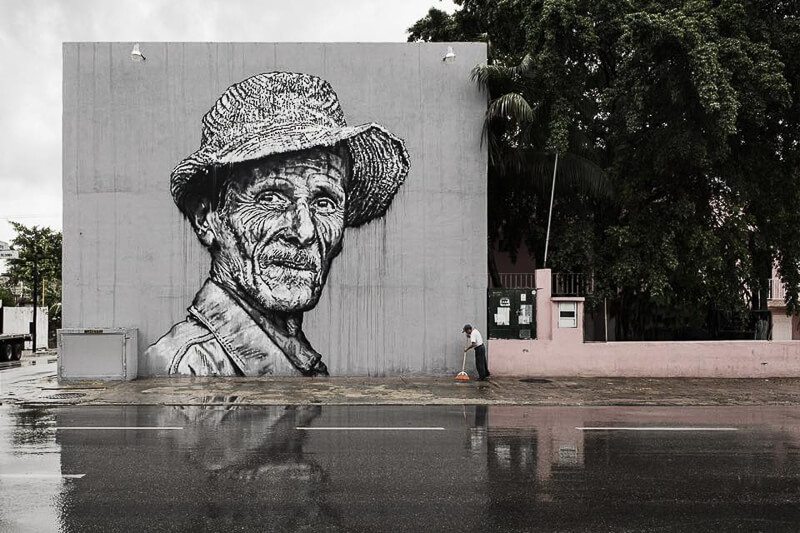 To be Playense (pronounced ply-yen-sey) is not just to live in Playa del Carmen, but to enjoy and be part of the colors, flavors, places, beaches, and activities of the city.
The multi-culturalism of the inhabitants, the beautiful beaches of white sand and corals, hotels and activities for all lifestyles, and the best restaurants and bars with a cosmopolitan vibe have made Playa del Carmen the heart of the Riviera Maya; a point of encounter for artists and tourists built by dreamers and creative people from all over the world.
The heart which each person puts into their everyday life, into their routines, into their creations, filling every nook and corner of Playa del Carmen with endless proposals from creators and entrepreneurs.
The presence of urban art permits a new visualization of the surroundings, generating a positive change between space and social life, one that seeks to tell a story and generate an emotion through art for both those just passing through town and those that call Playa del Carmen their home.
As Calles Corazon, we want to give life to these walls, these streets that we transit day each and every day.
4th Street Bis Project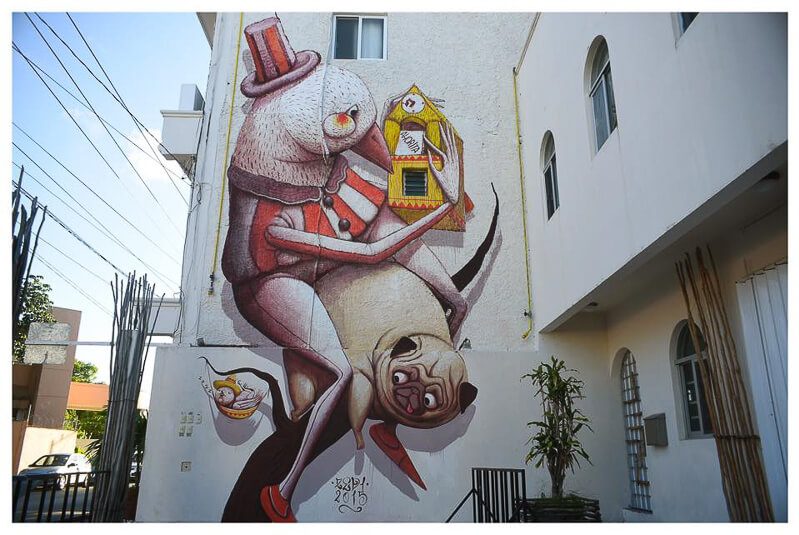 4th Street is located in the heart of Playa del Carmen; a forgotten stretch of the town that we plan to recover in order to regenerate the creative motor of its and inhabitants and contribute to the construction of an identity of Playa through public art.
The renovation of 4th Street Bis is a social and artistic project designed to recover the streets of Playa del Carmen which are in a current state of decadence.
2nd and 4th Streets are the heart of Playa. However, it is precisely these two stretches of town that seem so abandoned. We are going to recover them, and through them generate this creative motor and sense of belonging.
About Calles Corazon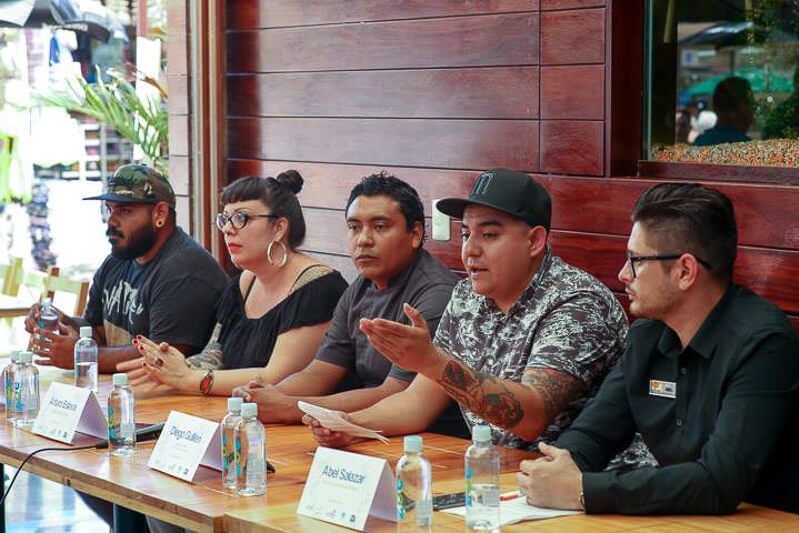 Consuming locally is another way of participating as a citizen, feeling the streets and neighborhoods and contributing to safety, peace, and harmony.
To observe the character of each corner, its planes and emptiness, light and shadows, textures and lines, allows you to understand the architectonical and human relationships and to establish a meeting point for tourists and locals alike through art.
Calles Corazón is a project led by young entrepreneurs united in a social and artistical project based on the restoration of the streets of Playa del Carmen through art and culture, where the community, business sector, and local government join forces to improve the quality of life through better street lighting, waterproofing of the houses, and the creation of new pedestrian routes.
Muralism & Street Art in Mexico
Muralism in Mexico as an art form dates back to the pre-Hispanic period and continued through the epoch of New Spain and the neo-classic movement. Artists have used muralism to educate the masses and to transmit information about their culture and roots.
Following the Mexican Revolution, muralism became an artistic movement led by a famous group of intellectual painters whose large-scale paintings and socio-political messages became a powerful element to shape the future. Some of the more famous painters include David Alfaro Siqueiros, José Clemente Orozco, Diego Riviera, and Rufino Tamayo, among others.
Muralism has evolved since then but still continues to be a fundamental aspect of the streets of Mexico, bringing with it new necessities and experiences. Technology has given the arts new resources and creative outlets, and the internet has opened the door to the discovery of new inspirations from all over the world.
Over the course of the last decade, new tendencies have led to a more contemporary muralism as an extension of urban art. Without a doubt, this transformed art form still takes its inspiration in classic muralism while also incorporating elements from other sources such as comics, video games, design, and graphic arts.
Although it took longer for urban art in Mexico to emerge from being considered illegal and underground than it did in other countries, today Mexico is one of the leading countries of this art form.
Nowadays, it is an art that is of interest to publicists, festival and event organizers, galleries, journalists, curators, and even hotels such as Andaz Mayakoba.
Some of the more well-known Mexican urban street artists include Saner, Sego, Neuzz, Smithe, Dhear One, Seher One, and Kraken, among others.
Translation: PlayaDelCarmen.com
Looking for urban inspiration just steps away from the Caribbean Sea?
Our travel specialists can help you paint the town with some great travel deals!
Contact them today toll-free at 888-537-9797!
---
Trending Now
You may also like