BPM 2016 – Tickets, Accommodation & more…
---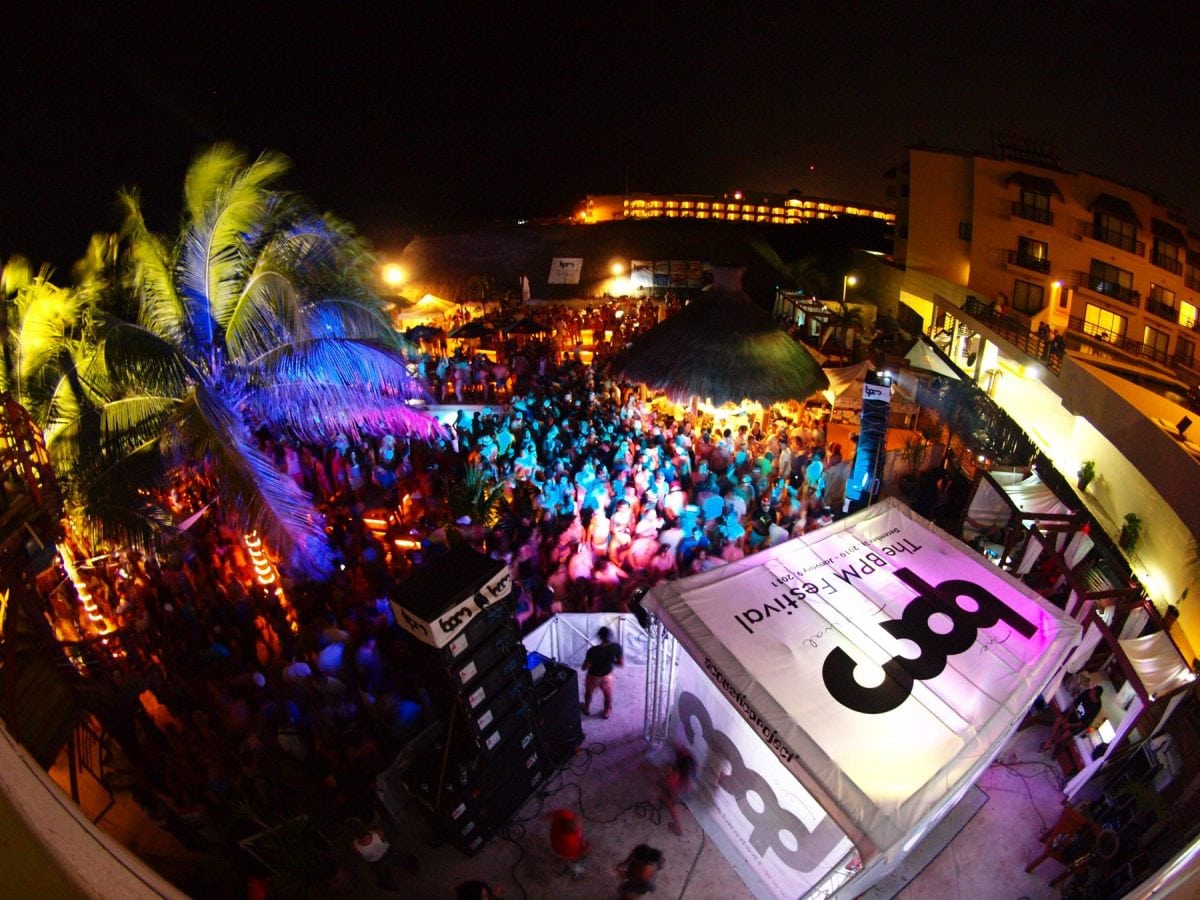 9 YEARS AND GOING STRONG
For the 9th year in a row, BPM will be taking over Playa del Carmen.
For electronic music lovers – this is THE place to be. From January 8-17th, 2016, thousands of visitors from around the world will flock to Playa del Carmen for the 2016 BPM – the ultimate beach electronic music festival.
Stretched over 10 days, the festival includes continuous music programming featuring artists from around the globe. Venues include beach-side stages, popular nightclubs and smaller more intimate spots.
At BPM 2015, over 375 artists were featured during the 10 day festival. More than 60,000 festival-goers from over 60 countries visited Playa del Carmen for the dance and music festival.
The BPM Festival is the perfect kickoff to the year for industry professionals, artists, and fans of all forms of underground dance music.
HOTELS FOR BPM 2016
Just looking for a place to stay? Whether it is cheap accommodation or a condo, you can search here for the best prices around. Plus, a lot of options offer free cancellation and book now, pay later options. Check it out….
PACKAGES FOR BPM 2016
If you want to take all the stress out of your vacation planning and want an all inclusive package – you can get hotel packages here or get in touch with one of our travel specialists and we will be happy to help.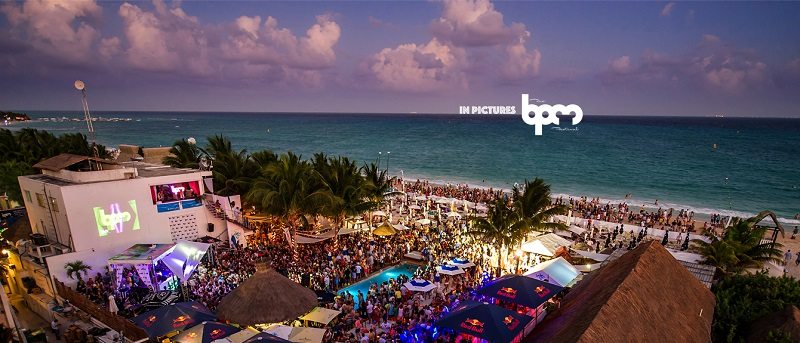 HISTORY OF THE BPM FESTIVAL
When the BPM first started in 2008, the intention was to create a an industry event for Bartenders, Promoters and Managers (BPM). It is now also knows as Beats Per Minute.
Each year, the festival has grown in popularity, attracting thousands of visitors and lining up more and more international DJ's. Electronic dance music fans have the option for the ultimate winter getaway.
DJ's in previous years have included: Richie Hawtin, Carl Cox, Luciano, Wolf + Lamb, DJ Tennis, Soul Clap, Lee Burridge, Seth Troxler and many more…
BPM VENUES
Daytime and nighttime shows are scheduled, in various venues ranging from the beach, to the jungle, nightclubs and other spots in and around town.
1) Beachside BPM Events
BPM originally started as a beach-side event and continues to take over the beach in Playa del Carmen for the 10 days of events. Shows take place in the famous Mamitas Beach Club. Right next door to Mamitas, along the same stretch of beach, you will find KOOL beach club. These are both located around Calle 26 and the beach.
A little north is Cannibal Royal (calle 48) with a hip vibe and a more intimate setting. At calle 4, Fusion Beach club also hosts a variety of shows.
2) Night club BPM Events

Nightclubs include famous Blue Parrot. The Blue Parrot is a beachside club, open daily and nightly, that was one of the first in Playa del Carmen, having opened in 1984. Located on the beach, at the bottom of the nightlife hub of 12th street, the location could not be better. Next door to Blue Parrot, the Coco Maya beach and nightclub will also be hosting a variety of BPM shows. Other venues on 12th will include Tribeca,
La Santanera, located on 10th and 5th also hosts quite a few BPM events.
3) BPM Outside Playa del Carmen
Events and shows also take place outside the main Playa del Carmen town area. One of the venues is the Blue Venado Beach Club, about 15 minutes drive outside town, where you can party in a remote beach / jungle environment. The eco-chic destination of Tulum, will also be the top spot for certain artists on the roster as well. With rustic accommodation and some of the most beautiful beaches in the world, Tulum is attracting more and more artists and visitors.
4) BPM Pop Ups
There are always a sprinkle of random shows, known as pop ups, going on around town, so once you are here, keep your ears open for the info. In 2014, Richie Hawtin & Dubfire announced a surprise show at a local taco place, El Fogon. The show was announced at 6pm and by 7pm the streets were flooded!

Watch what the BPM is all about when the BPM 2015 DJ's sound off…

INFORMATION & QUESTIONS
Looking for the right inclusive resort, hotel or just have questions…. contact us and we can help!
Our travel specialists at PlayaDelCarmen.com can get you exclusive pricing. 888-537-9797.
---
Let our Playa del Carmen Travel Specialists help!
---
Have you been to BPM? What did you think? Share your experience in the comments below…
---
Trending Now
You may also like