7 Outstanding Ice Cream Shops in Playa Del Carmen
---
One of the must have sweet treats when on holiday is ice cream!
Delicious, cold, creamy ice cream.
Nothing beats it.
Plus, when it comes to the sweltering heat here in Playa del Carmen, ice cream is the best way to cool down and refresh.
You'll find plenty of places to buy ice cream here in Playa:
street cart vendors
corner stores
family-owned businesses
modern franchises
traditional gelato stores all the way from Italy
BUT
You don't want just any ice cream….you want the best ice cream.
So I've put together this fantastic guide on the best ice cream shops in Playa del Carmen.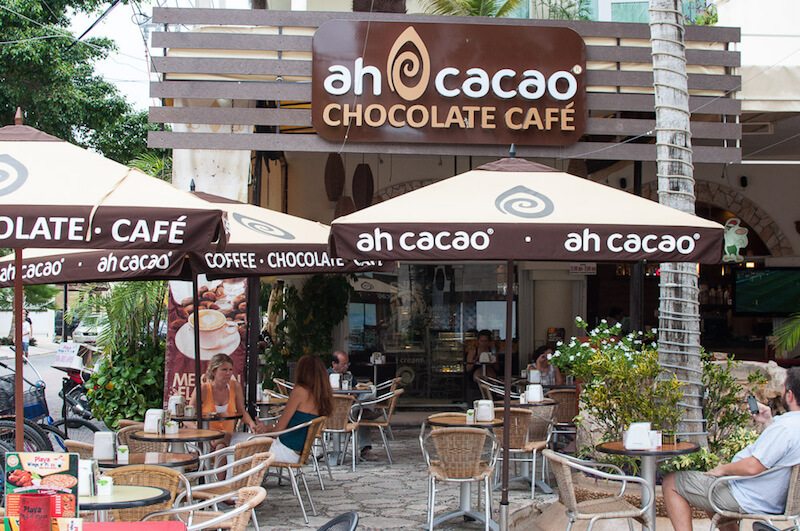 Ah Cacao
Known for its freshly roasted coffee, amazing chocolate treats, and delicious pastries, did you know that Ah Cacao also has some of the best ice cream in town?
They have 3 locations in Playa del Carmen:
Ah Cacao on Constituyentes
Ah Caco on Calle 30
Ah Caco between 38th and 40th
Each of these stores has a small fridge jam packed with deliciously creamy ice cream.
In true Ah Cacao fashion, all of the ice cream is made with local ingredients and raw cocoa.
However, the best part is that Ah Cacao has made some of their most popular drinks into ice cream flavors.
Mayan chocolate, dark chocolate, vanilla and of course, traditional chocolate.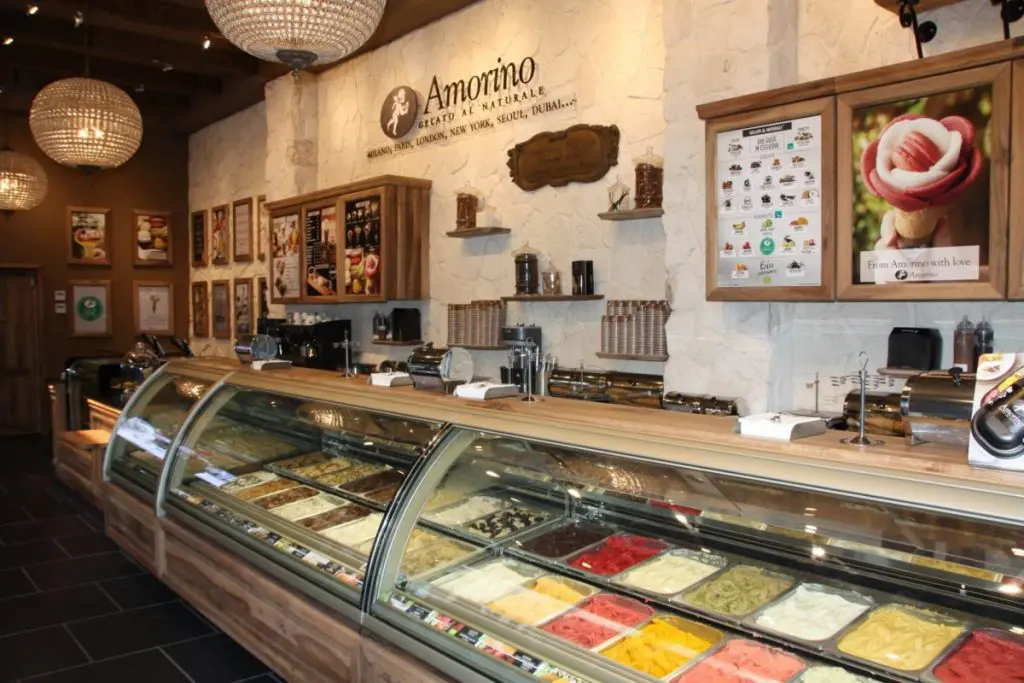 Amorino 
This world famous gelato chain has finally arrived in Playa del Carmen.
It's their only store in the whole of Mexico, and it has all the amazing Italian flavors of their many European stores.
When Amorino first arrived, there were mixed reviews.
Some people were angry that such a big European chain would open on 5th Avenue, while others were excited to have such a famous store on their door step.
What makes Amorino so special is that they serve all their gelato in the shape of a rose!
Yep, now you can have beautiful Ice Cream pictures just like the European Instagrammers do. You can choose as many flavors as you like, and the extremely talented staff will make it into the rose size of your choosing.
For an extra fee, they will also place a fantastically chewy macaroon in the center.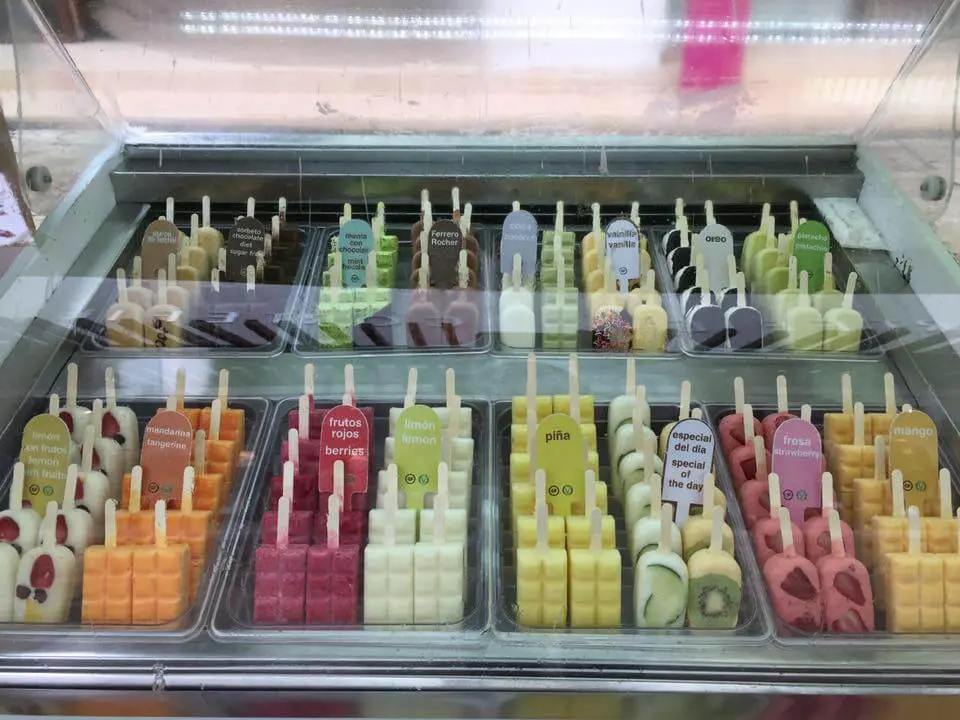 Artik Pop
Artik Pop has 2 locations in Playa del Carmen, one in Paseo del Carmen, and another inside the Calle Corazon shopping area.
This street cart style store is totally adorable and is sure to catch your attention as you walk by.
They sell ice cream and ice lollies on a stick in the shape of a lego block.
The vibrant colors alone will have you spoilt for choice, but add in their all-natural flavors, chunks of frozen fruit and refreshing juiciness, and you've got a winner.
Artik Pop ice creams are the best thing for strolling along 5th Avenue on a hot summer afternoon.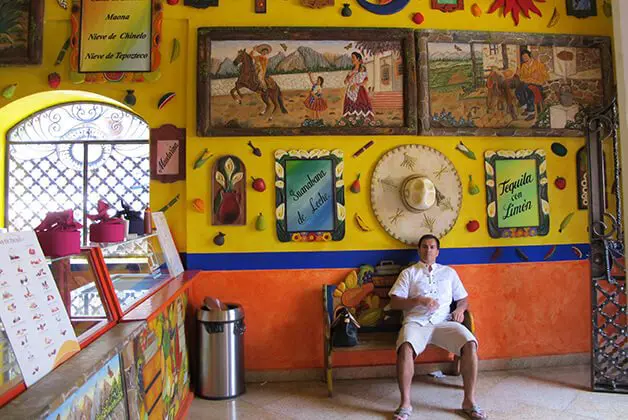 Tepoznieves
If you're looking for a more traditional Mexican ice cream experience then this is the place to go.
Their bright interior and cute fruit shaped tables and chairs are enough to get you through the door, but their refreshing ice cream will definitely be the reason you stay.
Tepoznieves is originally from Tepoztlan, Morelos, and they sell Nieve (sorbet) ice cream and paletas (ice lollies).
They have many unusual and delicious flavors such as tequila and lime, dragon fruit, pistachio, Cinderella's kiss, cucumber and chili and tres leches.
Tepoznieves don't just sell some of the most traditional Mexican ice cream in Playa, but it's also some of the cheapest.
So you can definitely try more than one of their 25 plus amazing flavors!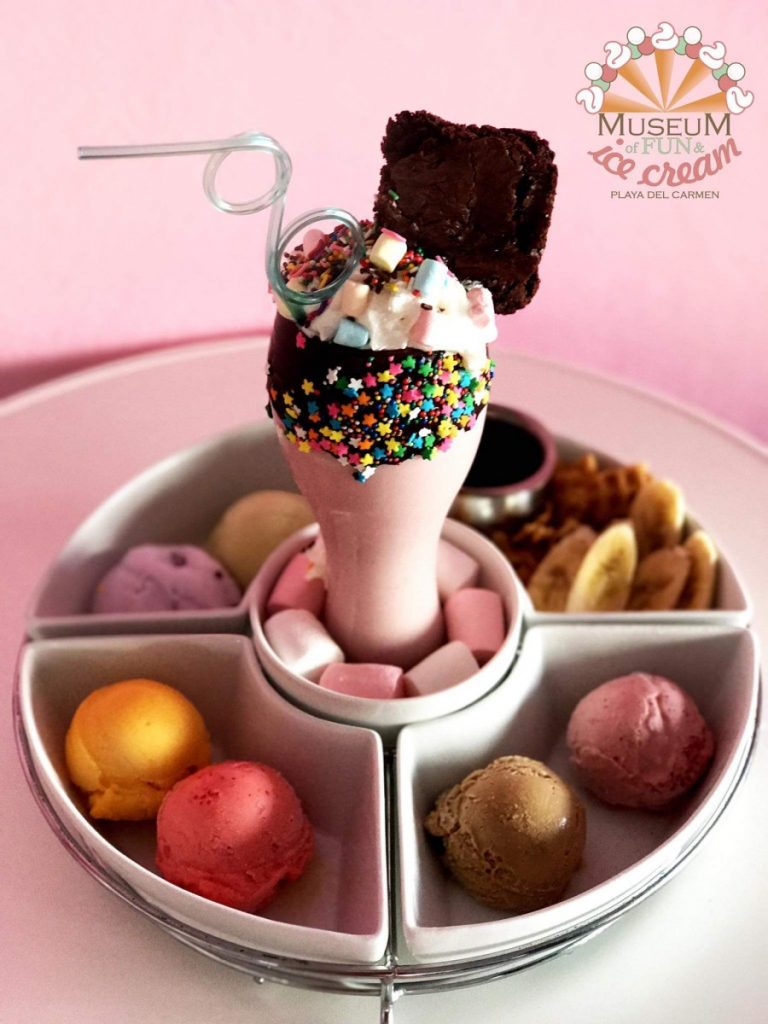 Museum of Fun & Ice Cream 
The Museum of Fun & Ice Cream is the new kid on the block, and while it's not much of a museum, they sure know what they're doing when it comes to ice cream!
Their crazy store, with many amazing photo opportunities, outrageous flavor combinations and spectacularly colorful desserts make this ice cream shop a must see when in Playa.
They take fun to a whole new level with their magical Unicorn shake, creative Cupshake (a milkshake and cupcake combined), ice cream tacos and gigantic sundaes.
If you're into the more traditional form of ice cream, the Museum of Fun & Ice Cream will happily serve you up a decorated cone of the cold stuff.
Amo Gelato
Located a little away from the more touristy area of 5th Avenue, Amo Gelato is a local favorite.
This little gem only has a couple tables outside, but people still flock there in droves.
Why?
Because their gelato is just so damn good!
Amo Gelato makes their ice cream the traditional Italian way; thick, creamy and bursting full of flavor.
The flavors they have on offer change depending on demand, but they always have the favorites. Cheese cake, Stracciatella, banana split, pistachio, coffee, and Ferrero are not to be missed.
Bertoni Gelato
In my humble opinion, Bertoni has the absolute best vegan chocolate ice cream I have ever tried in my life. It's even better than their non-vegan version.
At Bertoni, they absolutely live and breathe gelato and the result is some highly impressive flavors.
They use all-natural ingredients, locally grown where possible, and produce them all on site.
If you look behind the counter you can actually see the huge mixing machines working away.
Their prices are a little on the high side for Playa del Carmen, but compared to a couple other ice cream stores on this list, and to the prices in the States, they are completely reasonable.
You can have a traditional cone, cup or be a little more adventurous with a decadent blended milkshake.
We Can Help
Have you booked your vacation yet?
You can save a ton by booking through us, PlayaDelCarmen.com.
We'll find you the best deals available, guaranteed and we know the hotels and activities inside and out!
Call us today at 888-537-9797 or send us an email.
You can even book tours online at up to 20% off!
Have you tried any of these ice cream stores? Let me know which was your favorite in the comments below!
---
Trending Now
You may also like