11 Tasty Burger Joints In Playa del Carmen That Will Make Your Mouth Water
---
Playa del Carmen has a burger to suit every single taste.
After a long day at the beach or the morning after a crazy night on the town, all you want is to grab a nice big, greasy burger and tuck in.
From your classy restaurants with thick cuts of prime beef to cheap and cheerful cheeseburgers guaranteed to satisfy your burger cravings, we've got you covered.
If you don't eat meat, there are also a few amazing vegan and exciting seafood options available too.
So, if you want to know where to find your perfect burger partner, then look no further than my guide to the best burgers in Playa del Carmen!
Budget Friendly Burgers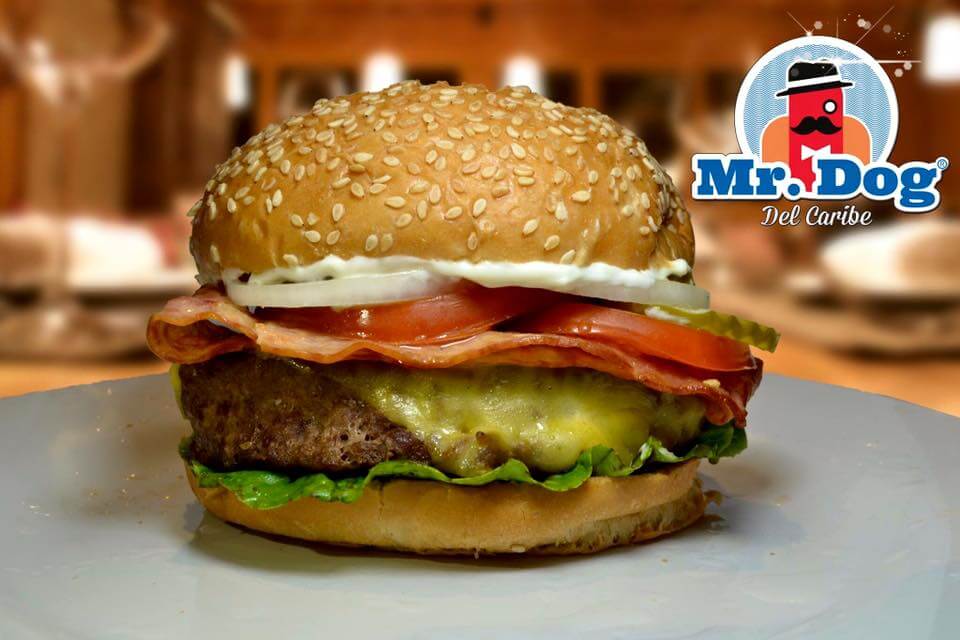 1) Mr. Dog Del Caribe
Due to its sheer popularity, what started as a modest hot dog stand has now become one of the most loved burger joints in Playa del Carmen.
Mr. Dog Del Caribe specializes in all things junk food and has recently shifted focus to their scrumptious burgers.
They use only Angus Certified beef and cut up all their locally sourced veggies each morning before they open. If you want all the flavor without a big price-tag, this is definitely the place for you.
2) Shark Burgers
This funky burger joint is an absolute favorite amongst the twenty somethings in Playa del Carmen. Partly because of their location on the most famous beach strip in town, but mostly because of their deliciously greasy burgers and amazing prices.
Shark burgers come in two sizes, big and bigger! There are tonnes of combinations to choose from to satisfy every craving. Each burger is dressed up to the max with scrumptious toppings and thick cut fries on the side.
Vegan Burgers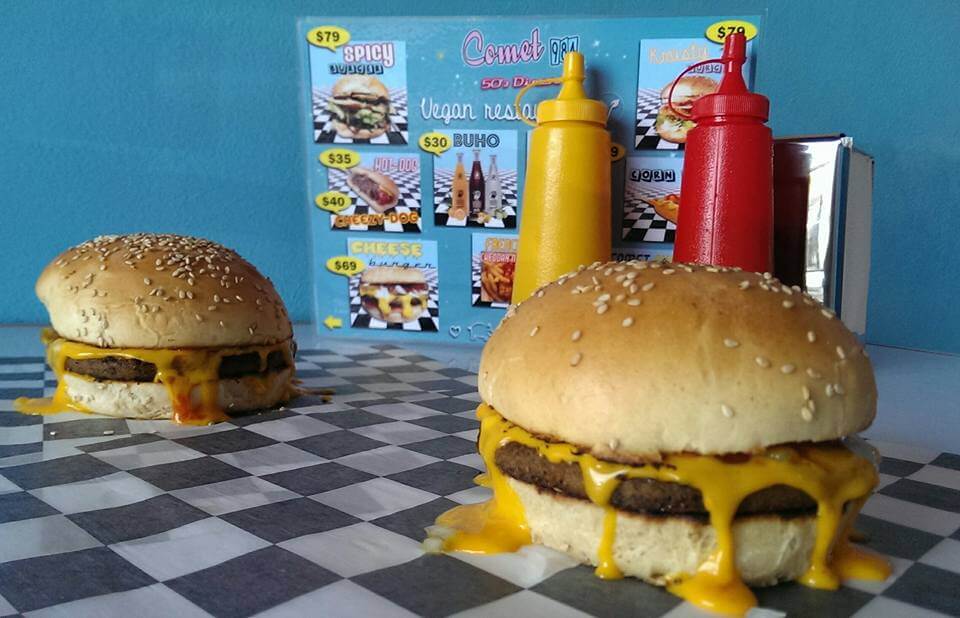 3) Comet 984 – 50's Diner
Comet 984 is the newest vegan restaurant to hit Playa del Carmen and boy they're making quite a splash. This super fun retro restaurant is kitted out like an old-school American diner right down to the red baskets the food is served in.
There are tonnes of burgers to choose from all with dripping hot melted cheese, juicy patties, and soft fluffy buns. Oh yeah, and everything is 100% vegan!
4) Bio Organicos
This well established vegetarian restaurant has created one hell of a vegan burger that's just begging for you to bite into it. Bio Organicos' answer to the usual burger bun is a wonderfully filling loaf, and their spicy mango sauce takes the whole meal to a totally different level!
If you're looking for an interesting vegan take on the usual hamburger then this is definitely a must try when in Playa del Carmen.
5) Marvin's Burgers
Marvin and Irvin, the proud owners of Marvin's Burgers, pride themselves in creating the ultimate comfort food while still being 100% animal-friendly! This funky hipster-chic restaurant combines vegan-friendly, healthy ingredients to create a delicious guilt free menu.
Marvin's Burgers source all of their ingredients locally, and have even created the Jack Fruit burger, the very first of its kind in all of Playa del Carmen.
Seafood Burgers
6) Las Hijas de la Tostada
In true Hijas de la Tostada style, they've taken their knowledge of the sea and created a fantastically fresh seafood burger! With all the amazing ingredients in their burgers, you won't even notice that the meat is missing.
A huge chunk of perfectly cooked tuna, chipotle sauce, a fried onion ring and devilishly sweet caramelized onions make for the absolute perfect seafood burger.

7) Chiltepin
Chiltepin are masters in all things seafood, from tacos to ceviche, they have got it down. But one thing that truly stands out from the rest is their hamburgers! Choose from a tuna burger or shrimp burger and prepare for a taste sensation.
Their shrimps are grilled with the most heavenly BBQ sauce, while their tuna burger is delicately dressed with the perfect mix of spinach and cream cheese.
Traditional Burgers
8) 3XL Comida Grande
This is one of the rare restaurants in Playa del Carmen who's sole purpose is to create unbelievably delicious hamburgers. The fantiastic service in 3XL Comida Grande is just one of the reasons its seats are constantly filled, but their outstandingly amazing burgers are the second.
You can choose your type of meat patty, then you take it over to the innovative toppings bar and load it up with anything your heart desires.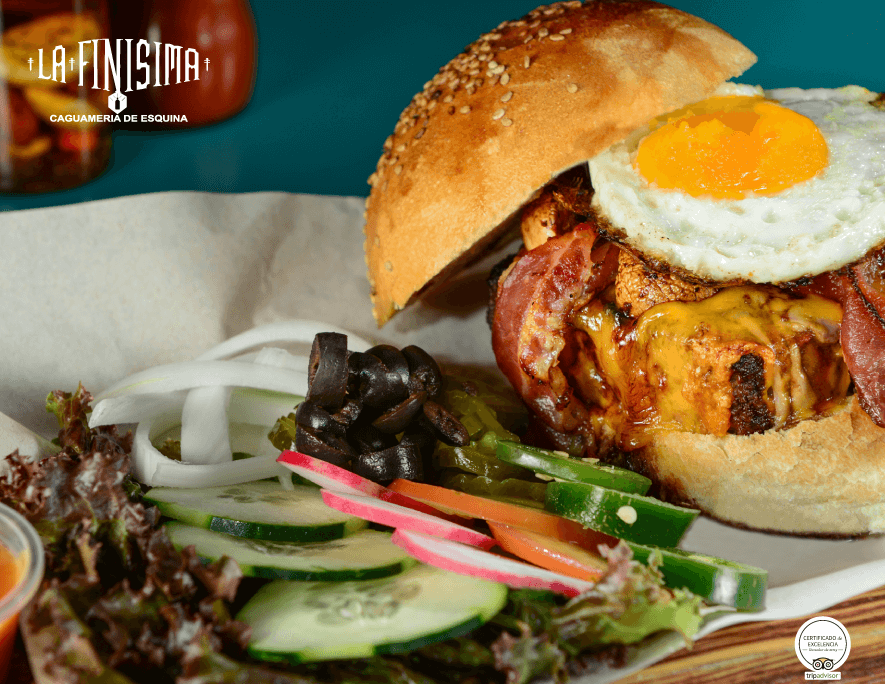 9) Caguameria
This industrial style Mexican style bar and restaurant is the absolute perfect spot to grab a beer and a burger. Caguameria only uses the very finest cuts of beef which results in a fantastically rich and satisfying meaty flavor.
If you're looking for something with a little bit of a Mexican twist then try their arrachera burger and wash it down with an artisanal beer and a mezcal.
10) Blue Pointe Grill
If you're planning a visit to Blue Pointe Grill then be sure to bring your appetite!
This lovely little restaurant is owned by an Expat couple that knows exactly how to satisfy those burger cravings. Each of their burgers is piled high with innovative and unusual toppings.
Try their famous sweet onion burger with a side of their delicious sweet potato fries to truly enjoy the full taste sensation.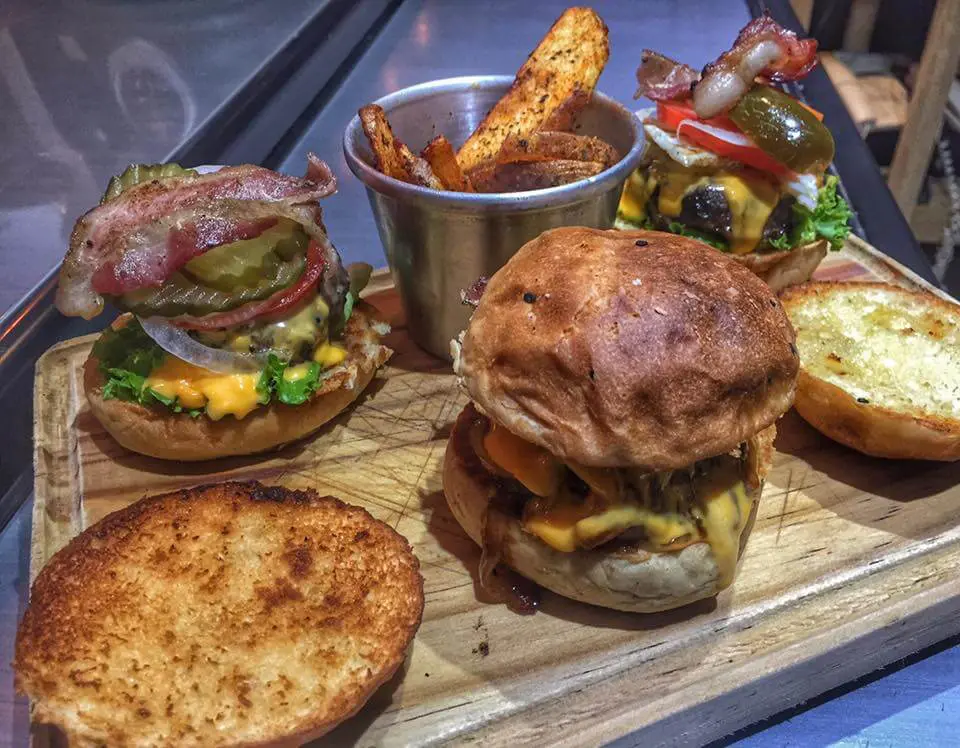 11) Cheo's Burgers & Grill Bar
This is officially the locals favorite.
Across all the usual review sites, Yelp, Foursquare, and TripAdvisor, there are only good things to be said about Cheo's Burgers & Grill Bar. People absolutely adore their traditional shakes, but they keep going back again and again for their out of this world burgers.
If you visit this amazing burger joint then you absolutely must try their famous New Orleans burger. Fantastically sloppy, meaty and cheesy, what more could you ask for?
Have you tried any of these Playa del Carmen burgers? Let me know which was your favorite in the comments below!
---
Trending Now
You may also like