Weddings at Secrets Moxché Playa Del Carmen | NOW OPEN!
---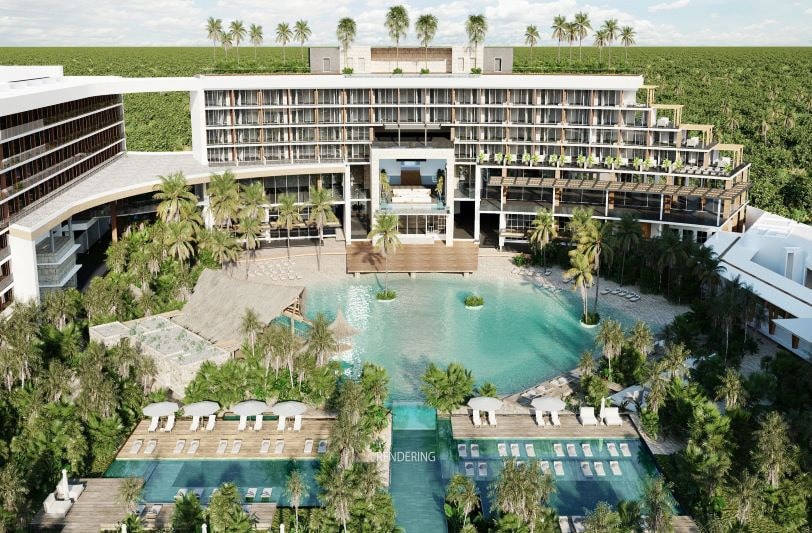 Heard the buzz about Secrets Moxché Playa Del Carmen as a wedding destination?
It's the hottest new resort in the area.
The team at PlayaDelCarmen.Com has the lowdown on wedding packages and venues at Secrets Moxché.
I'm excited to share this inside info with you.
Plus, you'll get to check out the accommodation, dining, and activities at the resort.
And, we'll get you the best deals on weddings at this super exciting destination that opened early in 2022.
Be the first to get the full DL.
Let's go…
Weddings at Secrets Moxché | Your Ultimate Guide
---
1. Hotel Overview
Secrets Moxché is the ultimate new luxury wedding destination in Playa Del Carmen.
The resort is the perfect mix of modern amenities and architecture, and exquisite surroundings, as you can see…
You get a contemporary vibe that's highly influenced by the natural beauty of the Mexican Caribbean.
Plus, you're just ten minutes away from Playa del Carmen's famous Quinta Avenida (Fifth Avenue).
You also get to watch the sun go down on the pristine white sands at the resort.
What's not to love? 💖
Want to add additional magic to your special occasion?
You can create some extra sparkle with the Love Unlimited option.
For just $199 you get:
Soothing Couples Massage
Romantic Mimosa Breakfast in Bed
In-Room Welcome Gift
You may also want to choose the Preferred Club when you plan your accommodation.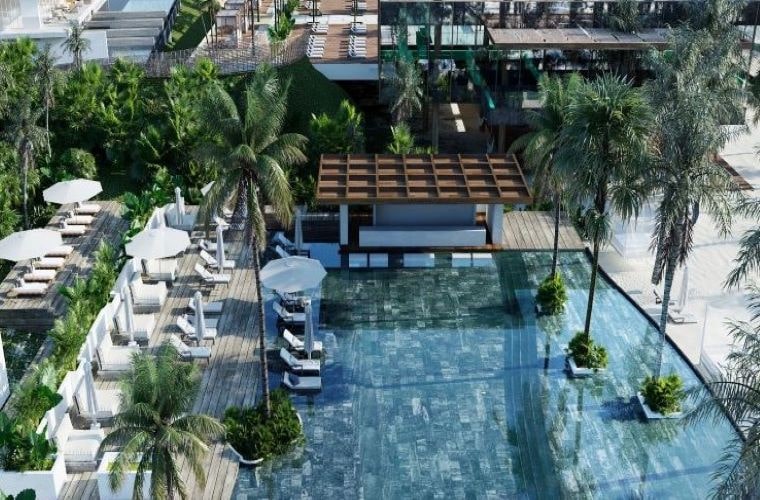 This option gets you a suite upgrade and access to an exclusive lounge and other facilities.
Plus, there's a special concierge service for Preferred Club guests.
Is Secrets Moxché Hotel all-inclusive?
As you might expect from a new luxury resort in Mexico, the Unlimited-Luxury® experience at Secrets Moxché means that everything is included in your stay.
You and your wedding guests can be sure of a complete luxury experience including:
Unlimited Dining
Unlimited Drinks
Wi-Fi
Entertainment during the day and at night
How far is Secrets Moxché Hotel from the airport?
The resort is around 45 minutes away from Cancun International.
We'll arrange your transfers as part of your wedding planning.
So, you can relax and enjoy your stay from the minute you step off the plane.
When does Secrets Moxché open?
Secrets Moxché is the latest luxury resort in Playa Del Carmen.
The stunning destination opened on 11 February 2022.
You don't have to wait to be amongst the first couples to marry at the resort.
Speak to the team at PlayaDelCarmen.Com and we'll help you start planning your Secrets Moxché wedding.
2. All-Inclusive Wedding Package Options
Secrets Moxché is going all out to give couples the ultimate romantic destination wedding experience.
There are seven wedding packages to choose from including two Asian wedding options.
I love the combination of value and excellence the "Secrets of Love" package gives you.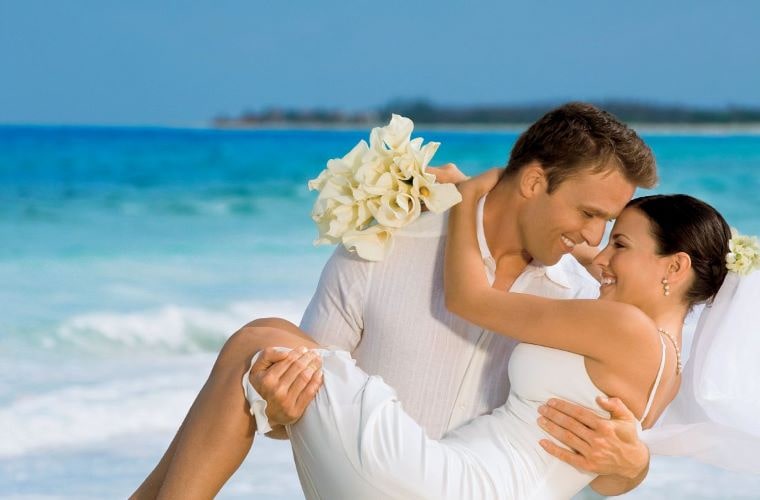 The cost of the package is $3,399.
For this, you get inclusions such as…
Secrets of Love Wedding Package
An onsite wedding coordinator.
Preparation of the wedding couple's clothes.
Services of a judge or minister.
Bouquet(s) and/or boutonniere(s) for the wedding couple.
Two additional boutonniere(s) and two corsages.
Floral centerpiece for the sweetheart table.
Wedding cake and sparkling wine for up to 30 guests.
Private cocktail hour for up to 30 guests.
Private dinner reception for up to 30 guests.
Complimentary room for one member of the wedding couple on the wedding eve (subject to availability).
Late checkout for the wedding couple (subject to availability).
Sound system with speaker and microphones.
Hairstyling and make-up for one member of the wedding couple.
36 full color photos and a wedding album.
15% off spa treatments.
Newlywed package.
Other packages for you to consider are:
Weddings in Paradise – $999 or complimentary depending on certain booking conditions.
Secrets Ultimate – $3,799.
Beyond Memorable – $7,500 for 50-79 guests and $11,999 for 80 to 100 guests.
Elope in Luxury – $1,100 for the wedding couple only.
Dulha & Dulhan (South Asian wedding) – $7,500 for up to 50 guests and $11,999 for up to 100 guests.
Shaadi (South Asian wedding) – $25,999.
If you're planning a South Asian wedding, you might also want to take a look at my blog post…
"10 Best Resorts for Indian Weddings in Mexico (2023-24)"
Want a wedding that's exactly as you imagined it?
No problem…
You can customize your celebrations with packages for music, photography & videography, and equipment such as fireworks, a DJ, and LED lights.
3. Ceremony & Reception Venues
The incredibly beautiful Caribbean backdrop at Secrets Moxché is to die for.
And, the wedding venues are impressive too…
You can say "I do" on a rooftop gazebo terrace or an expansive suite terrace.
Other potential venues can be found on the beach, poolside, and beside a man-made cenote.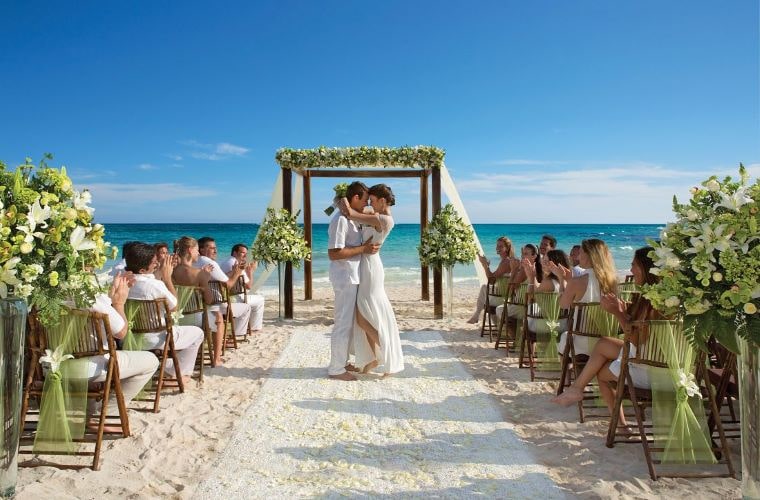 Exact details for some of the venues are still being finalized.
So far, the resort has announced capacities for two venues:
Sky Wedding Gazebo with a maximum capacity of 90 guests.
Sky Wedding Salón with a maximum capacity of 90 guests.
I'll give you the heads up when more wedding venue info is available.
4. Gay Weddings at This Resort
At PlayaDelCarmen.Com, we're passionate about helping couples to plan their dream wedding.
So, we love working with same-sex couples to make sure their celebrations are perfect.
Most of these couples prefer to have a symbolic ceremony at the resort.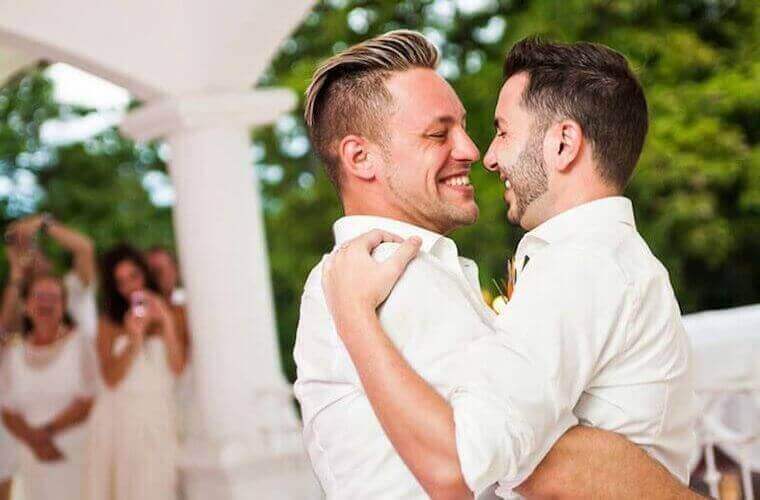 This means that legal paperwork can be taken care of at home.
But, with a little extra planning, same-sex legal weddings can take place in Mexico.
We can help make this happen.
Call us on 888-537-9797 for more advice and info.
5. Rooms Types
Close attention to detail is the order of the day at Secrets Moxché Playa del Carmen.
Look at how exquisite the accommodation is…
The architecture is perfectly suited to a contemporary resort with a Caribbean influence.
Every aspect of your surroundings pays tribute to the Yucatan landscapes around the resort.
And each suite is lavish and luxurious.
You can choose from:
Junior Suite Tropical View.
Junior Suite Ocean View.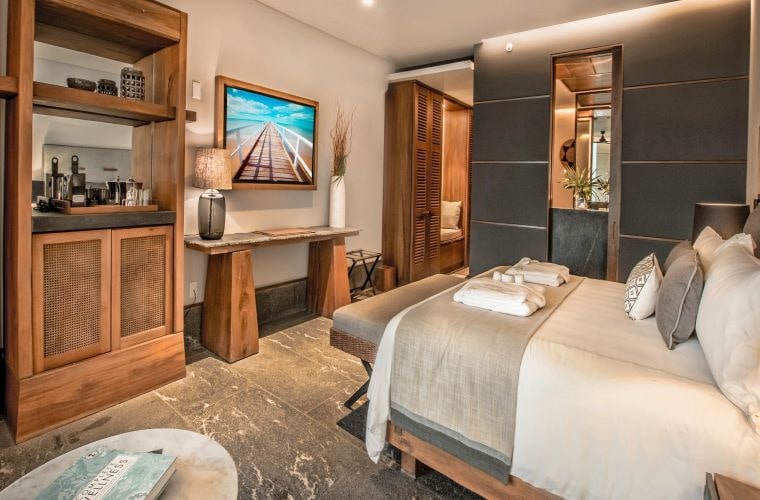 If you and your wedding party choose to upgrade to the Preferred Club, you unveil additional accommodation options:
Preferred Club Junior Suite Swim Out Tropical View.
Preferred Club Junior Suite Ocean View.
Preferred Club Superior Junior Suite Ocean View.
Preferred Club Junior Suite Oceanfront.
Preferred Club Master Suite Oceanfront.
Preferred Club Ocean View Paramount Suites.
Fancy spoiling yourself with full-on opulence.
The Stellar Presidential Penthouse Ocean View is breathtaking.
See how fabulous it looks…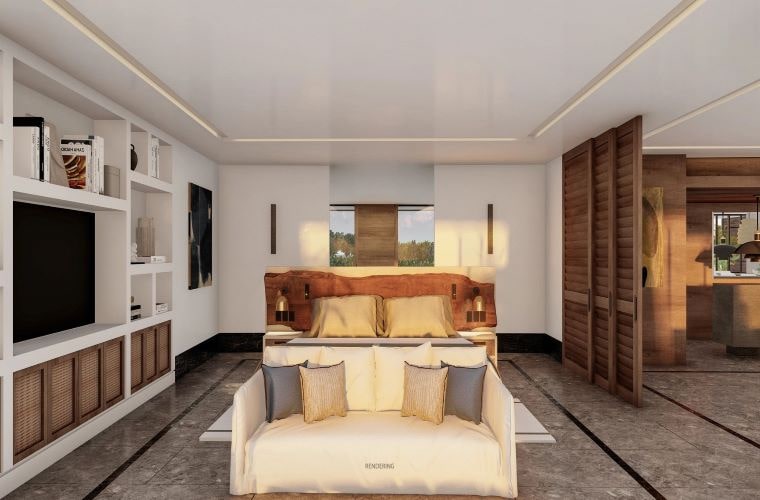 It's not all about appearance either.
You get top-rate amenities including:
Full bathroom with a walk-in shower.
Private, furnished terrace with a plunge pool.
Impressive living space (4,736 sq. ft. overall).
Preferred Club amenities.
What amenities are in the rooms at Secrets Moxché?
Whichever suite you choose at the resort, the amenities are exceptional.
They include:
Private, furnished balcony or terrace
24-hour concierge service
Mini-bar refreshed daily
Wi-Fi
Hot tub
How many rooms are there at Secrets Moxché?
There are 485 sparkling new accommodations at the resort.
Each space is an elegantly furnished suite.
What is the maximum room occupancy at Secrets Moxché?
Most suites at the resort have a maximum occupancy of two.
However, the maximum capacity across the resort is four, in the Stellar Presidential Penthouse Ocean View.
How much does it cost to stay at Secrets Moxché?
The most affordable accommodation at the resort starts from $553.50 per person per night.
For the most spacious and luxurious accommodation, you can expect to pay from $3597.50 per person per night.
The actual cost of your stay depends on which suite you choose and when you travel.
6. Beach at Secrets Moxché
The new Secrets Moxché resort is located on a stretch of pristine white sands.
If you choose this destination for your Caribbean wedding, you can take a romantic stroll along the beach with your partner.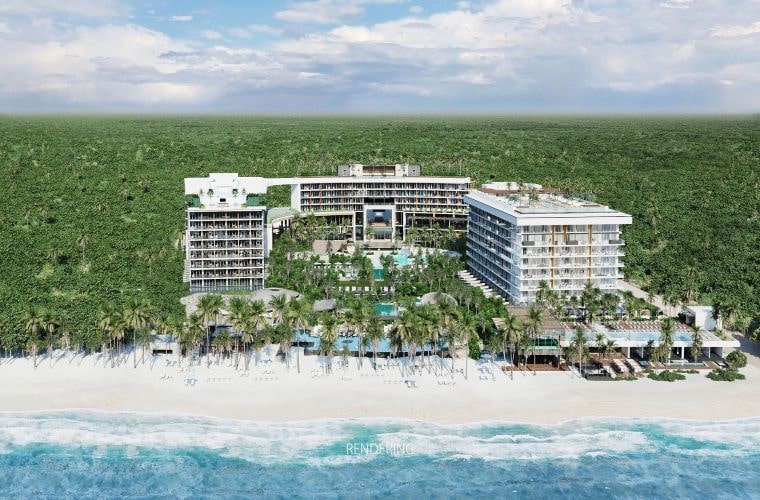 You can also spend time relaxing on one of the sun loungers.
Beach cabanas are also available at additional cost.
7. Food & Drink
The dining experiences at Secrets Moxché are set to be unforgettable.
There are eleven restaurants and cafés on site.
Book your wedding at this resort in 2023 and you can savor international flavors at any of these eateries:
Allora – Italian cuisine
Bamboo – Southeast Asian delicacies and an alternative plant-based menu.
Barefoot Grill – light lunch in an outdoor environment.
Bisou – romantic dining with a French menu.
Dos Almas – a Mexican culinary experience including a taco tasting bar.
Ember Steakhouse – an open fire grill and fine cuts of meat.
Market Café – local and international food choices.
Seasoul – intimate romance with a seafood vibe.
Suki – Pan-Asian cuisine including a sushi bar.
Coco Café – coffee and snacks with indoor and outdoor dining options.
Observatory Preferred Rooftop – Preferred Club restaurant with stunning views and a bar that's open from 10 a.m. to 10 p.m.
Talking of bars, Drinking at Secrets Moxché also sounds like an experience you won't ever forget.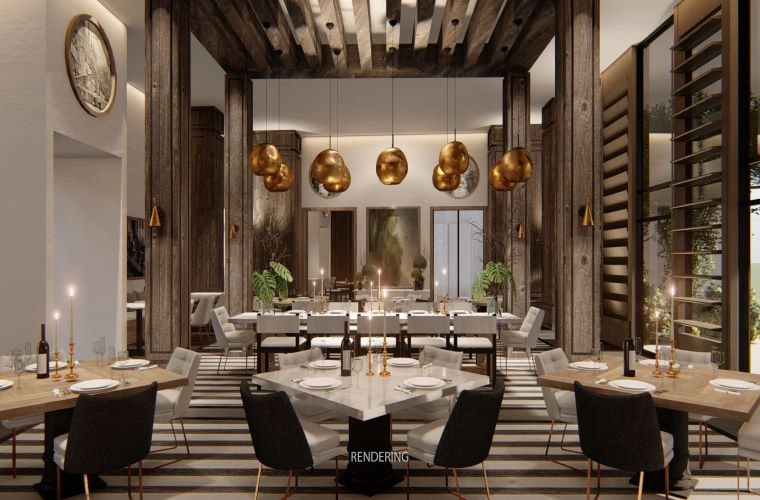 There are eight dedicated bars that will open their doors in February 2022:
Dark Horse Sports Bar with screenings of sporting action, a golf simulator, and foosball tables.
Gypsy Club Lounge Bar where you can dance to contemporary music played by a DJ.
Mantarray swim-up bar for cocktails with your bridal party.
Moxché Theater Bar where you can sip your drinks while enjoying the entertainment.
Rendezvous Lobby Bar, the perfect gathering place for you and your wedding guests.
Spa Bar if healthy juices are your thing.
Sugar Reef Pool & Beach Bar for relaxed drinks with your partner.
The Cove Bar, an interior beach & pool bar for drinks away from the glare of the sun.
8. Activities & Entertainment at Secrets Moxché
Searching for a luxury resort in Mexico where your wedding guests will be entertained throughout their stay?
When Secrets Moxché opens its doors you won't be disappointed.
As you can see, fun playing volleyball on the beach awaits you.
Or, you can take a dip in one of seven heated pools.
Plus, there are three stunning man-made cenotes to explore.
For Preferred Club guests there's also a rooftop pool with incredible views.
If pre-wedding nerves start to take hold, you can book a massage at the Secrets Spa by Pevonia®.
Or, why not book a facial or soothing hydrotherapy treatment.
Just fabulous 😍
The Secrets team definitely seems to have hit the jackpot again with its new resort.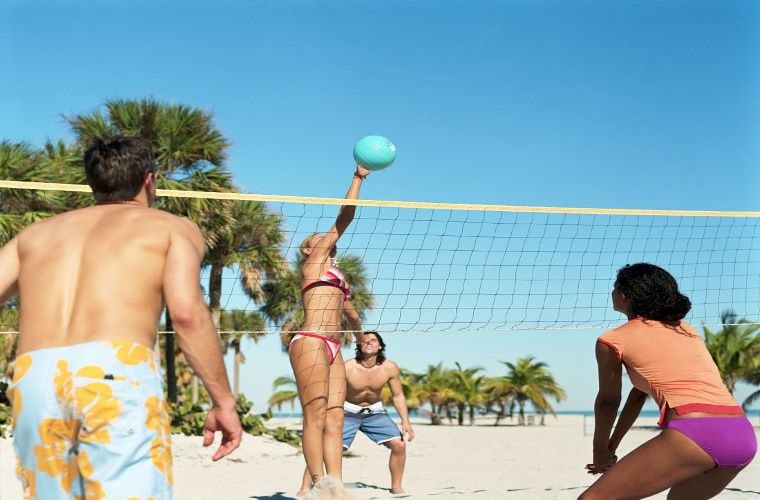 Throughout the day and night, you and your wedding party can enjoy activities including:
Live music
Windsurfing
Treadmills and weight training
Exercise bicycles
Beach yoga
Snorkeling
Archery
Tennis
Mixology classes
Dance classes
The resort is alive with recreational opportunities.
Is there anything to do outside of Secrets Moxché?
You may be tempted not to venture out of the resort.
I get that.
It does sound amazing and there's a ton of fun to be had.
But, the real Mexico is stunning and we can help you to experience it.
The team at PlayaDelCarmen.Com will arrange activities and tours for you.
And, we'll get you the best possible deals.
From personal experience, I love the "Jungle Buggy Adventure."
You get to drive a dune buggy through the Mayan Jungle.
It's exciting and so much fun.
Want to know more?
Check out my blog post.
"My HONEST Review of The Jungle Buggy Tour in Playa del Carmen (2023)"
10. Why We Like Secrets Moxché
We're passionate about creating dream wedding experiences for couples.
So, we're always searching for the best new resorts and experiences in Playa Del Carmen.
Secrets Moxché definitely fits this criteria.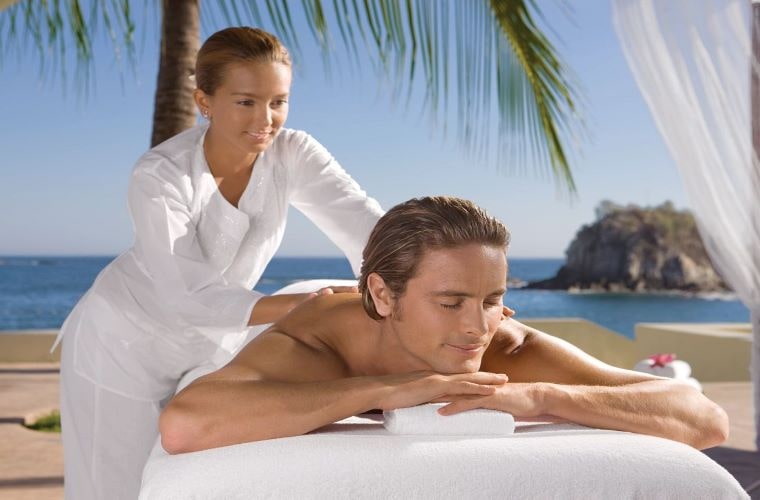 From what I know about the resort so far, I love:
Plant-based dining opportunities.
Exquisite contemporary surroundings influenced by traditional Mexican architecture.
Wedding customization options to make the occasion truly special.
The soft white sand beach.
Only two wedding venues have been defined right now but more are due to be unveiled.
I'll make sure to keep you updated.
10. Additional Resources You May Find Useful
11. Get Married in Paradise
Excited to be amongst the first couples to marry at Secrets Moxché Playa Del Carmen?
We'll make this happen for you.
The PlayaDelCarmen.Com team is excited to book wedding packages and accommodation at this new resort which opened in February 2022.
We'll also put our local knowledge to use getting you the best deals on activities and tours in the area.
Call us on 888-537-9797 or complete the contact form on our website. We look forward to being part of your romantic story.
Have more questions about weddings at Secrets Moxché?
Let me know in the comments and I'll get on it as soon as I can.
I'm happy to help.
Weddings at Secrets Moxché Playa Del Carmen
Location

Decor

Food and Drink

Beach

Wedding Venues

Wedding Packages

Rooms

Activities

Spa

Nightlife & Entertainment

Gym
---
Trending Now