My Honest Review of the Finest Playa Mujeres Hotel (North Cancun) 2023
---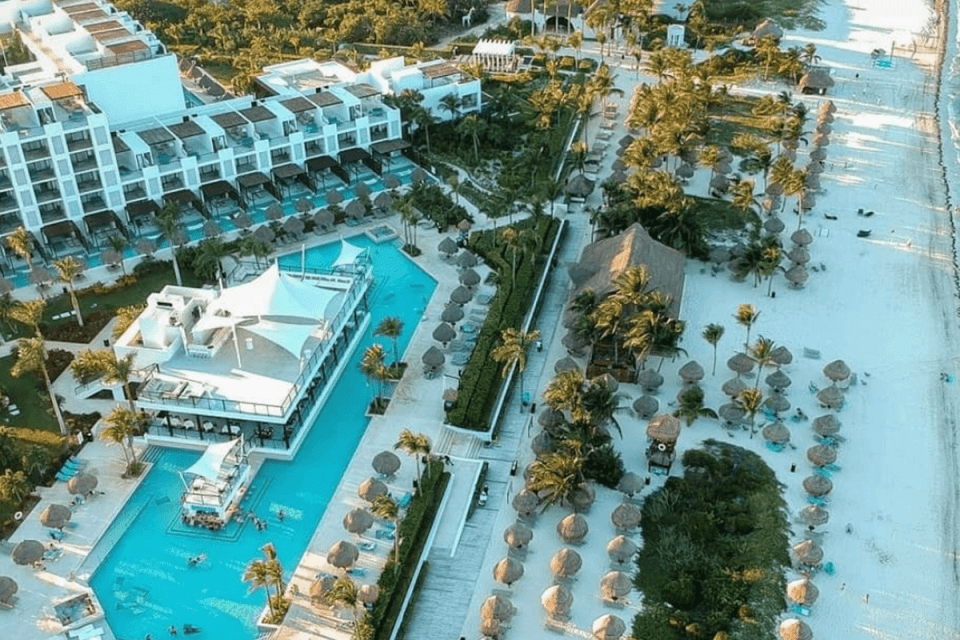 Doing your homework on the 5-star family-friendly Finest Playa Mujeres hotel?
You're in luck because our team here at PlayaDelCarmen.com just visited this hotel a few days ago!
We're here to give you the inside scoop! 🙂
After reading our review you will have all the information you need to decide whether this hotel is right for you and your group.

But if you still have any questions drop them in the comments section at the end, and we'd be happy to answer them for you. 🙂
Our Finest Playa Mujeres Review includes: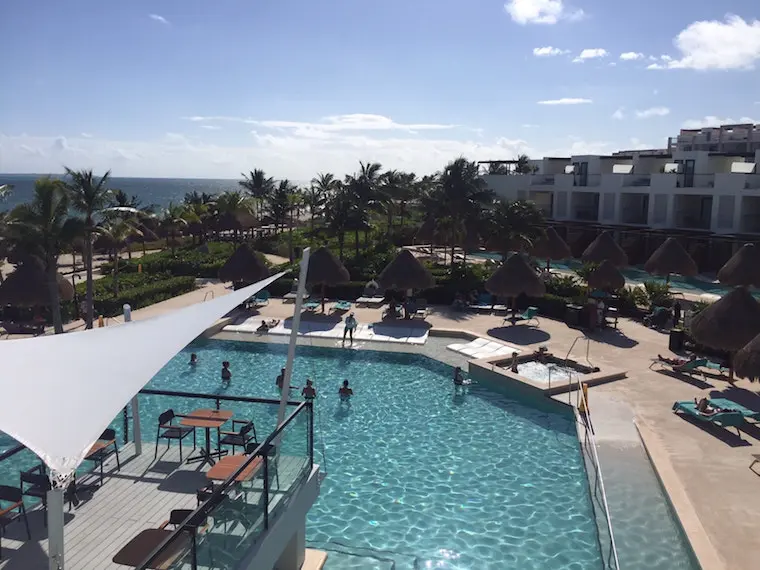 ---
Ready to dive in?
First, where is the Finest Playa Mujeres Hotel?
Location
This stylish resort is located north of central Cancun just a 38-minute drive from the International airport.
Far enough to be away from the hustle and bustle of the city, but still close enough to enjoy all of the regions top attractions.
BONUS:
Golf lover?
Playa Mujeres Golf Course is a five-minute drive away (more on this later).
Style
Finest Playa Mujeres possesses a contemporary design which impresses you from the moment you enter the two-story lobby.
The interior is a sleek and slick balanced with clean architectural lines.
Think creams, whites, light greys, highlighted by the pale blue hue of not just 1 but 10 inviting pools!
As you explore the grounds you will notice occasional pop of color too which keep things interesting. 😉
In general, the hotel feels very new.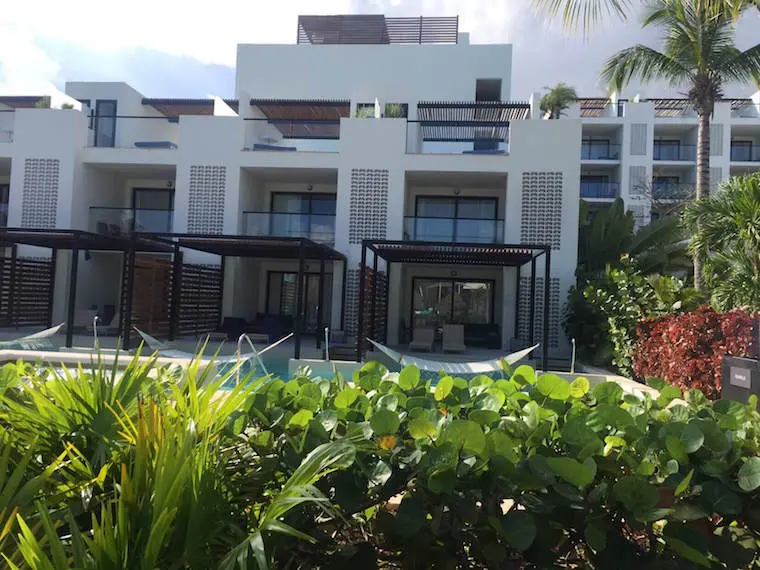 What I like about this particular resort is that it isn't a high rise building, it blends seamlessly into its lush surroundings with the highest floor being the 7th.
The immaculately pruned gardens add to the peaceful and serene ambiance of the place.
Beach
You're coming to the Caribbean, of course, you are going to want the low down on the beach at this hotel.
I'll be honest, you may not get the Windex blue shores of Cancun, but you will get soft powdery white sands and a swimmable ocean.
The tides of Cancun's hotel zone are particularly rough at times, and often very dangerous if you have small or young children who like to play in the ocean.
Isla Mujeres AKA woman's island (located just 30 minutes of the shore) "protects" the Finest Playa Mujeres beach front a bit, so wave action here is much less.
What I love about this area is that the beaches here are much more tropical with foliage and palm trees surrounding them.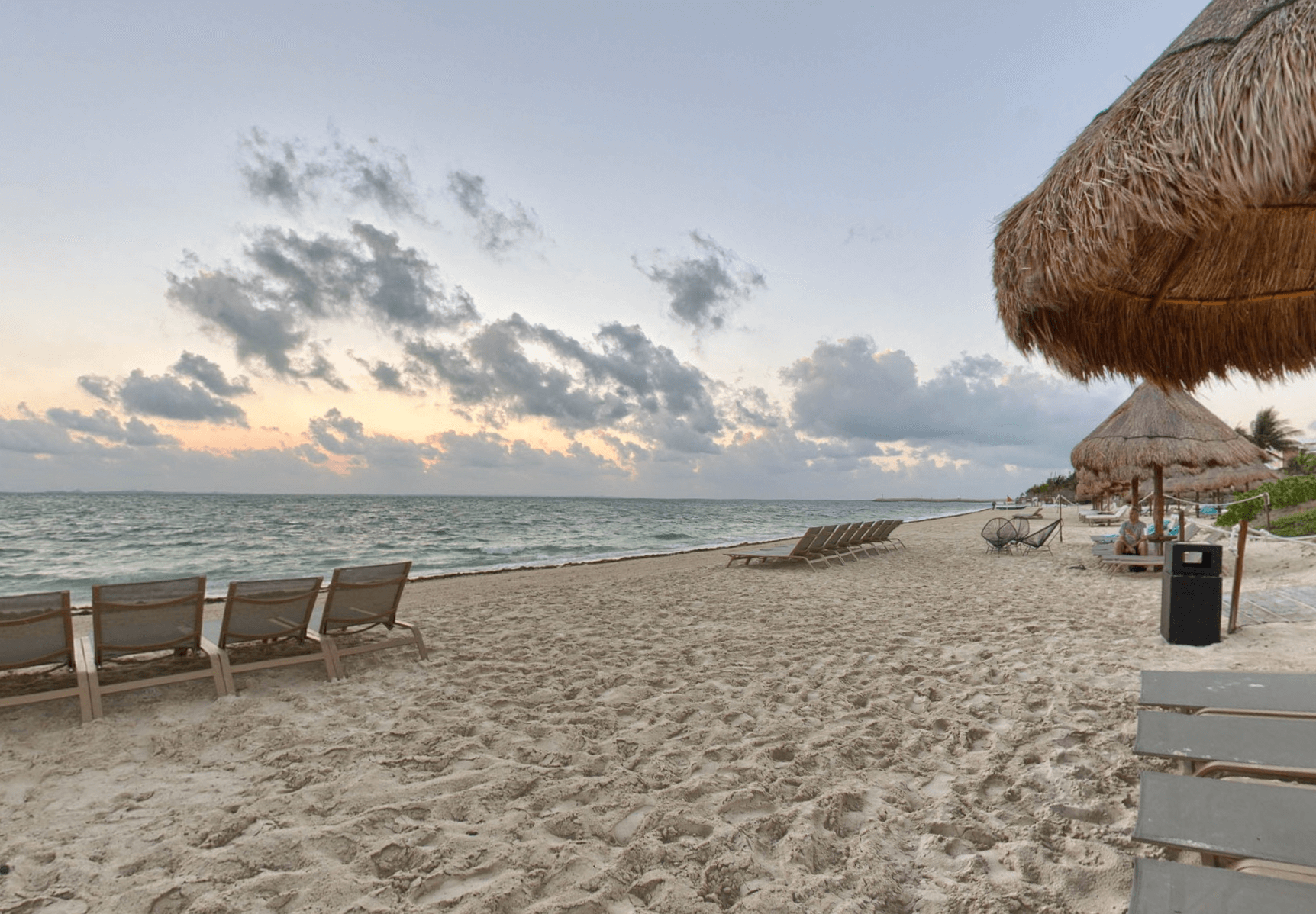 It's everything you would expect and want for a relaxing vacation and can be enjoyed without overcrowding and looming cityscapes.
Sargassum and seaweed have not been as much of an issue in this area but can strike any time.
The good thing about this hotel is that the three resorts next door are all owned by the same company so in general, they do a great job cleaning every day as needed.
I tend to be more a pool person than the beach, but the facilities at Finest make things comfy and easy.
Beach inclusions:
You will find towel huts every 20 meters or so there's no need to carry one anywhere with you around the resort, plus there is a waiter service on hand to cater to your every need.
What's not to love about that?
"Another pina colada please, sir"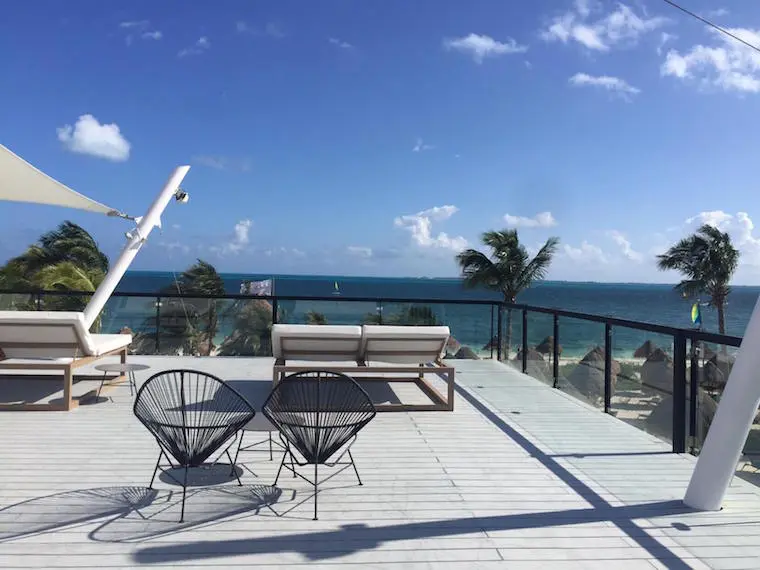 Las Dunas Beach House is one of the resort's eateries located on the beachfront, here you will find freshly cooked snacks and meals every day.
If you chose to upgrade your stay to Finest Club or Excellence Club, you can also enjoy the privilege of private beach areas with extra service and facilities such as adults-only areas, raised double loungers with mattress topper, beach bags and more!
Rooms
If you like plenty of space while vacationing, Finest Playa Mujeres certainly delivers.
Each of the oversized rooms comes with a two-person hot tub, two-person rain shower, private balcony, and a sofa bed.
But the lavish luxury doesn't end there…
Enjoy a complimentary pillow menu and turndown service too!
The family suites have an extra bedroom, while the swim-up suites and plunge pool suites allow you to swim just outside your door! Heaven!
If you do choose to stay on the ground floor in a swim-up suite, you'll find sunbeds and hammocks opposite all of the rooms so you don't even really need to leave the area at all if you didn't want to.
I mean, if you can't have a lazy day on vacation, when can you?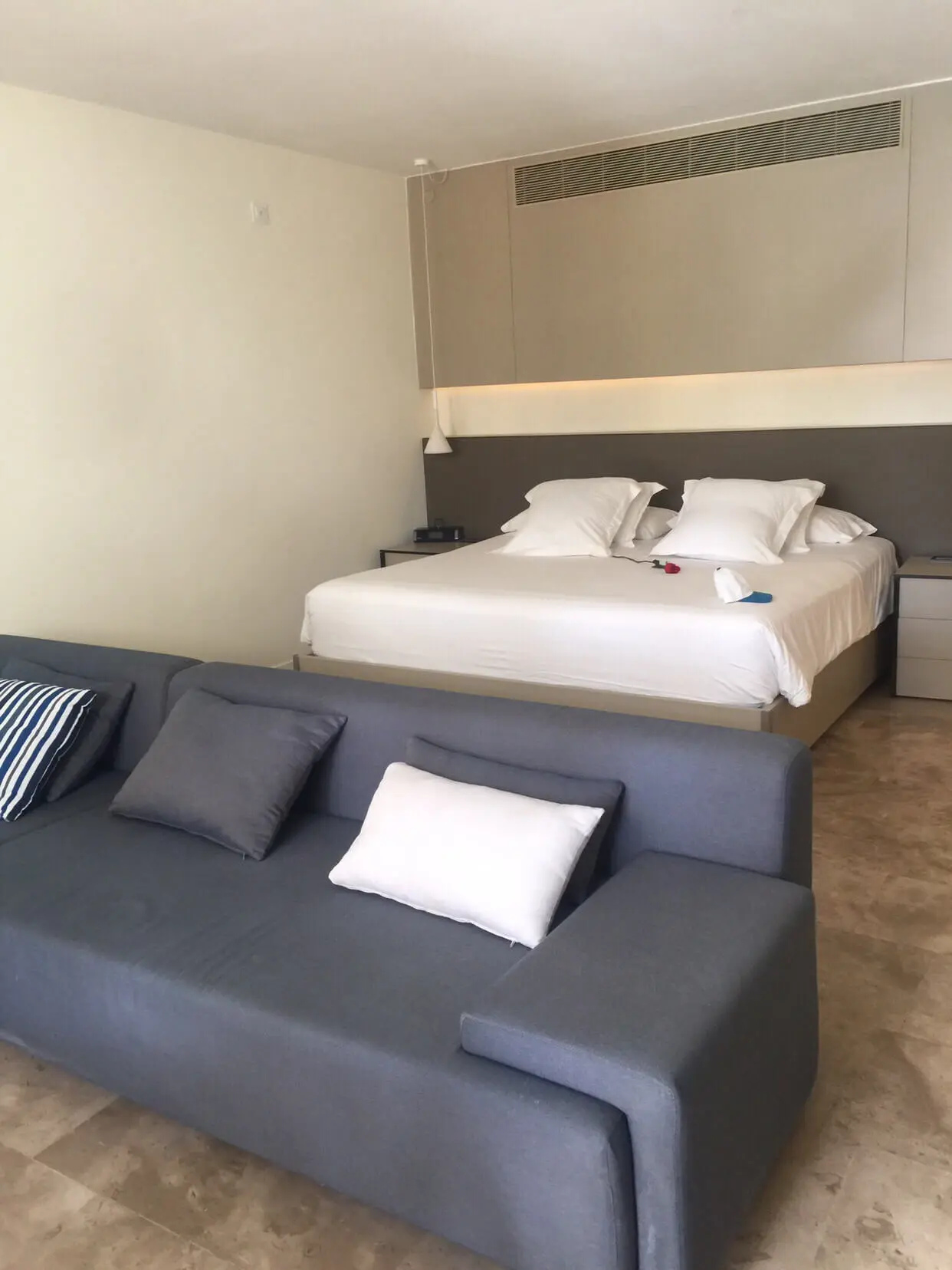 Spacious balconies are something I always look for on vacation as there's no better place to soak up the morning sun and enjoy your coffee.
In terms of details, the Finest Playa Mujeres goes above and beyond to make this space home from home during your stay.
Room Amenities
The little extras such as complimentary toiletries, all-inclusive room service, and a fully stocked mini bar, are just the icing on the cake.
The staff here are super friendly and will go out of their way to make sure you have a happy and comfy stay.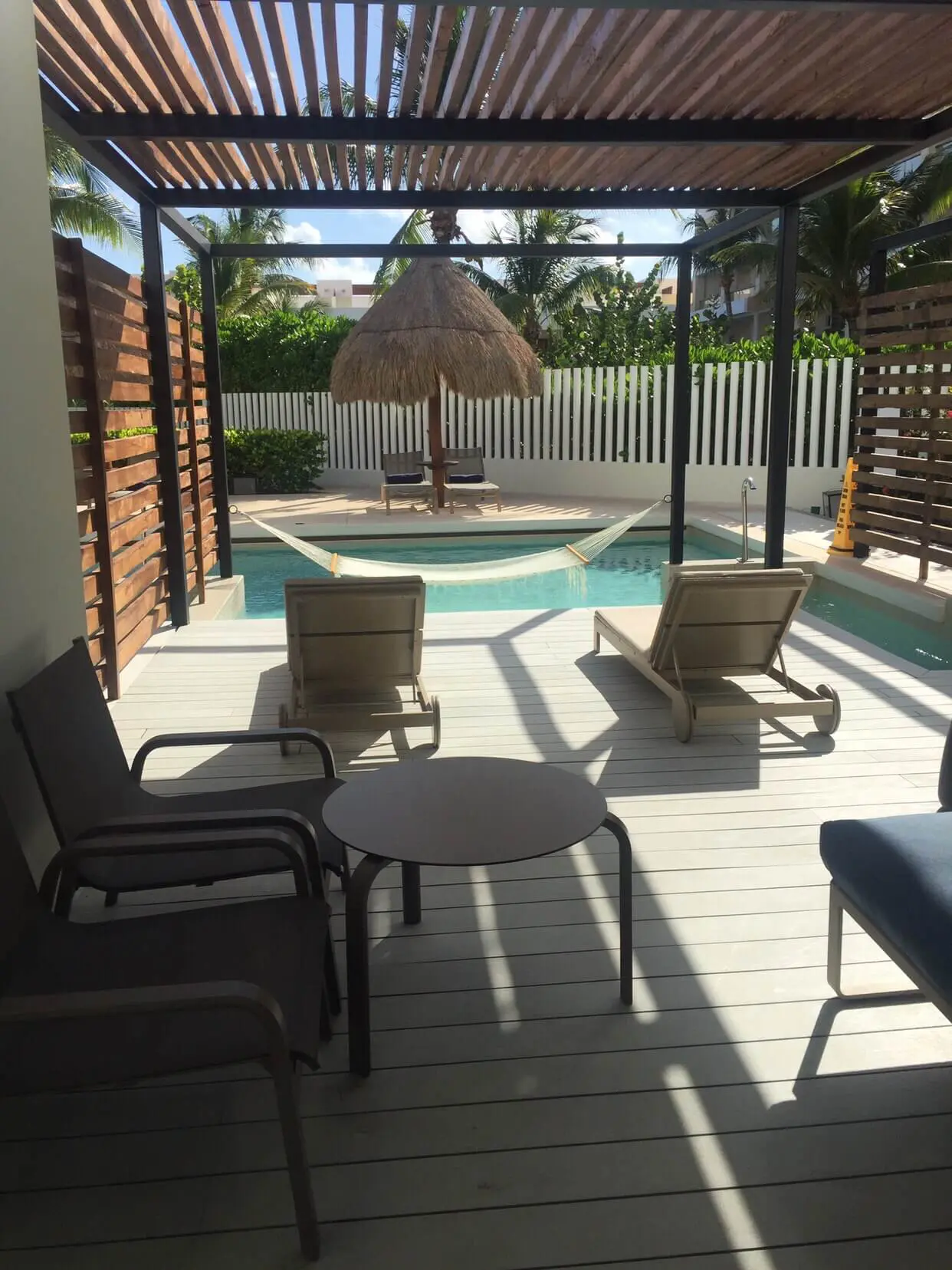 Activities & Nightlife
Staying away from the hotel zone of Cancun definitely means less nightlife.
However, this location is perfect if you are a couple or family just looking to have a good time – nothing TOO crazy!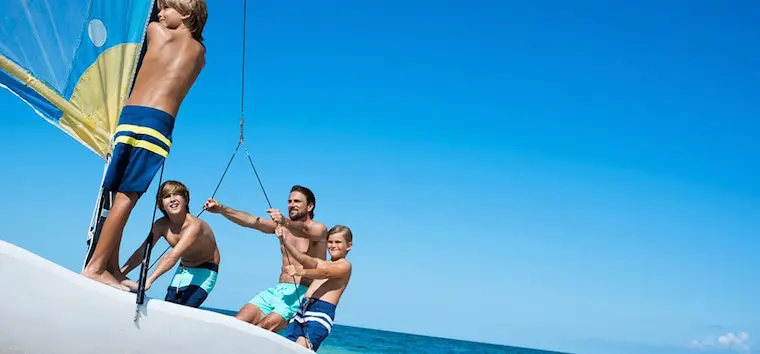 There are a whole host of daytime activities to choose from.
Including:
12 pools plus hot water Jacuzzis
Children's facilities including pool, playground, and indoor pavilions
Kayaking
Snorkeling gear
Windsurfing
Paddleboard
Introductory scuba lessons
Aerobics and water aerobics
Water polo
Yoga classes
Dance lessons
Cooking lessons
Beach volleyball
Beach football
Tennis
Basketball
Bicycles
Table tennis
Padel tennis
Darts and board games
Archery
Air rifle shooting
Billiards
Fitness center and cardio conditioning facilities
In the evening adults can also enjoy live music and cultural shows that are put on by the hotel.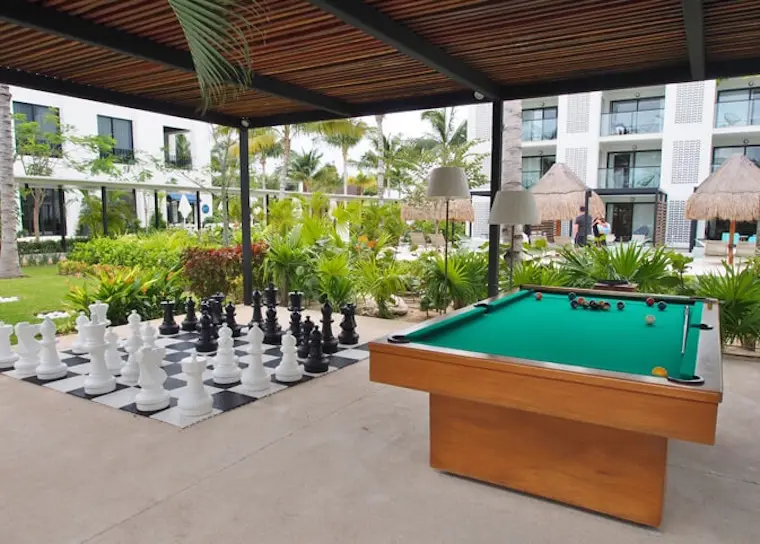 Food and Drink
If you like to be spoilt for choice with food and drink options when you are away from home, look no further.
Finest Playa Mujeres has an impressive 12 onsite restaurants and 16 bars. 
Do you think you can take on the challenge of conquering them all?
They sure do make it easy to take advantage of the all-inclusivity at this hotel.
The most celebrated eateries are Brass Steakhouse and the ocean view Duke's Lobster and Seafood, as well as the Spanish-style Tinto & Tapas.
Be sure to put these three at the top of your priority list.
Other noteworthy hotspots include:
Shoji – serves pan-Asian cuisine with teppanyaki-service tables and a sushi bar
Insieme Trattoria – Italian
Mexican and Tex-Mex.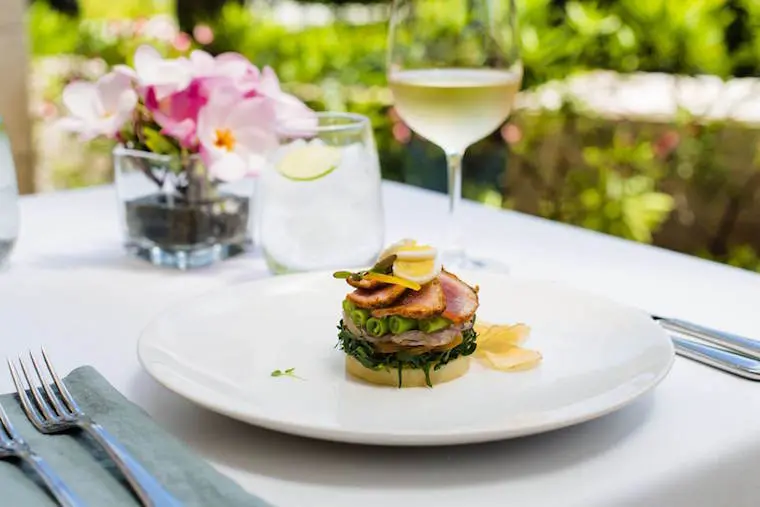 There's even a Parisian-inspired Le Petit Plaisir (adults only) or Surf & Turf.
Breakfast and lunches at the main buffet restaurant boast a wide range of choices and are satisfying for the whole family.
If you have a sweet tooth swing by the Sweet Corner for morning or afternoon treats.
During the evening there's also a fashionable Sky Bar atop the main pool area.
For casual pastimes, enjoy burgers and beers at Legends Sports Bar, cigars at the Piano Bar, and tacos and burgers at food truck La Cocinita.
Spa
Invest in rest!
The sway of palm trees and lull of the ocean tide makes the Caribbean the perfect place to check in with yourself and restore your mind/spirit/body balance for peak wellness. 
At One Spa at the Finest Playa Mujeres, you will find nurturing therapies from the far corners of the world,  such as healing plants, powerful stones, purifying waters.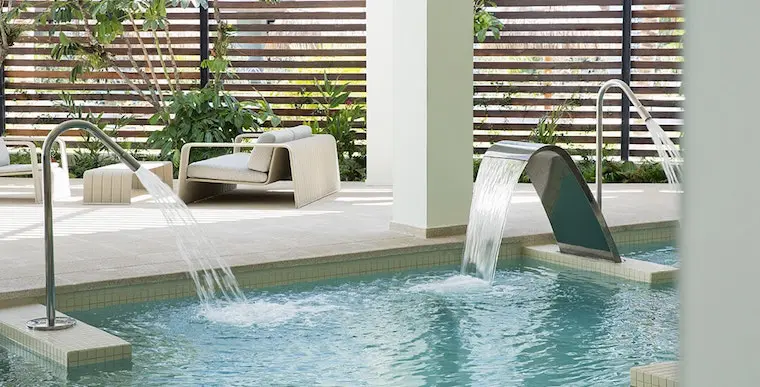 The menu of spa treatments borrows on three different wellness approaches:
Eastern ancient therapies that are expressions of the deepest of nature itself and our connection with the one energy, journeys from Ayurveda, Shiatsu, Reflexology and ancient Thai.

Pre-hispanic traditional healing, believing in the "tonalli" luminous breathe of life, with cleansing indigenous rituals to absorb imbalances and the use of medicinal plants to recover health and spirit.

European rescued wisdom of essential oils with their holistic curative properties in body, mind and emotion, combined with diverse physiotherapy techniques.
The hotel advises booking in advance for spa treatments to avoid disappointment.
Weddings
Destination weddings are on the rise and it's no surprise…
The average cost of a wedding here is a fraction of the price than it is in the USA or UK without compromising on lavish luxury.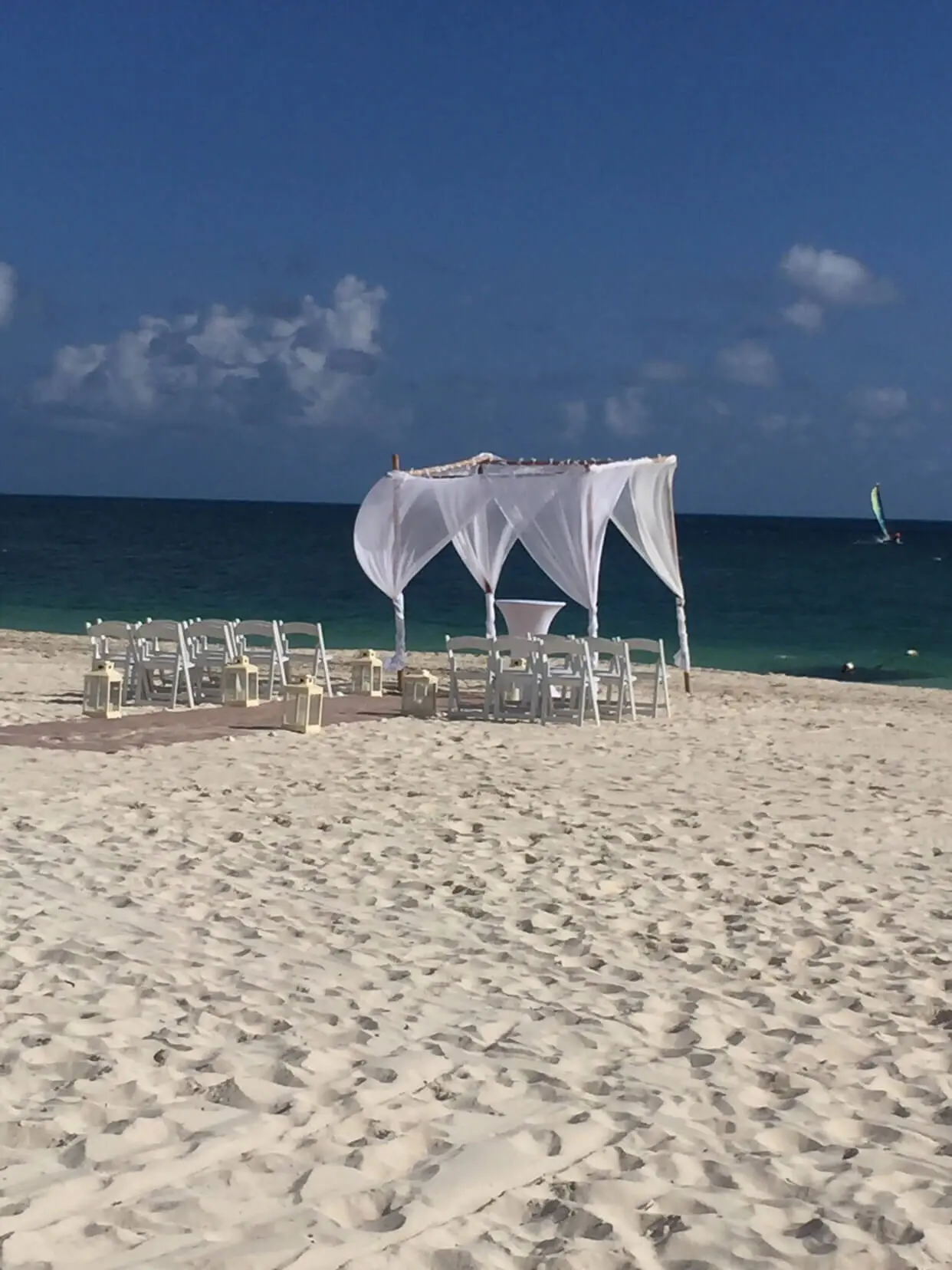 Whatever wedding vision you've always dreamed of our dedicated wedding specialists here at PlayaDelCarmen.Com are ready to help make it a reality for you.
Exchange your vows barefoot on the beach under an ocean-side altar.
Dreamy!
Other venues include the beautiful plaza, or the convention center and a ballroom.
There's also a stunning outdoor terrace, a beachside lounge,  or thatched roof palapa where you and your guests can enjoy cocktails.
Most restaurants at this hotel feature private indoor and outdoor locations.
Speak to one of our coordinators today for honest and unbias advice about having your wedding at this resort.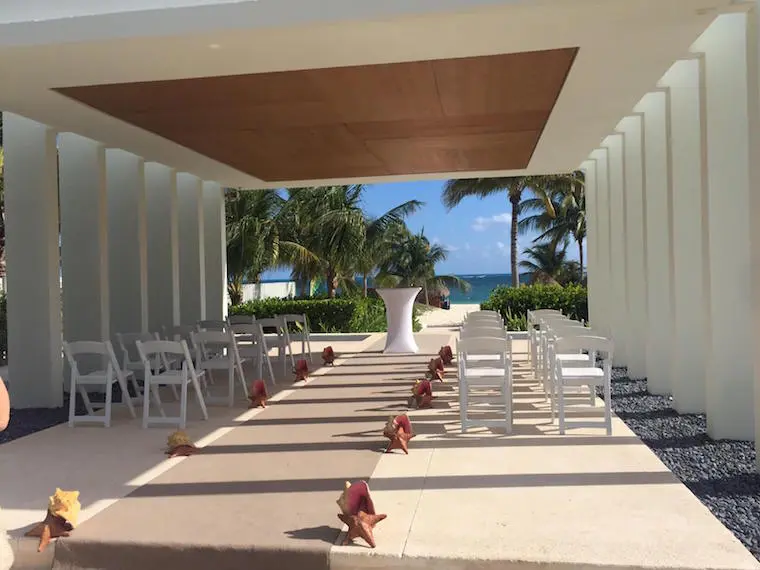 Gym
Keep your beach body in check on vacay!
That way, you don't have to feel guilty about that extra taco or three.
At the Finest Playa Mujeres, you will find a 3,500 square-foot gym with beautiful sea views!
A gym you will actually WANT to workout in.
This place is kitted out with the newest equipment and weights.
Plus, there's a whole range of fun fitness classes to choose from including: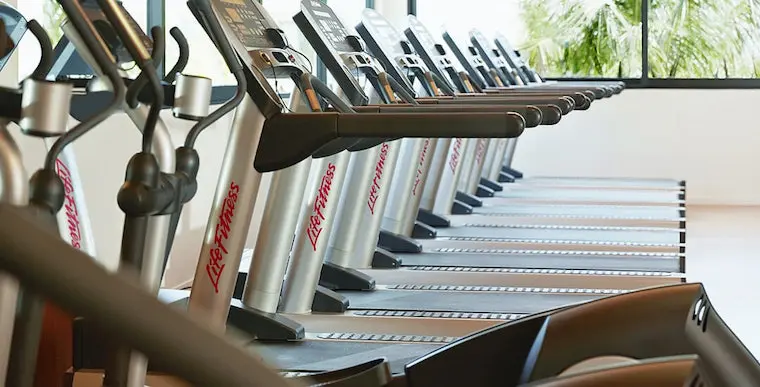 Cardio Boxing
Pilates
Fitball
Aqua Fitness
Circuit Training
Yoga
Meditation & Breathing Aromatherapy
Basics Affirmations Juice & Infused Water Stations
Golf at Playa Mujeres
Thinking about booking a golf vacation? 
Or just love golf?
You're in luck!
Playa Mujeres Golf Course is an 18-hole, par 72 Greg Norman signature course. 
It's also an ecological feat nestled in a tropical jungle-lined by powdery white beaches.
It's every golfer's dream. Whether you're a beginner or pro this jaw-dropping green caters for all levels.
It's a delight to play the game on.
Well crafted water holes, set amongst lush foliage and jungle – not to mention the abundance of wildlife.
 Masterfully planned, meticulously managed and sustainably minded, it's no surprise Playa Mujeres Golf Course is consistently ranked one of the top courses in all of Mexico.
It's also been selected as the first women's-friendly rated course in the country by the Executive Women's Golf Association.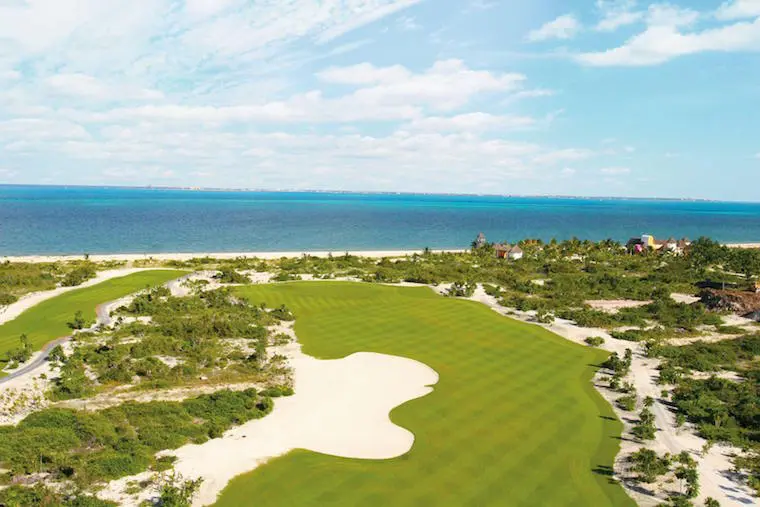 The course spans the width of the peninsula, from the pristine beachfront of the Caribbean Sea to the Chacmochuc Lagoon.
Bring your A game. It is designed to challenge at every level of ability with its tight fairways, jungle growth and strong coastal breezes. Beauty is at every hole. Several holes feature spectacular sea views that seemingly go on forever. The Playa Mujeres Cancun Golf Club features a well stocked Pro Shop offering group and individual clinics. After a round, cool off with a refreshing drink at the bar of the Lagoon Grill or enjoy its full menu service.
Course information:
SERVICES CART RENTAL: Included in greens fee
RENTAL CLUBS: Callaway X
GOLF SHOES RENTAL: Footjoy
DRIVING RANGE: Included in green fee
PRO SHOP: Yes
GOLF CLINICS: Yes, groups and individuals
BEVERAGE CART: Yes
RESTAURANT: Full-service
TWILIGHT RATES AVAILABLE
Design: Greg Norman
Par: 72
Yardage: 7,218 Yards
Holes: 18
Hours: Sunrise To Dusk
Rating: 74.5
Slope: 139
Want The Best Rates At This Hotel?
If you would like to discuss this hotel further with one of our expert travel consultants here at PlayaDelCarmen.com be sure to give us a call on our toll-free number +1 888-537-9797
Or
Alternatively, contact us via email at customercare@playadelcarmen.com
We will ensure you get the best price, perks, and discounts. 
Paradise awaits…
Have you stayed at this hotel before? Don't forget to leave your thoughts in the comments section, we would love to hear from you.
Finest Playa Mujeres Review
Location

Style

Beach

Room

Activities

Food

Spa

Weddings

Gym

Golf
---
Trending Now