How to Stay in Shape in Playa del Carmen || Sports in Playa del Carmen
---
Vacation time and vice are generally two things that don't bode well for your fine-tuned exercise regime.
With all the different Playa del Carmen restaurants, it's easy to see all those days watching what you eat and going to the gym start to fade away.
Not to mention the town's lively and alcohol-induced nightlife.
Of course, it doesn't have to be that way.
And, no, living it up in Playa del Carmen doesn't completely exclude the fact that you can also keep up your routine far away from your routine.
5 Sports in Playa del Carmen to Help You Stay Fit
You may not find mountain climbing, rowing, or alligator wrestling in Playa del Carmen, but there are still a few things you can do to stay fit.
As a word of advice, however, I recommend you take into consideration that it can get really hot in Playa.
In other words, plan to exercise either early in the morning or late in the afternoon and not in the heat of the day. And always — always — keep hydrated.
#1 Yoga Classes
Playa del Carmen is a popular destination for the yogis amongst us.
No worries about whether you'll find some good classes to take while enjoying some tropical zen at the beach.
There are also several different techniques, so it's just a question of finding what's right for you.
Options include Yoga Loft, Inti Beach Club, Yoga District and the weekly donation-based classes at Kava Kasa. #TravelTip: there is also a great local market held at Kava Kasa every Tuesday afternoon!
Our suggestion: Kava Kasa
Location: 22nd Street between 5th & 10th Ave.
Contact: Kava Kasa Facebook page
---
#2 Stand-Up Paddle Board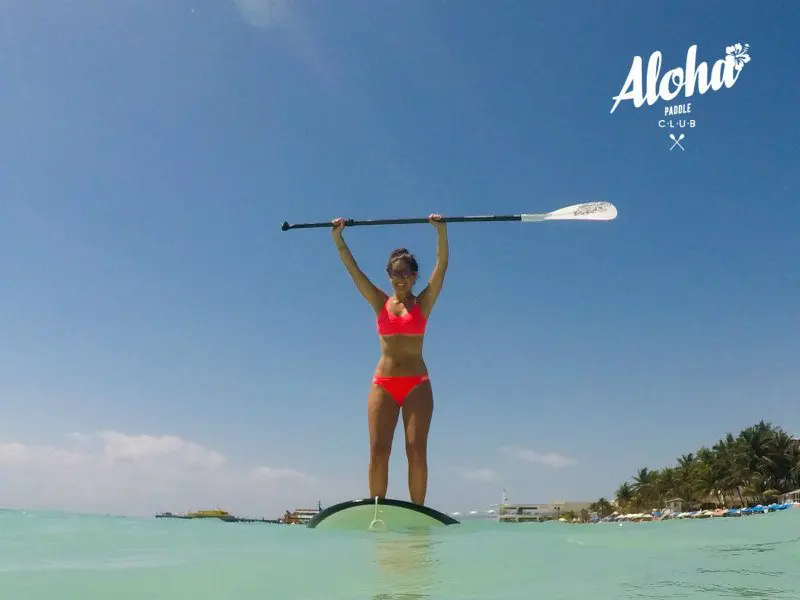 Speaking of zen-like balance, have you ever tried to do some stand-up paddleboarding?
Located at Inti Beach Club, the Aloha Paddle Club offers guests the opportunity to partake in the fine and mesmerizing art of paddling boarding in the middle of the Caribbean Sea.
If you like a mix of strength, balance, and concentration, it's a great activity. It also doesn't require prior knowledge or too much athletic ability for starters.
Our suggestion: Aloha Paddle Club
Location: Beach between 4th & 6th
Contact: Aloha Paddle Club website
---
#3 Bicycle rides
Remember my advice about when to exercise?
This may not be such an issues with this great all-terrain, all-weather activity for young and old alike.
However, that is only if you swap the hot asphalt and crowded streets of Playa del Carmen for the nearby Punta Venado Bike Park.
You may not find mountains here to ride your rented mountain bike over, but you will be able to either race or linger down jungle-lined paths filled with natural wildlife as well as journey alongside the beach and near mangroves and cenotes.
These extensive trails have different difficulty levels and provide a good way to leisurely explore the local flora and fauna.
Our suggestion: Puerto Venado Bike Park
Location: Cancun-Tulum Highway, Km. 278
Contact: Punta Venado website
---
#4 Go for a jog
Tie up the laces, adjust those socks, put on your Adidas headband and start throwing up some sand with a nice jog in Playa del Carmen.
If you want to run on the beach, start off at the area of Playacar Palace, just south of the Cozumel ferry terminal.
If you go early enough, 5th Avenue is a great place to run, especially if you start at around say 46th Street.
You'll be running on pavement but along the way you'll also find a few small roads that lead down to the beach. There is also a nice stadium with a jogging trail and basketball court on 10th and 38th Street.
Our suggestion: On the beach
Location: Just south of Cozumel ferry terminal
---
#5 Get a gym membership or day pass
Just because you've decided to be one with the Playa del Carmen beach doesn't mean you can't go to the gym.
No membership? No problem!
There are several Playa del Carmen gyms that offer you the chance to keep up with your workout routine while on vacation.
Located on 1st and 16th, The Gym offers day passes for $300 MXN or weekly passes for $1500 MXN.
If you're looking to spend a little less, California Fitness, located off the highway in the Centro Maya shopping center, offers no-contract monthly memberships for just $289 MXN a month.
Our suggestion: California Fitness
Location: Centro Maya Shopping Mall
Contact: California Fitness website
How to do like to stay in shape on vacation?
Leave your tips in the comment section below!
---
Trending Now
You may also like