SUP, Moms! Stand-Up Paddle Boarding in Playa del Carmen
---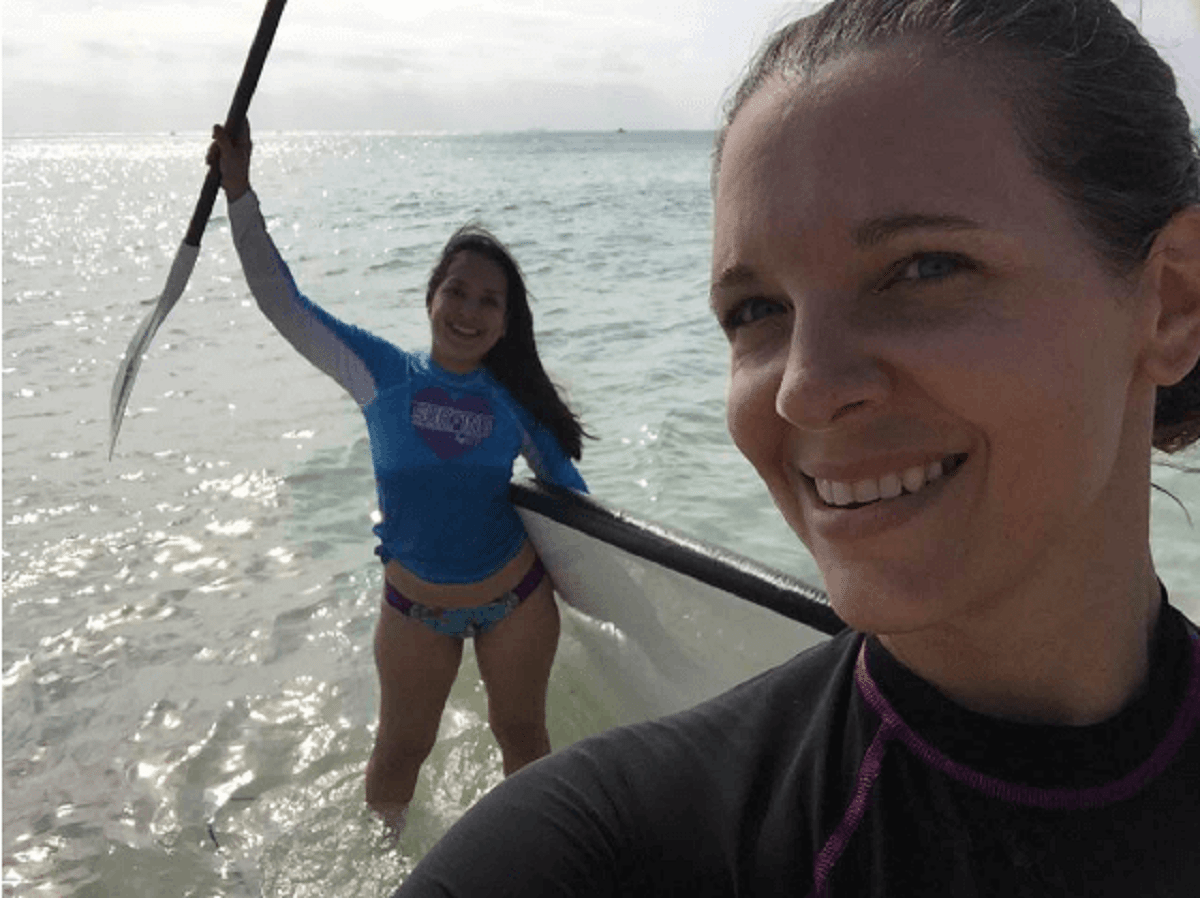 Playa del Carmen is renowned for its limitless choices of outdoor activities.
How about skydiving, scuba diving, cave diving or even snorkeling, horseback riding or even kitesurfing …
Every single day of the year you can find great Playa del Carmen activities, which is why this town is obviously such a popular destination for young, adventurous thrill-seekers.
I pretty much tried them all in my early years, when I was still young, free, and single.
But…
The Times They Are a Changin'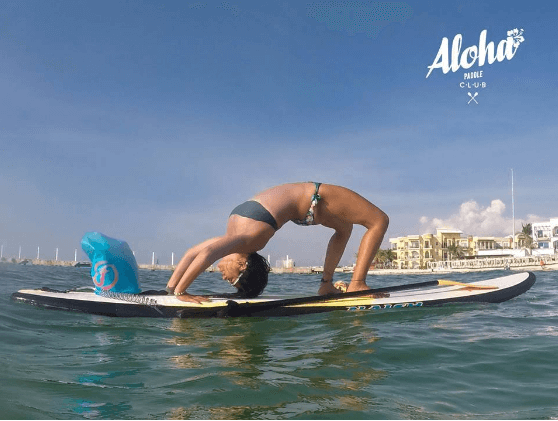 What about those of us that are no longer young, free, and single?
I am now a mom to two energetic, wonderful, and exhausting children under 5. As you can imagine, I rarely get a minute to myself anymore.
I'm sure all moms out there can relate. I often dream of the fresh sea air, soft sand between my toes, and waves lapping up against my legs.
And then it hits me… hang on… I live in Playa del Carmen, Mexico!
I mean seriously!
Here, where there are so many great things to do in Playa del Carmen that let you exercise while enjoying nature. That's great because I'm not really a gym person. In fact, I have bought a gym membership twice.
And you know what? I never used either one of them.
Luckily for me, I discovered stand-up paddle boarding and the little gem that is Aloha Paddle Club and I've not looked back since (or at my gym membership card).
Stand-Up Paddle Boarding in Playa del Carmen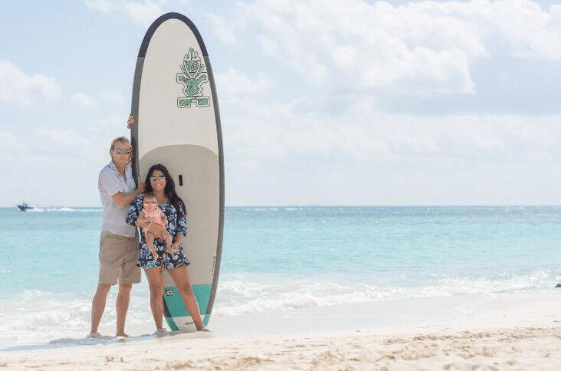 After being introduced to Sander, the owner of  Aloha Paddle Club, I explained my dilemma with the kids' school schedules and my times.
Just like that,  Sander offered to organize a paddle excursion at 8.30 a.m., thus giving me time to drop the kids off at school.
My very first time I admit to being apprehensive.
Looking out to sea, I wondered to myself whether it was too windy and if I would be capable of doing it.
Following our intro class, however, I was pumped and motivated to get out on the water.
My First Stand-Up Paddle Boarding Experience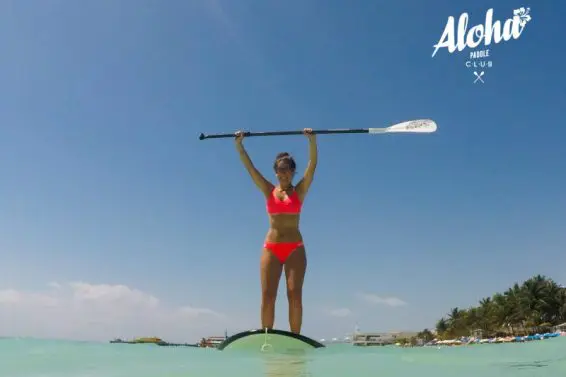 Paddle boarding is surprisingly both easy AND hard at the same time.
Although it's called stand-up paddle, you can also sit on your legs and paddle and still keep good rhythm and control.
In spite of my wobbly legs, I managed to stand up and wow! It felt AMAZING!
Nothing in sight except the distant outline of Cozumel Island and the sound of the waves splashing up against my board…
It was exactly what I needed and had been looking for.
We followed Sander further out and followed his instructions as to in which direction to paddle based on surface current and wind direction.
He's a super chilled, enthusiastic guy with a real sense of zen about him.
I could not have asked for a better guide for my new found hobby.
He speaks English, Spanish, Dutch and German, and loves the life he has made for himself and his family in Playa del Carmen and Mexico.
That's definitely something I can relate to as well.
I have to admit I did fall down countless times; more than I'd like to remember.
But the water was so inviting, warm, and clear that I was often tempted just to fall back in, float face up and close my eyes for a quick time-out.
Besides the paddling technique itself, Sander shared a few other tips with me (which I found particularly useful on my next paddle trip as I only fell twice that time) such as tightening my core (abdomen) for a steadier stance and looking out at the horizon a bit more and less at my board (and my chipped toenail polish).
Once I did this – I nailed it (no pun intended)!
After the third class I was gliding along like a pro…. or so I thought!
Sup, Moms! Bring on the Mommy Mafia!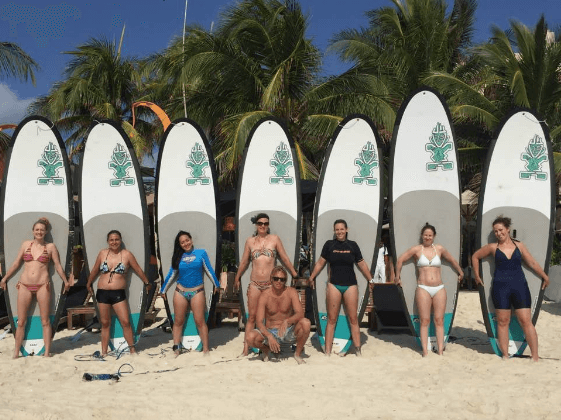 I decided then and there after my first class that I had to share the news about this awesome new activity with other moms.
It was relaxing, energizing, peaceful, and exciting all at the same time!
Why moms you ask?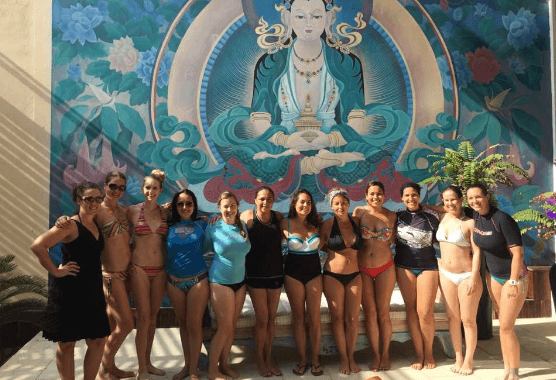 Well, paddle boarding is exactly what a mom needs because of all the aforementioned things.
Plus moms get the following benefits:
RELAX and get some time out away from the kids, work, and household chores.
ENERGIZE yourself and get those endorphins circulating around your body, reducing stress, anxiety, improving sleep, and improving your self-esteem.
PEACE & QUIET is something that almost never happens in a mom's life so this is one hour of pure bliss.
EXCITEMENT – A mother's day is often tedious and repetitive (just like the gym!) and paddle boarding gives you a great sense of freedom and adventure.
So…. I did a shout out to as many moms as possible in Playa del Carmen, and the Mommy Mafia got together and got wet and wild at Aloha Paddle Club!
Sander set up 3 groups of 7 moms each, with one at 8:30 a.m., 10:00 a.m., and 11:30 a.m., respectively.
The price included an introductory class beforehand followed by gentle and encouraging instruction throughout the 1 hour on the water and a healthy smoothie afterward at Inti Beach Club.
Inti Beach Club has indoor showers, a delicious menu, and even a yoga center and beach massage service.
Aloha Paddle Club members get a discount on food and drinks at Inti Beach Club as well at other popular places like Afrodisiako Restaurant.
Why paddle with Aloha Paddle Club?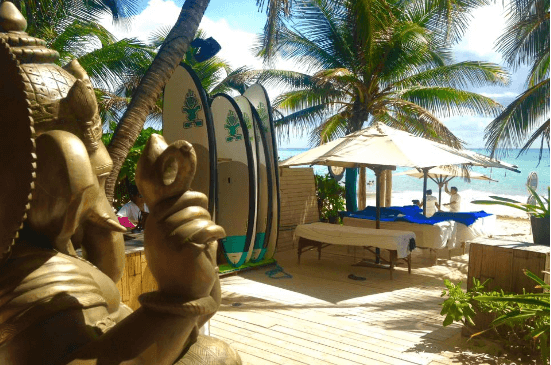 Aloha Paddle Club is run by Sander and his partner Ilse, who is also a passionate paddle boarding mom.
In other words, it's a family business run by a dedicated, passionate, and super friendly team.
They offer specialized prices for Playa del Carmen locals and Mexican residents as well as a variety of time slots to suit every schedule. They also offer an attractive membership package.
Aloha Paddle Club Schedule and Services
Aloha Paddle Club offers daily services at 7:00 a.m., 8:30 a.m., 10:00 a.m., and 5:00 p.m.
Sunrise and full-moon paddles are also available.
In addition, Aloha Paddle Club offers paddle boarding in cenotes as well as on-site private classes at hotels, villas, and even swimming pools.
Ready to learn more about what's up with SUP in Playa?
Our travel specialists won't make you paddle to get great deals!
Contact them today toll-free at 888-537-9797!
---
Trending Now
You may also like