My Honest Review of Sandos Playacar Hotel
---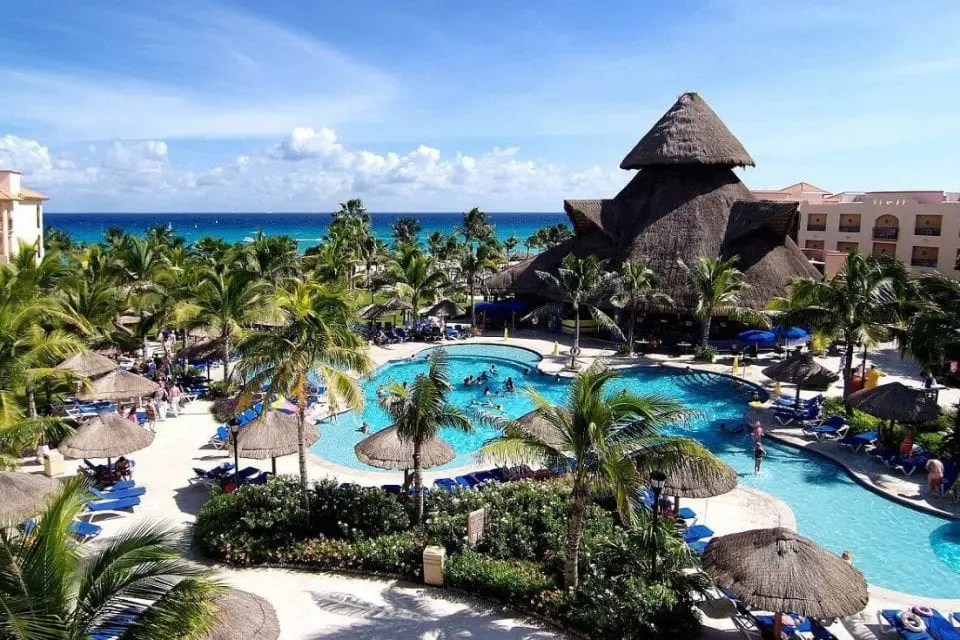 I live in sunny Playa del Carmen. (yeah, tough life)
I also manage the travel agency here at PlayaDelCarmen.com.
SO…. I've done my fair share of hotels visits and reviews over the past 20 years in the biz.
Recently I had the opportunity to stay at the Sandos Playacar Beach Resort.
Lucky me!
You probably want to know if the Sandos is the perfect hotel for your vacation, right? Well, I paid attention and took notes to help you do just that.
Here's my review of the Sandos Playacar ?

SANDOS PLAYACAR HOTEL OVERVIEW
I was really pleasantly surprised by this hotel.
I had visited this hotel quite frequently as a destination representative and had even stayed a night about 9 years ago, but boy has it changed!
The most surprising upgrade was the food! Read on for details….
LOCATION
The hotel is located at the far end of Playacar, a gated community adjacent to Playa del Carmen.
The beach in this area is STUNNING – very long, with white sand and the water is clear.
You are also very close to the Hard Rock Golf Course (formerly the Playacar Golf Course). This makes the hotel a good choice if you want to include golf as part of your vacation.
Walking distance to 5th avenue is about 35 minutes (easy walk in a really nice area). Opt for a taxi for be 100 pesos (roughly $6US).
You'll find a convenient little plaza in Playacar for things like sunscreen, hats, sandals etc in case you don't want to head into Playa del Carmen.
FOOD & DRINK
There are A LOT of options for food and drink. It's a big resort so there are restaurants in every section.
Sandos Playacar Restaurants & Bars Include
2 Buffet Restaurants
7 A-la-Carte (no reservation required)
4 snack bars
6 Bars
The main Riviera section and in the standard room / main pool section.
The Riviera section offers the choice of a buffet restaurant, a few a la carte restaurants (Asian, Argentinian and Brazilian).
Daytime snacks and drinks can be found poolside at the Luna Blue on the family side or the adults-only Ceviche Bar.
In the Main Plaza area, you will find the cupcake café and Chayita, a delicious burrito bar! There is a beautiful bar offering up cocktails in the area that opens in the evening at show time.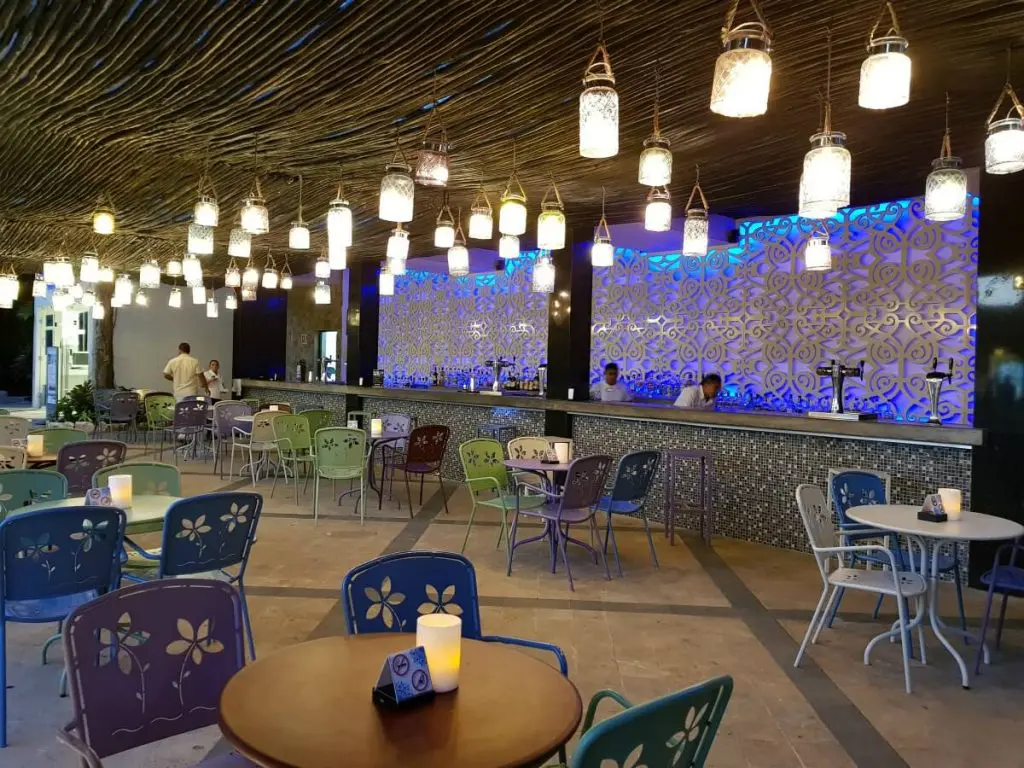 The main standard room area has the other restaurants, which includes another buffet, and several a la cartes. These include a gourmet option, an Italian restaurant and one with French cuisine.
If you get the hungry or thirsty while at the beach, you can head to the beach bar / snack bar.
No reservations are required in the menued restaurants.
One unique feature was the taco truck!
Every afternoon (or at least every afternoon that we were there) this really cool looking taco truck opened up for late afternoon snacks. A fun option and who doesn't like tacos? Seems like every day it was more and more popular.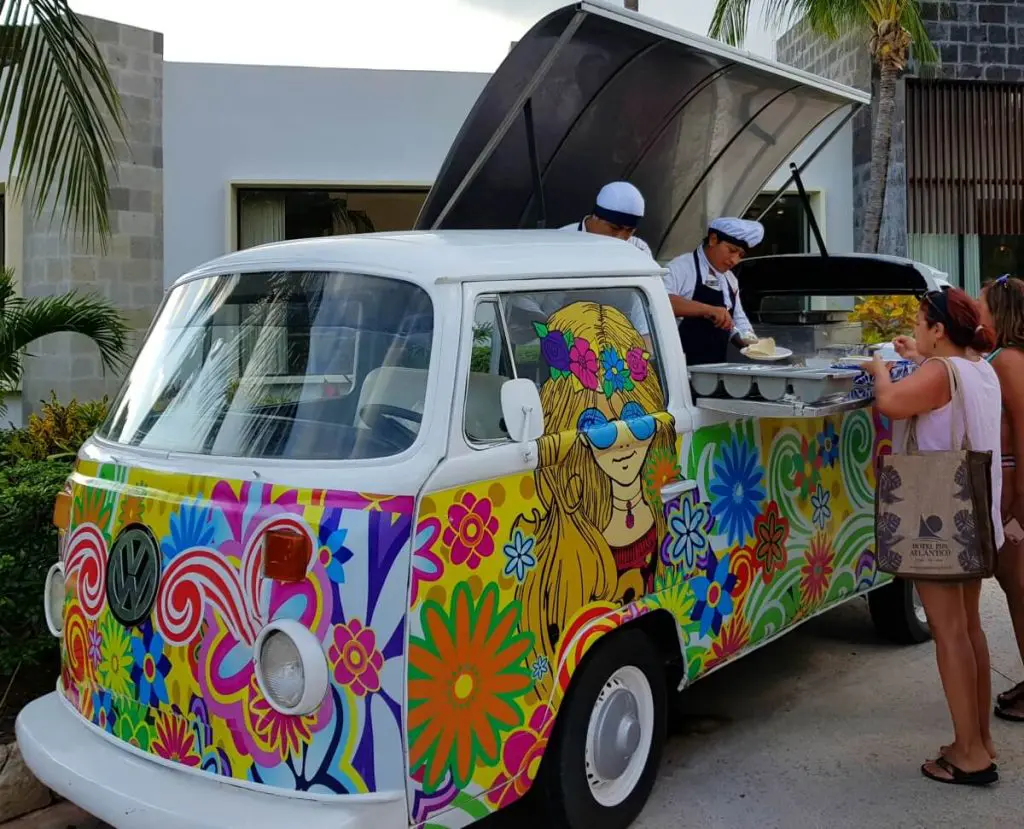 We mainly ate at the main buffet in the Standard Room section called Festival because the variety of food was fabulous.
I am incredibly impressed with the quality, variety, and freshness of the food.
We went for meals even when we weren't hungry because that buffet is one of the best that I've encountered. And no, I am not sponsored to write this post, I just really loved it.
I also had my share of burritos and coffee with treats from the Cupcake café.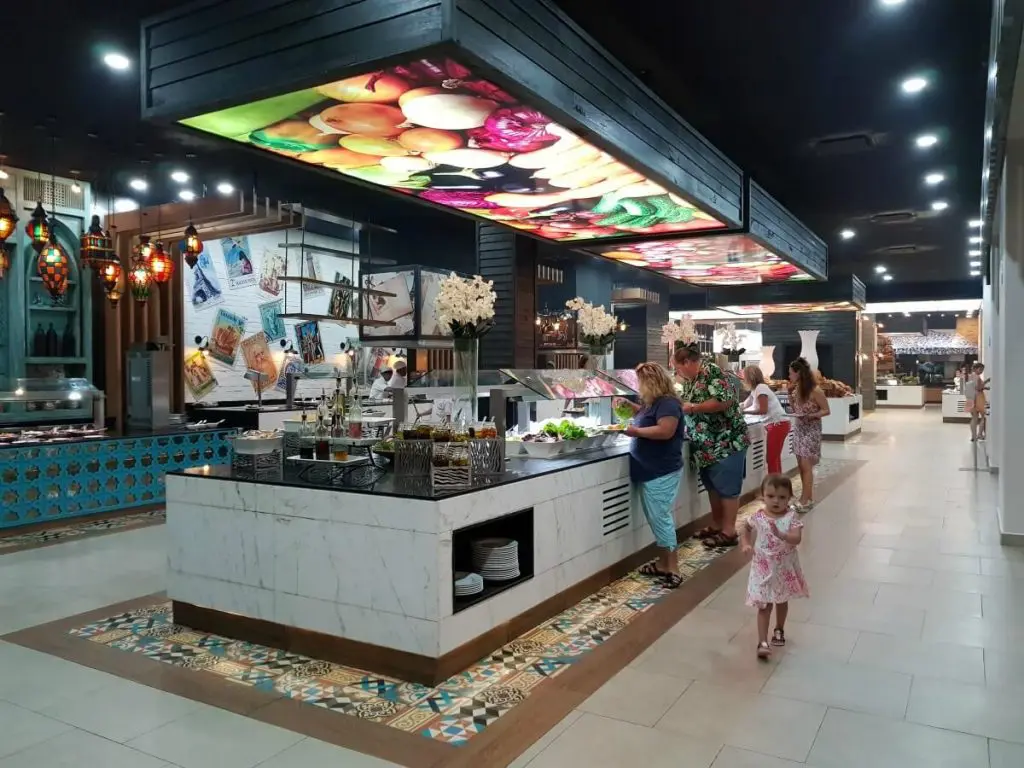 SERVICE
The check-in process was smooth and efficient. Maid service was regular, and the rooms were very clean.
Service in the buffet was spotty. We either had a very attentive staff member or virtually no service at all.
In other areas of the hotel (café, bar, entertainment etc.) all staff were welcoming and accommodating.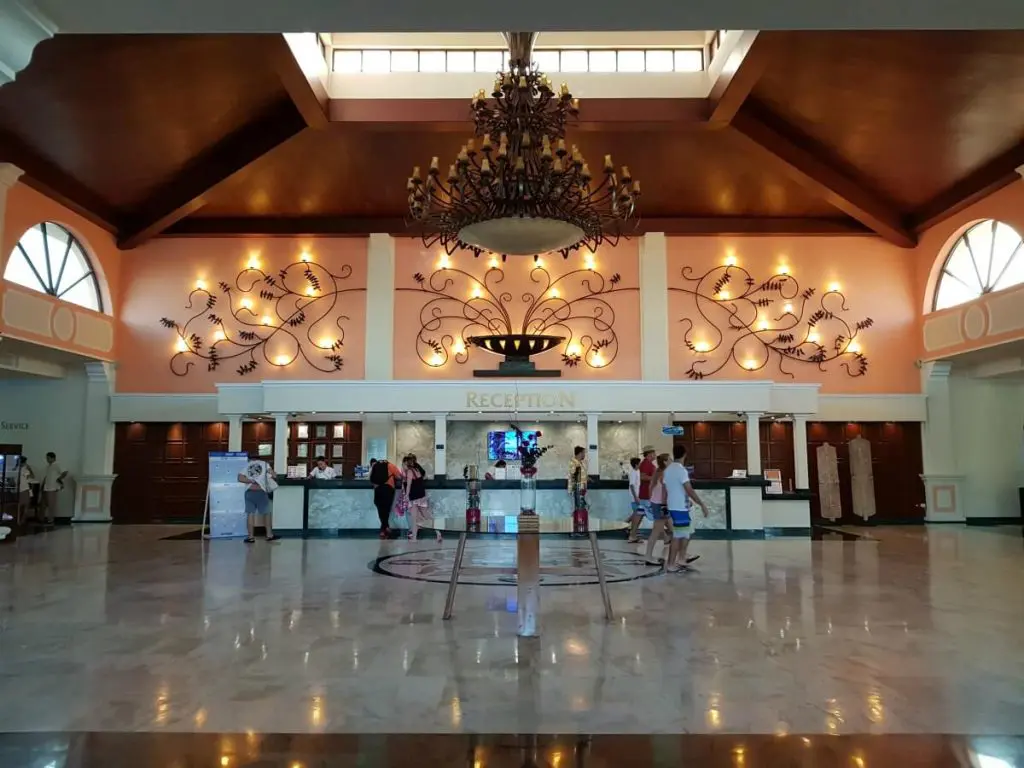 Beware of Timeshare.
You'll see them at guest service and are off to the left of the reception area (when facing the main check in counter).
Yes they're annoying BUT not bad compared to other resorts. Best to be aware that they are there and you will get invited in a roundabout way to a presentation / breakfast / tour of the resort.
Once you are part of the timeshare, you are considered 'Royal Elite', so you will see dedicated lounges and a pool area for these guests only.
ACTIVITIES
I think you'll really like their activities for kids, teens and grown-ups.
Not only do they offer the clubs, but the entertainment team has sports, games and other activities planned throughout the day.
If you are not into group activities, you can enjoy the mini-golf on site, grab a bicycle and take a bike around Playacar (really nice area and safe). The sports bar area offers pools tables, ping pong and foosball.
Nightly entertainment occurs in the main plaza area and shows include musical entertainment,
Kids Club
Kids Club accommodates kids from ages 4-12 and is open daily from 10am-10pm.
They have a wide variety of activities and with the extended opening hours, parents may even be able to sneak away for a romantic dinner for two.
Teens Club
The teen club offers an arcade area and other games such as pool, air hockey and basketball. Open from noon to 11pm with nightly activities.
Available for kids 13-17 but even kids my age enjoyed the games on offer ?
Night Club
The nightclub opens s of 11 pm and DJ's play nightly. Dance the night away! Although I can't say I ever made it there, I am far from a night owl 😀
ROOMS
The hotel is separated into several sections. The hotel site is large, and the rooms are located in several distinct areas. All rooms have access to 24-hour room service as well as the main pool area, the Riviera pool area, and all family-friendly services.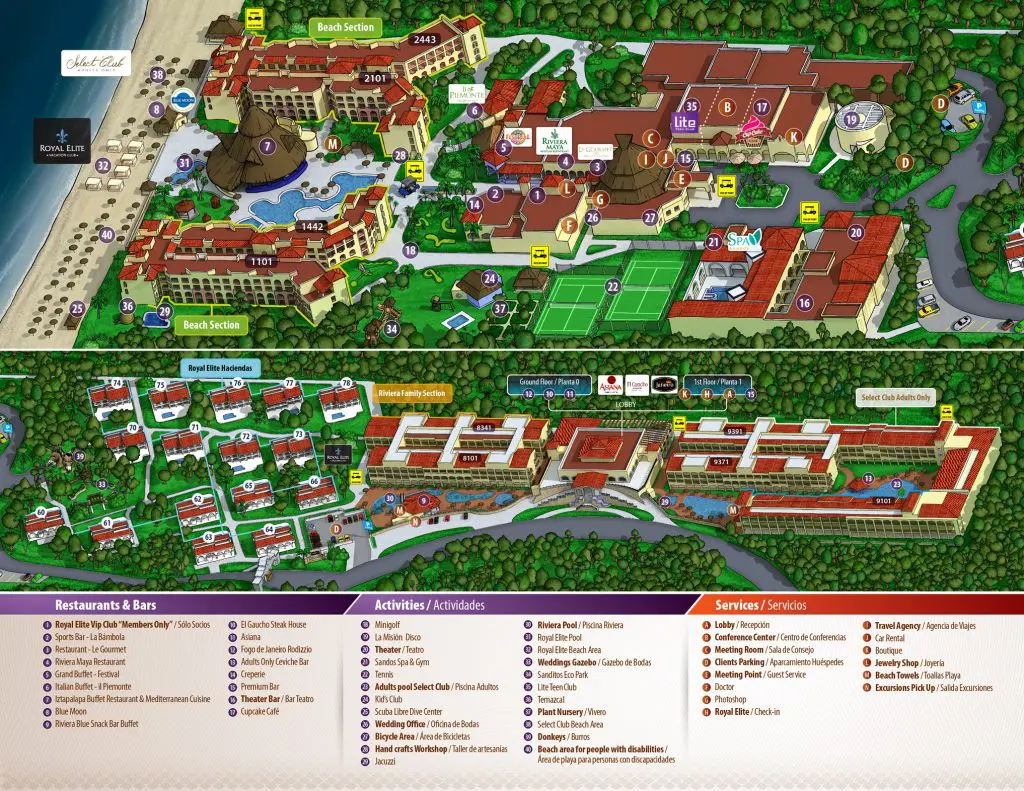 OCEANFRONT ROOMS
Reserved for guests 18+ the oceanfront rooms are really as close to the beach as you can get.
Offering one king bed, ocean views, and upgraded amenities, this room category also gives you access to the adults-only areas throughout the resort as well as everything else.
STANDARD ROOMS
Located in the main activities pool and the beach, these rooms offer 332 square feet of living space with either 2 double beds or 1 king bed.
HACIENDA JUNIOR SUITE
Located in the center of the property, there are 8 buildings with 12 suites each.
Not only does each building offer junior suites and one-bedroom suites (that can accommodate families with 3 kids!) but each building has its own private pool and jacuzzi area.
Rooms are larger than the standard rooms and do offer upgraded amenities.
Do you like a larger living space? Opt for the one-bedroom offering 786 square feet and a completely separate living room with a sofa bed. This is a fabulous option for families if you want the kids in another room but still close by.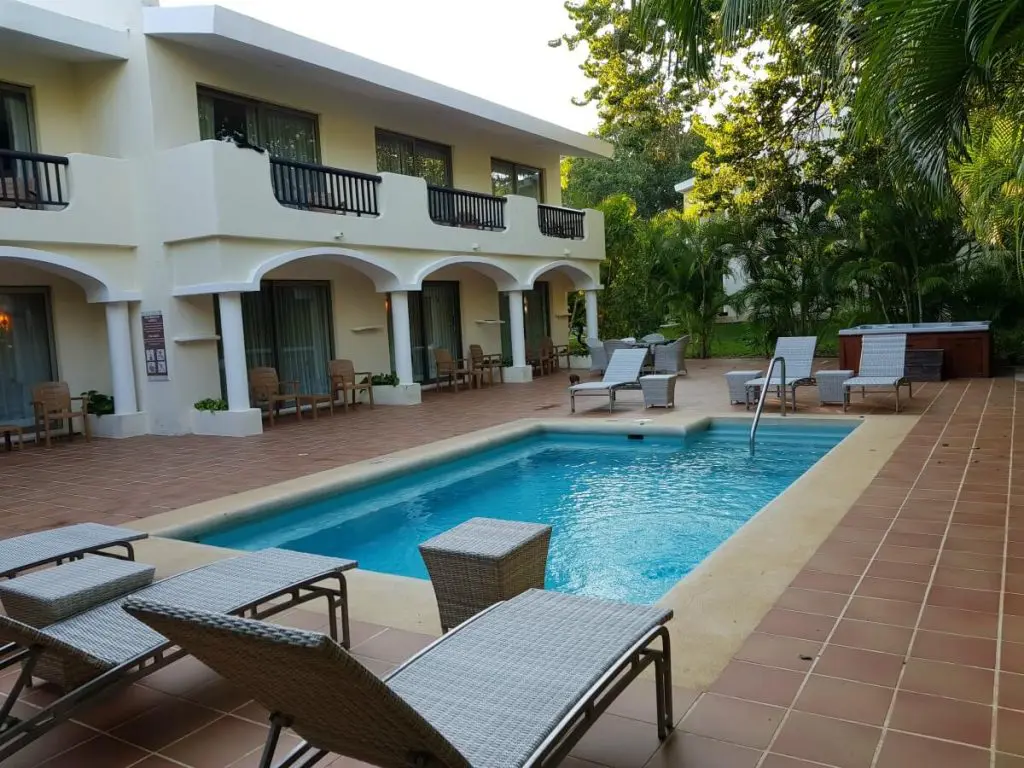 RIVIERA JUNIOR SUITE
You'll find the Riviera Junior Suites located by the main lobby area in the back of the property.
This area is family-friendly and accommodates 5 in a room.
With over 550 square feet of living space and an integrated living room area with sofa bed, these rooms are great for larger families.
Each room has an in-room jacuzzi, a large balcony with tropical views and offers either 2 double beds or 1 king bed in addition to the sofa bed.
This section is a good 10-minute walk from the beach (although the grounds are beautiful) but there are golf carts that pass and offer transport to and from.
SELECT CLUB – ADULTS ONLY
The Select Club is the adults-only area of the resort.
Located at the far back (furthest from the beach), you have the select club rooms, all junior suites.
You'll find an adults-only pool, snack bar and once you are at the beach, there is an area exclusively for adults. The upgraded bracelet entitles you to premium alcohol, so if this is important to you, this room category is a great option.
Although there is an adults-only area, I would consider this a family resort so if you really want an 18+ getaway, this may not be the best option for you.
BEACH
I found the beach to be amazing! Long, white, wide and you can walk for miles in either direction.
You won't find rocks when entering the water for swimming. It's also quite flat and does not drop too deeply at once.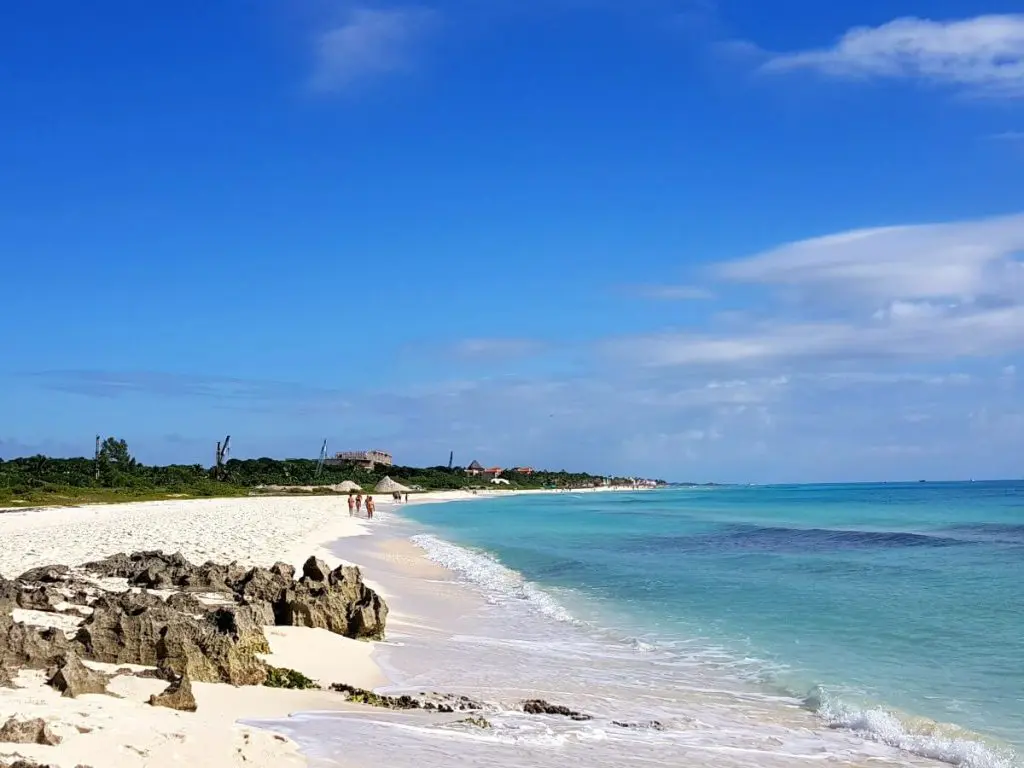 The water is turquoise and beautiful! They have started building what looks to be like condos in the once empty area past the hotel, so we will have to see what happens with further development. For now, there is a long stretch of almost deserted beach.
Beach Parties
The hotel has different daily themes for beach parties.
You'll find Malibu, to Jamaica, to Brazil themed parties with varied activities for both kids and adults. There is a stage for live daily performances.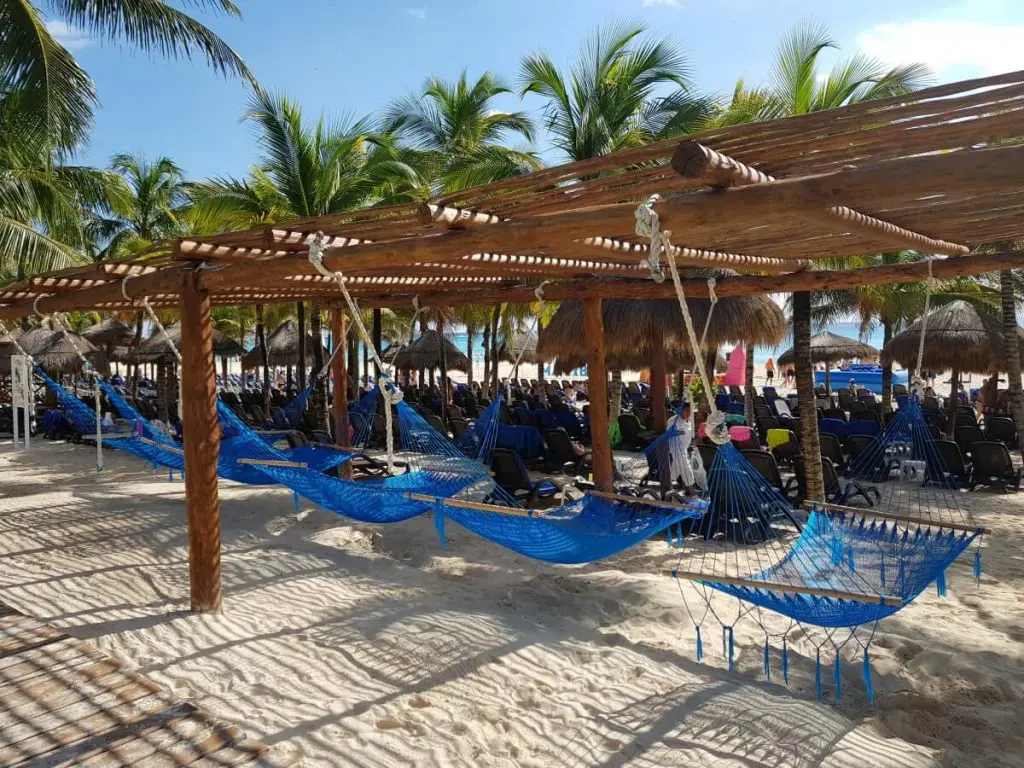 My biggest beef with the beach was the noise.
There was NO quiet area on the beach unless you had an adult-only bracelet and could access that area. There is a quiet pool in the Riviera Junior Suite section (so you can find tranquility if you want it), but I would have really liked to find an ocean view quiet spot to read my book and nap. 😉
SANDOS CARACOL (the sister resort)
Although this is not advertised, one of the perks at the Sandos Playacar is the ability to visit the sister resort, the Sandos Caracol.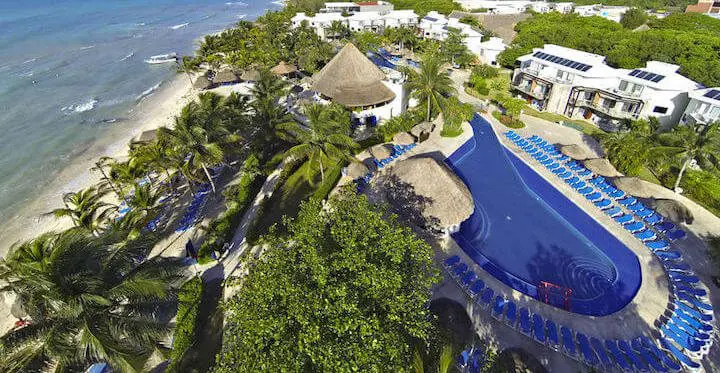 You have to advise the hotel of the visit and transportation will cost you about 200 pesos each way ($25US round-trip).
It's nice that you can switch up your day-to-day and see what the other Sandos resort has to offer.
The Sandos Caracol has a lush tropical environment complete with a cenote where you can swim and snorkel, a water slide park, and more.
While it is part of the same hotel chain, it is completely different than the Sandos Playacar and well worth a visit.
You can read my review of the Sandos Caracol here.
WEDDINGS AT THE SANDOS PLAYACAR
Destination Wedding anyone?
If you are looking for an affordable wedding package, you may want to consider the Sandos hotel.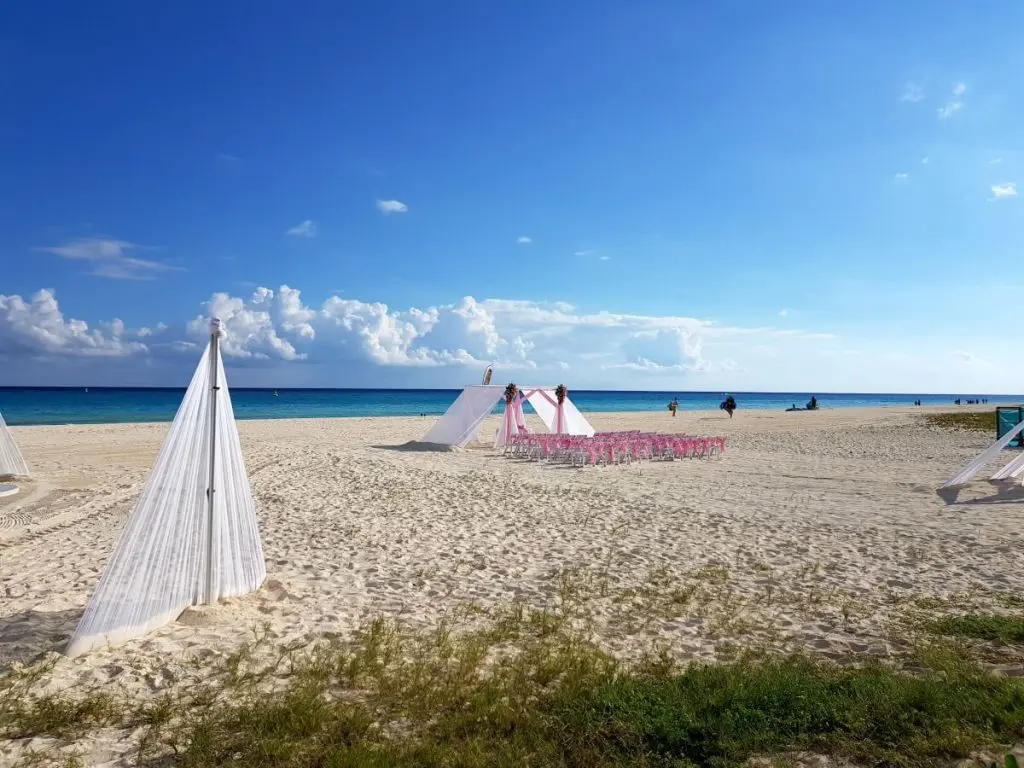 This hotel offers a few different locations for both the ceremony and reception and all packages include a private cocktail hour and private reception dinner.
Contrary to many beach weddings, the location of the Sandos does afford some privacy as it is the last hotel on the strip, so at sunset, there are very little people around.
I think the secret garden setting is stunning and can be used not only for the wedding ceremony but also for a reception.
Prices start at just $3200 USD for 30 guests and include a symbolic wedding ceremony and private reception for 30.
You can add on a legal wedding for a supplement AND same-sex weddings are legal here in this state.
This is not the hotel for you if you want exclusivity or an extremely fancy wedding. However, it does offer a price point that can accommodate most guests and a complete wedding package for a great price.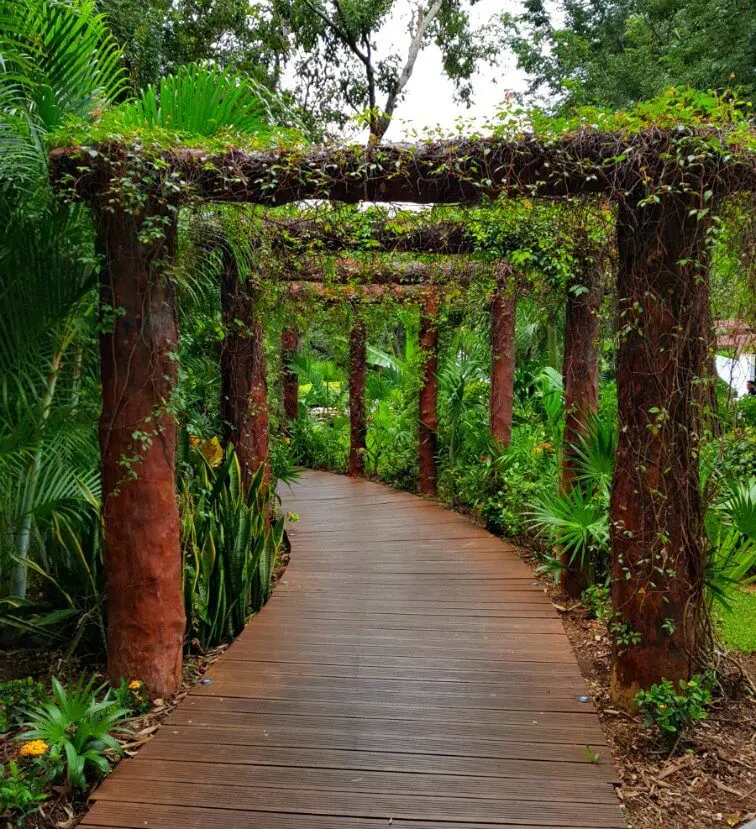 GROUPS
This hotel has facilities to accommodate groups and can easily accommodate many rooms due to the size of the resort. An affordable price point makes it a fabulous choice for family reunions or group getaways.
GOLF
As mentioned, the Sandos Playacar is very close to the Hard Rock Golf Club. This makes it an easy choice if you want to include golf as part of your vacation.
Walking to the clubhouse would be 25 minutes. A taxi would be a short ride and would charge less than $5US.
We can offer bundles for tee off times and save you money. This hotel would be a great option for a golf group vacation.
CONCLUSION
My time at the Sandos Playacar was filled with long walks on the pristine beach, too much delicious food, and quality time spent with family.
This hotel is fabulous value for the price.
I would recommend the Sandos Playacar if You Want:
a great beach
a large resort with a variety of activities
a lot of all-inclusive options for food and drink
any group vacation or a wedding resort as it really does have something for everyone.
a great family-friendly resort with a lot to offer.
I hope my review of the Sandos Playacar has helped you 🙂
We're Here to Help!
Please feel free to reach out to us here at PlayaDelCarmen.com with any questions or to make reservations.
Our fabulous team of travel agents (who have also visited this resort) are happy to help!
Call us at 888-537-9797.
Would you like to visit Sandos?
Anything to add?
Reach out in the comments below!
Sandos Playacar Review
Beach

Rooms

Food & Drink

Service

Activities, Entertainment, & Sport

Clubs (Kids & Teens)

Weddings & Groups

Golf Course
Summary
The Sandos Playacar is a solid 4 star resort. It offers a great variety of services, food, drink and fun things to do. It is fabulous quality for the price and a great choice for a family or group vacation.
---
Trending Now
You may also like