15 Utterly Romantic Things to Do in Playa del Carmen
---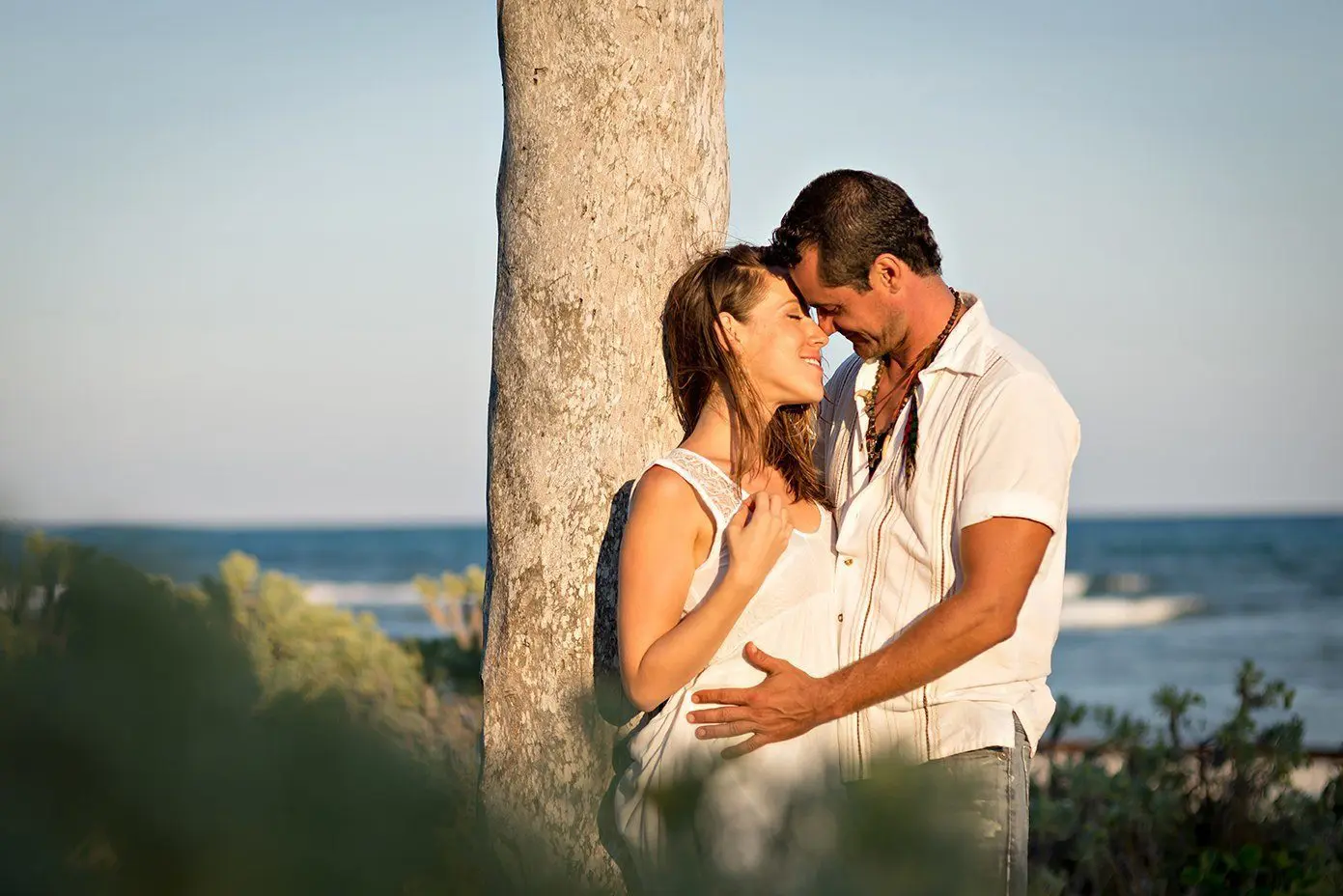 As much as Playa del Carmen is an ideal vacation spot for lovers, choosing romantic activities from our list of things to do in Playa del Carmen can be a challenge.
After all, just being here is an act of love in and of itself.
The beautiful land and seascapes combine with the warm tropical vibes and friendly people to create a truly special atmosphere.
But what is there to do when you really want to pamper that special someone in your life?
Let us count the ways…
15 Romantic Things to Do in Playa del Carmen
From a sunset sail to a romantic night out at Playa del Carmen's most stunning rooftop restaurant and bar, there's no limit on romantic possibilities in this stunning town on the Caribbean Sea.
Here are some of our favorite Playa del Carmen activities for romance.
And I say our because this list is the fruit of our entire team putting in their two cents of loving goodness.
Some of these can be combined, so you can pick and choose the most romantic date of them all!
#1 Watch a sunrise on the beach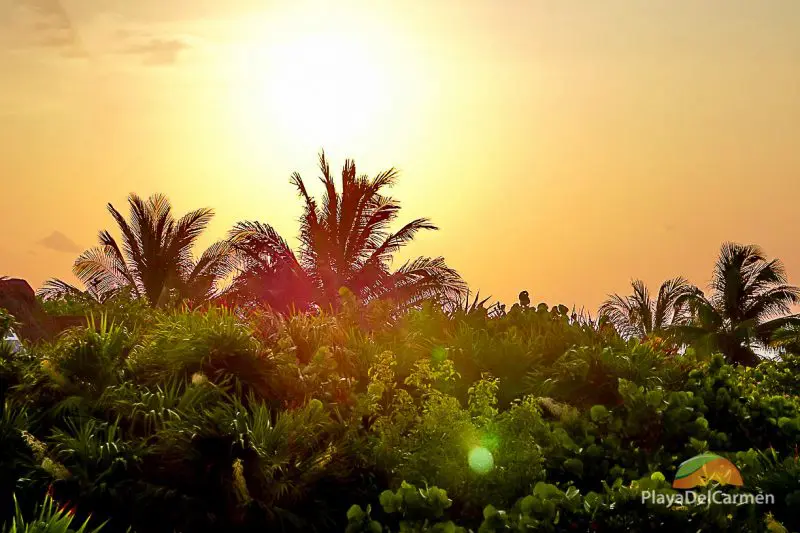 Our first idea is completely free of charge. All you have to do is be at the beach by 6:45 a.m. and find that perfect spot for a beautifully romantic morning.
If you want to go all out, organize a breakfast picnic with fresh fruit, cheese, and some tasty mimosas.
#2 Enjoy a wellness treatment at a local spa
One of the best things you can do for your body is to place it in the professional hands of a masseuse.
As a major tourist destination, Playa del Carmen is home to a wealth of quality spa services and wellness treatments. So why not take advantage of the talent and the many benefits for mind, body, and spirit with a special treat with the one you love?
See our list of top Playa del Carmen spas for some ideas of where to go, and be sure to read up on the hidden gem that is Bric Spa.
#3 Go out for a romantic dinner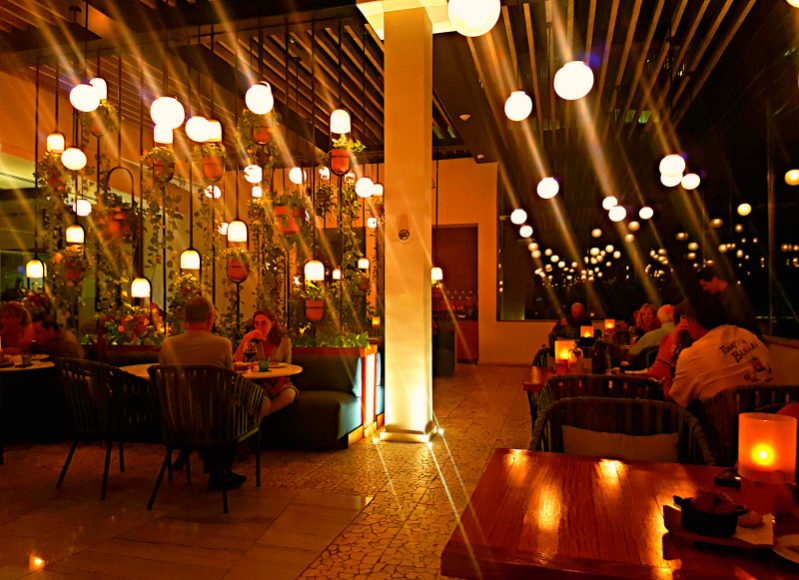 There is no end to great Playa del Carmen restaurants.
Depending on your taste buds, you'll find some excellent cuisine from almost all over the world. For a nice romantic dinner, consider a meal for two at The Grill at 1 26.
The intimate and welcoming ambiance with the stunning views of the Caribbean Sea provides the perfect backdrop for some incredible steak and seafood creations that go down well with a smooth cocktail from none other than bartender Michael Rivers.
#4 Celebrate with a bottle of wine on the rooftop of Thompson Hotel
Speaking of wine, the rooftop restaurant and bar at Thompson Hotel in downtown Playa del Carmen not only offers one of the most spectacular views of the city, it's also a great place to raise that glass in a toast to the one you love.
Led by the talented Pedro Abascal, executive chef for Thompson in Playa, Catch, the hotel's rooftop restaurant, offers a delicious menu of gourmet food.
However, if you so prefer, you can also skip dinner and simply enjoy a bottle of wine with a view.
#5 Pose for a photo session on the beach for two
Selfies are good and all, but what if you could contract out a professional photographer to take some incredible pictures of you and your better half on the beach, in a cenote or in the middle of the jungle?
This is a gift that will keep on giving as you'll be able to keep these memories forever and share them with your friends and loved ones.
Luckily, Playa del Carmen weddings are booming. As such, there's no lack of wonderful photographers waiting to capture that special moment.
Contact our travel specialists for suggestions about the best photographers.
#6 Set sail on a sunset cruise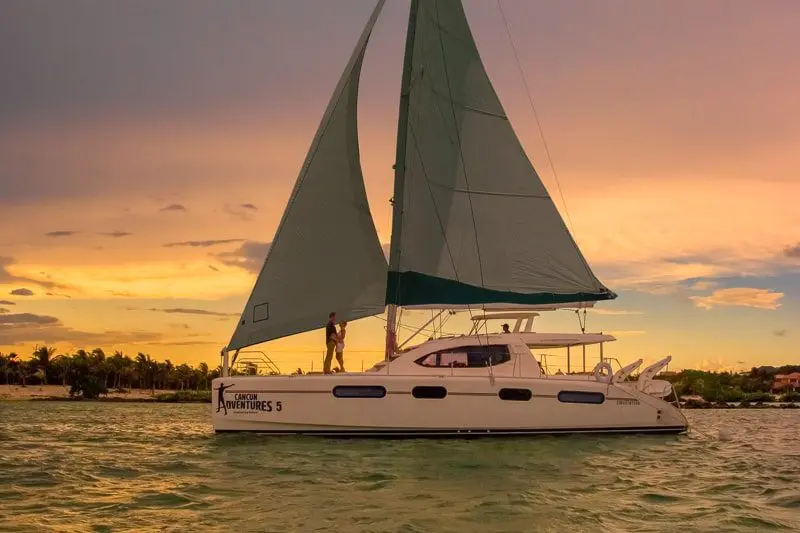 Playa del Carmen sunrises are amazing. However, our town faces the Caribbean Sea to the west, meaning that the sun sets on the other side of the peninsula, robbing us of one of nature's most spectacular scenes: beach sunsets. However, it's still possible to take in a beautiful end to the day on a
However, it's still possible to take in a beautiful end to the day on a sunset sailing tour. Because the excursion lasts just a little over two hours, you can still combine it with a night out on the town or a romantic dinner at a Playa del Carmen restaurant.
#7 Charter a private yacht
Another romantic seafaring option involves chartering a private yacht for a morning or afternoon sailing the mesmerizing blue hues of the Caribbean Sea.
As its a private yacht charter, you have much more say in determining what you want to do and for how long. With options ranging from four to eight hours, you can truly pamper the one you love at sea. In addition, VIP options are also available which include the possibility of an upgraded bar, champagne, a private chef or a private masseuse, among others.
With options ranging from four to eight hours, you can truly pamper the one you love at sea. In addition, VIP options are also available which include the possibility of an upgraded bar, champagne, a private chef or a private masseuse, among others.
In addition, VIP options are also available which include the possibility of an upgraded bar, champagne, a private chef or a private masseuse, among others.
#8 Go on a Xoximilco Dinner Cruise
The Xoximilco dinner cruise is an evening boat cruise on a wooden, gondola-style boat down jungle-lined channels.
With 20 people per boat, what you miss out on intimacy will be made up for with a fun ambiance of food, tequila, live music, and laughter.
#9 Pamper your senses at Cirque Du Soleil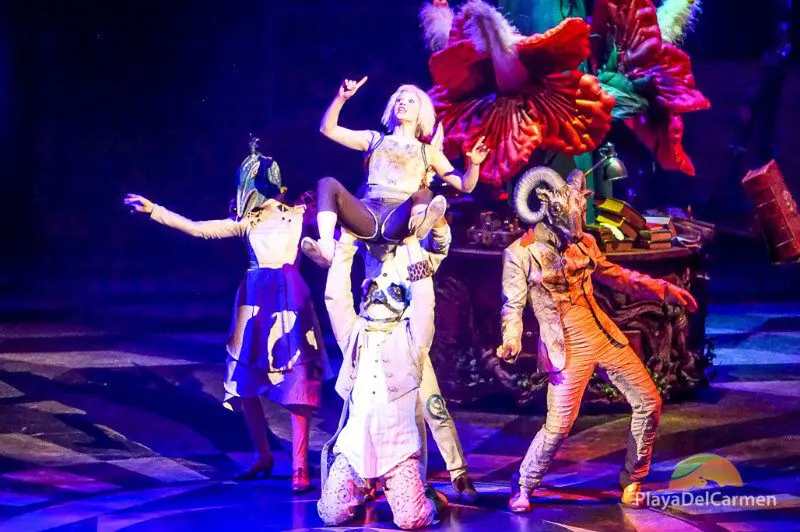 The Cirque Du Soleil Theater in the Riviera Maya is an intimate dinner theater created especially for the Cirque Du Soleil show. The venue is nothing less than stunning, and the Joya show itself is a visual treat of acrobatic excellence and wonderful aesthetics.
The VIP package, however, takes this incredible experience to another level. With a menu as mouth-watering as its presentation and the unlimited champagne, this luxuriously romatnic idea would make a great surprise.
#10 Participate in a cooking class at El Pueblito
The quickest way to a foodie's heart is through their stomach. Do you love all things culinary? This lover's surprise would make a great treat for that special foodie in your life.
Led by the talented and friendly master chef Karla Enciso, El Pueblito Cooking School allows you to learn succulent secrets from some of the top chefs in the Riviera Maya.
Imagine a romantic dinner for two, cooked by you for the one you love…
#11 Jungle Buggy for the adrenaline couple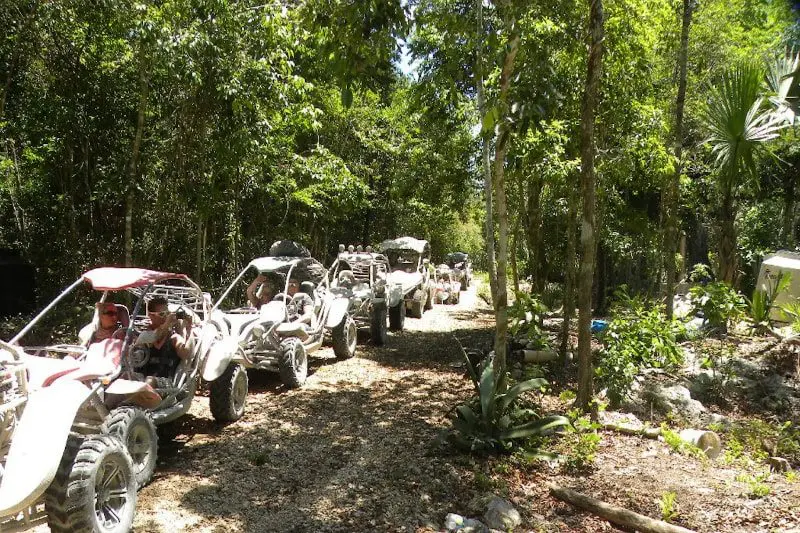 For some people, real romance comes on four wheels. Rather than sipping on fine cocktails and partaking in hors d'oeuvres, there are those who'd rather sling up mud as you race through the jungle on a dune buggy.
After all, what better way to say I love you than to get all down and dirty before taking a refreshing swim in a stunning crystalline cenote? Yee-haw!
#12 Horseback riding in the jungle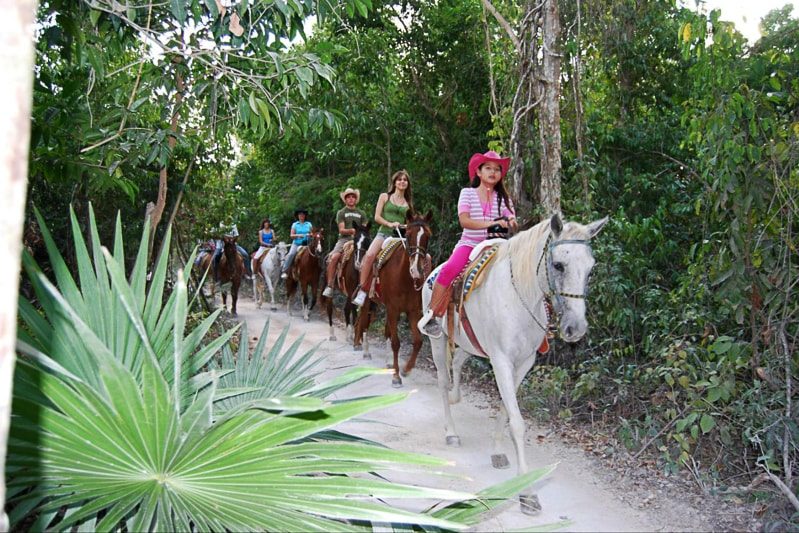 If romance for you doesn't come on four wheels, how about on four hooves?
Go on a horseback ride through the jungle and near the white sand beach of the Riviera Maya coastline as you take in nature and the views aboard your new equine friend.
This is a great option for animal lovers and those who want to live out their childhood dream of riding a horse as the wind ruffles your hair while posing for the camera.
#13 Rauxa Dinner Theater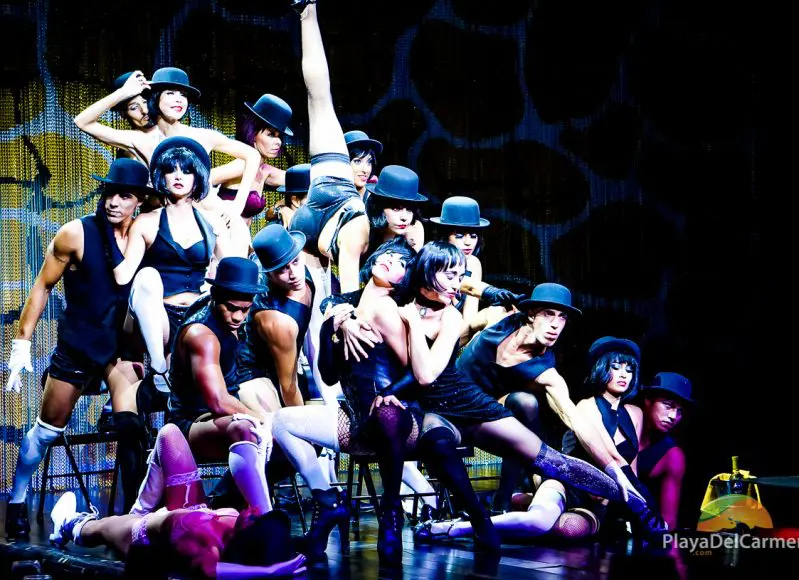 Rauxa is a concept from the northern region of Spain known as Catalonia and refers to the uninhibited, spontaneous, and impulsive.
The Rauxa Dinner Show is a raunchy, vaudeville-type theater piece with an extravagant storyline and backed by some talented musicians and dancers.
To top it off, a delicious dinner is served to spice up those naughty senses as you become enthralled in the fascinating world of Rauxa.
#14 Temazcal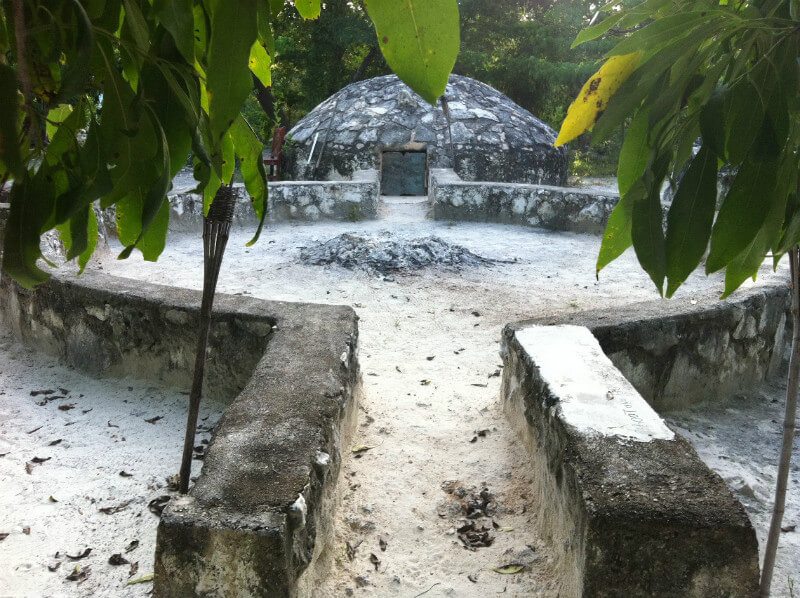 Many you have probably never heard of a temazcal. A temazcal is a word derived from Nahuatl and means "house of heat."
Basically, it's the local version of a sweat lodge.
Set in a circular construction and filled with hot rocks in the middle to keep your pores open and the cleansing spirit running through your veins.
Done with your partner, a temazcal ceremony provides the dual spiritual renewal of champions.
#15 Vow renewal
Speaking of renewals… How about a vow renewal on the beach?
Why not surprise your loved one with an intimate ceremony on the beach where you once again profess your love and dedication to that special person who complements you in so many ways?
A vow renewal can take place as a Mayan ceremony or as a simple event with the Caribbean Sea as your witness.
Sounds interesting? See our 5 Best Hotels for Vow Renewals.
However you prefer, what a way to say I love you!
Have any other ideas on how to inspire desire in Playa del Carmen?
Let us know in the comment section below!
Looking to book your next romantic escapade?
Our travel specialists are like tropical cupids and can be reached toll-free at 888-537-9797!
Feature photo credit: Jasmine & Matt Photography
---
Trending Now
You may also like