Top 5 Hotels for Vow Renewals in Cancun (2023)
---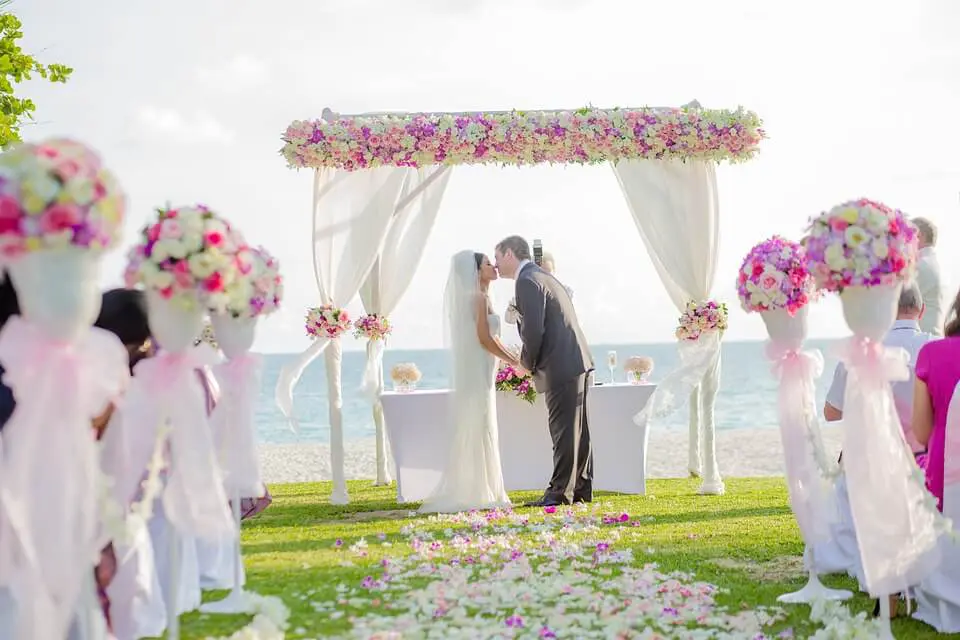 Wondering where to do your vow renewals in Cancun?
Marriage is a BIG DEAL… especially as divorce rates hit an all-time high.
YOU are the difference!
That's why you deserve to celebrate your love all over again…in paradise!
Some hotels cater better to vow renewals than others…that's where we come in.
Our experienced wedding coordinators are here to help you bring your vision to life, without any stress.
To give you some inspo we've selected 5 of our most popular vow renewal hotels in Cancun to give you a better idea of what's included, level of service, locations and more!
5 Best Hotels for Vow Renewals in Cancun:
Mexico is one of the cheapest places on earth to strengthen your marital bond and do your vow renewals.
Plus, it's a ceremony and an excuse for a vacation rolled into one.
Still have questions? Fear not, we're here to answer them for you. Leave your thoughts in the comments section below and we will be in touch.
---
1. The Royalton Riviera Cancun
★★★★★ | Kid-friendly & Adults-Only
Rekindle the magic at one of Cancun's most sought after hotels – The Royalton Riviera Cancun!
This resort has something for EVERYONE with an adults-only section and a kid-friendly section.
Many people get married before they have children…but wouldn't it be nice to relive the magic with them there?
Make it happen at this hotel!
You will be able to look back with them in many years and reminisce on the good times.
Certain room categories can even accommodate families of 5. 
So, if you're a large family this hotel coming up first on our list seems a little like divine intervention, talk to us about it today.
There are multiple pools, & activities to enjoy and ensure fun throughout the day.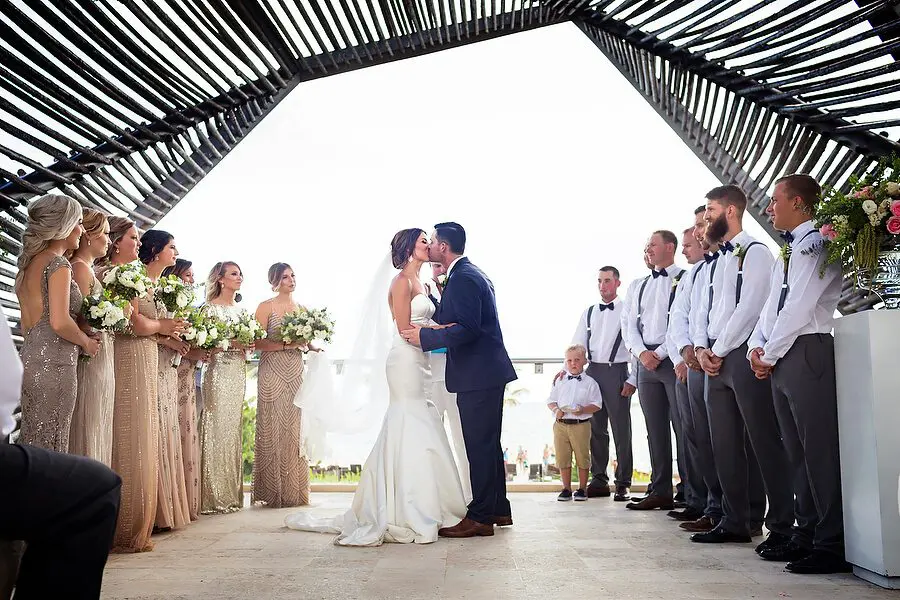 Prefer an adults-only experience?
Not a problem!
Vow Renewal guests can opt for the Hideaway section, which guarantees that not only the room area is kid-free, but also the beach club and certain pools are too.
Winning!
Dream Vow Renewal Package  – Price $1,999 USD
Vow Renewal inclusions:
Refreshments – A bottle of sparkling wine for both bride and groom while getting ready.
20 Guests – Package includes up to 20 guests, additional guests may be added for an additional rate.
Photography – 30-minutes of pictures with the hotel's professional onsite photographer, 15 printed photos taken within the 30 minutes provided for you to share with your friends and family back home.
Ceremony chairs – The hotel includes 20, but they can accommodate as many as needed.
Ceremony Inclusions: 
Aisle runner – Elegant and white, as you walk down the aisle.
Ceremony table setup – They will drape a table with white linens and a tropical centerpiece – and stick to your colors.
Bridesmaid bouquet – Have your bridesmaids hold a matching, smaller floral bouquet.
Groomsmen boutonniere – A little something for your number two man's lapel.
Cocktail party – Host a one-hour shindig for your guests after the ceremony featuring bride & groom signature cocktails.
Solo musician – A 40-minute solo set – choose from a violinist, guitarist or saxophonist.
Ceremony locations at this hotel include sky terrace, beach, and more.
Extras:
Romantic breakfast – Stay in bed as newlyweds the morning after the wedding and the hotel will bring you breakfast in bed!
Wedding Gift – You'll be treated to a special wedding gift from the hotel.
Romantic turndown service – On your wedding night, come home to a romantic decoration and sparkling wine.
Couples massage – Escape the madness and take some time to enjoy each other with a 25-minute by the sea massage.
2. Hyatt Ziva
★★★★★ | Kid-friendly & Adults-Only
Live in the moment and find your bliss on the white sandy beaches of the Hyatt Ziva All-Inclusive Hotel in Cancun. 
This resort is located on the most beautiful strip of Punta Cancun.
Suites here are luxurious with balconies and breathtaking views of the Caribbean ocean.
Waking up here every day will make you never want to leave!
You'll be spoilt for choice with a wide range of amenities and incredible world-class service.
 Indulge your senses at 8 unique restaurants and 3 lounges, featuring local and international cuisines.
If you prefer your tastings in a more spirited form, there are 6 bars on property, including a microbrewery.
Cheers to that, or 'Salut' as they say in Mexico!
Nothing like ridding the hangovers by spending a day to rejuvenate body and soul at the oceanfront spa, with optional massages, holistic body treatments, and a hydrotherapy circuit.
At this resort, you will have everything you need to create memories that last a lifetime, including the 6,000-square-foot Elements Ballroom and rooftop Punta Vista Terrace.
If you are looking for an outdoor vow renewal ceremony the Sky and Cliff Gazebos have some of the best views in Cancun.
This outdoor Gazebo is one of my favorite wedding location in Cancun!
Intimate Elegance Vow Renewals Package – Price $1,125 USD
For the couple plus up to 10 guests  (additional guest can be added for a cost)
Vow Renewal inclusions:
Symbolic marriage Ceremony and certificate –  performed by a Secular Wedding Officiant
Wedding Specialist – onsite team
Bridal registry –  complimentary and Wedding website
Complimentary Wedding with 25 room nights – rooms have to be booked in qualifying categories (Oceanfront Junior Suite or higher)
Ceremony Inclusions:
Bridal floral Bouquet and Boutonnière for the Groom
Ceremony table – with white linen and folding Wedding chairs
Sound system for the Ceremony
Reception Inclusions:
Signature Wedding cake
Romantic dinner for the couple
Extras:
Special decoration of couple's suite
Complimentary wine delivered to suite
Late check-out for the couple up to 3:00 p.m.
Massage for the Wedding couple
3. Breathless Riviera Cancun
★★★★ | Adults-Only
That's exactly what you will be when you see and choose this hotel for your vow renewal…breathless!
This 5-star all-inclusive adults-only resort located on the stunning Petempich Bay in Puerto Morelos. 
(Cancun's little-known neighbor)
Nestled quaintly between the Caribbean Sea and a Lagoon it makes for an intimate and relaxing getaway.
Breathless Riviera Cancun's slogan is "Live big. Breathe deep".
So, soak up the moment and enjoy the reality of your commitment together. Make this slice of paradise the start of your next chapter together.
In addition to the world-class spa services, guests at Breathless can also enjoy the services of 10 gourmet restaurants and ten different bars.
This resort boasts a wide range of amazing packages to choose from which you can discuss with our wedding specialists including vow renewals, honeymoon packages, anniversary getaways, and more!
They also do vow renewals for same-sex couples too! Whooosh.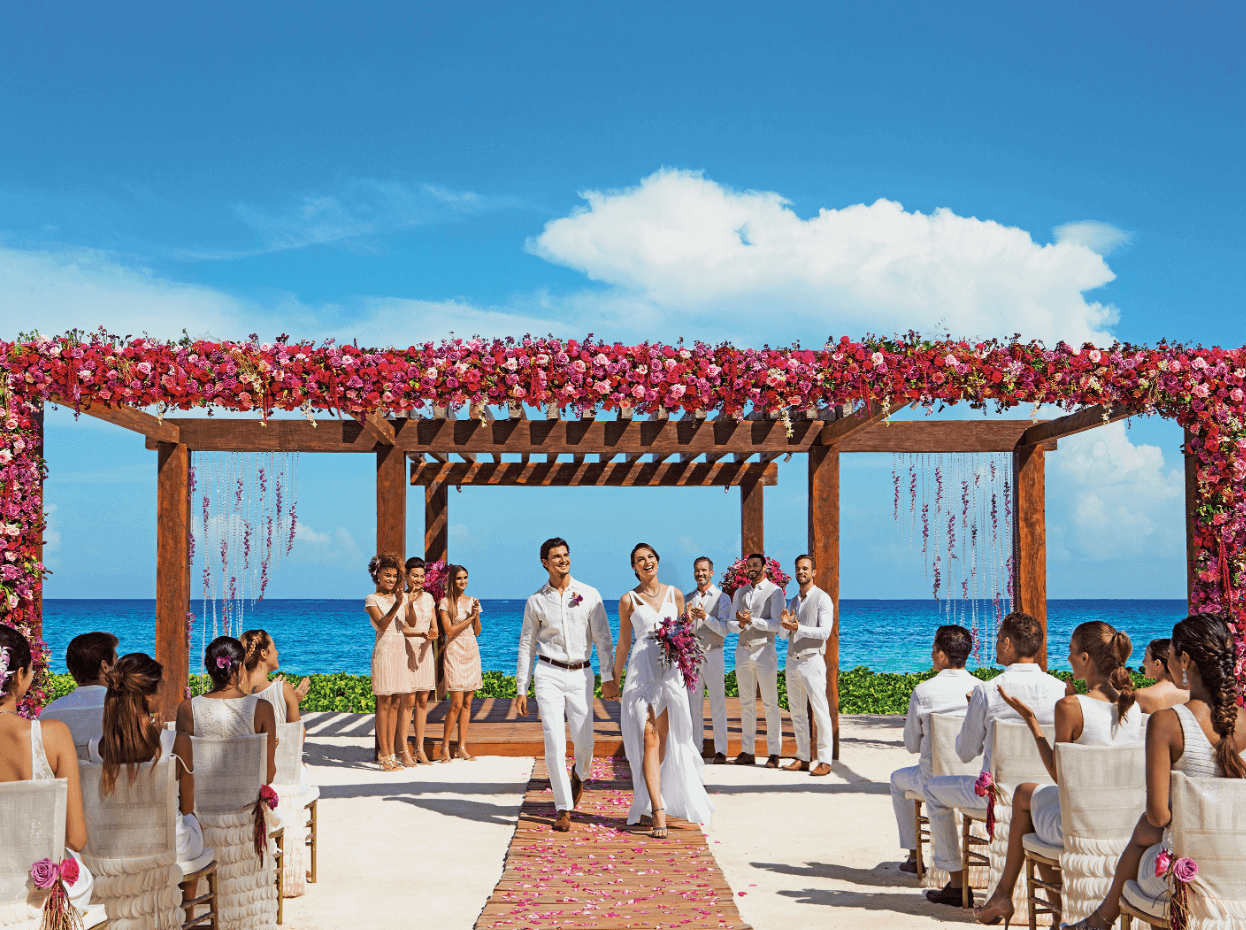 Pure Passion Vow Renewal Package – Price $499, USD
Vow Renewal Inclusions:
Service of a dedicated on-site wedding coordinator
Renewal of Vows Ceremony
Certificate of Renewed Vows
Ceremony Inclusions:
Reception Inclusions:
Celebratory bottle of Rum in room post-ceremony

Special dining arrangements for two the evening of the ceremony
Extras:
Couples massage treatment
Anniversary Package
Fresh fruit on arrival
Bottle of sparkling wine on arrival
Special turndown service one evening during stay
Breakfast in bed with Mimosas
15% discount on spa treatments
4. Panama Jack Cancun
★★★★★ | Kid-Friendly
Panama Jacks is the ultimate family-friendly resort in Cancun surrounded by sun-drenched shores.
Packages are completely customizable with the help of our wedding specialists, so whatever your vision for your vow renewals we can make it happen!
You can even preview the resort for two nights and experience the hotel for just $400, then receive a $400 credit toward your wedding booking if you choose to have it there.
It's like getting a preview for free, but after experiencing the hotel for yourself my guess is that you will be sold.
There are a variety of locations to choose from including the beach and sky terrace.
Panama Jack's Cancun is located smack center in Cancun's hotel zone, in close proximity to all of the region's top attractions.
It's a very convenient location and super close to the airport. 
Activities include beachfront yoga, culinary classes, live music, mini-golf, and water park, and slides.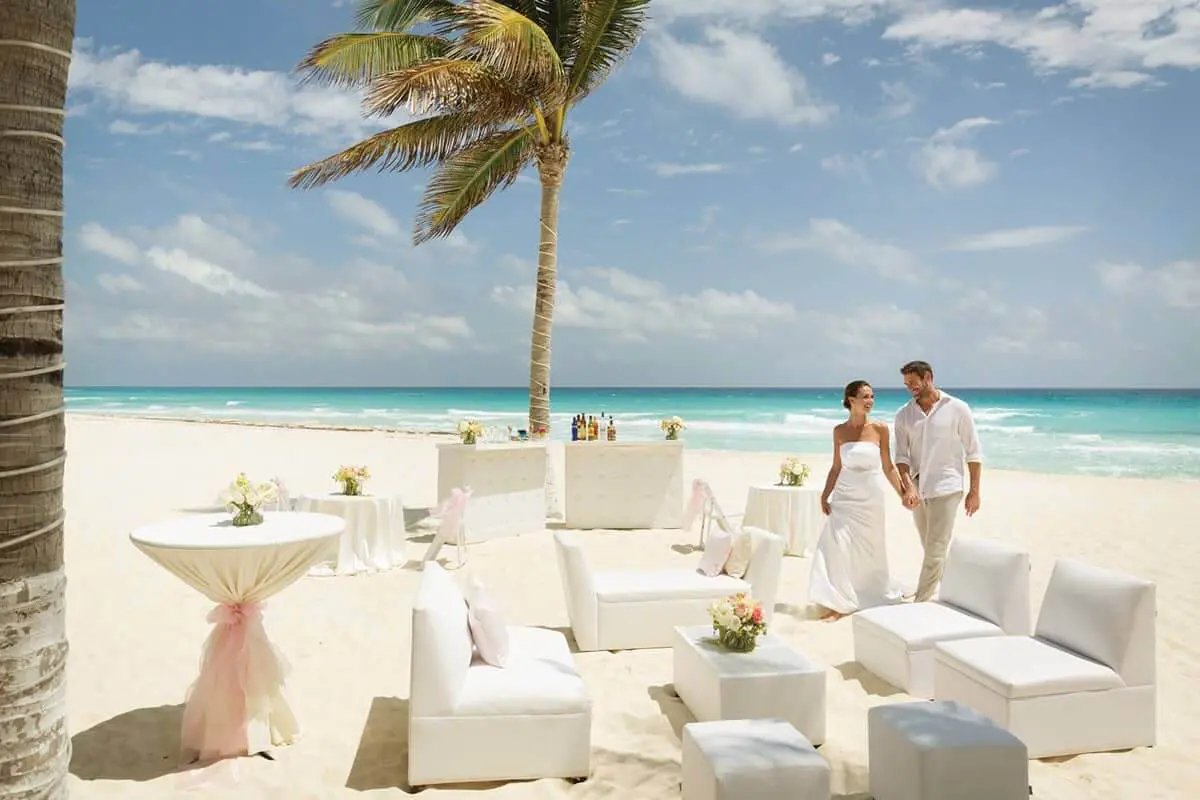 Luxury Vow Renewal Package at Panama Jack Cancun – Price $8,089
Vow Renewal Inclusions:
Wedding Ceremony
Live Mexican Trio (45 min. set)
Wedding cake –  up to 40 Playa Resorts guests
Ceremony Inclusions:
Sound system for the ceremony (bring your favorite CD's, iPod or MP3)
Professional photographer during the ceremony including 24 color photos in a wedding album and CD
Video services during the ceremony including a DVD
Reception Inclusions:
Solo musician (your choice of harpist, violinist, saxophonist or guitarist)
Cocktail hour with appetizers and open bar (1 hour) for up to 40 Playa Resorts guests
Private wedding reception (3 hours)
4-course menu  for up to 40 Playa Resorts guests in selected locations
Extras:
Turndown service the evening of the wedding for the Newlyweds
"Honeymoon" breakfast
10% Discount on spa services for the wedding guests (Must be booked through wedding coordinator)
Private romantic beach dinner for the couple
One complimentary night for the couple when celebrating their first anniversary
5. Dreams Riviera Cancun
★★★★ | Kid-Friendly
If anyone does Vow Renewals well it's AM resorts.
Dreams hotels are hailed worldwide for orchestrating some of the most dreamy destination events ever!
Unlimited top-shelf spirits, unlimited a la carte dining, and 24-hour room service are just the tip of the iceberg at this hotel.
A wide range of activities are available including sports, games, and a kids club to entertain the little ones.
Enjoy a world-class spa with a list of services including body treatments, facials, and massage so why not pamper yourself before the main event?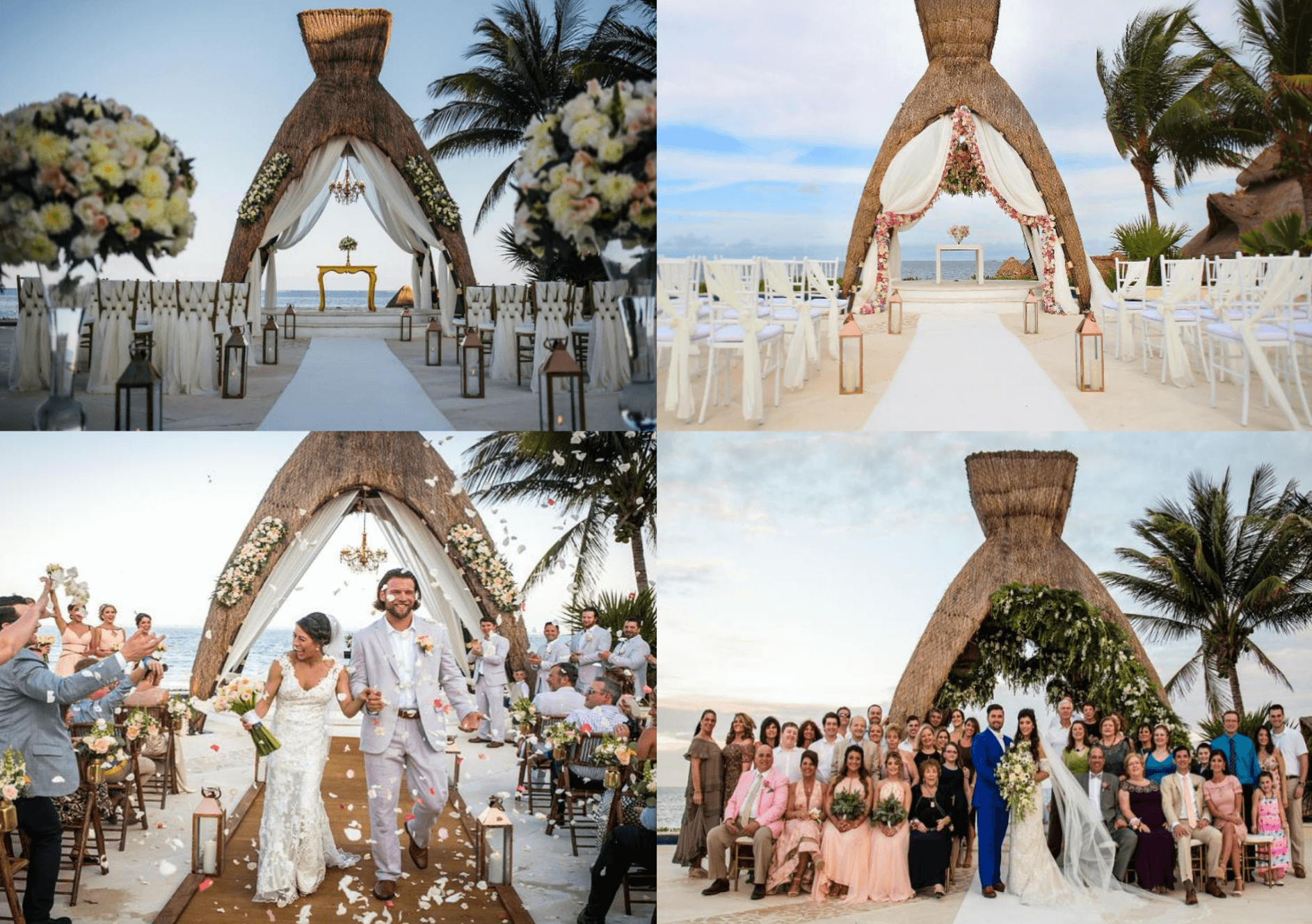 This hotel boasts gorgeous locations such as:
Gazebo
Beach
Lobby Staircase
Oceana Rooftop
Mayan Tree
'Dreams of Love' Vow Renewal package – Price $2,799 – 3,199 USD
Up to 20 guests
*Price is subject to vary depending on the season you book.
Vow Renewal inclusions:
Service of Judge or Minister
Wedding organization and personal touch of on-site wedding coordinator
Preparation and ironing of the couple's wedding day attire
Complimentary room for one member of the wedding couple the night before the wedding (based on availability and upon request)
Hairstyling and makeup application for one member of the wedding couple for the day of the ceremony
Wedding Cake and sparkling wine (up to 20 guests)
Ceremony inclusions:
Bouquet(s) and/or boutonniere(s) for wedding couple
Two boutonnieres and two corsages for the wedding party
Natural floral centerpiece for the sweetheart table
36 full-color photos and wedding album (taken during the ceremony)
Receptions inclusions:
Private Cocktail Hour with hors d'oeuvres (silver menu, up to 20 guests)
Private Dinner Reception (silver menu, up to 20 guests)
Extras:
Special turn-down service the night of the wedding 15% discount on all spa treatments (boutique purchases not included)
Newlywed Package
Late check-out for the couple (based on availability and upon request)
Free Anniversary Nights
Have Questions? Get help from our destination weddings team at PlayaDelCarmen.com
Other Resources You May Find Useful
Need Some Help?
We know what you're thinking. There's A LOT to consider when planning your Vow Renewals in Mexico.
With so many hotels offering weddings in this region it's VERY overwhelming without some help.
The hotels listed in this article offer a number of different select packages, we can help you choose the right one for you.
Connect with one of our experienced wedding coordinators today.
We know our stuff.
Based on your vision we can narrow down your search. Present you with hotels, venues, and resorts right for you while simultaneously saving you money and making sure you get all the best perks.
Call our wedding consultants, actually living in sunny Mexico at 888-537-9797 or weddings@playadelcarmen.com.
You can also learn more about our destination wedding services here.
Time to Comment
Ok…what did you think of our best hotels for vow renewals post?
Was it what you were expecting? What's missing?
Leave a comment below, we would love to hear from you. 🙂
---
Trending Now