Weddings at Paradisus Cancun | Our Honest Review 2023
---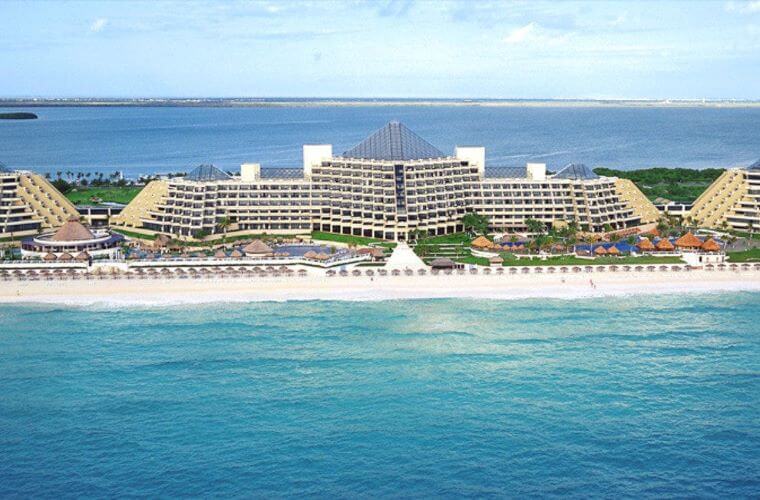 Paradisus Cancun is one of the most googled destination wedding resorts. Period.
Need an honest review from local wedding planners who have helped to plan countless events here?
You're in the right place! Welcome to PlayaDelCarmen.Com. 
Discover the nitty-gritty of wedding packages, venues, amenities and more at this resort.
We're here to help you make the right choice for yourself and your group.
Start planning today!
Weddings at Paradisus Cancun | Your Ultimate Guide
---
1. Hotel Overview
★★★★★ | Family-Friendly | Cancun
Paradisus Cancun has the perfect location for a luxury destination wedding in the Caribbean.
The resort is nestled between Nichupté Lagoon and the Caribbean Sea and the views are amazing.
Plus…
Staying at Paradisus Cancun means you're located at the center of Cancun's famous Hotel Zone.
So, you're close to an array of fashion stores, restaurants, and bars.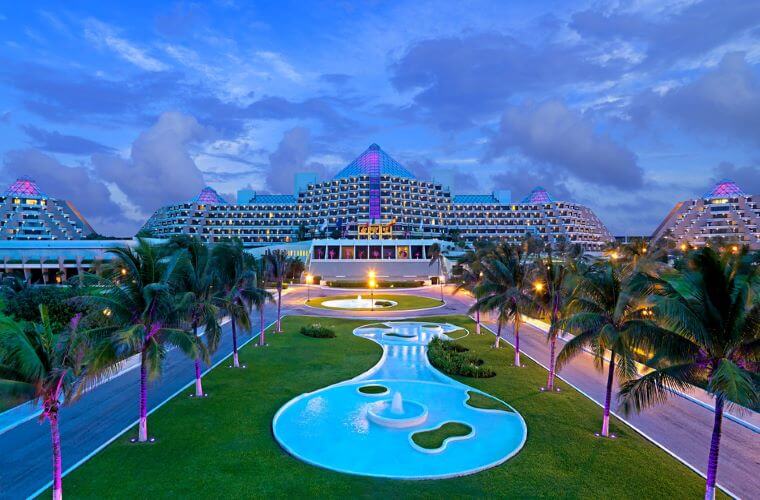 The architecture of the resort is inspired by traditional Mayan design with glass-roofed pyramids being the main focus.
Step inside the resort buildings and you'll find they're just as impressive as the exterior.
You're surrounded by contemporary furnishings with a traditional touch as well as lush green plants.
Is Paradisus Cancun all-inclusive?
You and your wedding guests will get a luxury all-inclusive experience at Paradisus Cancun.
This includes contemporary accommodation, 10 onsite restaurants, and a fitness center.
You also get to enjoy:
24-hour rooms service
Free WiFi
Unlimited food and drink
In-room, fully-stocked mini-bar
Entertainment during the day and in the evening/night
Activities each day
Kid's zone
Water sports
YHI Spa
Upgrade to The Reserve and you get benefits including access to exclusive areas of the hotel and private butler service.
How far is Paradisus Cancun from the airport?
The resort is around 21 minutes drive from Cancun International.
Speak to us about your hotel transfers and we'll arrange them for you as part of your wedding planning.
So, you can relax and enjoy the journey.
2. All-Inclusive Wedding Package Options
The Romance Team at the resort makes sure that everything about your wedding day is perfect.
Plus, you get a stunning Caribbean backdrop and a choice of wedding bundles that you can customize to create your dream ceremony and celebrations.
I love the All Aboard! bundle that gives you and your family and friends the chance to celebrate your wedding during a relaxing sail.
Other wedding bundle options include:
No Shoes Allowed – a chic celebration with a relaxed vibe.
It Takes Two Or A Few – an intimate celebration option.
Nature Vibes – a wedding with a natural emphasis.
Out With A Bang! – an elegant wedding option with full-on dazzle.
The basic inclusions for every bundle are:
Wedding ceremony including setup
Themed dinner
Wedding Arch
Flowers
Cake
Then, you get to choose from a selection of add ons to complete your wedding bundle.
These add ons include:
Upgrade to The Reserve
Bridal Suite
Couples Massage
Extra Themed Decor
DJ (for an additional charge)
Live streaming of ceremony (for an additional charge)
I love that you get to create your wedding around your dreams, your budget, and the size of your wedding party.
Call us on 888-537-9797 and we'll help you decide on the best bundle and add ons for you.
Plus, we'll make sure you get the best bang for your buck.
3. Ceremony & Reception Venues
Looking for a resort where you can say "I do" against stunning Caribbean backdrops.
Paradisus Cancun gives you this as you can see…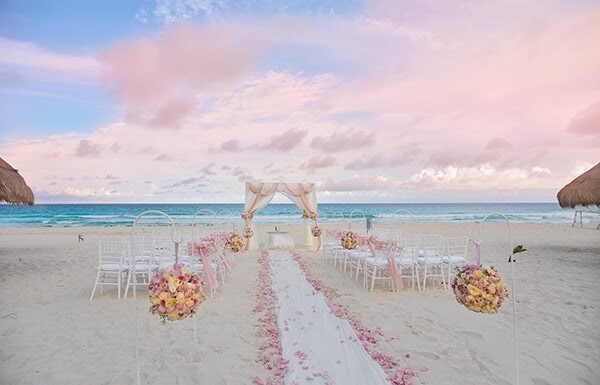 And you can choose from two beautiful locations with romantic decor.
The Beach has a maximum capacity of 500 and the Gazebo has a maximum capacity of 200.
So, it's a great resort for big weddings.
If you're planning a celebration with a lot of guests you may also find my blog post useful.
10 Best Wedding Resorts for 200+ Guests in Mexico (2023)
4. Gay Weddings at This Resort
At PlayaDelCarmen.Com we're passionate about making wedding dreams a reality.
So, we love helping same-sex couples organize their celebrations.
Most of the couples we work with prefer to have a symbolic ceremony in Mexico.
This means they can leave all the legal arrangements for back home.
But, it's possible to organize a legal same-sex wedding in Mexico with just a little extra paperwork and planning.
Call us on 888-537-9797 for more information about this.
5. Room Types
Every suite at Paradisus Cancun benefits from views of the Caribbean Sea or Nichupté Lagoon as well as luxury design features.
You are also surrounded by glorious colors as you can see…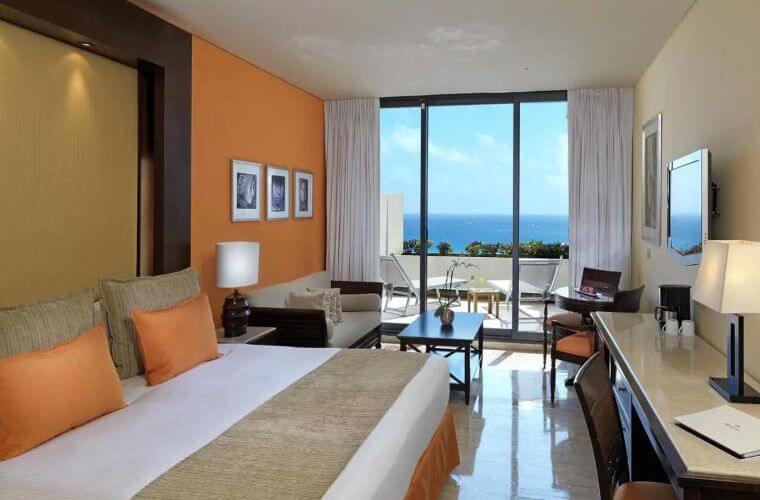 Amenities featured in all suites include:
Flat-screen TV
Air conditioning
Safe
Cable TV
Hairdryer
Ironing facilities
You may also want to consider upgrading to The Reserve for extra luxury and access to exclusive areas of the resort.
You and your guests have several suite options to choose from:
Junior Suite Lagoon View
Junior Suite Ocean View
Deluxe Lagoon View Junior Suite in The Reserve section
Deluxe Ocean View Junior Suite in The Reserve section
The Reserve Deluxe Ocean View Suite
One-Bedroom Deluxe Lagoon View Suite in The Reserve section
One-Bedroom Deluxe Ocean View Suite in The Reserve section
The Reserve Deluxe Governor Suite
The Reserve Presidential Suite
Premium Two-Bedroom Suite Lagoon View
Premium One-Bedroom Suite Lagoon View
One-Bedroom Master Suite Lagoon View Premium
Luxury Junior Suite Ocean View
Premium Junior Suite Lagoon View
I personally love The Reserve Deluxe Lagoon View Suite.
It's gorgeous ❤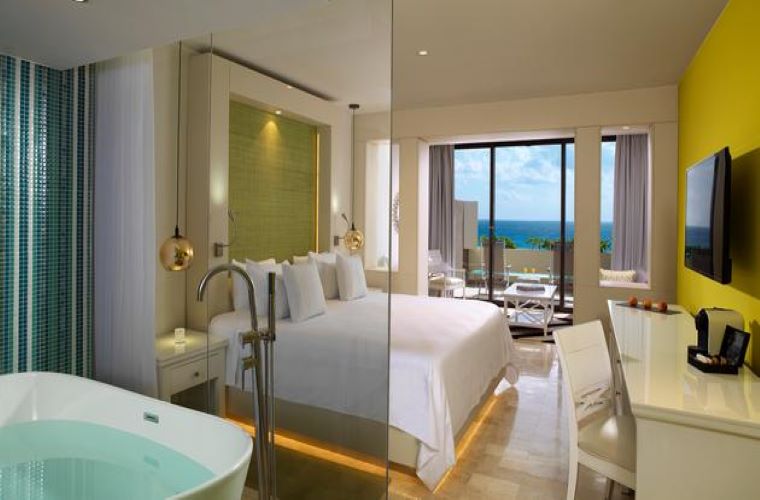 You get impressive luxury accommodation.
Features include a king-size bed, a separate lounge, and a rain shower in the bathroom.
How many rooms are there at Paradisus Cancun?
There are 525 suites and junior suites at the resort.
We'll make sure that you and your guests get the best deals no matter which accommodation you choose.
How much does it cost to stay at Paradisus Cancun?
The cost of staying at the resort starts from around $355 per night.
The exact cost of your stay depends on the dates of your celebrations and which suite you choose to stay in.
6. Beach
The beach at Paradisus Cancun is beautiful.
The sands are soft and the water is clean and warm.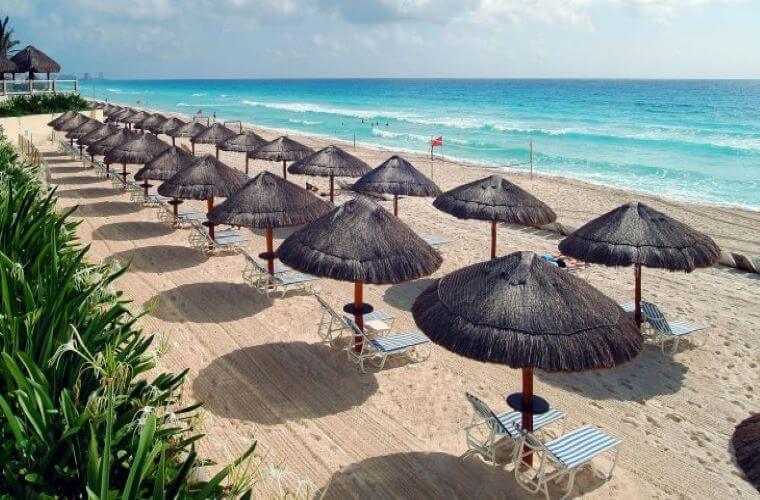 It's not the biggest beach in the world but there's plenty of space for a romantic evening stroll with your partner.
And you can join in with a game of beach volleyball if you're feeling energetic.
Plus, the sand is only a few minutes' walk from your accommodation.
What's not to love 😍.
7. Food & Drink
You and you're wedding guests won't be short of somewhere to eat and drink at Paradisus Cancun.
The resort is home to an array of great eateries and drinking spaces.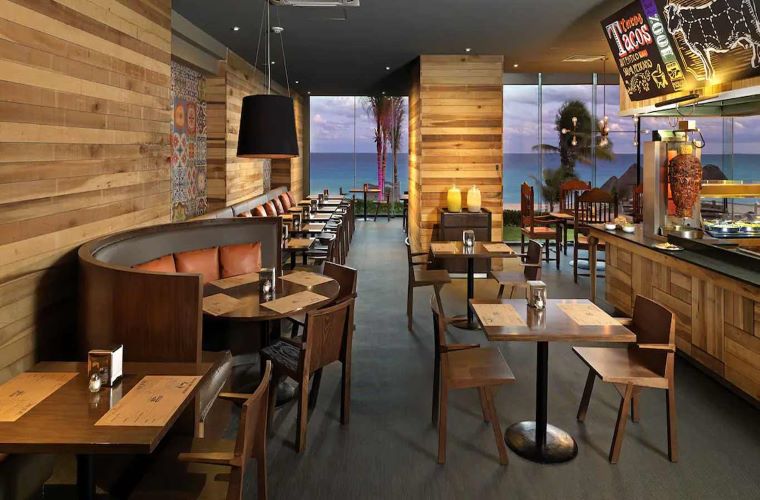 There are restaurants to suit all tastes, including vegetarian and vegan options.
Malva Food Bazaar is a buffet location serving local and international cuisine including vegan and vegetarian dishes.
Kanna Beach Club blends trendy cuisine with mouthwatering cocktails wrapped in a boho-chic atmosphere.
Cielo Restaurant is the place to go for authentic Mexican cuisine.
Sante provides guests with an array of Mediterranean flavors.
Lunch Box gives you the chance to try Latin American street food.
Lemon Fish is home to a fusion of Japanese, Peruvian, and Mexican flavors with a focus on Japanese and Nikkei cuisine.
Agua Marina provides a fresh seafood menu for customers.
Capella Restaurant is the place to choose for classic Italian-American fare.
Blue Agave Taqueria takes eating a taco to a whole new level.
For a quiet drink with your partner or cocktails with your bridal party, you can check out one of the resort's bars.
The Ginger Bar transforms from a tropical smoothie bar in the morning to a trendy cocktail bar in the evening.
Fahrenheit is a swim-up bar where you can relax with a drink in your hand without ever having to leave the pool.
For a special meal while you're staying at Paradisus Cancun, check out Sal Steak Cave.
This sophisticated steakhouse isn't part of the all-inclusive package at the resort.
But, trust me, it's worth paying extra to savor the avant-garde dishes on the menu.
8. Activities & Entertainment
There's never a shortage of things to do at Paradisus Cancun.
I'll start by giving a shout-out to the YHI Spa.
You can experience an ancient healing session or simply enjoy a massage to smooth away any pre-wedding nerves.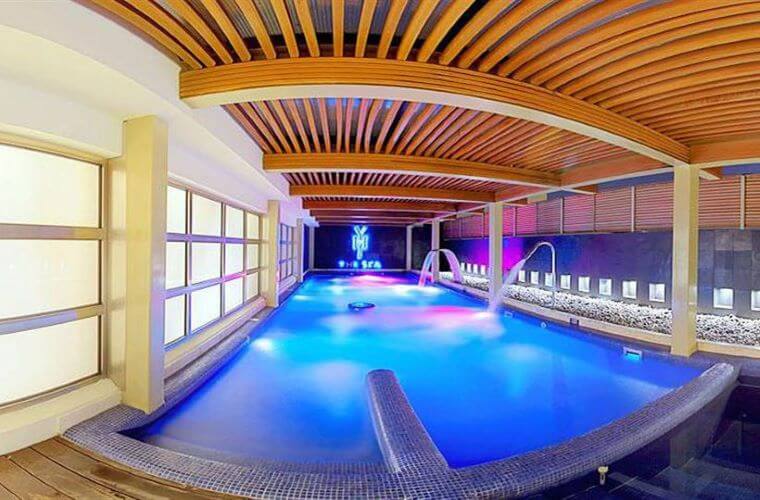 You might also want to spend some time being physically active at the fully-equipped gym.
Or, why not participate in a mindfulness or yoga session.
Other activities at the resort include:
Wellness classes
Kidsdom with activities, games, and fun experiments for younger wedding guests to enjoy.
Sushi workshops
Wine tastings
Pool parties
Cooking classes
Is there anything to do outside of Paradisus Cancun?
You and your wedding party will never get bored inside the resort.
But, I'd still encourage you to explore further afield as well.
The team at PlayaDelCarmen.Com will arrange tours and activities as part of your overall wedding experience.
One that I always recommend is the "About Tulum Full Day Explorer" tour.
You get to explore the Tulum ruins, enjoy some snorkeling, and swim in a cenote.
It's a fabulous way to spend a day.
Have wedding guests who are bringing children with them?
No problem, there are plenty of kid-friendly activities available.
For more info, check out my blog post.
TOP 10 Kid-Friendly Things to Do in Cancun | 2023
9. What Brides Said…
"I can't express how happy we are about the service Tania provided on our wedding day at the resort! She was there at any given moment ready to ensure our day was exceptional! Tania was extremely personable and" professional in her position!"

Melynda D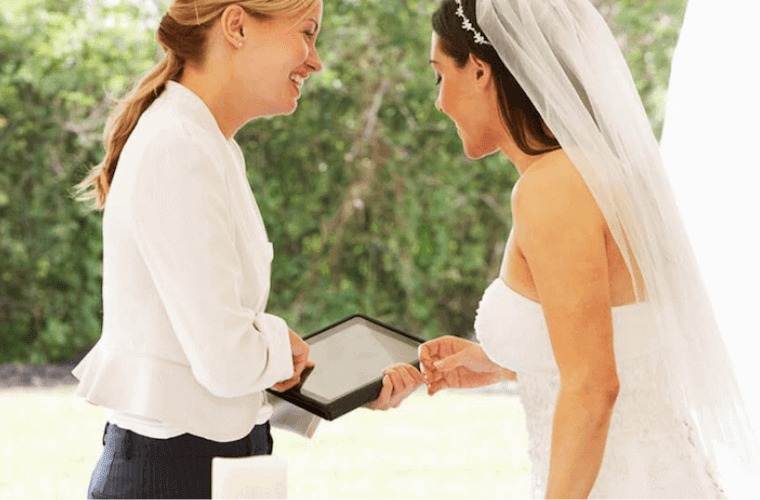 "We had such an amazing experience for our wedding and stay at this hotel. Ana Juarez, our wedding coordinator was excellent, Candy our wedding decorator did an amazing job and also David our DJ kept our party going. We had almost 50 people and everyone had the best time ever. The hotel staff are very kind and helpful, the property is very clean and continuously maintained. We couldn't brag more about this experience. Thank you again for such a wonderful time."

Oana B

"We had 65 guests and Ana made sure that our ceremony and cocktail hour was perfect. Unfortunately, it started raining right before our outdoor reception, but she quickly arranged to move our reception into the ballroom. Overall, we had a wonderful experience and were very happy on our wedding day and throughout the trip! The resort is absolutely beautiful."

Jody TD
10. Why We Like It
At PlayaDelCarmen.Com we love bringing couples' wedding ideas to life.
And we're dedicated to ensuring that every detail goes to plan.
So, we only recommend resorts and experiences that we love.
At Paradisus Cancun, I'm especially a fan of:
Contemporary architecture that's influenced by traditional Mayan design.
Dining options for vegan and vegetarian diets.
Beautiful beach with soft sand and clear water.
YHI Spa with its state-of-the-art facilities.
The beach is not huge but what it lacks in size, it makes up for in being so gorgeous.
11. Additional Resources You May Find Useful
12. Get Married in Paradise
Love the sound of a wedding at Paradisus Cancun?
That's awesome.
The team at PlayaDelCarmen.Com is excited to help you plan.
We're local to the resort so we have the connections and knowledge you need to get you the best deals on packages, accommodation, and activities.
Call us on 888-537-9797 to get started, or complete the contact form on our website.
We look forward to hearing from you.
Have questions or comments about weddings at Paradisus Cancun?
Just pop something in the comments.
I'll get on it ASAP.
---
Trending Now
You may also like