Your Guide to The Best Sushi Restaurants in Playa del Carmen
---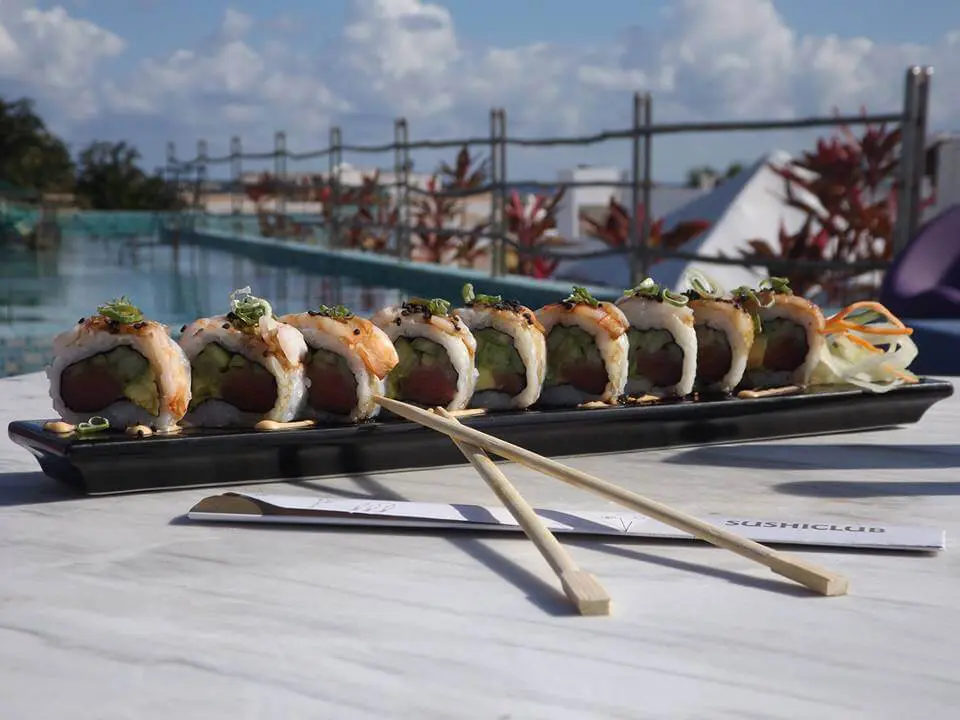 Hands up, who wants sushi?!
I don´t know about you, but I am total sushi addict.
I hastily hunt down sushi restaurants wherever I travel to in the world.
Unfortunately, they don't always measure up to the amazing selection you can find in the USA or Europe.
Which brings me to Mexico… the land of tacos, enchiladas, and chicharron.
You´d think that there´s no way you´ll be able to find fresh, delicate sushi here, but that's where you´re wrong.
Thanks to the fascinating eclectic culture mix here in Playa del Carmen, you can find some of the best fusion and traditional sushi of your life.
The only problem is knowing where to find it.That´s why I´ve put together this guide of the best sushi restaurants in Playa del Carmen just for you.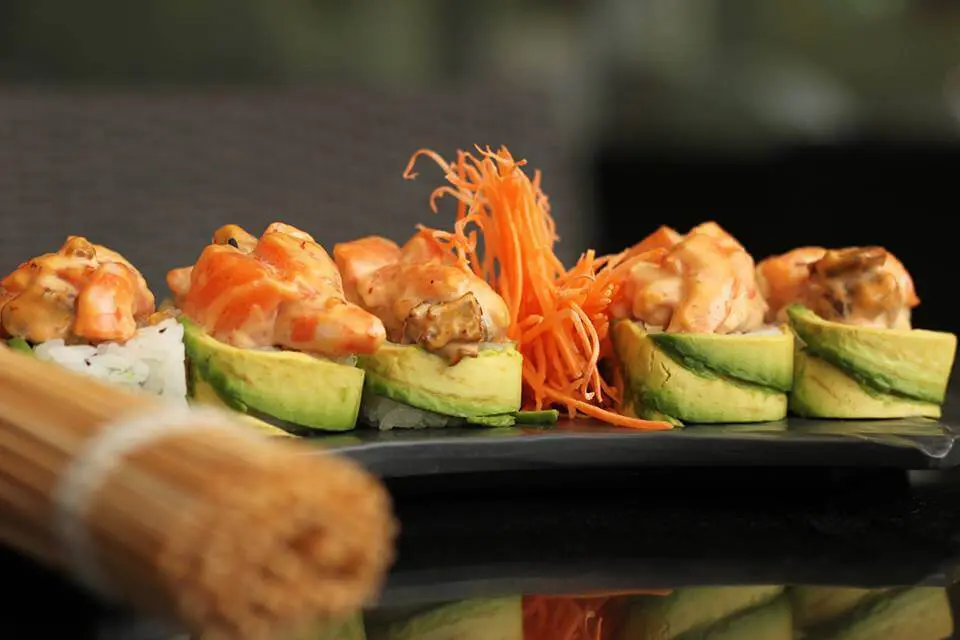 Nikkori 
Nikkori is definitely a favorite amongst the locals.
Their low prices and adventurous menu make for one extremely enjoyable sushi experience, and At $7 USD a roll, you can sample many different flavors from their innovative menu.
Nikkori have gone for a very modern Japanese design for their restaurant, featuring very bold red accents and shimmering black and chrome decor.
During the weekend, Nikkori also hosts local DJs that take the dining experience to a whole new level.
Whether you´re looking for traditional sushi or experimental fusion sushi, this restaurant has got you covered.
Try the basic Nikkori Maki or Nevada roll if you´re looking for something a bit more Japanese, or go for the Dinamita or Kani Krunch roll if you´re feeling adventurous.
No matter what your taste in sushi, their new sizzling sashimi plates, where you can sear your own fish over boiling hot rocks, is one dish you absolutely must try.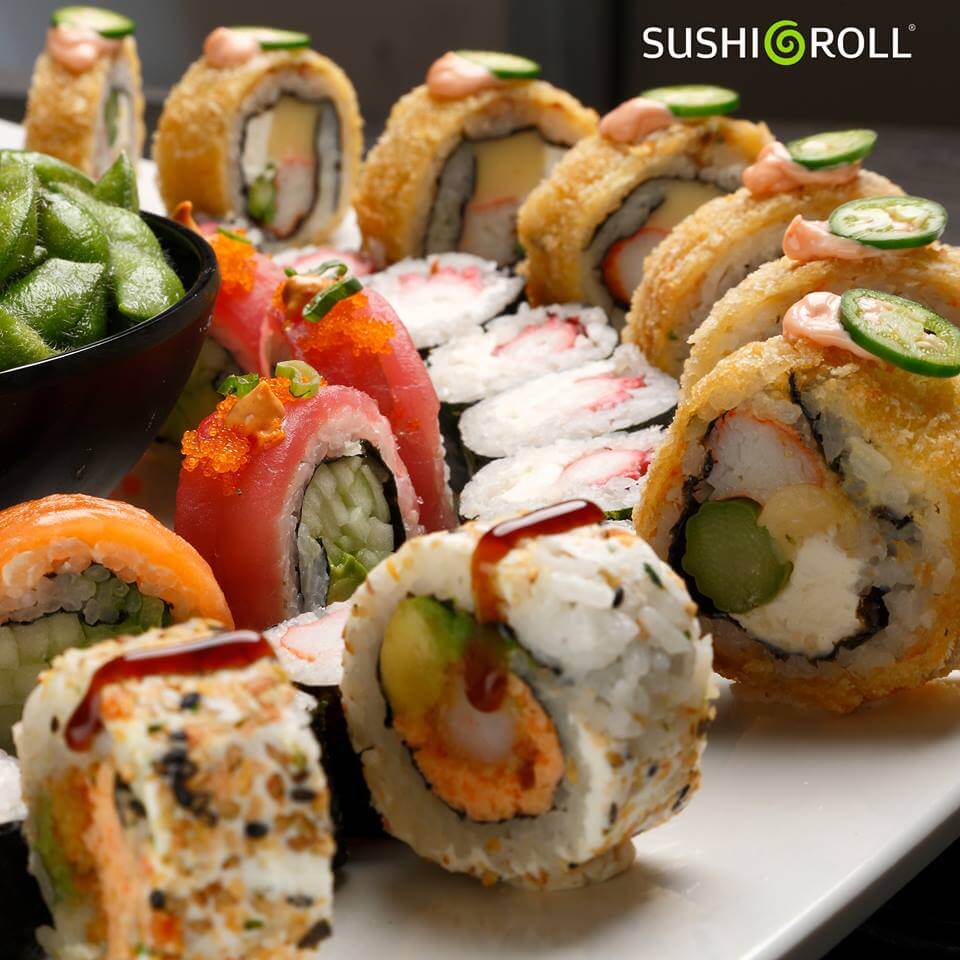 Sushi Roll
This is the latest sushi restaurant to hit Playa del Carmen, and they surely did it in style.
Sushi Roll is located in the prestigious Calle Corazon shopping center and sits proudly to the left of the main bridge. Stepping inside this restaurant feels like you are being transported into Tokyo itself.
Each state of the art booth comes with its own TV and private canopy, while the floor around the central tables has been lowered, so you feel like you are sitting on the floor eating in the traditional Japanese fashion.
Sushi Roll also offers an extensive list of sushi, teppanyaki and ramen, and every Monday, Tuesday, and Wednesday they offer 2 for 1 on all rolls.
Dig into a traditional California Roll, or try something a little bit more experimental from their #SushiLab7 list.
Whatever you choose to eat, you´ll leave feeling extremely satisfied.
The portions at Sushi Roll are bigger than any of the other sushi restaurants in Playa, making them perfect to share.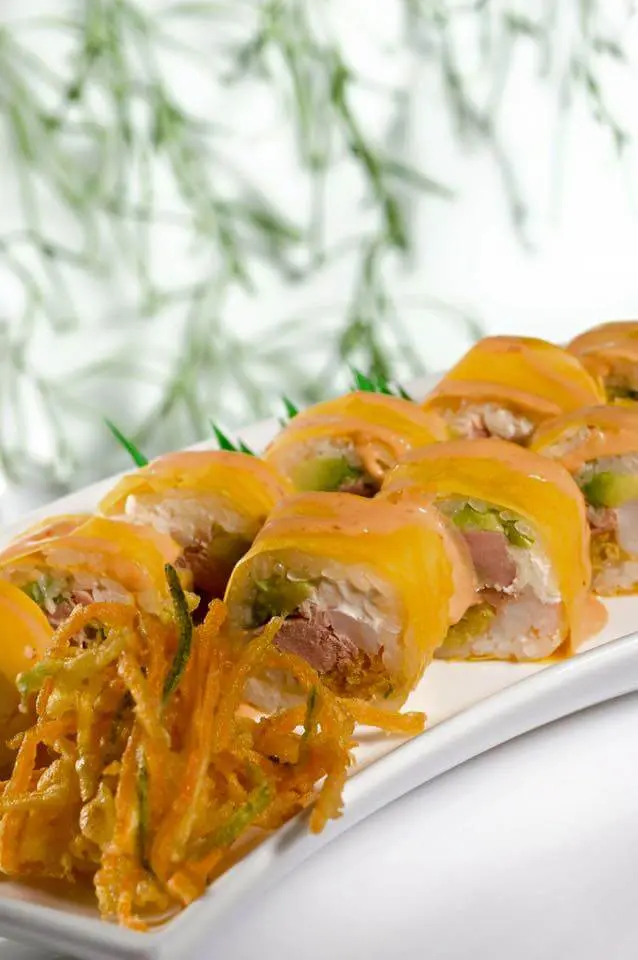 Sensei
This has to be the coolest sushi restaurant in Playa del Carmen.
Eating in Sensei makes you feel like you´re dining inside a comic book.
Even their menu comes to life with the Sensei characters showcased in a hilarious Manga style.
You´d think with all this fabulous design and attention to detail that the prices would be through the roof, but the rolls at Sensei are actually some of the cheapest in Playa del Carmen.
Try their signature Golden Roll, Fashion Roll or Fiesta Roll for only $5 USD.
Sensei have also started experimenting with Mexican flavors and styles in their sushi, and you can now try the Coconut Roll or Kasoku Roll complete with chipotle and manchego cheese, Viva Mexico.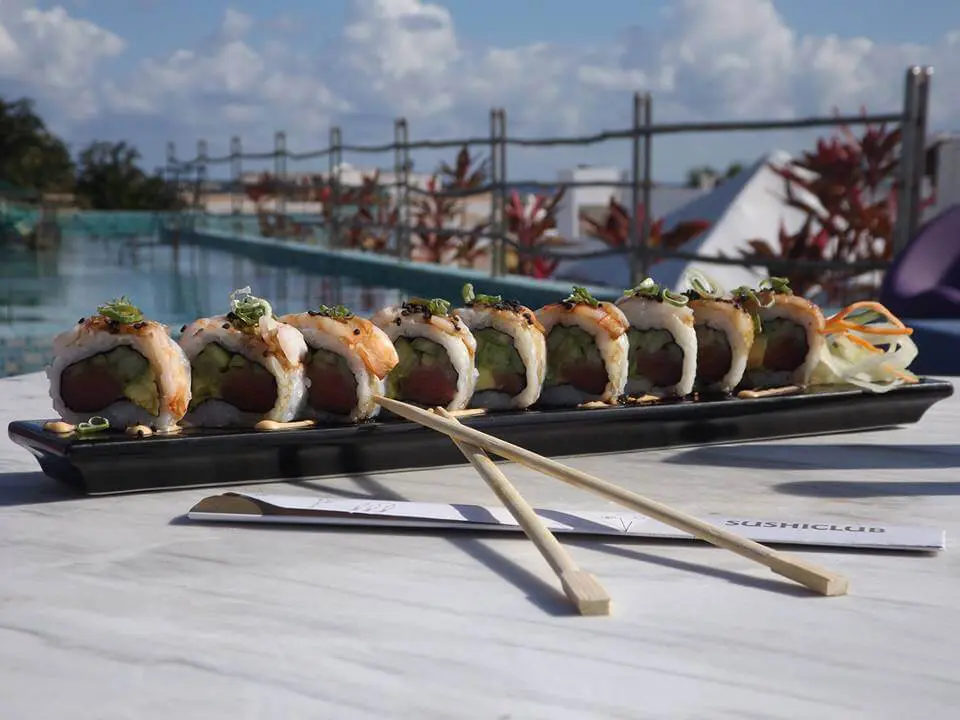 Sushi Club
Sushi Club is part of the BePlaya Hotel and mirrors its boho chic elegance.
The plush white chairs, beautiful lighting, and meticulous tableware give a truly exclusive vibe to this stunning restaurant, while the attentive and friendly staff make you feel right at home.
In true Japanese style, you can also watch the amazing chefs preparing your sushi at the special display bar at the back of the restaurant.
Each night, Sushi Club also features live DJs, that play relaxing ambient music throughout your dining experience.
You can also choose to enjoy the delicious sushi up on the roof of BePlaya, where you can relax by the pool, and gaze out at the Caribbean ocean.
All the rolls at Sushi Club are made in an exciting fusion style.
Expect to see a lot of freshly caught fish, chipotle, chili, teriyaki, crispy fried shrimp and extravagant garnish.
Some of the most popular rolls include the Green Roll, Crazy Roll, and Buenos Aires Roll, made in honor of the owner´s birthplace.
Although the sushi here is a little on the expensive side ($8.50 – $11.50 USD), every Tuesday they offer 2 for 1 on all rolls.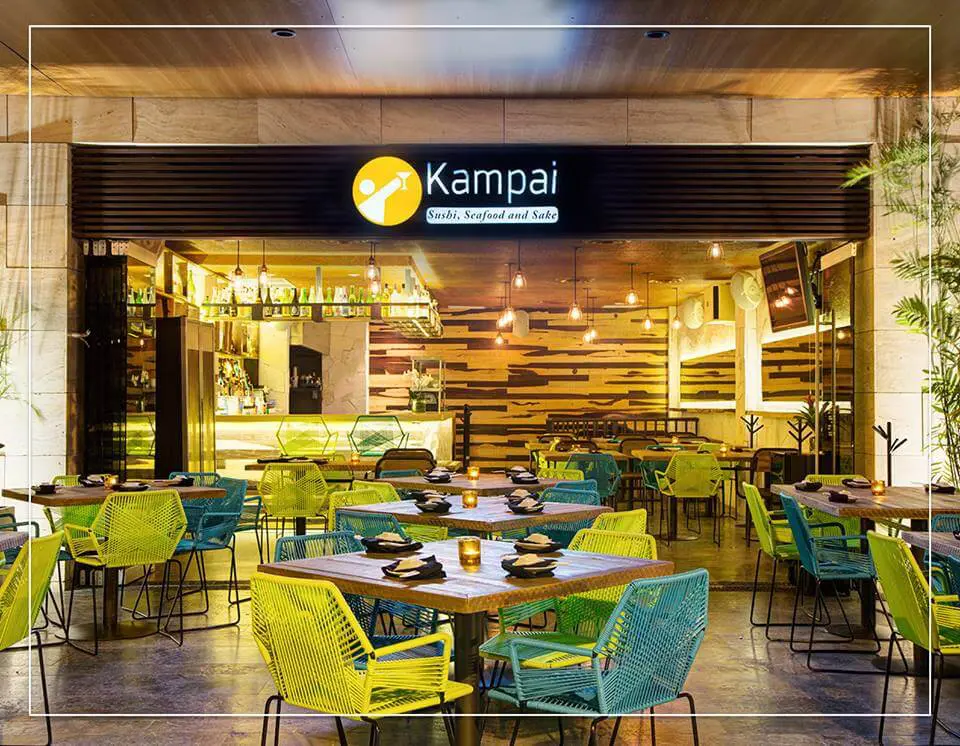 Kampai
This tropical style restaurant can be found on one of the most exclusive strips of Playa del Carmen´s 5th avenue.
Whenever people talk about sushi here in Playa, Kampai will always come up.
Their exciting menu, amazing staff and legendary 2 for 1 nights from Monday to Thursday are a favorite amongst both locals and tourists alike.
The rolls range from $7 to around $8.50 USD, but the ingredients are second to none.
Due to their extensive selection of sushi, Kampai split their menu into helpful sections.
You can enjoy unusual breaded rolls, hot rolls, cold rolls, tempura rolls, vegetarian rolls, or choose your own combination from the Sushi Bar.
This fun restaurant also specializes in hand-rolled cone rolls, a common lunch-time favorite in Japan.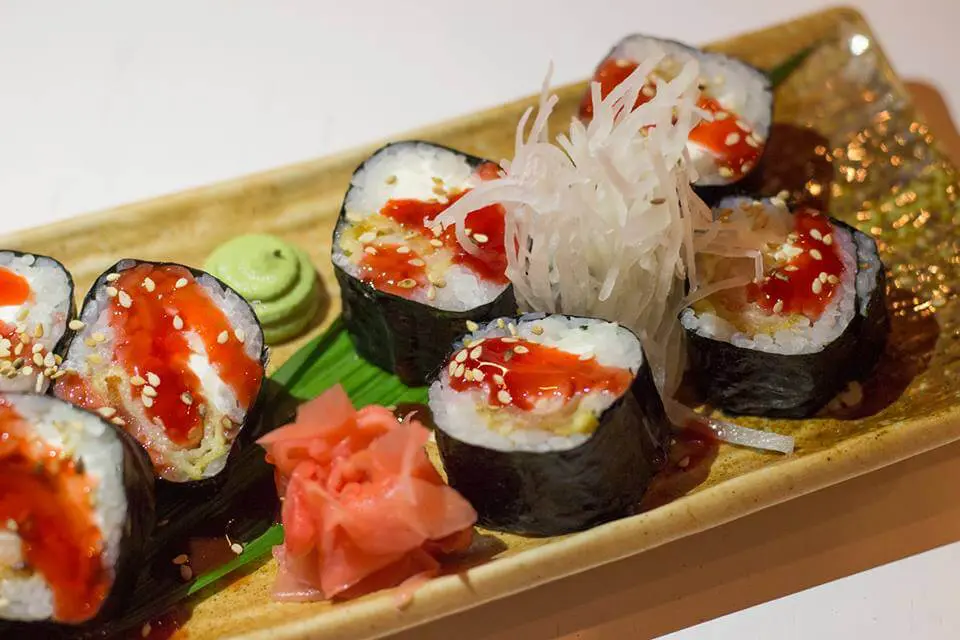 Diablito Cha Cha Cha
Diablito is a magical fusion of restaurant, club and sushi bar, and is home to some of the most adventurous sushi in Playa.
Their Menu is always changing, but one thing you can be certain of is that it´s always fresh, innovative and downright delicious.
A must try dish is the Ugami Roll, this little firecracker will have you going back for seconds every single time.
There´s nowhere else in Playa del Carmen that you can enjoy freshly made sushi, have a fantastic cocktail, and then dance the night away to some of the town´s best DJs all in one place.
All of this excitement must come at a hefty price, right? Wrong.
Every Monday Diablito puts on a 2 for 1 on sushi rolls offer, and every Tuesday you can purchase 2 rolls for only $8.50 USD.
Have you eaten at any of these sushi restaurants or have any to recommend? Let me know which is your favorite in the comments below!
---
Trending Now
You may also like