10 Cheap Eats for Under $10 in Playa del Carmen!
---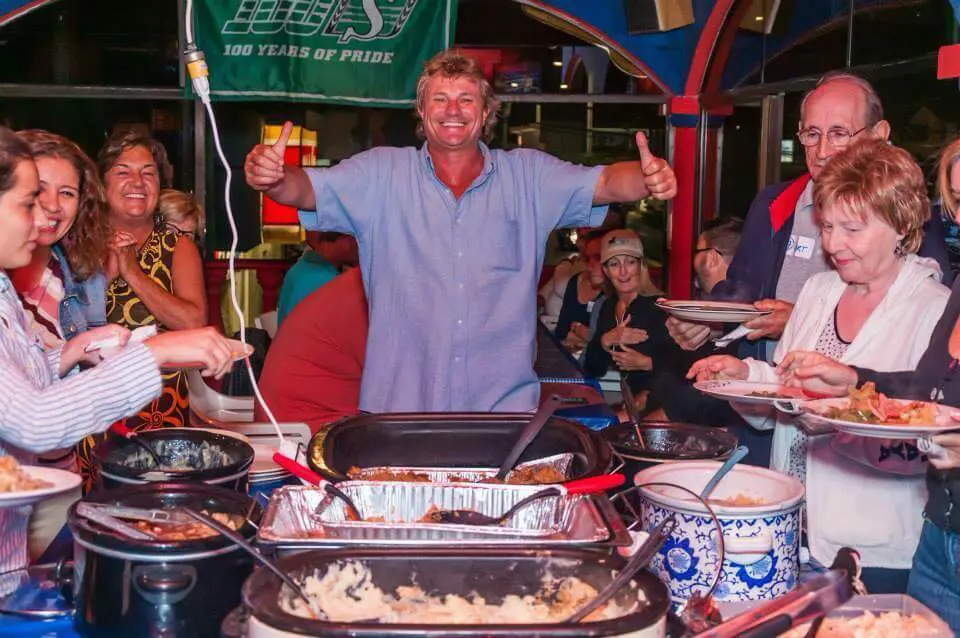 With the arrival of many gourmet and fine-dining restaurants, the great influx of tourists and the growing popularity of Playa del Carmen, prices are shooting up fast!
Mexico is known for its lunch deals of main, side, salad, bread and drink for under $50 pesos, but when it comes to Playa del Carmen, amazing food deals are hard to find.
If you're staying in Playa for a long time, have a limited budget, or are simply tired of the fancy shmancy restaurants on 5th Avenue, then this post is for you.
I've uncovered 10 amazing restaurants where you can dine like a king for under $10 USD…
Yes, you read that right.
Plus, every single one of these restaurants has consistent quality, are approved by both locals and expats, and are downright delicious!
So, get your knife and fork ready, and check out these 10 cheap eats for under $10!
1. La Floresta
This fantastic seafood restaurant is a little ways out of the center, but it's definitely worth the trip.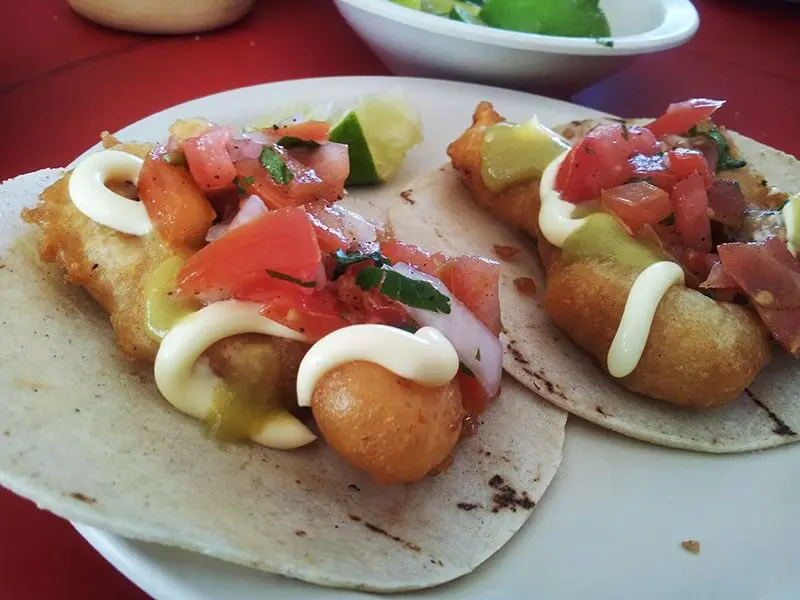 At La Floresta, you can choose from seafood tacos, cocktails, ceviche and aguachiles, and each one is under $8.
You can dig into a plate of 4 extremely generous shrimp or fish tacos for less than $100 pesos, and enjoy a beer for only $30.
That's an extremely filling lunch for only $7.50.
No wonder this restaurant is always full and bustling with customers all day long!
2. El Fogon
This famous restaurant isn't just delicious, it's also cheap eats royalty!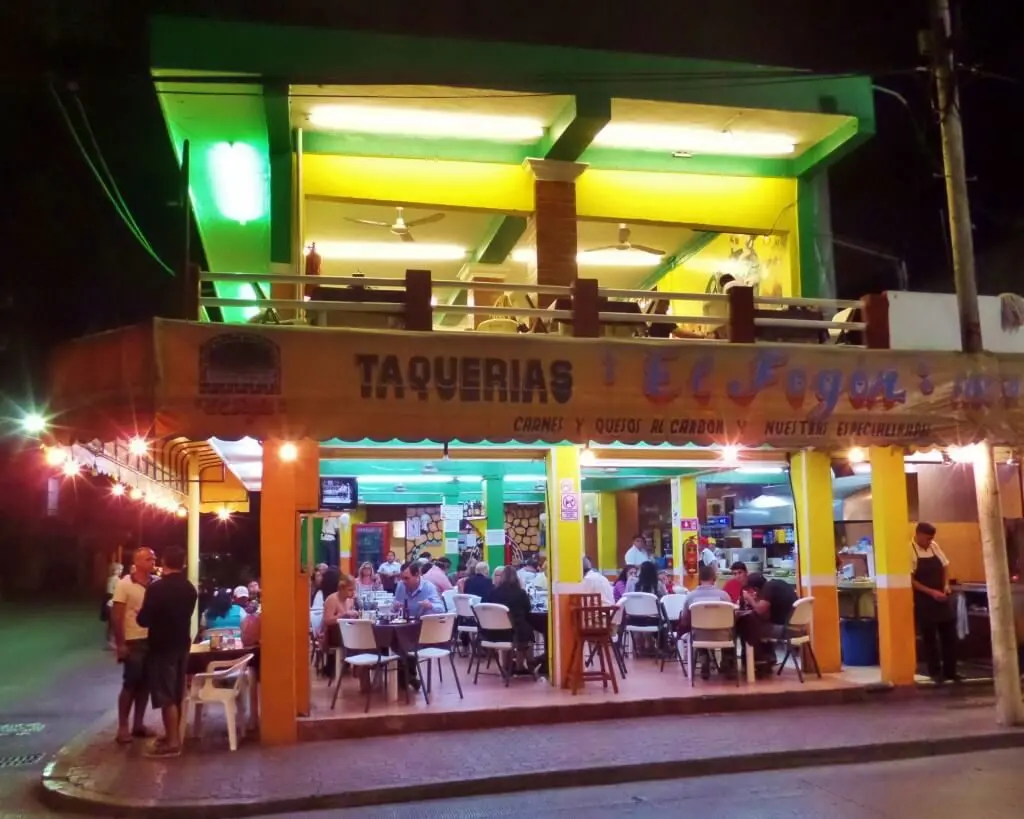 No trip to Playa del Carmen is complete without a trip to El Fogon.
Their tacos sell for around $15 pesos a piece, and their frijoles charros are to die for.
There are two locations in Playa del Carmen, one on Constituyentes, and another on Calle 6 bis and 30th Avenue.
You can fill your stomach (and your boots) with their tacos al pastor, chug down a beer, and still have change from a $10 bill.
3. Sushi Roll
Ok, it took a lot of sushi sampling, but I did it…
I officially found a fantastic sushi restaurant where you can eat and drink for under $10!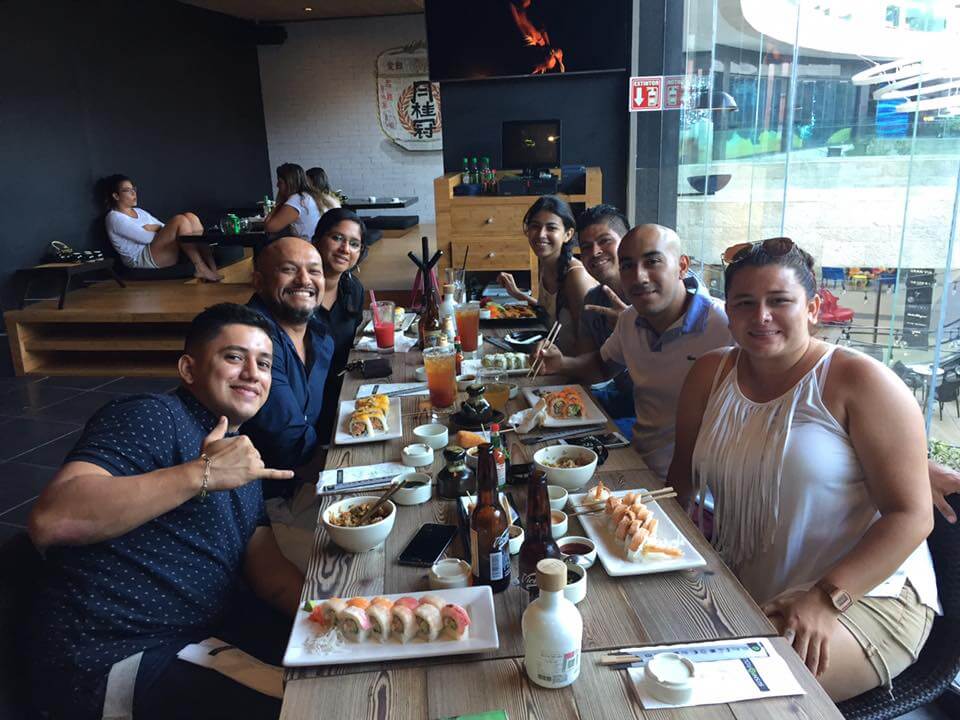 The best part? It's right on 5th Avenue.
Sushi Roll is an extremely modern and exclusive feeling sushi restaurant located inside the coveted Calle Corazon shopping mall.
The rolls at this Japanese restaurant are extremely large and they have a huge selection of unusual flavors to choose from.
Every Monday, Tuesday, and Wednesday from 7 pm, Sushi Roll puts on an amazing 2×1 offer.
That means you can eat a side, such as their delicious gyoza, fresh edamame or molten cheese brochettes, any sushi roll and have a drink for under $10.
4. Marisqueria Las Brisas
If you're looking for fresh seafood, but don't want to travel out of the center, then Las Brisas is the perfect place for you.
Located just steps from the famous 5th Avenue, this traditional seafood restaurant is a favorite amongst new and seasoned tourists alike.
If you can get past the slightly run down exterior, you're in for a world of culinary delights.
Dig into one of the most expensive meals on their menu, the refreshing shrimp platter, for only $7.50.
If you're looking to enjoy a meal for two, then you can order 4 large fish tacos, a glass of wine, a glass of beer, and still come away with change from your $10.
5. Mom's Bar
If you're looking for a taste of home while in Playa del Carmen, then you'll love the American style comfort food of Mom's Bar.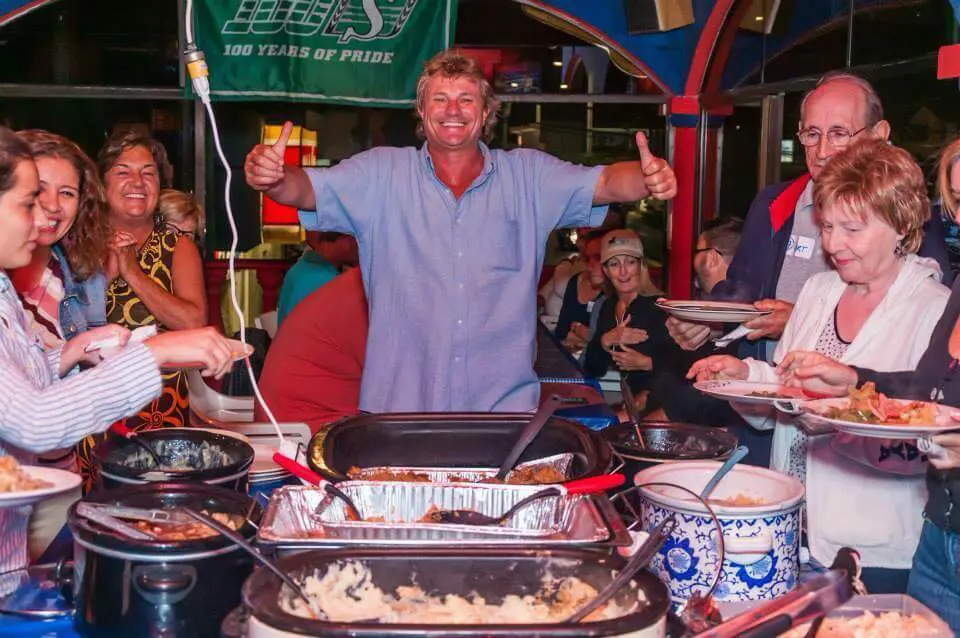 Frequented mostly by snowbirds and expats of around 40 – 65 years of age, this no-fuss family-run restaurant is a cheap eats heaven.
Mom's bar specializes in all things large and American.
Enjoy a hearty meal of baby back ribs, a juicy burger or a side of creamy mashed potatoes and gravy, just how Momma used to make 'em.
This friendly restaurant runs numerous offers during the week, including their weekly dinner specials for only $100 pesos.
Get a main, choice of side, salad, and bread for only $5.60!
Plus, if you spend $100 on a meal, the nice people at Mom's Bar will give you a drink of your choice for free.
6. HC Carnes de Monterey 
This no-fuss Mexican meat restaurant is a favorite amongst tourists and locals of all ages.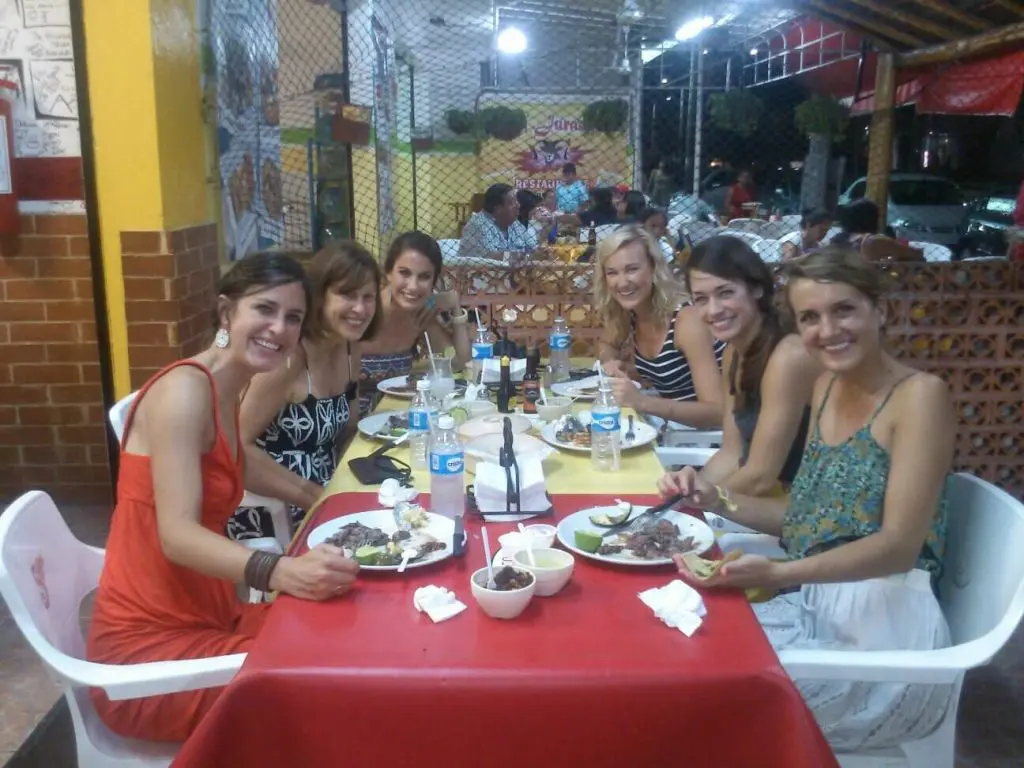 You will frequently see a big Mexican family sitting next to a group of young 20-somethings from New York, all enjoying a hearty meal.
For just under $10, you can enjoy their signature dish, Arrachera Nacional Paquete, which comes with a mouthwatering steak, a baked potato wrapped in tin foil, half an avocado, onions, hot sauce, tortillas and a soft drink.
After a long day at the beach or even a few drinks on the town, HC de Monterey is the perfect place to grab some cheap eats to fill your belly.
7. Asadero el Pollo
Freshly cooked rotisserie chicken and perfectly seasoned rice… what more can you ask for?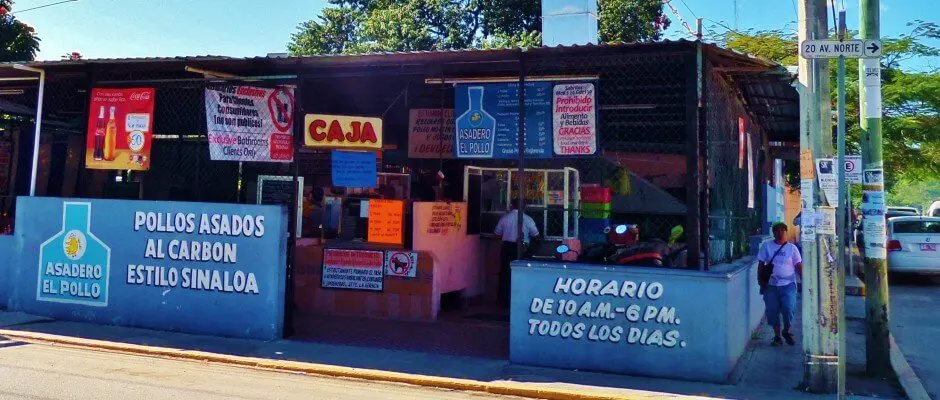 Asadero el Pollo is THE spot for chicken.
You can order a quarter, half or full chicken, and each one comes with tortillas, rice, pickled onions, garnish, and salsa.
They also have a special offer of $60 pesos per person ($3.50), where you will receive half a chicken, all the extras and a soft drink of your choosing.
For even more bang for your buck, grab some friends and enjoy their full chicken for only $6.
8. Doña Paula 
Doña Paula, also known as 'The Blue House' is a small family run restaurant located inside an old Mexican casa.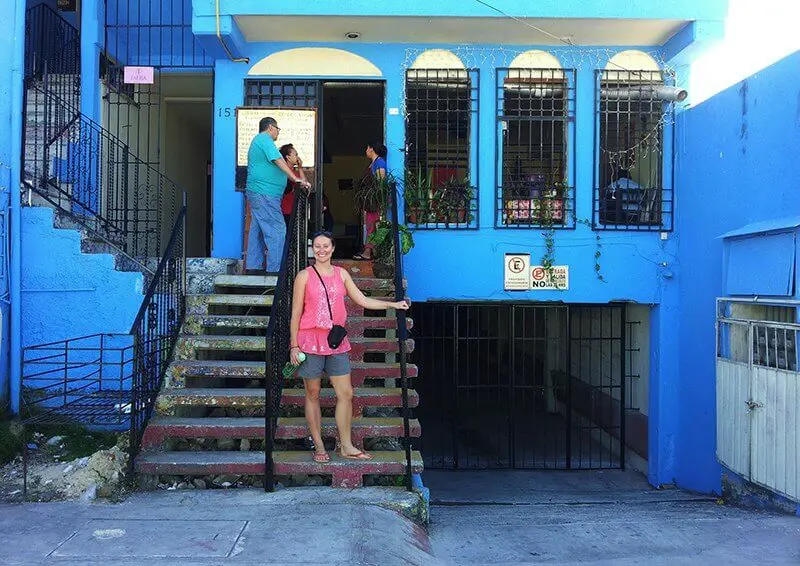 Their traditional, home-style Mexican cooking and friendly demeanor will have you going back time and time again.
Enjoy their famous Pozole, a Mexican style soup with shredded tender pork, for only $4.
Or, make your way through their extensive menu, where almost every meal comes to $50 pesos, including a freshly made agua fresca.
9. El Pirata
Located in the more up and coming end of 5th Avenue, El Pirata is the ultimate after-beach lunch spot.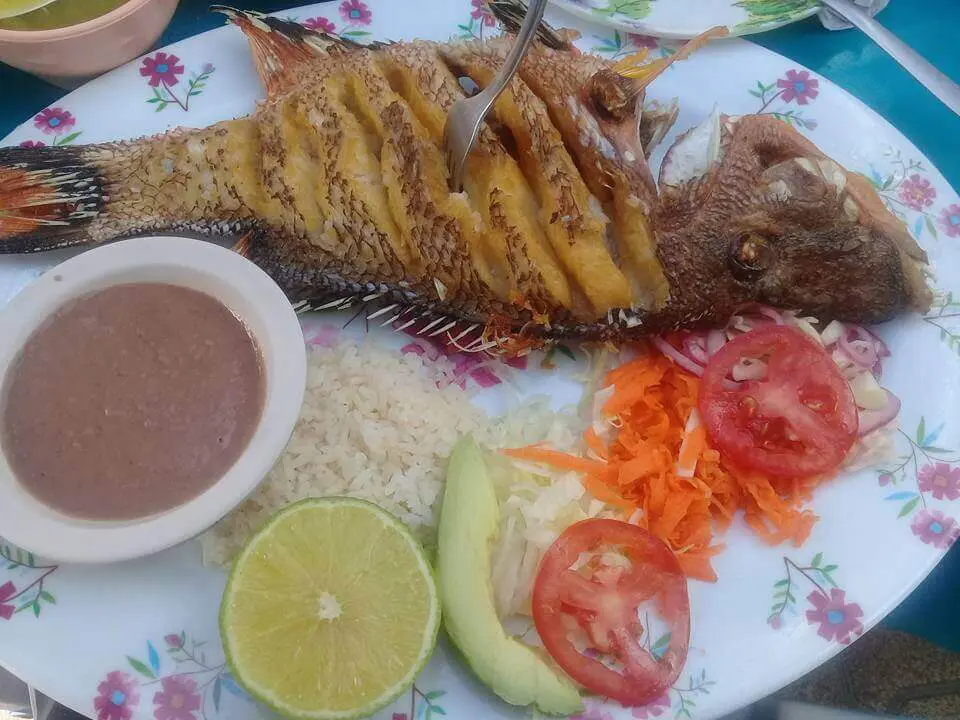 All the fish served in this local restaurant is caught fresh each morning, and is sold by the kilo.
For 100 pesos, around $5.50, you can order a large fish, salad, rice, tortillas, and sauces, and eat like a king.
Be sure to visit this restaurant earlier in the day, as once the daily catch is gone, it's gone.
10. Niños
No cheap eats collection would be complete without pizza!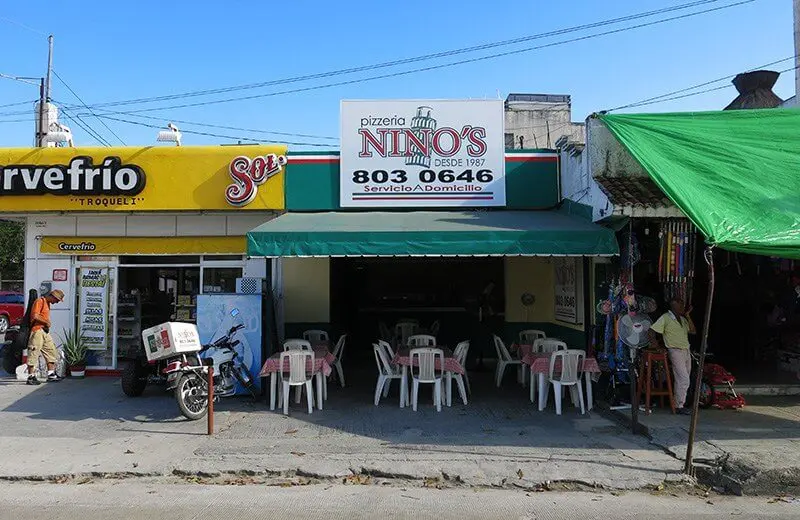 No matter what time of day it is, or how you're feeling, a hot slice is always a good idea.
Niños make all of their thin crust pizzas fresh to order, so you know it's going to be good.
Grab a large pepperoni pizza for only $5.50.
Perfect to share with friends at the beach, or for a lazy afternoon movie marathon.
Have you tried any of these amazing cheap eats for under $10? Let me know what you thought in the comments below!
---
Trending Now
You may also like