A Fascinating Photo-Reportage of Cirque Du Soleil Riviera Maya
---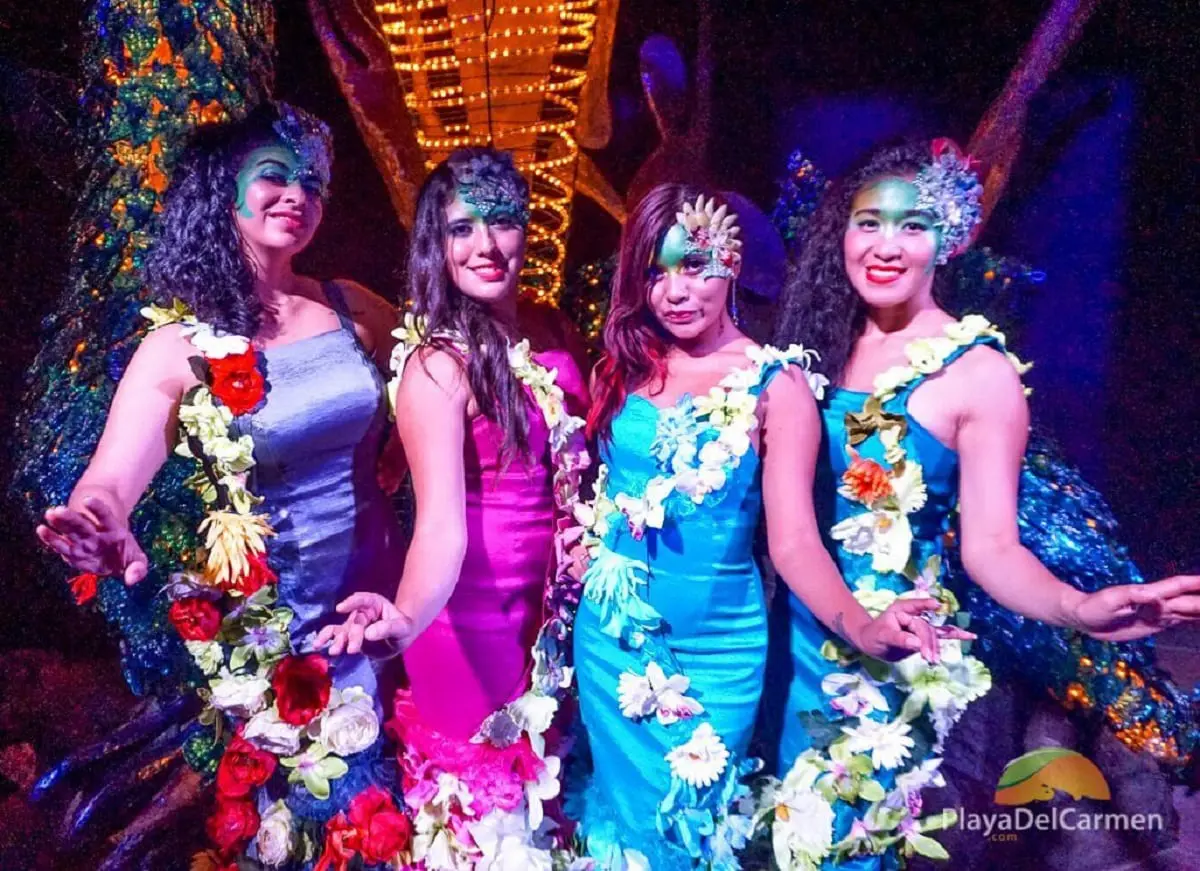 Living and working in Playa del Carmen has its perks.
The 300 days of sunshine, the stunning beach, the culture, the people, the lifestyle…
Or being invited to see the Joya show at Cirque Du Soleil first and only Latin American theater.
This November, Cirque Du Soleil Riviera Maya celebrates two years of operations in their sensational theater located about halfway between Cancun and Playa del Carmen.
We recently had the opportunity to visit Cirque Du Soleil once again to experience the wonderful performance that is Joya.
Check out our photo-reportage and see for yourselves just how beautiful a show this is!
Cirque Du Soleil Riviera Maya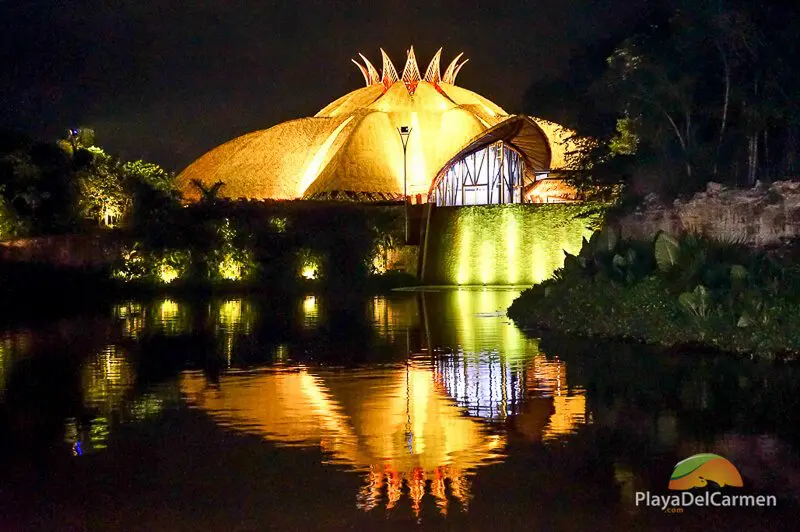 The theater looms large and illuminated in the background, providing a first stunning connection with the show that awaits inside.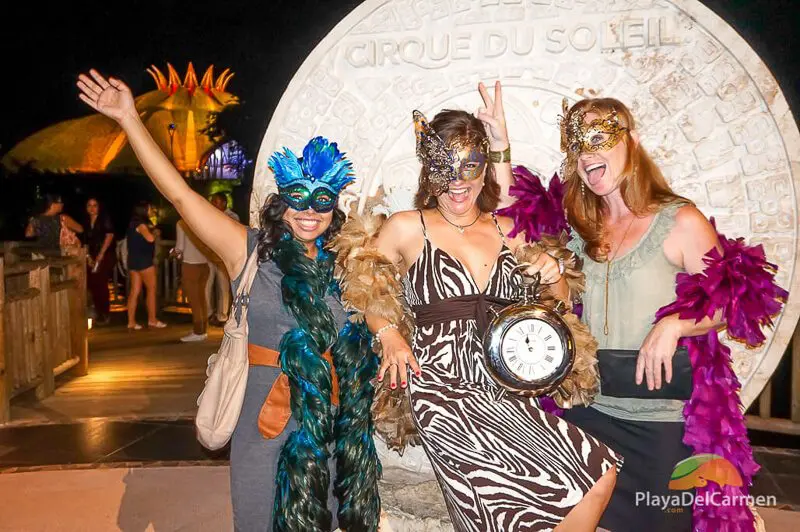 Of course, before going in there's the obligatory costumed photo op of the lovely and talented travel specialists at PlayaDelCarmen.com.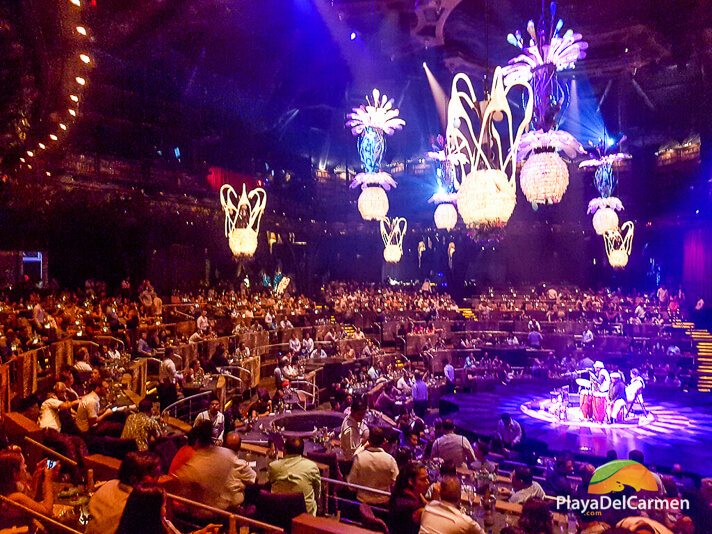 Cirque Du Soleil had this beautiful and intimate theater built just for their show, making the first of its kind in Latin America.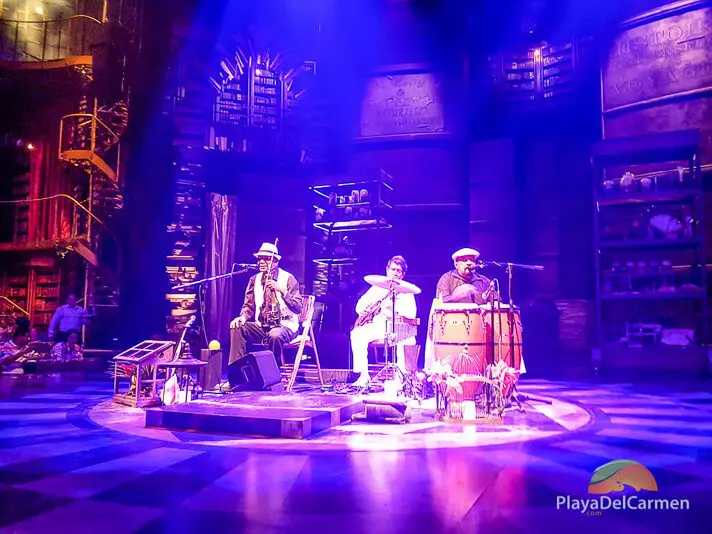 The opening band, a talented Cuban trio, opens up the night with flowing tropical melodies that set just the right atmosphere for what follows.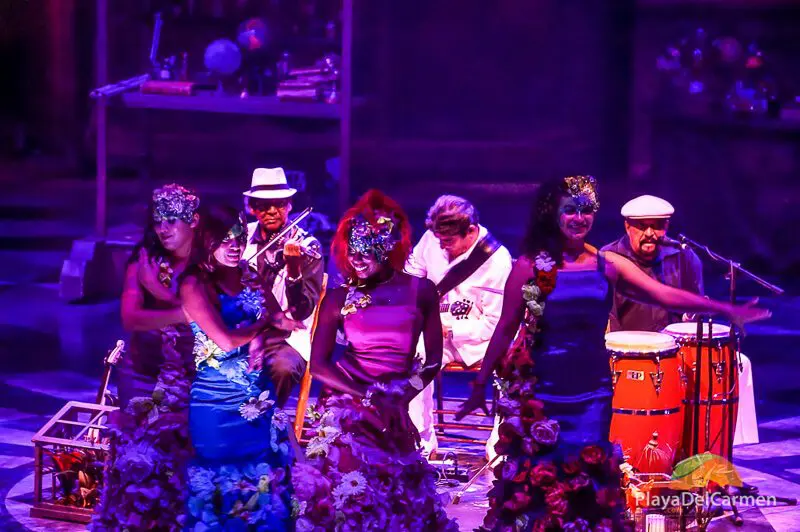 At times performing solo, and for certain numbers accompanied by dancers. These gorgeous women stepped on stage to show off their salsa moves.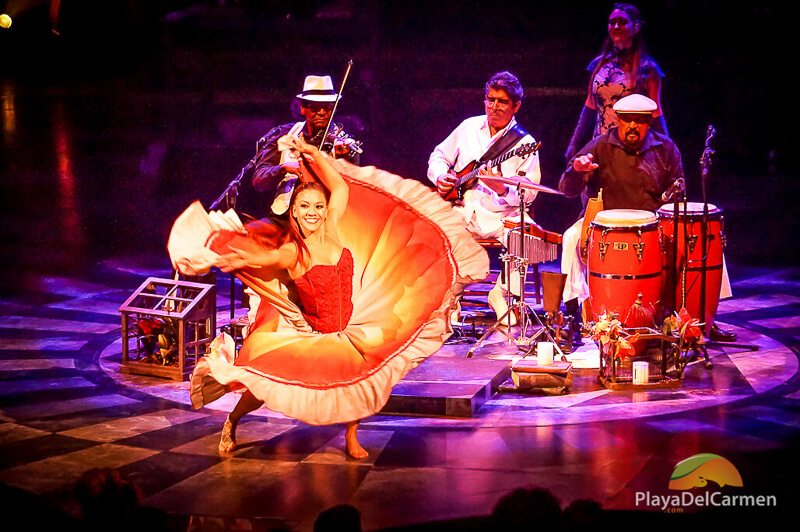 Another dancer came on stage just a little while later and impressed with her graceful movements of traditional Mexican folklore.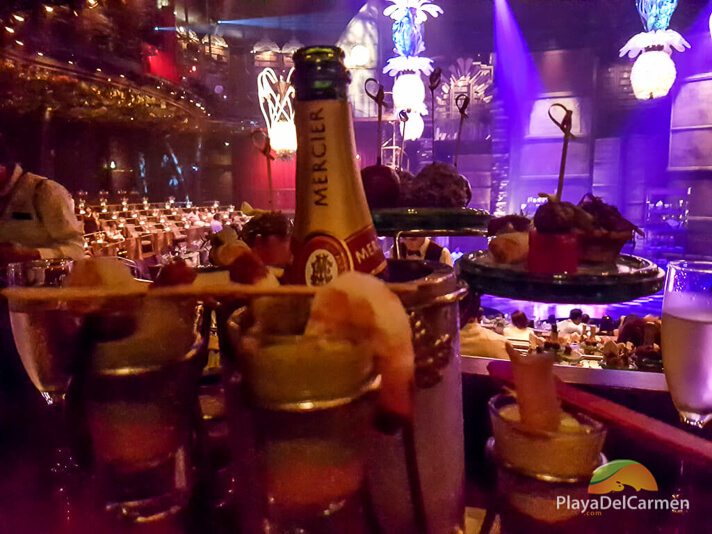 Following some wonderful appetizers and champagne, the show began.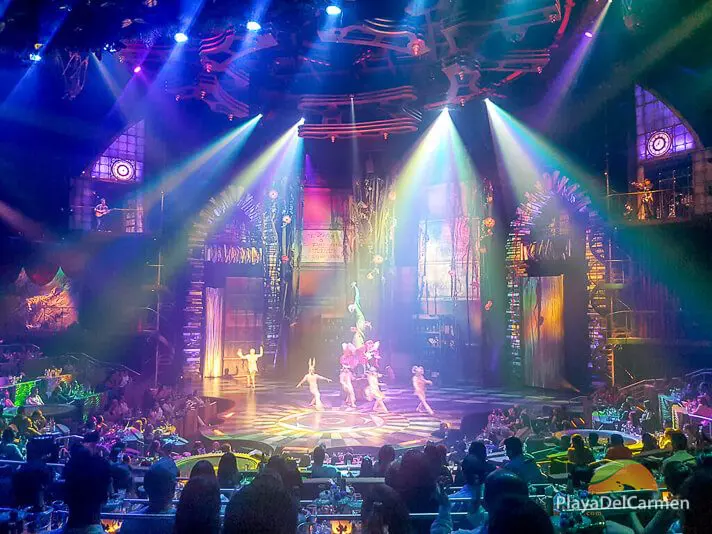 How about those colors? Cirque Du Soleil really knows how to put on a show.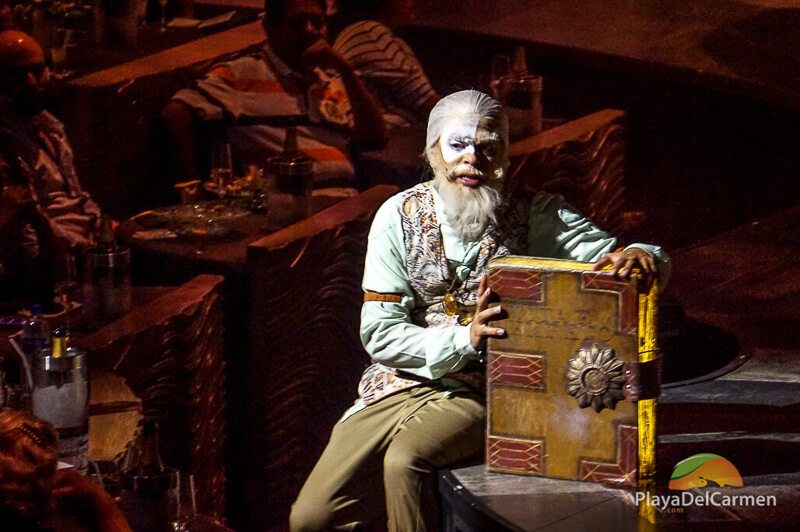 Joya tells the tale of a sort of mad scientist's quest for knowledge and the evil forces out to curtail him.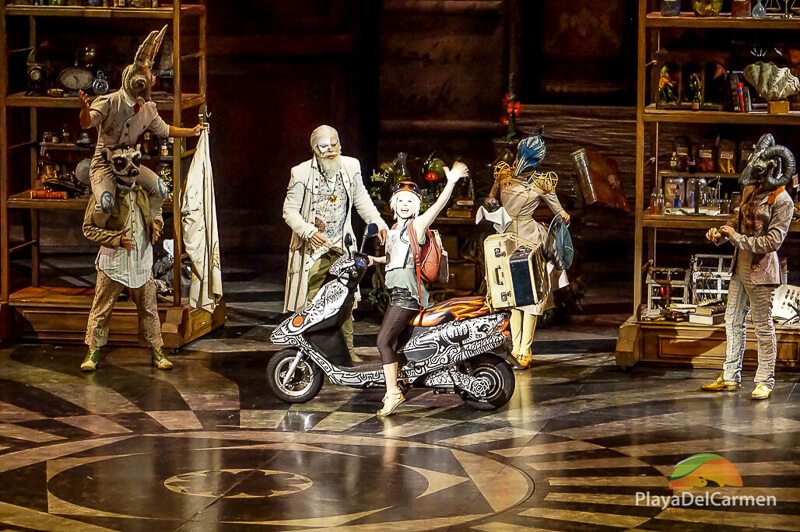 Luckily for him, and for us, his zesty granddaughter shows up on the scene to spice up the story.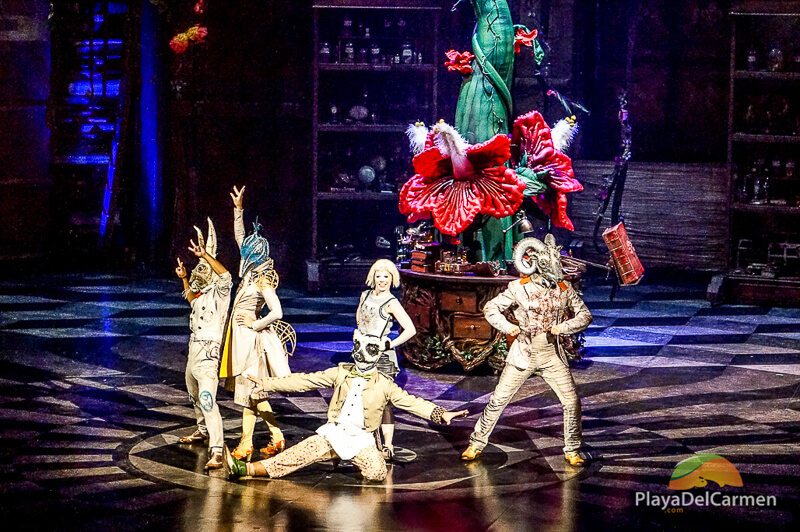 Throughout the show, the highly talented and professional acrobats of Cirque Du Soleil contribute to the story with their amazing performances.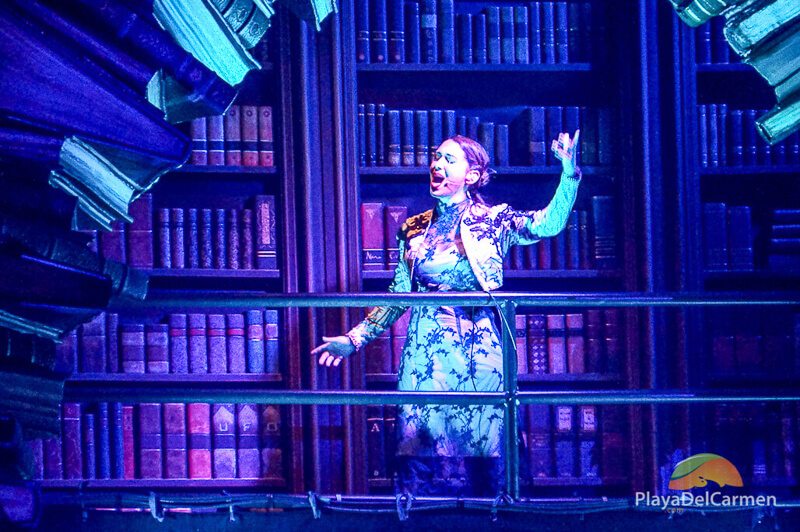 The music is no less important or enthralling to Joya, and this talented singer keeps the audience entertained with her melodious storyline.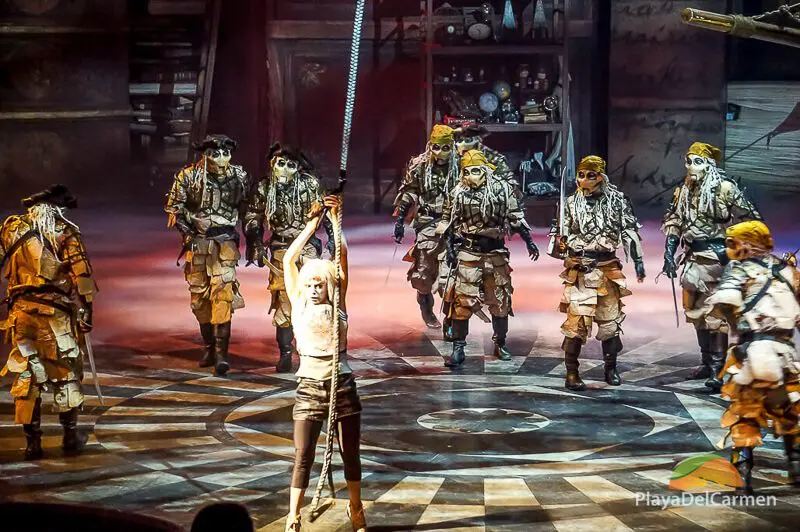 All is well until the pirates show up, looking to steal the book of knowledge from Joya's grandfather.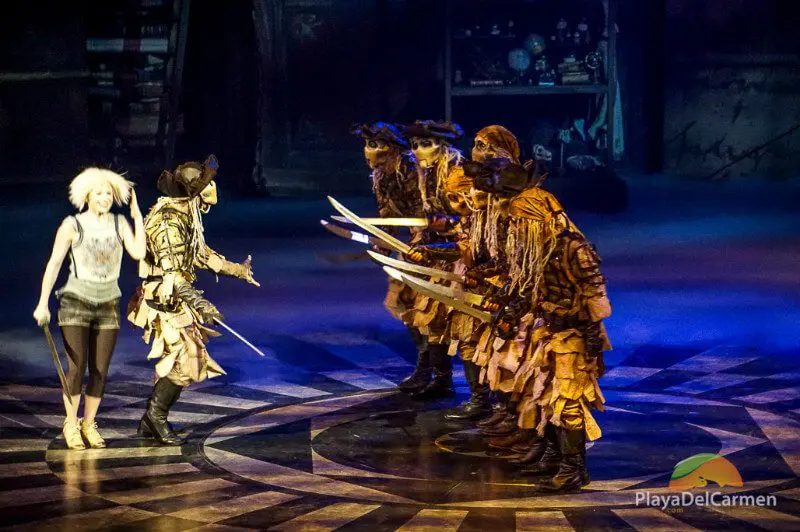 But alas, they are outwitted and outmaneuvered by the energetic and fiery Joya.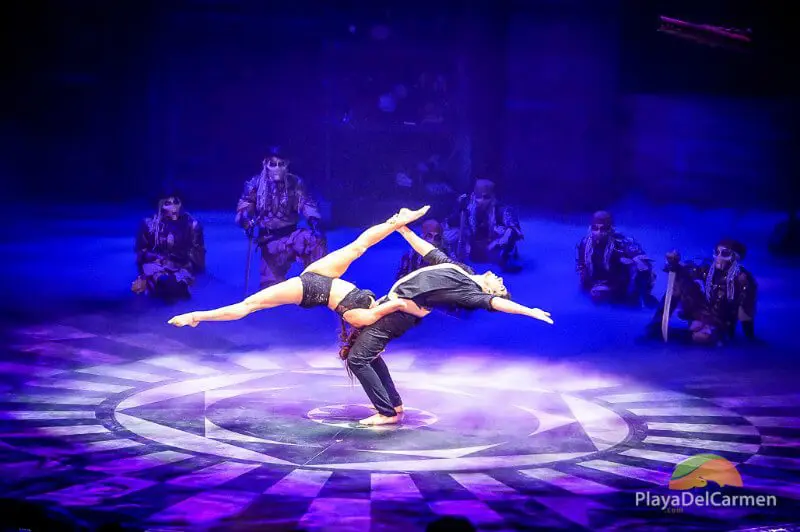 Of course, there's always time for a good dance or two to distract the malevolent pirates.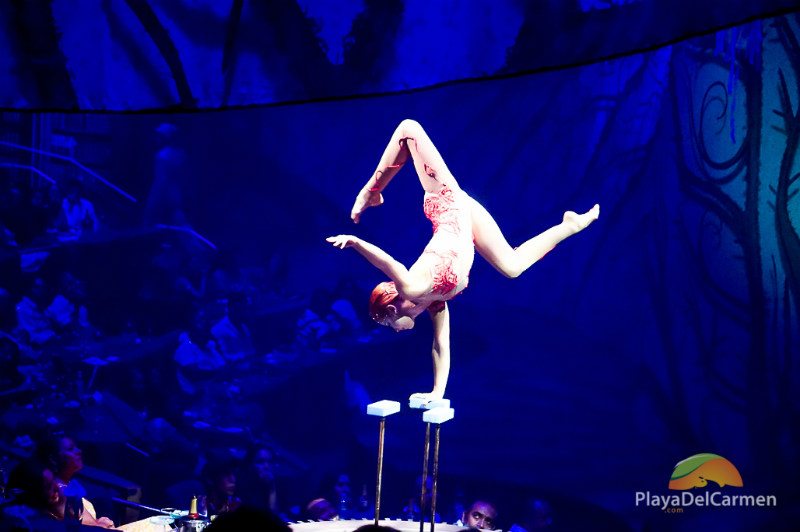 And acrobatics, like this epitome of strength, body control, and talent.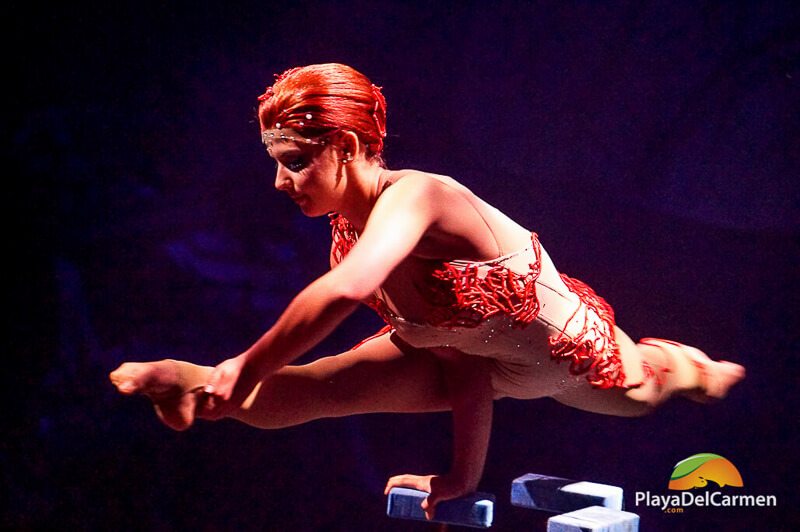 Here is the performer seen from another angle.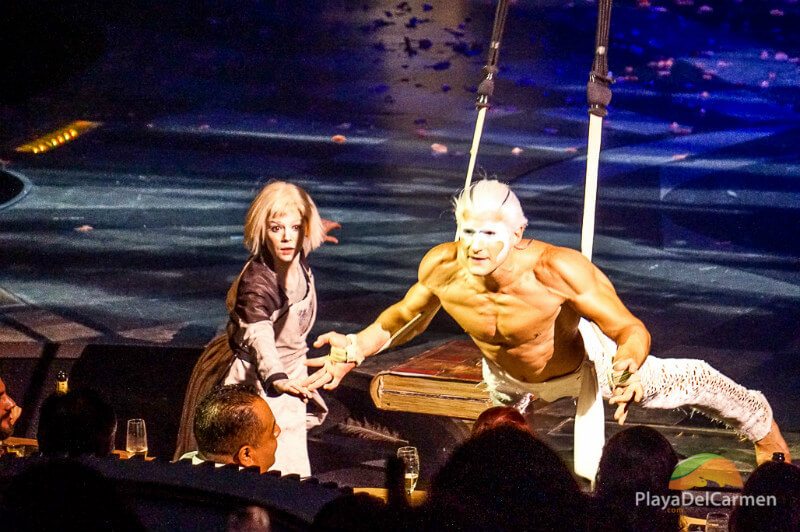 Will good win out over evil in this turbulent tale set in the Riviera Maya?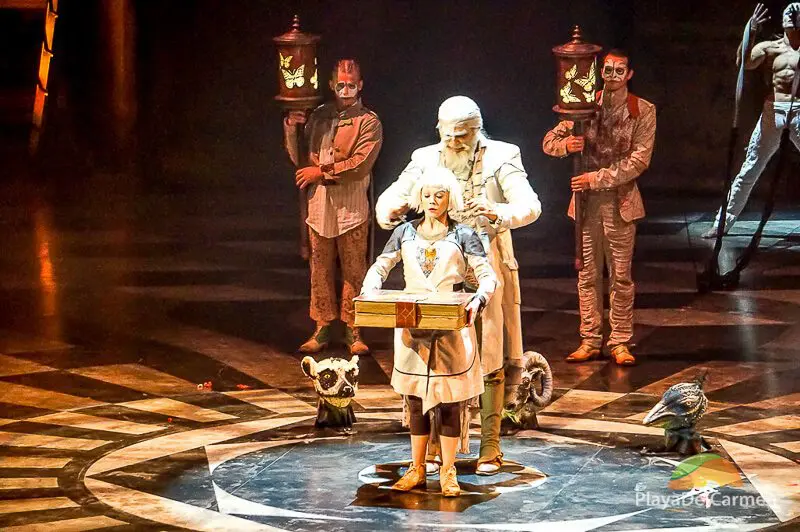 Will Joya and her grandfather protect the book of knowledge, or will it be ursurped by the invaders?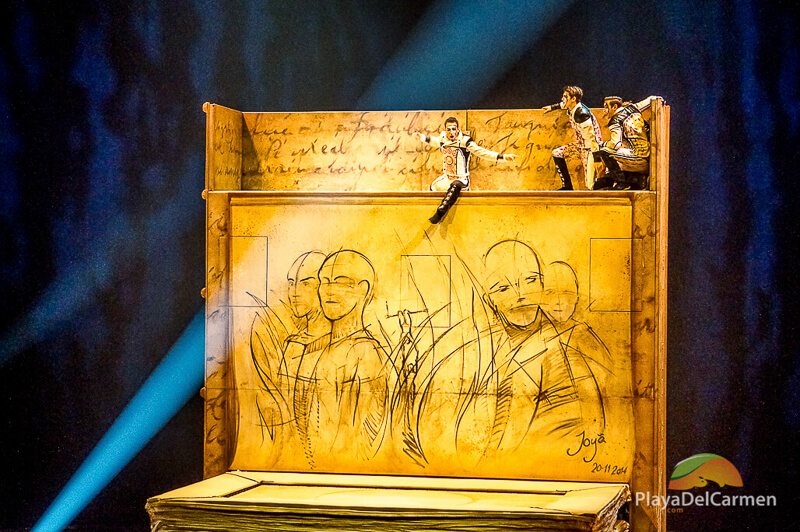 It make take a trampolin to get to the bottom of this.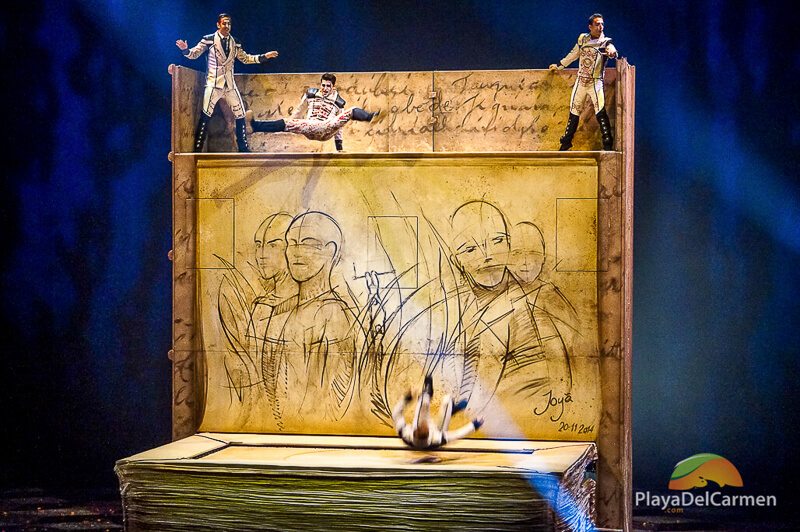 And some talented acrobats to show off their bounce.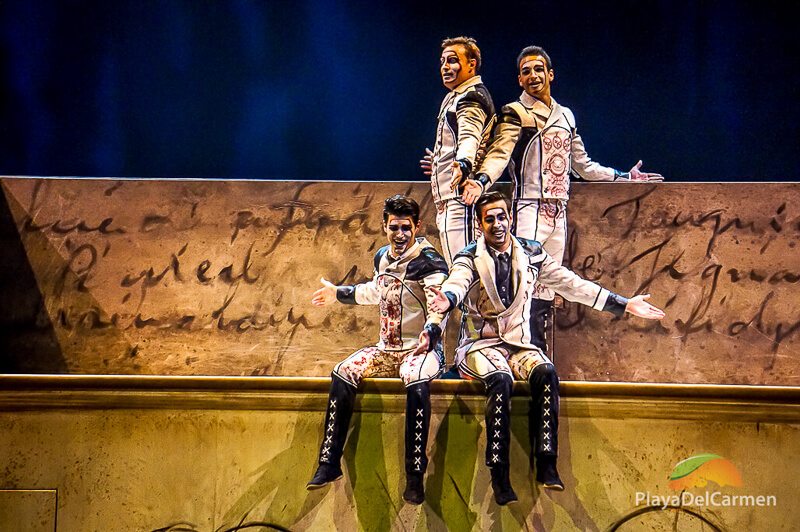 Before posing for the camera with style and grace.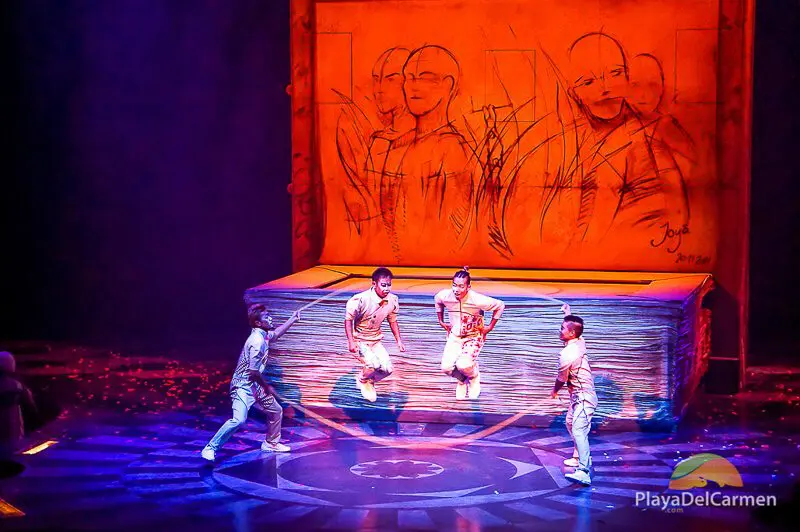 Of course, no good show is worth its grain in storyline without some acrobatic jump rope.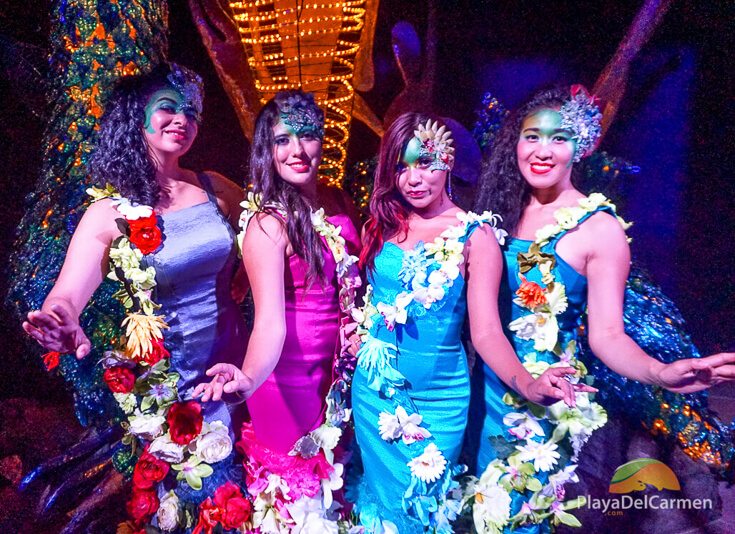 The attention to detail and elegance of Cirque Du Soleil's Joya in the Riviera Maya can be seen in every aspect of the show, including in the professionalism and costumes of these beautiful hostesses.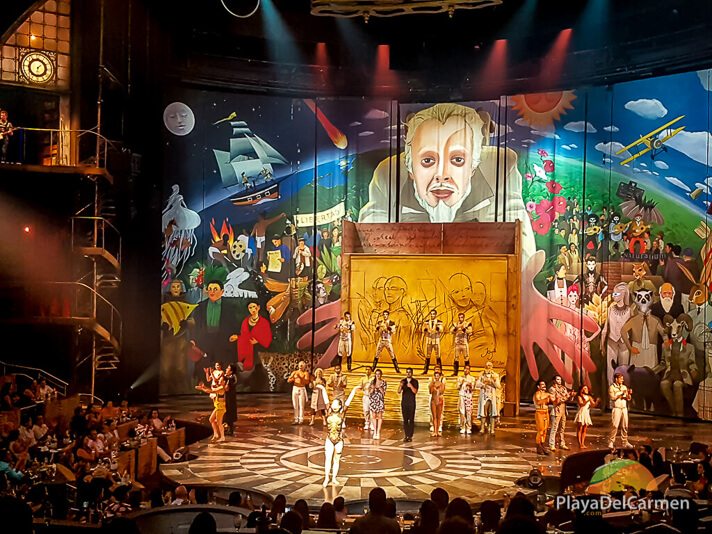 Well worth a round of applause and even a standing ovation for the talented and acrobatic thespians at Cirque Du Soleil.
Cirque Du Soleil Riviera Maya Tickets
Did we convince you to go?
Here's what you need to know about the Cirque Du Soleil show:
The show runs Tuesday through Saturday
There are several ticket options ranging from show only to dinner show
We highly recommend the experience of enjoying the show with dinner
When reserving, you can choose your seats
Transportation is available for an additional $12 USD from Playacar Plaza
Dress code is casual formal
Kids under 5 are not allowed in the theater
The Cirque Du Soleil Theater is wheelchair-friendly
Be sure to check out our Cirque Du Soleil Riviera Maya review for more details.
You can click on the link to book your Cirque Du Soleil tickets.
Cirque Du Soleil Riviera Maya Prices
Prices for Cirque Du Soleil range from $82 USD to $263 USD per person.
The latter, of course, promises the best seat in the house.
Here are the prices:
VIP DINNER + CHAMPAGNE + SHOW – $263 USD
DINNER + CHAMPAGNE + SHOW – $193 USD
CHAMPAGNE + SHOW – $140 USD
TABLE ONLY – $99 USD
HIGH STOOL ONLY – $82 USD
Have questions about the Cirque Du Soleil show or any other Playa-related questions?
Our travel specialists are like deft acrobats in finding the right option at the best price just for you!
Contact them toll-free at 888-537-9797 today!
---
Trending Now
You may also like