5 Best Budget Beach Clubs in Playa del Carmen
---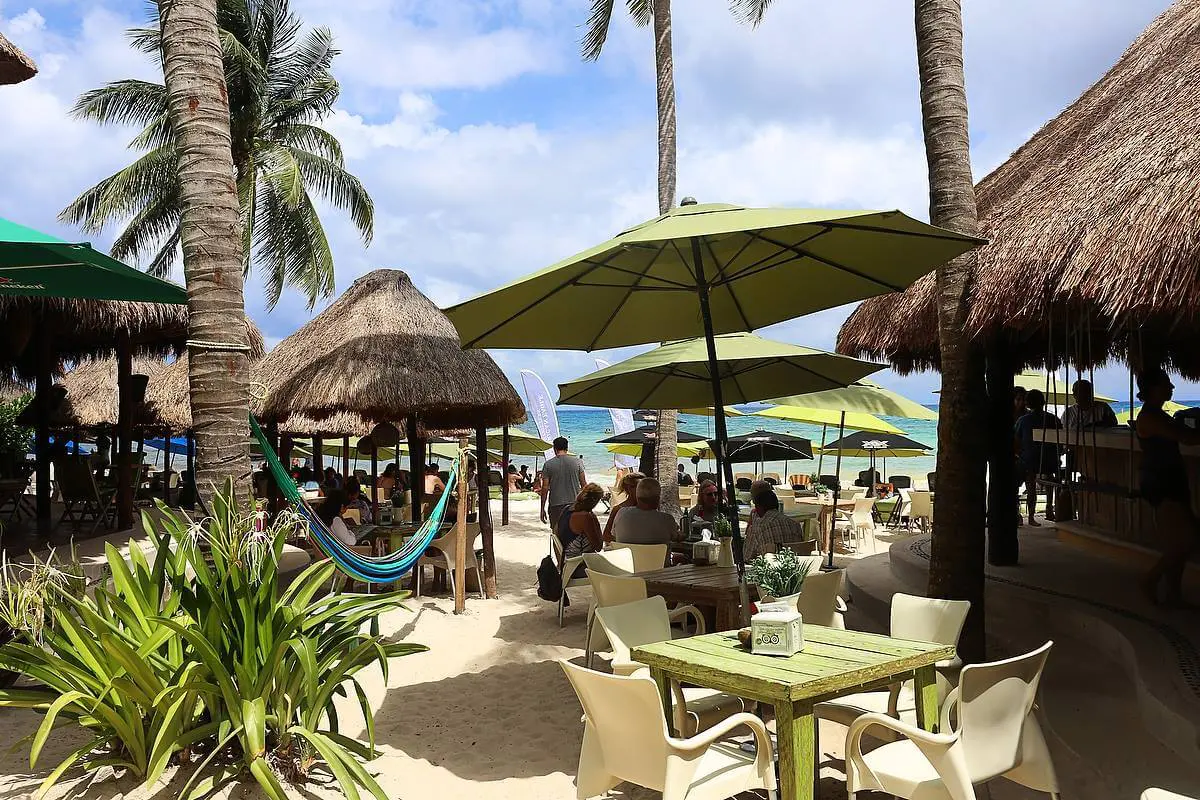 White sands as far as the eye can see, glistening turquoise waters lapping up against the shore, a hammock gently swinging in the sea breeze, and a drip of condensation slowly falling off your ice-cold beer… sounds like the perfect place for a beach club right?
Playa del Carmen definitely has no shortage of amazing beach clubs. Whether you're looking for a place to party, chill out, get an amazing tan or just have a good meal and some drink with the family, there's a beach club for everyone.
The only problem is, they aren't always cheap. $300 pesos ($15 USD) for a beach chair or $1000 pesos ($50 USD) minimum spend per person isn't really my idea of fun.
That's why I've made this list of the best budget beach clubs in Playa del Carmen for those of you who don't want to tug on those purse strings quite so hard.
If you're staying outside of Playa, be sure to check out our suggestions on the top Riviera Maya beach clubs as well.
1) Yan Ten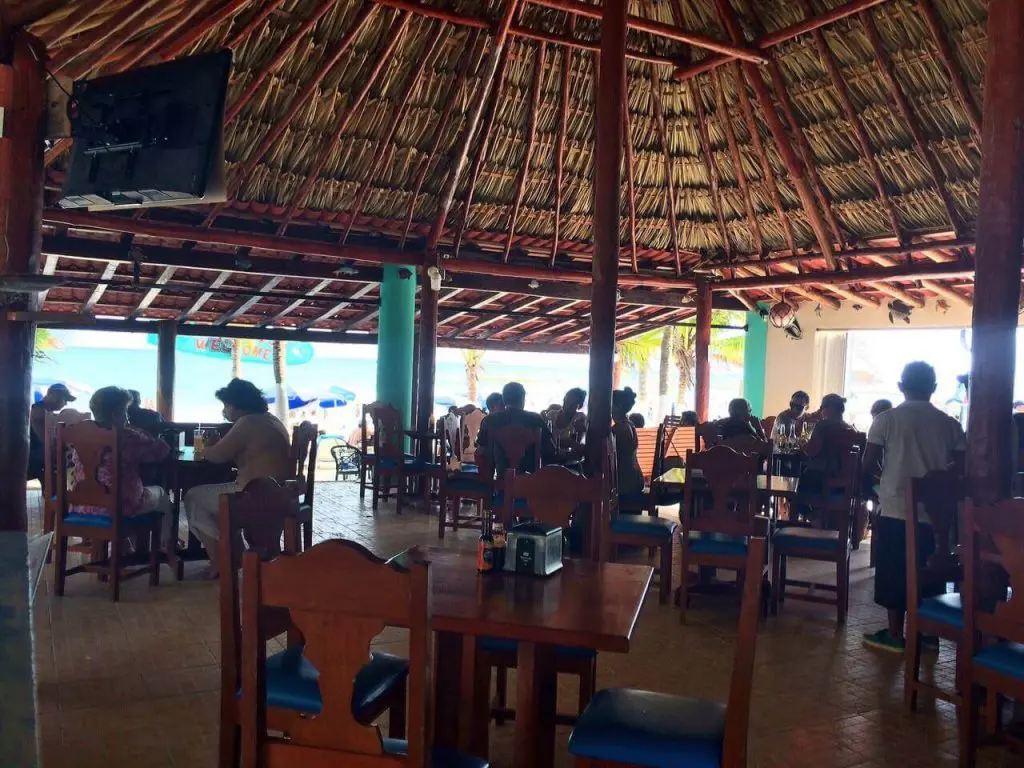 Beach Chair Fee: $80 pesos or free if you order
Yan Ten is probably the cheapest of all the budget beach clubs in Playa del Carmen, but this little place still packs a punch.
With the exact same views as the more expensive beach clubs, an extensive menu, and free beach chairs if you order just a beer, it's definitely a good place to kick back for a day.
It's always a good sign when you see the locals sitting in the shade enjoying the food in a Mexican restaurant, and at Yan Ten this is the usual sight.
Dishes are no frills seafood, but very tasty, and range from $50-110 pesos ($2.50-$5.00 USD).
No matter what time of day you decide to stroll into Yan Ten, they will have a couple of beach chairs available and some cold beers waiting for you.
2) Wah Wah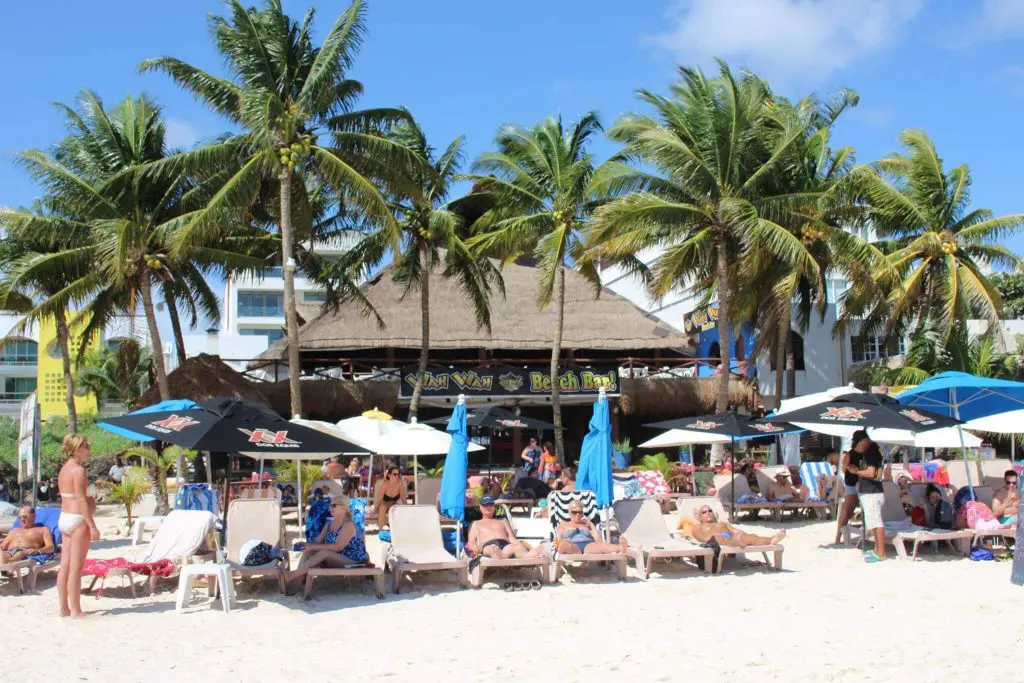 Beach Chair Fee: Free
The ex-pat community go absolutely crazy about this place, and it's not hard to see why.
Wah Wah is the biggest beach club at this end of Playa del Carmen, it has a huge expanse of gorgeous white sand for you to enjoy, its staff speak perfect English, the beach chairs are free and the food is delicious.
Oh, and did I mention that they have live music from 1pm every day?
At Wah Wah they are all about bringing people together. Every Sunday they have a pig roast buffet, all you can eat for only $130 pesos ($6.50 USD), and they have daily ring toss games in the sand to keep up that ex-pat community feel.
If you're looking for a fun English speaking beach club on a budget, then this is absolutely the place for you.
3) El Pirata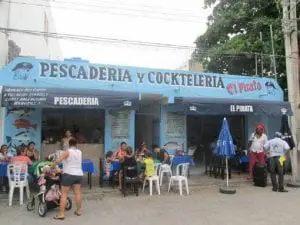 Beach Chair Fee: Free with order
This pirate themed beach club is nestled between Blue Parrot and Lido beach club, but can be a little tricky to find. It's best to enter the beach at Calle 10 and then stroll along the beach to your left until you see it.
Once inside, you can choose to sit at the bar on the rope swings, pull up to a table and enjoy the "the best Azteca soup in Playa" or simply lay back on one of their beach chairs and enjoy a cocktail in the Caribbean sun.
El Pirata is definitely another budget locals joint, with a laid back tropical vibe. During the day, it's relaxing, family orientated atmosphere is incredibly inviting, then at night they up the ante with reggae music and a boat-shaped dance floor.
4) La Tarraya

Beach Chair Fee: $150 for two or free with order
The best thing about this beach club, apart from the palm tree lined sand, the incredible view of the ocean and the friendly staff? The price of the drinks! You can get a beer for only $25 pesos, and a margarita (everyone's favourite when in Mexico) for only $50 pesos ($2.50 USD).
La Tarraya also serve up fresh fish and seafood, easy eats like crispy chicken burgers, and quick bites for light lunches.
This beach club is one of the oldest in Playa del Carmen, opening in 1968, so they know how to run a great budget place.
If you're feeling peckish, but also want to spend some time in the sun with that classic Playa del Carmen view, La Tarraya is the budget beach club for you.
5) Lido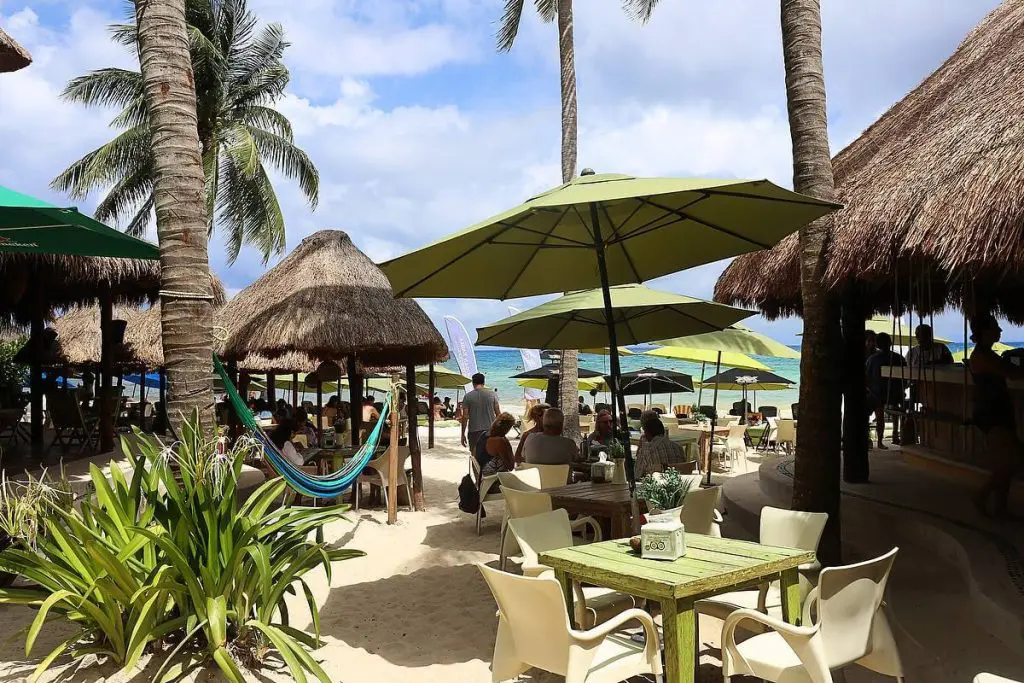 Beach Chair Fee: Free with order
Although you will often see families and people of all ages enjoying the comfy green chairs of Lido, this beach club usually attracts more of a young, hip crowd.
Lido has an extremely infectious tropical vibe, which is brought to life by the live DJs, colorful hammocks and rope swing bar seats. Lido is the only budget beach club with a choice of restaurant table, beach chair, bean bag or big comfy beach mattress, giving you an extremely comfortable visit.
With their experimental menu, wide selection of drinks and cocktails and color themed interior, everything is upscale except for the price.
Have you been to any of these budget beach clubs? Let us know which is your favorite in the comments below!
---
Trending Now
You may also like