10 Best Things to Do in Tulum | Your Ultimate Local's Guide
---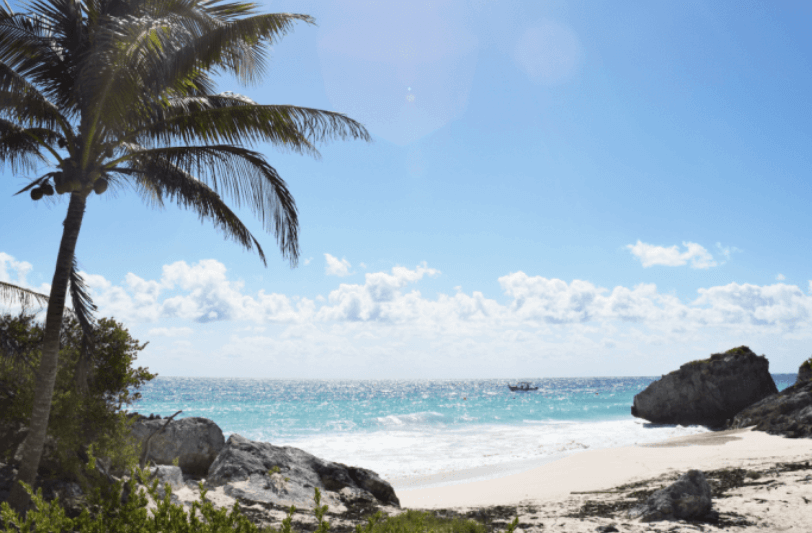 Tulum is a place where you'll never be short of something to do.
From pristine white-sand beaches to vibrant bars, and ancient ruins, there's an eclectic array of adventures waiting for you.
This is the main reason why it's one of my favorite places on the planet.
And, there's the relaxed boho vibe of course.
Our team at PlayaDelCarmen.Com loves helping people explore this gorgeous place.
And, I'm excited to share our insights with you.
Plus, I'll give you some of my own hints and tips to make sure you get the best from your trip whether you're there for the day or planning a longer trip.
Things to Do in  Tulum on Vacation
---
1. Visit the Tulum Ruins
Tulum was a major trading post in its heyday.
And, you can see the impressive ruins of its Mayan splendor today.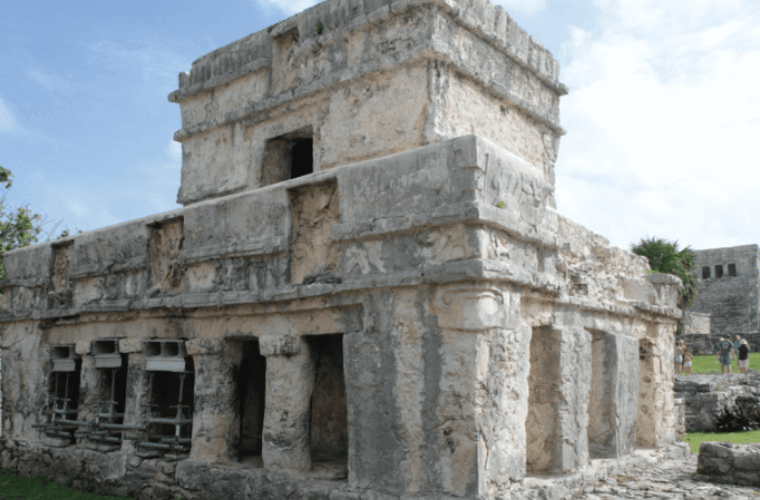 The ruins are one of the major reasons for people visiting the area and as you explore you can see why.
Close your eyes and imagine you're back when folks from Chichen Itza, Ek Balam, and Cobá gathered here to trade.
It's a truly magical space.
The views are super impressive too as you gaze out across breathtaking Caribbean vistas.
Exploring the ruins independently costs around $3-4.
if you'd prefer to take a guided tour you can expect to pay around $30.
For more info about this amazing place, take some time to read my blog post.
"12 Things You Need to Know About the Tulum Ruins (2023)"
2. Grab a Taco at La Zebra Beach Restaurant and Bar
Tacos are my favorite go-to snack when I'm out and about.
And, this place makes some super delicious ones.
All the ingredients are premium and fresh so the taste is sensational.
Plus, you can check out the other food and drink options while you're there.
I especially love the drinks menu in the evening when you can choose from 'spicy', 'refreshing', or 'sophisticated' options.
Here's a tip…
The spicy Anthony Quinn with Mezcal is to die for.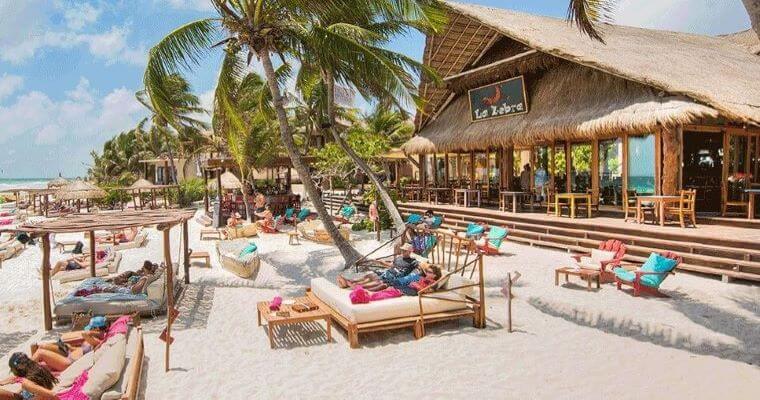 Image: wineandfoodfest.com
To sum up…
La Zebra Beach Restaurant and Bar has delicious tacos (and other dishes), a fun atmosphere, and a gorgeous beachfront location.
What's not to love 😍?
3. Get a Day Pass for Dreams Tulum
Not staying all-inclusive in Tulum but want to sample the delights of a luxury resort?
A day-pass at Dreams Tulum is a perfect choice.
You can spend time at this lush tropical oasis trying out the pools and other top amenities.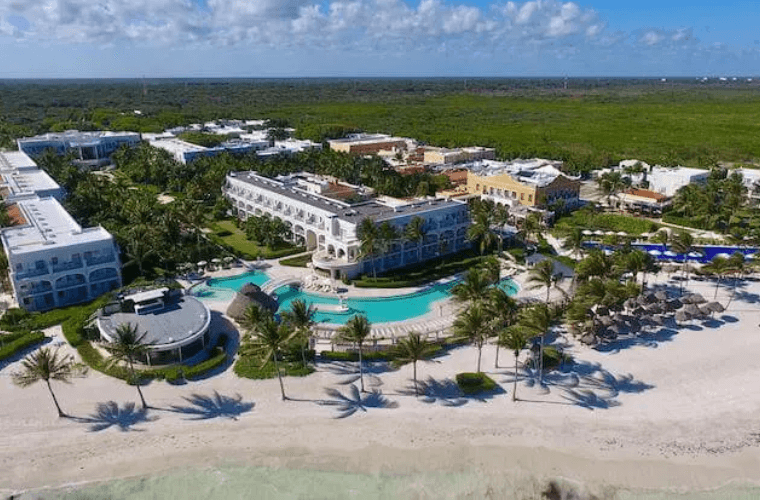 You can expect to pay around $55 for adults and $25 for children for a day pass at this resort.
This pass gives you access from 9 a.m to 5 p.m and night passes are also available at a slightly higher cost.
Call us at 888-537-9797.to confirm access at Dreams Tulum and exact pricing.
We're also happy to give you advice about other day pass options that start from around $24.
4. Hang Out at Batey Mojito & Guarapo Bar
I confess to being a big beach enthusiast, so I love the Tulum Playa area.
But, I love some variety too.
It's the spice of life you know!
So, I'll often pop over to Tulum Pueblo when I'm in town.
And, Batey Mojito & Guarapo Bar is one of my favorite haunts.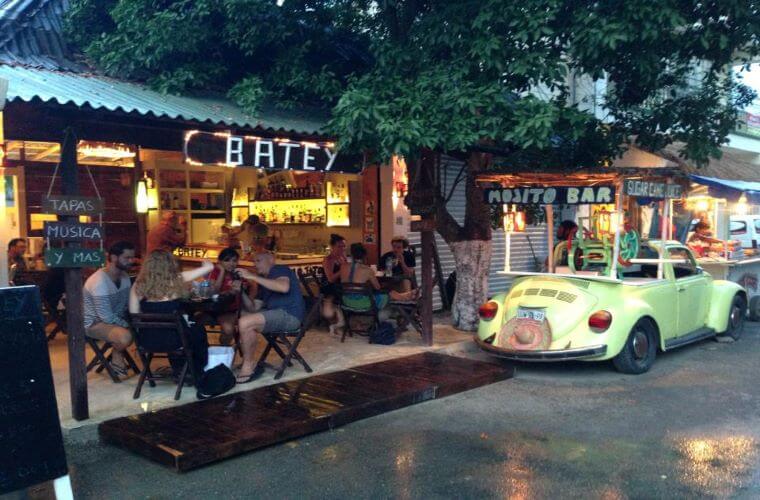 Image: visitroo.com 
There's no better place to enjoy a fresh mojito and some live music.
You can even watch them press the sugarcane in a converted VW Bug.
That's not something you see every day.
Quick tip…
This place is cash only and it's good to be careful when you're paying because I know of a couple of people being overcharged.
5. Shop for Mexican Crafts at Mixik
Looking for a place to buy some authentic and unusual mementoes in Tulum?
Take some time to stop at Mixik.
It's a lovely quirky place on the main street in Tulum's old town.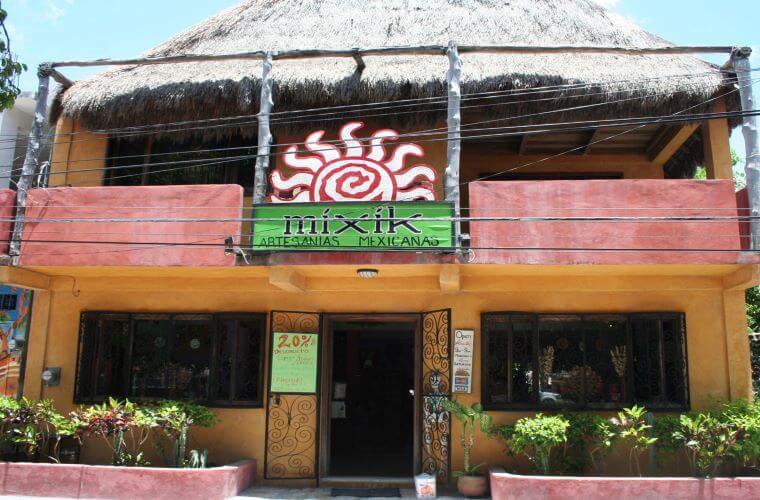 Image: busybeetraveler
The goods for sale here aren't tacky.
They have real charm and there are some really cool artisanal pieces.
Plus…
The prices are pretty reasonable.
Quick heads up…
The shop is cash only for smaller purchases.
6. Relax Under a Palm Tree at Mia Beach Club
A visit to a beach club is a must while you're in Tulum, and this is one of the best.
I love the friendly and casual vibe here.
And, I know from my friends that it's very much kid-friendly.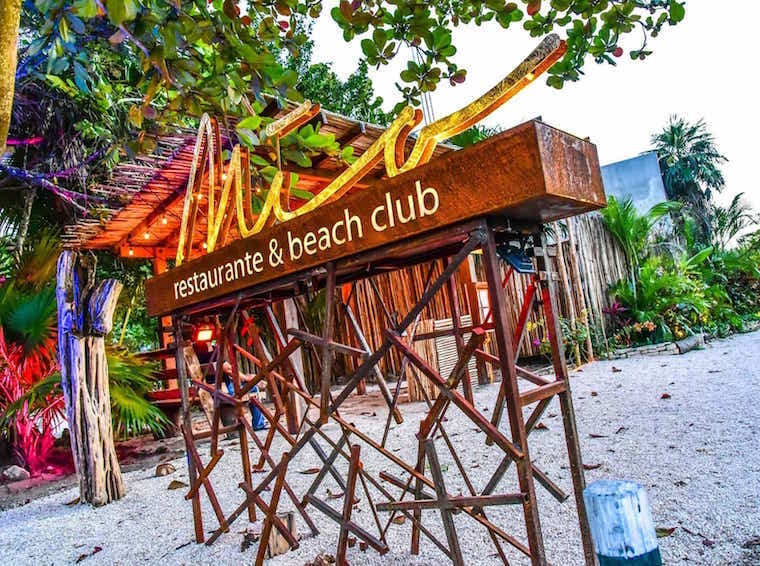 You can grab breakfast, lunch, and dinner here, and there are plenty of options for veggies and vegans.
And, let's not forget the chance to relax in the shade of a palm tree.
One not-so-positive aspect is the $20 minimum spend but it's so worth it.
For more beach club inspiration check out my blog post.
"Your Ultimate Guide to The Best Beach Clubs in Tulum 2023"
7. Explore Tulum on a Day Tour
Staying in Playa Del Carmen and want to explore Tulum?
I can recommend the Tulum Full Day Explorer Tour.
It takes you to the Tulum ruins where you get a guided tour.
Then, you spend the rest of the day swimming the reef with marine wildlife and taking a dip in a cenote.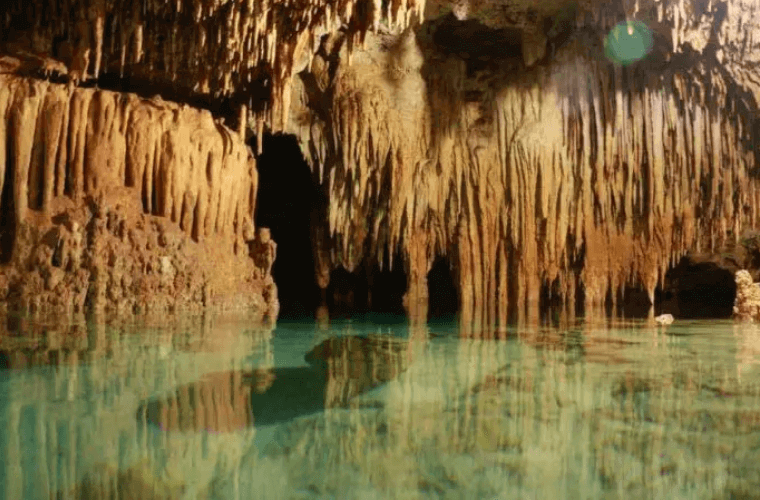 It's a fantastic day of adventure and a great introduction to the delights of Tulum.
Call us at 888-537-9797 to talk about this tour and other Tulum trips we can book for you.
8. Cool off in Gran Cenote
If you ask about cenotes in Tulum, chances are Gran Cenote will get a mention.
It's a massive and magical space that consists of caves and caverns as well as an open-air cenote.
And, it's a popular hangout for swimmers, divers, and snorkelers.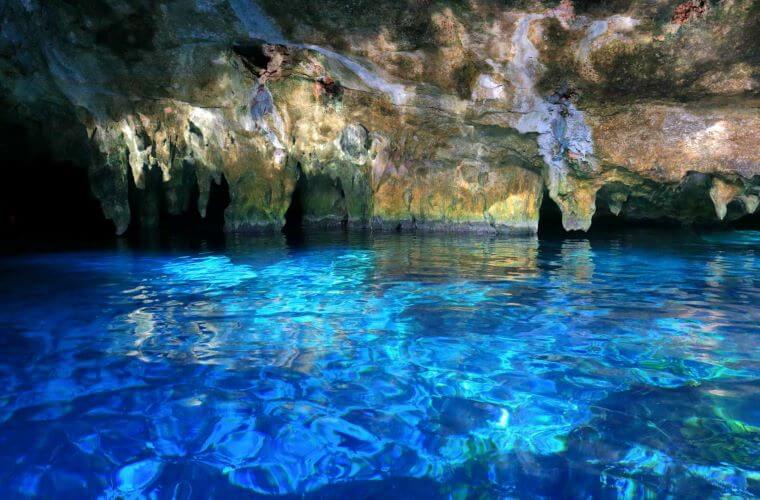 This place can get pretty busy but I'd still recommend it as a great example of one of these freshwater sinkholes that are a common part of the landscape here.
Plus, there are facilities including lockers, bathrooms, changing rooms, and a shop selling snacks.
Here are a couple of hints to make the most of your time here:
Be prepared to leave a deposit for lockers.
There is equipment to rent but I'd recommend you bring your own because the quality of the rental gear isn't always the best.
Have a look at my blog post for more info on what you can expect at a cenote.
9. Take to The Sand at Playa Paraiso
Playa Paraiso is full of Instagrammable moments.
It's a beautiful stretch of white sand that's dotted with palm trees and framed by clear blue skies and the Caribbean Sea.
This is the busiest beach in Tulum and it's popular with families.
But, it's a big space so there's usually plenty of room for everyone.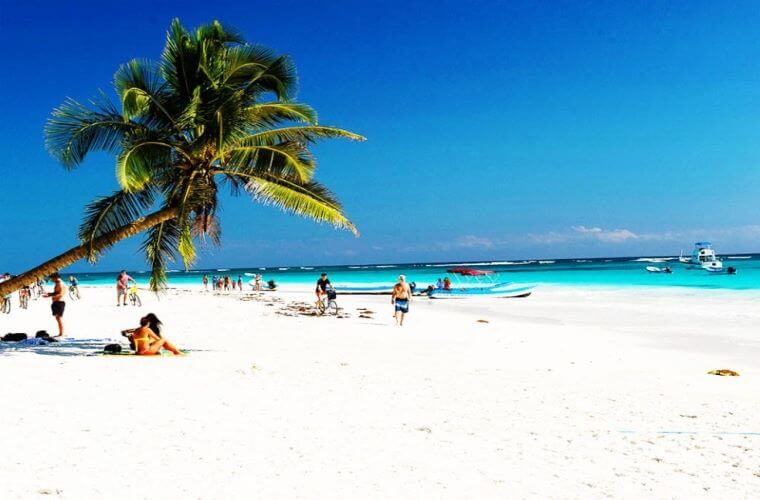 Plus…
There are plenty of restaurants close by where you can relax and enjoy a meal with a cocktail or two.
10. Combine a Tulum Adventure with Xel-Ha Eco Park
This is another Tulum combo tour that you can take from Playa Del Carmen.
It's a great introduction to the Tulum Ruins.
And, you get to have fun at Xel-Ha Eco Park.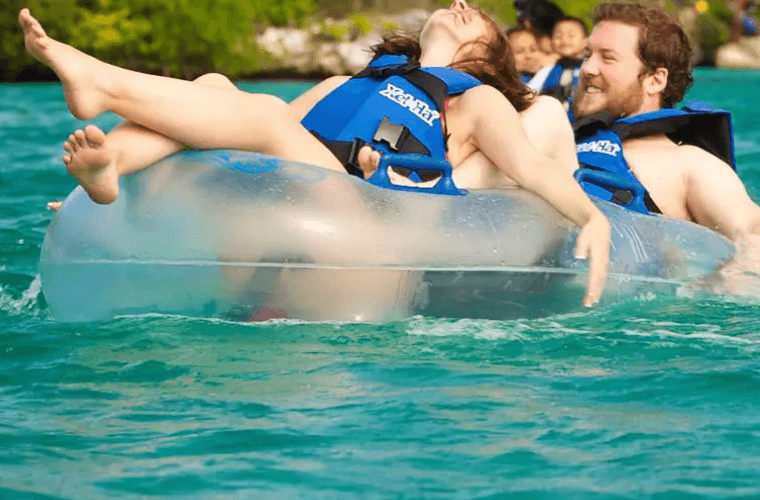 This park is one of my favorite places for de-stressing and having a great time.
What's not to love about snorkeling, tubing down a lazy river, and ziplining.
It's AMAZING!
An extra plus is that your food, drinks, and equipment are included in the tour.
11. How Do I Get to Tulum From Cancun or Playa Del Carmen?
One of the things I love most about Tulum is that it's so easy to get to.
Here's some advice about how to reach Tulum from Cancun and Playa Del Carmen.
Travel from Cancun to Tulum
Tulum is around 118 kilometers, or 73 miles, from Cancun
It takes around 90 minutes to complete the journey by road.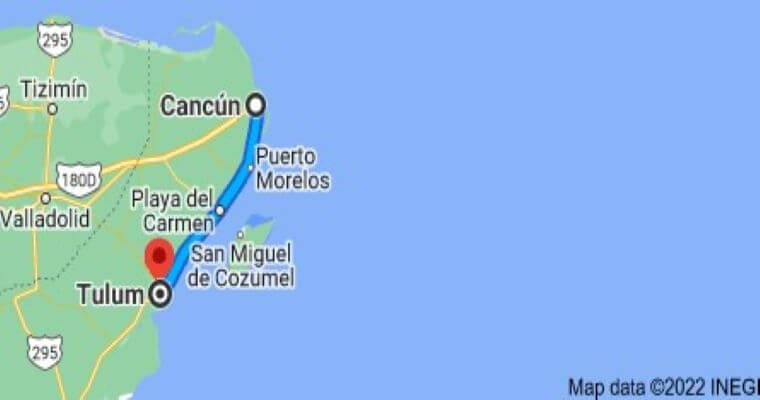 You can hire a taxi for the journey but the haggling involved can be a bit of a nightmare:
I'd recommend four options:
A private transfer costs around $120 for up to three people and you can get a slight discount if you book a return journey as well.
The regular shuttle transfer from Cancun to Tulum costs around $40 per person each way. This is an affordable option but be aware that you will stop many times to drop people off so the journey will take longer.
Renting a car gives you the freedom to travel where you want to. If you choose this option, you'll need to bring your license, and a copy of valid insurance, and you should always carry your rental agreement with you. It costs around $10-$25 per day to rent a medium car and around $40 per day for an SUV.
The ADO bus for Tulum departs Cancun airport around six times per day. It's also possible to catch a bus to Playa Del Carmen and change there. The journey takes around two hours and costs approximately $14.
Travel from Playa Del Carmen to Tulum
Tulum is around 64.7 kilometers or 40.2 miles from Playa Del Carmen.
It takes around 58 minutes to complete the journey by road.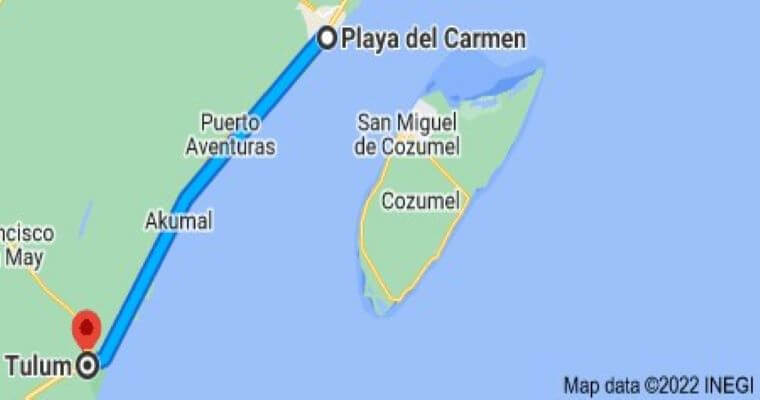 I've done this journey many times and I'd say the Colectivo is a good option.
It's a mini-bus shuttle between Playa Del Carmen and Tulum and it only costs a couple of dollars each way.
I will say that this transport can get packed and there usually isn't any A/C so it isn't for everyone.
But, I think it's all part of the Mexican experience.
You do have other options if you prefer.
The ADO bus costs around $3-$5 each way and I'd recommend you book a couple of days in advance.
A taxi costs around $30. You should always ask your hotel to book a taxi for you and make sure the fare is agreed upon before you leave.
Car rental is a good option if you want freedom. We're happy to provide advice about this so that you avoid scams. Prices are similar to those referred to above for Cancun.
We're always happy to help clients with travel requirements so that there's no stress involved with enjoying the beauty of Tulum.
Ready to Book Fun Activities in Tulum?
Like the sound of a Tulum adventure?
That's excellent news.
We're happy to help book tours and activities for you and we'll often get you discounts of as much as 15-20%.
We'll also book your accommodation in Tulum, Cancun, or Playa Del Carmen.
We're a local team of experts so we'll get you the best bang for your buck.
And, we'll give you all the current advice you need to get the most from your vacation.
Call us at 888-537-9797 to start your adventure.
Have questions or comments about things to do in Tulum?
I'd love to see what you have to say and hear about your Tulum experiences.
Just pop something in the comments and I'll get on it ASAP.
Other Blog Posts You May Be Interested In
---
Trending Now
You may also like