The Royal Playa del Carmen Review
---
For an up-to-date 2017 review of The Royal read our latest blog.
At PlayaDelCarmen.com we book a TON of vacations for The Royal Playa del Carmen.
Because we have awesome pricing, it's one of our best-selling hotels hands down. It's also one of the top adults-only resorts in Playa del Carmen. 
But what makes this all-inclusive resort inPlaya del Carmen so special? Fortunately, I had the opportunity to find out just that.
Last week, I grudgingly took a day off from my busy schedule to go spend the day at this beachfront hotel.
I wanted to see for myself if The Royal lived up to all the hype.
Here are my thoughts.
To keep it easy, I've divided this review into the following sections:
You can click on the links above to go directly to that section.
My Royal Playa del Carmen Review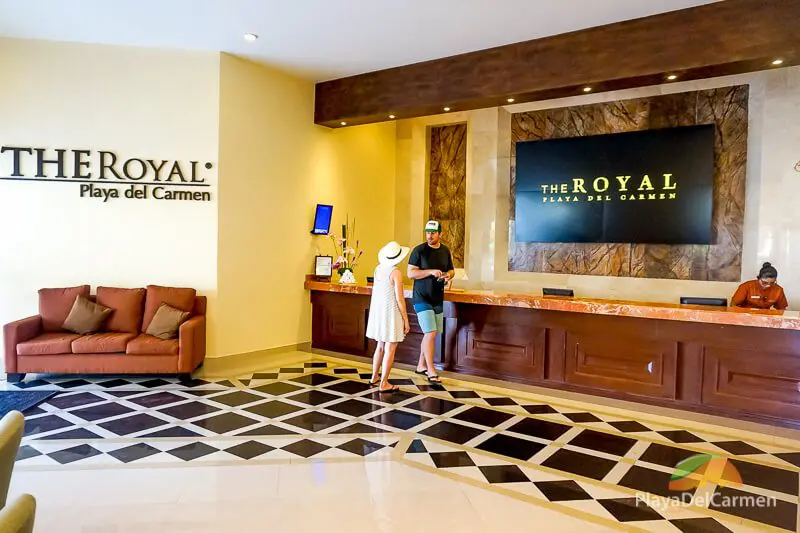 The Royal Playa del Carmen impresses just as soon as you step into the resort.
From the very beginning, a bevy of staff members are there to greet you and welcome you in to your new home away from home.
And they do so with their hands over their hearts, which is something to get used to because every single employee at The Royal will say hello in heartfelt fashion.
Once you finish check-in, which is quick, simple, and friendly, you walk into the uber-spacious, circular lobby.
The luxuriousness of what you see is just the doorway to the incredible vacation experience that awaits as you cross the lobby headed to your suite.
The Pros and Cons of The Royal Playa del Carmen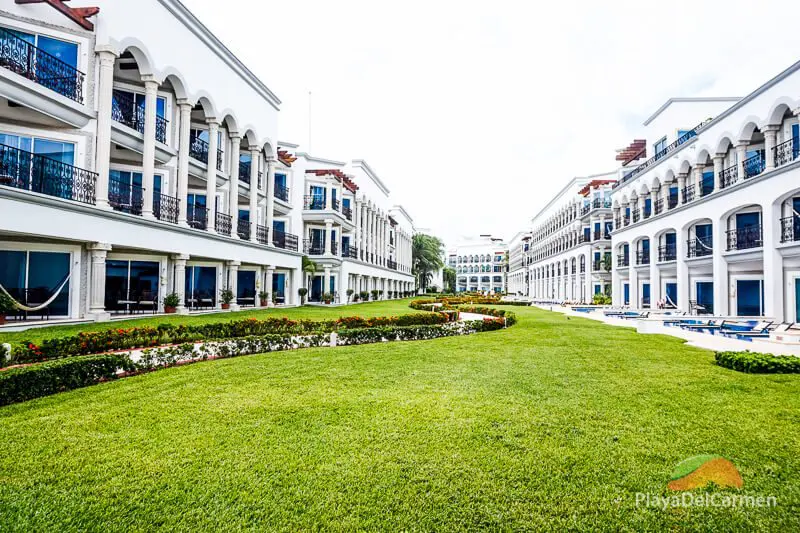 Nobody is perfect and the same is true for hotels.
And even if The Royal deserves a very high ranking, it may not be the right solution for everybody.
Let's look at it in terms of the pros and contras.
5 Pros of The Royal
The service at the hotel is simply incredible. You're always well attended to no matter who it is on the staff who attends you.
The food is great. The Royal uses quality ingredients, the food is fresh, and above all it is as varied as it is delicious.
The Royal Playa del Carmen has one of the best locations of any Playa del Carmen hotel. Right on the beach and steps away from 5th Avenues offers guests the best of both worlds.
Adults-only. A total kid-free zone that will help you keep your sanity if you're looking to take a break from screams and expert fit-throwing or simply prefer a little more peace and quiet.
You'll find 5-star quality all-around and in every aspect of the hotel. In other words, you get what you pay for.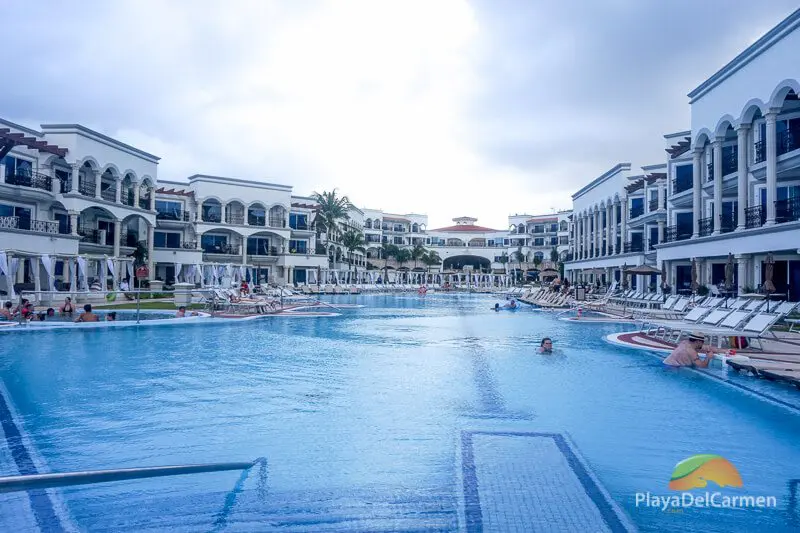 5 Cons of The Royal
Staying at an all-inclusive discourages you from frequenting local eateries and bars, who in spite of their high quality suffer from their inability to compete with the all-inclusive.
While location is one of the hotel's best traits, it can also be a disadvantage for those looking to get away from the crowds. Being so close to everything also means you're close to everybody else.
The beach at The Royal is nice, clean, and generally has calm waters. However, once again location places a roll in the sense that if you're looking for a more private beach this won't be the case. See below for more comments about the beach.
The rooms at The Royal are spectacular and have everything you would expect from a hotel of this class. However, although the hotel sits right on the beach, there is a big difference in terms of cost and the visibility of the Caribbean Sea between oceanfront rooms and rooms that have a partial oceanview.
No kids. This is the yang to the ying of being adults-only. Because, on the one hand, you basically just substitute screaming kids for screaming adults. On the other hand, kids are awesome and mostly bring joy (when they're not being utter brats).
---
Oceanview or Garden View?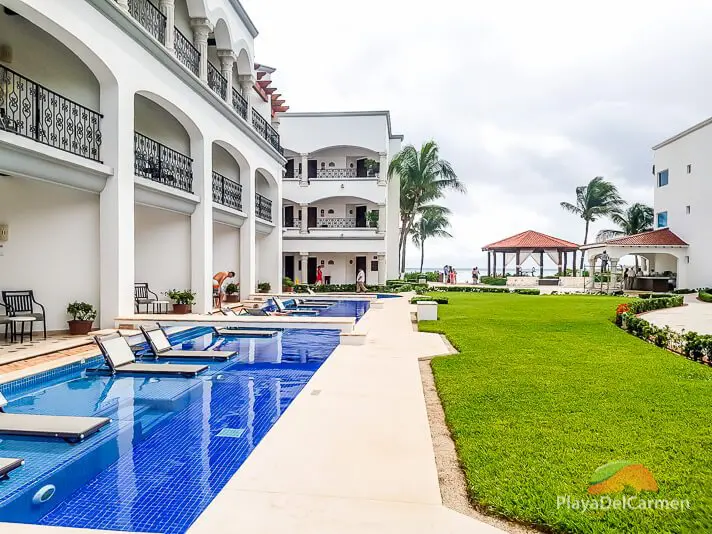 For many people, having a room with an oceanview as an essential aspect of a vacation at the beach.
I personally find it overrated, especially when you are at a hotel where the white sand beach is just a few steps away.
But everybody is different and that's why there are diverse options for everyone.
The thing to know here is this: your suite at The Royal is going to rock, no matter which view you have.
That said, however, only the oceanfront rooms have a real, direct view of the Caribbean Sea.
Those considered oceanview suites have partial views from the balcony, but as the hotel runs west from the beach south to 5th Avenue, the sea can sometimes be quite a distance away or just have a few of the garden/pool.
513 suites are divided into the following room categories at The Royal:
89 Royal Junior Suites
82 Royal Junior Suites Garden View
60 Royal Junior Suites Central Garden View
187 Royal Junior Suite Ocean View
20 Royal Junior Suite Swim-Up Ocean View
30 Royal Junior Suite Oceanfront
17 Royal Master Suites
6 Royal Junior Suite Beachfront Walk-Out
10 Royal Junior Suite Swim-Up Beachfront Walk-Out
4 Royal Master One Bedroom Suit Oceanfront
8 Royal Presidential Suite
If having an oceanview is important to you, be sure to make sure that you are getting the type of suite you want when reserving your stay at The Royal; an upgrade can be costly.
---
The All-Inclusive Program at Royal Playa del Carmen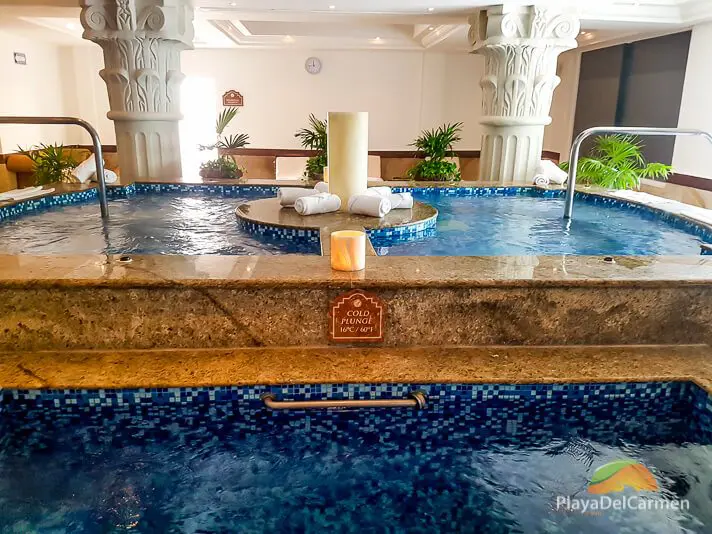 Ahhh. Awe. All-inclusive.
The Royal Playa del Carmen places a premium on keeping their guests happy.
This all-encompassing commitment to excellence can be seen in the hotel's all-inclusive program.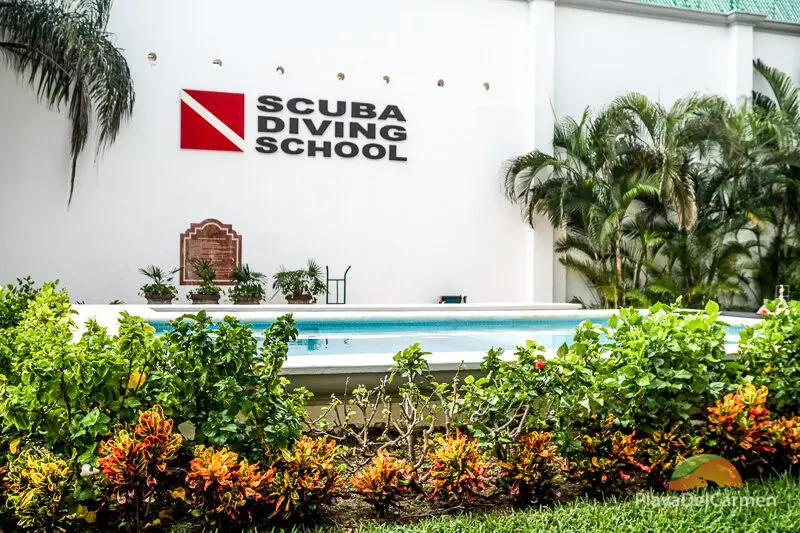 Here are just some of the luxuries included in your stay at The Royal:
A state-of-the-art fitness center including Center & Stott® Pilates equipment.
The choice of 7 different quality restaurants plus the full use of all facilities and restaurants at the neighboring sister and kid-friendly property of The Grand Porto Real.
Premium drinks at all bars and the choice of 3 different white wines and 3 different red wines.
24-hour prompt room service
24-hour VIP lounge
Tequila, wine, martini, and coffee tastings once a week by professional sommeliers
Complimentary access to hydrotherapy circuit at SPAzul
Olympic-size pool with 164 ft. lap lane
Relaxation pool with 82 ft. lap lane
Complementary introductory scuba lessons
Lighted rooftop tennis court
Daily entertainment program
Volleyball, billiard, ping-pong and board games
Beach butlers
Handicap-accessible suites throughout the resort
In-suite hot tub
WiFi throughout the resort
Pampering, comprehensive, and quality perfectly describe the all-inclusive program at The Royal Playa del Carmen.
And those are just some of the elements that stand out.
---
Eat, Drink & Be Merry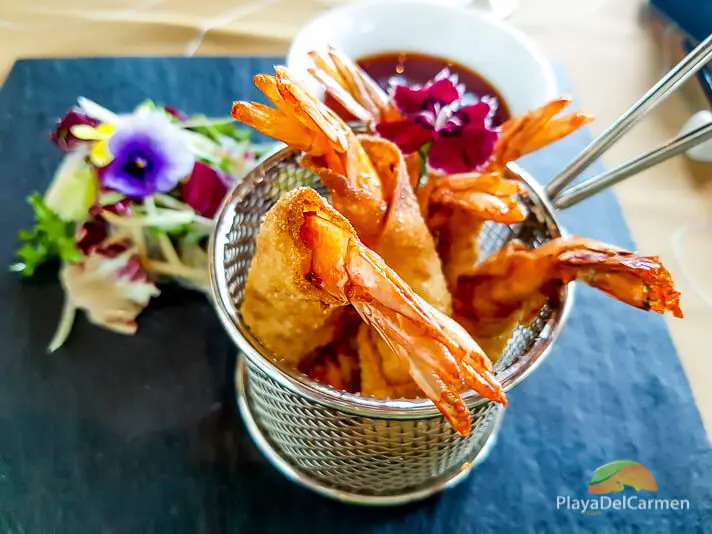 This is one of the "cherries on top" type aspects of The Royal Playa del Carmen and goes hand in hand (or fork to mouth) with the previous point.
Included in the all-inclusive program is the opportunity to wine and dine at six different restaurants at The Royal Playa del Carmen plus the three restaurants at the Grand Porto Real.
I generally find the food at all-inclusive hotels to be sub-par.
That's not the case here.
I did only try the food at two of the restaurants, not having room in my stomach for what my Pavlovian instincts wanted me to try at Maria Marie; a Mexican-French fusion restaurant which also happens to be the resort's most popular.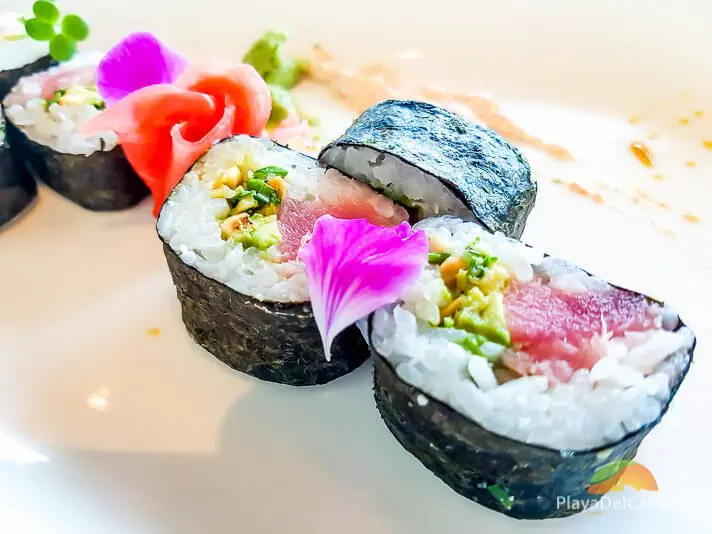 That said, however, I was impressed; first by the breakfast buffet at Spice and then at the Asiana restaurant, the latter serving up Chinese, Japanese, and Thai food.
The food rocked, especially at Asiana, and all The Royal Playa del Carmen reviews rave about the food ?
They're spot on.
I interviewed Luis Ake Sosa, the Food & Beverages Manager at the Royal, to ask him about what he would suggest on a typical day.
He suggested breakfast at Spice due to the wide variety of fruits, vegetables, and stews available. They also serve up fresh juice, omelettes, hotcakes, and French toast.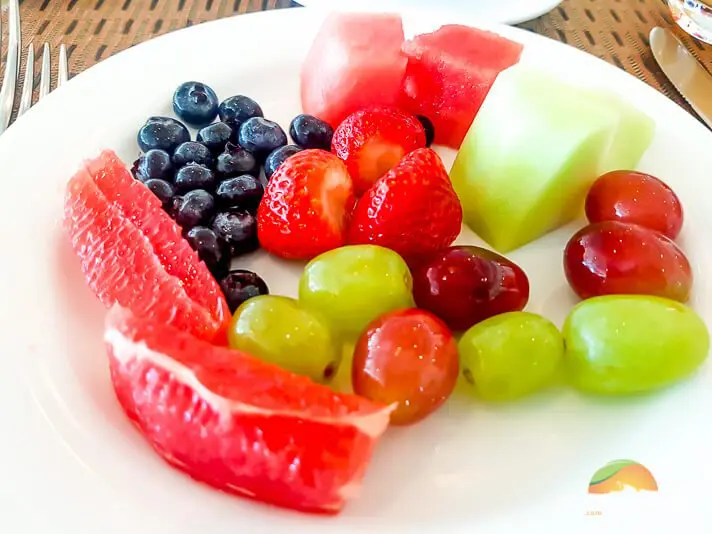 For lunch, Luis recommends something quick and easy at Pelicanos. Pelicanos is the beachfront restaurant at The Royal, which serves up an array of seafood dishes and sandwiches.
You'll need to R.S.V.P. in the evening, as the popular Mexican-French fusion restaurant gets the nod for dinner.
Luis suggests ordering the poblano crepes with a glass of Merlot wine, following it up with a Italian-like chocolate soufflet called Chocolatin for desert.
For longer stays, consider trying out the restaurants at the Grand Porto Real, and for a night out on town check out our suggested list of Playa del Carmen restaurants.
Locals should note that both Asiana and Pelicanos are open to the public.
---
What About Those Rocks on the Beach?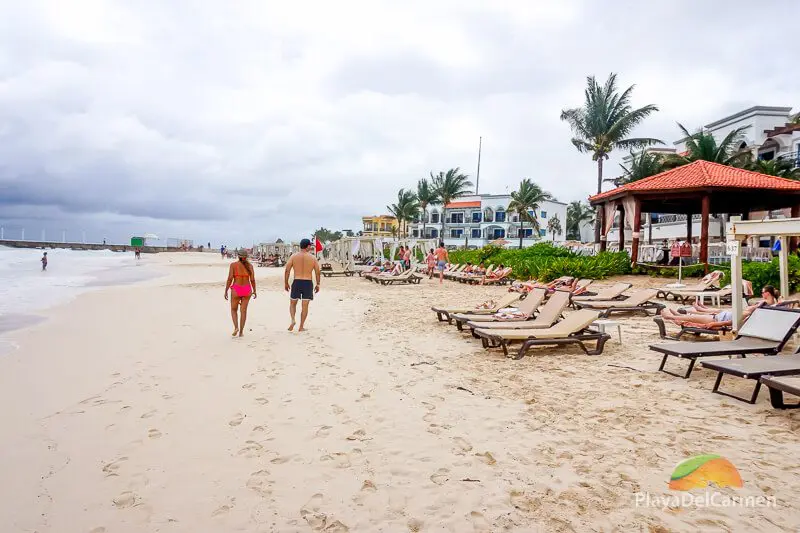 One of the discussions that gets a lot of traction in forums such as TripAdvisor deal with the beach at The Royal.
Again, everyone has their own standards and expectations and that's fine; our diversity is what makes humanity so rich and interesting.
I personally find the beach area at The Royal great.
Why?
Because you are so close to the action there's always a lot going on; people swimming, walking by with their strange suntan lines, kids playing, etc.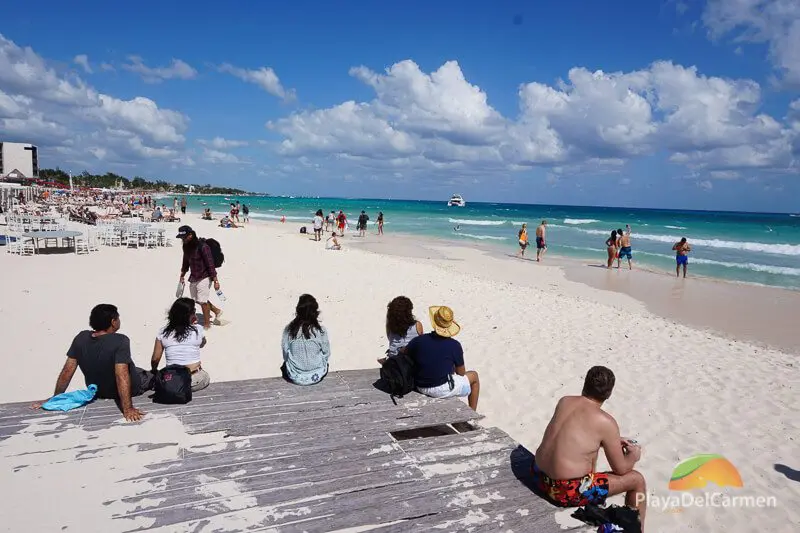 Having people around, be they from the hotel or otherwise, is part of the enjoyment.
As for the beach at The Royal being rocky, yes and no.
The hotel is located close to the pier. The closer you get to the pier, the more it's likely you'll encounter some rocks in the water.
However, go swimming just a few more feet to the north and there are no rocks.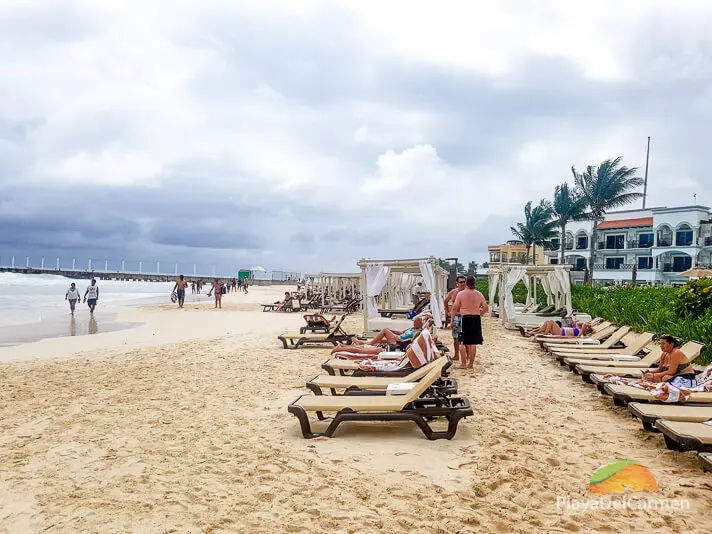 Now, wasn't that easy?
Finally, the beach is a bit narrow.
This wasn't always the case.
However, father time and beach erosion affecting the entire region has dealt a blow to this section of the beach.
A once wide and expansive stretch of beach has been reduced to a fairly narrow strip.
Is it a problem?
Environmentally, yes it is.
Will it affect your vacation or does it make the beach any less beautiful?
Not at all.
---
SPAzul: Wellness & Relaxation at The Royal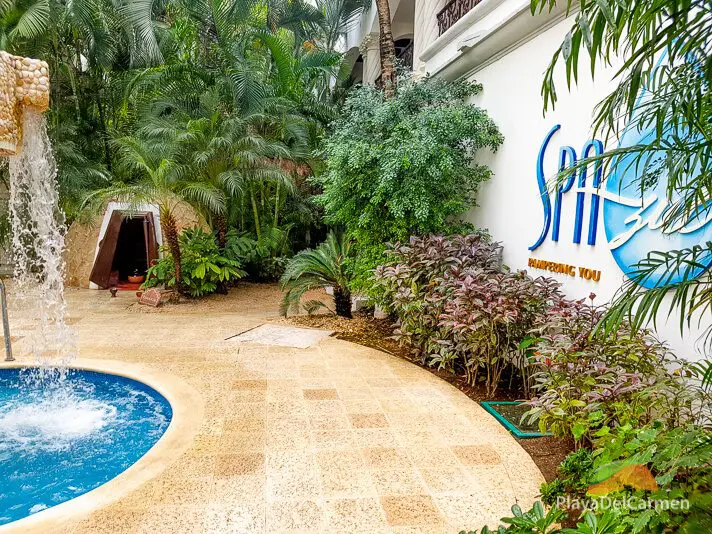 I also had the privilege of checking out SPAzul.
While I didn't get my body dipped in searing wax while pan flutes rang out over the speakers and my eyes covered in slices of cucumber, I did get a site inspection.
The spa's friendly director, Maria Luisa (Marilu) Murguia, took the time to show me around and explain all of the spa's numerous therapeutic services.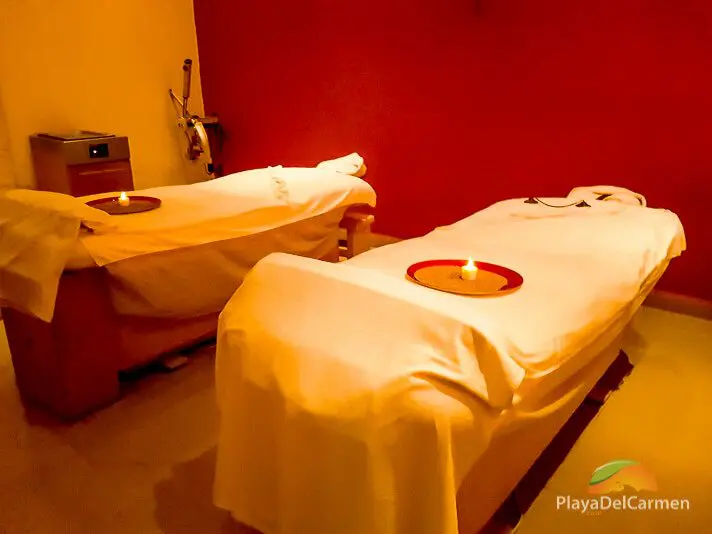 Their spa menu includes a wide array of treatments, wraps, and massages.
The installations are impeccable, the ambiance is perfectly soothing, and the entire staff is warm and friendly.
They also offer the use of a temazcal, which is a type of regional sweat bath.
When I asked Marilu what treatments she would recommend taking into consideration most people won't go more than once or twice, she suggested starting off the stay with a chocolate exfoliation to rid the skin of impurities and thus improve the the absorption of Vitamin D, and a Mayan Massage; a combination of different techniques including deep tissue, hot stones, relaxing & sport massage, done with aromatic oil candles in order to relieve tension.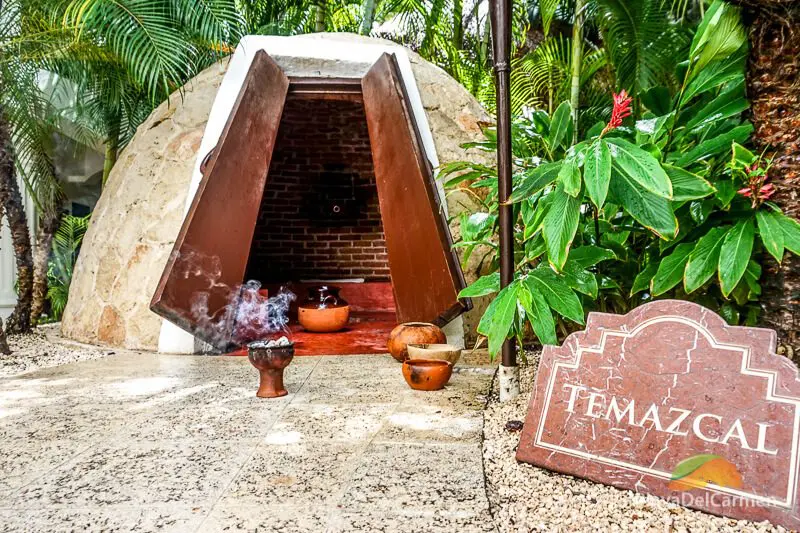 The hydrotherapy circuit is included in the all-inclusive package, and I did do that prior to leaving the hotel.
Between hot and cold, sweating and shivering, it felt great.
As a result of the hydrotherapy circuit and the pampering of the staff at the hotel, I left feeling happy and refreshed.
And remember, because SPAzul is open to the public, locals and visitors to Playa del Carmen can also enjoy the amazing treatments found within the confines of this holistic haven.
---
A Royal Playa del Carmen Resort Map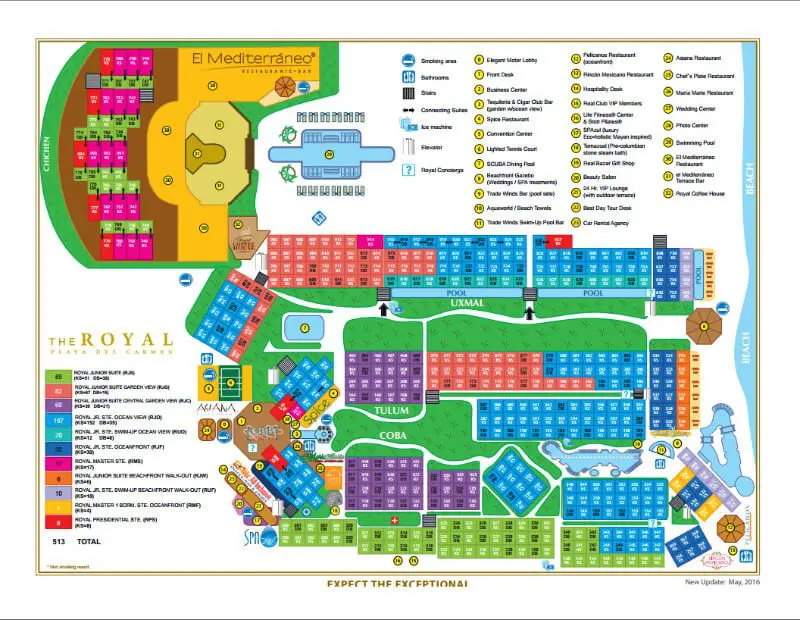 Royal Playa del Carmen is a big resort. The 513 suites are spread out in a horseshoe shape over expansive grounds that stretch back to the east from the beach up to 1st Avenue.
To make it easier to understand the layout and room distribution we've included a map of the hotel as seen above.
Talk about fancy.
As you can see from the picture above, most rooms will have a partial ocean view; especially those located on the second or third floors.
---
Deals & Discounts at Royal Playa del Carmen
A stay at The Royal Playa del Carmen is not cheap.
But…
Deals and discounts are available through the magical maneuvers of our talented travel agents at PlayaDelCarmen.com.
How you ask? We have preferred rates.
The fastest way is to call us toll-free at 888-537-9797 to get a quote.
or send us a message through our contact page and provide them with the following information:
Number of people in your party
Travel dates and whether they are flexible
Number of nights
Estimated budget
Any specific room preferences
You'll get an email back fast with a quote.
But you know what else?
They can also price match most of the vacation packages offered up by the mega-monstrous competitors such as Expedia.
Did they give you a better price?
We'll match it, beat it or tell you that you should take the offer.
But i have more for you.
In addition to match prices or beating prices, we can also throw in extra perks like discounts on tours or complimentary upgrades to private airport transport for groups of 4 or more, among other juicy jewels.
All of which makes contacting us a no-brainer.
---
Royal Playa del Carmen Pictures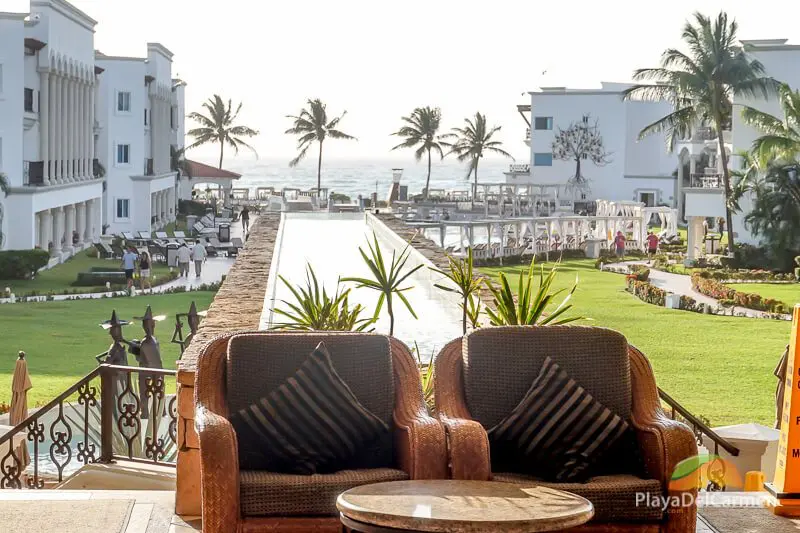 I'm by no means a professional photographer, but I like to think I take decent pics.
I also think that it highlights the authenticity of what I am writing about.
I would have liked to have taken pictures with the sun shining, flamingos flying overhead, and dolphins playing in the water.
On the other hand, "Render therefore unto Caesar the things which are Caesar's."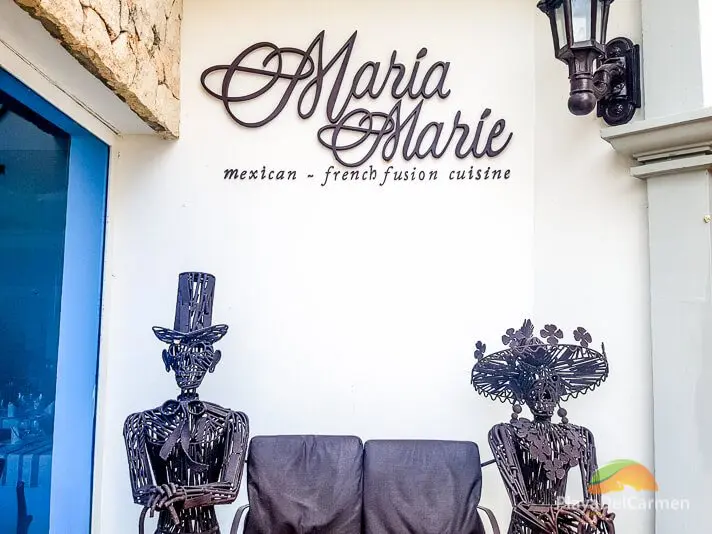 And to Disneyworld the things which are Disneyworld's.
We're about authentic, not Photoshop perfection.
Some of our images may be crooked, poorly cropped or have evil clouds (clouds, not clowns) lurking in the background, but you know what?
You get what you see.
---
Royal Playa del Carmen Weddings
Ah, love.
Destination weddings in Playa del Carmen are becoming increasingly popular.
And a Royal Playa del Carmen wedding is a great choice.
In fact, at PlayaDelCarmen.com we have helped many couples plan their wedding at The Royal.
Our travel specialists aim to make planning a Playa del Carmen wedding simple.
Not only can they get you the best pricing and group rates but can help with hotel weddings, private venues, beach gazebos, DJs, you name it.
They can help you plan your destination wedding from A to Z.
Luckily for me, I got to witness a beautiful ceremony at the beach while I was at The Royal.
The happy couple was accompanied by a group of about 30 to 40 close friends and family.
Yes, in Playa del Carmen, love is in the air…
---
On a Final Note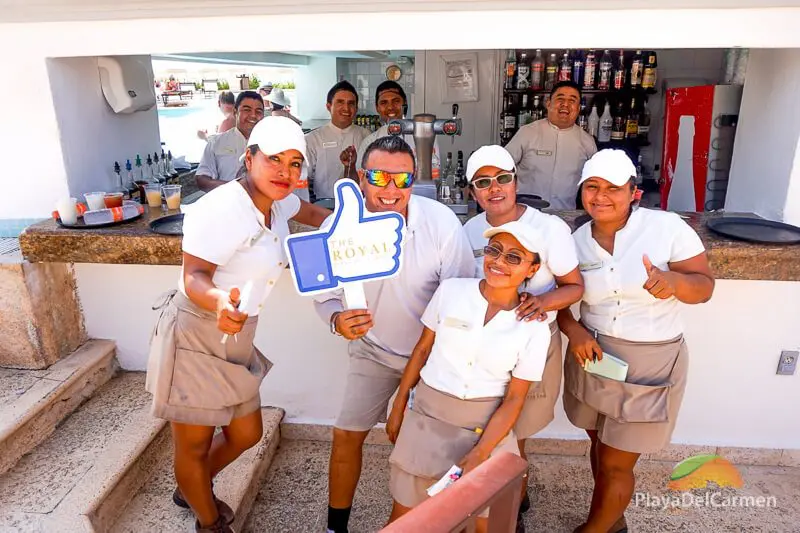 I have one last comment before I say goodbye.
Tipping.
You're staying at an all-inclusive.
Tipping is not obligatory and, as such, you should never feel obliged to do so.
But.
The young men and women who work hard to make your vacation unforgettable, spectacular, and awesome are on the lower end of the wage scale.
Being generous and leaving a few dollars for the kind maids, waiters, bartenders and the like will always be much appreciated.
Already been? Please share your comments below!
Ready to book your stay at The Royal?
Get our travel specialists up and out of their hammocks by calling 888-537-9797 today!
---
Trending Now
You may also like