Weddings at Sandos Playacar | Our Honest Review 2023
---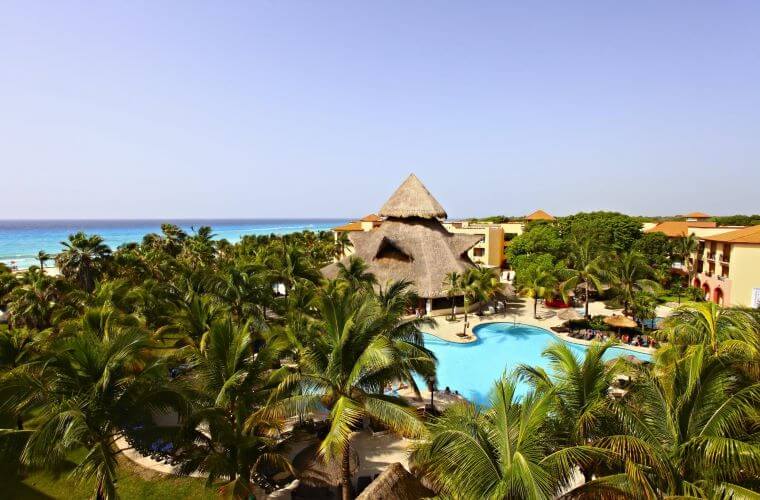 Looking for advice about weddings as Sandos Playacar?
You're in the right place!
Our award-winning weddings team arranged more weddings at this hotel than any other resort in the area in the last 12 months!
So, when it comes to getting you the best deal and knowing what to expect, we've got you covered.
Discover our honest insights,  wedding packages, romantic venues and more at Sandos Playacar.
Plus, get your look at the luxury accommodation and five-star activities available.
Ready to delve into the delights of Sandos Playacar?
Let's go…
Weddings at Sandos Playacar | Your Ultimate Guide
---
1. Hotel Overview
★★★★★ | Family-friendly| Playa Del Carmen
Searching for a destination wedding resort with a gorgeous beach of soft white sand?
Sandos Playacar is situated on one of the most breathtaking beaches on the Riviera Maya.
And, you get direct access to the beach from the resort.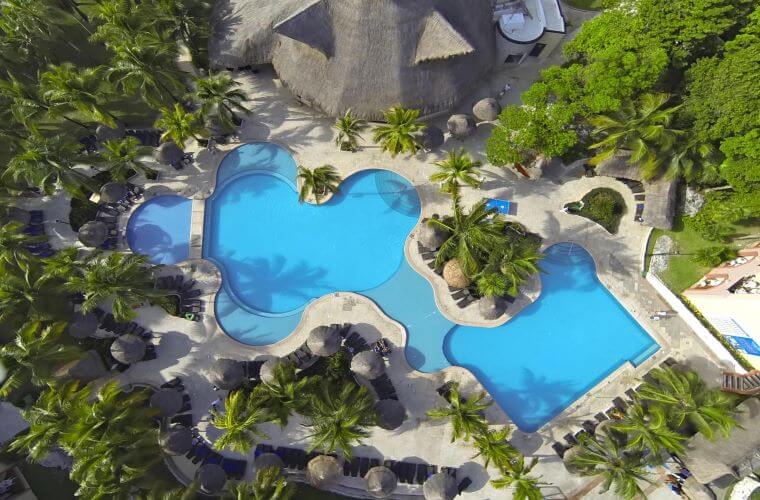 You and your partner can take a stroll along the sands, or simply relax with a cocktail on the shores of the Caribbean Sea or at the side of one of the resort's pools.
There's also a choice of restaurants to dine at with an array of international cuisine on offer.
For entertainment, outside of your wedding celebrations, there are water sports, fitness activities, and live music shows for you and your wedding guests to check out.
I'd also like to give a shout-out to the new water park at the resort that's SO MUCH FUN.
And, after all the excitement that each day at Sandos Playacar brings, you may want to relax with a treatment at the luxury Spa.
Is Sandos Playacar all-inclusive?
This is an all-inclusive luxury resort.
Amenities and activities you can expect when staying here include:
Unlimited food and drinks.
Non-motorized water sports.
Tennis courts
Full entertainment program
Free WiFi
Concierge
How far is Sandos Playacar from the airport?
The resort is around a 68-minute drive from Cancun International.
We'll arrange your transfers as part of your wedding planning.
If you and your wedding guests are traveling from the US or Canada we can also book flights if you would like us to.
2. All-Inclusive Wedding Package Options
There are three dedicated wedding packages at Sandos Playacar.
Each one is competitively priced and gives you the chance to celebrate in style.
The Sweet Romance package is popular with the couples we work with.
It costs $3,650 for up to 30 guests.
You can add extra guests at a cost of $79 per person.
Features of this package include:
Symbolic ceremony
Ceremony setup
Wedding location (additional charges may apply)
Medium-sized flower medallion for the ceremony and two floral centerpieces for the reception
Sound system for the ceremony and dinner
Bouquet and boutonniere for the wedding couple
Private cocktail hour (one hour)
Private dinner reception (three hours)
Sparkling wine for the toast
Two-tier custom made wedding cake
Services of an onsite wedding coordinator
One make-up and hairstyle at the Sandos Spa
Couples massage at the Sandos Spa
Suite upgrade for the wedding couple (subject to availability)
The other wedding packages at Sandos Playacar are:
Dreamcatcher – costs $3,150 for up to 30 guests and $65 for each additional guest.
Seaside Bliss – costs $4,750 for up to 3o guests and $79 for each additional guest.
There's more good news about the wedding packages at this resort…
If you book 18 rooms for five nights (or an equivalent 90-179 room nights) you get a $1,000 discount off your wedding package.
If you book 36 rooms for five nights (or an equivalent 180+ room nights) you get a $2,000 discount off your wedding package.
How amazing is that 😍.
Prefer to plan a bespoke wedding rather than chose a package?
No problem.
The team at Sandos Playacar provides a la carte wedding services including:
Symbolic, legal, or Mayan ceremonies
Ceremony setup and decor
Private cocktail hours and receptions
Wedding cakes
Wedding florals
Music and entertainment
Photographic and video services
Call us on 888-537-9797 if you want to discuss wedding packages or bespoke weddings at Sandos Playacar.
3. Ceremony & Reception Venues
Each of the three wedding venues at Sandos Playacar is stunning.
You can say "I do" surrounded by lush tropical greenery in the Garden.
This venue has a maximum capacity of 100 people and is perfect for ceremonies, cocktails, and receptions.
The Beach is another favorite wedding venue with couples getting married at Sandos Playacar.
It has a maximum capacity of 100 people for ceremonies, cocktails, and receptions.
There's a government fee that applies to beach weddings unless the cost is included in the wedding package.
For, more intimate cocktail hours and receptions, you may want to consider the third wedding venue at the resort.
The Lobby Terrace has a maximum capacity of 60 people.
Call us at 888-537-9797  and we'll help you plan your wedding in one of these gorgeous locations.
4. Gay Weddings at This Resort
The team at PlayaDelCarmen.Com  loves helping couples to realize their wedding dreams.
So we're passionate about arranging romantic same-sex weddings in paradise.
For most couples, this involves arranging a symbolic ceremony at the resort with the legal paperwork left for back home.
But, it's also possible to arrange a legal same-sex wedding in Mexico with just a little extra planning and paperwork.
Call us at 888-537-9797  if you want more information about this.
5. Room Types
The accommodation at Sandos Playacar is in stylish and contemporary suites.
The decor is fresh and bright.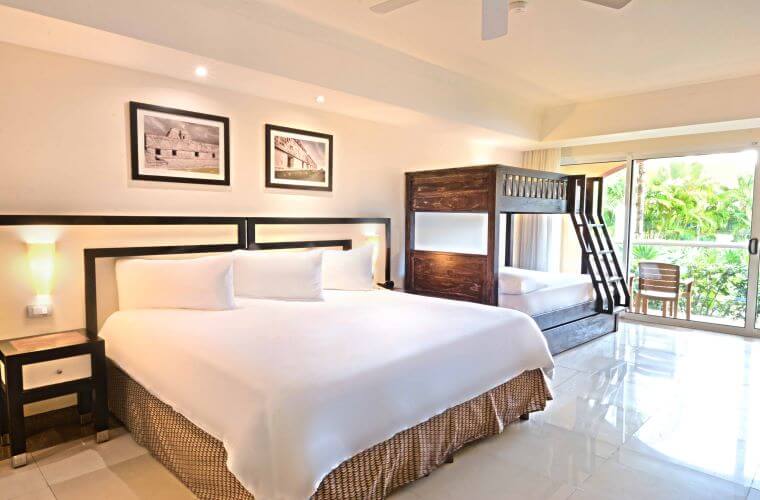 Arrange your wedding at this resort and you can expect accommodation inclusions such as:
Balcony or terrace
Coffee maker
Hairdryer
In-room jacuzzi
Minibar
Plasma TV with satellite
In-room safe
Iron and ironing board
24-hour room service
There are three accommodation sections at the resort.
The Family Section is located at the heart of the resort next to the biggest pool.
The suites available in this section are:
Riviera Family King Junior Suite
Riviera Family Queen Junior Suite
The Select Club Adults Only Section is perfect for any of your wedding guests who prefer accommodation away from any children who are staying at the resort.
Guests staying in this section also get access to exclusive areas of the resort.
The suites available in this section are:
And…
Select Superior which is a popular accommodation choice for many of the wedding couples we work with.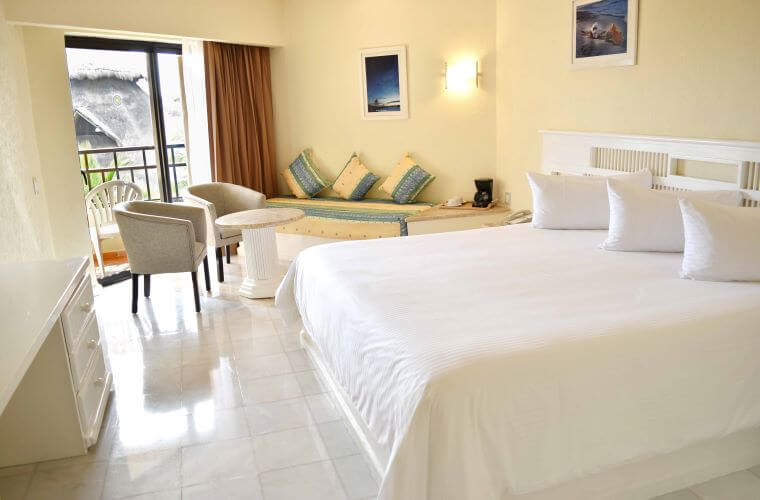 These suites have one king or two double beds and they come with a garden or pool view.
The Royal Elite Hacienda Section consists of luxury haciendas with their own sundecks, plunge pools, and jacuzzis.
This accommodation is situated amidst the naturally beautiful resort gardens.
You can choose from:
And, Royal Elite One Bedroom Suite, a gorgeous space with one king bed and one sofa bed.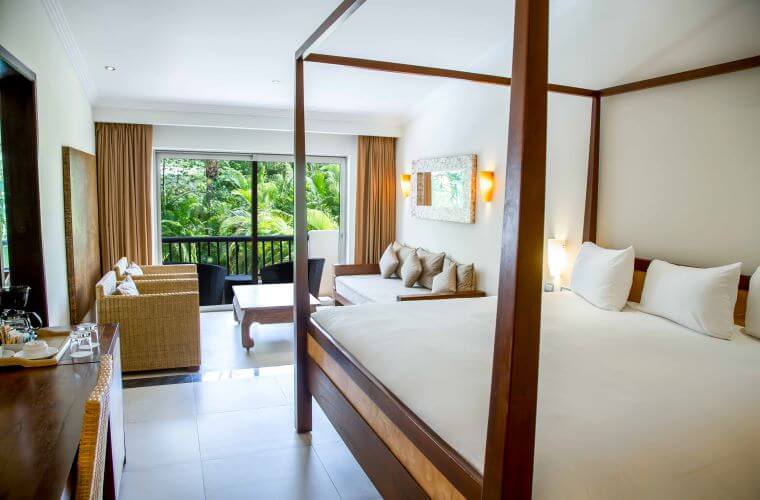 This accommodation comes with a garden or a pool view.
Plus, you get shared access to an outdoor swimming pool and jacuzzi.
How many rooms are there at Sandos Playacar?
There are 819 accommodations at this resort.
They are all suites and have their own balcony or patio,
How much does it cost to stay at Sandos Playacar?
It costs an average of around $300-$400 to stay at this resort.
The actual cost of your stay depends on which accommodation you choose and the time of year.
6. Beach
The Playacar beach is one of the best features of this resort.
Pristine white sands and spectacular views of the Caribbean Sea.
What's not to love ❤?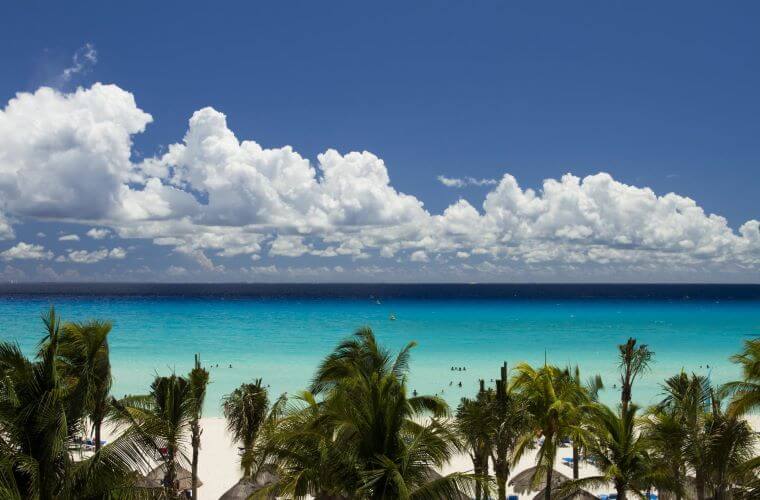 That's not all…
You get access to non-motorized water sports.
So, you can boogie board to your heart's content.
The resort does sometimes have problems with seaweed in the beach area, a common problem in this part of the Caribbean.
But, the team works hard to clear the seaweed away so it shouldn't spoil your celebrations.
I've also put this blog post together for more information about handling any seaweed issues.
"How to Handle a Seaweed Invasion in Playa del Carmen: Activities & Ideas (2023)"
7. Food & Drink
The dining and drinking experiences at Sandos Playacar are amazing.
You can your wedding guests can get together for a memorable meal in any of the twelve eateries at the resort, from snack bars to gourmet restaurants.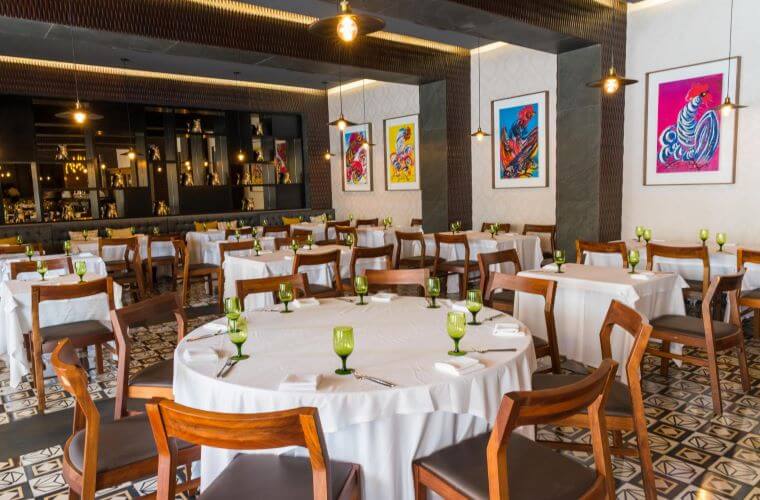 Here's what you can expect from the dining venues at Sandos Playacar.
Ocean Breakfast – a breakfast space for Select Club guests only.
Festival Grand Buffet – for international buffet dining throughout the day.
Il Piemonte – an Italian eaterie that's exclusive to Royal Elite guests and is open for breakfast each day and dinner on  Thursday, Friday, Saturday, and Sunday.
Oceanfront snack bar – the place for a quick bite just steps away from the main pool.
Gourmex – contemporary Mexican cuisine in a restaurant that's open Monday, Tuesday, Saturday, and Sunday.
El Gaucho – dining in a steakhouse that's open Wednesday, Friday, and Sunday.
Fogo De Janeiro – a Brazillian rodizio-style restaurant open for dining on Monday, Wednesday, and Thursday.
Le Gourmet – the place to be for French cuisine that's open to guests Tuesday, Wednesday, and Thursday.
Asiana – a tantalizing Asian menu in a restaurant open Monday, Tuesday, Thursday, and Friday.
Cupcake cafe – desserts and coffees are on the menu here.
Chayita – home to made-to-order tacos and burritos.
Blue Moon – a beach restaurant for snacks by the Caribbean Sea.
Sandos Playacar isn't just about great food.
There are also amazing drinking experiences to be had at the Lobby Bar.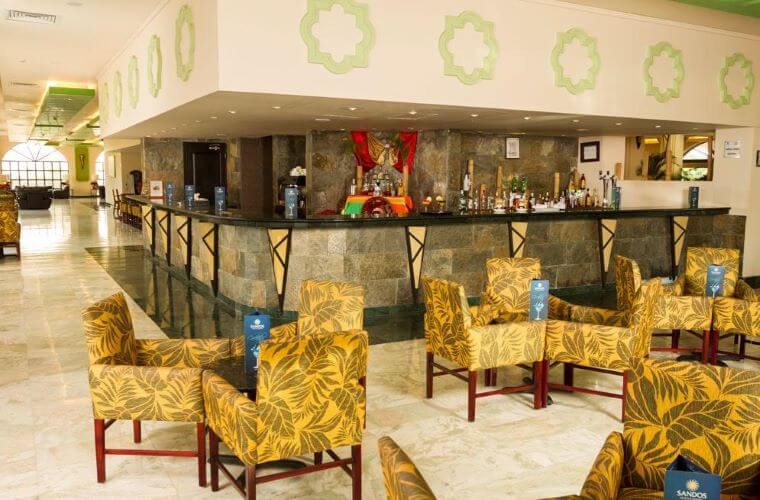 You and your wedding guests can gather in this space to sip on cocktails and enjoy being part of your wedding celebrations.
8. Activities & Entertainment
Looking for a destination wedding location with activities and entertainment for everyone to enjoy outside of your celebrations?
Sandos Playacar has a ton of excitement to offer.
You can try a scuba lesson in the pool or play a round of miniature golf.
There's also free bicycle hire available.
That's not all…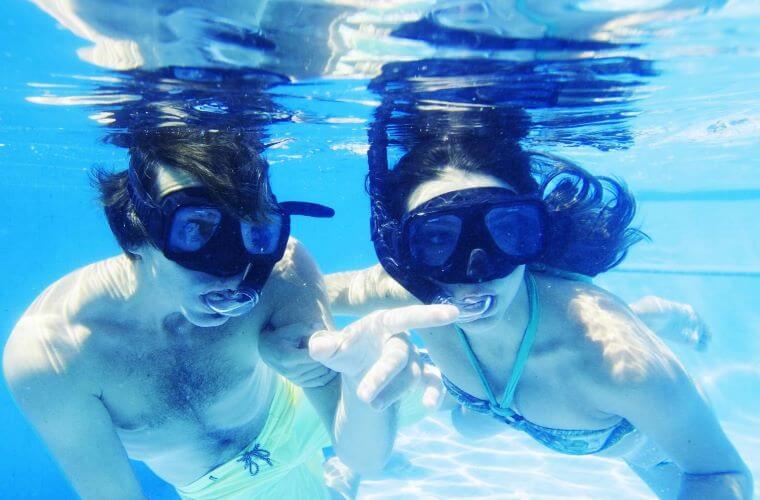 Other 5 ★ activities at this resort include:
Pool and beach games
Water sports
Tennis
Spinning
Water park
Musical entertainment
There's also a kids club to keep any younger members of your wedding party entertained.
And, not forgetting the top-class spa where you can relax and spoil yourself with a treatment.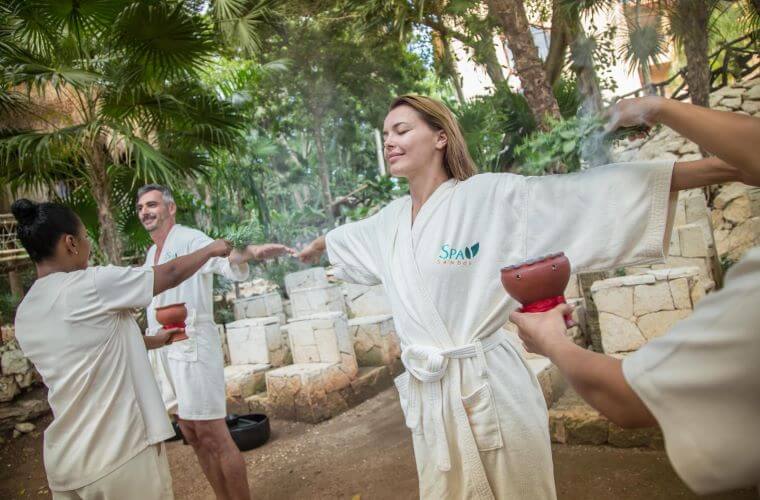 Is there anything to do outside of Sandos Playacar?
There are so many amazing experiences to be had inside the resort that you may not want to venture further afield.
But, this is a beautiful and exciting part of the world so I'd always recommend you take some time to explore.
The team at PlayaDelCarmen.Com will arrange tours and activities for you and your wedding party.
And, we'll make sure you get the best bang for your buck.
One of my favorite tours for groups is The Traveler's Table.
Book this tour and you get a culinary journey through time from the times of the Mayan Empire to today.
This involves sharing in the joy of a five-course meal while learning about influences from Spain, Africa, and the Middle East.
Looking for more inspiration about tours in the area?
Take a look at my blog post.
"10 Best Tours for Group Vacations When Travelling to The Rivera Maya (2023)"
9. What Brides Said…
"We had an absolute blast at our wedding in December! There was a change in staff very close to the event but Carlos was an angel and made the day super special. He went over every detail with us and made sure everything was exactly the way we wanted it to be. It was a perfect day!! Thank you, Sandos Wedding team for making this day so magical"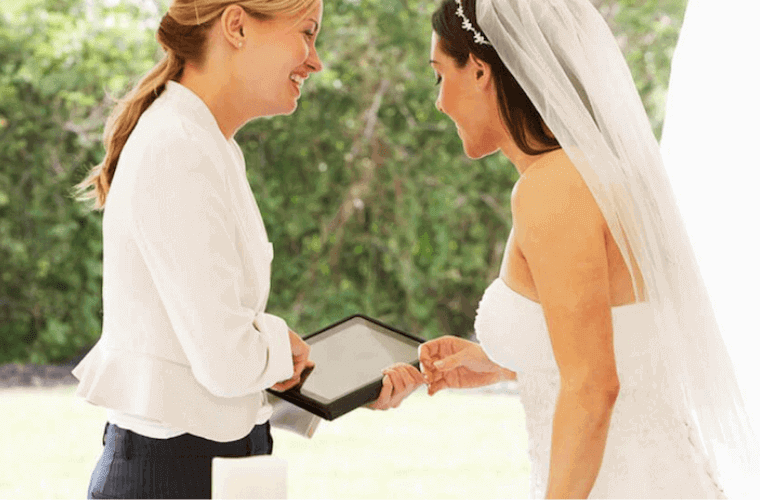 "I got married at Sandos Playacar in November. My husband and I had an amazing experience. The ceremony was on the beach with our 70 guests. I was nervous it would be too fast since we didn't have vows, but the minister did a great job. He had written out beautiful vows about marriage for my husband and me to repeat after him. Everyone loved what he wrote and they were in tears."
10. Why We Like It
The team at PlayaDelCarmen.Com is dedicated to creating magical destination wedding experiences for couples.
So, we only recommend resorts, wedding packages, and venues, that we have experience of.
And, we're always completely honest.
The features we especially love at Sandos Playacar include:
Expert wedding services including packages and bespoke options.
A myriad of international dining choices.
Family-friendly and adults-only accommodation options.
Kids club to keep any younger wedding guests entertained.
Not forgetting the stunning Playacar beach.
You may experience seaweed at times but the resort team works hard to deal with the issue and there's also plenty of poolside relaxation space.
11. Additional Resources You May Find Useful
12. Get Married in Paradise
Like the idea of a wedding at Sandos Playacar?
That's fabulous news.
Our team of local travel professionals at PlayaDelCarmen.Com is here to help you create your perfect destination wedding.
And, we'll put our local knowledge and connections to use getting you the best value for your budget.
Call us on 888-537-9797  or complete the contact form on our website to get your wedding planning journey started.
We look forward to being part of your story.
Have questions or comments about weddings at Sandos Playacar?
I'd love to hear what you have to say.
Just pop something in the comments and I'll get on it as soon as I can.
---
Trending Now
You may also like