Weddings at Hilton Tulum | Our Honest Review (2023)
---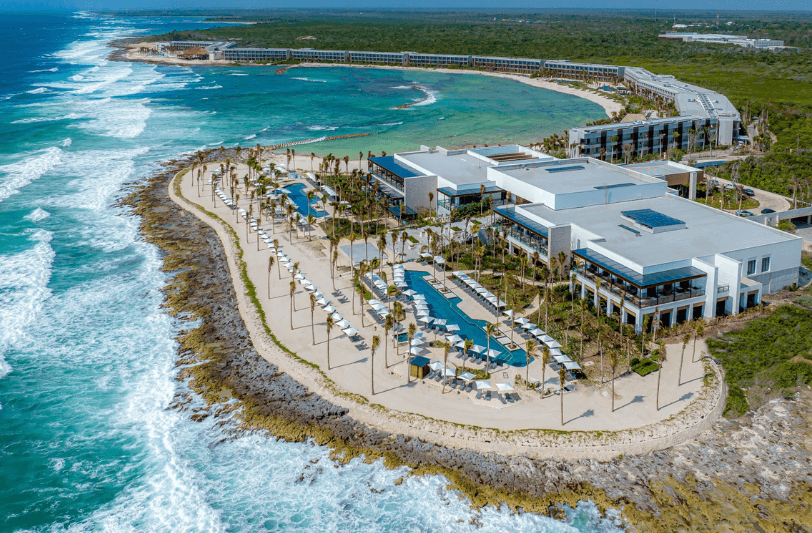 Thinking of a wedding at Hilton Tulum and want some info about this newly opened resort?
The award-winning weddings team at PlayaDelCarmen.Com is excited to work with this luxury destination.
And we have all the latest details about what you can expect when you plan a wedding at this breathtaking new arrival on the Tulum landscape.
I'll reveal wedding packages, luxury accommodation, and all-inclusive amenities and activities at Hilton Tulum.
And, our team will help you plan your dream wedding at the resort.
Ready to get started?
Let's go…
**Updated wedding package prices and inclusions for 2023 will be added to this blog ASAP**. Please contact us for more information. 
Weddings at Hilton Tulum | Your Ultimate Guide
---
1. Hotel Overview
★★★★★ | Family-friendly| Tulum
Hilton Tulum, and its sister resort Conrad Tulum, bring an extra touch of luxury to this stunning part of the world.
The resorts share a location in a secluded bay on a soft white sand beach.
It's a tranquil and beautiful space that's less than 30 minutes from Tulum center.
It's also less than a 40-minute drive from the Tulum ruins which are a must-see.
Take some time to read my blog post before your visit.
"12 Things You Need to Know About the Tulum Ruins (2023)"
As you would expect from a new luxury resort, the amenities and decor at Hilton Tulum are pristine and high-end.
There are eight pools and five signature restaurants and bars to enjoy.
There are also dedicated kids and teens areas which are expected to be opening soon, at the time of writing.
I'm especially a fan of the spa at Hilton Tulum.
Having seen it first hand, I can tell you it's gorgeous and the facilities are state-of-the-art including 16 treatment rooms, a pool, sauna, and steam rooms.
It's the perfect place to spend some chill time with your bridal party before your big day.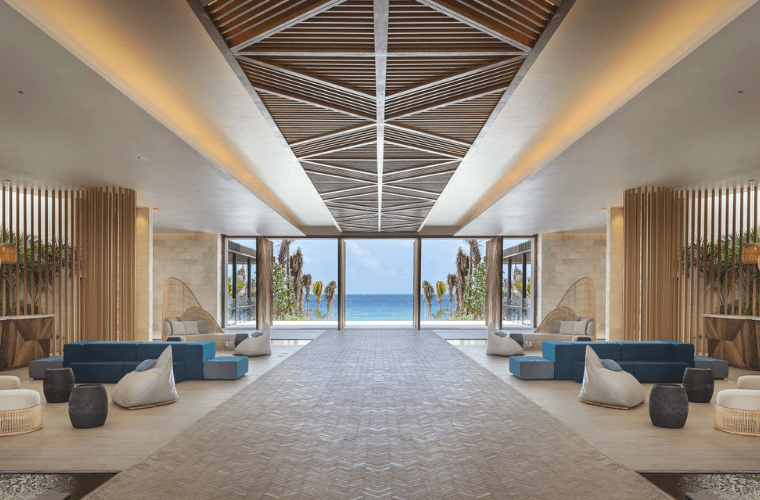 Is Hilton Tulum all-inclusive?
Plan your wedding at this impressive addition to the collection of luxury resorts in Tulum and you can savor features of the all-inclusive experience such as:
Dining and drinking
Music and entertainment every night
Group yoga, fitness, and wellness sessions
Cultural activities each day
Pool and beach service
Concierge service
How far is Hilton Tulum from the airport?
The resort is a 91-minute drive from Cancun International Airport.
Speak to us about arranging transfers so you can sit back and enjoy the journey.
We can also book flights for you if you're traveling from the US or Canada.
2. Package Options + Add Ons/Perks/Discounts
The all-inclusive wedding packages at Hilton Tulum are dedicated to creating the destination celebrations you've been dreaming of.
There are four wedding packages: Signature Wedding, Mayan Ceremony, Diamond Wedding, and Platinum Wedding.
And, you're guaranteed to find one that suits your style.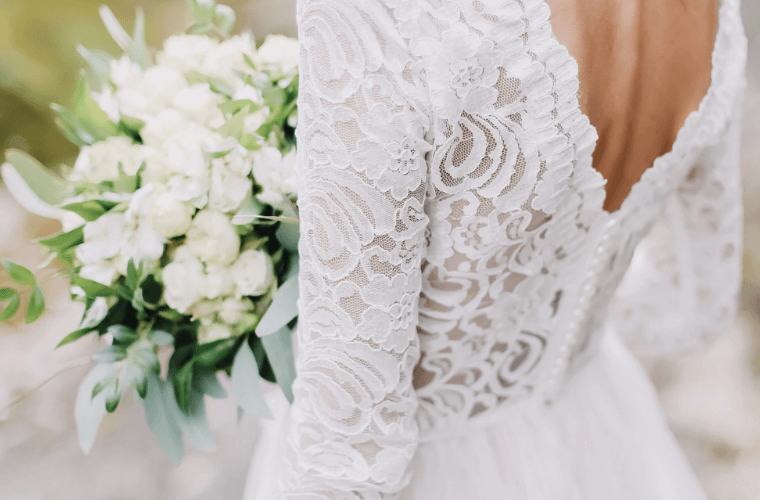 No matter which wedding package you choose, you'll get inclusions such as:
Bouquet for the bride and boutonniere for the groom with seasonal flowers
In-room breakfast for the wedding couple on the morning after the ceremony
Suite upgrade for the wedding couple (subject to availability)
Rehearsal dinner on the evening before the wedding
One night's stay at the resort for the wedding couple, for a Big Day Preview
Wedding cake
Complimentary bridal attendee website
Sparkling wine for the toast
20% discount on massages and treatments for the wedding couple
Bilingual non–denominational minister
Ceremonial table, folding chairs, and aisle runner
One night's stay on each anniversary for the wedding couple
Call us at 888-537-9797  to discuss package options and costs for weddings at this resort.
3. Ceremony & Reception Options
Hilton Tulum is home to a dedicated event center.
So there's an array of ceremony and reception spaces to choose from.
This includes the main ballroom and junior ballroom as well as exterior venues where you can say "I do."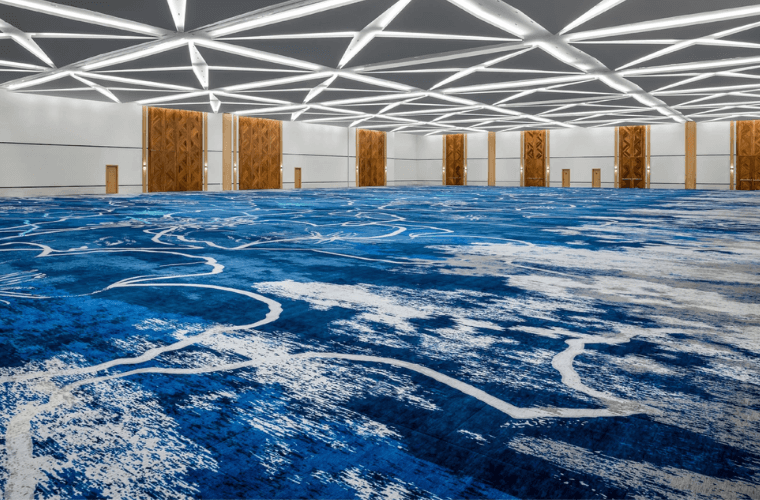 We'll help you find the right location for your wedding.
Call us at  888-537-9797 to talk about the perfect venue for your celebrations.
4. Gay Weddings at This Resort
Our team at PlayaDelCarmen.Com loves helping couples arrange their dream wedding in paradise.
So, we're dedicated to working with same-sex couples to bring their romantic dreams to life.
We often find that couples choose to have a symbolic ceremony in Mexico and leave the legal side of things to be sorted out at home.
But, it's also possible to plan a legal same-sex wedding in  Mexico with just a little extra paperwork and planning needed.
Call us at 888-537-9797 for more info about this.
5. Room Types
The guest rooms and suites at Hilton Tulum feature clean and fresh contemporary design and 5★ amenities.
These amenities and features include:
Flat-screen TV
Wardrobe
Private bathroom
Bed linen and towels
The 59 suites at the resort feature ocean-facing balconies and dedicated living and dining areas as well as spacious bedrooms and bathrooms with rainfall showers.
Room types available now at the resort or soon  to be available to book include:
King Room Resort View
Governors Suite
Kings Club Room Resort View
Kings Club Room Oceanfront
Kings Club Room with Beach Access Oceanfront
King Club Suite with Beach Access – Oceanfront
King Club Suite – Oceanfront
Family King Room – Resort View
King Family Room – Oceanfront
King Family Room with Beach Access – Oceanfront
King Family Suite with Beach Access – Oceanfront
KingFamily Suite – Oceanfront
King Room – Oceanfront
King Room with Beach Access – Oceanfront
King Suite with Beach Access – Oceanfront
King Suite – Oceanfront
King Room with Mobility Access – Oceanfront
Queen Room with Resort View
Queen Club Room with Resort View
Queen Club Room with Oceanfront
Queen Club Room with Oceanfront Swim Up
Queen Family Room with Resort View
Queen Family Room with Oceanfront
Queen Family Room with Oceanfront Swim Up
Queen Room with Oceanfront
Queen Room with Oceanfront Swim Up
If you have wedding guests who are traveling with kids, they will love the space in the family suites.
They're huge as you can see.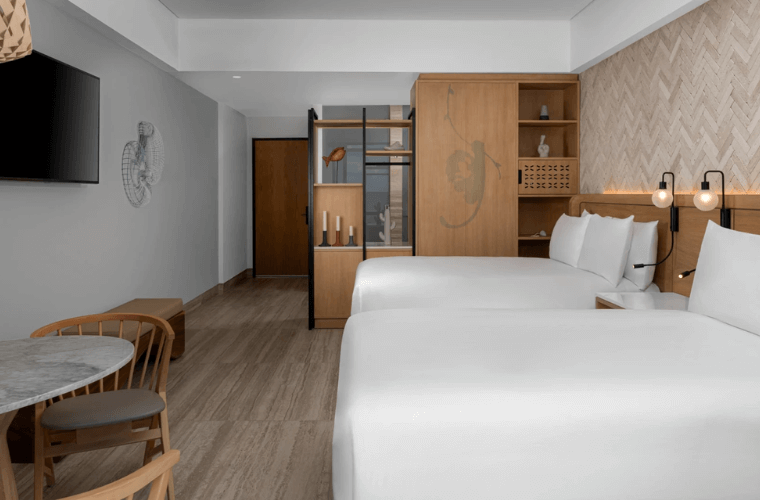 They can also consider the two-bedroom, connecting room option that's available at the resort. 
No matter which accommodation you and your wedding guests choose, you can be sure of a comfortable and luxurious stay.
How many rooms are there at Hilton Tulum?
There are 735 rooms and suites at Hilton Tulum.
The resort only opened in May 2022, so the accommodation is pristine and it feels so fresh.
How much does it cost to stay at Hilton Tulum?
The average cost of staying at the resort is $450-$600 per night.
The actual amount you pay depends on which time of year you stay and which accommodation you choose.
6. Beach
The beach at Hilton Tulum is SO PRETTY.
It's Instagram heaven.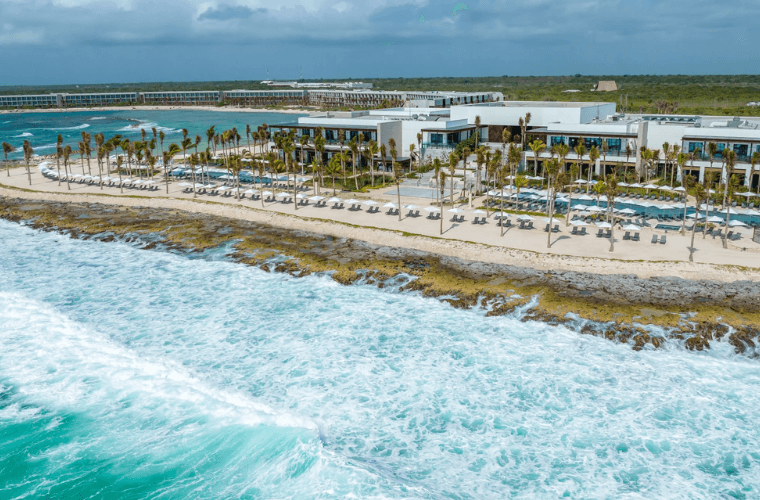 There are some opportunities to swim and snorkel where you get to see the local fish population.
Or, if you prefer, you can relax on one of the beach chairs.
There are plenty of them, as well as umbrellas for shade.
Heads up…
This is a fairly small stretch of beach that's pretty rocky, but it's still gorgeous.
You may encounter a problem with seaweed that can be an issue at all resorts in the area.
But, the resort team works to keep the sand clean and there are plenty of resort activities, including eight pools, to keep you occupied on rare days when the seaweed is really problematic.
7. Food & Drink
The dining and drinking experiences at Hilton Tulum are SO SPECIAL.
There are five signature restaurants to visit during your stay, lounges, and more casual eating spaces.
The restaurants and eateries you and your wedding party can dine at are:
Maxal – the home of Mexican cuisine that's inspired by home-cooked classics.
La Luce – a trattoria with a friendly and welcoming atmosphere
Auma – the resort's grill where prime cuts are on the menu.
Noriku – the place to eat if you love contemporary Asian cuisine.
Vela – a buffet dining venue that's open throughout the day.
Azulinda – a deli-style coffee shop with a casual vibe where you can stop for a snack.
Cocomar Ceviche -grab some fresh fish with citrus juices and Mexican seasoning.
Alongside the impressive all-inclusive dining options at the resort comes the opportunity to relax with a refreshing drink.
You can sip on a cocktail or a beer without leaving the water at either of the two swim-up bars.
You can also spend some time at the Azulinda Lounge where you can enjoy drinks with your partner or maybe order lunch with your bridal party.
8. Activities & Group Entertainment
The wide choice of activities at this resort is included in the cost of your stay.
This includes live theater, music performances, and fun for all members of the family.
There's also a fitness center with a yoga studio and spinning room.
And the spa is to die for…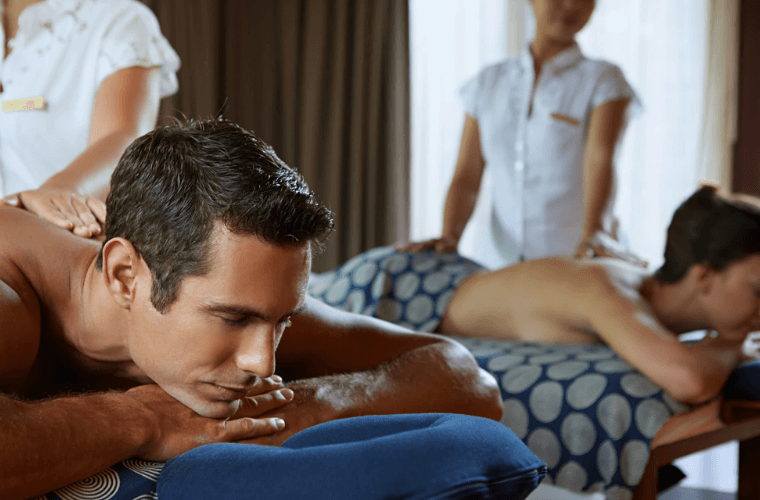 The tailored activities at Hilton Tulum are centered on:
Art
Music
Sustainability
Inspiration
Creativity
Engagement
That's not all…
You can also enjoy the amenities at the Hilton's sister resort Conrad Tulum Riviera Maya, which includes five restaurants, six bars, and Conrad Spa Tulum.
I especially love the way families have a strong focus at this resort, with the Family Zone set to open soon.
This includes activities for kids and teens, which can play a vital role in keeping everyone entertained outside of your wedding celebrations.
Is there anything to do outside of Hilton Tulum?
There's so much to keep you occupied inside the resort that you may not want to venture away from it.
But, I'd always recommend exploring Tulum itself and the wider area.
Have a read of my blog post for some inspiration.
"10 Best Things to Do in Tulum | Your Ultimate Local's Guide"
We can also book tours and activities for you.
And, we'll get you great deals and discounts by putting our local contacts to use.
One of my favorite tours is Tulum Xtreme.
You get to combine visiting the Tulum ruins with Xtreme adventures such as ziplining and rappeling.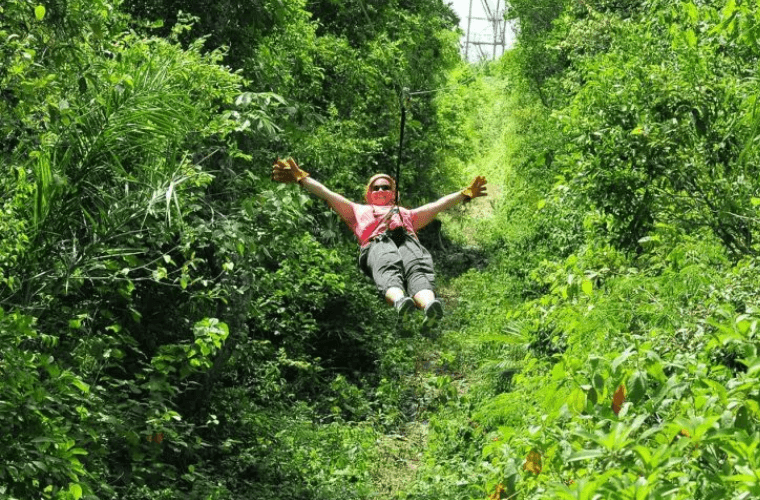 It's the perfect blend of historical adventure and adrenaline rush.
What's not to love? 😍
Call our friendly team of experts at 888-537-9797 for more info about tours and activities in the area.
9. What Brides and Grooms Said
As I mentioned earlier, this is a brand new resort.
So, there hasn't been an opportunity for brides to say anything just yet.
We'll update this section once the comments start coming through.
We'd also like to hear from you if you have any first-hand experience with a Hilton Tulum wedding.
Watch this space…
10. Why We Like It (Pros/Cons)
Our passion is turning destination wedding dreams into a reality.
So, we only recommend resorts, packages, and experiences that we know will deliver.
And, we always give our honest opinions.
In the case of Hilton Tulum, I especially love:
The spa it's just dreamy, and the facilities are high-end.
Gourmet international dining choices that are included in the price.
Inspiring activities that are centered on creativity and well-being.
The location that's within easy reach of Tulum center and the magical ruins.
I'd also like to give a shout-out to the kid and teen-friendly amenities that we can't honestly review until they open, but that is set to be super impressive.
Keeping it real, the beach is not big, and it's rocky.
But, it's a beautiful space, and there are opportunities to swim and snorkel if you or your wedding guests would like to.
11. Additional Resources You May Find Useful
12. Start Planning Your Dream Day
Like the idea of being amongst the first couples to plan a wedding at Hilton Tulum?
That's great to hear.
Our team at PlayaDelCarmen.Com is excited to be organizing weddings at this impressive new location.
And, we'll help you ensure that your celebrations are truly magical.
Plus, we'll make sure you get the best bang for your buck on your celebrations and adventures during your trip.
Call us at 888-537-9797  or complete the contact form to start planning your wedding today.
We look forward to hearing from you.
Have questions or comments about weddings at Hilton Tulum?
I'm happy to answer any questions you may have about this resort.
And, I'd love to hear from you if you have experiences to share.
Just pop something in the comments and I'll take a look ASAP.
---
Trending Now
You may also like