Weddings at Azul Beach Resort | Our Honest Review (2023)
---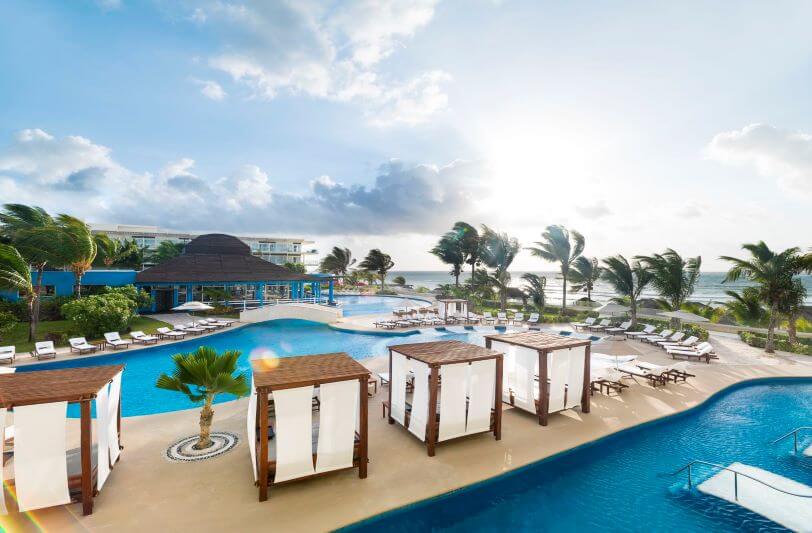 Thinking of saying "I do" at Azul Beach Resort and looking for more info?
I'm here to help.
At PlayaDelCarmen.Com our award-winning weddings team have the first-hand lowdown on wedding packages and venues at the resort.
And, we're happy to share.
I'll also show you the accommodation, dining options, and activities you can expect.
Ready to start exploring?
Scroll down to learn more.
Weddings at Azul Beach Resort | Your Ultimate Guide
---
1. Hotel Overview
★★★★★ | Family Friendly| Riviera Maya
Planning a destination wedding with guests of all ages and want them all to be entertained?
Azul Beach Resort is a perfect choice.
There's an array of international dining and drinking experiences for all the family.
And, activities at the resort include everything from cocktail classes for adults to the Azulitos Kids Program for younger guests.
Plus, the Vassa Spa awaits, providing relaxing treatments, including options for kids so they don't miss out.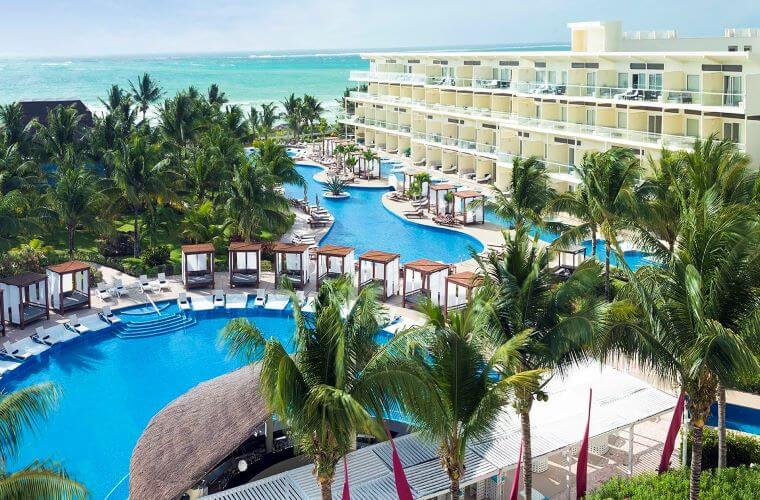 If there are adults in your party who want some time without kids running around them, no problem.
There are adults-only and family-friendly areas at the resort, so everyone's happy.
Is Azul Beach Resort all-inclusive?
You and your guests benefit from the Karisma Gourmet Inclusive® Experience at this resort.
This includes:
Spa services
Eight bars
Eight restaurants
Activities for adults including tennis, yoga, and dance classes
Toddler, kid, and teen-friendly activities
Free Wi-Fi
How far is Azul Beach Resort from the airport?
The resort is around 22 minutes from Cancun International Airport.
We're happy to arrange your transfers to make life easier for you.
If you're travelling from the US or Canada we can also arrange your flights if you'd like us to.
2. Package Options + Add Ons/Perks/Discounts
There are two romantic wedding packages to choose from at Azul Beach Resort.
They're designed to make you feel special at one of the most important times of your life.
I love the Ultimate Memorable Moments Wedding Experience Package.
As the same suggests, it gives you everything you need to create an occasion you'll never forget.
The package costs $7,985.
It includes features such as:
Decor for the altar
Floral arrangements
24 chairs with designer covers
Bouquet for the bride and boutonniere for the groom
Services of a non-denominational minister or judge
Wedding certificate
Filing of documents
Witnesses if required
Sound system
Welcome drink
Services of a wedding designer, concierge, and attendant
Groom's room with gourmet bites on the wedding day
Personalized wedding website and honeymoon gift registry
Private candlelit dinner on the beach for the wedding couple
Gourmet honeymoon breakfast in bed
Bottle of sparkling wine on arrival
15% discount on spa services for the wedding couple
Suite decorated with rose petals, aromatherapy, and candles
Beachfront sky massage for the wedding couple
You may also like the Always & Forever Wedding Package.
This package costs $950 or is complimentary based on certain booking conditions.
Want to make sure you get the best bang for your buck?
I have great news…
Book your wedding for a midweek date and you can qualify for wedding credits that give you AMAZING discounts depending on how many rooms you book.
Have a look at my blog post for more information.
"10 Irresistible Perks of Booking Your Wedding at A Karisma Hotel"
And, call us at  888-537-9797  if you have any questions.
3. Ceremony & Reception Options
The wedding venues at Azul Beach Resort are simply stunning.
The Sky Deck is a favorite choice for couples we work with.*
Who wouldn't want to exchange vows with this stunning Caribbean backdrop and a maximum capacity of 120 guests?
It's GORGEOUS 😍.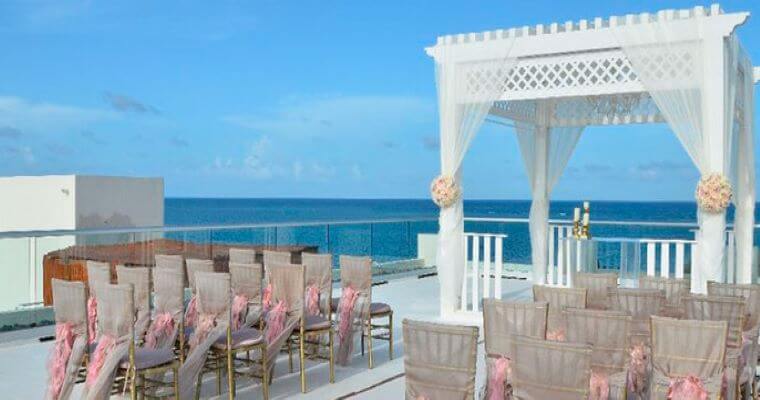 Other wedding venues you can choose from are:
Ballroom – maximum capacity of 200 guests.
Zocalo Gazebo – maximum capacity of 120 guests.
Zavas Gazebo – maximum capacity of 30 guests.
Palapa Yoga – maximum capacity of 20 guests.
*There's an additional charge for weddings at the Sky Deck.
4. Gay Weddings at This Resort
The team at PlayaDelCarmen.Com loves making couples' wedding dreams come true.
So, we're passionate about planning wedding celebrations for same-sex couples.
In many cases, couples decide to have a symbolic ceremony at the resort.
This means that all the legal paperwork can be taken care of at home.
But, legal same-sex weddings in Mexico are possible.
They just require some extra paperwork and planning.
Call us at 888-537-9797 if you'd like more info about this.
5. Room Types
The accommodation at Azul Beach Resort has 5★ amenities and contemporary decor.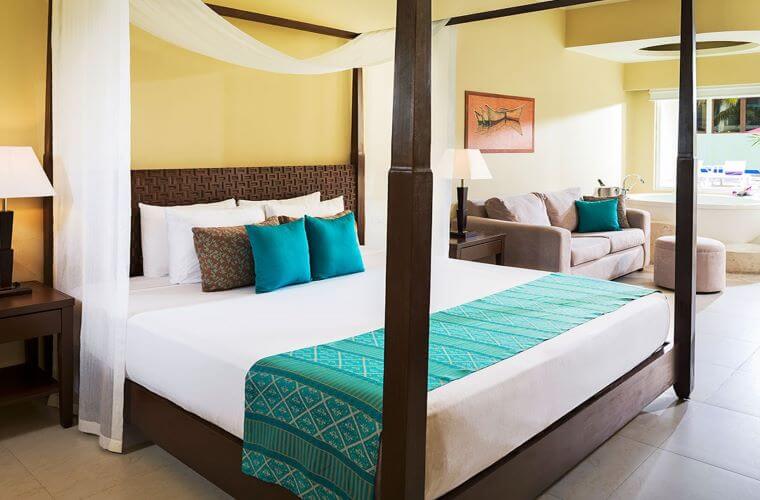 You and your wedding guests get to savor features including:
Sitting or dining area for two
Marble bathroom
Rainforest shower
Daily stocked minibar
Iron and ironing board
Coffee maker
Safe
Looking for romantic accommodation to make your celebrations really special?
I'd recommend the Honeymoon Oceanfront Suite.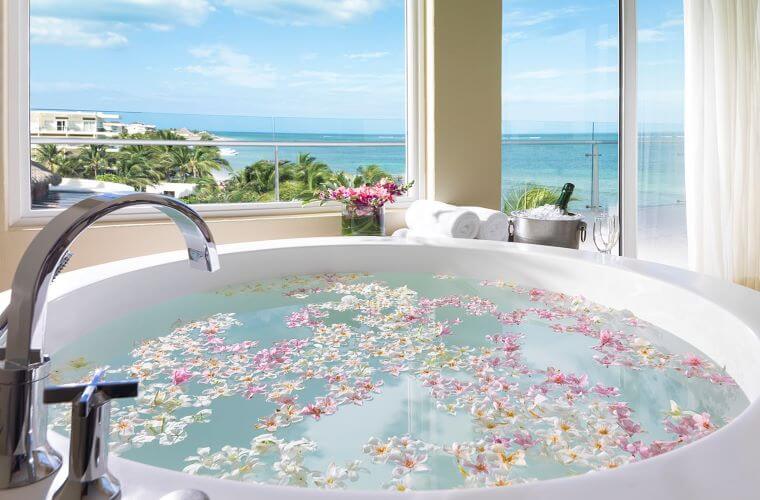 The decor and views are to die for.
And, you get features including:
One king or two queen-size beds
600 square foot balcony with views of the Caribbean Sea
Premium services including private check-in, pillow and aromatherapy menu selection, and beach and pool butler service.
How amazing is that?
The other luxury suites you can stay in at this resort are:
Premium Swim Up Suite
Family Ocean View Suite
Junior Suite
Luxury Ocean View Suite
Connecting Luxury Ocean View Suite
Luxury Suite
Two-Bedroom Presidential Suite
Royal Suite
Presidential Studio
Family Suite
Luxury Walkout Suite
Premium Suite
Swim Up Junior Suite
Royal Swim Up Suite
How many rooms are there at Azul Beach Resort?
There are 435 rooms at the resort.
No matter which room you choose, you're guaranteed top amenities and decor.
How much does it cost to stay at Azul Beach Resort?
Azul Beach is a moderately priced resort.
The actual price you and your wedding guests can expect to pay depends on when you stay and which accommodation you choose.
6. Beach
There's a stunning stretch of white sand beach at this resort.
And, there's plenty of shade from tropical palms.
So, you can spend time relaxing in comfort.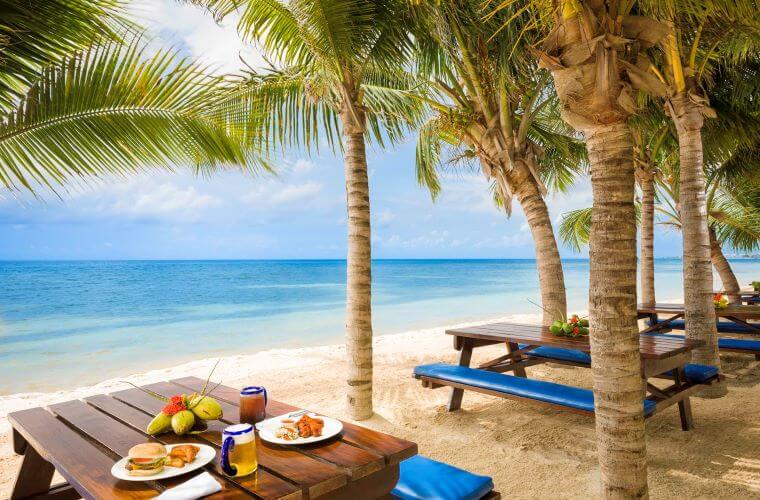 Keeping it real…
This part of Mexico is badly affected by seaweed and it can be a problem at the Azul Beach Resort.
Put simply, this isn't the best choice of resort if a pristine beach is the main attraction for you.
This doesn't mean you can't use the beach as the resort team does its best to clear the seaweed away.
But, there may be times when the beach isn't the best place to be.
So, you should be prepared.
Check out my blog post for some useful tips.
"How to Handle a Seaweed Invasion in Playa del Carmen: Activities & Ideas (2023)"
7. Food & Drink
The cuisine at Azul Beach Resort is exquisite and includes an international range of dishes.
Plus…
Every guest is catered for including foodies, little kids, and anyone who has specific dietary requirements or allergies.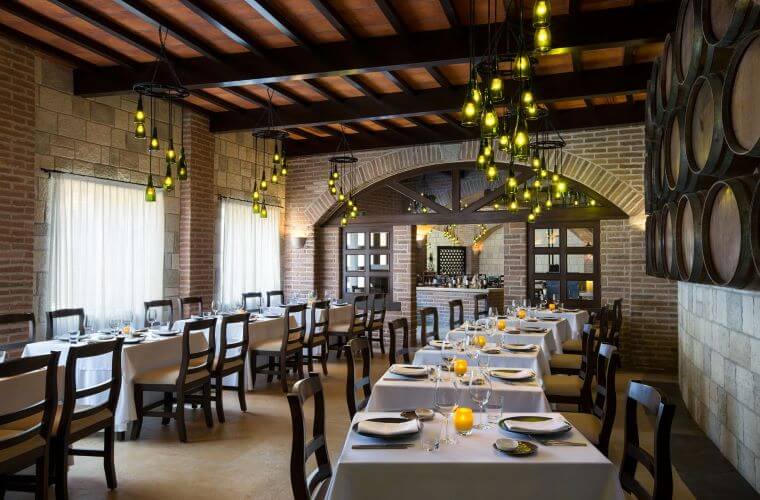 The eight top-class restaurants you can visit at the resort are:
Le Chique – award-winning adults-only dining with a spotlight on innovative Mexican dishes presented as a multi-sensory experience.
Spoon – The main, family-friendly, restaurant at the resort that has an international menu.
Tapaz – An eatery with an industrial vibe where families can enjoy foods such as Iberian ham croquettes and potato strudel.
Siena – The place to head for delicious Italian foods including pasta, antipasto, and classic dishes.
Zavaz – A nautical-inspired bistro where you can sip on cocktails while enjoying seafood such as lobster and oysters.
Zocalo – Mexican dishes are on the menu at this vibrant dining venue.
Zocalo Al Fresco – A lunch venue where fresh dishes are accompanied by Caribbean vistas.
Pizza Pizza! – As the name suggests, this place is a must for pizza enthusiasts.
Looking for amazing drinking experiences to accompany your food adventures?
You won't be disappointed.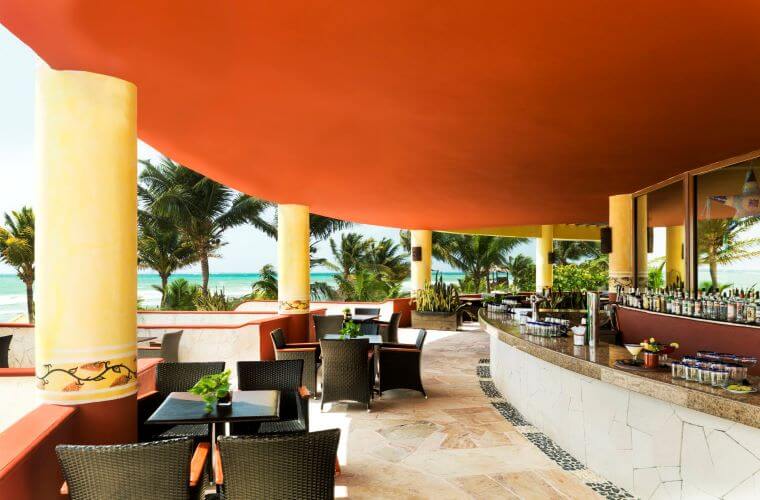 Take a look at these fabulous bars you can visit:
Mojito Lounge – Home to 18 different mojitos and a top-class cocktail menu.
Zavaz Lounge – This boat-shaped bar is a fun place to visit for pre-wedding drinks with your bridal party.
Zavaz Swim-up Bar – Chill out with a pina colada at this bar without having to leave the pool.
Cantina Zocalo – This place is a paradise for tequila lovers and anyone who wants to sample the atmosphere of a Mexican cantina.
Zocalo Swim-up Deck – The sister bar of Cantina Zocalo gives you the same great drinks without you having to ever leave the pool.
Waves Swim-up Bar – For pool-based cocktails in the adults-only section of the resort.
Waves Lounge & Shisha Bar – For an exotic touch to an evening drinking, visit the premium section where you can experience a hookah with floral or fruity flavors.
Outside of the restaurants and bars at Azul Beach Resort, there are also fun pop-up experiences like cotton candy and popsicle stands.
And, for an extra cost, you can take the romance to another level with upgraded dining or a beachside dinner for two.
8. Activities & Group Entertainment
Looking for a destination wedding location with entertainment for all ages?
Azul Beach Resort has activities for every guest, no matter how young or old they are.
So, you can be sure that everyone attending your wedding will have plenty to do outside of your celebrations.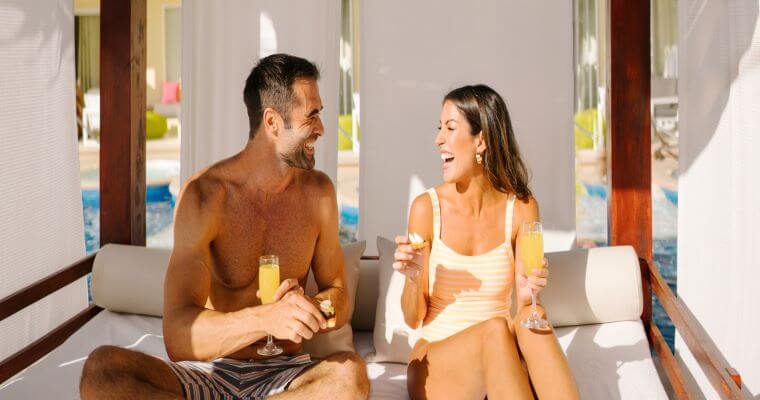 Activities to try at the resort include:
Yoga
Aquarobics
Pilates
Water polo
Tennis
Archery
Spanish lessons
Dance classes
Cocktail classes
I'd also like to give a shout-out to the Bali beds if your idea of activity is relaxing and soaking up the atmosphere.
For a little extra cost, you can reserve one and get VIP service included.
If you have wedding guests traveling with kids, they'll love this resort.
Younger guests are well-catered for with a toddler inclusive program, Azulitos Kids Program, Azulitos Playhouse programs, and Extreme Breeze Teens Club.
There's so much fun to be had, that your younger guests won't want to go home!
Last but not least…
The Vassa Spa is incredible.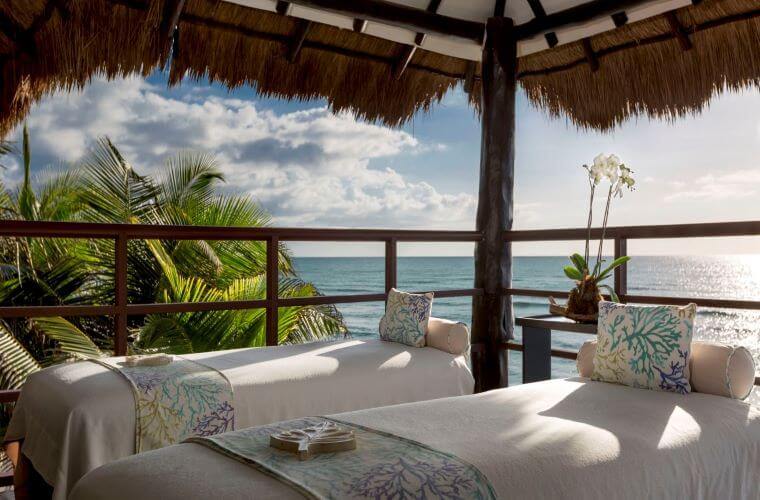 The Spa covers 13,000 square feet and has 13 treatment suites including dedicated couples and kids spaces.
It's home to a totally relaxing experience that focuses on wellness and relaxation.
Just perfect for calming any pre-wedding nerves you may have.
Is there anything to do outside of Azul Beach Resort?
There's so much to do inside the resort that you may not want to venture further afield.
But, I'd recommend that you do.
This is a beautiful part of the world and there's so much to see and do.
We'll book tours and activities for you so everything is super easy.
And, you'll get great discounts when you book too.
Looking for inspiration about the best tours to book.
Personally, I love the "Tulum Full-Day Explorer Tour."
It's the perfect combo of discovering traditional Mexico and underwater exploration and includes:
Visiting the Tulum ruins
Swimming in a cenote
Exploring the colorful reef
Call us at  888-537-9797 for more info about the tours we can book for you as part of your wedding experience.
9. What Brides and Grooms Said
"Tuesday 5/10 before the wedding, I did the bridal fun party for my 2 girls and I… we had a great time, then we got massages and pedicures from Isamar, Rociso , and Greysi. All three ladies were absolutely wonderful. We had a full spread of mimosas, sandwiches, fruit, and cheeses during the morning it was great."
MelissaG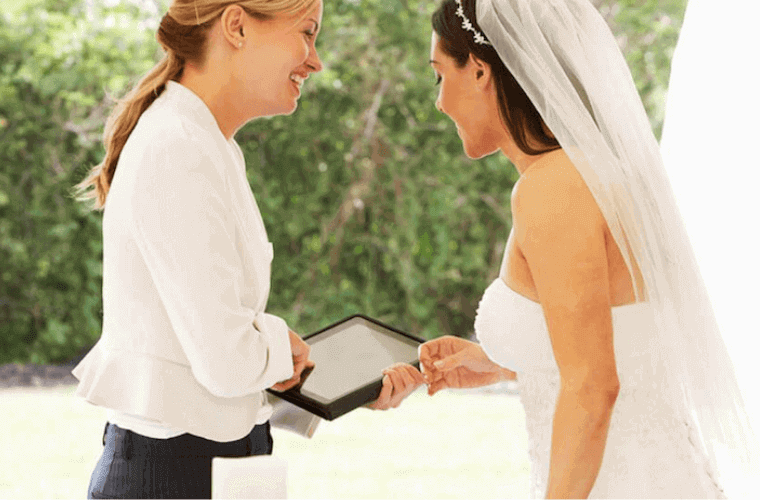 "We recently got married on the Sky Deck at Azul Beach Riviera Cancun and it was absolutely amazing!! Asley and the wedding planning team were very responsive and helpful throughout the entire process! They put together an amazing week and night for our family and friends that were able to make it. The resort itself was a great place to have a wedding and a week of fun with family and friends."
Evan F
"We were here for our wedding the week of May 19, 2021, through the 25th and had the best time. Everyone was amazing at this resort. The staff were all genuinely nice and accommodating. The wedding coordinators were wonderful and had great attention to detail."
Carlos A
10. Why We Like It (Pros/Cons)
We love making wedding dreams come true for couples.
So, we only ever recommend resorts and experiences we trust.
And, we're always completely honest.
In the case of Azul Beach Resort, the PlayaDelCarmen.Com team especially loves:
The totally gorgeous Sky Wedding Deck, it's breathtaking.
Amazing inclusions and entertainment for toddlers, kids, and teens.
Separate accommodation spaces for families and adults only.
It's super close to the airport so there's no long journey once your flight lands.
Now for the downside…
The seaweed can definitely be a problem at this resort.
October to April is the best time to stay at the resort to avoid the worst of it.
But, it may still be an issue.
The good news is that there are six outdoor pools where you can hang out instead.
And, don't forget the other activities you and your wedding party can enjoy.
11. Additional Resources You May Find Useful
We have an abundance of wedding content on our blog written by our award-winning team, simply search your keyword into the finder and find what you need.
If you can't find what you're looking for, let me know in the comments below. I'll be here to help.
12. Start Planning Your Dream Day
Like the idea of a wedding at Azul Beach Resort?
That's amazing.
The team at PlayaDelCarmen.Com is excited to help you with your celebrations.
Call us at 888-537-9797 or complete the contact form on our website to discuss your dream wedding.
And, we'll put our local connections and expertise to use making sure your dreams become reality and that you get the best bang for your buck.
Have questions or comments about weddings at Azul Beach Resort?
I'd love to see what you have to ask or anything else you want to say.
Just pop something in the comments and I'll get on it ASAP.
---
Trending Now
You may also like