Review of Weddings at Panama Jack Cancun | w/Prices (2023)
---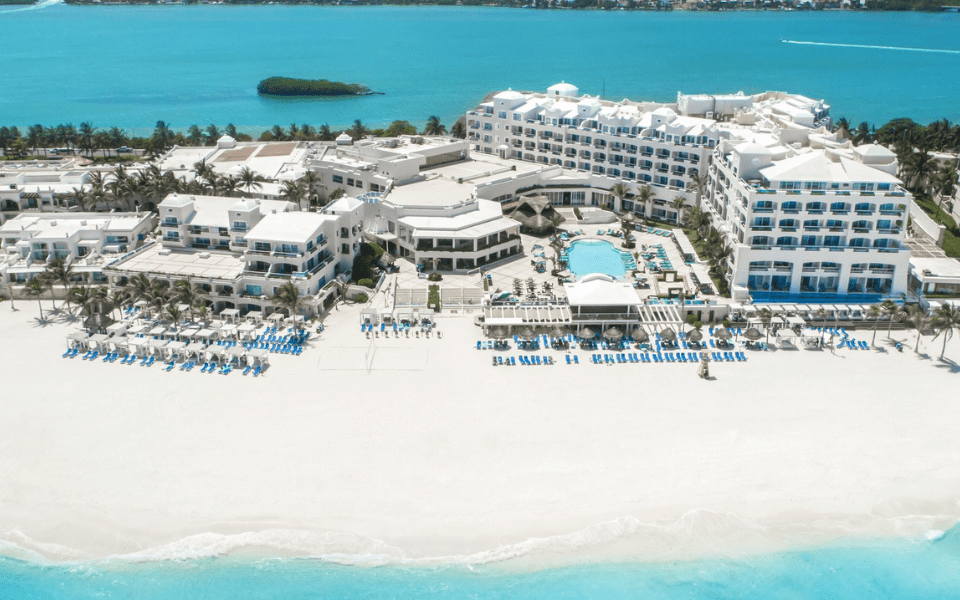 This hotel has recently been taken over by Wyndham Alltra Cancun read our updated review here.
Searching for an in-depth review of a destination wedding at Panama Jack Cancun resort?
You've hit the jackpot!
At PlayaDelCarmen.Com, we help lots of happy couples like you plan their dream wedding in paradise every year.
The best part is, we offer our expert wedding coordination services at no extra cost to you.
Based in Mexico, we know the hotels and how they work better than anyone.
So, if you are ready to leave your wedding planning frustrations behind, and come with us…
Let's dive right in. We've got you!
The DL On Panama Jack Cancun Weddings
---
1. Hotel Overview
Panama Jack Resort in Cancun is 4* all-inclusive family-friendly hotel, located in the heart of Cancun's hotel zone.
It boasts: 
refreshing swimming pools
a gorgeous white powdery sand stretch of beach
a wide array of fun activities including mini-golf and water park
a SPAreal experience for those of you who like to indulge in the finer things in life
When it is time to dine, gourmet restaurants and oceanfront bars serve an array of international cuisine and cocktails.
A stay at Panama Jack Cancun would mean you're just minutes from the airport and would put you in a prime location to enjoy all of the region's most-loved attractions.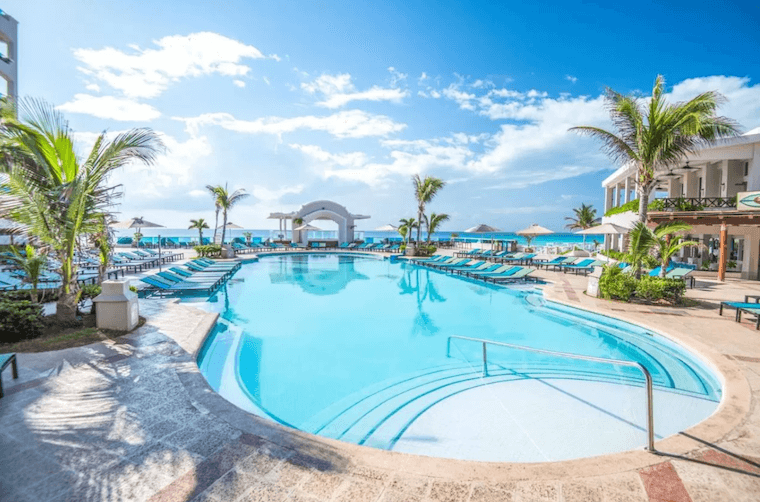 Such as: 
Instantly immerse yourself into vacay mode the minute you step off the plane.
Average Price Per Person, Per Night at Panama Jack Cancun Resorts:
$250-500 per person per night
$150-250 in the lowest season – Sept, Oct
Get an exact quote from our Wedding Coordinators and expert Travel Liaisons today.
2. Wedding Package Options
This is my favorite part!
I like to show you exactly what bang you get for your buck at this hotel.
To do this,  I've selected one of my favorite wedding packages Panama Jack offers to couples like you.
Please note there are lots of options to suit all budgets (too many to mention).
If and when you reach out to us to inquire about planning your wedding, our coordinators will present you with all the options; helping you to breathe life into your vision and get you organized.
Without further ado…
***Price detailed is for 2023. PLEASE NOTE PRICES ARE SUBJECT TO CHANGE YEAR ON YEAR***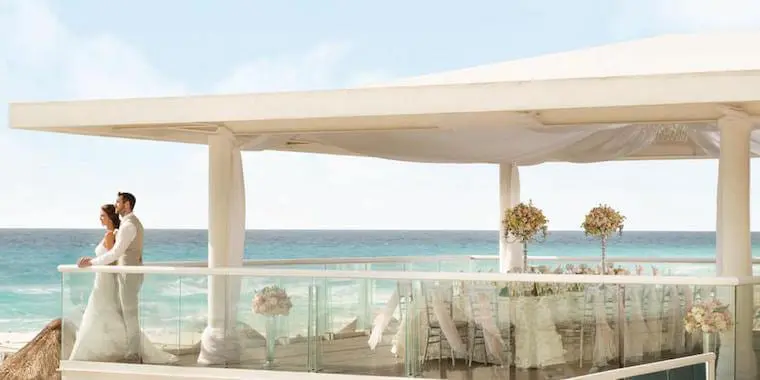 Lavish and Opulent Wedding Package
For up to 20 guests:  $4949 USD
Additional guests: $74 USD
Wedding Day Pass (for guests not staying at the same resort):  $99 USD 
All-Inclusive Package Inclusions:
Onsite services of a professional Wedding Specialist

Symbolic marriage ceremony performed by a Bilingual Secular Officiant

Symbolic marriage certificate

Beachfront Couple's massage (50 min)

Romantic beachfront dinner for the  Couple.

Bouquet and boutonnière for the Couple.

Couple's room special decoration

Late checkout for the couple up to 3:00 p. m.

Sparkling wine and chocolate-covered strawberries delivered to the newlyweds room the night of the wedding

"Honeymoon" breakfast for the Couple, delivered to their room the day after the wedding

One hairstyling service and one makeup service (Previous reservation at Aura SPA)

One manicure service and one pedicure service (Previous reservation at Aura SPA)

VIP wristband for the Bride and  Groom

20% discount on Spa services for the Couple (Previous reservation at Aura SPA)

 Sparkling wine toast after the ceremony

Signature wedding cake

Wedding location

Special aisle runner, ceremony table with white linen and white folding chairs

Sound system during the ceremony (you can bring your favourite music on CD, iPod or MP3)

Cocktail after the ceremony with appetizers (1 hour)

A fully private wedding reception for 3 hours with a 3-course menu at select locations

Personalized printed menus for the reception (one per table)

Natural floral centrepiece for the ceremony altar

10% Discount on Spa services for the wedding guests (Previous reservation at Aura SPA)

One complimentary night for the Couple on their first Wedding Anniversary*

One complimentary room night for the Couple when celebrating their first Wedding Anniversary at the same resort where the ceremony took place,  it is not transferable.

The complimentary room night should be used 60 days after or before the anniversary date, except holidays (it is not combinable with other promotions).

One (1) complimentary room night is valid with four (4) nights booked.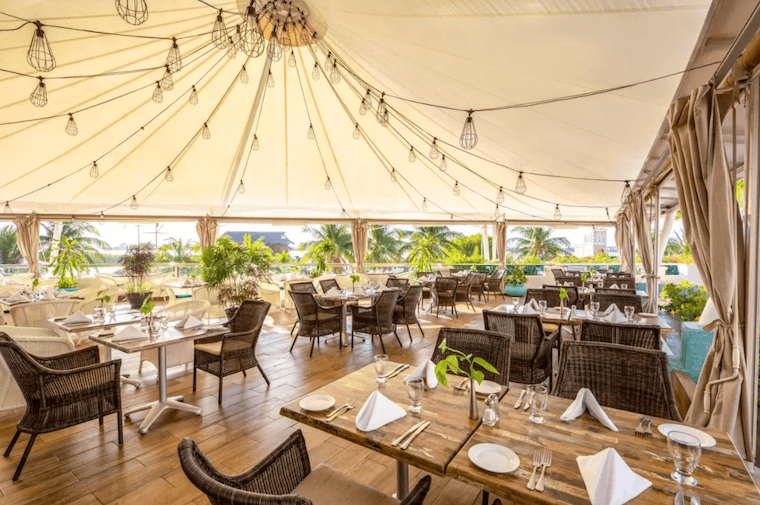 Extra Wedding Costs to consider
DJ & Dance floor
Lighting
Decor tweaks
Floral Tweaks
Outside Vendor Fees
Wedding Favors
Perks When You Book a Panama Jack Wedding
Romantic beach dinners
Spa treatments and discounts
This particular package includes fully private dinner reception (sometimes hard to find included at a reasonable price)
This particular package includes full sound system (sometimes hard to find included at a reasonable price)
3. Wedding Venues
…Now to visualise where you are going to say those magical words "I do".
Here are all the wedding venues to choose from at Panama Jack Cancun… they are seriously swoon-worthy!
1. Ventanas Terrace
Keep everything breezy above ground and enjoy the luxury of having a private terrace with ocean views for your wedding.
This particular location is one of my favourites at nighttime when the fairy lights and everything around the hotel are lit up!
2. Panama Jack Cancun Event Rooms
This is a large space perfect for a bigger wedding and reception parties.
Plus, if you're having your wedding during the rainy season obviously indoors eliminating the risk of rain.
3. Our Lady of Guadalupe Chapel
If you are religious, this hotel has it all!
A panoramic chapel with air-conditioning…what more could you ask for?

There is limited seating indoors (60 person max), but guests can still attend outdoors.
4. Gazebo
If you were hoping for an outdoor location, you are in luck.
Listen to the sounds of the waves roll in and out of the shore as you say your vows!
This location works particularly well during the morning or evening, typically when the sun is lowest and coolest in the sky.
Don't forget…during mid-day in peak season, the heat is intense.
5. Ceremony On The Beach
If you've always dreamed of getting wed on the beach, it doesn't get much better than this!
Cancun is famed for its proud white sands, and Panama Jack Cancun does not disappoint (more on that later).
6. Villas On The Beach
Feel the sand between your toes during your ceremony, cocktail hour, or reception!
Relaxed beach vibes and surely the spot for all of your guest to truly sink into the rhythm of the tropics for your big day.
7. Terrace Villas
I mean just look at this setup!
Beautiful… ocean views, private location.
In my opinion, it's the private reception location of dreams!
7. Kulkucan Event Room
Yup, you guessed it this resort has not one but three event rooms for back up.
Albeit this one if a lot smaller. 🙂
It's not my personal choice but if I was getting married I would like to know there is a beautiful Plan B should the weather go rogue.
7. Yalku Xcaret Event Room
This room is typically used for meetings but can be transformed into a epic space where any couple would be happy to say "I do"
The wedding team at Panama Jack certainly do have an eye for gorgeous aesthetics.
4. Gay Weddings At Panama Jack Cancun
You may be wondering "can you have a Same-Sex Wedding at Panama Jack Cancun?"
Yes, you can have a same-sex wedding at the Panama Jack!
Cancun, in general, is a very gay-friendly area.
The hotel would be honoured to have you stay.
Love is love, after all!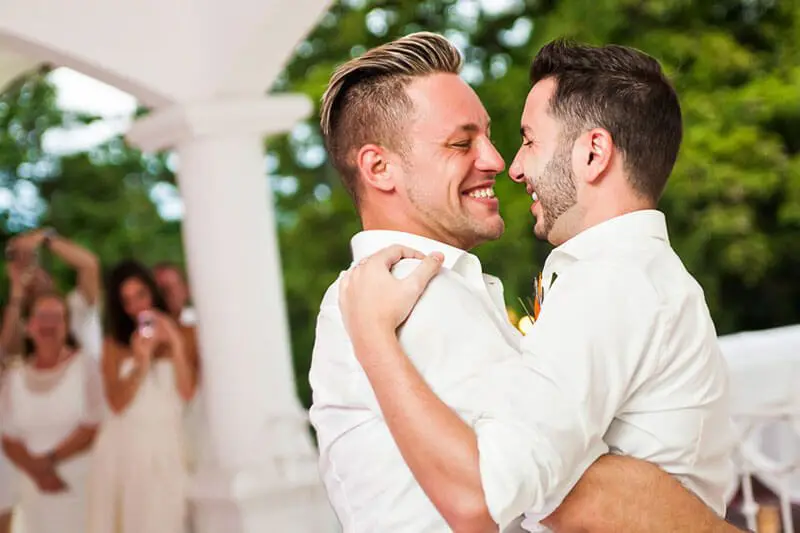 Other articles you may find useful on this subject include:
5. Rooms at Panama Jack Cancun
At Panama Jack Resort Cancun there is no shortage to the room options available:
Standard: Sleeps 4 | 2 Double | 387
Junior Suite Oceanview: Sleeps 4 | 1 King | 387
Junior Suite Oceanfront: Sleeps 4| 1 King | 376
Family Junior Suite: Sleeps 5 | 1 King | 387
Premium Junior Suite Lagoon View: Sleeps 4 | 1 King | 387
Junior Suite Beachfront Walk-Out: Sleeps 4| 1 King | 322
Master One Bed Suite: Sleeps 4 | 1 King | 645
Master One Bed Suite Oceanview: Sleeps 4| 1 King | 645
Master One Bed Suites Oceanfront: Sleeps 4| 1 King | 645
Presidential Suites: Sleeps 5 | 1 King | 1366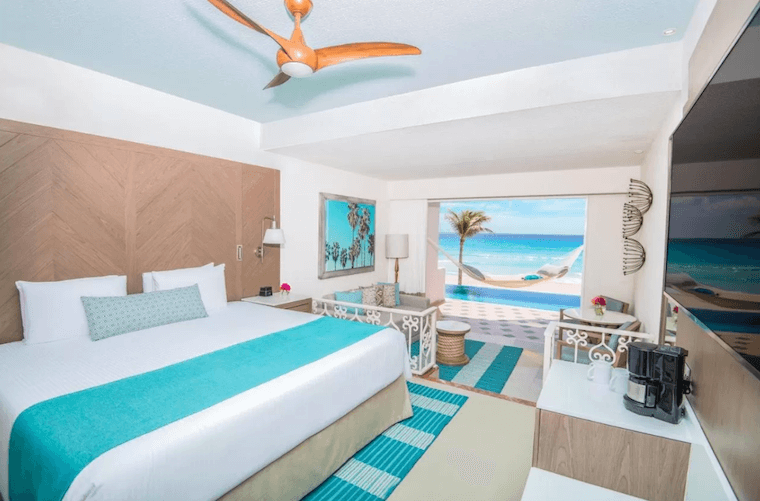 Amenities include:
Air Conditioner
Alarm O´Clock
Cable TV
Room service
Flat Screen TV
Bathroom Amenities
Mini-Bar Restocked Daily
WiFi Vanity Mirror
6. Beach
There are many resorts perched neatly upon Cancun's shores but Panama Jack pride themselves on keeping the beach flawless!
Described recently by one of our clients as "very clean, very friendly, the most pretty beach and ocean", we think this summarises the beach at Panama Jack Cancun perfectly.
If you were thinking of a beach ceremony this would be the resort to do it at.
The WiFi at this hotel even works well on the beach!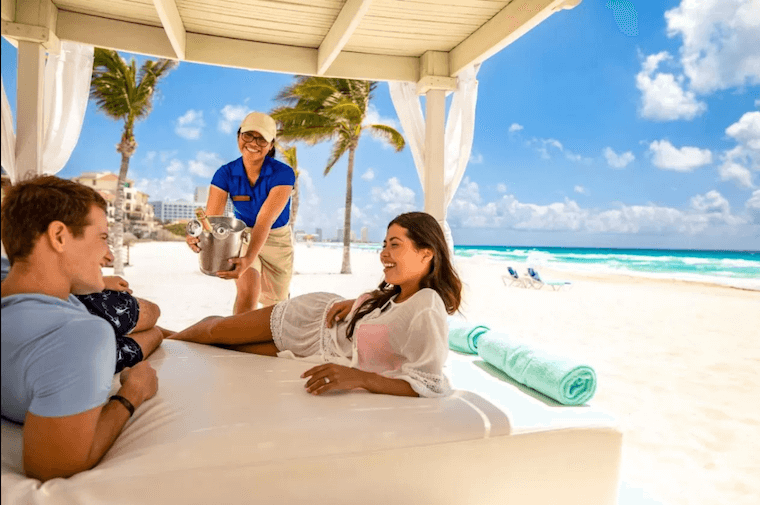 As you saw in the wedding package I detail, it includes a romantic beach dinner. My recommendation?
Do NOT skip out on this dinner it is incredible.
Being waited on hand on foot while you enjoy the company of your new wife/husband on a starry night?
#TheDream
7. Food & Drink
At this resort, enjoy flavours from around the world, fresh ingredients, imaginative recipes and masterfully-trained chefs.
Expect cool dining concepts and compelling cuisine that will please even the pickiest palates.
There's a spot for every craving, mood and crowd with each venue unique, bursting with distinctive personality and style.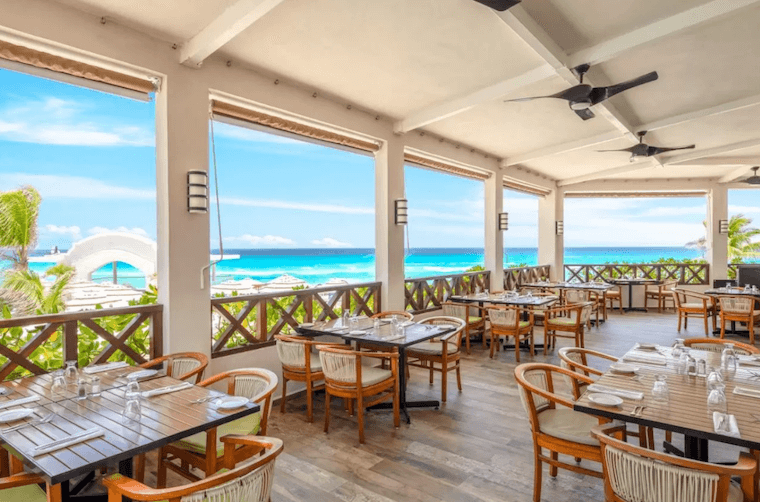 Grab a quick taco and frozen margarita or sit down with a bottle of Chianti for an unhurried Italian feast.
At Panama Jack Resorts Cancun, the attentive waiters and expert chefs will take you on a tasteful trip around the world, one dish at a time, at more than 13 included restaurants, bars and lounges.
8. Activities & Entertainment
Do as much or as little as you like at Panama Jack Resort Cancun.
After all, it's your vacation.
Aside from the incredible themed events the hotel hosts such as special Superbowl nights, Valentines nights, etc… daily activities also include things like:
Volleyball
Ping Pong
Aqua Gym
Beach Tennis
Zumba
Salsa
Crazy Beach Olympics
… and so much more.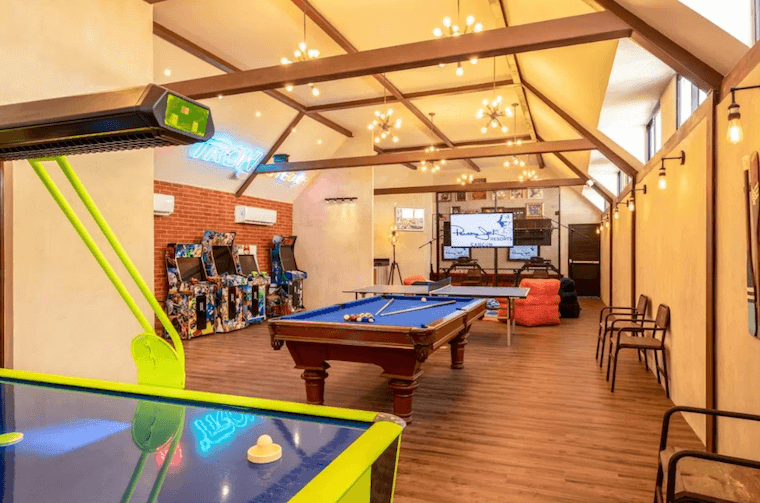 This is one of the things I love most about this hotel!
They are always changing what they offer and adding to it, depending on the time of year or month, aligning with special events that guests often hold close to their heart.
Of course, on top of all this, you have the incredible pools to relax in and for those adults who need a little extra pampering the is the Aura Spa to indulge in, which offers:
Body rituals
Massages
Hydrotherapy circuits
Beauty Salon
… and more.
9. What Brides Said…
Find out what recent bride who had their wedding at this hotel has to say about their experience…
Norma
This place has the most magical chapel! The views ! The service ! I have stayed and previous resorts in Cancun . By far this is one of my favorites! My wedding was amazing they accommodated 57 of us and treated us like royalty . Also, the cleanness is great. They sanitize every table after every use . They are safe and follow all protocols . I will definitely be back. Food was also so delicious ! The mahi mahi was the best! Our server Daniel , chef Santiago and captain Esmeralda are great as well. Overall this is a must when coming with family or as a couple.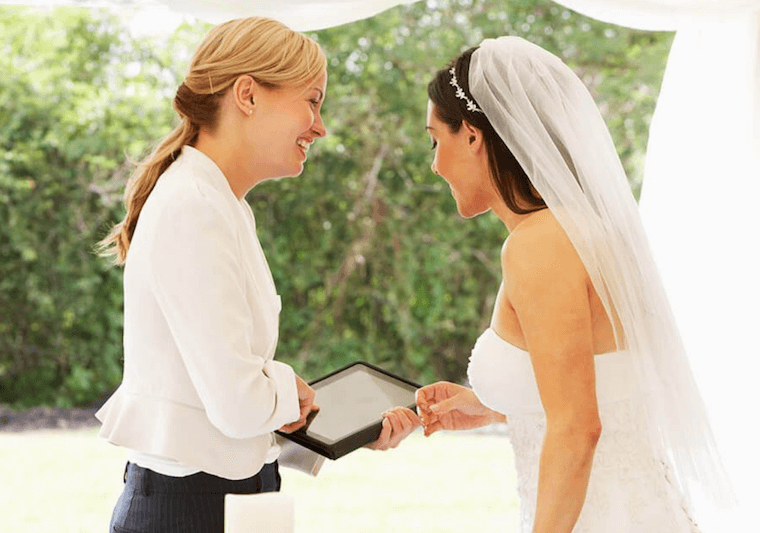 Heather Armstrong
5 stars for a destination 

wedding

!!!

We recent had our

wedding

 at Panama Jacks and they did not disappoint. Our 

wedding

coordinator, Mariana went above and beyond to make our day so perfect. I definitely recommend having your special
10. Pros & Cons
Things we LOVE:
Panama Jack is part of Playa Resorts

 

– we love working with these guys it's always high-level service, easy and effective. For example, they have been great through the whole COVID pandemic and have shown impeccable leadership for others in the hotel industry to follow suit.
The hotel isn't overwhelmingly big.
Great range of wedding packages to choose from.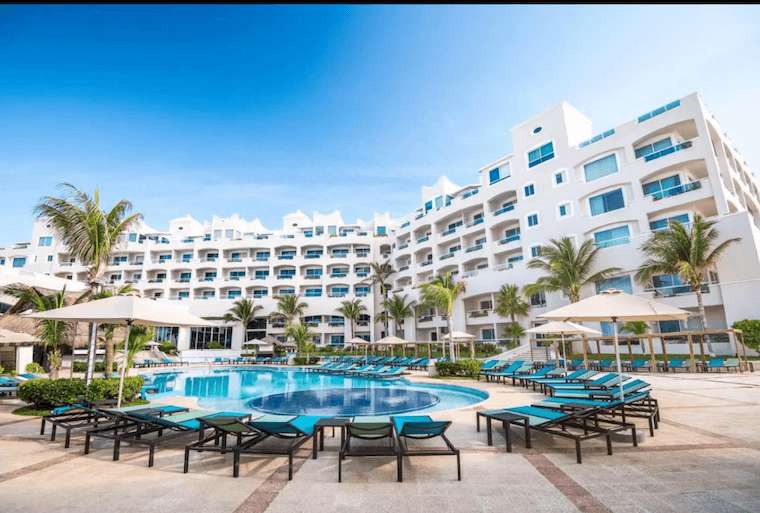 Things we don't love as much:
If you are not into the hustle and bustle on vacation, Cancun may not be the location for you. Luckily, there is a Panama Jack in Playa del Carmen too if you were looking for somewhere a little more laid back.
Sometimes they do operate more than one wedding a day.
11. Additional Resources You May Find Useful
It doesn't end here.
Our blog is filled with tons of fun articles to help you plan the wedding of your dreams…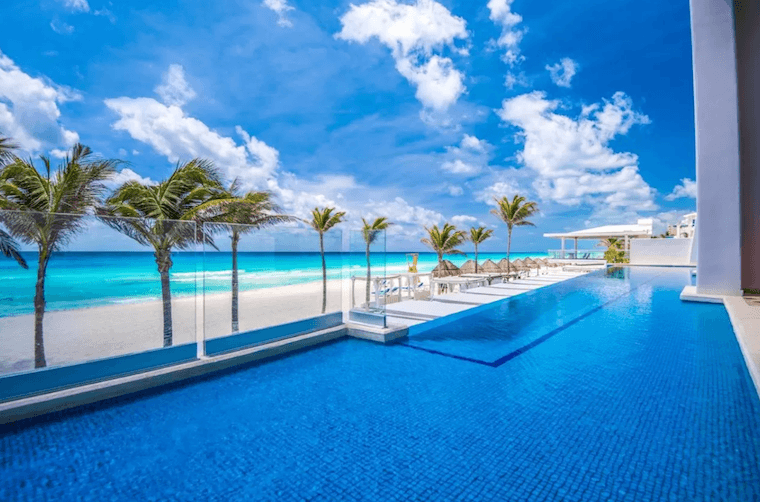 Here are some great starting points for you:
Have fun looking around the blog. Simply type in the keyword you are looking for and see what pops up.
On the rare occasion, I haven't covered it just leave me a comment down below, I'd love to write something up for you.
12. Get Married in Paradise
The first step to planning the wedding of your dreams?
Assigning you a personal wedding coordinator to help you get it done! SEAMLESSLY.
Get in touch with our experienced team of wedding planners today for FREE!
Our dedicated wedding team is made up of experienced wedding planners from around the world. So, don't worry I can almost guarantee we speak your language.
This is what we do best! We've planned 100s of spectacular events in the region. As locals, we are unbias and know the lay of the land better than anyone.
We'll be with you every step of the way.
Call us toll-free 888-537-9797.
Or
Contact us via email at weddings@playadelcarmen.com
---
Trending Now