Your Ultimate Guide to Puerto Aventuras | The Harbor of Adventures! (2023)
---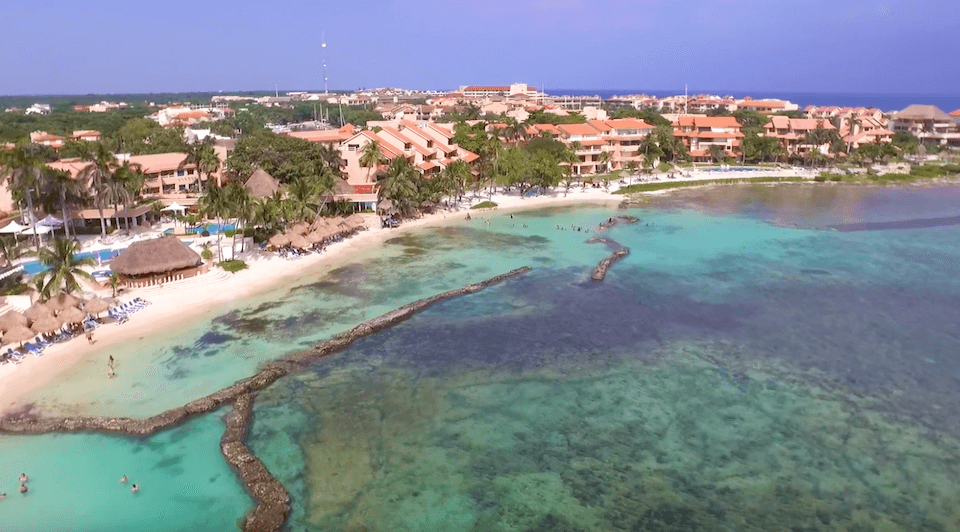 Ahh – you've caught wind of Puerto Aventuras (and want to know more)… lucky you! 🙂
Residents here are keen to keep this place a secret. 😉
But seeing that you made it this far…
I'll share my local knowledge with you to make sure you experience the very best of Puerto Aventuras on your next trip to Mexico. 🙂
Ready to enjoy a slower pace of life for a while?
It's time to rekindle your spirit and rejuvenate your soul. 
My guide to Puerto Aventuras includes:
---
1. Location
Only the savvy travelers make it their mission to find and explore Puerto Aventuras (translation = Adventure Harbor).
So, where exactly is it?
I call it, Playa del Carmen's little-known neighbor…
Located on Federal Highway 307, it's just 20 minutes drive south of Playa del Carmen and around 50 minutes from Cancun International Airport. 
Although I'd consider this small town off the beaten track from most tourist routes getting here is easy!
If you're new to the region,  the highway runs southward from Cancun right through the Riviera Maya, so all you really need to know is all the best places to stop off and explore along the way.
It's an intrepid traveler's paradise. If you're a backpacker I'd recommend hopping from one city to the next.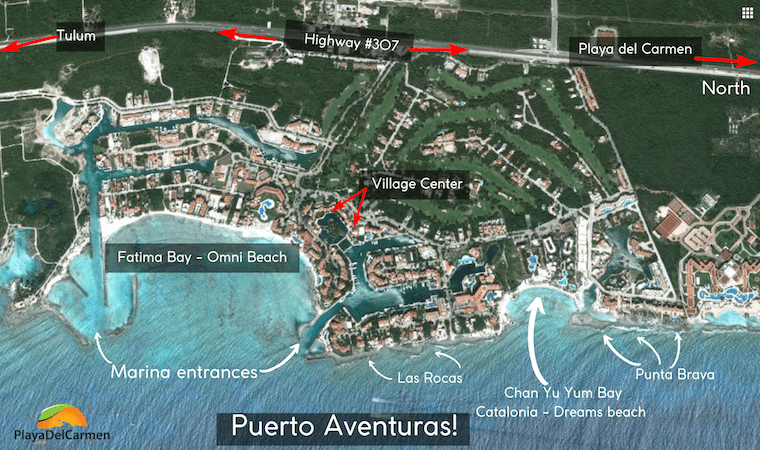 There are several options to get here from the airport including: 
Private transfer
Colectivo (local mode of transport, not highly recommended as it's rarely air-conditioned)
When choosing and booking a hotel with us at PlayaDelCarmen.Com, you will find that many resorts offer to take care of your transport arrangements from the airport (pretty sweet). We will advise you better when you book.
2. History & Community
Now, a little bit about the town itself…
Puerto Aventuras is a wonderful and newly built small town surrounded by lush tropical jungle and 2 beautiful crystal-clear marinas.
Many Americans, Canadians, Australians, and people from the United Kingdom are lucky enough to call this place home, not forgetting the Mexican locals of course.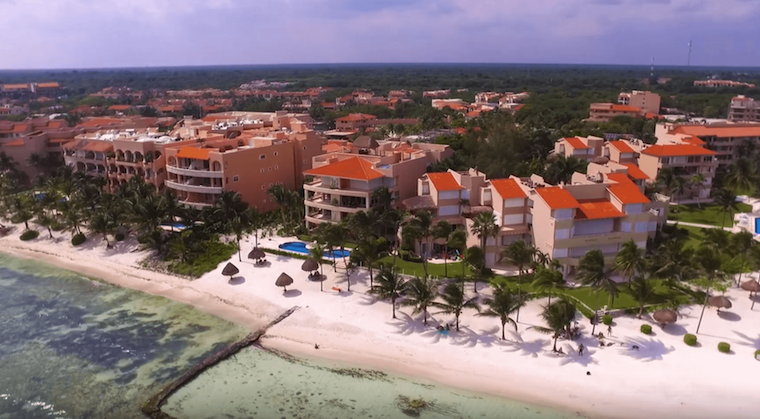 Characterized by its stunning marinas, upscale accommodations, quirky eateries everyone has a reason to explore this place once.
If you're tired of the hustle and bustle overcrowded cities, then look no further. Puerto Aventuras is far removed from all that and visitors here can enjoy a much slower and relaxed pace of life.
Everything here is in perfect proportion.
What started as a small village with little more than an elementary school, some stores, and a church has grown into a charming port town where personal yachts and large recreational fishing boats glimmer and bob along the ocean's surface.
The community here is well-known for being warm and friendly.
Puerto Aventuras is divided into two parts:
West of Highway 307 is the residential subdivision
And the east highway 307, set amongst the Caribbean coast is where you will find most of the hotels, local bars, and large resorts.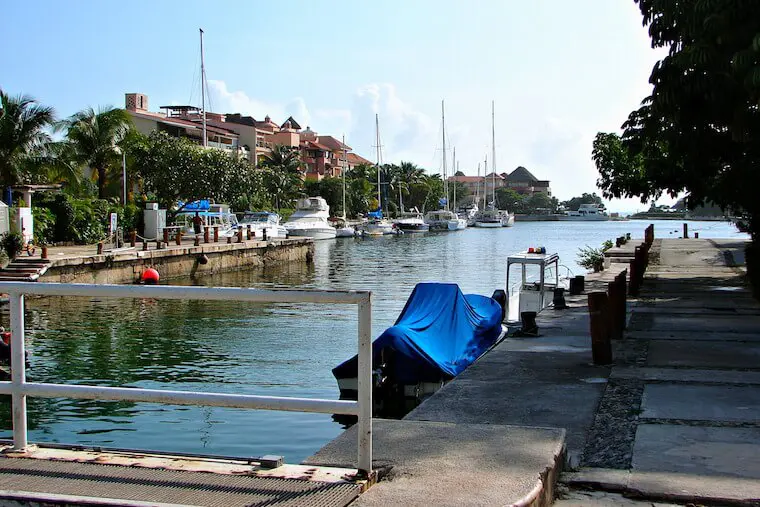 3. Hotels
With so many hotels to choose from in the Riviera Maya, it's often hard to know which one is right for you and your group.
That's where we come in!
Although choosing Puerto Aventuras removes you from the hustle and bustle of cities and larger towns staying here means you will still be in close proximity to all of the region's top attractions if you wanted to explore.
2 of the most popular and highly recommended hotels in Puerto Aventuras include:
1. Dreams Puerto Aventuras
Kid-Friendly | ★★★★★
Dreams Puerto Aventuras is one of the first things you see when you enter the Marina.
This family-friendly all-inclusive resort is neatly perched on the powdery white sands of a protected bay.
There is even a dolphinarium on-site, for those of you who would like to tick swimming with dolphins of your bucket list.
The inlet of Puerto Aventuras is the perfect place to snorkel and enjoy the gentle lull of the waves, particularly desirable if you have small children who cannot swim yet.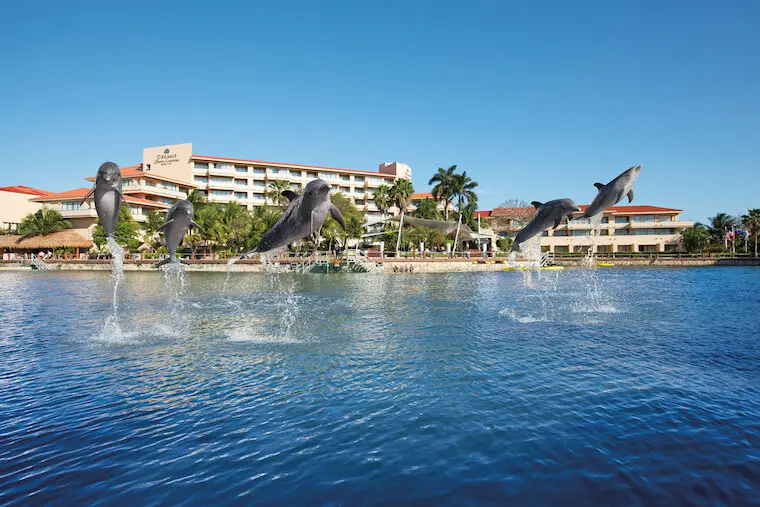 All rooms are inviting and luxurious boasting 24-hour room service and stocked mini-bar, where you can soak up the views from your very own terrace or balcony.
With 6 restaurants and 5 bars, there is something for everyone!
Keeping the kids happy on your vacation is no easy feat, but the onsite Explorers Club is sure to keep them entertained.
While the kids are busy making new friends and trying out new activities why not take a minute for yourself in the world-class spa where you can indulge in a range of treatments.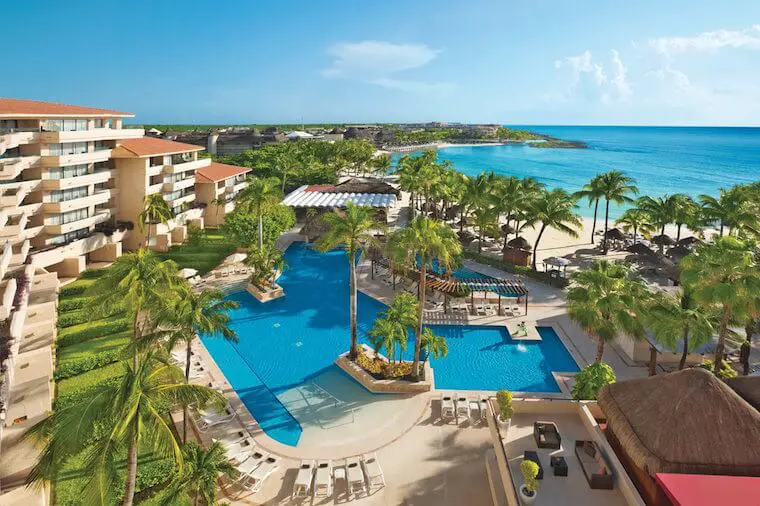 If pampering is not your thing, enjoy preferential rates at the Grand Coral Riviera Maya golf club.
Interested in learning more about this hotel? Call us on (888) 537-9797 today! 
2. Barcelo Maya Palace
Kid-Friendly & Adults-Only |★★★★★
Barcelo Maya Palace enjoys a privileged position on one of the most beautiful stretches of beach along the Riviera Maya.
It's part of the huge Barcelo Maya Beach Resort complex.
Guests here can enjoy access to all the facilities and amenities at the other properties too. It's three for the price of one!
Due to the size of this luxurious resort, an express train departs every 20 minutes to transport guests around the ground.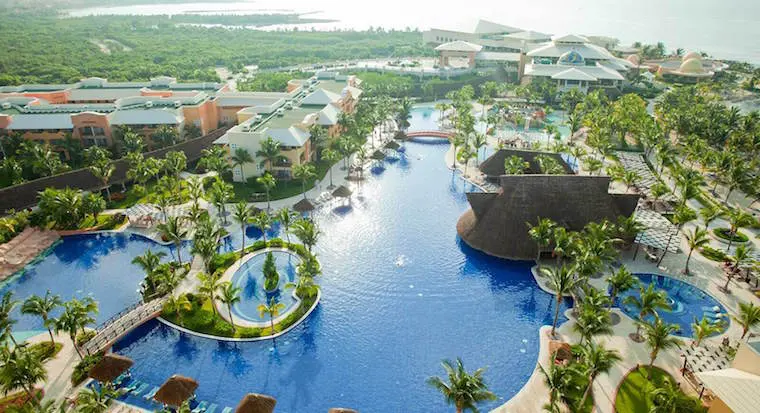 You'll find 3 pools, a water park and even a state of the art fitness center on the property.
Suites at this hotel have separate sleeping and living areas.
All of which have a terrace or balcony and come with 24-hour room service.
Aside from the amazing range of activities to enjoy, this hotel is situated opposite one of the most beautiful cenotes in the region.
All you have to do is venture across the highway (carefully) to enjoy the natural wonders housed in Mexicos lush jungle.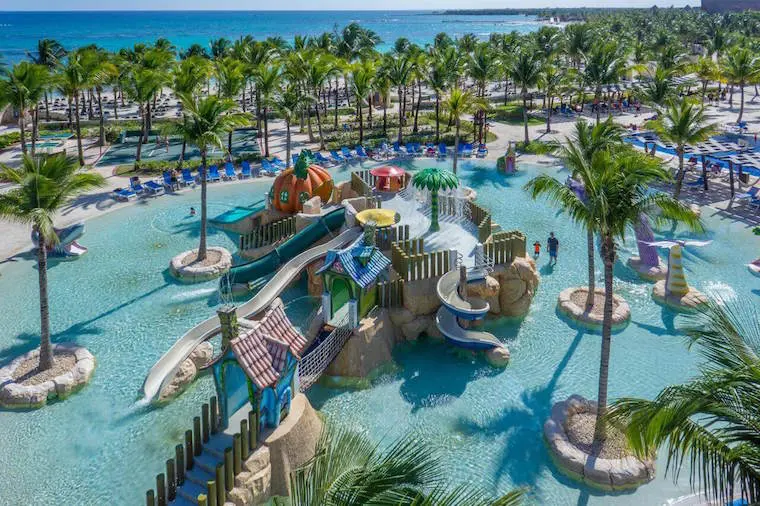 Take full advantage of the Palace Barcy Club for kids while you get some well-deserved rest and relaxation or retail therapy at the Maya Mall.
Interested in learning more about this hotel? Call us on (888) 537-9797 today for the best rate!
4. Things to do
When you stay in Puerto Aventuras, you put yourself in a prime position to enjoy the regions top attractions (on and off the beaten track).
Here are some of my favorite things to do in the area.
(I will note that if you like boat trips and excursions you will not be at a loss in Puerto Aventuras as this is where most boat tours in the region depart and return from)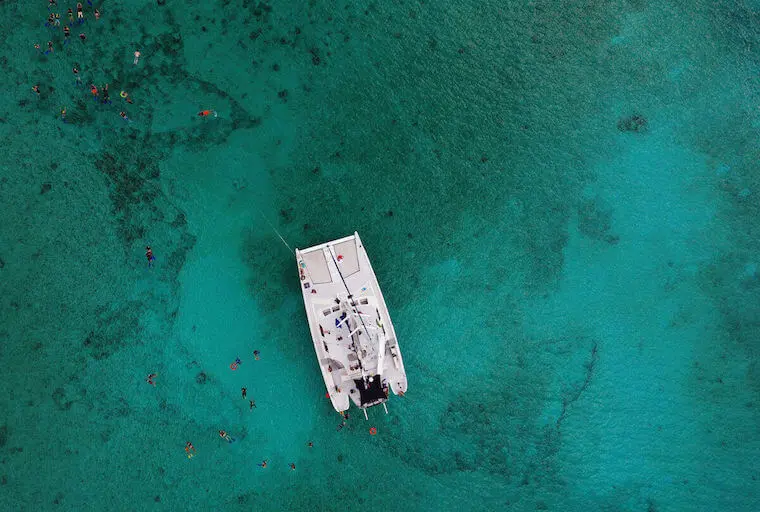 1. Catamaya Catamaran
The best adventures happen out at sea!
Venture out into the turquoise ocean in style and comfort on this 4-hour tour before anchoring down at the Mesoamerican Reef, where you and your experienced tour guide will make friends with the vibrant marine life.
When you return to the Catamaran chefs will have already prepared delicious food such as grilled lobster and New York steak.
Which you can wash down with tropical drinks from the full open bar. 
This tour is essentially a first-class meal at sea with lots of fun, fishing, snorkeling, and dancing along the way.
As you sail back to Puerto Aventuras you will have the chance to truly soak up and appreciate the views of the impressive Carribean coastline.
This tour includes: 
4 hour sailing about a 65 ft. luxury catamaran
Catamaran crew and snorkel guides
Meal at sea (choice of lobster tail, New York steak, Angus burger or chicken kebab) Snorkel equipment
Full open bar: Beer, tequila, rum, vodka, whiskey, sodas, juices, and bottled water.
Onboard restroom facilities
Fishing lines
This is just one of many boat tours we offer here at PlayaDelCarmen.Com that leaves from Puerto Aventuras.
Looking for a longer tour or a different itinerary? Our travel advisors have tried them all and will be happy to help you today!
Call us on (888) 537-9797! 
2. Jungle Buggy
Get down on the dirty on the region's ultimate ATV jungle experience tour!
Located just a short 15-minute trip outside of Puerto Aventuras transport is included in the price.
This tour is one of my all-time favorites, and without giving TOO much away I'll tell you why.
It differs from mainstream tours because it allows you to see Mexico in a new light, a light that most tourists never see.
You will meet a real community, see how they live and enjoy the local scenery of the jungle.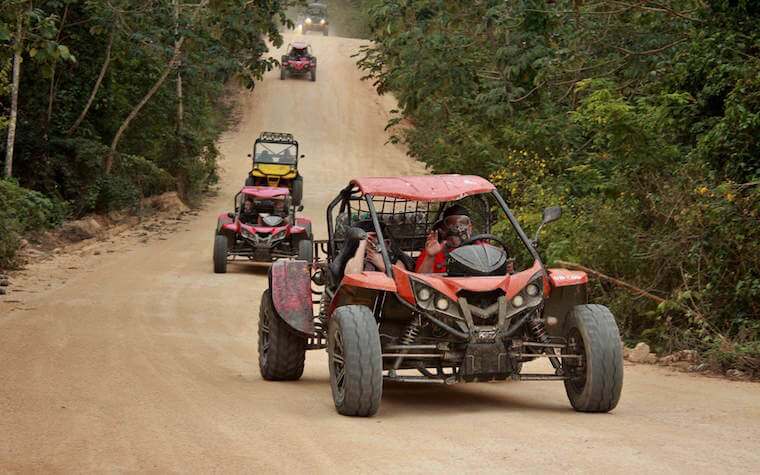 To cool off from all the adrenaline you will also have the pleasure of swimming in a section of one of the longest underground rivers in the state of Quintana Roo.
Let me tell you, this place is visually stunning!
The Jungle Buggy Tour includes:
Equipment
Light snacks
Transport
Expert guide
State of the art ATV
Swim in an underground river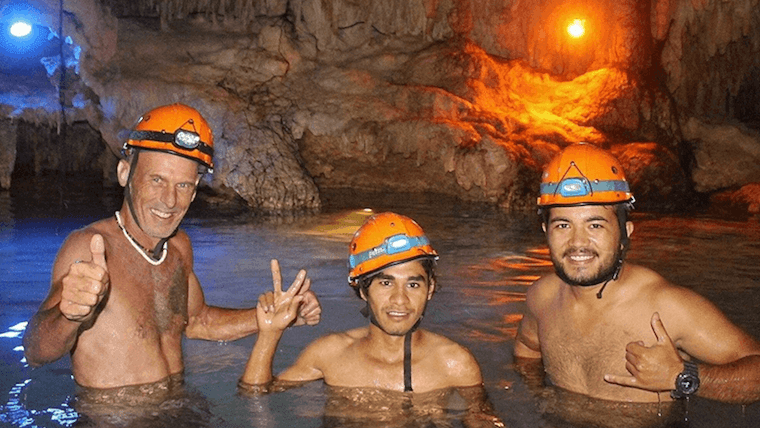 You do not want to miss this!
Read my recent review of this tour here. 
3. Grand  Coral Maya Golf
Partial to a spot of golf?
Tee off in paradise with 18 holes of championship golf at the Grand Coral Riviera Maya Golf Course designed by legendary golfer Nick Price!
This beautiful course is surrounded by stunning landscapes just minutes from the heart of Puerto Aventuras.
Perfect for getaway golfers of all levels.
Grand Coral Golf Riviera Maya respects the region's natural beauty.
As a result, this championship course has left as small of an environmental footprint as possible. Which makes it a champion course in my eyes.
Grand Coral's stunning layout features a challenging signature hole on the 5th, a 7th hole that is almost 600 yards long and has an angled green, and the final four holes are the most challenging closing holes in the entire region.
Learn more about the Grand Coral Golf Course here in Puerto Aventuras. 
Other local activities to consider:
The main activities in Puerto Aventuras are golf, tennis, fishing, and diving.
As mentioned earlier there are a couple of dolphin parks, where you can also kayak and swim with dolphins and manatees.
As for SCUBA diving, Puerto Aventuras has an abundance of multi-lingual instructors and divemasters as well as state-of-the-art equipment and custom dive boats that ensure a safe and enjoyable experience.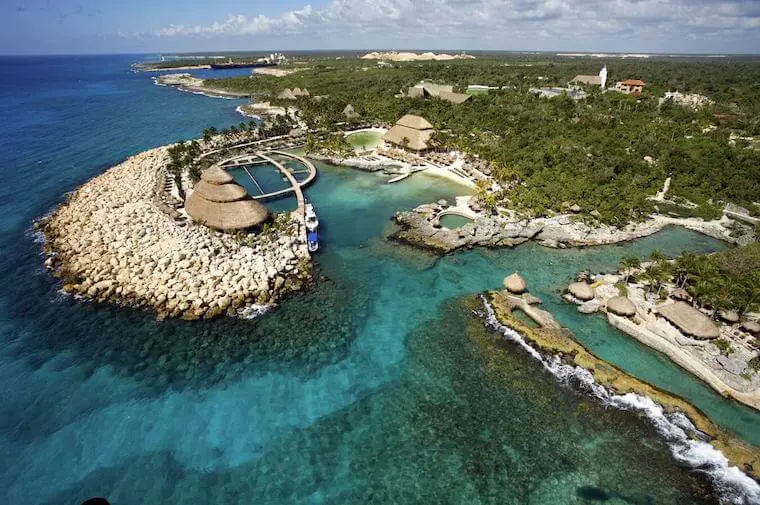 The reef is only about 100 feet from shore, so you can easily do several dives in a day with not a lot of transportation time needed.
It's the perfect place to learn or rekindle your love for the sport.
Nearby popular tourist attractions include:
5. Beaches
Visually there is no doubt that Puerto Aventuras is one of the prettiest residential towns in the whole of the Riviera Maya.
The only drawback is that most tourists that visit will say it doesn't have the best beach…
It's narrow in most parts and looks rocky in parts.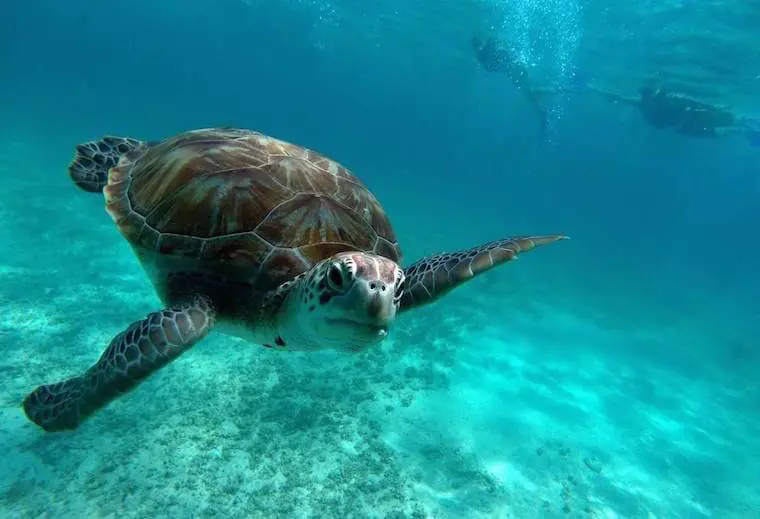 However, what I'm about to tell you is going to make you so thankful you made it this far.
After living here quite some time I have discovered the most picturesque beach right in the heart of Puerto Aventuras.
Only the residents and locals know about this slice of paradise, but I'm about to share all its secrets with you.
Imagine pristine palm tree-studded sands as far as the eye can see, and glistening turquoise waters gently lapping up against the shore.
This is the hidden beach of Puerto Aventuras.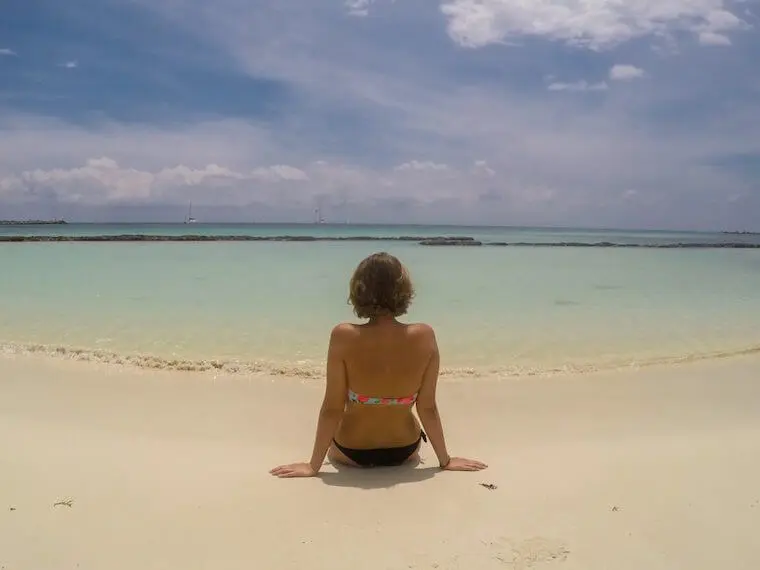 What I love about this beach is that I've never seen in with more than a handful of people on it.
Perhaps the most memorable and magical thing about this particular stretch of beach is the water and what lies beneath its twinkling surface.
The government of Puerto Aventuras has built a faux reef just meters from the shoreline, which attracts droves of brightly colored tropical fish.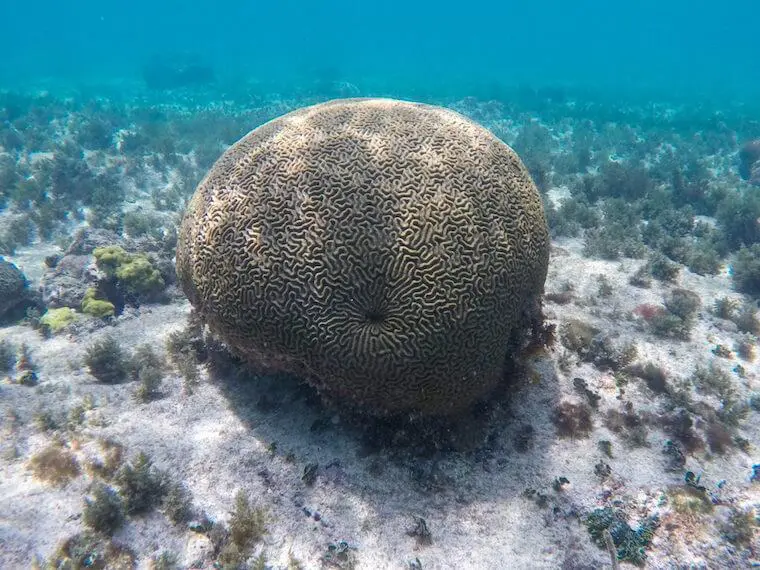 As a happy accident, this barrier also protects the section of sea closest to the shore from any waves or debris. This has created an amazing cove-like area that is always perfectly still, crystal clear, and only comes up to your thigh… so relaxing.
Great if you had small children that want to play in the water!
Find out HOW to discover the hidden beach of Puerto Aventuras here. 
6. Restaurants
Foodies will never want to leave Puerto Aventuras.
The country as a nation is bursting with flavor but what I love about eateries in Puerto Aventuras is the price and service.
People here are so friendly!
The local favorite?
Latitude 20
This place offers up traditional grilled Caribbean food, no deep-fried meals all on the menu. If you are looking for grease you won't get it here.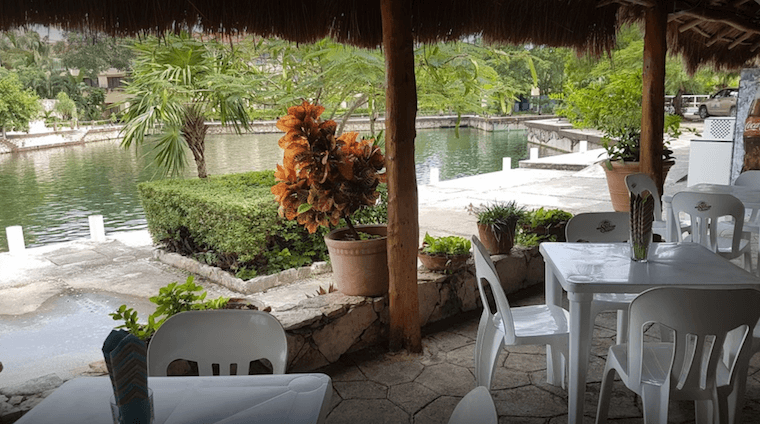 You can expect fresh food, high-quality food, with a bargain price tag.
There are even events and live musical performances happening here in the evening. The ambiance is great to relax, have some fun, and meet new people.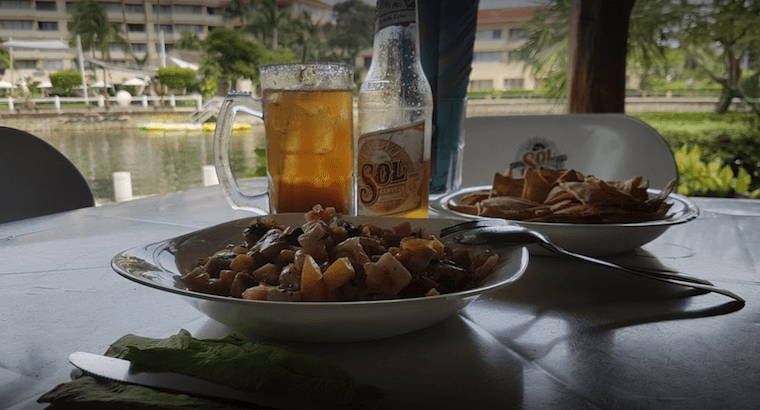 Open daily from 12 pm-9pm
Ristorante Massimo
Love Italian?
Silly question.
Massimo offers a very extensive menu for all you Italian cuisines lovers out there.
From pasta to pizza this place has it all, not to mention the mouthwatering deserts.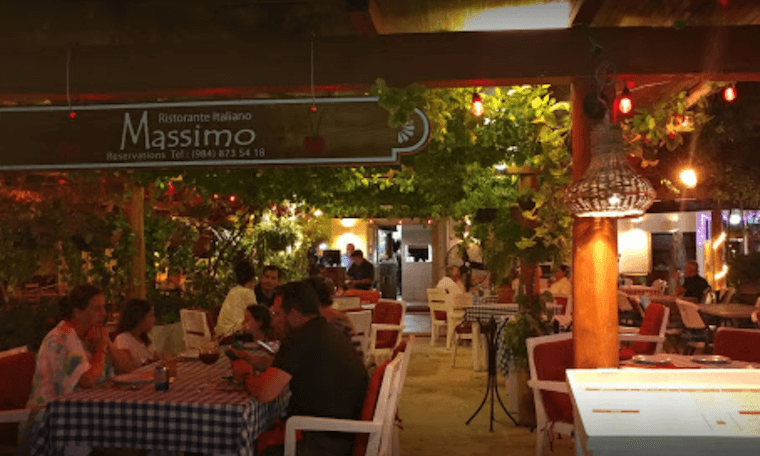 The red setting is very cute, decorated with green flora and fauna.
Relax as you watch the passersby and watch the dolphins playing in the water.
Open Monday to Saturday 3 pm – 11 pm (Closed Sunday).
Pelican Point
Arguably the most vibrant ambiance in the whole of Puerto Aventuras.
If you're looking for a romantic evening out and very good food to go along with it, then you've found your destination.
The owner is even there to greet you upon arrival and explain the menu if needed.
You will feel cared for when you choose to dine here as the staff are super passionate about the food.
They make a table-side Caesar salad from scratch that is excellent, you have to try it!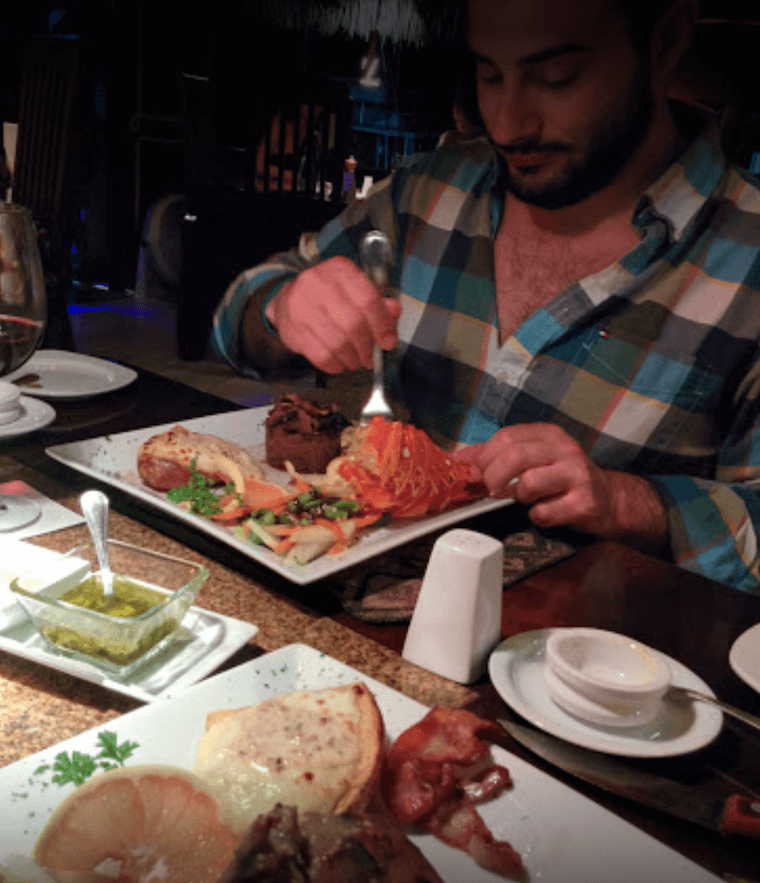 Open Daily 4 pm – 10 pm – Cash Only!
Have you dined somewhere in Puerto Aventuras that you think we need to know about?
Let us know in the comments section below we would love to hear your suggestions.
7. Living in Puerto Aventuras
Puerto Aventuras is comprised of 300 hectares, once all the development have been sold it is going to be a community of around 8000 homes and condos.
So, if you are looking to buy some real estate act now!
Who knows after you visit you may fall in love with the place and be keen to call this place home for yourself.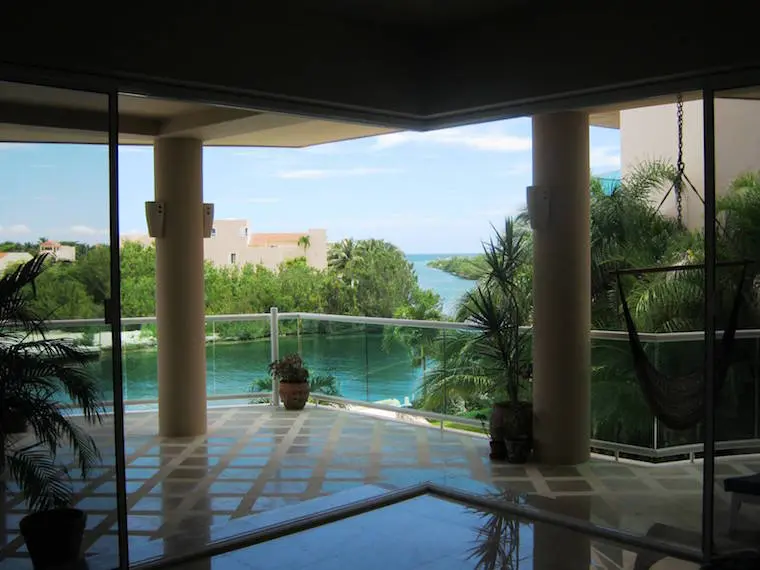 All of its residents will have access to the pristine 2 mile stretch of beach, two large marinas, and the golf course.
The residential areas are low density, surrounded by jungle to ensure lots of privacy, as well as a clubhouse, and other sporting areas.
The fairways and greens are covered by a smooth carpet of Bermuda Grass surrounded by palm trees, bougainvillea, and the Mayan jungle.
Life here is laidback, uncrowded, and BEAUTIFUL!
8. Weddings in Puerto Aventuras
Get married in the epitome of paradise.
Not only will you get lavish luxury at affordable prices, but Puerto Aventuras is also home to some TRULY stunning locations.
A ceremony here means you will avoid the crowds, and be able to enjoy a peaceful and serene wedding.
Our dedicated weddings team of specialists here at Playa del Carmen.Com are here to help your vision come to life.
We take the stress out of planning so you can enjoy every single second.
Planning something away from home can be a little overwhelming.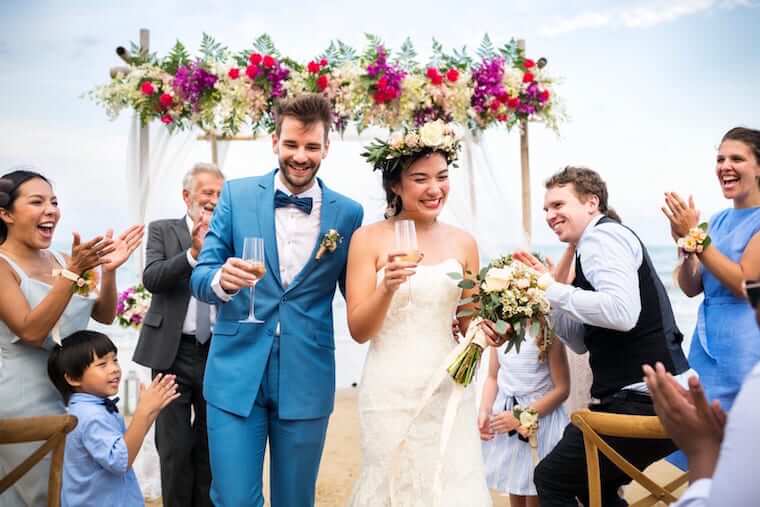 We can help with:
Catholic weddings
Symbolic Ceremonies
Legal Weddings
Prehispanic Weddings
All hotels have their own customizable packages to suit your group and your budget.
Talk to us today at weddings@playadelcarmen.com
Or call us to get the ball rolling (888) 537-9797 . 
Get Discounts on Everything!
We, PlayaDelCarmen.com, are a team of travel agents based here in the Riviera Maya.
Need our advice or want to book? Get in touch today, or leave us a comment in the section below, we would be happy to help.
We can help you get the best prices on hotels and tours in Puerto Aventuras.
Call us at 888-537-9797 or email us at customercare@playadelcarmen.com we look forward to hearing from you!
Paradise awaits…
---
Trending Now