Top 4 Jungle Buggy Tour Tips – Things to Know Before You Go (2023)
---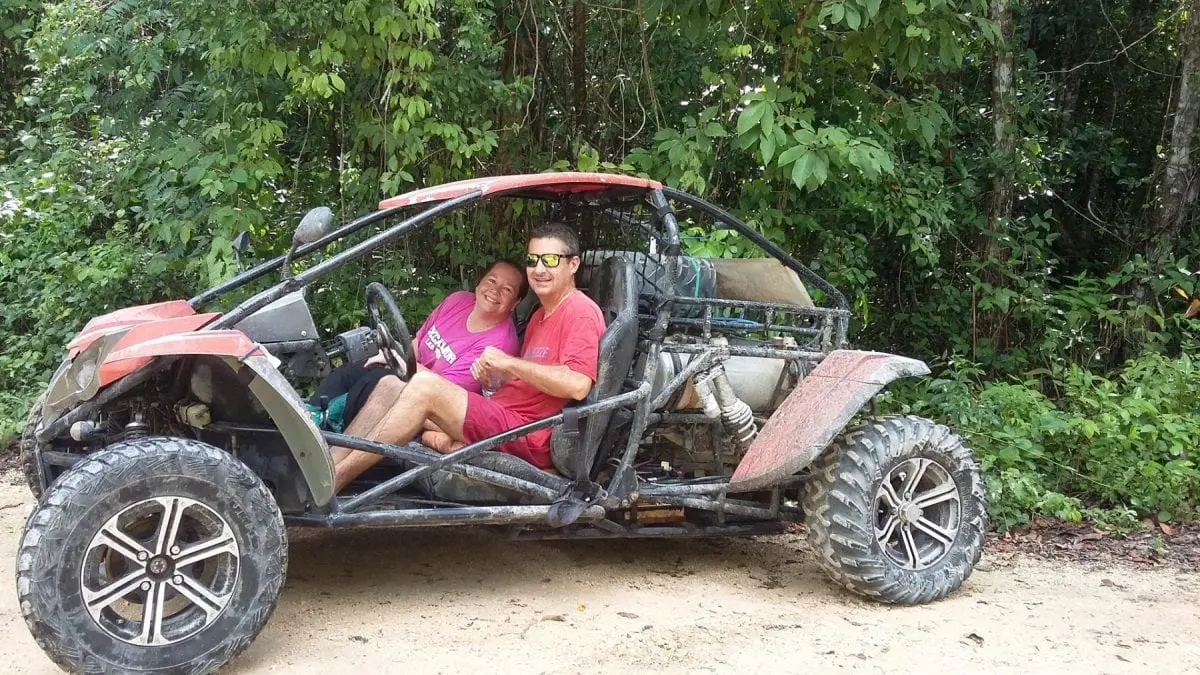 You've discovered the Jungle Buggy Tour in Playa del Carmen?
Bravo, you've done your research well.
It's one of the most popular non-mainstream tours in the region.
Riding dirty has never been so fun! No, I don't mean riding dirty, as in the song that was popular in 2006 (although it is a catchy tune), I am talking about the Jungle Buggy Adventure.
This tour is one of our most popular in Playa del Carmen, and for good reason.
Most people think the Mayan Riviera is only beautiful, sugar sand beaches, and the turquoise waters of the Caribbean Sea. Although the beaches and the Caribbean Sea are a big draw, there is so much more to explore in this magical area known as Playa del Carmen.
I discovered this fun little fact while taking the Jungle Buggy Adventure, which combines speed, driving ability, a sense of adventure, and of course getting dirty!
We started our adventure early Sunday morning. Pick up is included for area hotels, and the time depends on which hotel you are staying. We just drove ourselves to the site directly. After receiving our bandanas and goggles, as well as detailed safety instructions, we were off to explore the Mayan jungle.
---
Tip #1 Wear the Goggles and Bandana
As previously stated in the first Dune Buggy Adventure review post, wear your goggles and bandana. It doesn't matter how nerdy you think you look when the dust starts flying you will be glad to have them.
We started out driving in the streets of Playa del Carmen, and for that section, you don't really need them (unless your eyes are sensitive to wind), but soon enough we were off on dirt roads, on our way into the Mayan jungle.
Luckily it had rained a little the night before our tour, so we didn't need them for dust, however, we did need them for mud. And we did get muddy!! Maybe it's a guy thing, but every mud puddle in the road was driven through by my husband. Was it fun, HECK YEAH, did I feel like he splashed me on purpose, probably, but it was still fun anyway.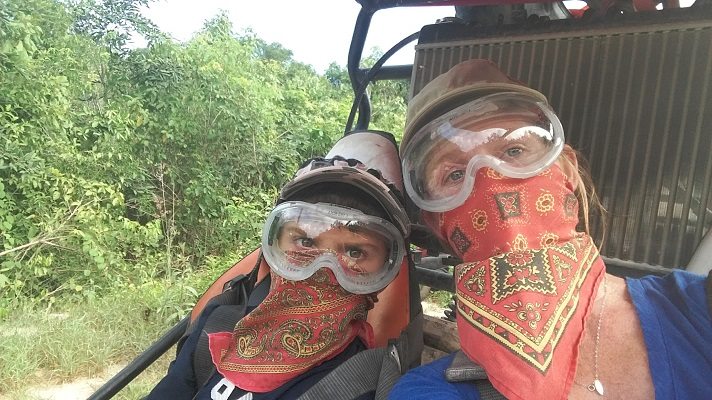 Tip #2 Wear Clothes That You Don't Mind Getting Dirty
Dust or mud, depending on the situation, will be on everything, and I mean everything you bring into the dune buggy. So please don't bring anything that is not water or dust proof.
As stated above, we drove through every mud puddle possible, and we were drenched by the time we got to the cenote. Everything in my bag was wet, but luckily it wasn't anything that would be affected by water.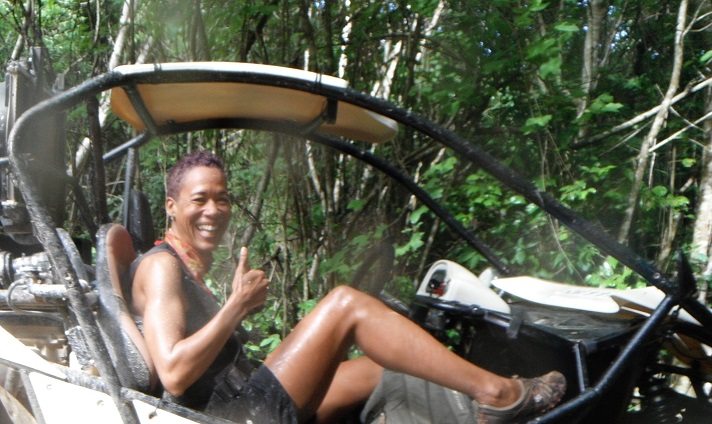 Tip #3 Wear Comfortable Shoes
I cannot stress this enough. This is nature people, no paved paths with handrails to hang onto. You are trekking through the jungle, which includes a lot of limestones (which is sharp), tree roots, uneven ground, and a few steep grades.
My recommendation would be old gym shoes, although I had water shoes which worked as well. I can't imagine navigating the jungle in flip flops, because if they get wet on the way, they are going to slide around on your feet, which will make it very difficult to walk. Even my water shoes slipped on my feet, which made it a little difficult. However, that being said, the trek through the jungle was definitely worth it, because at the end was a beautiful open cenote.
Words cannot describe the beauty of this cenote. It was breathtaking! We swam for a little while, and then headed back to the dune buggies and went to our next site.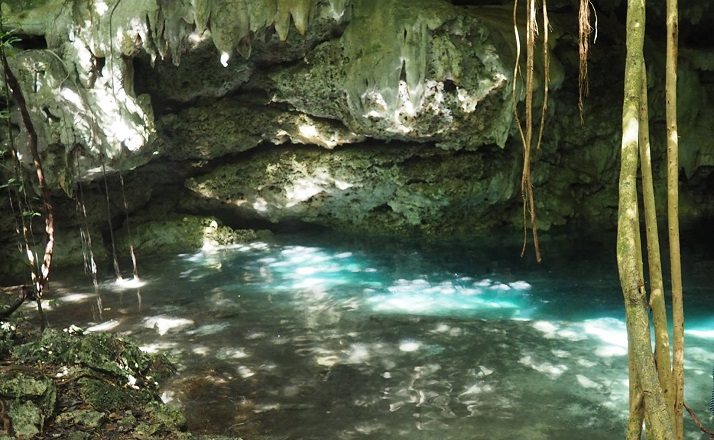 Tip #4 Eat a Good Breakfast and Bring a Snack
This tour does include a snack, however, if you are like me, swimming makes me extra hungry.
We were on the tour for a decent amount of time before we stopped to snack. There were bananas, and pastry, very delicious, but light. From there we headed off into the underground cave.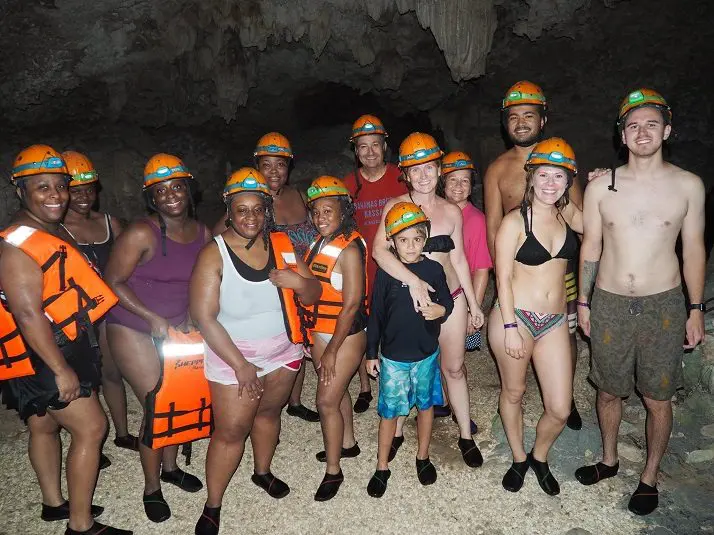 The guides outfitted us with helmets with headlamps, water shoes, and a life jacket if you want it.
We descended into the cave below, which was very exciting! Again, words cannot express the beauty of this cavern. And this is a real cavern, stalactites and stalagmites, a few bats flying around, and just everything awesome about a cave, plus an underground river.
Patrick, our guide, gave us fascinating information about the cave, and how the Mayan people fled from the Spaniards so long ago. We came upon a natural swimming pool, swam for a little bit, and then headed out.
Again, if you like caves, history and seeing natural beauty at its finest, you will love this tour. The water is a little cold however in the cave, but it is knee deep for the most part, except for the natural swimming pool.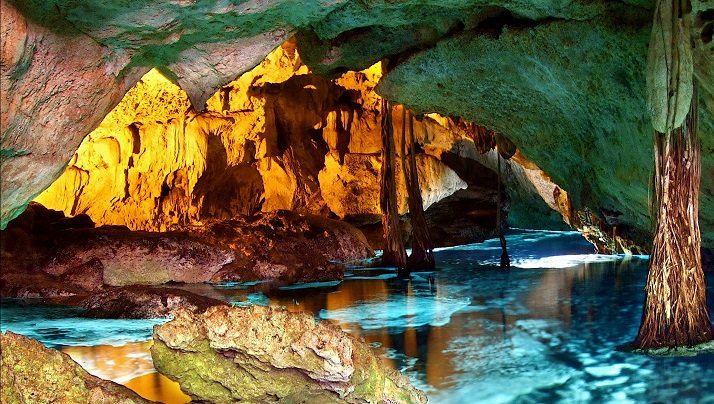 We concluded our trip by driving through a Mayan village. If you are so inclined, you may buy food items for the villagers.
This tour is a really great alternative to the normal beach activities of the area. You get to see a whole different side of the Mayan Riviera, swim in ancient cenote, explore an ancient cave, and help the people of the village (if you choose).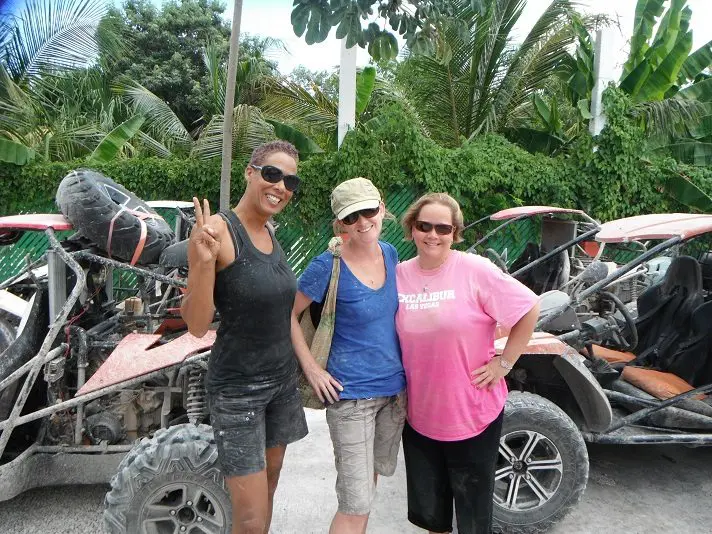 My Takeaway
I highly recommend this tour, as it is both fun and educational, and will fulfill your need for speed. Vacations are about memories and I guarantee this will be a day filled with stories to tell… and you may just look at riding dirty in a whole new light.
Additional Tours You May Also Like:
Want to book the buggy tour?
Get info and prices here… Have a question for Travel Specialist Linda? Contact her
Have you done the jungle adventure tour? What did you think? Share your experience below… 🙂
---
Trending Now
You may also like