Rio Lagartos Adventure Day Trip from Playa del Carmen
---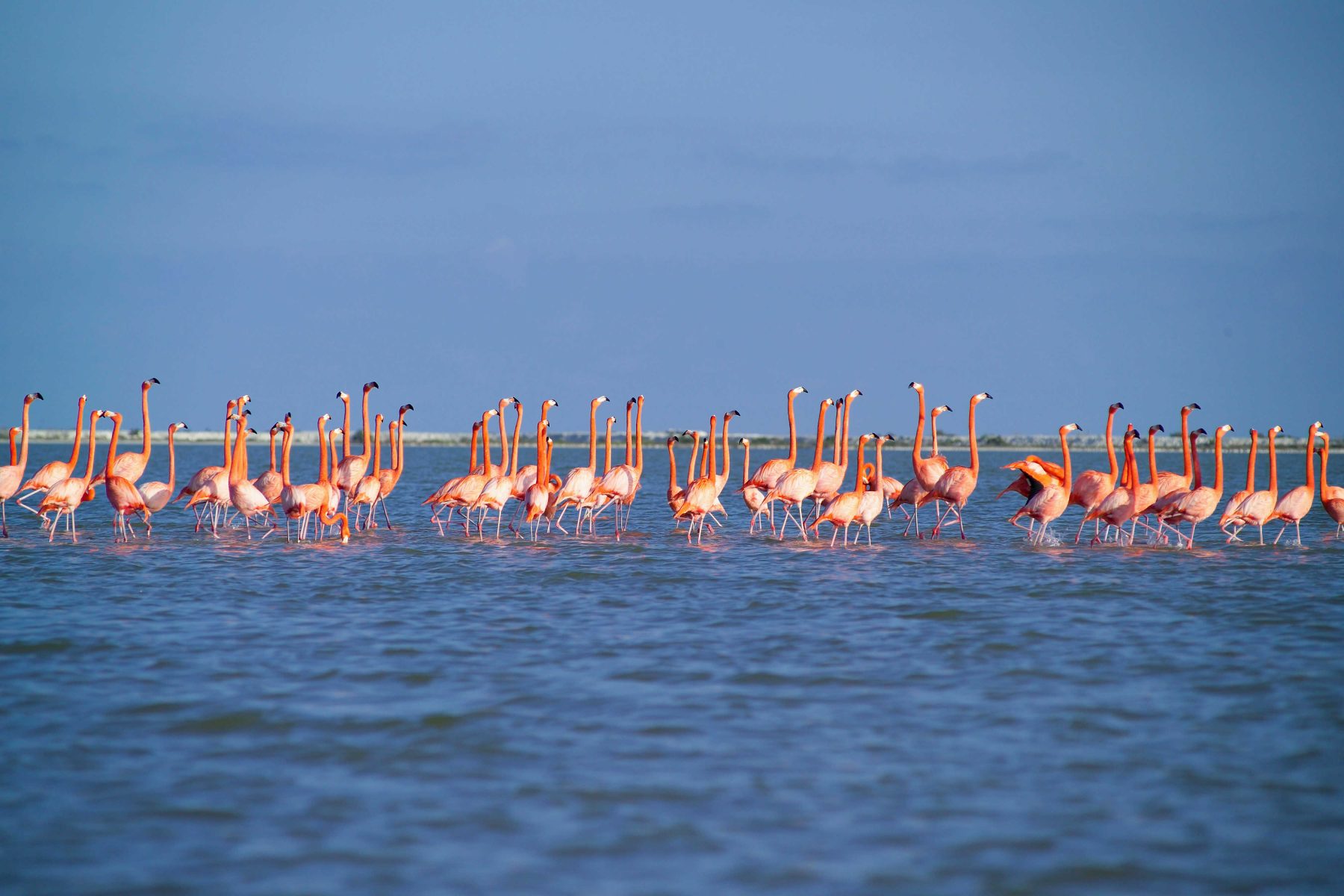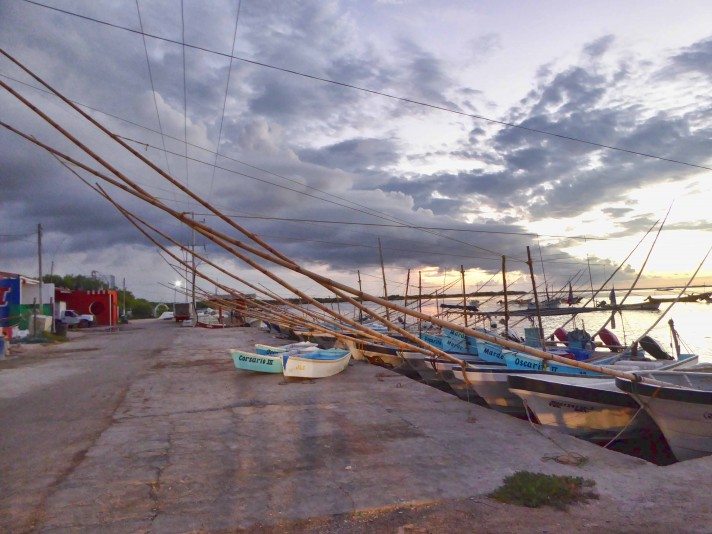 On the sleepy northern shores of the Yucatan Peninsula, Rio Lagartos (Alligator River), natural beauty and biodiversity is simply a must see! Flamingos, alligators, and turtles, oh my! This is just a taste of what Rio Lagartos has to offer.
About 38 years ago, Mexico established Rio Lagartos as a Biosphere Reserve Park. The area is densely populated by a diverse array of wildlife, some of which include flamingos, sea turtles, freshwater crocodiles, jaguars, and over 395 species of birds.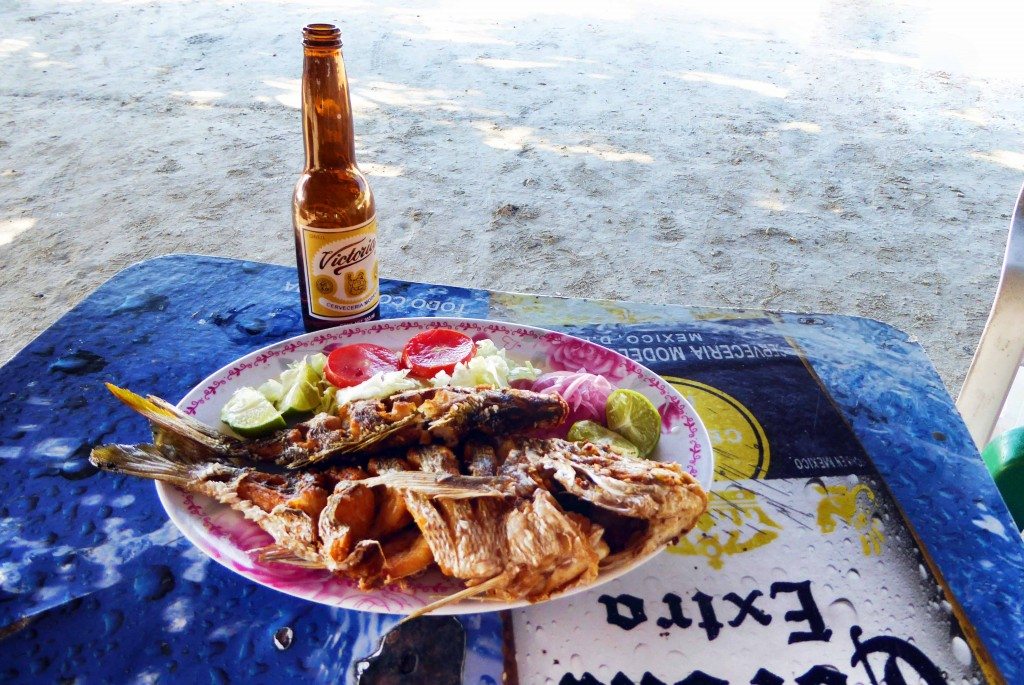 After an easy three-hour drive from Playa del Carmen, we arrive in the quiet backwater-fishing village of Rio Lagartos. A local fisherman greets us on the shoreline, finishing his work for the day and busily organizing his daily catch.
My travel compadre and I are offered fish from the days catch. We appreciate the gesture, but decline. Besides, there was just no way for us to transport these slippery little suckers anyway. Not taking no for an answer, the Captain rummaged around the open hull to find us something, anything, to put our fish in for transport. We are now the proud owners of a recycled green plastic bucket "O fish".
The "Catch"(pun intended), was for us to take these fish to a nearby family restaurant where they'd be prepared for lunch.
Situated on the east side of the peninsula was a palapa covered family restaurant. Here you could pay a nominal fee to have your plastic jug of fish fried.
I personally take issue with any food that has the ability to stare back at me, but these circumstances do not happen everyday. When in the Yucatan, you just gotta roll with it. Honestly, just wasn't for me! Lot's of other restaurant choices to choose from in Rio and suggest you do your research prior to arriving (internet service is not good).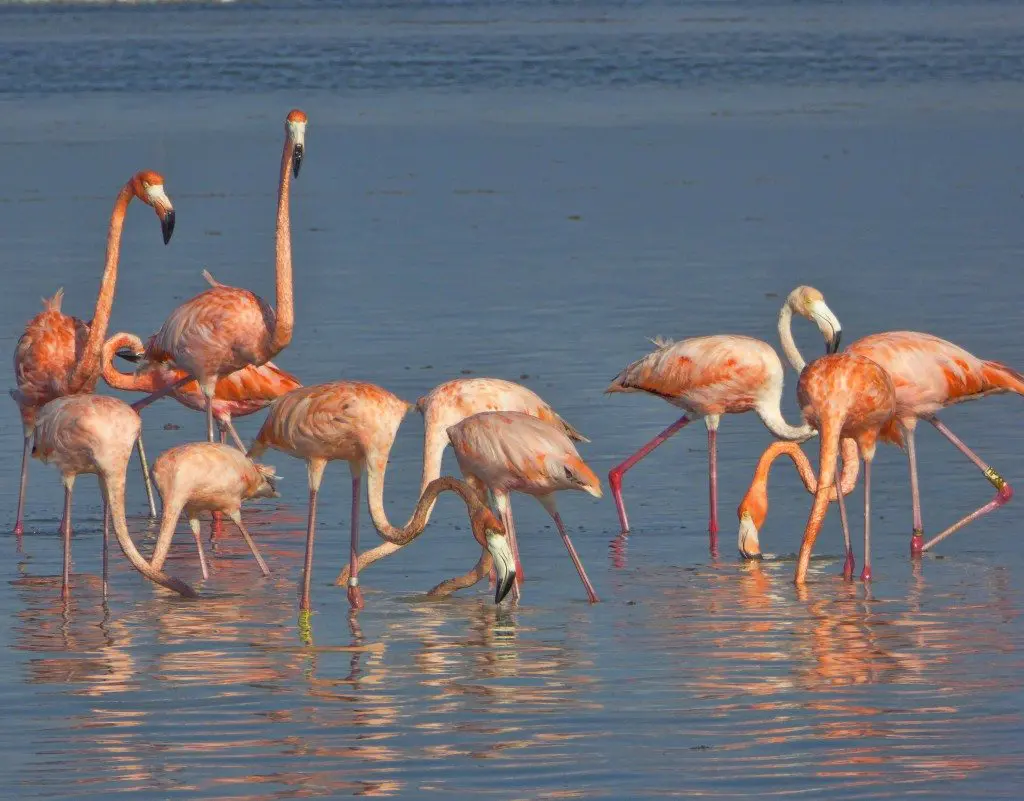 Booked through the restaurant were tours showcasing Rio Lagartos' best. We arrived quite late in the day and were informed by those on the tour before that they were only a handful of flamingos to see. Even spotting a few of these pink misfits, was worth it. We negotiated down to 700 pesos for the "big tour" (about $40 USD at today's exchange). The tour was about 2.5 hours and included: Flamingos, a Salt Factory Lagoon, and a Mayan Mud bath.
Before we knew it, we were on a boat headed out in search for the largest big pink birds in the world. The lanky necked; coraline downs lined the saltine wetlands of Rio Lagartos. With low expectations we approached more than one hundred awkward one legged standing birds off the bow of the boat grazing in the shallows. Captain Juan told us during the spring and summer, there's sometimes over 3000 birds in this same location.
Doing best to keep quiet and keeping a distance these birds paid no attention to us "Tourist-ratzis".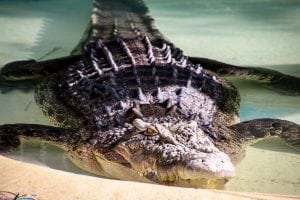 Continuing our tour we started down the waterways where the salt water and fresh water merge together. Surrounded by thick and beautiful mangrove forests, our Captain slows to approach a little beach.
Thinking this was the swimming spot advertised along our journey, we opted to pass on this doggy little beach. Well, that was a wise idea! We didn't even see the incredibly large alligator loitering about the shoreline. Ally the Alligator wasn't much for selfies, but we sure got a good "SNAP" shot!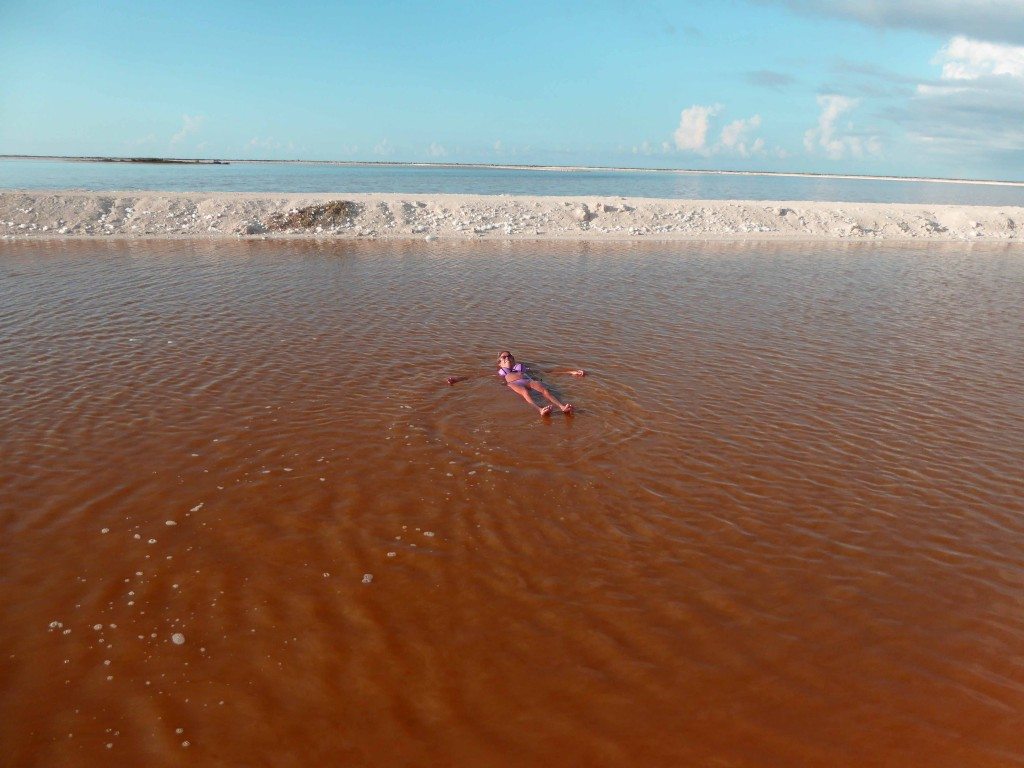 Up next, the "Salt Water Factory Lagoon". Cruising along we see many varieties of birds and creatures "Where's Waldo Style", amidst the mangrove estuaries. As we approach the rose color salt lagoon you can see the Salt factory in the distance. The water was a warm bath rich with minerals and salt. Bobbing around like a cork you felt weightless (best diet ever).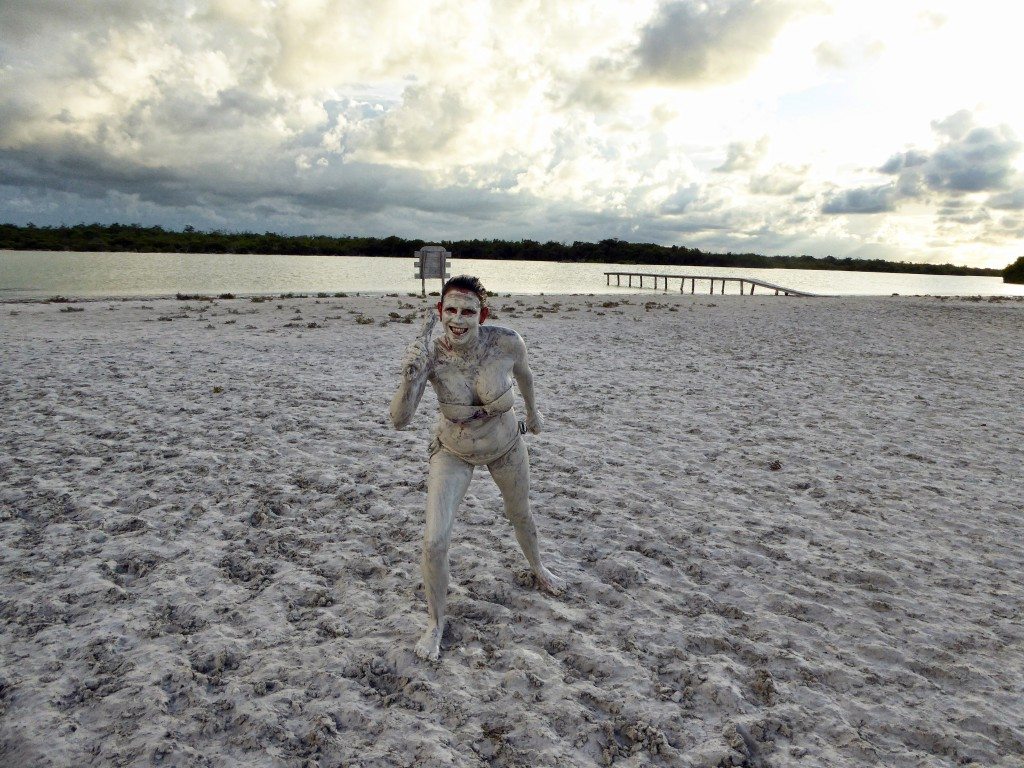 A short jaunt down the shore and you're in a natural Mayan Spa. There we found pockets full of detoxifying mud and clay that you're supposed to smear all over your body. The therapeutic gobs are chock full of minerals and detoxifiers and said to be great for your skin. I'm pretty sure one application won't take my wrinkles away, but here's to hoping. As we're nearing the end of our trip, we cross the canal and head to the ocean where we rinse off and enjoy the beautiful sunset amongst the pictures of Rio Lagartos.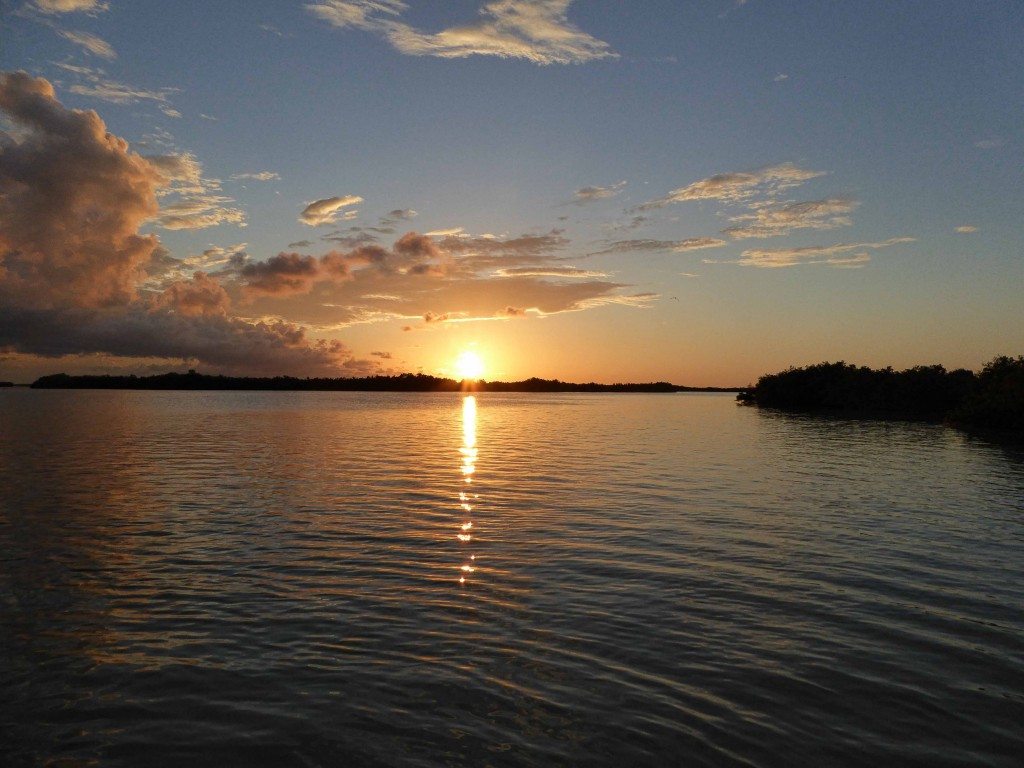 There is much to explore in Rio Lagartos and I suggest you plan to spend an entire day soaking in the beauty of this magical place.
---
Trending Now
You may also like