Your Sandos Caracol Eco Resort Wedding – My Honest Review (2023)
---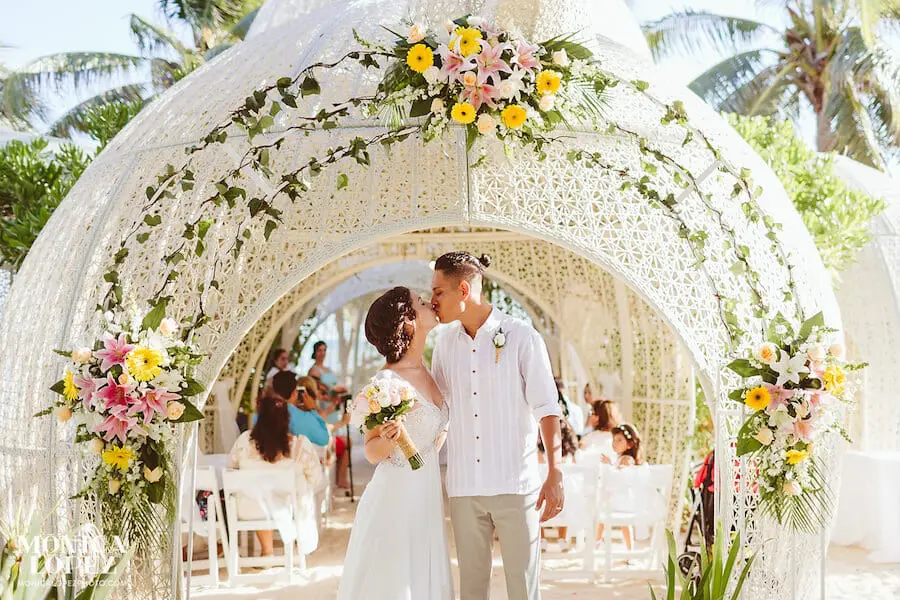 Are you wondering if a Sandos Eco Caracol is the right choice for your destination wedding?
Our team of wedding planners has organized their fair share of weddings at this resort at 100's more.
I'm here to bring you the insider scoop!
Due to the resort's affordable packages and renowned top-notch service, it's safe to say that Sandos Eco Caracol is a hot choice among clients, old and new.
Find out everything you need to know right here…
…and of course, as always, our honest opinion of what it's like working with this resort.
Your Sandos Caracol Wedding (Rivera Maya)
---
1. Hotel Overview
Do you desire a secluded tropical destination wedding that isn't too far removed from the heart of the action?
Look no further than the Sandos Caracol Eco Resort.
This hotel is around 30 minutes from the heart of downtown Playa yet tucked deep within the rich jungle surroundings.
It's your own slice of paradise!
No matter where you have your wedding ceremony at the resort, you will be surrounded by a lush environment.
Picture rich mangroves, and exciting wildlife that includes peacocks and spider monkeys.
A Sandos Caracol wedding is perfect for couples who love excitement and exploration.
It's a kid-friendly hotel that also boasts a select club area just for the adults  – the best of both worlds!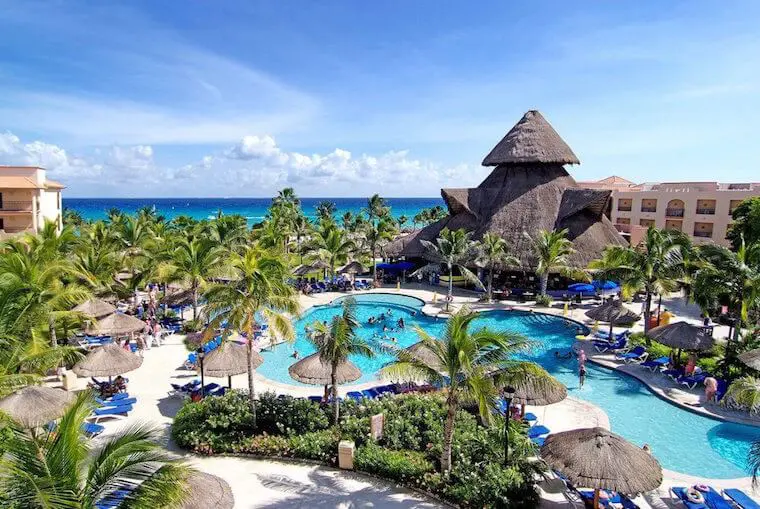 Not only that, but Sandos Caracol has a unique Eco concept which educates and inspires its visitors.
They do not provide bottles of water in the rooms, but instead a garrafon (large jug).
They discourage the use of straws.
They have options for compostable waste, areas for recycling, and provide reusable glasses rather than disposable ones.
A percentage of the rooms have been redone to be more energy efficient.
They have left the vegetation and wildlife in the area unharmed.
They do not allow photo vendors to walk around asking you for pictures of animals in captivity.
And much more!
All in all, they are easily one of the most eco-friendly hotels in Playa del Carmen.
Average Price Per Person, Per Night
$98 – $125 average price per person per night.
Max room occupancy is 4.
This is a large resort.
Rooms include a private balcony or terrace, and children 1 and younger stay free.
There are adults-only rooms and sections available at an additional cost, and these areas do not allow anyone under the age of 18.
Read my full in-depth review of the Sandos Caracol Eco Resort here.
2. Wedding Package Options
Each package includes up to 30 guests and has been designed with a different ceremony venue in mind.
For example, the Green Wedding package utilizes the cenote deck.
A la carte weddings and Indian wedding packages are also available.
How Much Do Wedding Packages Cost at Sandos Caracol?
***PLEASE NOTE PRICES ARE SUBJECT TO CHANGE SLIGHTLY YEAR ON YEAR***
Prices packages for 2023/2024 range from $3150-4750
Entry Level Package
$3150 – 30 Guests 
This includes:
Symbolic ceremony
Natural set up on the dock of the cenote
Live Mayan drum music during the ceremony
Sparkling wine toast during a reception
Flower arrangement for minister's table
1 bouquet and 1 boutonniere
One-tier wedding cake
Your personal wedding coordinator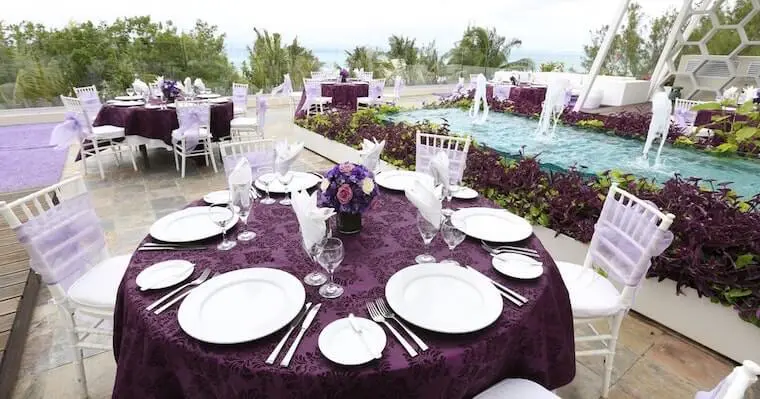 Please note that prices are subject to change slightly depending on the season in which you book and year on year. 
Optional Add-Ons
As with most great resorts in the area, Sandos Caracol offers the opportunity to put your own personal stamp on the wedding through customizable add-ons.
You have the power to customize everything from decoration to reception/cocktail food and drink choices.
Upgraded packages, additional guests, are available for an additional cost for any Sandos Caracol Eco Resort wedding.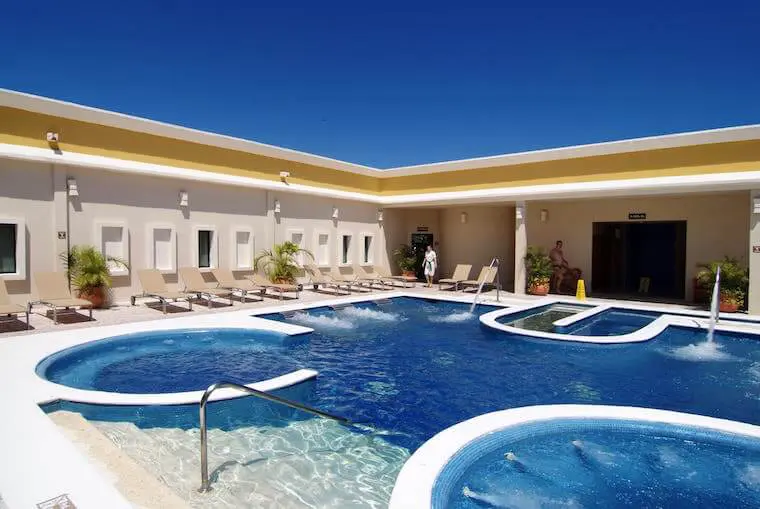 Standard additional benefits for the wedding couple include:
Steaming service for the wedding outfit (arrival 3 days prior required)
1 make-up and 1 hairstyle (excludes trial) at the Sandos Spa
Commemorative certificate in the form of the "Sandos Wedding Tree"
Couple's massage at the Sandos Spa
Room upgrade for the couple (subject to availability)
Complimentary honeymoon amenities for the couple
Earn up to USD 2,000 discount off wedding packages, based on the number of rooms booked.
3. Ceremony & Reception Venues
There are 3 stunning locations to enjoy for your wedding at this spectacular resort, this includes:
Rooftop Terrace – 100 guests max (this comes at an additional charge as it's considered a premium venue)
Beach – 100 guests max
Cenote Deck – 80 guests max
1. Rooftop Terrace
Just look at those breathtaking views of the Caribbean ocean. Take your love to new heights at the Sandos Caracol's stunning rooftop terrace.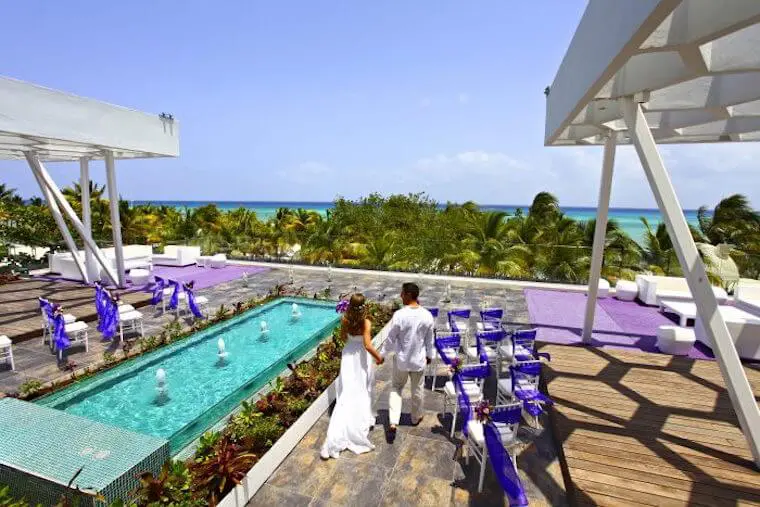 It's the perfect location for the wedding ceremony, the reception, or heck,  both if you want!
The fountain that runs through the middle adds an elegant and decadent touch to the whole ambience.
There is a gorgeous sea breeze that blows through on a sunny afternoon.
The best part is this location offers complete privacy for you and your guests.
Ideal for: ceremony, cocktail hour, reception
Maximum capacity: 100 people
Ground: solid tiles
Private events can be held until: 11 pm
2. The Beach
Beach weddings here in the Caribbean are the most popular for obvious reasons – we have some of the best beaches here in the world!
However, beach weddings here have something EXTRA – a stunning gazebo!
It provides the perfect amount of shade and lighting for your ceremony with the glistening turquoise sea as your backdrop.
For me personally, this is my favourite location to have the ceremony at this resort.
Ideal for: ceremony, cocktail hour, reception
Maximum capacity: 100 people
Ground: white powdery sand
Private events can be held until 11 pm,  except in turtle nesting season (May-Oct) it changes to 9 pm
Additional information: a beach government fee applies unless included in your wedding package
3. Cenote Deck
Then last but certainly not least,  we have the cenote deck!
If you are a huge lover of Mexico and its culture, this is the spot for you.
Immerse your guests in the Mexican jungle and natural scenery on the Cenote Cristalino deck.
You can even have live Mayan drum music during the ceremony.
It' the perfect place to capture some unique wedding photos.
Ideal for: ceremony, cocktail hour
Maximum capacity: 80 people
Ground: wooden boards
Private events can be held until: 11 pm
4. Gay Weddings At Sandos Eco Caracol
Love is love here at PlayaDelCarmen.Com.
If you're hoping to plan an LGBT wedding here in Mexico, you're in luck the Sandos Eco Caracol Resort is Gay and LGTB friendly!
Many gay and LGTB couples come to Mexico to get married in paradise. I mean, why wouldn't you, right?
For destination weddings in Mexico there a few different options and approaches to choose from.
The most popular is to have a symbolic ceremony and get legally married back home.
However, a legal marriage can be arranged too with a little extra planning and help from your expert coordinator.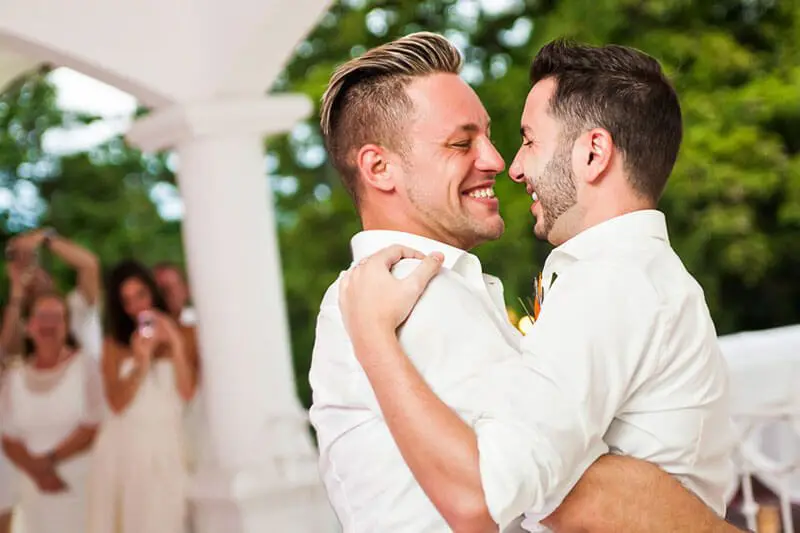 It involves medical tests, paperwork, and additional fees.
I should note not all hotels in the state actually advertise this type of wedding, but the Sandos Caracol do and would be delighted to host your gay wedding.
Something to be aware of: The marriage can be legalized here in Mexico but your state home may not class it as legal if they don't allow gay marriage yet.
Other articles you may find useful on this subject include: 
5. Room Types at Sandos Caracol
At Sandos Caracol Eco Resort the hotel is split up into three sections:
Family Section
Select Club
Royal Elite
We know it's a lot to take in so our expert travel advisors will be here to answer your questions, make sure you get the best deal, and help you and your guests choose the right one for you.  Rest assured there's something for everyone…
Guests with children will have a choice of the variety of room types that are found in the family-friendly section of the resort (detailed below).
Guest with no children who prefer a little more peace and quiet can stay in one of the room types found in the Select Club area of the resort.
And the bride or groom simply have to stay in the Luxury Accommodations on the beach (I mean, if you can't splash out on your wedding when can you?) Treat yo self! This is your special occasion.
Below is a small breakdown of each room type but if you'd like to know exactly what is included simply call us on our toll-free number 888-537-9797 or contact us via email at weddings@playadelcarmen.com
1. Family Section (Family-Friendly Section)
The Family Section of the hotel has 4 different room types which include:
Standard Room – the most popular room, located close to the beach, main pool, and all the action…
Eco Family Superior – inspired by nature this is the perfect room option for guests seeking child-friendly accommodations. Featuring modern style decor and inspired by the surrounding jungle.
The Eco Family Suite – includes a private balcony with a plunge pool, the bunk-bed adds a little more adventure to bed-time, so it won't be so hard to get the little ones into bed at night.
Eco Penthouse – this is a luxury family penthouse – parents can relax in a master bedroom with 50" LED TV and Bluetooth music network, as well as a master bath with double sinks.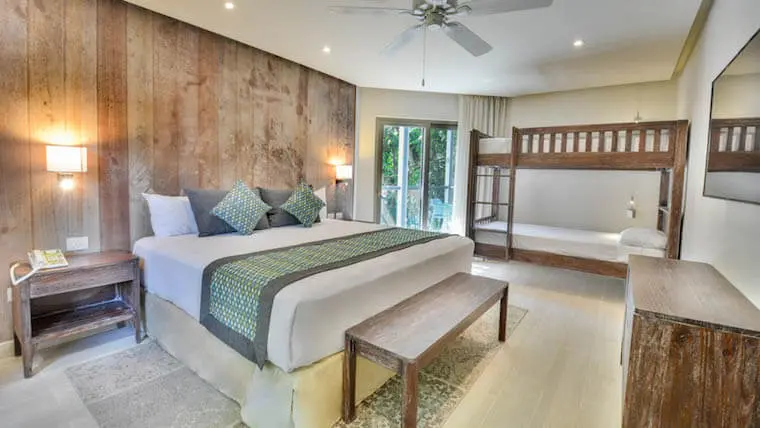 2. The Select Club (Exclusive Adults-Only Section)
The Select Club Superior Room: a secluded paradise! Perfect if you want a little something extra when it comes to adult-only. accommodation such as comfortable bedding, jungle-inspired decor, Wi-Fi access, full-sized balcony, jungle views, and much more.
Select Club Deluxe: includes private jacuzzi & spacious terrace. The in-room jacuzzi is the perfect spot for enjoying a glass of wine or a little bit of room service. You'll have access to the exclusive Select Club areas including the adults-only swimming pool and beach-club section.
Select Club Penthouse: Indulge in a soak in the outdoor jacuzzi tub in our most spacious Adults Only accommodations! These suites boast a master bedroom and separate living area. Very swanky!
3. The Royal Elite (Luxury Beach Accommodation)
The Royal Elite Superior: Luxurious Eco-Friendly Rooms! These eco-friendly rooms really do rival any luxury hotel in the Riviera Maya for comfort and convenience. It's beachfront accommodation with all the trimmings.
Royal Elite One Bedroom Suite: Family-Friendly Suite. For extra space and luxury by the beach and pool! Created with families in mind, these contemporary-styled suites have a bedroom plus a separate living room…
Royal Elite Penthouse: Each of these rooms features a master bedroom area as well as a living area with a sofa bed. You'll also get upscale amenities like Premium liquor, 24-hour…
6. Beach
Not all beaches were created equal in the Riviera Maya and I'll be honest,  the Sandos Caracol Eco Resort doesn't boast the best beach in the world but it's nice enough. It hosts a gorgeous gazebo for weddings but it is quite narrow and very rocky in parts.
I'd advise packing water shoes for you and your children if you like to play and swim in the sea.
7. Food & Drink
There are 3 buffet restaurants, 6 speciality restaurants as well as snack bars and multiple bars. It's all-inclusive at this hotel so you can eat and drink to your heart's content.
Best of all?
There's even room service. 😉
Satisfy all of your cravings whether you're in the mood for breakfast in bed or a midnight snack get it delivered to your door. Hell yeah!!!
8. Activities & Entertainment
This resort, in particular, is overflowing with incredible activities.
Including volleyball, snorkelling, tennis, and other sports. Sandos even have a teen's activity program, a kids club, and a baby club. So,  if you or guests fancied a child-free dinner it's 1000% doable at this trusted resort.
Not only that but there is a theatre with nightly entertainment and movies.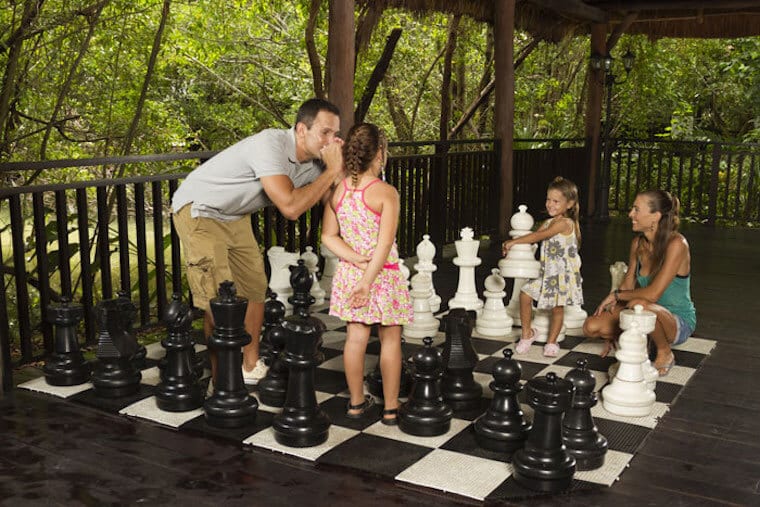 Also on-site, they have a full-service spa, an outdoor Jacuzzi area, and a fitness center.
There is a small water park on-site and lots of animals as well – a great option for families with younger children.
9. What Brides Said…
"If there could be one word to describe my wedding day at Sandos Caracol it would be perfect." – Negar M 

"We got married there and the wedding was fabulous." – Linds M

"We travelled as a group of over 50 adults and children to Sandos Caracol Eco Resort April 15-22, 2018 for our wedding. I can't say enough great things about this resort! It's clean, the staff is wonderful, and there is a lot to do and enjoy." – Jacklyn5712

"I had my amazing wedding at Sandos eco resort and had a great experience." – Michelle B

"There wasn't much my husband and I would change about our wedding day, it was beautiful, went smoothly, and flew by way too fast!!" – Tnyitrai
10. Why We Like It
At PlayaDelCarmen.Com, we don't sell anything we don't try and sell you anything we don't wholeheartedly LOVE.  Instead, we offer advice and honest insight.
That's why you won't find any dolphin tours or morally questionable tours on our site. It's just not how we roll…
We know how special this day is to you and we want it to be perfect just as much as you do. 🙂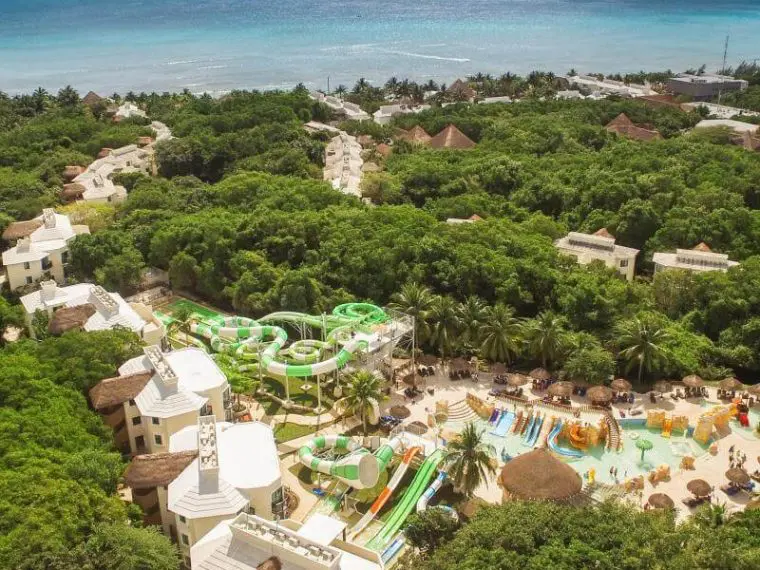 For me and the wedding team, the highlights of this hotel include:
The cenote – it's a true wow-factor at the resort, the Mayan word for the resort's naturally crystal clear swimming hole, where your Sandos Caracol Eco Resort wedding guests can go snorkeling or relax dockside.
The waterpark has slides and sections for kids and adults, and with adults-only areas, there is plenty to do for every member of your wedding group.
The resort focuses on preserving nature and presenting traditional Mayan culture. You can even utilize tribal drummers and the Tezmecal ceremony for your wedding.
11. Additional Resources You May Find Useful
I'm dedicated to you to bring you honest and insightful information on weddings here in Mexico.
The wedding section of our blog is simply brimming with posts you will find useful everything from different packages and inclusions, to what dress you should wear to stay cool.
Just simply type your keyword in the finder and I guarantee you will find something.
If I've not written about the hotel you are interested in yet leave your suggestion in the comments section of any blog and I will get right on it. 🙂 You wish is my command!
For your ease of access here are just a few more I think you may find useful while getting inspiration and clarity on your vision for the big day!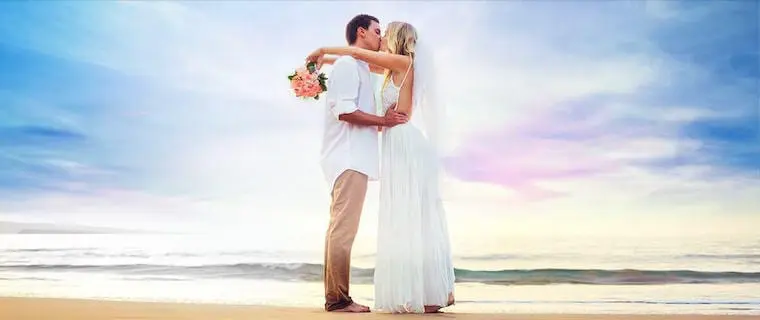 Start here and if you don't find what you're looking for there's much much more to go off.
Plus, if you have any question I will be here to help, just reach out in the comments section below and I will get back to you ASAP.
Planning a wedding in paradise should be fun. 🙂
12. Get Married in Paradise
The first step to planning a faultless and unforgettable wedding is finding the perfect wedding coordinator for you.
Get in touch with our experienced team of wedding planners today for FREE!
Our dedicated wedding team is made up of experienced wedding planners from around the world. So, don't worry I can almost guarantee we speak your language.
This is what we do best! We've planned 100s of spectacular events in the region. As locals, we are unbias and know the lay of the land better than anyone.
We'll be with you every step of the way.
Call us toll-free 888-537-9797.
Or
Contact us via email at weddings@playadelcarmen.com
Sandos Caracol Eco Resort Wedding Review
Hotel Overview

Wedding Packages

Wedding Team

Activities & Entertainment

Food & Drink

Rooms

Beach

Wedding Locations
Summary
The Sandos Caracol Eco Resort is one of the most popular hotels we sell for weddings and for good reasons… It's very affordable and you certainly get a lot of bang for your buck at this resort. The different room options are great for guests with families of all sizes.  Plus, the wedding team at this hotel are a pleasure to work with and are dedicated to making this one of the best days of your life.
---
Trending Now