My Hard Rock Hotel Review
---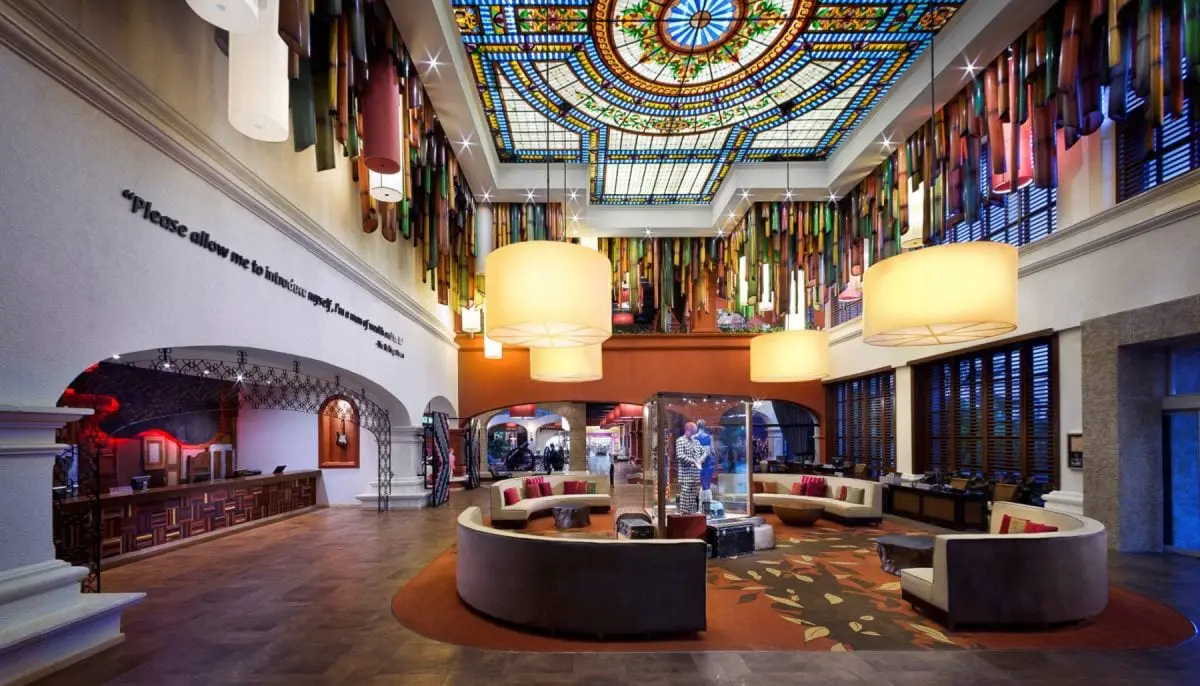 I decided to spend a few days at the new Hard Rock Riviera Maya hotel.
This used to be the Aventura Spa Palace before it was gutted and rebranded as the Hard Rock.
Renovations were set to finish in late 2013, but things didn't go according to schedule and work in certain areas of the hotel is still ongoing.
Our 2017 Hard Rock Hotel Review shows that are getting better.
Here's my review of the Hard Rock Hotel Riviera Maya.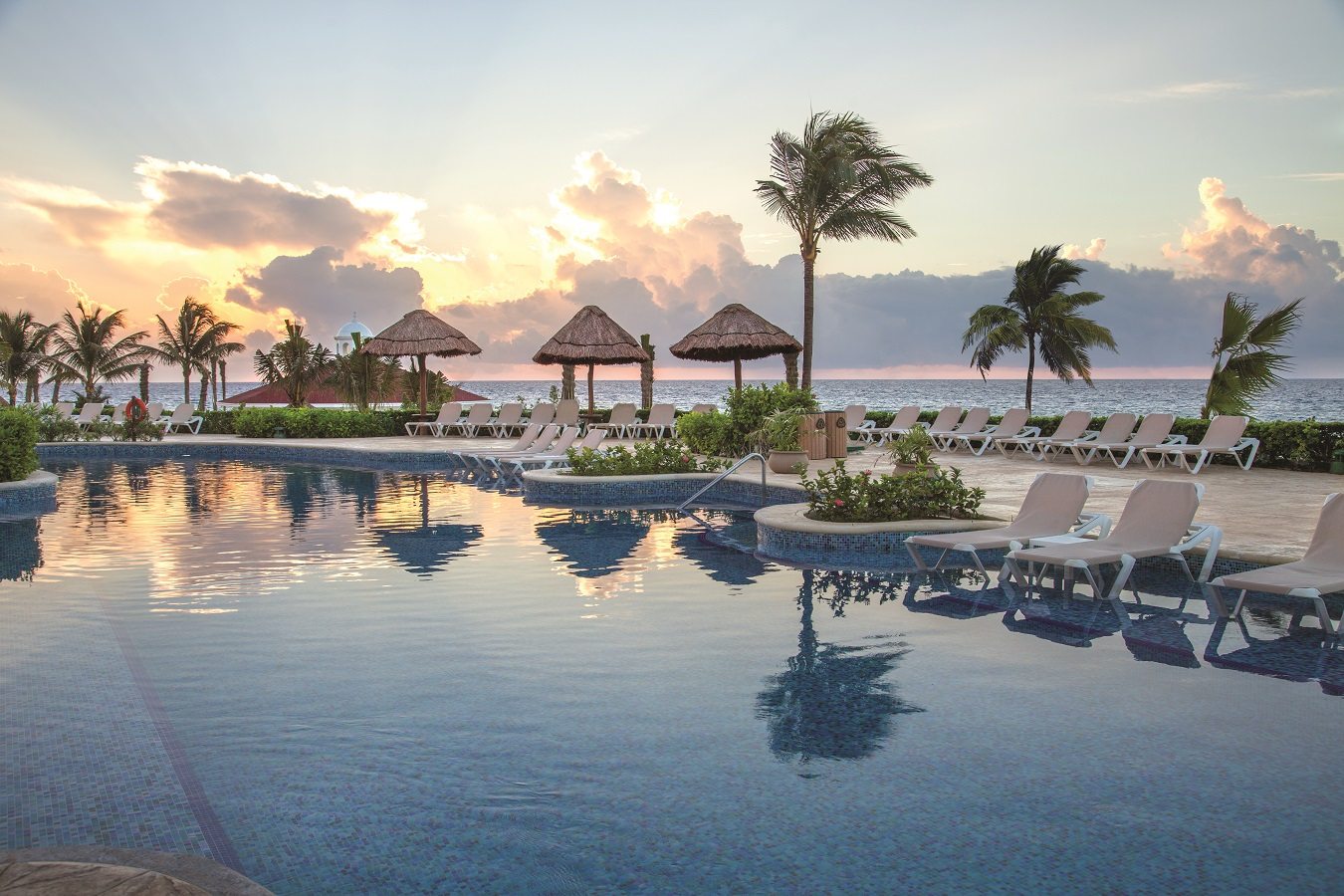 TOP 5 THINGS YOU NEED TO KNOW BEFORE BOOKING
1. There are 2 Distinct Sides
Heaven and the Hacienda are the 2 distinct sides to the hotel.
The Heaven side is Adults-Only.
Hacienda is for families.
Although you reserve one or the other, they are technically the same hotel.
If you are staying at the Hacienda family side and are 18+, you can access services at the Heaven. The guests at the Heaven can also use the Hacienda side.
As of now (March 2014) the Heaven Adults Only side is not yet 100% complete and although there are only a few renovations left, they are ongoing.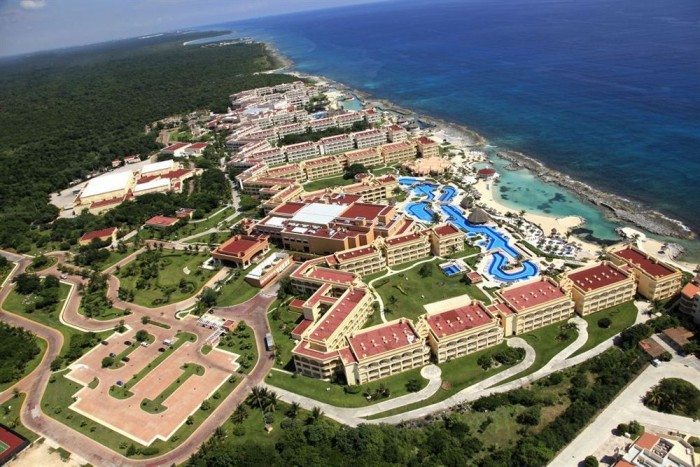 2. The Beach is a Lagoon
If you are a beach walker and love long strolls, this is not the beach for you.
The absolute plus side to this beach is that it is protected so you can always swim. There will not be any restrictions for red flag days and it's great for smaller kids and even babies. Plus, you can even snorkel in the area – tons of little tropical fish.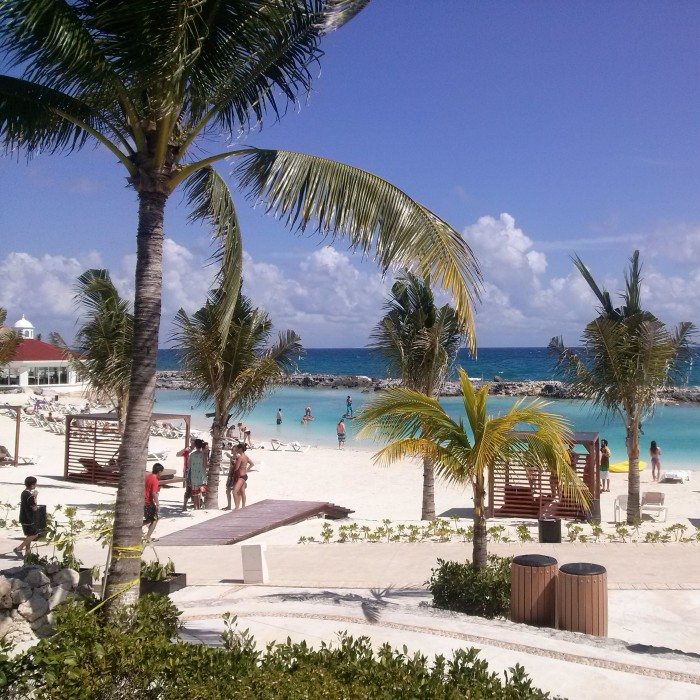 3. Resort Credit
YES, they give you resort credit. You have to pay a 20% tax on the total amount used. You can use this credit for spa services, golf, room upgrades, certain tours and upgraded wine lists.
Some people do moan about paying the tax. I see it as getting an 80% discount. Not too shabby.
4. Shows
They do have a main stage area between certain buildings and while we were there two separate groups of 800-900 rooms were arriving / leaving to see certain bands.
At the time of booking, we at PlayaDelCarmen.com can find out if there will be any such events during your stay. The shows do finish by 11pm, but it can change the ambiance of the hotel depending on the type of group on stage. In my case, this didn't bother me in the least, but it is important to know before booking.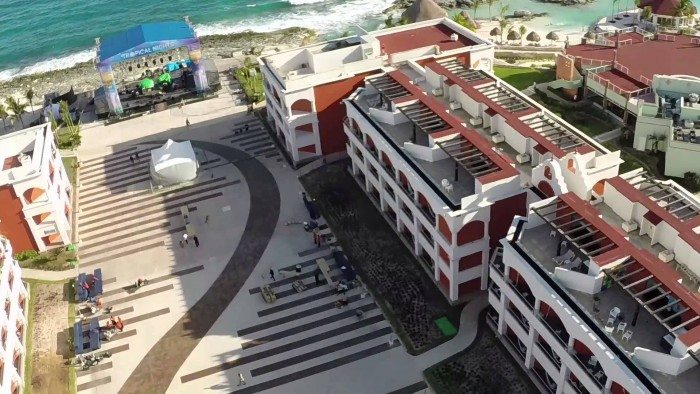 5. Group Friendly
We book a ton of large groups with our popular group discount packages.
Groups love hotel because their suites can accommodate larger families and groups with connecting rooms. They have family suites, 2 bedroom suites and more options to make traveling in a larger group easier than usual.
Learn more about our group services here.
MY PERSONAL TOP 5 LOVES
1. The Music
I felt the music added a lot to the ambiance in the lobby an around the pool. There were areas to get away from it if you wanted total peace, but I felt that contrary to the elevator type music you get at most resorts. It was a welcome change.
2. The Activities for Kids
In addition to the kids club with extended hours, they had a games room and a water slide. When my son is happy, I am happy and it gave us a chance to play together.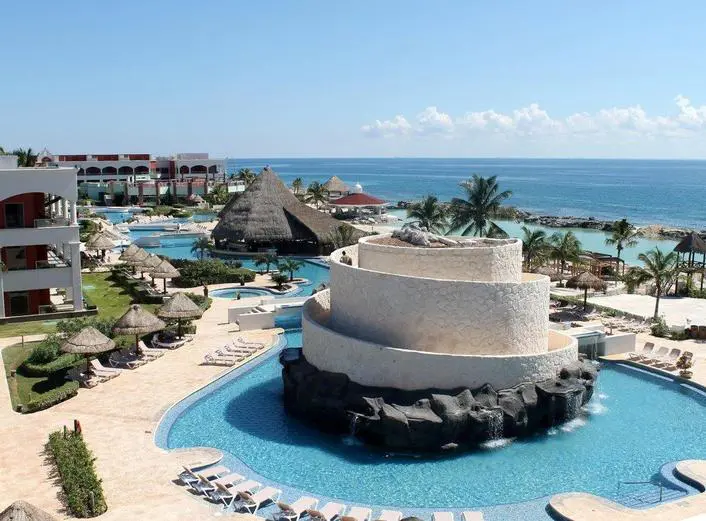 3. Resort Credit
You do have to pay 20% on the portion used, but if you think about it, paying 20% for a massage or service at the largest spa in Latin America is a steal. The spa was AWESOME!!!
4. The Food
We ate (and ate and ate). During our time there, we went to the Ipanema (buffet), the Asian (Zen), the main buffet, the pizza restaurant and we ordered room service several times.
I loved the fresh ceviche at Ipanema and the salad bars always had lots of choices. The Tepanyaki table at the Zen restaurant was entertaining and delicious. There was even sushi in the evening buffet. The coffee and desserts at the cafe in the Hacienda lobby were also delicious.
Overall, I was quite pleased with the freshness and variety of food available.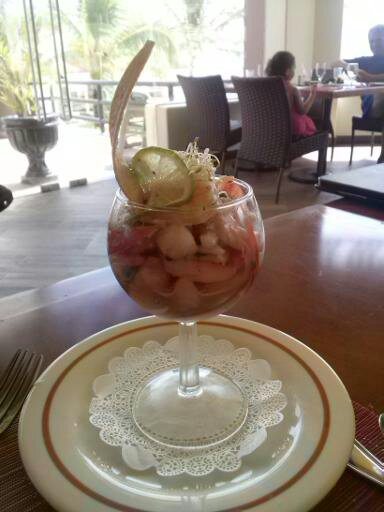 5. The Break-dance Show
I rarely attend evening entertainment, but I am very happy that I did. This show was professional, entertaining and it blew us away. Highly recommended.
The hotel contracts entertainment versus your standard all inclusive that has the normal activities put on by staff.
This isn't technically cheating as I didn't go there to get married, but I cannot write this review of the Hard Rock without mentioning the Catholic chapel by the water. There is a shortage of venues for Catholic weddings in the Riviera Maya and this place is absolutely stunning. I think it's one of the prettiest wedding venue destinations I've seen.
Learn more about our destination weddings in Playa del Carmen.
TOP 5 AREAS FOR IMPROVEMENT
1. Chair Reservation by the Pool
I think this is something that every all-inclusive struggles with. Clients leave towels on chairs when they get up in the morning just in case they decide they want one later. It was a bit of a struggle to get a chair in the shaded areas, and most of the chairs did have towels, but no one ever came to use them.
2. The Pizza / Pasta Restaurant
It could have more variety on the menu. My son could eat pizza 24/7 so we decided to give it a shot, but I would have like to have a few options to choose from that did not involve so much wheat and heavy food.
3. Library and Board Games Area
Seeing as it is a family hotel and parents do want to spend a bit of quality time with their kids, it would be great to have an area to check out games and play together. A book exchange for both kids and adults books would have been good, too.
4. The House Wine
Depending on where I had it, it was touch and go….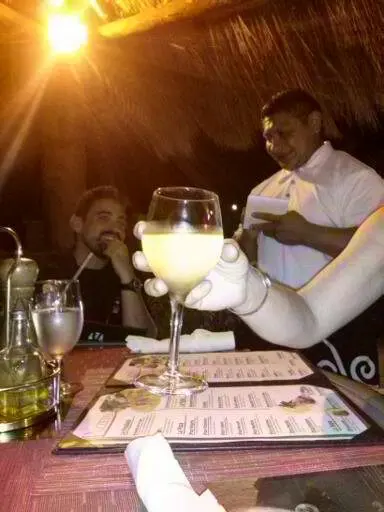 5. My Stay was too Short
I've been doing everything in sets of 5, so just for for the sake of uniformity, lets say that I would have stayed longer. The time we were there was just not enough.
Conclusion
So all that being said, I would go back. I would go back TODAY. I would have stayed longer, I would not hesitate to recommend this hotel to a certain type of clientele.
Save with us: Because the Hard Rock is one of our preferred hotels, we'll upgrade your transfers to a private van, with any booking of 5 nights or more. Get pricing for the Hard Rock.
To take advantage of this promotion book with one of our travel specialists. Contact us or call 888-537-9797.
Have an experience at the Hard Rock Riviera Maya? We'd love to hear about it. Comment below.
---
Trending Now
You may also like