A Review of Patanegra Restaurant Playa del Carmen
---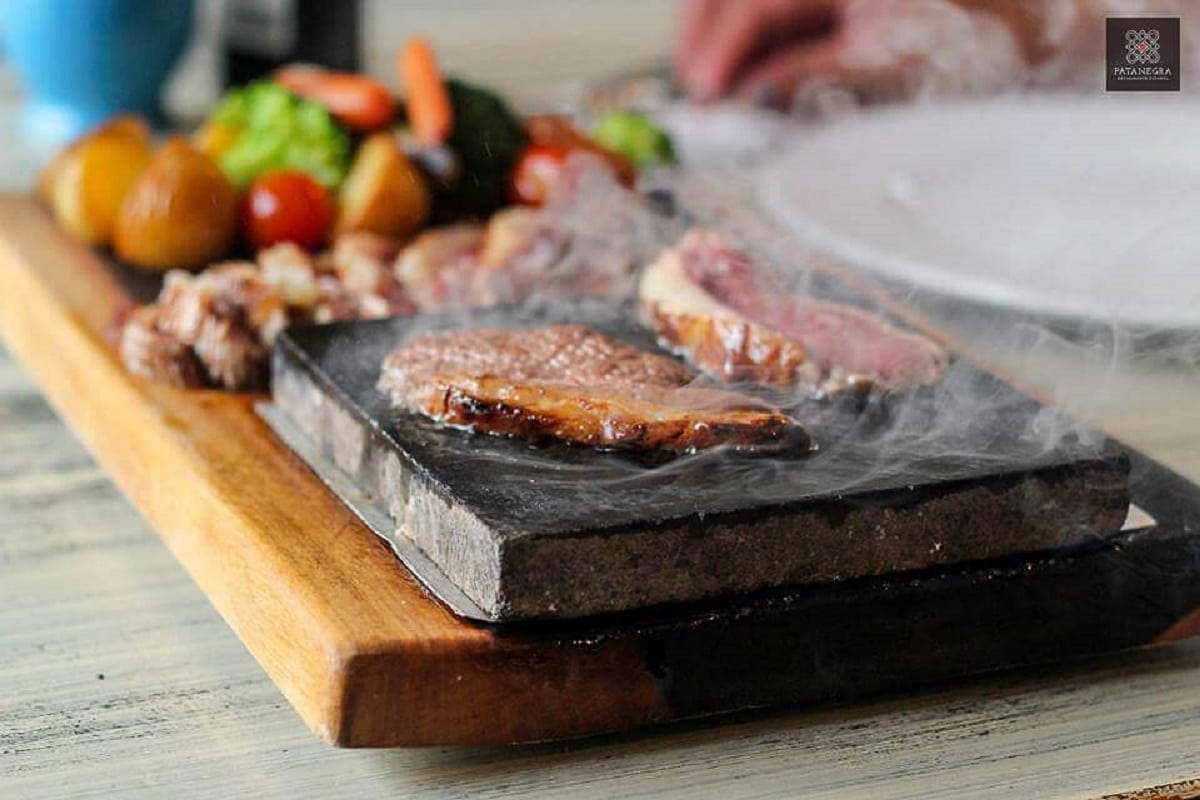 I have been living in Playa del Carmen for almost a year now.
As a foodie, I always enjoy going out and discovering new places.
However, as I've mentioned before, there are many incredible restaurants in Playa del Carmen.
As a result, there are still many incredible eateries I have yet to visit.
Until Wednesday night, Restaurante Patanegra remained on that list.
To err is human, and one of my many flaws includes waiting so long to try this Iberic sensation.
My Patanegra Review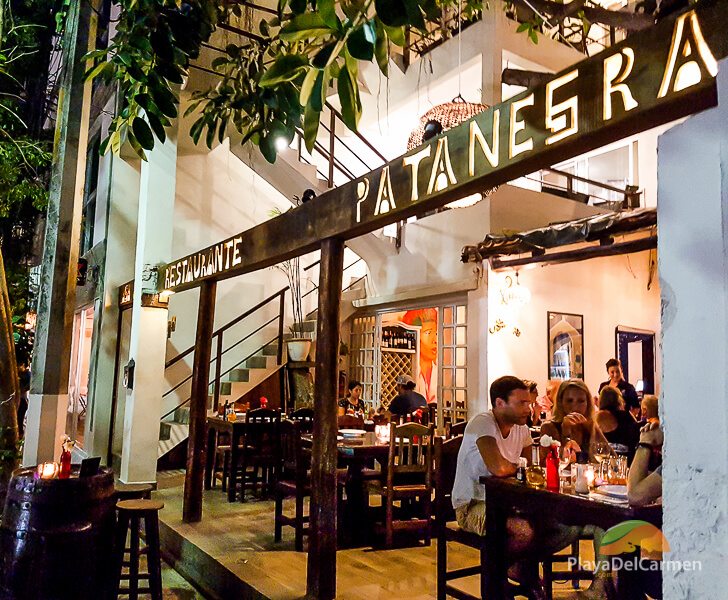 I have to admit that I have always admired this restaurant from afar.
Set off on a side street just east of 10th Avenue, from the outside looking in this quaint Spanish restaurant exudes a sense of intimacy and warmth.
Once inside, the dark wood finishes, dim lighting, and Spanish music playing in the background only confirm that feeling.
Spanish Cuisine: Intricate, Flavorful, and Mouth-Watering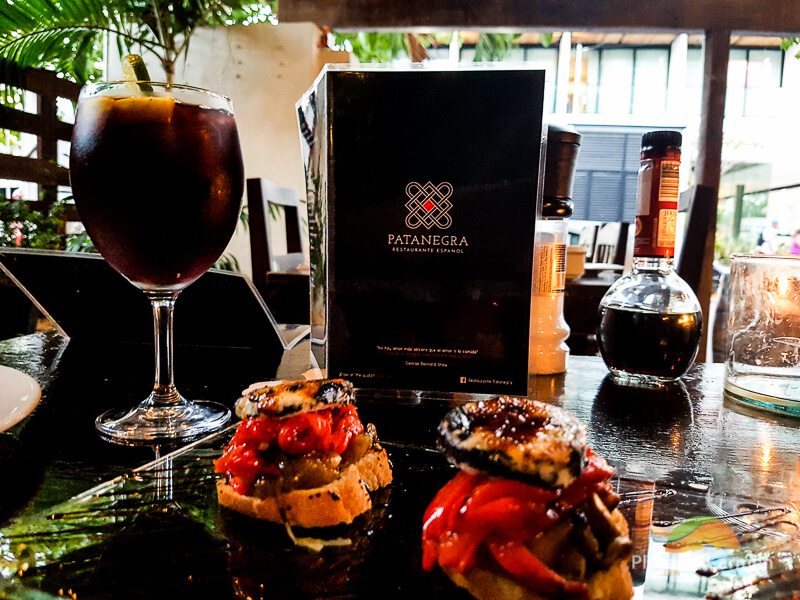 I admit my love affair with Iberian cuisine is a bit of a long-distance infatuation.
Kind of like when you fall in love with a beautiful actor or actress but only get to see them on T.V.
I've been fortunate enough to try Spanish wines, sausages, and cheese.
I've eaten paella, Spanish tortilla, and jamón serrano.
Plus, Mexican food is a direct descendant of the culinary tradition of the Iberian Peninsula.
Yet Spain is a treasure trove of incredible dishes, and I feel like I have barely scratched the surface of my budding love affair with the food of Spain.
In other words, while not completely unknown to me I still feel like I have a long way to go to know and appreciate this cuisine like it deserves.
What to Eat at Patanegra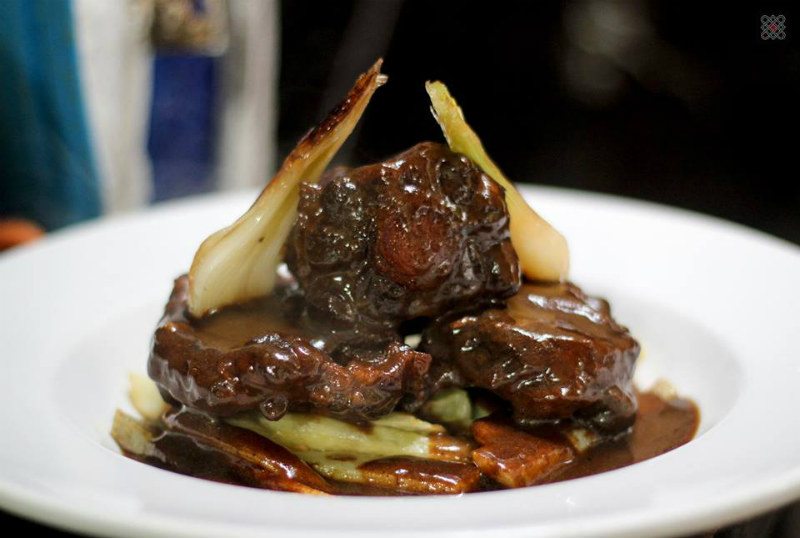 Well, everything.
Even if we didn't get to try the entire menu, I wanted to.
Every single item on the menu piqued my appetite.
And I spied on my neighbors and witnessed how incredible the paella for two made me drool even when I had already eaten.
But what we did eat was nothing less than spectacular.
Rather than order from the menu, we allowed ourselves to be surprised.
And surprised we were.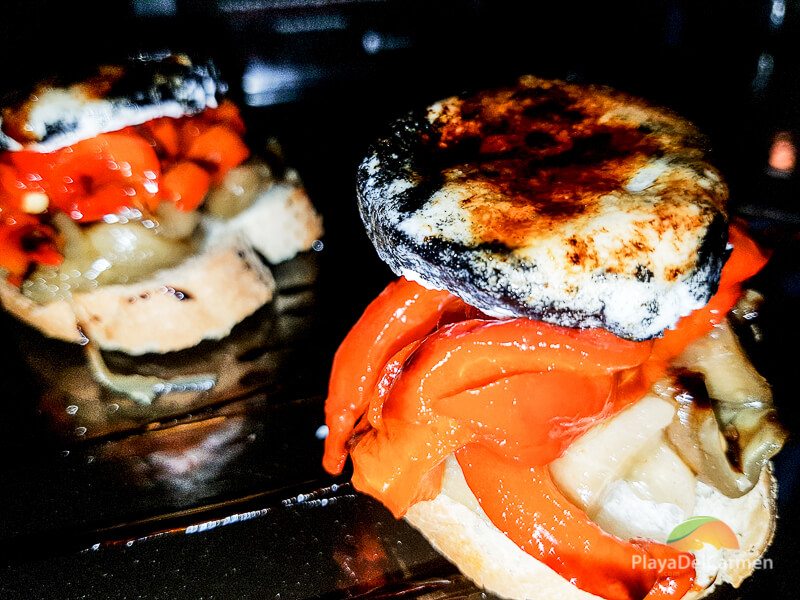 We started off with the roasted vegetables and grilled goat cheese, which are thin slices of toasted bread topped with eggplant, red bell peppers, and goat cheese au gratin.
Each bite provoked the proverbially mmmm's, especially when tasting the incredibly flavored crusted goat cheese.
And that was just the beginning.
From Sea To Mountain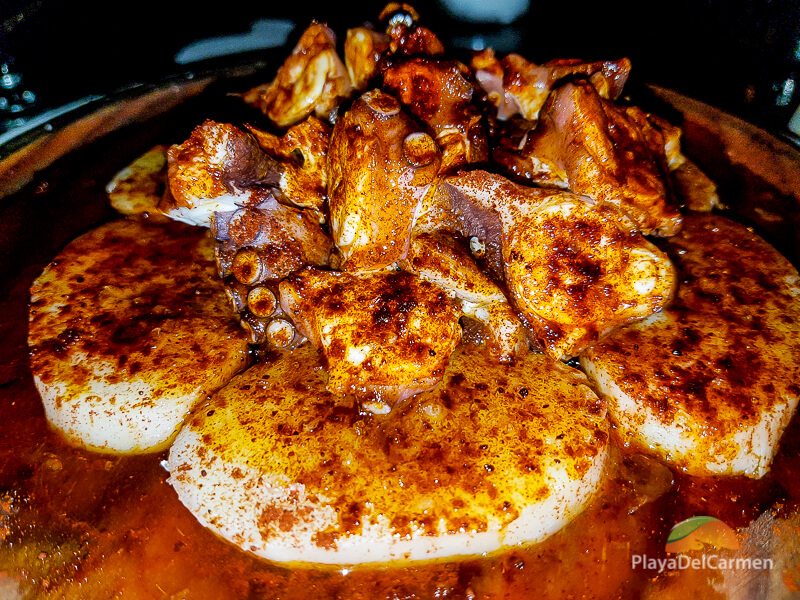 Accompanied by a glass of tempranillo wine and some sangria for my stunning dining partner, who just so happened to be dressed like a stewardess, our culinary journey of the Iberian Peninsula continued with round 2: Galician style octopus.
Now I'm not a religious man, but sometimes great food takes me closer to a belief in a higher being.
In fact, between sips of red wine and bites of expertly cooked octopus, more than one "oh my god" escaped my atheist lips.
Perhaps in tribute to the eight-tentacled delight that perhaps was once an ancient diety.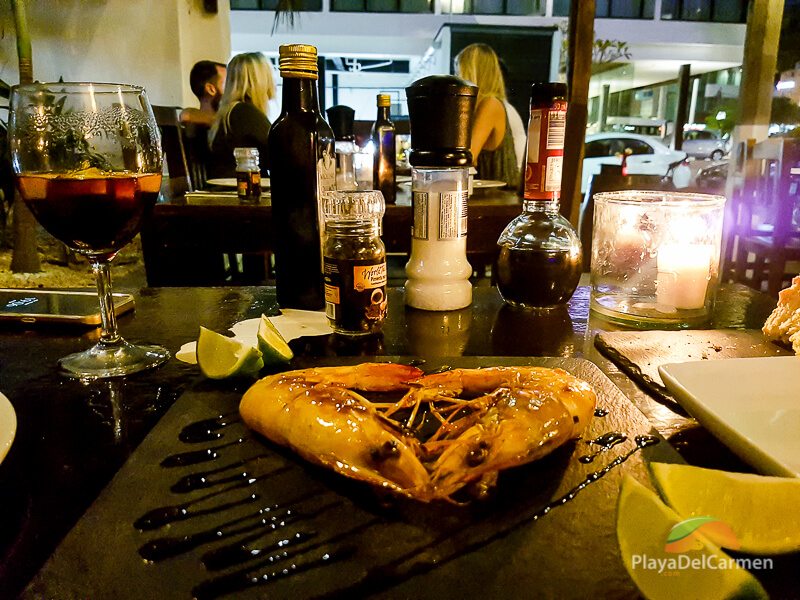 Already starting to get full, but feeling the gastronomic bliss of great Iberian cuisine, yet another dished appeared.
Two pieces of jumbo shrimp grilled to perfection and served with slices of lime and fresh cracked salt and pepper.
God is great.
The Entrée: Stone-Grilled Beef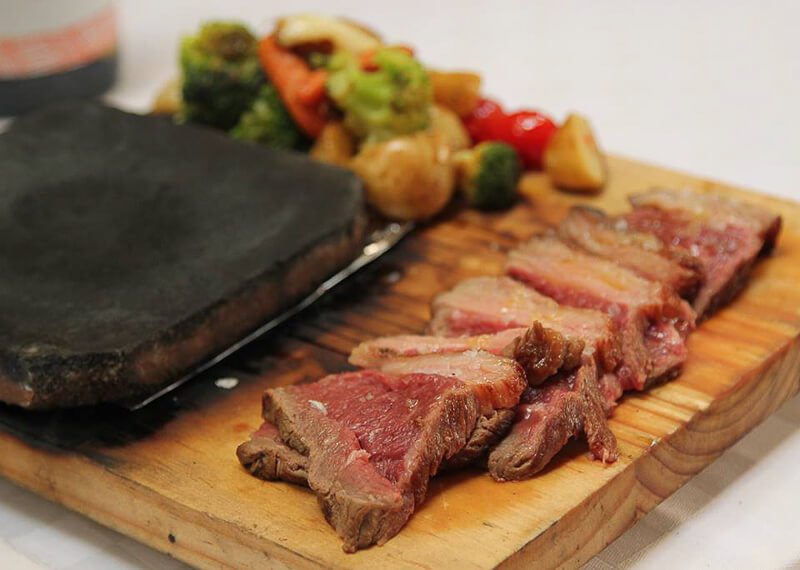 Just when we thought it couldn't get any better, a piece of smoking hot steak stone was set down in the middle of our table.
We could feel the heat emanating from the black slate; a rectangular piece of stone (approx. 5.83 × 8.27 inches) heated to about 300° C.
Next to the stone lay about eight pieces of thinly sliced picaña (sirloin cap, also rump cover) just waiting to make the jump from wood to stone.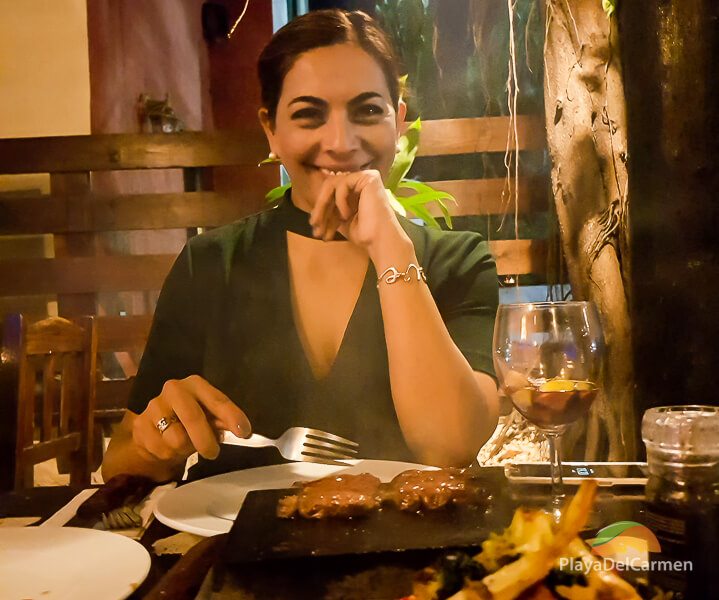 Adding just a touch of olive oil to the steak stone, we placed our pieces of succulent meat onto the stone and cooked them to our liking: medium-rare.
Even without a dash of freshly cracked salt and pepper the meat deliciously melted in our mouths.
Freshly sautéed vegetables accompanied this meat-eating delight which proved the perfect finish to an incredible meal.
But Wait, There's Dessert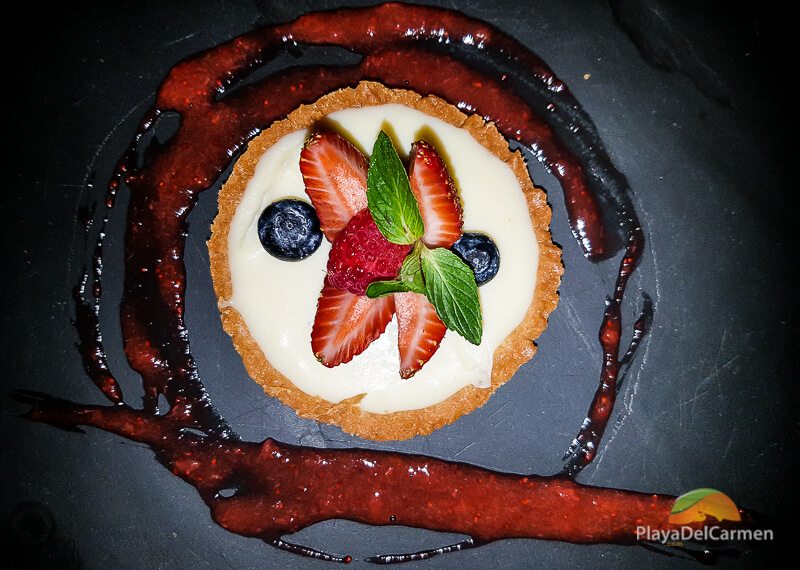 Just when we were about to throw in the napkin, signaling an extremely satisfied end to a truly incredible meal, out came dessert and an espresso.
Yes, in the end it took a white chocolate tartlet with raspberries and strawberries to put an end to what proved to be an amazingly delicious meal at Patanegra.
Washing down the dark and bitter espresso, which is how I love to drink my coffee, was the perfect finale.
Final Thoughts on Patanegra Restaurant Playa del Carmen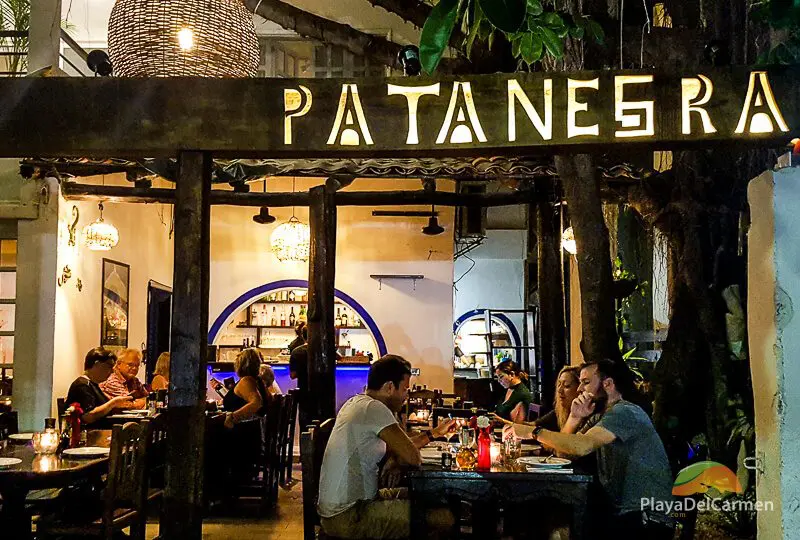 Patanegra has two venues: one in Playa del Carmen and one in Tulum.
Prices here are in the mid to upper range of Playa del Carmen restaurants.
However, in terms of quality, Patanegra deserves to be considered among the top places to eat in Playa del Carmen.
The food is incredible, the place is warm and inviting, and the service is professional and attentive without being overbearing.
All in all, it was a wonderful dining experience.
Pintxería Patanegra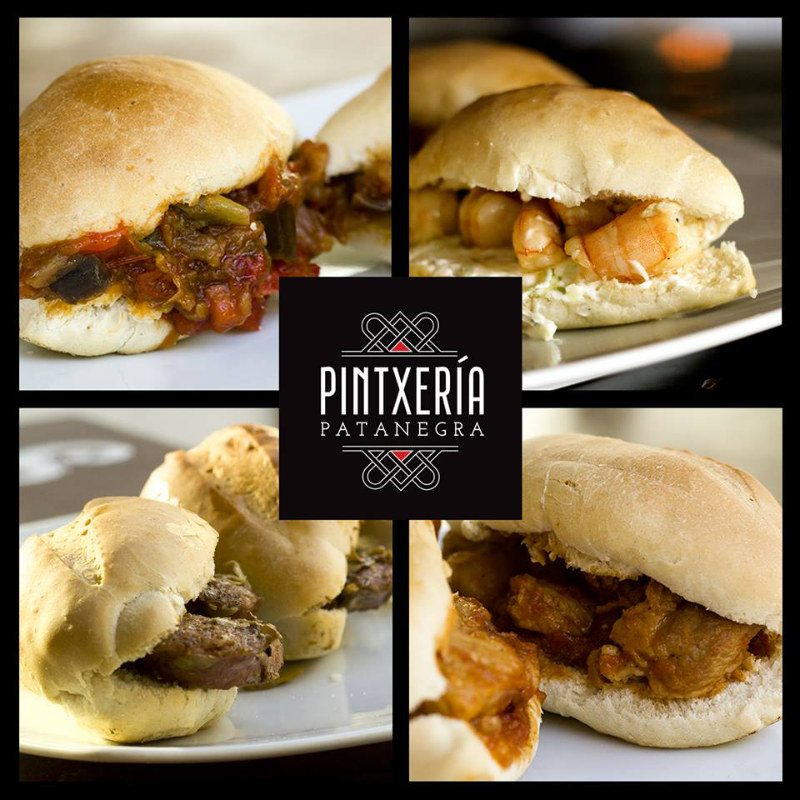 But it doesn't end here.
The success of Patanegra has lead the owners to expand their concept to include a new project: Pintxería Patanegra (pronounced Peench-er-ria).
Much like the cozy tavern-like havens you can find throughout Spain, where a glass of wine or a bottle of beer is coupled with some Spanish-style appetizers called tapas, Pintxería Patanegra will accompany your thirst with some tasty bite-sized morsels to wash down those inebriating spirits.
The Pintxería will celebrate it's inauguration this Saturday beginning at 6:00 p.m.
There will be drinks, tapas, and the incredibly friendly staff of Patanegra.
Don't miss it!
Patanegra Location & Opening Hours
Both Patanegra and Pintexería Patanegra are located on 26th Street between 10th & 15th Ave.
Opening hours are Monday through Sunday from 12:00 p.m. until 11:00 p.m.
You don't necessarily need to R.S.V.P.,  but with just eight tables the restaurant tends to be full every night. If you do want to R.S.V.P. you can do so via the Patanegra Facebook page, through email (elpatanegrarest@gmail.com) or by calling 984-147-3956.
Hungry for a trip to mix paella with the white sand beaches of Playa del Carmen?
Our travel specialists not only dance flamenco, they can also get you the best travel deals.
Call them today toll-free at 888-537-9797.
---
Trending Now
You may also like