Mayakoba Beer & Street Food Fest Returns To Playa del Carmen
---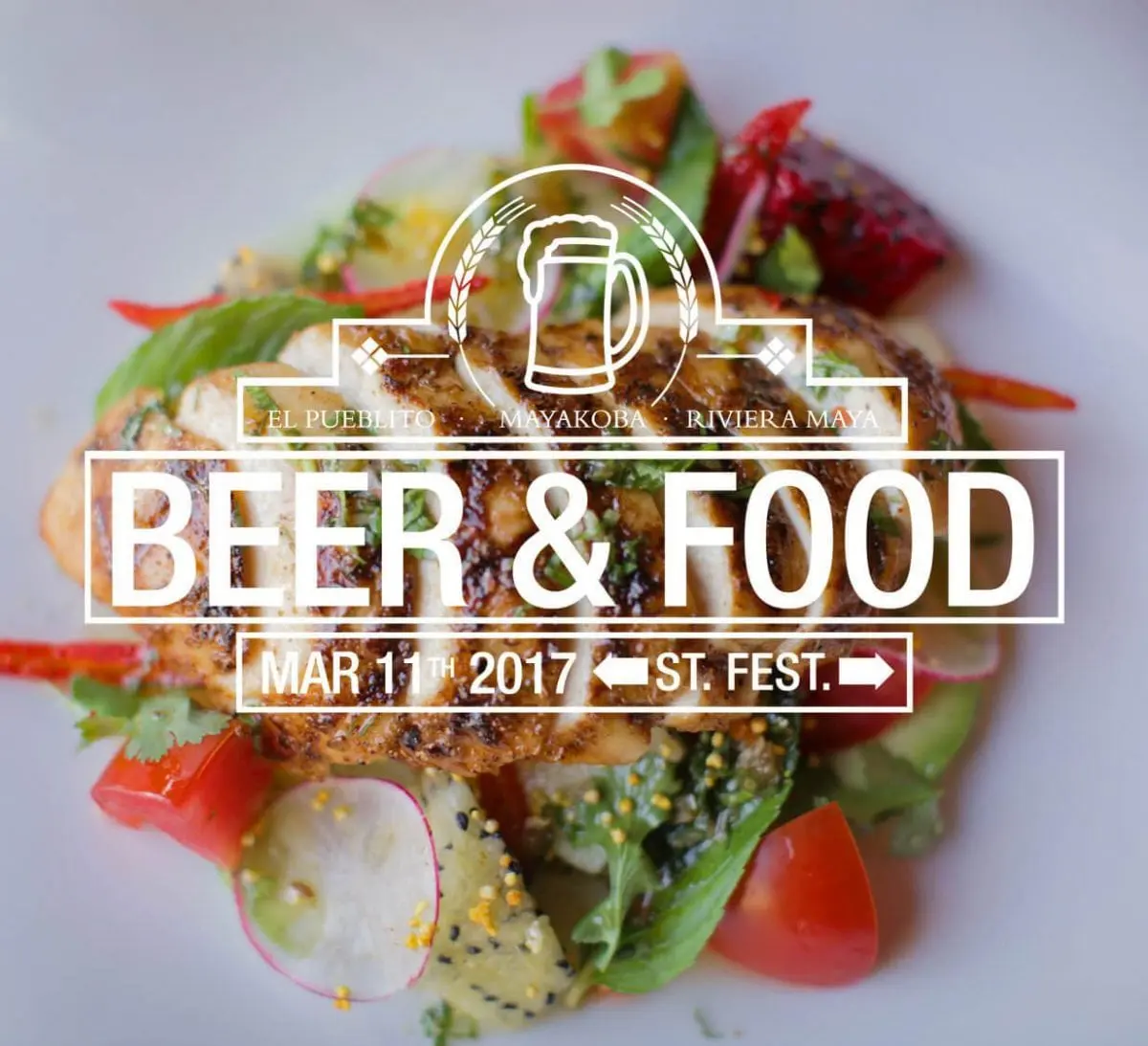 It's a good thing they didn't make us wait another year.
After its successful first edition in October of last year, the Mayakoba Beer & Street Food Fest returns to El Pueblito Mayakoba on March 11th with another round of craft brew and gourmet street food.
The festivities begin at 6:00 p.m.
This is great news for Playa del Carmen foodies.
Here's what you can expect.
Mayakoba Beer & Street Food Fest
Globalization is real and its effects are far-reaching.
For instance, take the craft brew and slow food movements.
Both two strains of a very similar concept: getting back to the roots.
Forget mass-production, this is about fresh, local, and artisan creations.
Regionally-sourced ingredients, creative recipes, small businesses who are looking to offer products that go hand in hand with that phrase we all know so well: think global, act local.
It's fitting then that the venue for the second Beer & Street Food Fest is once again El Pueblito Mayakoba, a small plaza recreated to host events for both the guests of the Mayakoba eco-resorts (Banyan Tree, Andaz Mayakoba, Rosewood Mayakoba, and Fairmont Mayakoba) as well as the general public.
After receiving over 600 guests in the first edition, Mayakoba has organized this second edition just five months later with the participation of four local breweries and 15 of the top chefs in the Riviera Maya.
4 Local Breweries
Maybe because its #ThirstyThursday as I write this, maybe just because I feel it's most appropriate to start with some good, cold beer before diving into my food.
Maybe both.
In any case, you should first know a little something about the local breweries that will be participated in the Mayakoba Beer & Street Fest (see, they did it too).
Cerveza Mundo Maya
Mundo Maya Brewing Company is the pride of Jungle John, a Canadian-born, now Mexican citizen who, inspired by the movie  Strange Brew, escaped the White Walkers of the North to settle in sunny Playa del Carmen and make everyone happy with a local microbrewery. Beers include The Warrior (IPA), Snake Head (Vienna stout), La Selva (American wheat), and Jaguar Stout (oatmeal stout).
Cerveza Cancun
With a last name like Schoener, things like good beer and sauerkraut come to mind. The great grandson of Johann Fridolin Schoener, the founder in 1890 of the Bremen Brauerei, Daniel Arroyo Schoener decided to go back to his German Würzeln and make his great-granddaddy proud. Cerveza Cancun serves El Jefe (Heffeweisen), Pilsen, Golden Ale, and Pale Ale. Prost!
Cerveza Akumal
I probably shouldn't go around playing favorites, but I've never been one much for protocol. So here goes. Cerveza Akumal makes three different beers, the red-labeled American Pale Ale, the purple-labeled Indian Pale Ale, and the black-labeled and awesomely delicious Akumal English Robust Porter. Even the name makes me thirsty.
Cerveza Pescadores
Pescadores is the hipster version of these four wonderful brands of locally-made craft brew. They are also the ones with the most variety and the spiciest option of them all. Starting off with a Habanero Ale to pique your palate, Pescadores also has a delicious IPAs, blond ales, pale ales, and amber ales to go with that hipster beard or vintage dress with floral patterns, depending on your chosen gender.
15 Chefs
Anyone who doubts the quality of cuisine in the Mexican Caribbean need only set foot in the Mayakoba Beer & Street Fest and try some of the gourmet street food prepared for this special event by some of the region's top chefs.
From the spectacular Karla Enciso, who runs the El Pueblito Cooking School at Mayakoba as well as her two restaurants in Cancun, to Xavi Perez Stone of Iron Chef Canada fame and the owner of Axiote Restaurant in Playa del Carmen, Nadine Waechter-Moreno, the amazing Executive Chef at Grand Hyatt Playa del Carmen Resort, and Tiago Aceituno, a young, up-and-coming culinary star who is making waves with his back to the roots gastronomic wonders at Mostaza in Cancun, this is one highly talented bunch of world-class chefs.
And not just a few; 15 of these awesomely talented people will be together at one place showing off–and sharing–that which they do so well: cook amazing food for you to eat.
Here is the full list of participating chefs:
David Andrews – Banyan Tree Mayakoba
Juan Pablo Loza – Rosewood Mayakoba
Eric de Maeyer – Fairmont Mayakoba
Vicent Wallez – Andaz Mayakoba
Karla Enciso – El Pueblito Cooking School
Nadine Waechter-Moreno – Grand Hyatt Playa del Carmen Resort
Tiago Aceituno – Mostaza
Luis Gonzalez – Restaurante De Local
Mónica Lazcano – Pre-Hispanic cuisine (her style, not a place)
Alexis Bostelmann – Grupo Vidanta
Carlos Zamora – Viceroy
Eva Millan – Koba
Daniele Muller – Rolandis
Pedro Abascal – Thompson Playa del Carmen
Xavi Perez Stone – Restaurante Axiote
Hungry yet?
So How Much Does It Cost?
You may think that bringing together so many great chefs and local breweries at a place so fancy such as El Pueblito at Mayakoba would equate to a high price tag.
But you know what?
You're wrong.
There is a cover charge to participate in the festival of $200 pesos per person.
Included in the price of admittance is a welcome kit which includes a t-shirt, hat, and beer glass.
The food and drink does come at a price, but more or less what you would expect to pay if you went out to a bar or restaurants on Playa del Carmen's hip 5th Avenue.
Beers and dishes from these wonderful chefs will all have the same price: $50 pesos ($2.50 USD) per item.
Considering the quality of what you're going to get at the Mayakoba Beer & Street Food Fest, this one's a no-brainer if you're in Playa del Carmen.
Click on the following link to purchase your tickets online.
How to Get to El Pueblito Mayakoba
El Pueblito Mayakoba is located just ten minutes north of downtown Playa del Carmen and forms part of the eco-resort complex known as Mayakoba.
Parking is available for those who wish to go in their own cars (PSA announcement: don't drink and drive).
For those who prefer public transportations, the cost of a one-way taxi ride from downtown Playa del Carmen to or from El Pueblito Mayakoba is $250 pesos (always and irregardless of the time of day).
For more information, be sure to check out the Mayakoba Beer & Street Food Fest website.
Do you still need more reasons to visit Playa del Carmen?
Our travel specialists are to awesome travel deals as beards are to hipsters.
Call them today toll-free at 888-537-9797!
---
Trending Now
You may also like