Frida Kahlo Restaurant Review: Creative Cuisine with a Touch of Frida
---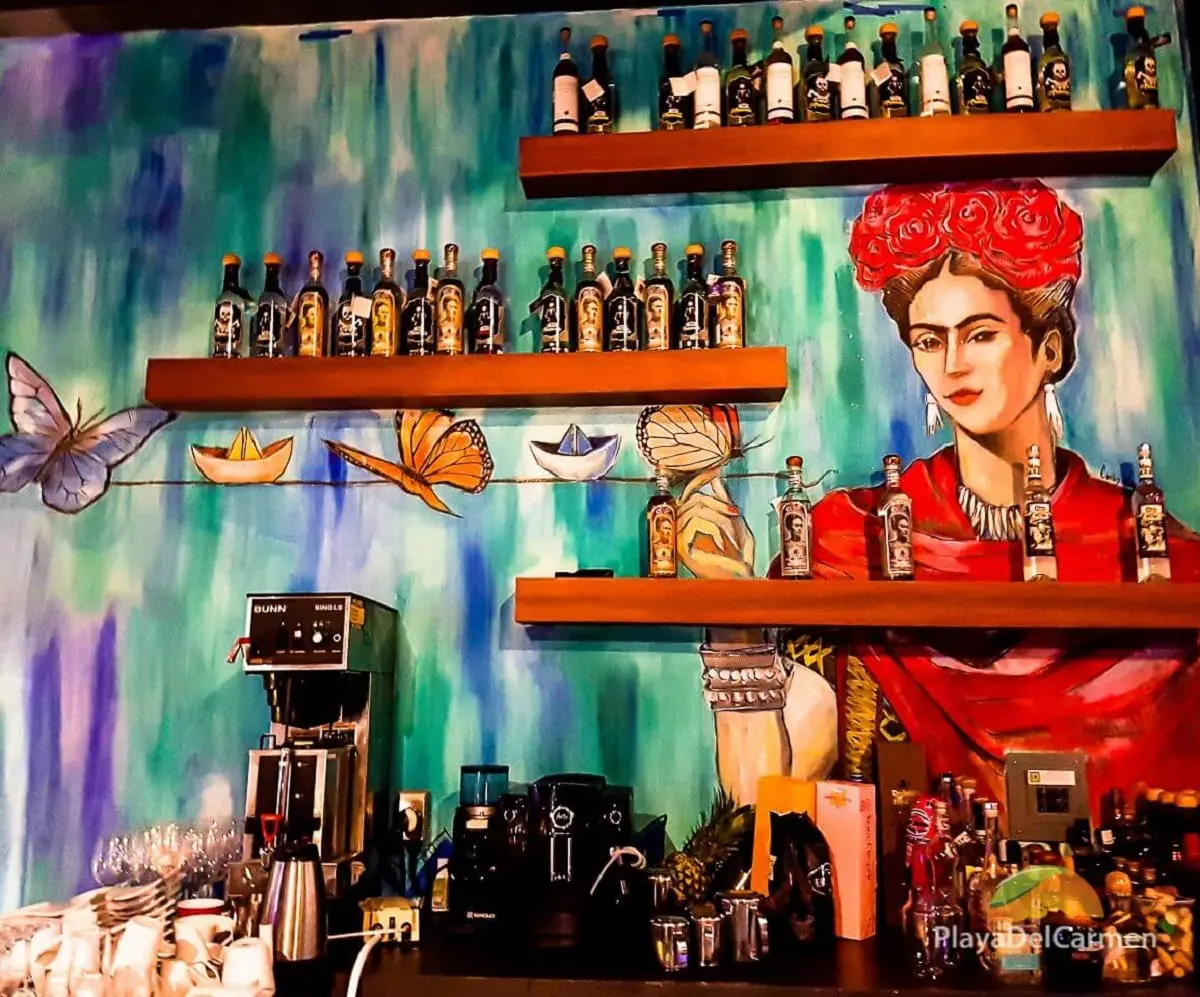 Frida Kahlo Restaurant in Playa del Carmen is a 5th Avenue eatery that combines the arts of one of Mexico's great painters with the art of Mexican cuisine.
In addition to the great atmosphere and wonderful food, the Frida Kahlo Restaurant also offers a dining table mapping experience in tribute to Mexico's favorite daughter.
We recently had the opportunity to experience this fascinating mix of art and culinary culture in what is definitely one of the more creative Playa del Carmen restaurants.
Frida Kahlo – A Legend in Life & Death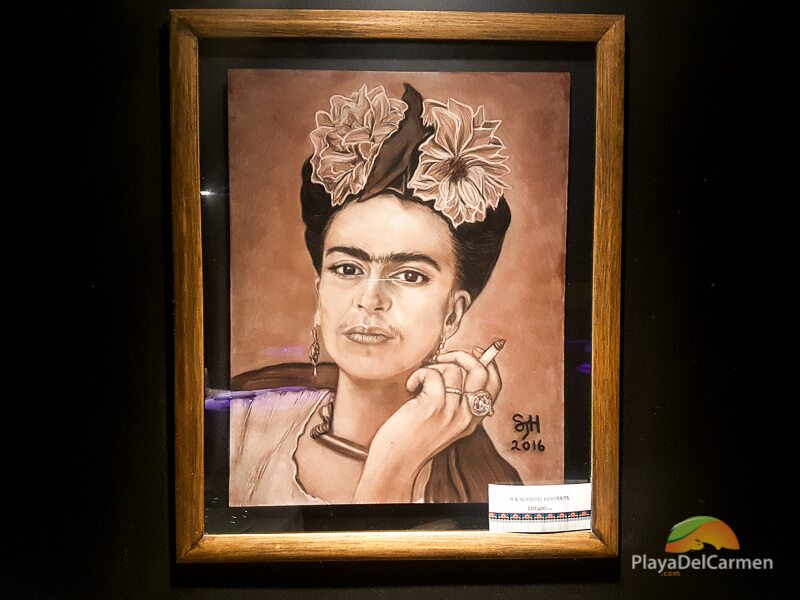 The figure of Frida Kahlo is as enthralling as she is inspiring.
Her striking features, her tragic history, her passionate love affair with the iconic Diego Rivera, Frida Kahlo remains a legend and idol for many people around the world.
Her love of country was profound, and she was and still remains one of the most beloved exponents of Mexican culture.
Even in death, her life and art inspire.
At the Frida Kahlo restaurant in Playa del Carmen, that inspiration is translated into the venue's ambiance, décor, and cuisine.
While at the restaurant, you should definitely check out the top floor seating area, where video projectors are set up above the tables to provide a unique visual experience called mapping (see video above).
Frida Kahlo Restaurant Review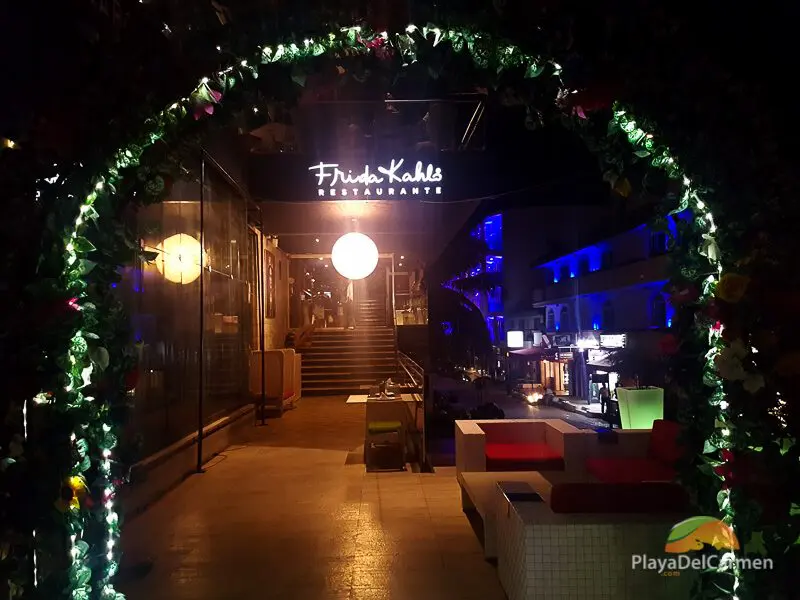 The entrance to Frida Kahlo gives you a good taste of what to expect once inside.
A floral arch leads to a set of stairs, which ascend to the second floor, open-air dining area of the restaurant.
The eatery's layout is artistic chic yet not overbearing, providing just the right touch to make the experience unique but not too kitsch.
As we sat down to eat at a table overlooking 5th Avenue and the stunning street art by Senkoe, our interest was piqued by the different culinary options.
The menu, which is a selection of various Mexican regional dishes, is diverse enough to satisfy most everyone.
Authentic Mexican Cuisine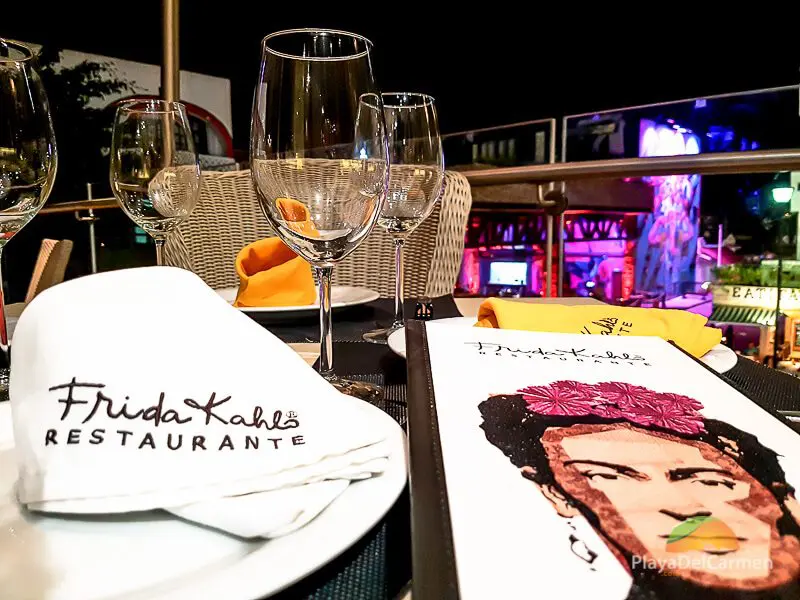 For those of you who are still unfamiliar with authentic Mexican food, know this: it has as much to do with Tex-Mex as French toast has to do with France (remember those freedom fries?).
In fact, what so impresses with the cuisine of Mexico is the fascinating diversity of flavors and dishes.
Mexico is a large and beautiful country, made up of a large array of ecosystems and climates zone.
As a result, the cuisine here is almost as diverse as the geography.
At Frida Kahlo Restaurant, they serve up food from several regions of the country, allowing diners to experience a variety of aromas, flavors, and colors of Mexico.
You'll find a wide variety of amazing dishes here that you won't find at any other restaurant in town, so make sure you visit with an empty stomach and an open mind.
Of Molcajetes, Crispy Octopus & Trees of Hope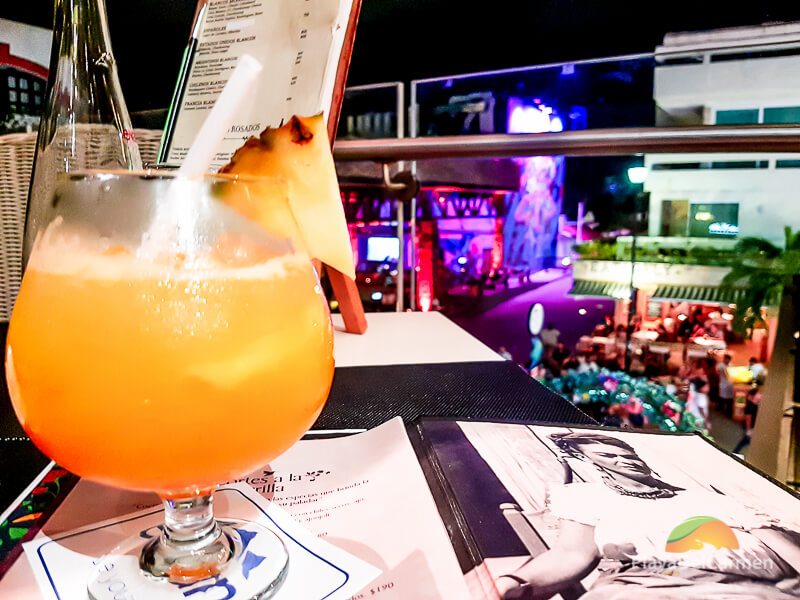 We decided to let the friendly staff at Frida Kahlo surprise us.
With such an extensive menu, and always wanting to savor a restaurant's cuisine from the perspective of their most recommended dishes, we let ourselves be surprised.
For starters, at least if you don't count the delicious tropical cocktails, we were served a dish of crisp, fried octopus with strokes of avocado, dried chili pepper mayonnaise, potato spheres, and smoked salt.
If you ever eat octopus then you know that consistency is key.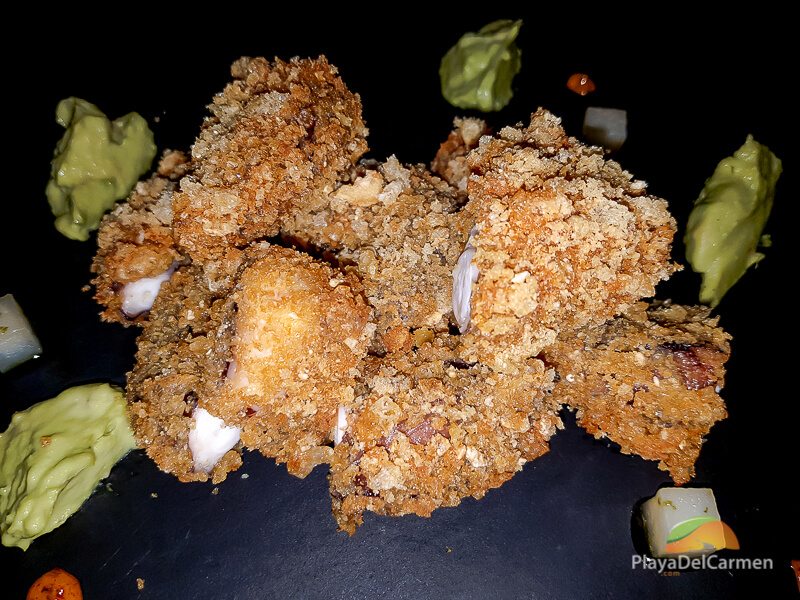 If you don't cook it right or cook it fresh, it can either be too hard, too chewy, or too soft.
Good octopus is like good pasta: al dente.
The breading proved to be perfectly spiced and the octopus was just right: slightly firm but easy to eat.
At first, I just focused on the crispy octopus; that is until I discovered just how flavorful the avocado strokes and spicy mayonnaise were.
Next up were the main dishes.
Going on the sage advice from Aldo, our awesome waiter, we chose one surf and one turf.
First up was the Molcajete Frida, a round, stone mortar filled with large prawns sauteed in mezcal and served with melted cheese, grilled cactus, and serrano chili peppers as well as tortillas decorated with a Frida Kahlo motif.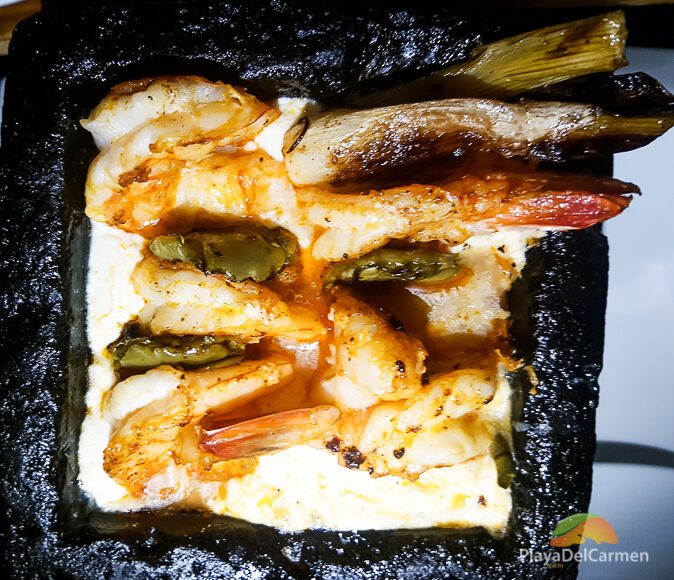 The flavors of the Molcajete Frida were surprisingly spot on, and I wondered why more people don't serve up such a delicious fusion of melted cheese with grilled nopales and shrimp. The spices and serrano peppers, which are not spicy, provided the perfect balance and kick to what otherwise could have turned out on the bland side.
That was the surf part of our meal.
As for turf, we ordered a dish called Tree of Hope, which is a beef tenderloin in an agave sauce and served over a bed of baby spinach, mushroom, and fresh coriander pesto with walnuts.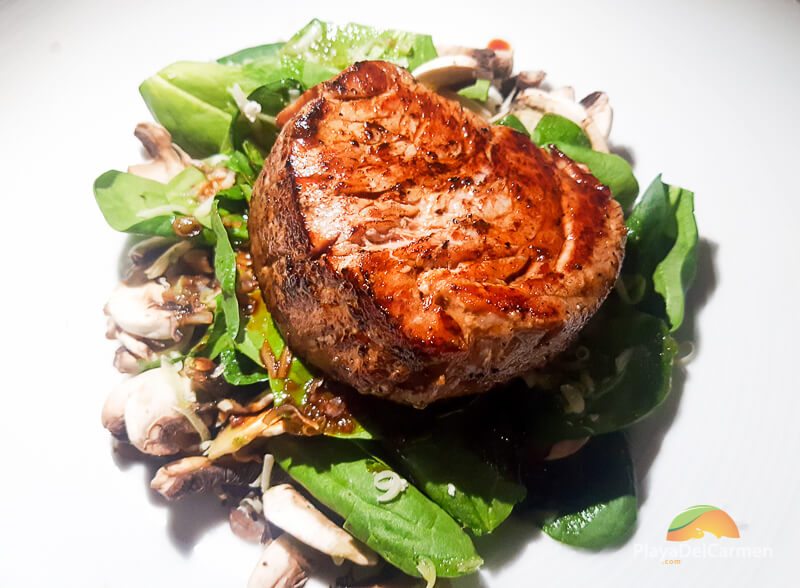 The meat, which had a light rosemary infusion, was served medium rare. It was soft and succulent, just as I like it.
Not only was it a good piece of beef, it combined extremely well with the tree part of the life; the sweet agave sauce lightly covered the crisp spinach leaves and fresh mushrooms.
I believe delicioso would be the word to use in Spanish.
Like Water for Chocolate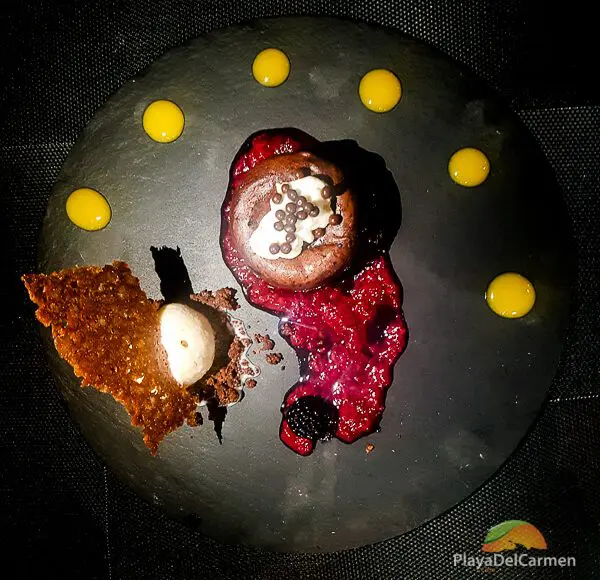 Then, as if to ensure the carts would be needed to haul us out of the restaurant, dessert was served.
We didn't ask for it.
We definitely didn't have room for it.
But we also would never waste food nor be so rude as not to accept such generosity on the part of the restaurant.
Put in other words, we ate every last bite.
Called Como agua para chocolate, or "Like Water for Chocolate" this dessert was every bit as much a passionate love affair between my sweet tooth and the chef's creation as the movie itself.
Which is why the words which grace the introduction to the dessert menu at Frida Kahlo, written by the restaurant's Pastry Chef, Rodrigro Cabello Segura, felt so appropriate at the end of what was a great meal in an awesome environment: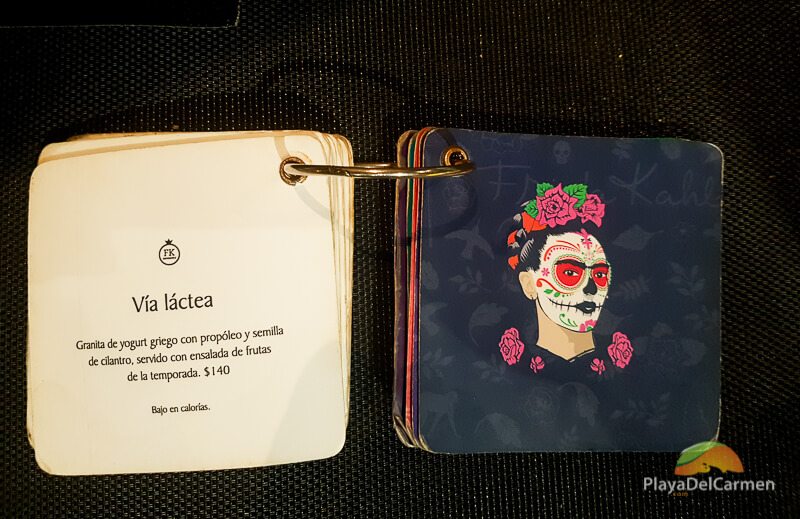 "I believe in Mexico and her people; I believe in her colors and her everyday marvels," he writes.
"There's no better way to celebrate life than with a sweet ending."
"This dessert menu is a love letter to my country, made with all of my heart."
Finally, he expresses with grace what so many of us feel about this wonderful country and its people:
"Oh, how I love your flavors and fall in love with you again and again."
"I declare to you my love, magnificent country."
You don't need to get all romantic to visit Playa del Carmen…
But you will love the great deals from our travel specialists!
Call them today at 888-537-9797
---
Trending Now
You may also like